When do you start decorating for the holidays?
And how do you decorate?
If you want to really put on a show for your neighbors, outdoor inflatables are the way to go. If you're a dog lover, what better lawn ornament can you get than a dog?
In this post, we're outlining the top options for Christmas dog inflatables.
Light Up Christmas Dog Inflatables
Before purchasing a blow-up lawn decoration, we have a few tips.
Space. Measure the space you have available before choosing an inflatable. If you live in a city, your lawn may be too short for some of these options. You may also want a more subtle look, in which case you'll need to make sure the decoration isn't so big that it takes over your lawn.
Be aware of the surroundings. Blow-up holiday decorations aren't indestructible. If you place it by a tree, for example, a branch could come loose and make a hole, ruining the inflatable.
Positioning. Put the bottom of the decoration where you want it to stand and spread out the rest on the ground before blowing it up. This will help it fill up evenly.
Stakes. Many inflatables come with stakes, so be sure to check before buying. Even if it does come with a few, you may want to have a few extra on hand. This will help the decoration stand up properly, stay throughout strong winter winds and look amazing.
#1 Light Up Christmas Dog Lawn Ornament English Bulldog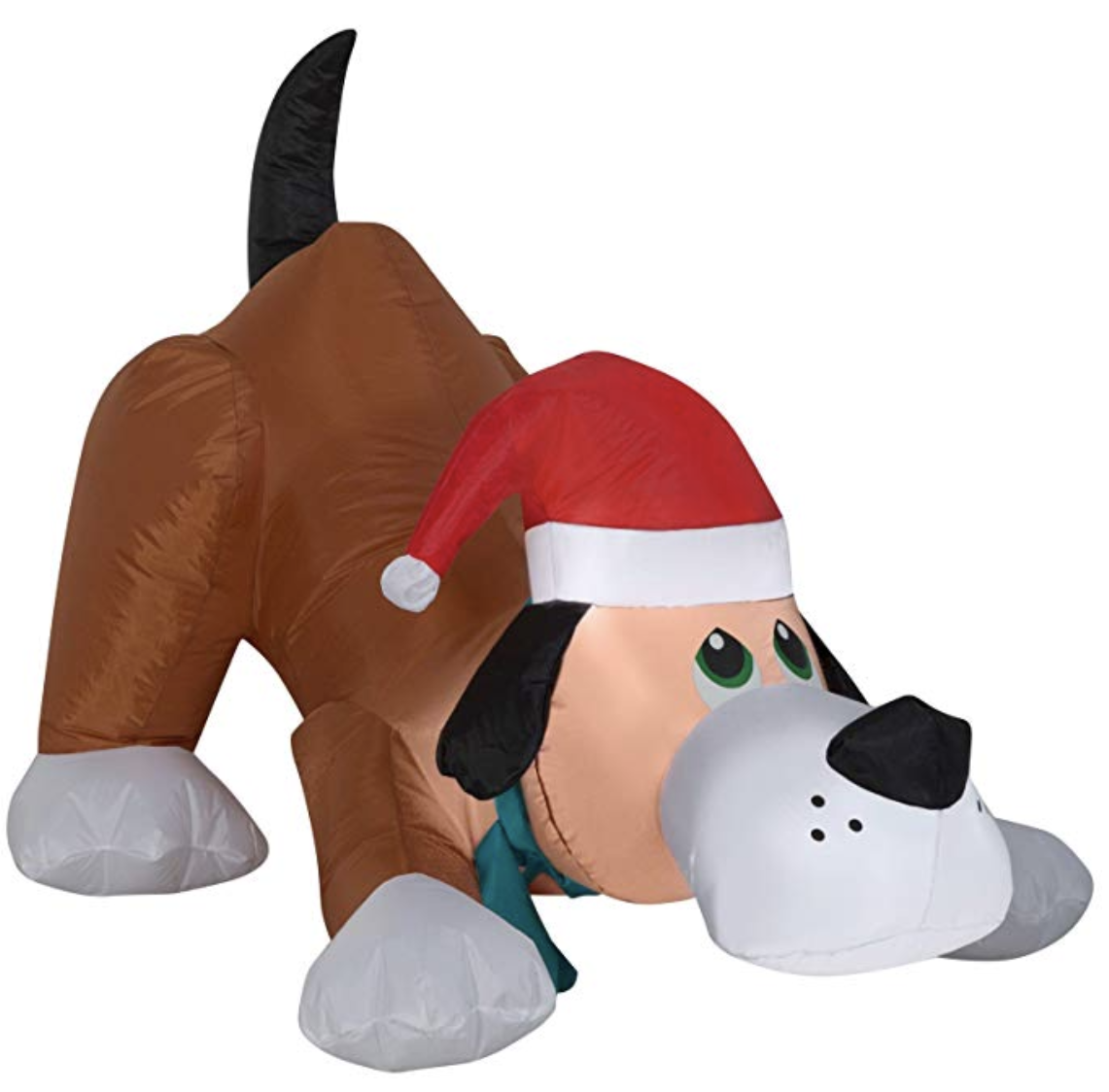 This cute English bulldog is decked out with a green scarf and candy cane in his mouth.
Pawsative Ruffview: "I am so excited to pull this thing out of storage. It is absolutely adorable, good size, and blows up quickly. Last year we made it look like the dog was pulling lights off the house and it was fantastic. Highly recommend."
Get the Doggy Inflatable for $46
#2 Dog Pulling Down Santa's Pants Inflatable Outdoor Decoration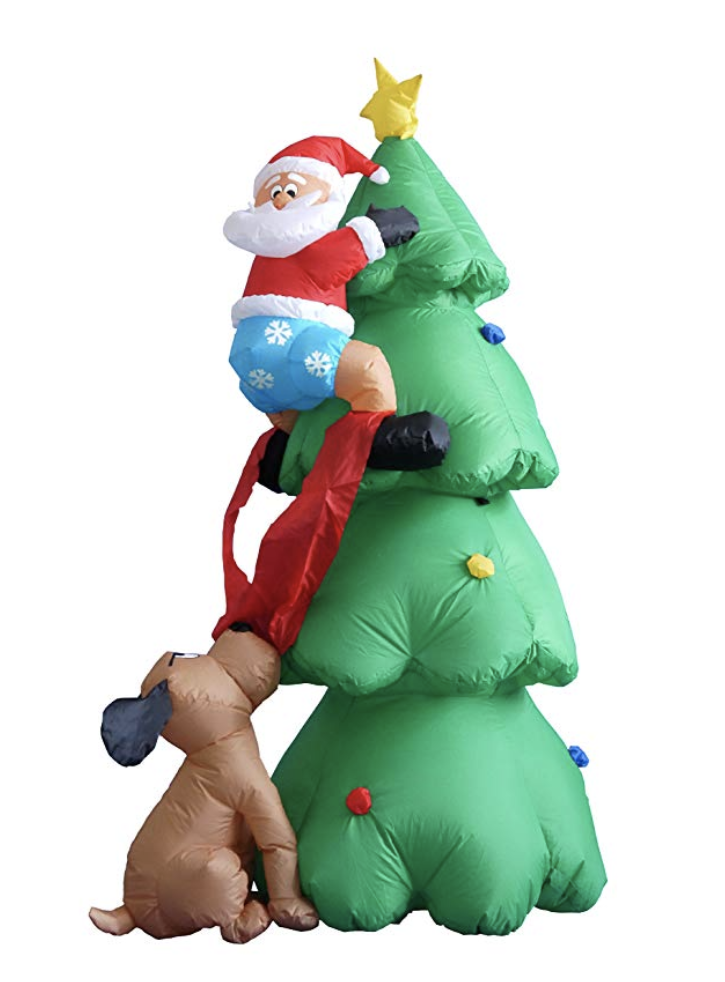 Out of all of the inflatables, I think this one may look the coolest! This funny dog can't help but pants Santa as he decorates the tree.
Pawsative Ruffview: "We have multiple dogs so very appropriate, was outside last Christmas for 2 weeks without problems."
Get the Hilarious Christmas Inflatable for $65
#3 Blow Up Christmas Dog with Gifts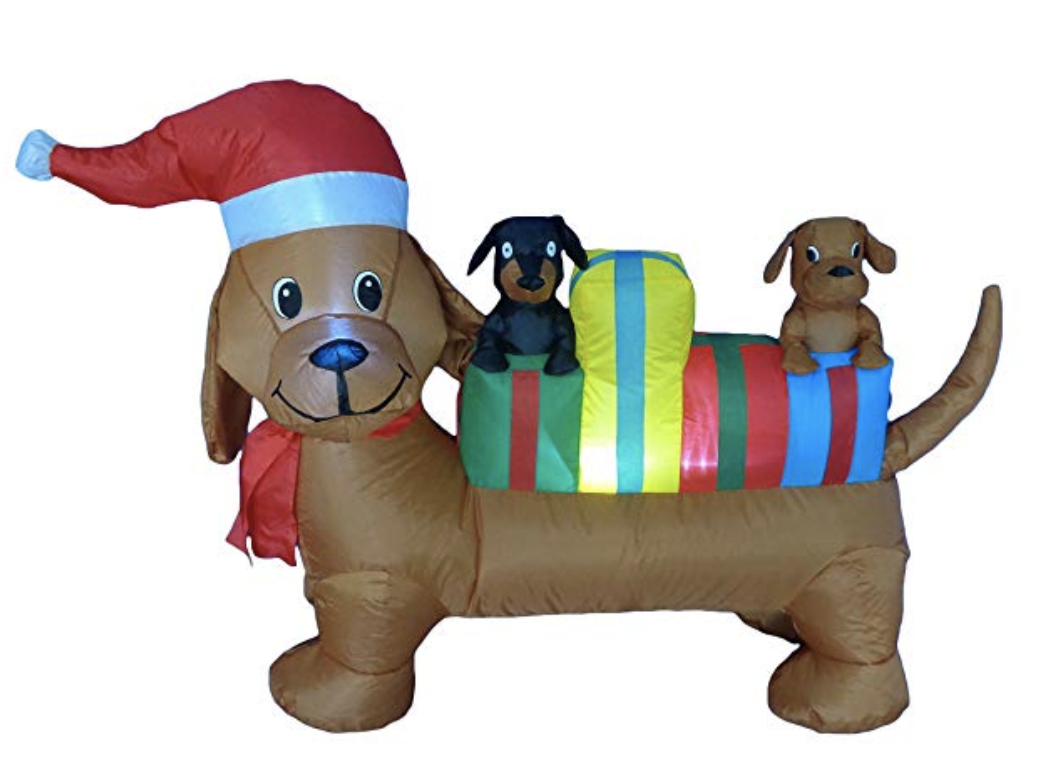 This is like a package deal—three dogs for one! I wonder what's in those gifts too…
Pawsative Ruffview: "This inflatable looked so cute in our yard. We have a Labrabull so having decorations that showed how much we love dogs was super important. The puppies ears and eyes on the back of the adult dog were super cute!"
Get the Delivery Gift Dog for $48.90
#4 Light Up Christmas Dog Weiner-Style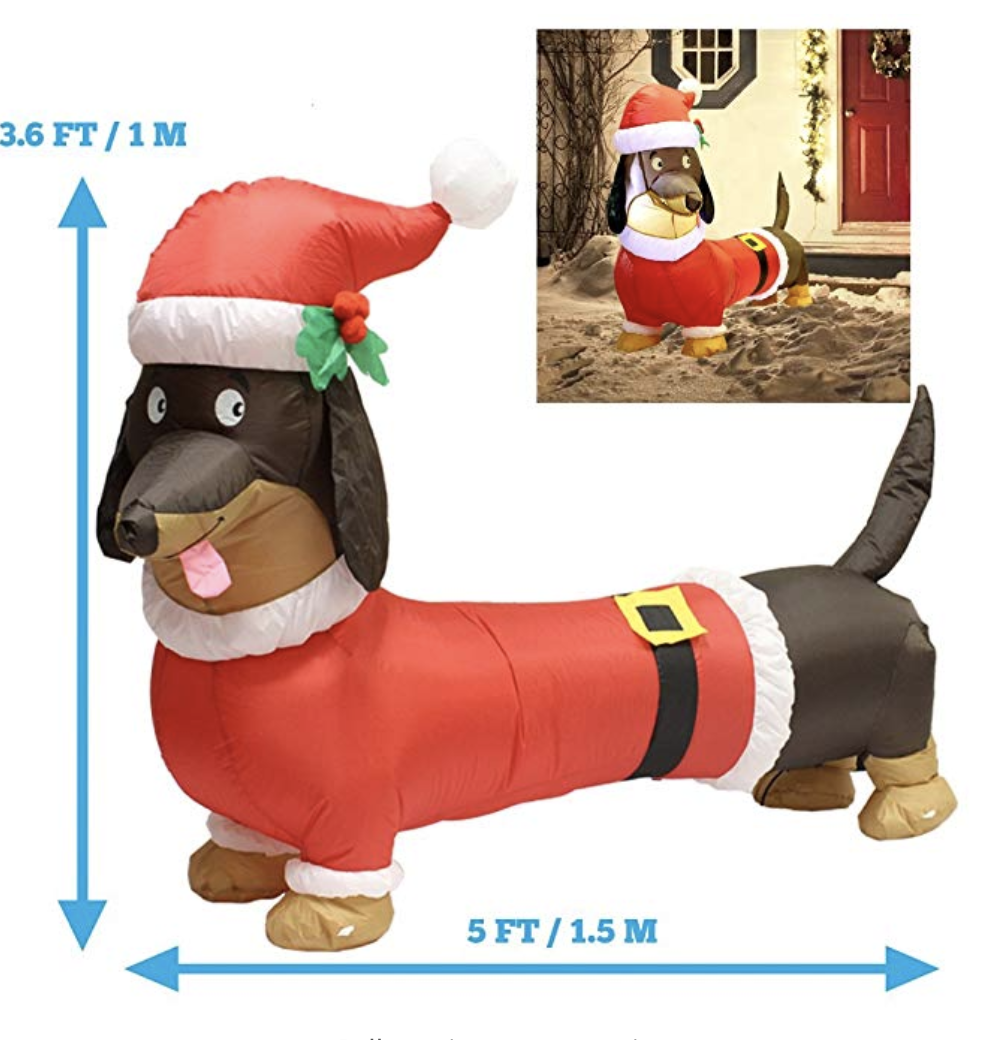 If you love weiner dogs, this is the best option for you! He's rockin' a full-body Santa suit with a festive hat.
Pawsative Ruffview: "We have multiple dogs so very appropriate, was outside last Christmas for 2 weeks without problems."
Get the Dachshund Christmas Inflatable for $29.99
#5 Dog Peeing on Snowman Light Up Christmas Dog Lawn Ornament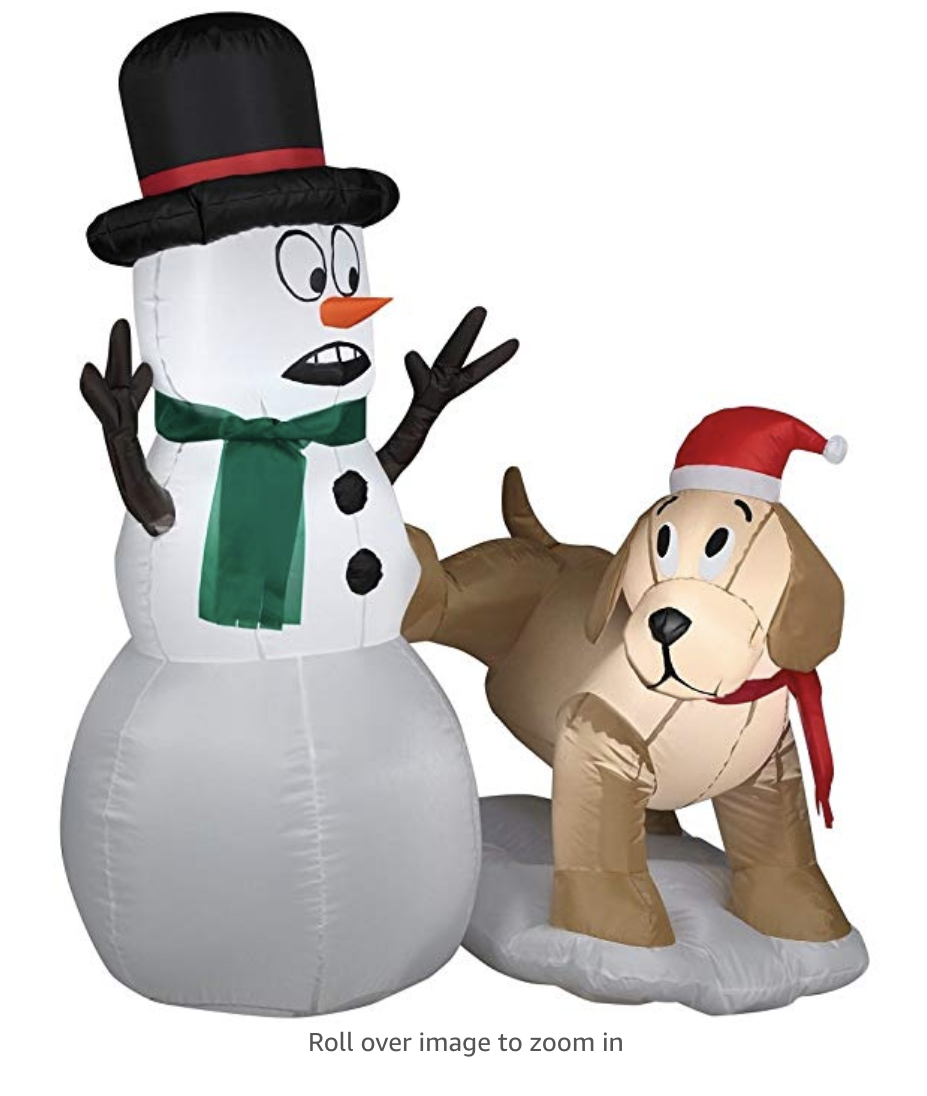 This is one of the cutest blow-up ornaments with the way the pup and the snowman are looking at each other.  Hope his pee doesn't melt Santa!
Pawsative Ruffview: "Super hilarious inflatable! People keep asking where I got it!"
Get the Peeing Christmas Dog for $45.99
#6 Dogs Pulling Sleigh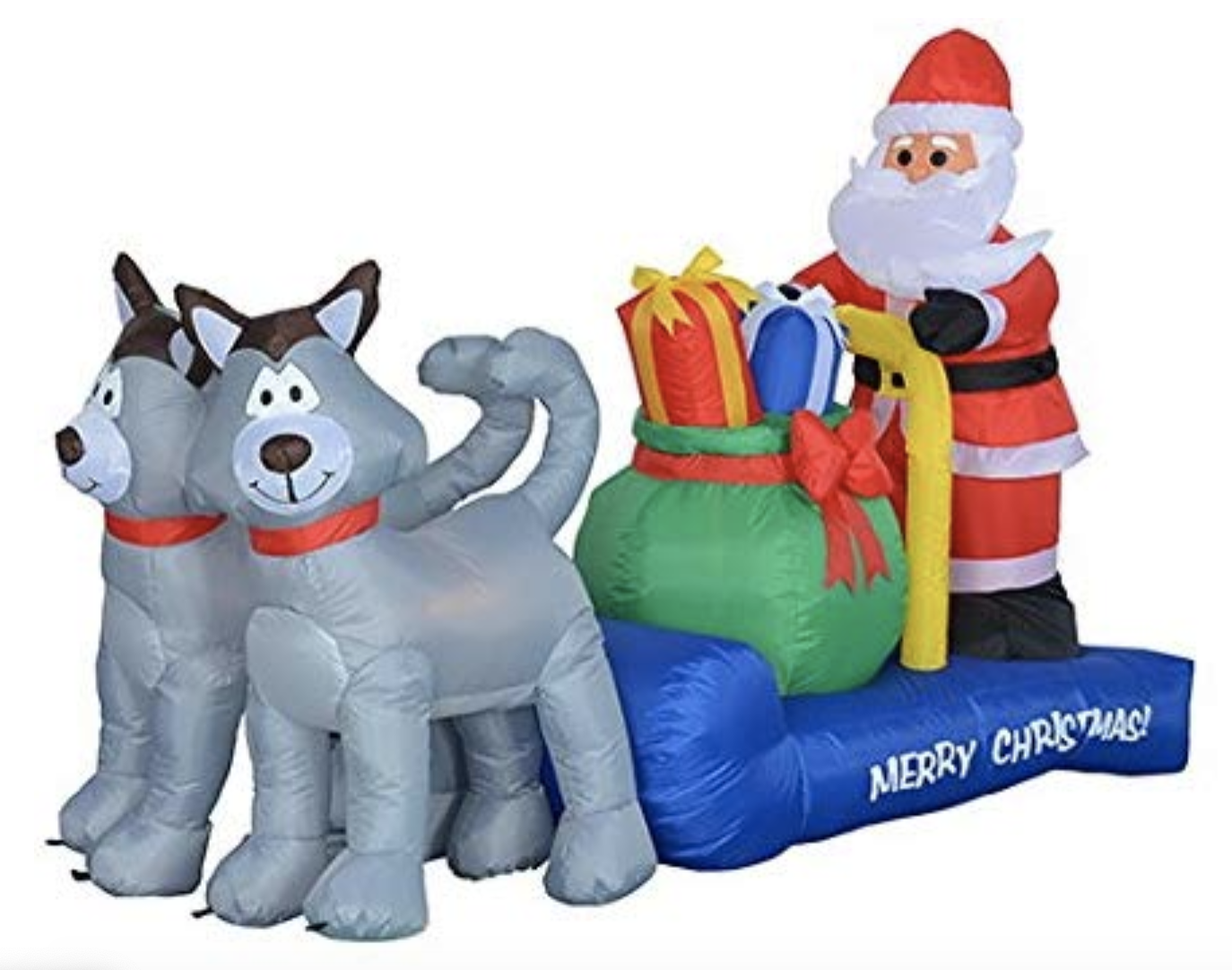 This 7-foot decoration features Santa riding his sleigh to deliver gifts. Two adorable dogs help pull him along on the nights-long journey.
Pawsative Ruffview: "Too cute."
Get this Santa Inflatable for $107.07
#7 Christmas Inflatable Dog House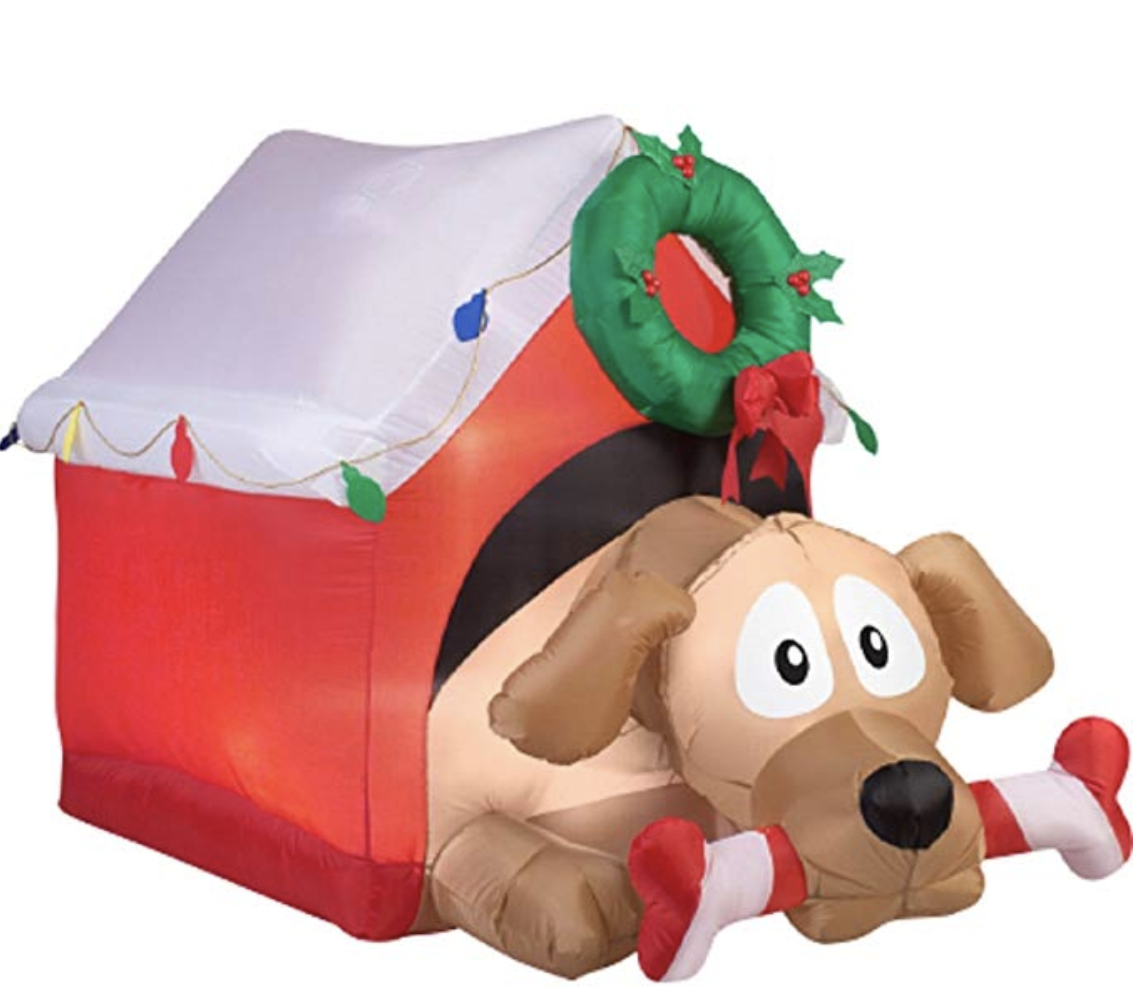 This good ol' pup is just enjoying a candy cane bone inside his decked out dog house.
Get the Doggo House Inflatable for $109
#8 Giant Pre Lit Christmas Dog Saint Bernard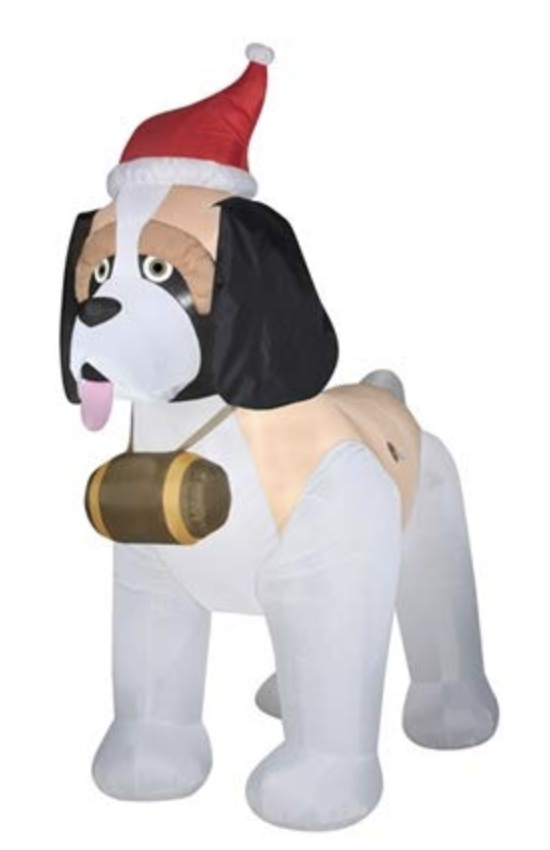 This huge dog blows up to be 9 feet fall. If you have Saint Bernards, they would look absolutely adorable beside it.
Pawsative Ruffview: "Awesome, sturdy. Holds up well in wind. When snow piles on the dog it goes into a downward dog position until I can brush the heavy snow off. Tail "wags" in the wind."
Get the Giant Dog Decoration for $108
#9 Grinch Dog Max Lighted Dog Christmas Outdoor Decoration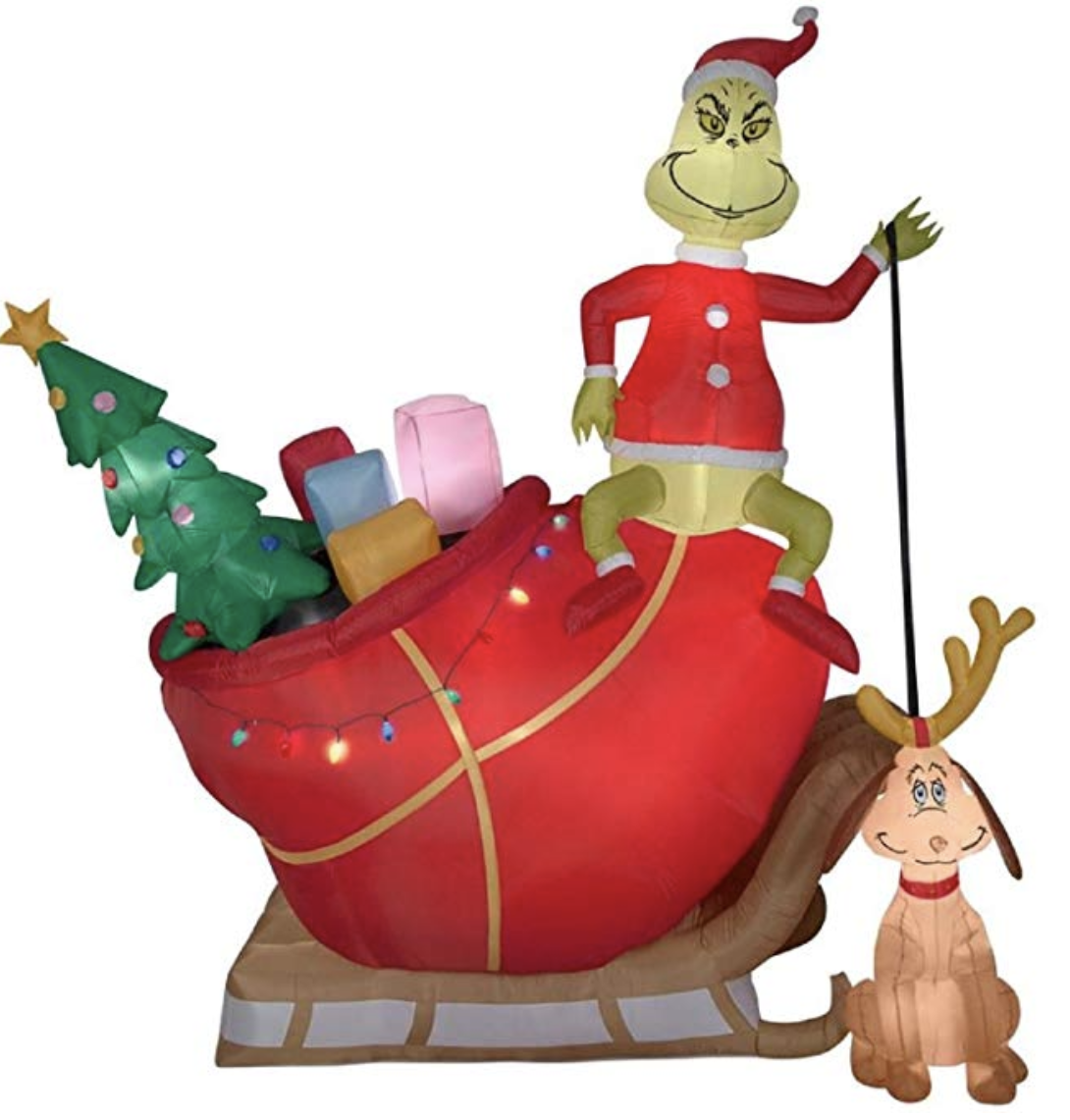 This outdoor lawn blow up is sold at more of a premium price—but for a good reason. It features the Grinch's dog Max, who sits beside the sleigh full of gifts.
Get the Grinch Inflatable for $211
#10 Dog Stealing Snowman Arm Outdoor Decoration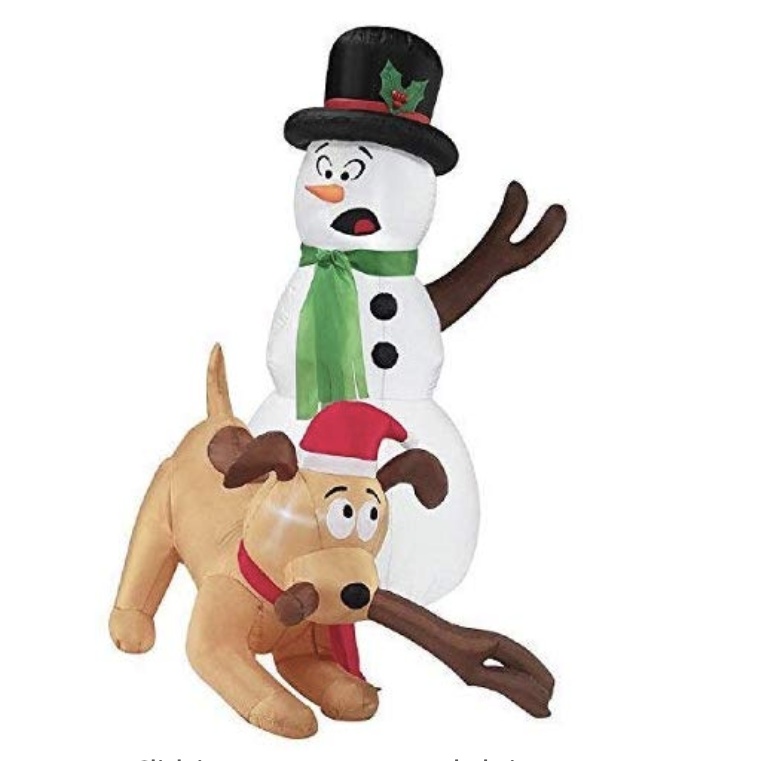 The one bad thing about Snowman having a twig arm? Besides the fact that it can't move, dogs also love sticks!
Pawsative Ruffview: "Cute! I added the other one (with the dog lifting his leg on Santa), and I think they'll complement my collection."
Get the Snowman and Dog Inflatable for $45.51
#11 Light Up Christmas Dog Carrying Tree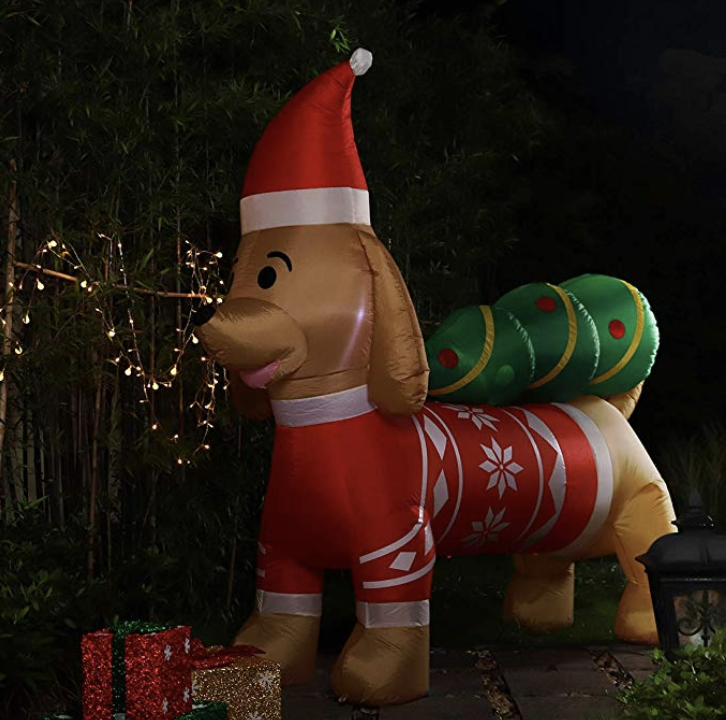 This LED inflatable is 7 feet long and sure to attract the attention of all your neighbors and passersby.
Pawsative Ruffview: "This thing is huge! It takes a few minutes to inflate but it looks great once fully inflated. Fits perfect in the front of the house."
Get the Christmas Dog Inflatable for $49.99
#12 Dog Kissing Santa Inflatable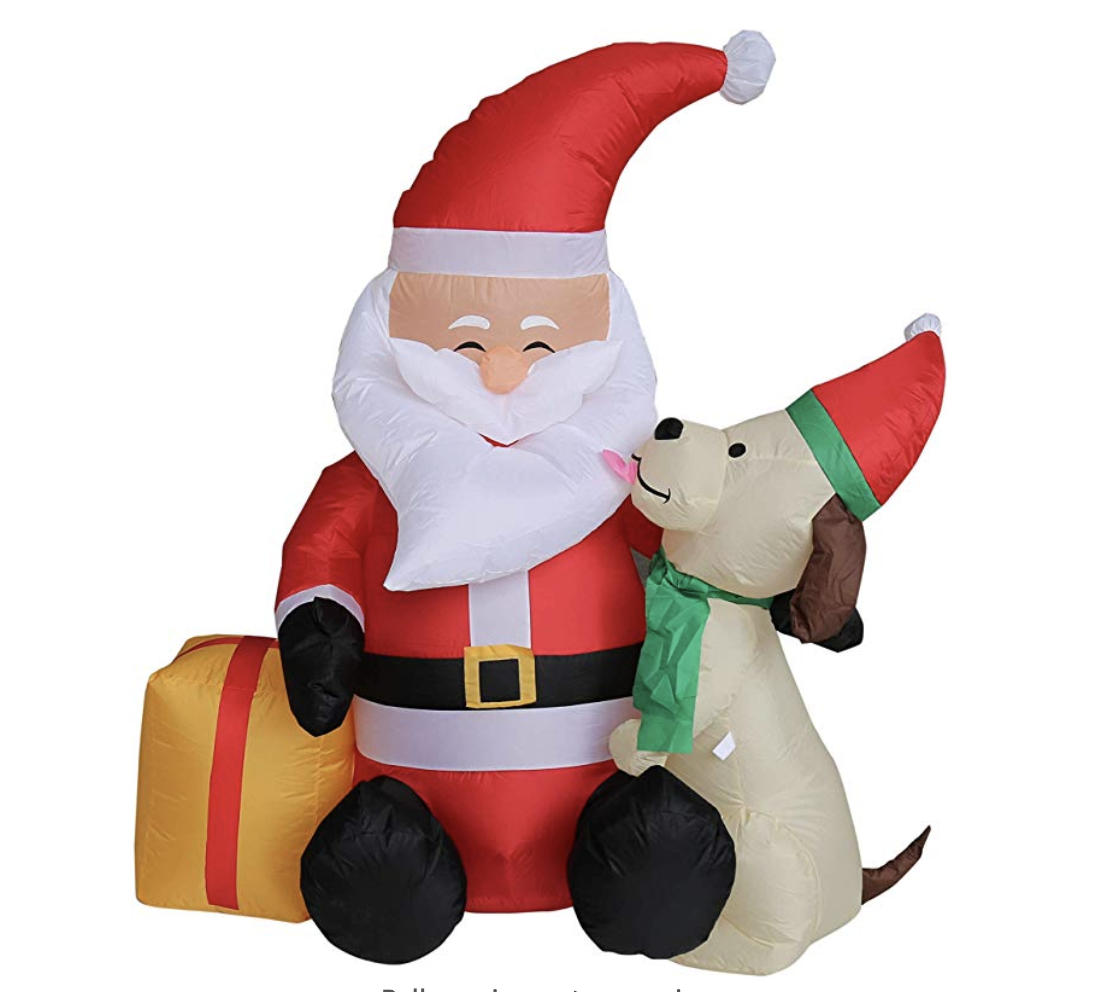 This 5-foot tall inflatable features a dog kissing Santa to thank him for the wonderful gift he's about to receive.
Pawsative Ruffview: "Nice product. Very bright. Would buy again!"
Get the Cute Doggo Inflatable for $58.99
#13 Fuzzy Dog with Santa Hat and Outfit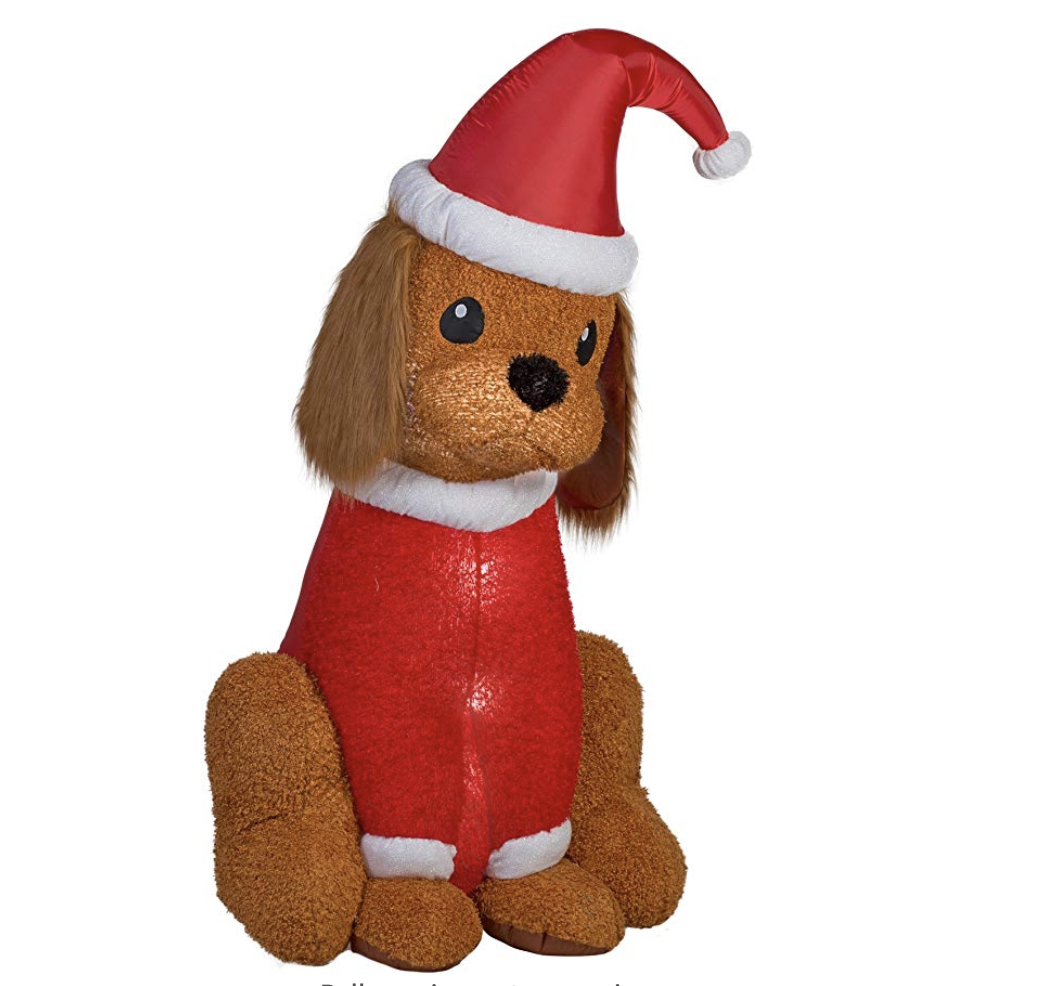 This isn't your usual holiday inflatable! It has a more real-dog like feel with fuzzy legs and face and hair ears. The added details make it look extra special when it's glowing at nightime.
Pawsative Ruffview: "High quality product. The stand, stakes and robust clips used to attach lines are top quality. The small kids next door came over right away to touch and pet the big furry dog. Steady 20 mph winds are taken in stride. Stakes are longer and thicker than some I've had in other inflatables. I deflated when they predicted 30 mph storm winds. The dog re-inflated the next day in below freezing temps with no problems. I like this product just like the kids next door liked it, and also the fact it is a high quality product."
Get the Dog Inflatable for $53.95
#14 Snoopy Holding Gift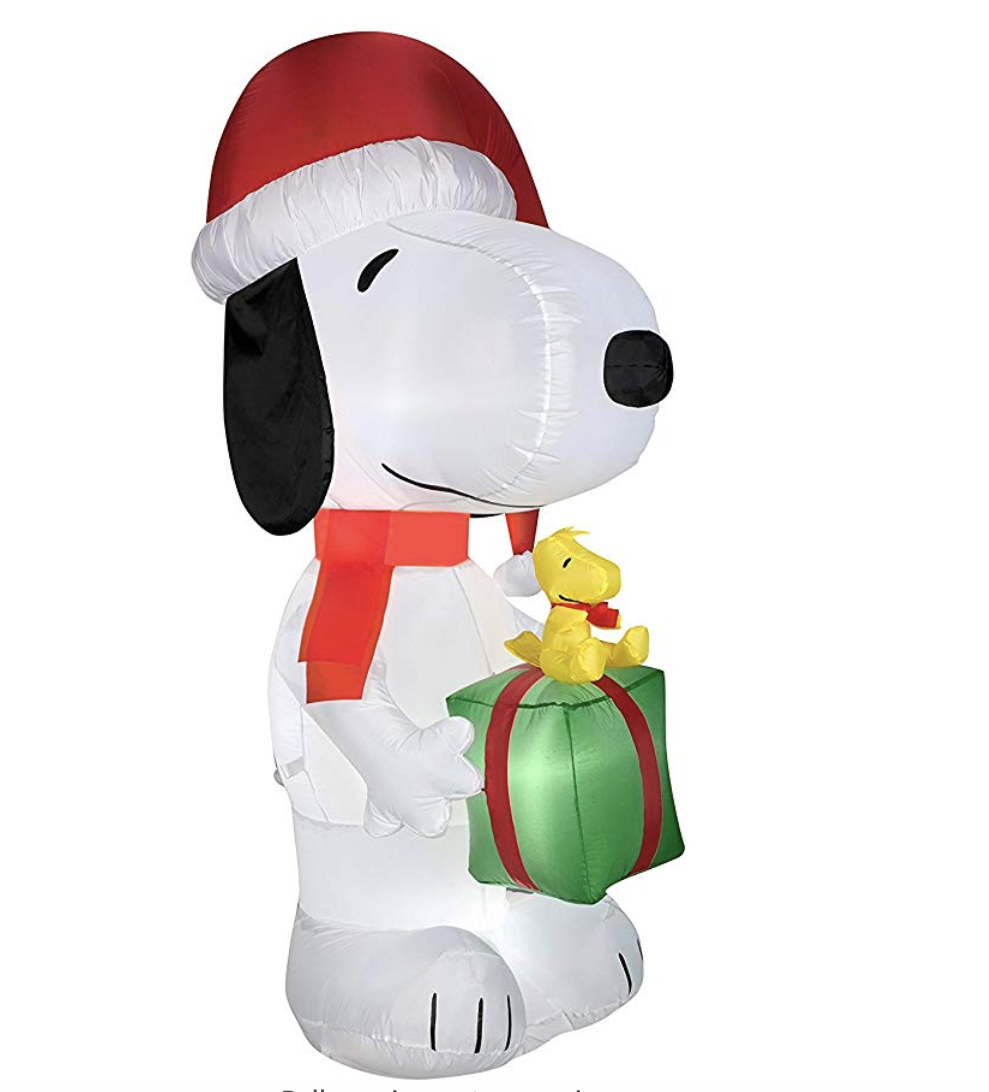 This list simply couldn't be complete without a Snoopy inflatable! He stands tall and proud with a gift for you in his hands.
Pawsative Ruffview: "This charming inflatable sat on my back deck adjoining my kitchen window – I could see him day and night! My husband would plug him in early so I could see him when I got up! He made me smile every day!" (What a nice husband, right!?)
Get the Christmas Snoopy Inflatable for $76.32
#15 Snoopy on Doghouse Inflatable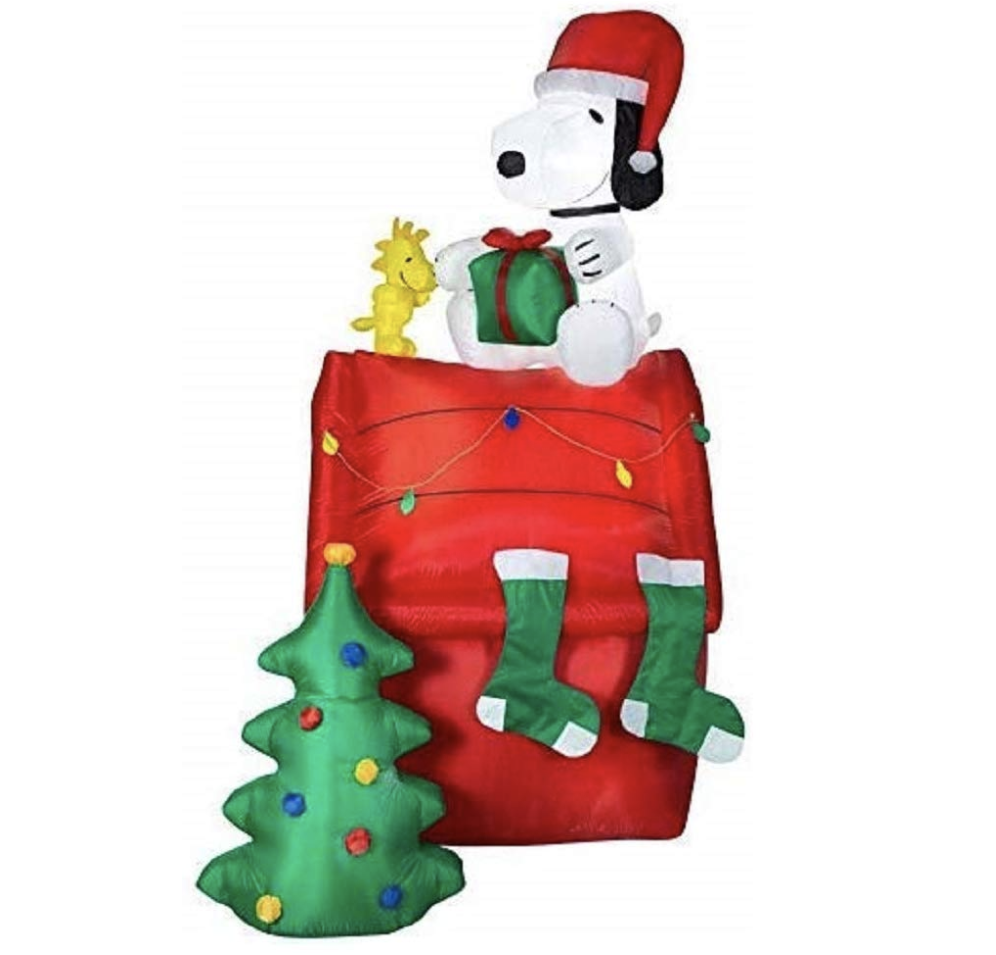 Here's another option for Snoopy fans! Reaching 8.5ft tall, this is sure to have everyone in the neighborhood admring the character.
Get the Light Up Snoopy Inflatable for $168
#16 Scooby-Doo Light Up Christmas Dog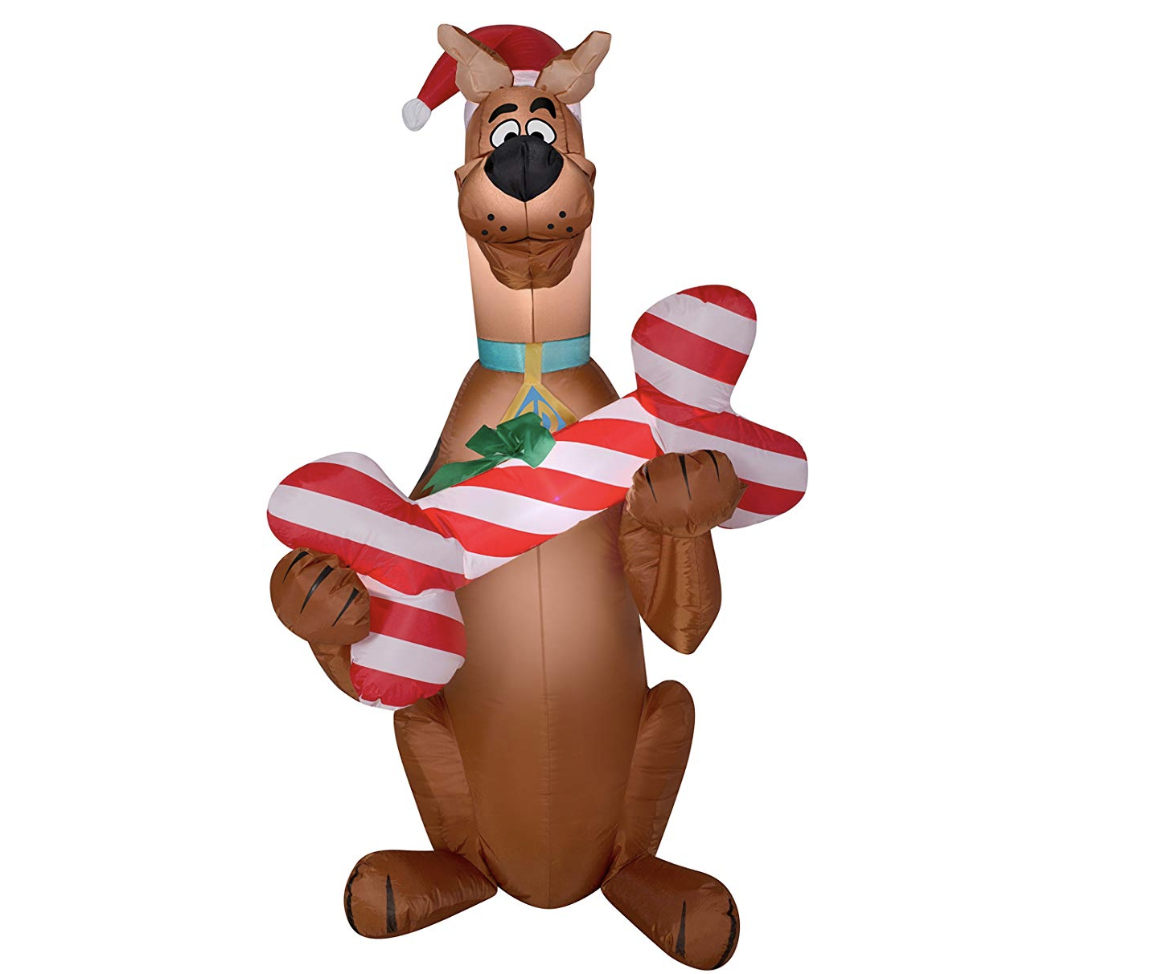 Another cartoon character, if you or your kids are fan of the show, this is for you! Standing 5ft tall and holding a candycane, Scooby-Doo looks happy as ever sporting a Christmas hat.
Pawsative Ruffview: "I bought it for my son as an early Christmas present. He and I both love it. Great price, great item. Shipping and delivery fast and free. Yay for Scooby!"
Get the Scooby-Doo Inflatable for $129
#17 Dog Mails Santa a Letter Inflatable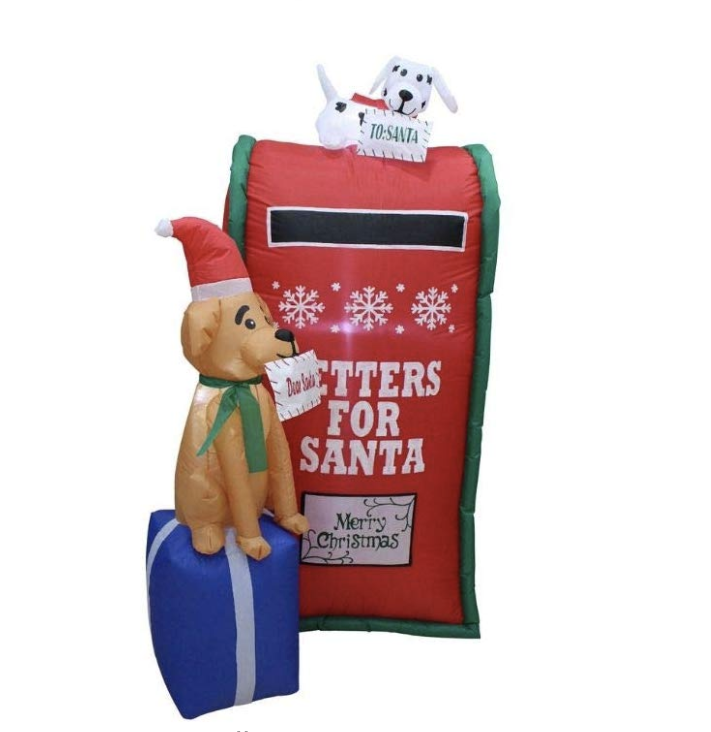 What does your doggo want to Christmas? This pup has a chance to mail Santa himself! This adorable decoration is 6 feet fall!
Pawsative Ruffview: "I purchased in the middle of the year for a large discount. So it has not spent any amount of time outside. However, being pretty experienced with inflatables. Easily having over 50, this appears to be a good one. I inflated in the garage and the fam inflated it pretty quickly, even with it being unzipped at both ends… Oops! lol I left it inflated for around 30 minutes. The lights were very bright, which cannot be said of a lot of the inflatables out there."
Get this Outdoor Lawn Decoration for $66.99