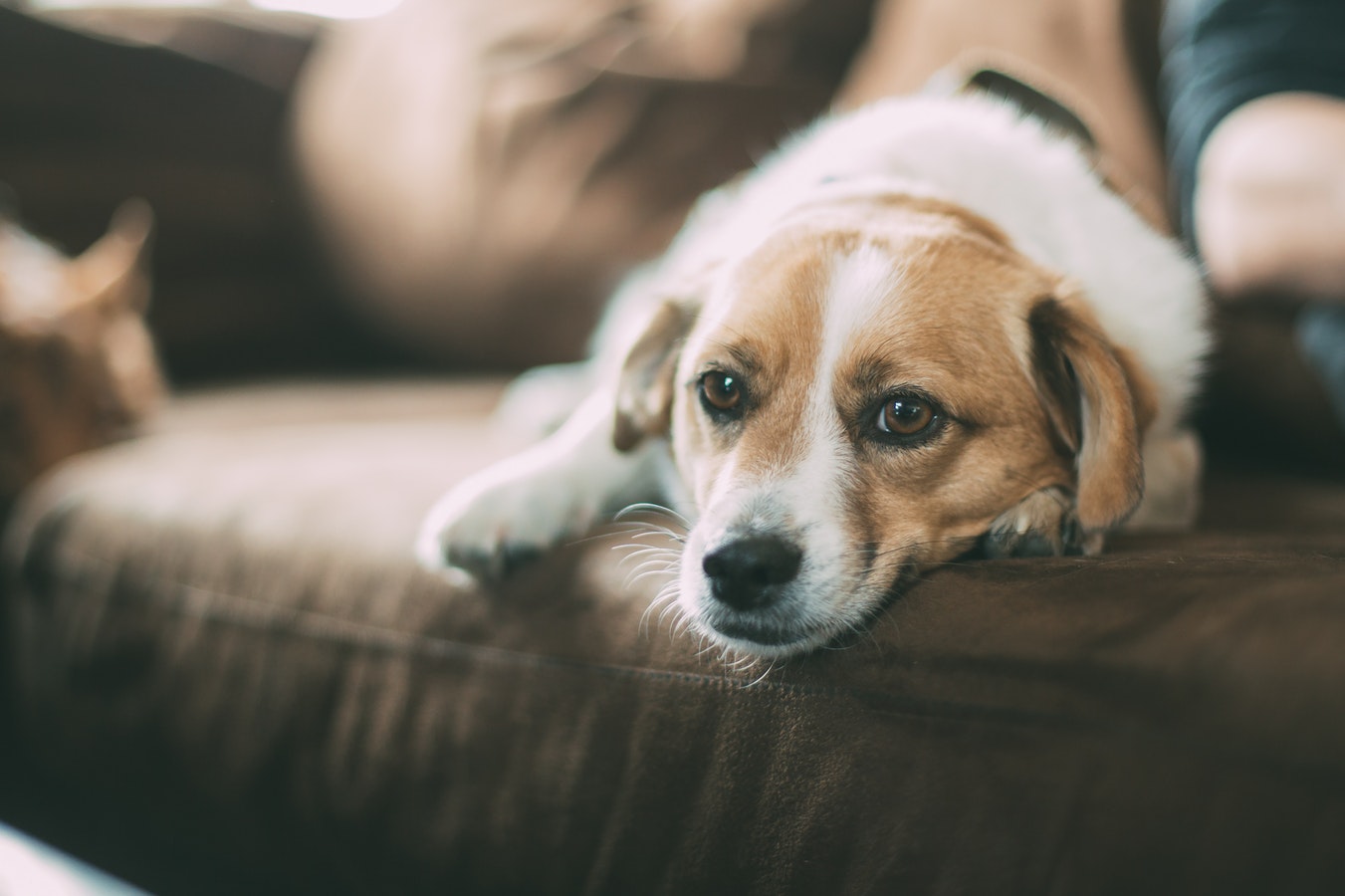 When your pet is a dog, you will have to get used to pet fur all over the house and even worse: on your clothes. The situation gets worse in the shedding season.
You don't have to bear the shame of having the fur sticking on visitors' clothes. Here are simple and very important tips on removing dog hair to help you get rid of the inconvenience caused by your canine friend.
Dog Hair Removal Tips
#1 Utilize that tape roll to pick the loose dog hair
On a day when you are late for work, nothing is as irritating as finding out that you have dog hair on your clothes. That would make you scold or hit your canine friend due to anger and sabotage after the many days of working to gain its trust.
At such a time, tape ceases to become part of your office stationery and comes in handy as a useful tool to get rid of dog hair which is sagging on your clothes or furniture. Keep a roll of duct tape or packing tape close to the door or even in your car to avoid those embarrassing moments.
You can also use lint rollers which serve the same purpose but they work slower than tape. The tape is found in every homestead which means that it will readily serve you at removing dog hair from whichever surface, furniture or clothes without damaging them.
#2 Consider a humidifier
A humidifier's known purpose is to increase humidity within a room or inside a whole building. The hydrating effect prevents the skin from drying so that the body cannot experience irritation that comes with inadequate moisture. It can help a great deal in preventing dog hair from sticking on surfaces.
Humidifiers are very important especially to people who reside in places which are extremely cold. Besides hydrating your skin and transforming your respiratory health, a humidifier can also help you a lot in dealing with the nightmare of having dog hair clinging on furniture, curtains, bedding or other surfaces in your house.
#3 Always ensure that your vacuum cleaner is maintained in good shape
A vacuum cleaner makes all the cleaning work easy. As a parent of a pet dog, your vacuum cleaner will be doing most of the work every time as you pick dog hair from the surfaces of your house. To ensure that it does the work extremely well, you need to play your part by constantly checking its belt, cleaning its filters as well as the brush roller.
This regular maintenance of your vacuum cleaner will ensure that it does not let you down in getting rid of dog hair which could be irritating or even worse, ruin your clothes and furniture.
#4 Dampen and sweep your carpet lightly prior to running the vacuum
It is almost inevitable to have dog hair on your carpet. With our love for our canine companions, the thought of banning them from getting into the house is unimaginable. All we do is clean after them, even if it not an interesting thing to do.
If you get dog hair stuck on your carpet, dampen your carpet and sweep off the dirt lightly to loosen it before you vacuum the carpet. Roll the dog hair into a lovely ball to make it manageable. It may seem like a lot of work but it will become easier in the long run. Be cautious so that you don't make your carpet too wet since drying could take quite a while.
While sweeping off the dog hair, use a rubber broom. You could also take this chance to remove pet odors too from your carpet. Sprinkle a little baking soda on the carpet and let it settle for a few minutes, say 10 minutes before you vacuum it.
#5 Use dryer sheets to ease picking pet hair
When a pet is a happy and comfortable animal in your home, there is no doubt that it will freely go to every part of your house. This makes it hard to control how much dog fur will get to your furniture, bedding and clothes in your closet. If this is the case, I bet you certainly could use some tips on removing dog hairs from wherever they are stuck.
Having dryer sheets at hand will help you a lot in getting rid of pet hair from virtually anything and every surface without ruining them. I am sure that having some dryer sheets will make you love your canine friend's company even as you read that book during bedtime.
#6 Have a rubber broom at hand
Every pet parent loves their hairy friend a lot, probably due to their never-ending loyalty. Personally, I love my dog because it always accompanies me during my runs and it makes me feel safe even when I choose a new terrain.
I appreciate my dog's loyalty but having to handpick its hair from almost every part of the house so that this situation does not sabotage my love for my pet. You could also be having the same situation.
Instead of picking your dog's fur using your hands, you can use a rubber broom to pick up dog's hair in your kitchen or bathroom floor. A rubber broom proves useful especially if your house has a floor made of linoleum, wood or tiles.
#7 Use rubber gloves or a damp sponge on upholstered furniture
Having furniture covered with dog hair is not a pleasant sight to behold. If you have been looking for a way to ease removal of pet hair from your furniture, rubber gloves or a damp sponge will serve you perfectly. The reason why these two make the dog hair removal process easy is that dog hair clings on damp sponges and rubber gloves.
You simply need to pass your hand over the surface covered with pet hair. The two work in a similar way as dryer sheets. Once the glove is covered with pet hair, rinse it off and repeat the process. I bet your search for the perfect way to get rid of dog hair from your furniture is over.
#8 Clean your carpet using a window squeegee
Now that your home has windows, it is certain that you own a window squeegee. Once you bring a dog into your house, the nuisance of dog hair all over your carpet, especially during the shedding season is unavoidable. If you are already suffering from stubborn dog hair on your carpet, you will have to make your window squeegee multi-purpose.
It does a great job when it comes to removing dog hair from the carpet. All you will be needed to do is rubbing it along your carpet. You will be surprised at how effective it is since after several swipes, you will have removed a big pile of dog hair and your carpet will already be looking pleasant.
#9 Vacuum in alternating directions during cleaning
As you carry out your cleaning whether daily or weekly, vacuum clean in alternating directions as you go over the carpet several times. This will help you increase the amount of pet hair you remove from the carpet, whether it was loosely attached or embedded.
Constantly check the filters and empty it. If the vacuum filters clog, the process of removing dog hair will be slow and tedious since the vacuum will not be running efficiently.
#10 A dampened mop works on vinyl and hardwood floors
My parents valued hardwood and for that reason, our house had hardwood floors. That was when I learned how easy it is to remove dog hair from hardwood floors using a dampened mop. In this case, a damp mop works as a magnet as it picks up dog hair.
I actually enjoyed doing the work. You will just have to be careful not to leave pools of water stagnant on the floor. The pools of water could yield more trouble to everyone in the house. For wooden floors, use cleaning products that are specific for wood. Pay heed to the directions as illustrated on the label especially on diluting the cleaning agent to avoid ruining the wood.
#11 Consider a pumice stone
Probably you are gambling with options to get the easiest way to remove dog hair from your carpet. A pumice stone can serve you very well and it comes in handy when you are not prepared for any other method. You simply need to scrape the pumice stone along the carpet's surface.
Do this gently to avoid ruining the carpet by creating a dry and rough skin on it. All the pet hair clinging to your carpet will gather up and save you the agony of having to handpick the dog hair bit by bit.
#12 Always choose fabrics which are pet-friendly
This is the most basic thing you should do if you now want to deal with dog hair all over your house. It will also save you from the tedious cleaning process of removing dog hair from furniture, clothes and other surfaces. There are fabrics which are likely to accumulate more pet hair compared to others.
Avoid materials such as corduroy, velvet, loose knits and velour which are good at attracting pet hair. Shiny materials such as satin and leather do not gather pet hair due to their slippery nature. Natural fibers are more prone to attracting pet hair than synthetic fibers.
However, synthetic materials also attract pet hair due to static charges which makes it even harder to get rid of them. Avoiding the fabrics which gather pet hair is one of the sacrifices you will have to make for your canine friend, probably as a reward for its loyalty.
Remove Dog Hair with Ease
However much we love our pets, the idea of dog fur all over our furniture, clothes and surfaces is not pleasant. I hope you have learned and enjoyed reading the simple tips on removing dog hair. Most of them require readily available materials.
If you have for long refrained from having a hairy companion in your house, it is a high time you got one and enjoy its loyalty. Getting rid of its hair will be very simple if you use any of the tips that we have discussed above.
Feel free to comment or add an extra tip for removing dog hair which will be useful to us dog owners. You can also ask questions regarding the topic and I will reply as soon as I can.