Your dog wakes up early on December 25th and can just feel it's Christmas.
He runs out of his bed and wags his tail in your face to wake you up.
He's ready to open his presents!
But what stocking will he be surprised with on the big morning?
Surely, not coal! He's been a good boy all year and deserves something just as special as he is.
In this post, we're sharing x dog Christmas stockings that your pup will love to pick his gifts from. After all, if everyone else has a stocking, why shouldn't he? He's part of the family!
Dog Christmas Stockings on Amazon
Before choosing your dog's new Christmas stocking, we have a few tips:
Wrapping. Before I put my dog's presents in his stocking, I loosely wrap them with tissue paper and tape. Just like a kid, he gets the idea and tears it right open in excitement to reveal his gifts. Of course, this isn't a good idea if your dog eats papers and doesn't understand the difference between that and a treat or toy. However, if your dog is like mine, he may love it. I use tissue paper because it's easier, but regular gift paper may work for some dogs too.
Gifts to include. You can include a variety of types of gifts, such as toys and treats and more practical items, such as dog sweaters, new bowls, etc. Just remember, he'll be less excited to open a gift if it doesn't smell or squeak! You can also mix it up between high-quality lost-lasting toys and lower-quality dollar store toys that only last a few days. Looking for suggestions. Read our massive 2019 guide here: 38 Christmas Gifts for Dogs That'll Make Their Tag Wag Vigorously.
Write his name. In many family's, the name of the person is written on the stocking. If yours is the same, you can use a marker to write your pup's name—or choose a personalized dog Christmas stocking instead.
Pre-filled Stockings. If you buy your dog his own stocking, you can fill it full of his favorite goodies. But another option is to buy a stocking that already comes with gifts. Although this isn't a good idea for tough chewers or picky eaters, it's a more cost-effective option for others!
#1 Paw Print Red Plaid Stocking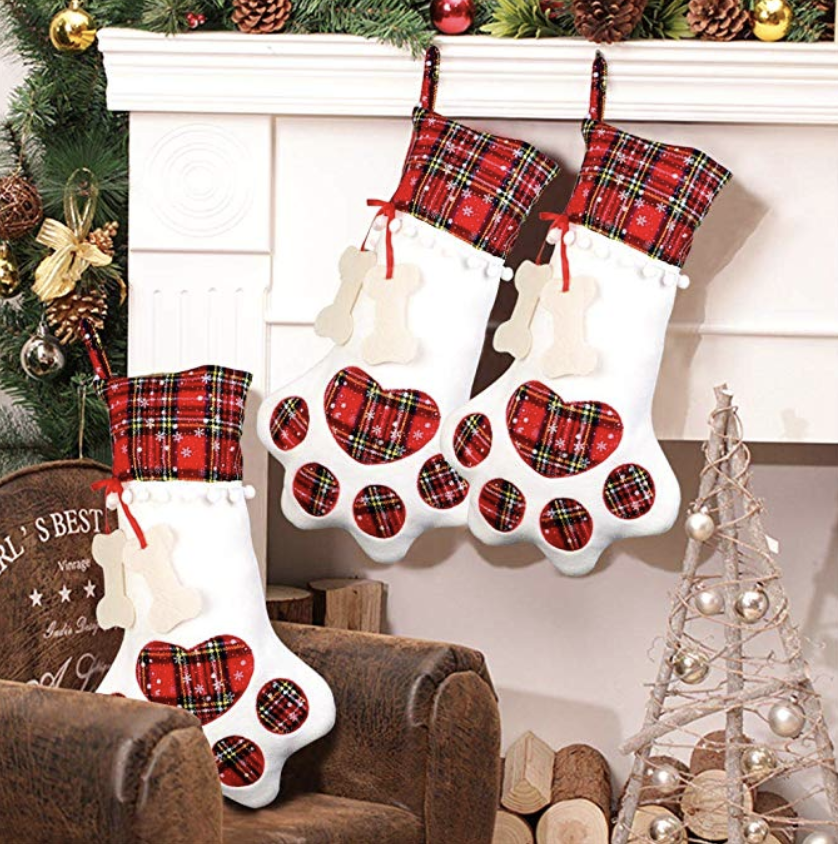 This red plaid stocking features a paw print design at the bottom with two hanging fabric bones. It also has white hanging pom poms to amp up the Christmas spirit. It also comes in a cool Christmas evergreen color.
Pawsative Ruffview: "This is so adorable!! I got this originally just for looks because it matches our other all plaid stockings. But when it came it was much bigger than I thought, which is perfectly fine. But because it was so big I decided to actually stuff it with gifts for our Lab. He just stuck his snout right in and pulled out each present. That was adorable and the stocking is adorable. Definitely a great buy!!"
Get this Paw Print Plaid Stocking for $7.99
#2 Cat and Dog Christmas Stockings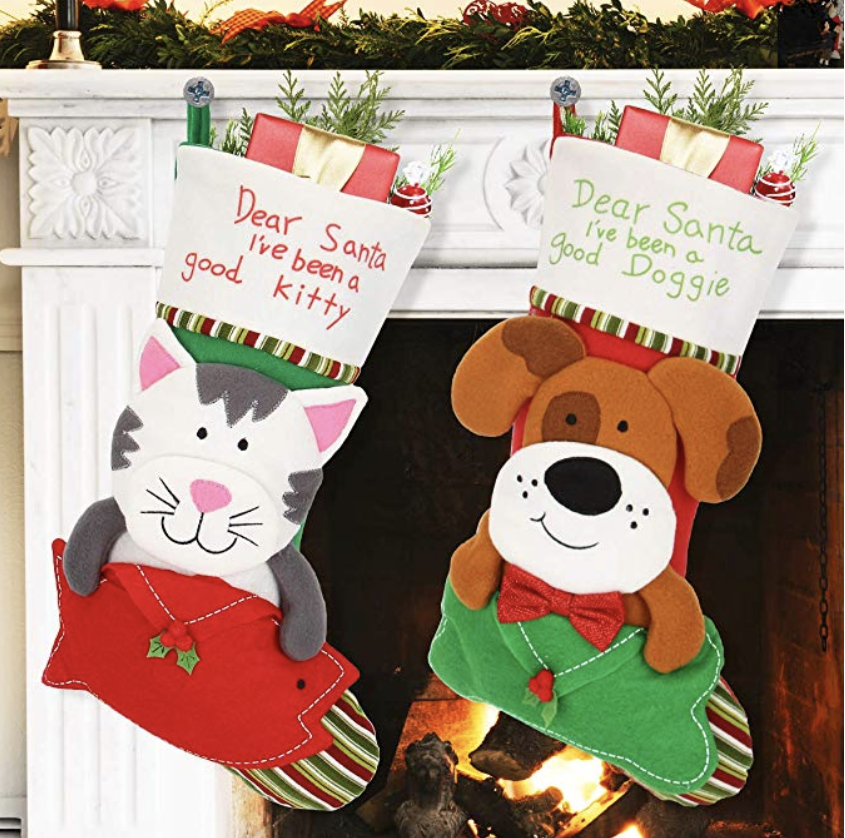 If you have a cat and canine in your family, this is the perfect set for you. Each stocking features a cat and pup design, both insisting they've been good pets this year. The envelope on the bottom opens up to fit in extra goodies too!
Pawsative Ruffview: "These Christmas stockings are super cute!! they're large enough for chews/toys/leashes/collars for your babies on xmas day. the envelope on the bottom of the dog and the fish on the bottom of the cat open up and there's a pouch hold other things as well. the stitching looks nice and they'll be perfect on our wall around the tree!"
Get this Stocking Set for $12.99
#3 Needlepoint Bone Stocking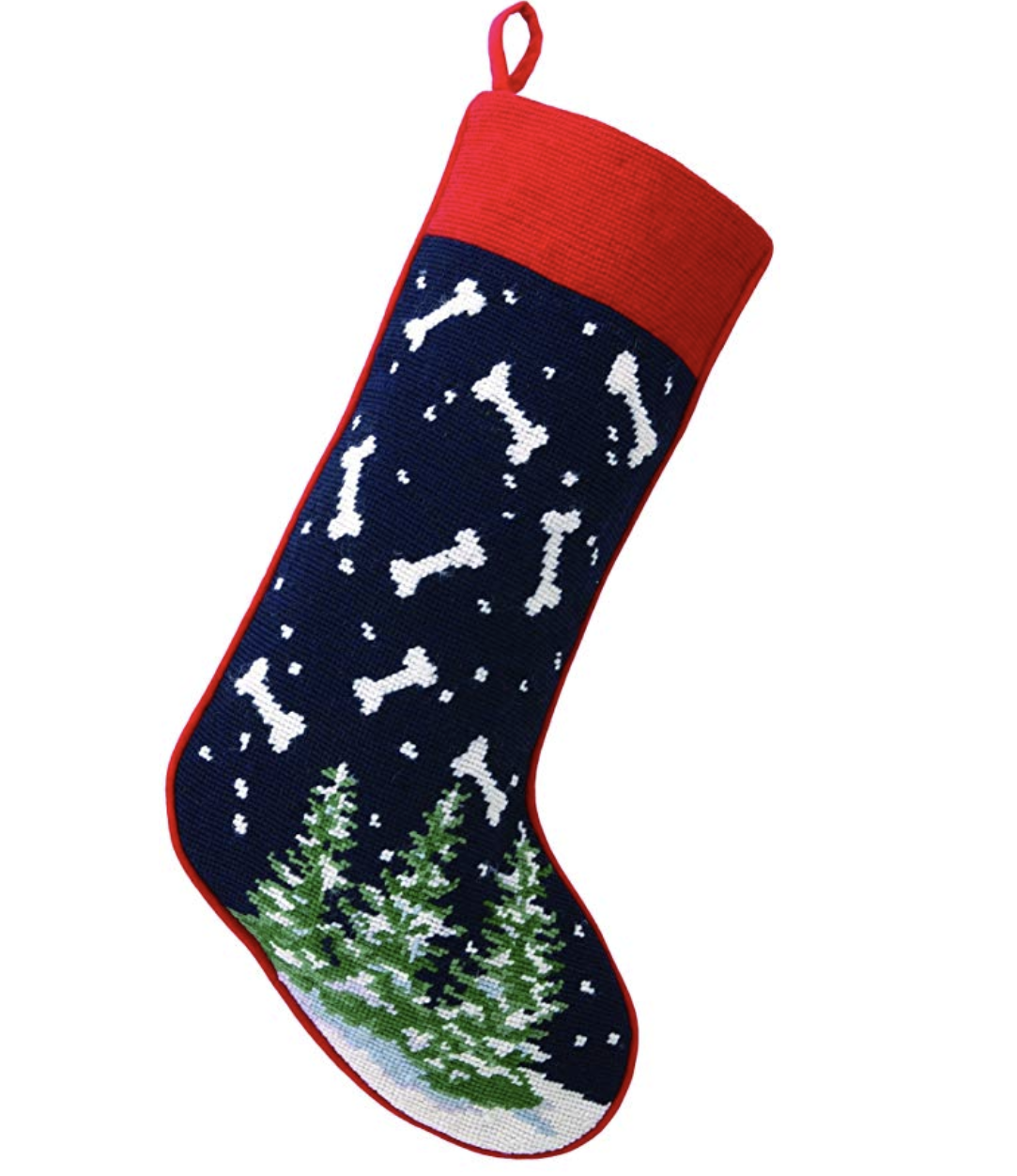 If you're looking for a stocking that's going to last years, you've found the one. This 100% wool option is sturdy enough to fit the heavier doggo gifts!
Pawsative Ruffview: "We have dogs that aren't any specific breed so we cannot buy the stockings that have a specific breed of dog on them. This stocking is perfect for their Christmas doggie bones from Santa."
Get this Needlepoint Dog Stocking for $48.99
#4 Embroidered Dog with Candy Cane Holiday Stocking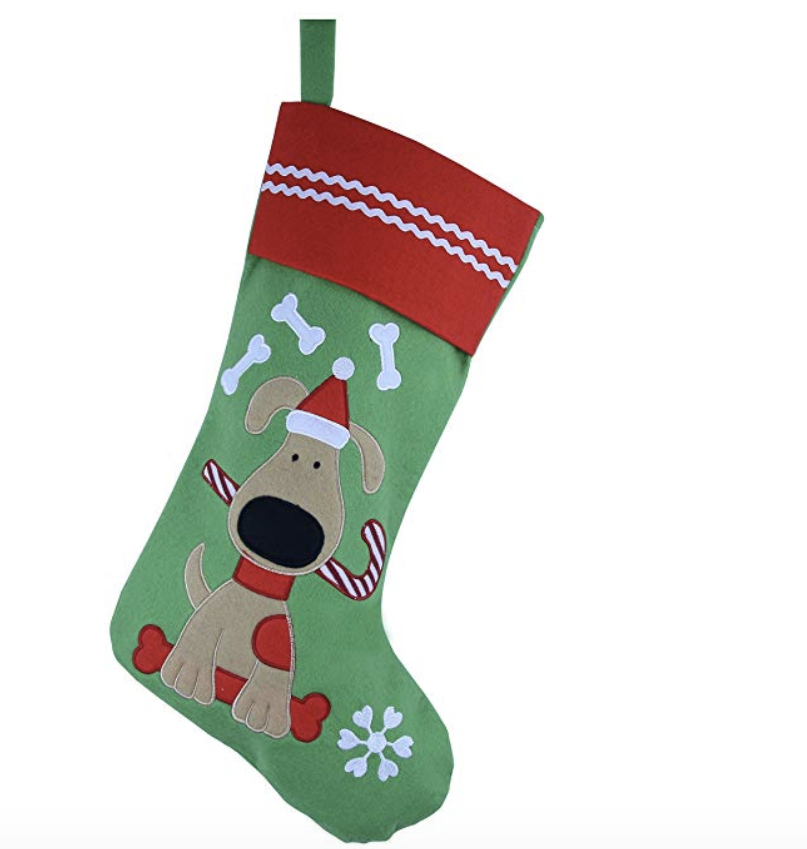 This green stocking features embroidered dog bones and a snowflake centering around a dog with a Christmas hat and candy cane in his mouth. This is another high-quality option for those that want their stocking to last their doggo's life!
Pawsative Ruffview: "So cute!!! These stockings are absolutely adorable additions to our stocking wall. We have 3 dogs, each who got their own, and 3 cats, who were able to share one (since their toys/treats are much smaller. They are pretty good quality and have a big loop to accommodate a variety of hanging hook sizes. The only down side was the felt was a little difficult to write on, even with a marker."
Get this Embroidered Stocking for $7.99
#5 Dog-Shaped Christmas Stocking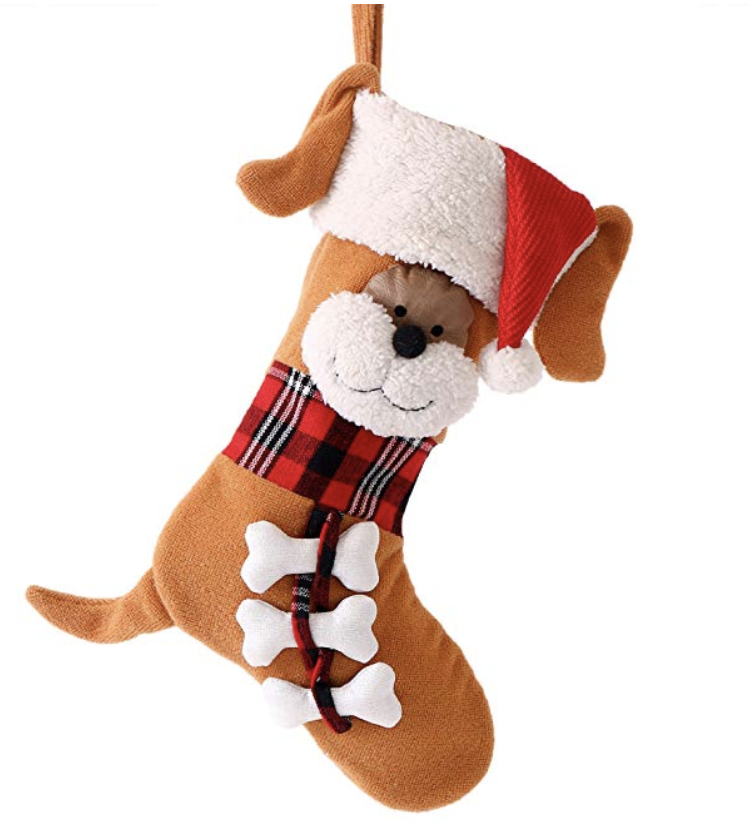 This is one of the most adorable stockings on this list! Ears flop out the top while the heel features a stuck out tail. The face is even cuter!
Pawsative Ruffview: "Omg I love this stocking. This stocking is beautiful just liked pictured and made of great material. There is nothing cheap on this stocking. I will be buying a few more to give to family and friends for their fur babies."
Get this Dog Stocking for $12.99
#6 Red Plaid Dog Bow Stocking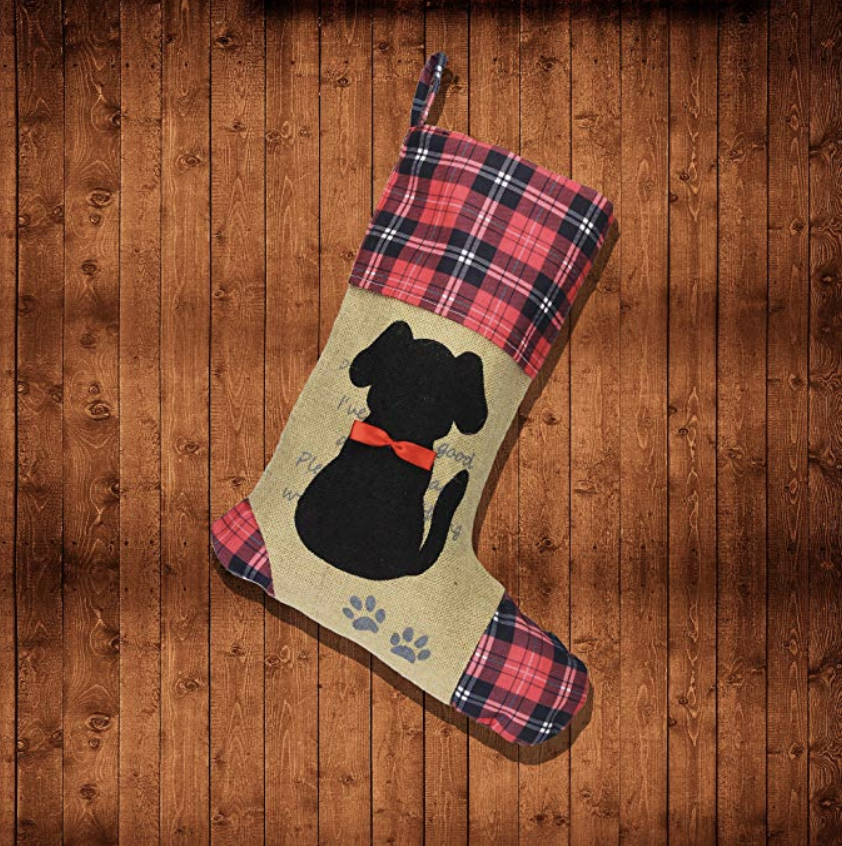 This aesthetically pleasing stocking features red plaid at the top and corners and a dog with a bow in the centre. Made with 100% natural hemp and cotton, it's perfect for storing bones, treats and toys.
Pawsative Ruffview: "This is a perfectly adorable stocking for our little black puppy! Good size. The burlap material is inside also, there is no lining….but for puppy toys and treats that was not a problem! We added a name to the top cuff and it fits right in."
Get this Red Dog Plaid Stocking for $9.99
#7 LED Dog Christmas Light Stocking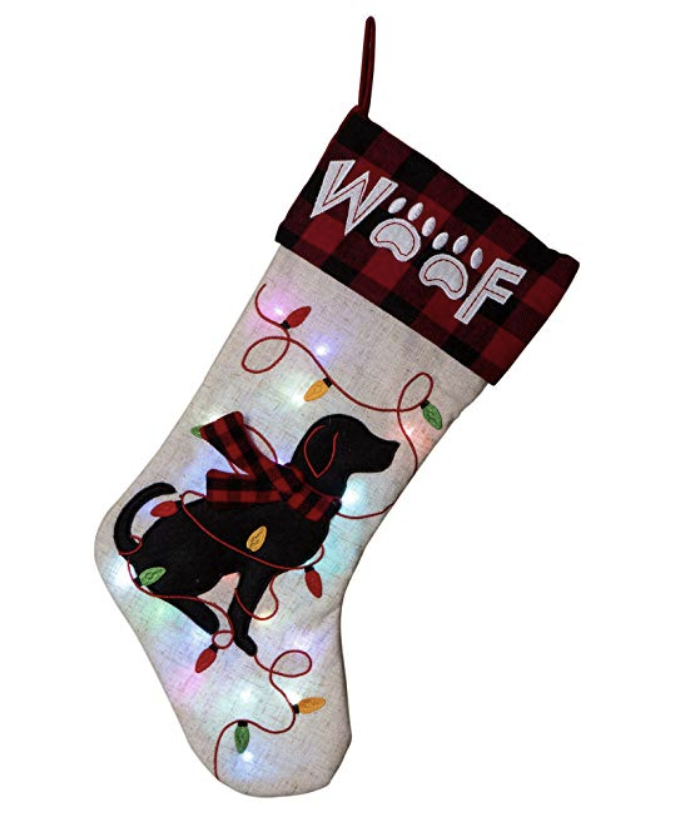 Is your dog one to always add a little pizzazz to your day? This is the stocking to suit him then! With "woof" at the top and LED holiday lights dangling through the stocking, he'll know it's for him. This company offers many other options too so be sure to check those out!
Pawsative Ruffview: "Absolutely perfect stocking. Our dog is also very pleased with it. He is hoping it will be filled with all sorts of treats for Christmas, but since he has been exceptionally naughty this year, it might be filled with coal instead. That is not the fault of the maker of this beautiful stocking. It's because our Labrador is a bit of a jerk." (We hope they reconsidered!).
Get this LED Dog Stocking for $23.99
#8 White Faux Fur Pet Stocking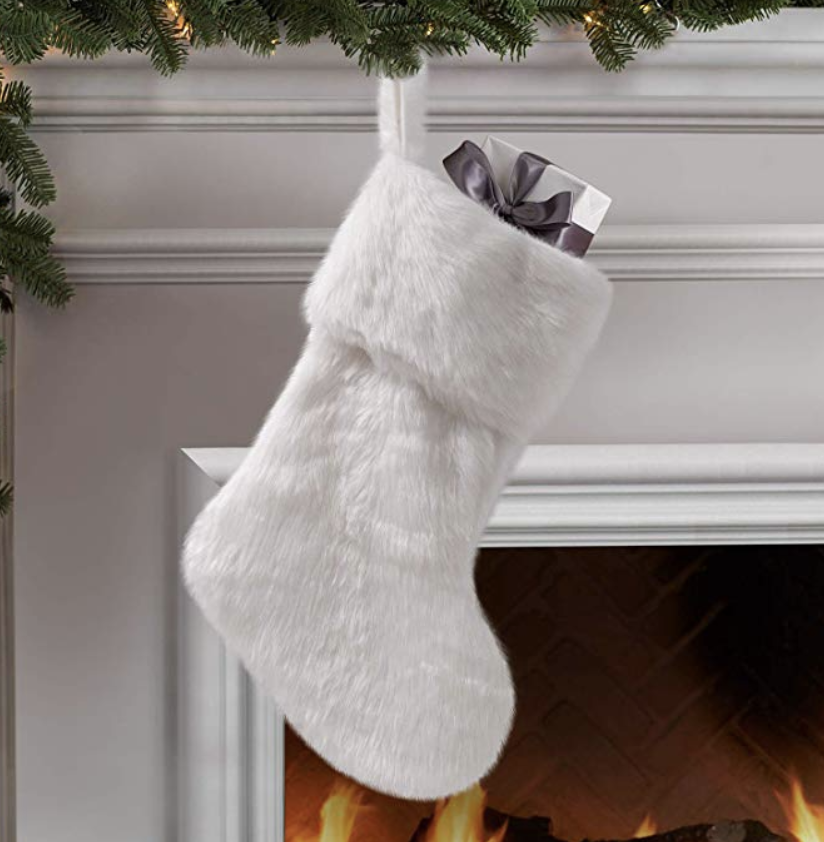 Some people are very specific about their Christmas decorations. They need to  fit in a certain color  or design scheme. If this is year, this fake white fur stocking is probably the best option. It will fit in with almost any holiday decorations and has a modern, clean feel.
Pawsative Ruffview: " I didn't have very high expectations for the stocking but when I received it and then opened it and felt how soft it was and how big it was I was pleasantly surprised and I love it! I needed the perfect last-minute stocking for my granddaughter's first Christmas and this is perfect! Awesome price for such a good quality stocking! If you're on the fence and trying to decide I would say go for it! I am a pretty picky person especially when it comes to sensory issues as far as fabrics and such so I was worried this would be one of those "icky" feeling fake fur stockings. Definitely not, it's very, very soft and perfect!"
Get this Modern Dog Stocking for $12.88
Pre-Filled Dog Stocking Gifts
If you're looking for a stocking that already comes pre-filled with goodies, here's your best options on Amazon.
#9 Filled Stocking with Christmas-Themed Toys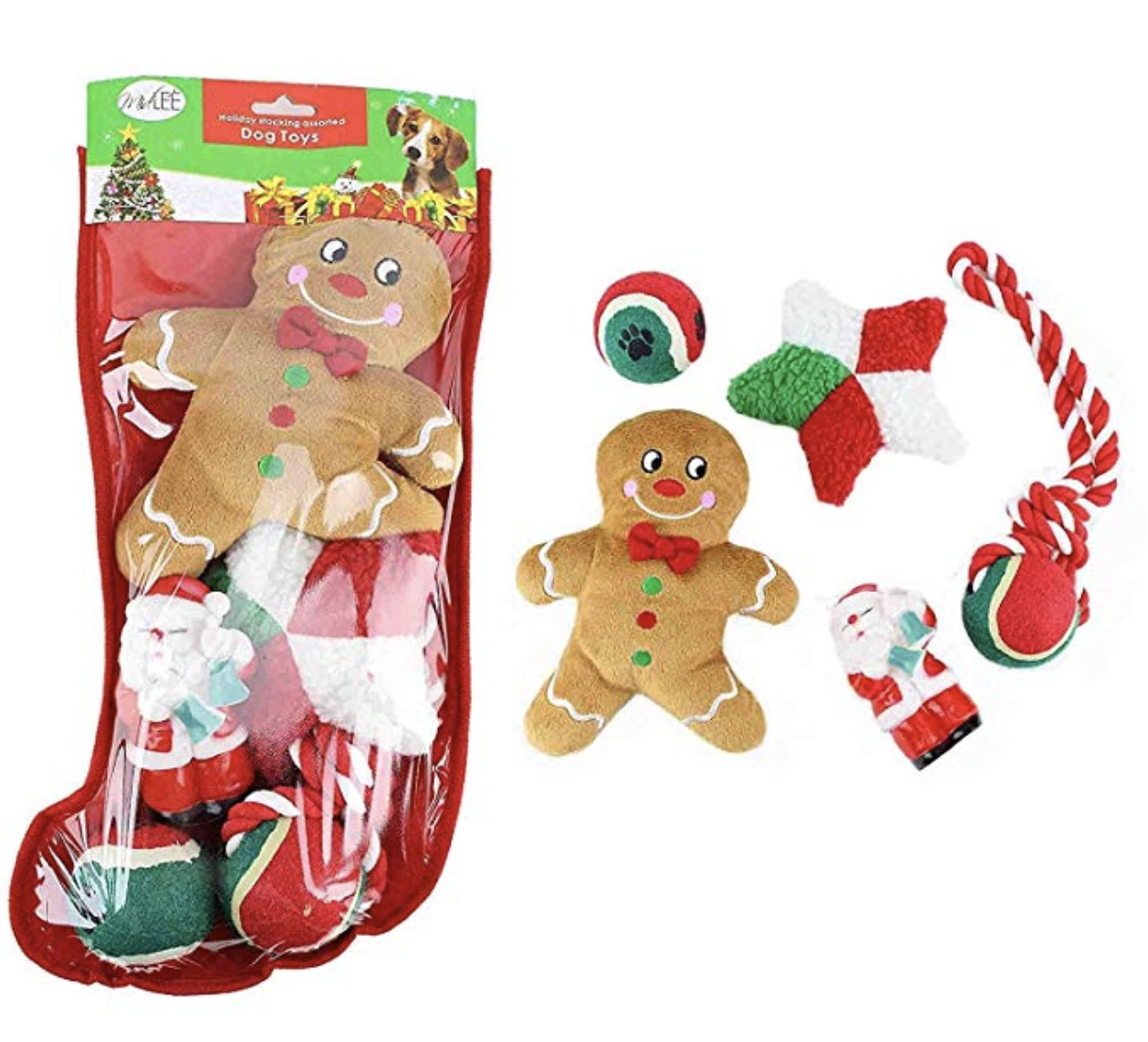 If you're looking to get your pup toys that are holiday-themed, this is perfect! It comes with a plush gingerbread, star, red and green ball and tug rope and a little Santa.
Pawsative Ruffview: "My dog gives this 5 stars. Squeaky Santa is still her favorite toy 7 months later. She hates him the most and loses her mind when I squeak him."
Get this Christmas Toy Filled Stocking for $19.49
#10 Fuzzy Paw Print Filled Dog Stocking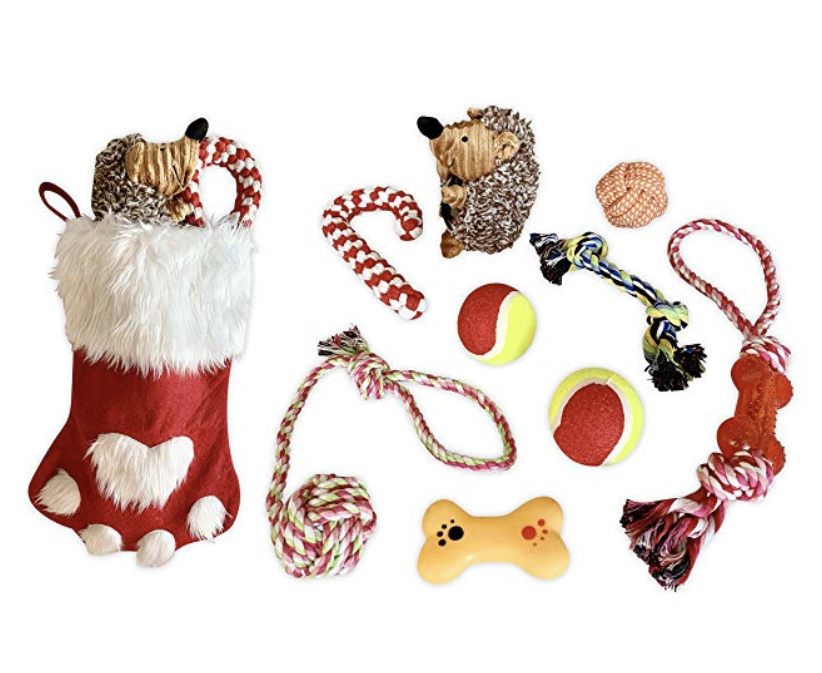 Many pre-filled stockings are disposable plastic, but this one you can also use in the years to come and it's pretty cute too! It come with ropes, chew bone, balls and an adorable hedgehog toy.
Get this Pre-Filled Dog Stocking for $39.99
#11 Doggo Toy Stocking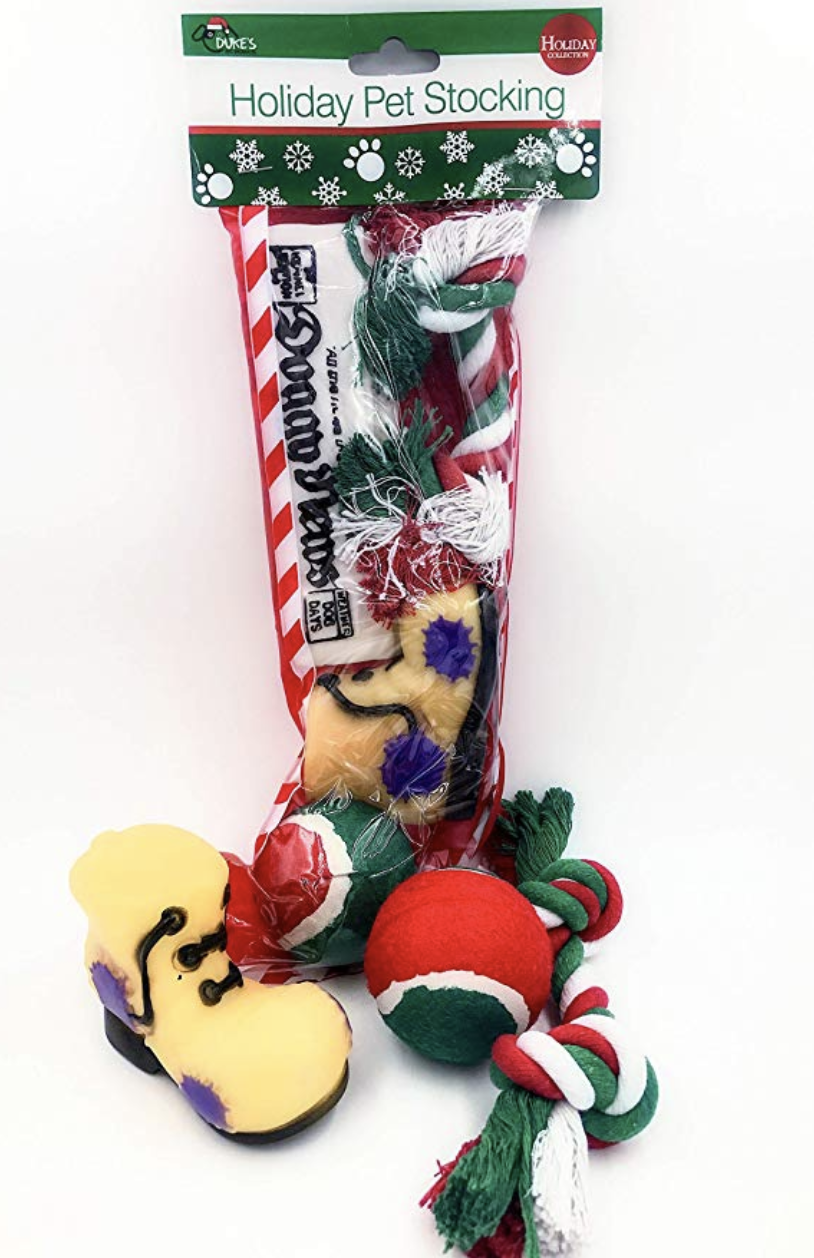 This stocking features a red and green ball and rope and other non-themed toy, such as a squeaky toy and newspaper. He'll be so excited to open it up on Christmas morning!
Pawsative Ruffview: "Bought this for my son's newly rescued Vizsla mix for her Christmas. She had been traumatized by 3 previous families and we think crated based on her behavior. When her gifts arrived from "Grandma" (that's me!) – she had the time of her life. Bought her lots of goodies here on Amazon!"
Get this Dog Toy Stocking for $10.99
#12 Rawhide Dog Christmas Stocking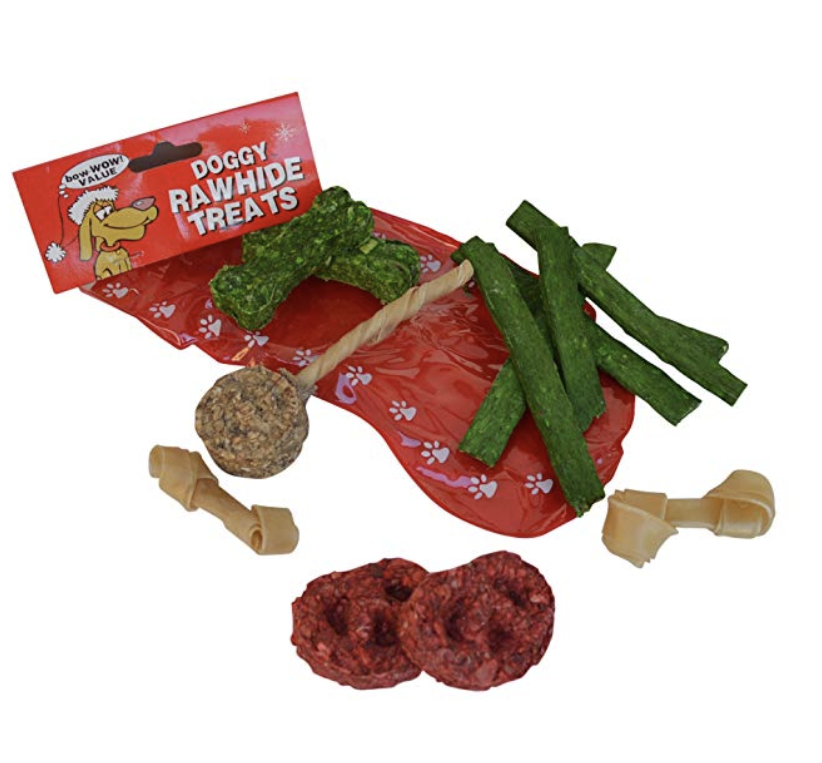 Forget the toys! Your dog loves the holidays for one reason: Because of the treats! This large stocking features a variety of treats per pack perfect for medium or large-sized dogs.
Pawsative Ruffview: "I can't personally attest to the taste but my dogs seemed to devour them in a matter of minutes so I guess that's endorsement enough."
Get this Treat Dog Stocking for $10.99
Personalized Dog Christmas Stocking
If everyone in your family has their own designated stocking each year, why not include your dog? Of course, you can write or embroider your pup's name on any stocking. However, it's always easier if it comes customized. Here's your options for that on Amazon.
#13 Red Plaid Photo Dog Stocking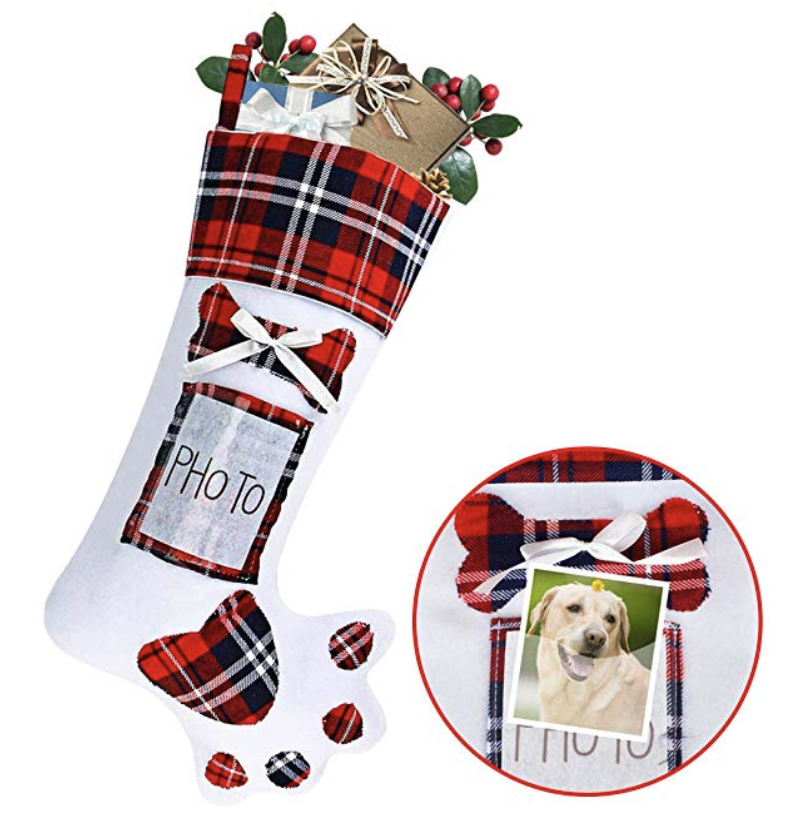 Again, here's one of the cutest options on this list–mostly because it will feature your dog's face planted right in the centre! It also has a paw pad design in the corner so your dog knows it's just for him!
Get this Custom Photo stocking for $9.99
#14 Green Elf Personalized Embroidered Wool Dog Stocking
If your dog is more elf than Santa style, this custom stocking will better suit him. Featured sewed on green and white bones, his name will be proudly displayed at the top.
Pawsative Ruffview: "Looks as advertised. Super cute and good size. Great addition to the mantle at Christmas time."
Get this Personalized Dog Stocking for $26.98
#15 Needlepoint Lab Personalized Dog Christmas stocking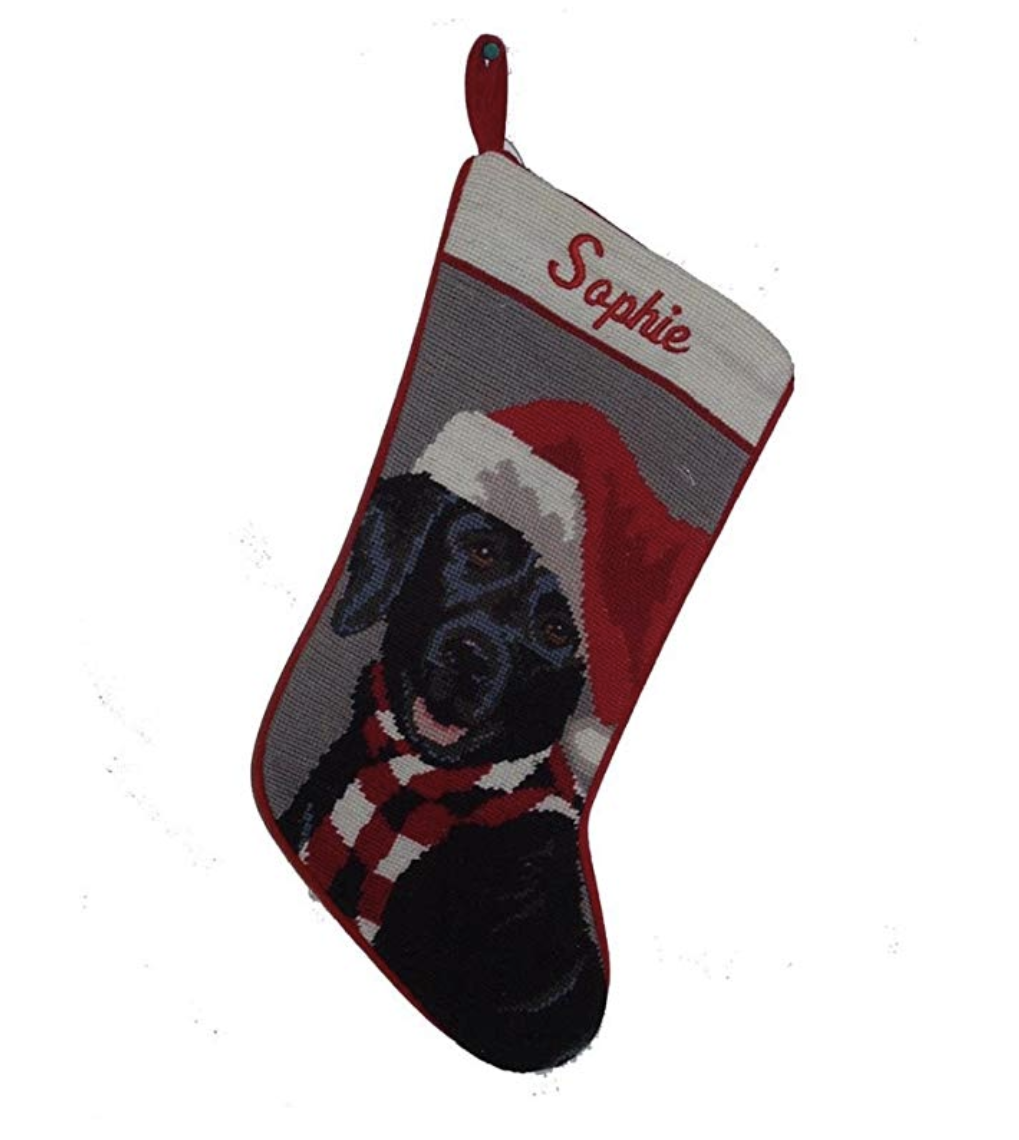 If you have a lab or a large-sized dog, this is a suitable option. He wears a hat and scarf while happily panting with your pups name at the top.
Pawsative Ruffview: "Oh my goodness! I can't even begin to explain how amazing this looks! It looks soo much better in person the colors are so vivid and bright. The service was spectacular and I even received a friendly note from the seller in my package, thanking me for purchasing the item. I cannot wait to add our little Annie Mae's stocking to the rest of ours this year! Thank you! I highly suggest you buy from this company."
Get this Custom Needlepoint stocking for $29.93
#16 Cute Doggo Custom Stocking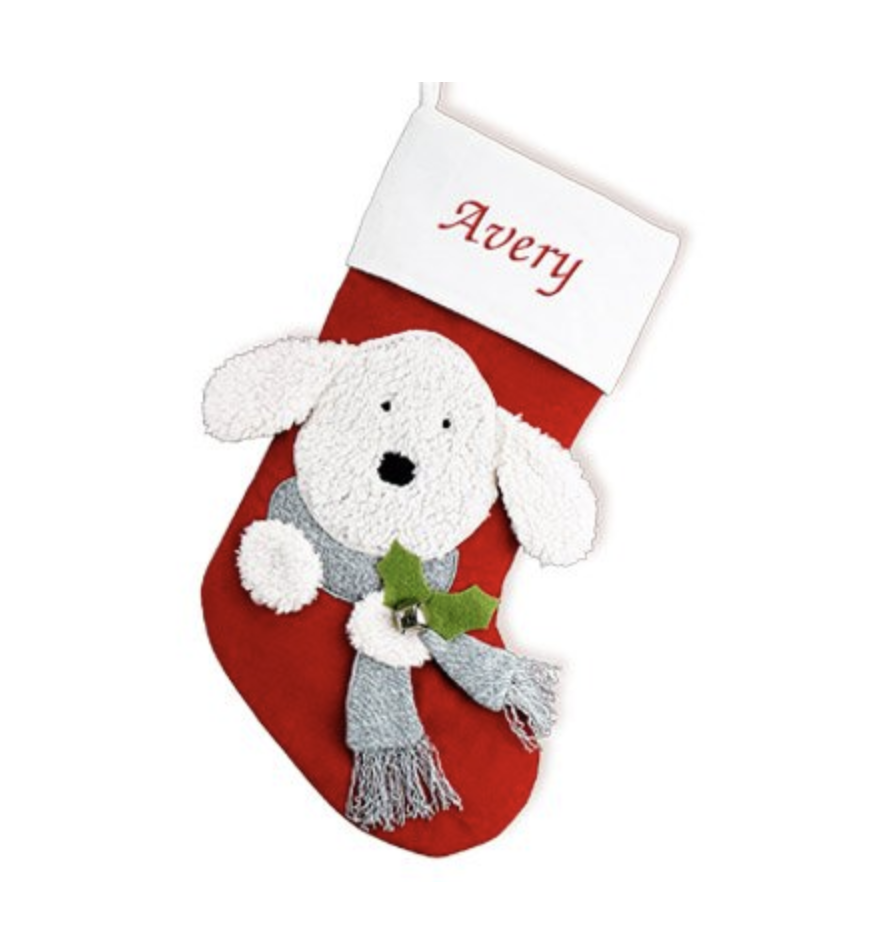 Here's another stocking that features a 3D fuzzy pup sewed on! He wears a cute grey scarf and mistletoe accessory. Any pup will love having his name on this one!
Pawsative Ruffview: "We got this for my daughter's White husky mix!! Our daughter recently moved back home just before Christmas and we didn't have a Christmas Stocking for Precious her dog!! Well when it came to us it was absolutely beautiful!! It was so nice and made very well!! I was really impressed with the embroidery on the front cuff!! It was done in red stitching and was spelled correctly with Precious name on it!! It even came with a little jingle bell also!! And the best part was the white dog on the front of the stocking!! Lol! It looked just like Precious!! White!! We loved it and you would too!! If we ever need more stockings we will be back to order more!! Thanks!!!"
Get this Dog Stocking for $19.98
#17 Paw Print Personalized Dog Christmas stocking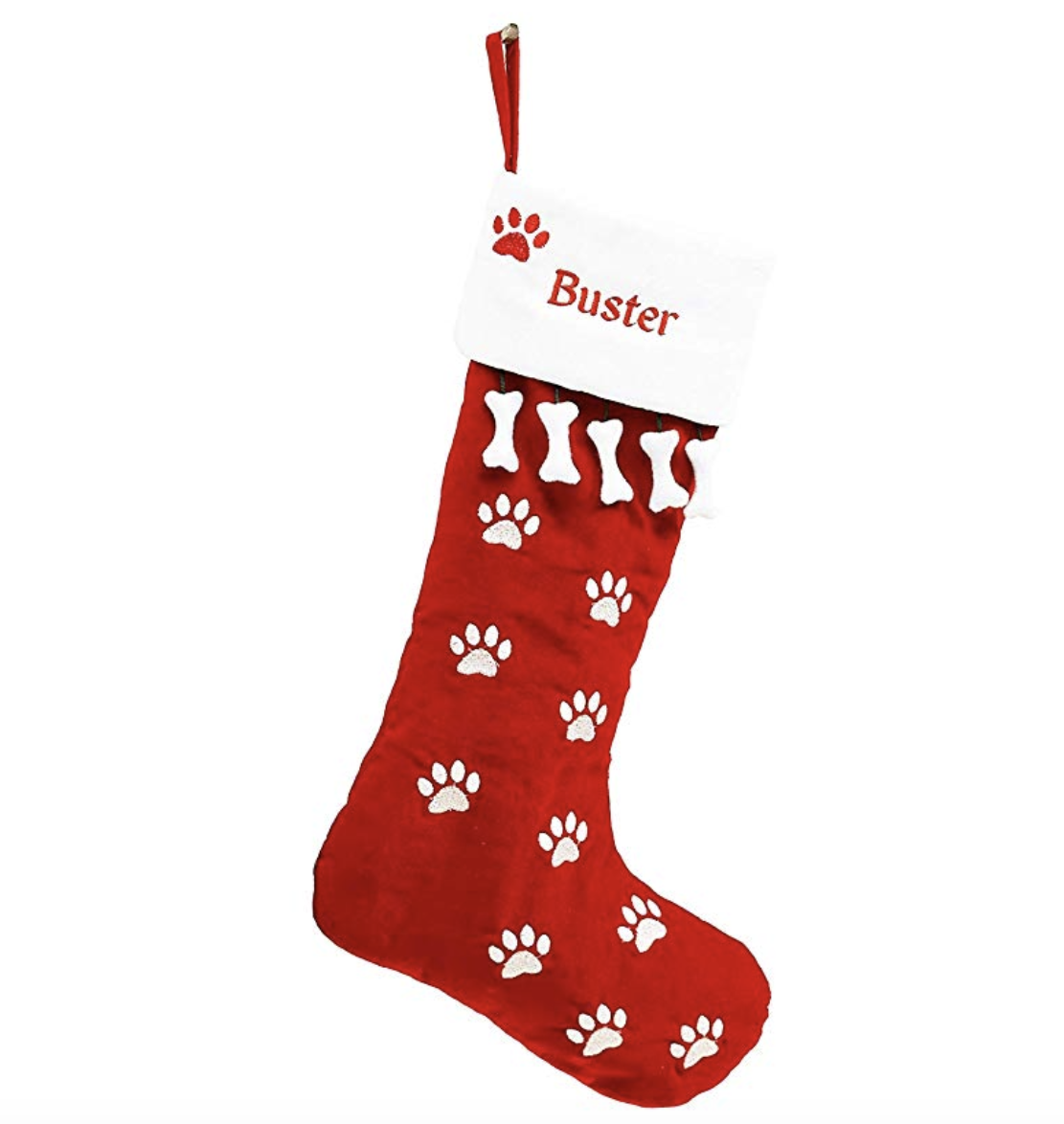 Keeping it simple and traditional, this red velvet stocking features white paw prints and bones dangling from the top. Of course, they also customize it to your pup's name.
Pawsative Ruffview: "Perfect stocking for my fur baby to celebrate his first and many more Christmases! The stocking is well made and is the right size to go with my other stockings. I opted for the green-colored lettering since I wasn't sure how the red would look. I'm glad I did, the green really does pop! The stocking came quickly and I would definitely recommend this seller."
Get this Custom Paw Print Stocking for $27.99
#18 Paw Print Designed Mini Dog Stocking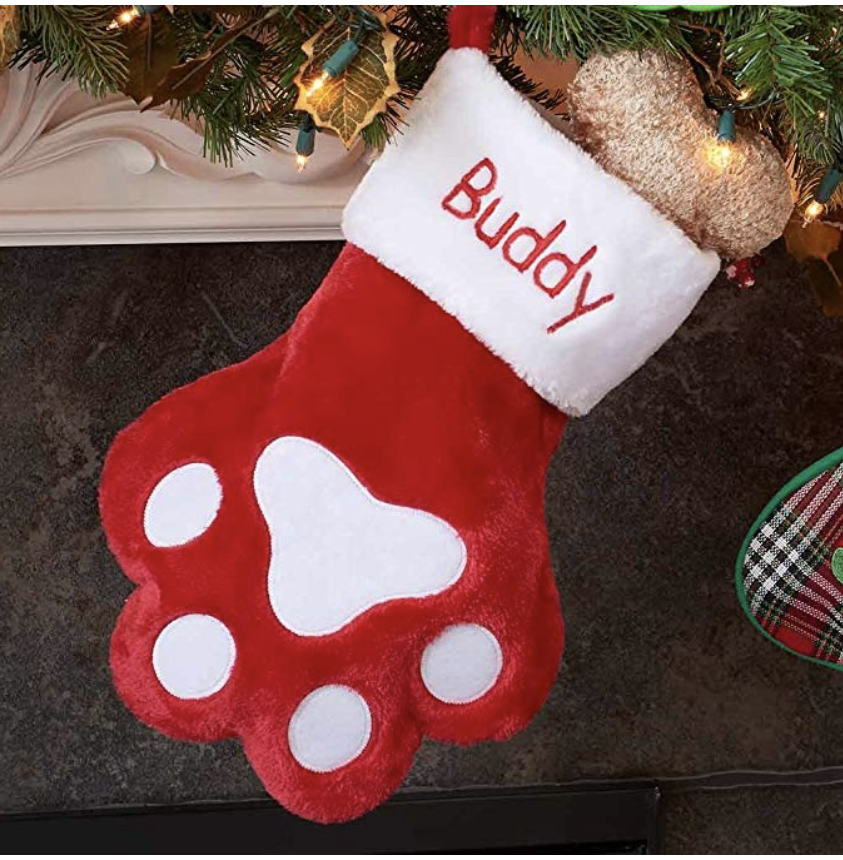 If you have a small doggo, this would be an adorable option for you. The entire stocking features one big dog paw print, so no one can mistake it. Add your pup's name and he will instantly know it belongs to him!
Pawsative Ruffview: "Our dog loves this beautiful and durable Christmas Paw Stocking. It holds a bunch of her small toys and chew treats, and she enjoys getting these items out of the stocking. Thanks for the very quick shipping and attractive personalization."
Get this Mini Dog Holiday stocking for $24.95