As you're walking along the street, you pass a stroller and decide to peek at the cute baby inside. But it's not a baby, it's a dog.
Pet strollers are becoming increasingly popular and you may be wondering their purpose. In this post, we'll outline 8 reasons why strollers aren't just for babies.
Pet Strollers: 8 Reasons People Use Them
#1 Great for Anxious Dogs
If your dog is nervous or has anxiety, keeping her in a sheltered space will make her feel more relaxed. If you want to get your dog out of the house without being annoyed by other dogs, put her in a stroller. It can also be very helpful when you're visiting places with many dogs, such as a park or vet clinic.
#2 Workouts Appropriate for Both You and Your Dog's Level
Many people like to run or walk with their dog, but it can be difficult to get enough exercise without tiring out your dog, especially if she's small. If you use a stroller, you can walk your dog as far as you want. When she starts to get exhausted, simply put her back in the stroller. It can also be useful to put your pet in one if you enjoy working out in the park or another outdoor area.
#3 Protection from Heat
If you live in a climate where summers can be really hot, investing in a pet stroller is a good way to protect your dog from the sun's rays. Excessive sun exposure is harmful for dogs too and can lead to problems such as cancer. In addition, sidewalks can get really hot during summer months and can burn a dog's paws. You can put your dog in a stroller so he doesn't have to burn his paws on the way to the park, and then let him out on the cool grass.
#4 Protection from the Cold
Similarly, if you live somewhere with cold winters, strollers can be useful for keeping your dog a little warmer. Although strollers aren't heated, your dog will appreciate the ability to curl up in a blanket when he's had enough. It can also help protect your dog's paws from road salt, which can be irritating.
#5 Good for Puppy Litters
If your dog is expecting, using a stroller is a great way to transport all of the puppies to get their shots. It can be difficult to carry multiple pups and this way, you won't have to chance them escaping and running away.
#6 Take Your Pup to Work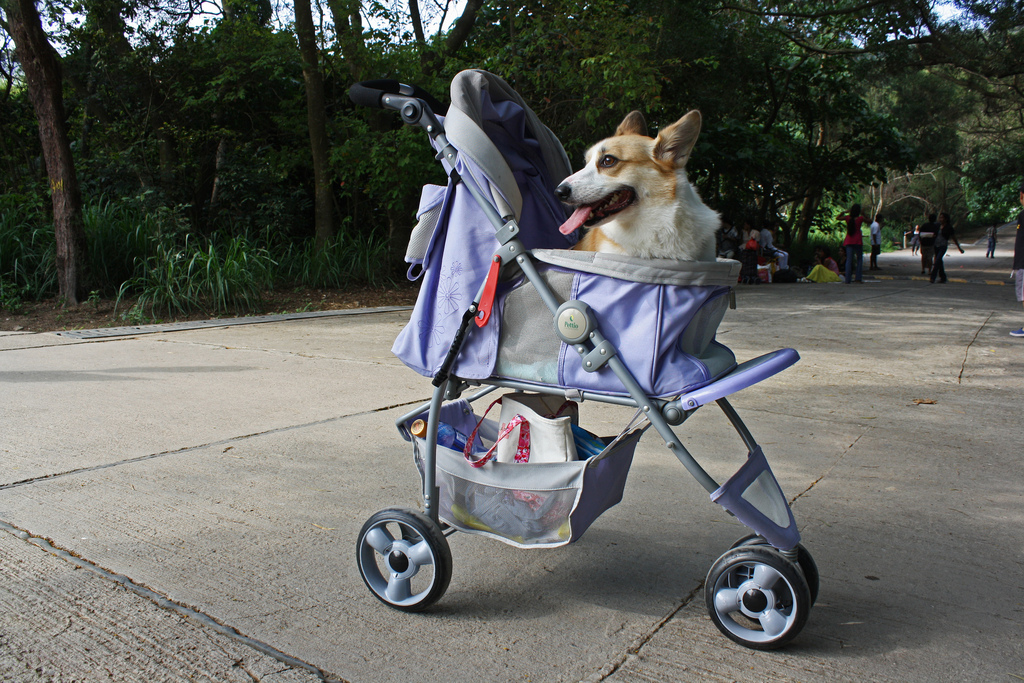 If you're allowed to take your dog to work, using a stroller can be a great way to transport them from your car to your office. Having an area your dog can stay will also prevent him from hopping around the entire office, potentially annoying your coworkers.
#7 Easier for Elder Dogs
As dogs age, they may have a difficult time going for long walks. However, they still benefit from being outside and exploring new environments. This way, you can walk your older dog within his comfort level and then pop him into the stroller for the ride home.
#8 A Seat for Summer Events
During the summer there's tons of events to attend: Festivals, picnics, beach days and campfires. Many people opt to leave their dog at home because they're afraid they can't control them outside for long periods of time. A stroller can act as a comfortable cage for your pet when it's time to calm down. They're still able to enjoy the action all day, but they have a space to rest, too. If you're worried about things like mosquitoes or your dog being stepped on, strollers are the way to go for outdoor events.
In summary, using a pet stroller allows you to spend more time with your dog in a way that's enjoyable to him. Check out the best pet strollers.