If you're getting a puppy during the holidays, you may want to name him something festive.
There's many cute dog name options that are great for the holiday season, but still appropriate all year around.
In this post, we're outlining the top Christmas themed girl dog names and male dog names.
Remember: If you're getting someone else a dog as a Christmas gift, make sure they actually want the dog and can make the commitment. Pups aren't just for a season, they're for a lifetime.
How to Choose a Christmas Names for Dogs
Before naming your new pup, there's a few things you may want to consider.
Name now or later? If you're getting a dog for someone as a gift (after knowing they actually one), consider whether to name the dog beforehand or to let them name her. Some people are okay with any given name, while others will change it anyway.
Christmas-themed name? Remember, you'll be using this name year-round, so you may want to reconsider picking something that won't sound strange the rest of the year. Choosing subtle Christmas names is a better option.
Nickname? If you love a Christmas name but don't want to commit to it year round, perhaps consider making it a nickname instead. That way, you can use it whenever you like while still recognizing the time of year she was born/you got her.
Personality. You may wish to wait to name her until you've gotten to know her a bit. That way, you can choose a name that suits her personality. For example, Blitzer is a great name for a dog who's quick and agile, but not so much for a more docile, lazy pup.
Consider their color. Another idea is to name them according to their color. For example, snow would be a great Christmas name for pets that have white fur. On the other hand, Cocoa is a great name for chocolate brown doggos. And Ivy would be appropriate for dogs with green fur (just kidding, but let us know if you ever see a green pup 🙂
Female Christmas Names for Dogs
Here's a list of the top Christmas themed girl dog names:
Blitzer
Blitzen
Snow
Holly
Mary
Merry
Jolly
Angel
Cindy Lou Who
Joy
Cheer
Hope
Cupid
Ivy
Eve
Dancer
Prancer
Angel
Rudy
North
Ginger
Epiphany
Crinkles
Nutmeg
Glitter
Faith
Carol (Christmas carol)
Jolly
Star
Frosty
Snowflake
Glory
Sugar
Bell
Tinsel
Twinkle
Narnia
Solstice
Candy
Cocoa
Twinkle
Winter
Vixen
Christmas Names for Dogs: Male
Here's a list of the top Christmas themed boy dog names:
Blitzer
Blitzen
Charlie Brown
Noel
Grinch
Icy
Grace
Aspen
King
Crinkles
Jack Frost
Feliz
Polar
Glory
Joesph
Tundra
Kris
Coal (Cole)
Scrooge
Blizzard
Noelle
Yule
Santa
Rummy
Tinsel
Rudolph
Cocoa
Pudding
Frosty
Joseph
Bow (Beau)
Nick
Kringle
Clementine
Gabriel
Winter
Donner
Claus
Emanuel
Dove
Vortex
Reindeer
Elf
Dasher
Comet
Prancer
Vixen
Other Dog Names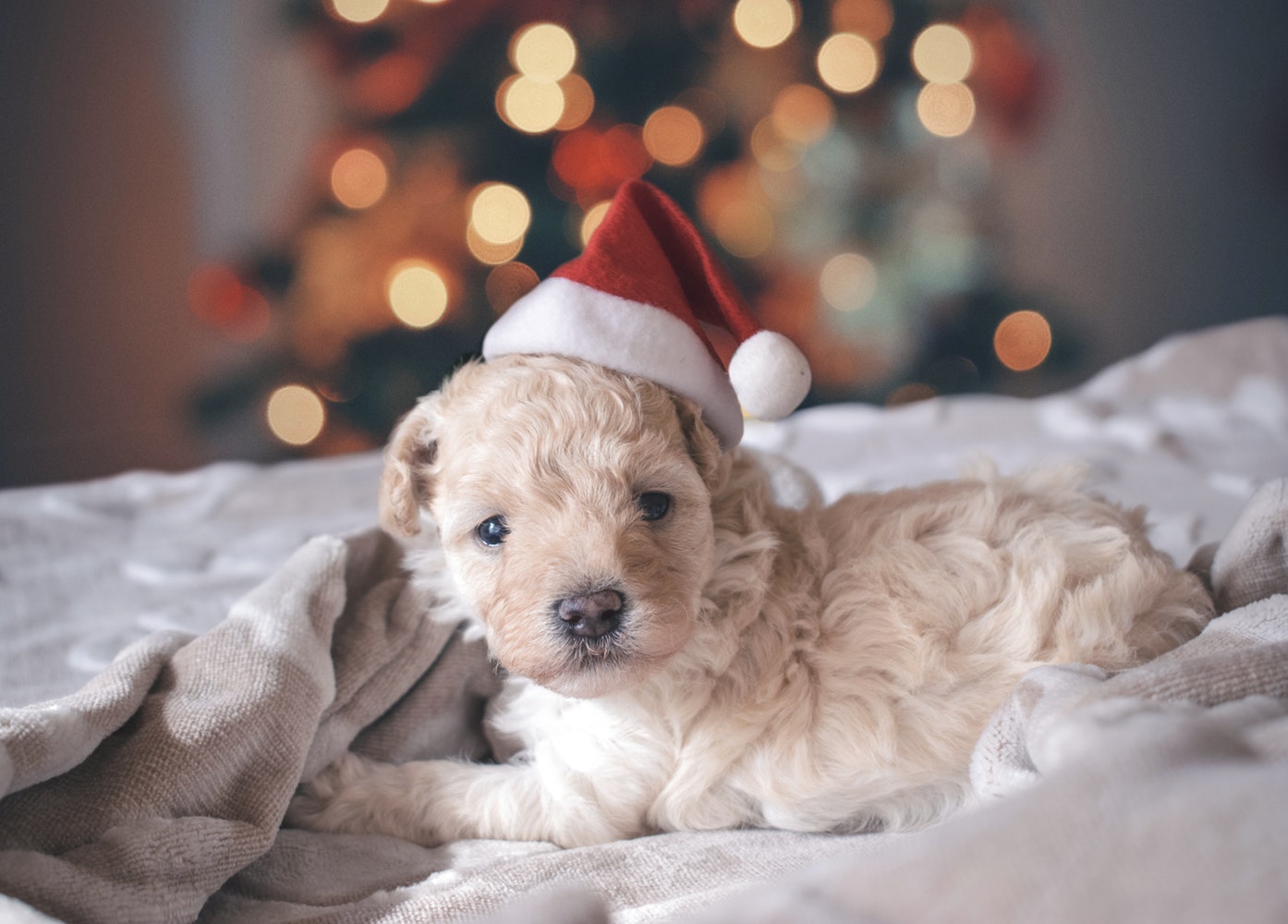 Just because you get your dog near the holidays doesn't mean that you need to name her a Christmas-themed name. Below are some posts featuring other names you should consider:
Puppy Starter Kit List
If you're looking Christmas names for pets, chances are you're welcoming a new member to your family. Here's what you'll need to prepare before you bring puppy home.
Collar
Leash
ID tags
Toys for tough chewers (puppy's love destroying thngs while they're teething)
Chew bones/toys
Cage (whether you're crate training or just giving your dog his own "home," you'll need one)
Dog brush
Pee pads (some people disagree with this training method in preference of teaching the dog ONLY to go outside, but it can help if you're having accidents until doggo learns)
Cleaning supplies (deodorizers, stain removers, cleaning sprays, etc. Pups have accidents!)
You can also get a puppy starter kit