Binky is very proud I named these dog treats after him.
They're filled with a pup's favorite things: peanut butter, bacon and cheese.
Okay, these aren't the healthiest dog treat recipe you'll find. But still, they're way better than the store-bought ones. And, every canine deserves to be spoiled once in a while.
These bacon and cheese dog treats are made using silicone molds. They pop out in a bone form, perfect for a bite-sized snack.
Are you ready to be (or keep being) your dog's favorite person?
Get your apron on, Betty Crocker.
CAUTION: Beware of peanut butter brands containing xylitol. This is toxic to dogs can kill them. It's often found in sugar-free brands as a sweetener.
Steps: Bacon Dog Treat Recipe
Gather Supplies: To get started, you'll need some bone silicone molds. I used this set from Amazon—they're freezer and oven safe.
Combine Ingredients: Use an electric mixer to combine the ingredients. Stir in the bacon and cheese (or if you're lazy like me, mix it all together–still worked).
Add Water: Add enough water to make it a thick cake batter-like consistency. How much you use depends on how much moisture is already in your batter. Nut butter types and different-sized eggs and bananas have varying moisture levels.
Pour + Bake: You can use a measuring cup or small spoon to help you pour the batter. But since it's thick, it's tricky. I just poured it on the tray, tapping it and pressing it into the holes. To clean off all the excess batter before baking, run a butter knife horizontally over the tray's surface and use a paper towel (see video).
Feed: As you can see, Binky wasted no time before snatching a treat. Success.
Binky's Bacon Bakes
Follow the directions below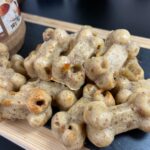 Print
Binky's Bacon Bakes
The homemade dog treat recipe that will make you any canine's favorite person.
Ingredients
1/3

c.

Nut butter

1

Egg

1

Mashed banana

1

c.

Flour

(or flour alternative)

~1/2

c.

Water

(more or less to reach thick cake batter consistency)

1/4

Chopped small bacon pieces

2

tbsp.

shredded and chopped cheese
Instructions
Blend together egg, peanut butter, banana with an electric mixer. Add flour.

Stir in bacon pieces and cheese.

Add water until it reaches a thick cake batter consistency. It will be sticky. How much water you use depends on the water content/size of your egg, banana and nut butter brand. I started at 1/4 cup and ended up using ½ cup of water.

Pour batter into molds in whatever way you choose. I made a mess to get each mold filled, then cleaned the top off with a knife after (see article for tip).

Tap tray on counter to release air bubbles.

Bake about 13-27 mins or until tops are golden (time depends on silicone size)