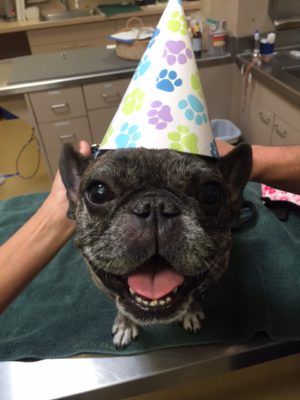 Brain tumor survivor Calvin, an eight-year-old canine, is happily playing with his favorite toy "crunchy bone" and chasing his French Bulldog sister Olive around the house.
Not long ago, such a scene seemed impossible.
Calvin's survivor story began on a Sunday afternoon last September when Gretchen noticed Calvin having a seizure. He was shaking and foaming at the mouth. A trip to the emergency room for overnight observation was followed by a visit to his primary care veterinarian.
After some preliminary testing, Calvin was referred to a veterinary neurologist in Arizona. There, MRI results revealed that Calvin had a malignant brain tumor.
Now, thanks to revolutionary advancements in veterinary medicine and a new treatment option called stereotactic radiosurgery (SRS), Calvin is happy, healthy and living life to the fullest.
"He's our little miracle dog," said Gretchen. "Calvin and Olive are our kids. We would do anything for them. We feel incredibly lucky that we had access to SRS here in Arizona."
Already proven successful in human medicine, SRS is now available for pets and providing newfound hope in the fight against cancer.
"Calvin successfully completed three SRS sessions," said Dr. Eric Boshoven. "He suffered a small seizure after his first treatment but none since. Aside from experiencing a slight lightening of his coat, he has had no side effects. An MRI at four months post-treatment showed virtually no sign of the tumor."