This dog birthday cake is both luxuriously tasty and healthy in moderation.
With a banana bread base, it packs flavor by adding two more of your dog's favorite ingredients: peanut butter and cheese.
We can't skimp out on the icing either. Go full out with a potato-yogurt fondant mixture that you can press and pipe onto the cake.
In this article, learn how to make a dog cake that's cheesy, bacon-y, peanut buttery and full of everything delicious. Finish it off with a potato fondant that can be pressed and piped on.
How To Make a Dog Cake: Step-By-Step
How to make a dog cake is pretty simple, but your dog deserves something extra special.
When it came to making my dog's birthday cake this year, I wanted to try something a little fancier than usual. But there's only a few options for dog-safe icing. Even fewer options that are thick enough to pipe through an icing bag.
But then I remembered a story my mom told me. When she worked in the film, they'd use mashed potatoes for scenes involving ice cream because it didn't melt and could be easily molded into cones. Perfectly pliable for doggy fondant, I thought.
This dog birthday cake is pretty luxurious. But when you break down the steps, almost anyone can make it (and even if you can't, dogs are pretty forgiving 🙂
Step One: Combine the dog cake ingredients and spread into two 6 to 8 inch pans.
Step Two: Bake in oven for about 45 minutes.
Step Three: Make potato fondant my combing ingredients until smooth.
Step Four: Stack cakes using fondant in the middle.
Step Five: Press fondant onto edges of the cake using your hands or a spatula. Then top the cake with the mixture.
Step Six (optional): Add remaining fondant to piping bag with decorative tip. Pipe dots onto outer edges of cake (or make a design of your choice).
How To Make a Dog Cake: Cheese Dog Birthday Cake Recipe
Here's how to make your very own cheesy dog birthday cake for your pup's special day! Start by making the cake. While it's baking, move onto the potato dog icing fondant. When the cake has completely dried, attach the layers with fondant icing. As you next step in how to make a dog cake, ice the cake using fondant, pressing it on.
As usual, pay attention to portion size. This is a huge cake for a small dog, so share with pup pals! Store any remaining cake in the fridge after serving.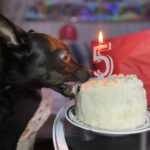 Print
Cheesy Banana Dog Birthday Cake
A combination of ingredients designed to for moderately healthy yet indulgent treat on your dog's special day.
Ingredients
2

cups

Flour

1

tsp.

Baking soda

2

eggs

3

Bananas, mashed

1/2

c.

Peanut butter

1/2

c.

Grated cheese

1/4

c.

Oil

3/4

c.

Water
Instructions
Grease two 6 or 8-inch round pans.

Mix flour and baking soda in a bowl.

In a large bowl, whisk together eggs, water, mashed banana, peanut butter, cheese and oil.

Slowly mix the flour mixture into the banana mixture until fully incorporated.

Bake for 45 minutes or until baked through. A toothpick inserted into the center should come out clean.

If cakes don't lay flat, use a bread knife to cut off some of the top. This allows cake layers to stack uniformly.

Use dog potato fondant recipe as icing
Print
Potato Fondant Dog Icing
If cakes don't lay flat, use a bread knife tA perfectly moldable fondant that you can press onto doggy birthday cakes or pipe through an icing bag. cut off some of the top. This allows cake layers to stack uniformly.
Ingredients
4

Potatoes

1/4-1/2

c.

Yogurt

plain, no sugar added

1

tsp.

Butter

optional treat
Instructions
Mash potaotes with yogurt and butter. Make sure mixture isn't clumpy.

Spread fondant over the first layer of cake and top with second layer.

Cover the top and sides with fondant. Press the potato mixture onto the sides using your hands or a spatula.

Place remaining mixture into icing bags with a decorative tip. Pipe dots along the edge of the cake.

I also used a few tiny sprinkles to give it some color. If you choose to use human sprinkles, make sure they aren't chocolate covered!
Notes
Note: Butter is optional but it adds some flavor for an extra birthday treat (my dog's favorite food ever is butter).
Summary: How to Make a Dog Cake
If it's your dog's birthday and you're wondering how to make a dog cake, choose something extra special. The dog cake recipe in this post feature's most pup's favorite things: cheese, peanut butter and bacon. To give the cake a fancy feel, press and pipe on fondant.