One way to get your dog involved with the holidays is to make a homemade dog Christmas ornament.
In this post, we're giving you the steps to DIY your own paw print decoration.
You probably already have the ingredients in your kitchen. With that and some decorating supplies, you're all set to make a beautiful paw print keepsake that will last for years to come.
Homemade Dog Paw Print Christmas Ornament
If you want to make an ornament the easiest way, you may consider buying a paw print Christmas ornament kit, which includes everything you need.
For true DIYers, here's the full instructions.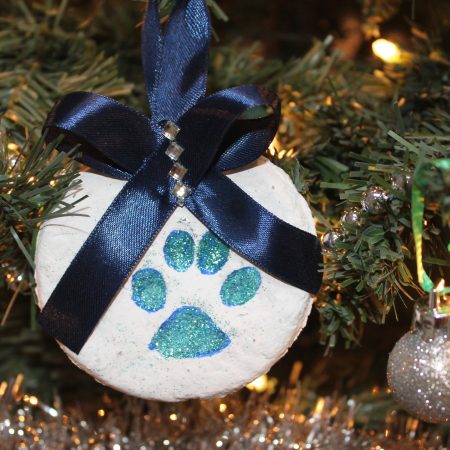 DIY Homemade Dog Paw Print Christmas Ornaments
A recipe for a basic paw print mold that you can use as a Christmas ornament. Decorate to suit your pup's personality.
Ingredients
1

c.

Flour

(a bit extra if dough is too sticky)

1/2

c.

Hot water

(not boiling)

1/2

c.

Salt

An object to create the shape of the ornament (cup, coaster, etc.)

Ribbon to hang the ornament

Paint, glitter, rhinestones, glue gun, white glue and anything else you want to decorate it with
Instructions
Combine the flour, water and salt. Knead on a floured surface until it forms a ball.

Using a rolling pin (or a glass if you don't have one), roll out the dough so that it's flat. About a fourth of an inch thick will work.

Press your object into the dough and take off the remaining dough around it.

Press your dog's paw into the dough. If you have a big dog, transfer the dough onto a plate and put the plate onto the ground for her to step into. If you have a little dog, just pick her up. I found that guiding his paw from the heel to the toes makes the best imprint. If the imprint isn't deep enough, use your finger or another small object to pat down the imprint more. It may not look that noticeable, but once you paint it, it will look great.

Make a hole at the top of the ornament using a pencil, straw or another object.

Line a baking sheet with parchment paper and place your ornaments on it.

Bake for around 2 - 2 hours and 45 mins at 225F (107C). When they're finished, they should be completely hard but not browned. This may take a little more or less time, depending on your oven.

Once cool, decorate with paint, glitter, markers or whatever your heart desires. One simple way to decorate it is to paint the paw imprints.

Put your ribbon through the hole and hang.

Hold your dog up to the ornament and be like "that's your paw!!" (okay, maybe that's just me).
Decorating Supplies for Homemade Dog Ornament
Decorating Tips for Paw Print Ornament
I first painted the entire ornament white.
Then, I painted the edges around the paw pads to make it easier.
You can paint the nail imprints if you'd like too, but I didn't.
If you're using sparkles on the paw print, use a paintbrush to outline the print with white glue. Then sprinkle the sparkles on top. Shake the extra sparkles off the ornament.
If you're using sparkles, you can seal them using Mod Podge or by creating your own (mix 4 oz. water with 8 oz. white glue).
If you want, you can paint the year or your dog's name on the front or back.
I tied a ribbon through my hole and then used a glue gun to create and attach a bow for added pizzazz.