Just as kids (and even adults) love birthday parties, so do doggies.
Getting to see all her favorite people and dogs, eating treats and receiving the best gifts—what more could a dog ask for?
When it comes to throwing a dog party, your first step is to decide how to celebrate it.
In this post, we're sharing 15 ways you can party on your pup's big day. We're also sharing some of the best and cutest dog birthday party supplies you can find.
What to Consider When Choosing A Location for A Pup Party
Before planning the big bag, there's a few things you should take into consideration:
Weather— Warm summer days make for great outdoor parties. Cold or rainy days call for inside events. But if the weather is too hot, you'll need to think about what shade is available because you don't want any doggo guests to get heat stroke.
Size of the dogs— Are your dogs and her friends small or large breeds? While it can be easier to find locations for tiny breeds, large dogs require more space and play room.
How many humans you're inviting— If you're inviting owners to come along and having your own friends come, you'll also need more space.
Closed or Open Space— If your dog is good off leash, the list of possible locations is a lot longer. But if his friends are runners, you'll need to either pick and enclosed space or provide long leashes to tie them up with.
Cost— If you're willing to splurge, you can probably find a space to rent. If not, consider some public outdoor spaces instead.
The Ultimate List of Dog Birthday Party Locations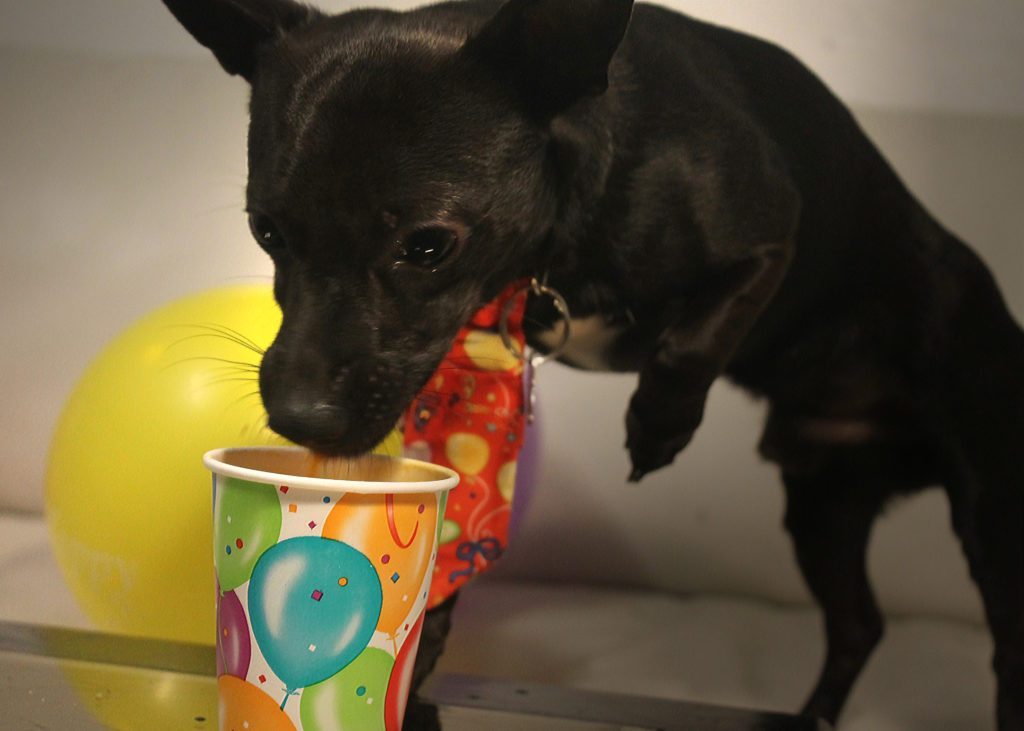 #1 Backyard Bash
Invite your dog's favorite human and animal pals over to your home. Fill your backyard with drinks and treats for all creatures and a few toys and games, too! If it's a hot day, you can even set up a sprinkler or pool for the pets to splash around in.
#2 A Friend's Backyard
If you don't have a backyard, ask a friend if you can use theirs for an afternoon. If they're kind enough to let you, make sure to clean up afterward (including all the dog poop!).
#3 Dog Park
Invite your favorite dogs to the dog park at a certain time. Bring some fetch sticks and treats for all to enjoy. If your dog doesn't have many dog pals, he can simply party with the dogs already there!
#4 A Regular Park
Set up some chairs and blankets in your local park. Bring food for dogs and humans and plently of drinks. If your dog isn't good off leash, pick a location by a tree so you can tie her up using a long leash. If it's a really hot day, consider bringing or renting a tent for shade. If it's an evening party, bring along a BBQ to serve up some tasty dishes!
#5 Raise the Ruff Party
If it's a rainy day or you live in a cold location, an inside party may be a more doable option. Of course, if you have a small dog with small dog friends, it will be easier and less messy. If not, you can take steps to make it a bit cleaner. Roll up any area carpets and put plastic or sheets over furniture to protect it. Wipe dog's paws as they enter to help minimize the mess. If you have a small home, provide squeaky toys and tug-of-war toys rather than balls or other throw toys.
#6 Beach
If your dogs and her friends are good off-leash, find a pet-friendly beach and enjoy a nice day by the water. Make sure to bring plenty of water and some treats to munch on as they swim off their energy!
#7 Camping Trip
If you want to take off a few days for your pup's birthday, going on a camping trip is a great idea. She'll get to smell new scents, meet new doggos and explore everything the wilderness has to over. Just remember: not all camping parks are pet-friendly, so check before booking!
#8 Obedience School
If your dog attends obedience classes, you can ask to rent the space after class to extend the fun. Another option is to book an agility class for your pal and his friends to do together.
#9 Dog-Friendly Hotel
Why not combine a vacation and a dog birthday party in one? Find an area that has many dog-friendly activities or nature outings and book a room. Many dogs love new experiences—including a holidays!
#10 Pet Store Trip
If you don't have a full day to dedicate to a party, consider a small trip to a pet store instead. Let your dog sniff around and meet any other dogs there. Then, take him through all of his treat options—whichever one he sniffs most intently can be his gift. Make sure to test out some of the toys too!
#11 Doggy Daycare
Another inside option is to host your party at a doggy daycare. Some daycares let you rent the space for a few hours. If not, inquire whether they can make it available. Invite your dog's friends and bring some games and treats to keep them entertained.
#12 Grooming Shop
If you've been going to your groomers for a long time and have a rapport with the workers or owners, they may allow you to use the space after hours. If they're not sure, you can offer to rent the space and clean up afterward. Many places won't mind making a few extra bucks for no extra work.
#13 Township Halls or Community Centers
Many local community centers don't allow pets because of health code reasons, but it's worth a try. If they do, you can bring along both humans and doggos for a good time.
#14 Dog-Friendly Patios
If it's supposed to be a nice day, you can take a few of your dog owner friends and their pets to a dog-friendly patio. While you enjoy a few cocktails, the four-legged friends can talk and eat treats. If you want, choose a patio that serves snacks that could be dog-friendly (ex. a fruit or veggie platter with dog-safe foods). Remember to bring some water bowls! If you choose this option, remember the party can't be too long because dogs will get antsy staying in one space.
#15 Baseball Diamond
If you know there's no games scheduled on your dog's birthday, consider bringing your dogs and their friends for a little gathering. If the space isn't fenced in, make sure all the dogs are okay off leash (or bring large leashes to allow them to move freely without escaping).
Dog Birthday Party Supplies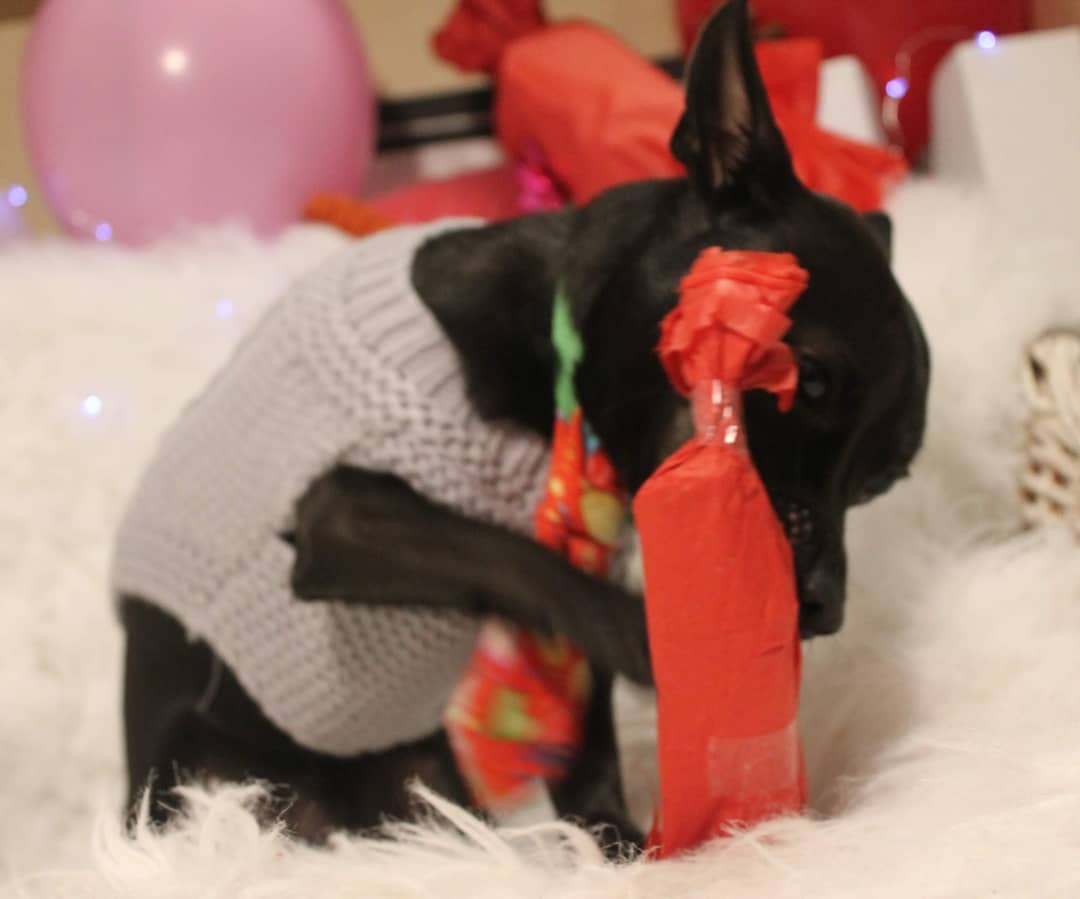 After you choose your party spot, you'll need to gather the following:
If you're handing out goody bags to the dogs when they leave, you may choose:
The Ultimate Guide to Throwing a Dog Birthday Party
Remember: Choosing your doggo party location is only the first step.
To throw the pawfect party, follow these 6 steps next.