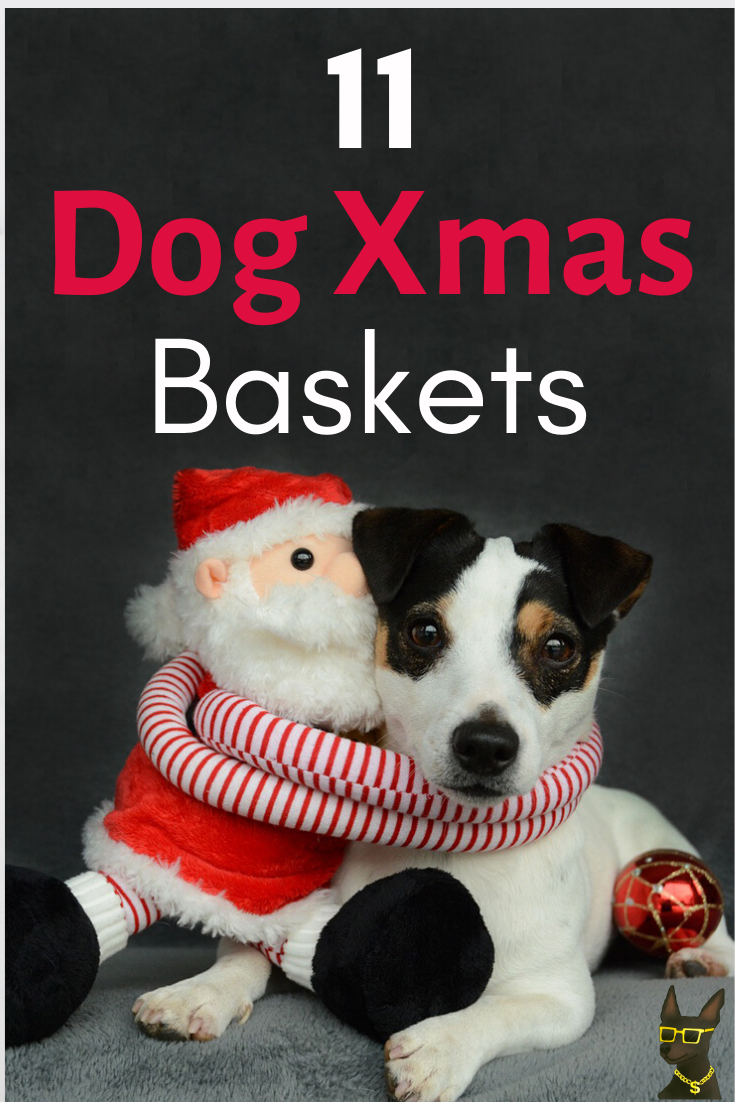 If you're struggling on what to buy your dog of your dog loving friend, we've got a few ideas!
Getting a dog gift basket gives the dog just a little bit of everything, so you don't have to settle and search out one item. If you're an owner who goes all out for their dog for holidays or your dog's birthday, a basket could cut down on your hunting and expenses too! You can stop searching for the exact perfect gift. We've found 7 dog Christmas gift sets! The best part? They all include variety, so we guarantee your dog won't be disappointed!
Things to Consider When Buying a Dog Gift Basket:
Is the basket for small or large dogs? Are you selecting the right option?
Will your dog/your friend's dog like what's in the basket?
Do they have any allergies or food sensitivities to the treats it comes with?
What kind of toys does the dog like?
What does your dog/your friend's dog need?
Here are a few great birthday and dog christmas gift baskets with a DIY option at the end.
Christmas Dog  Gift Baskets on Amazon
If you'd rather buy a gift basket than make your own, here's the best options on Amazon.
#1 Dog Treat Christmas Baskets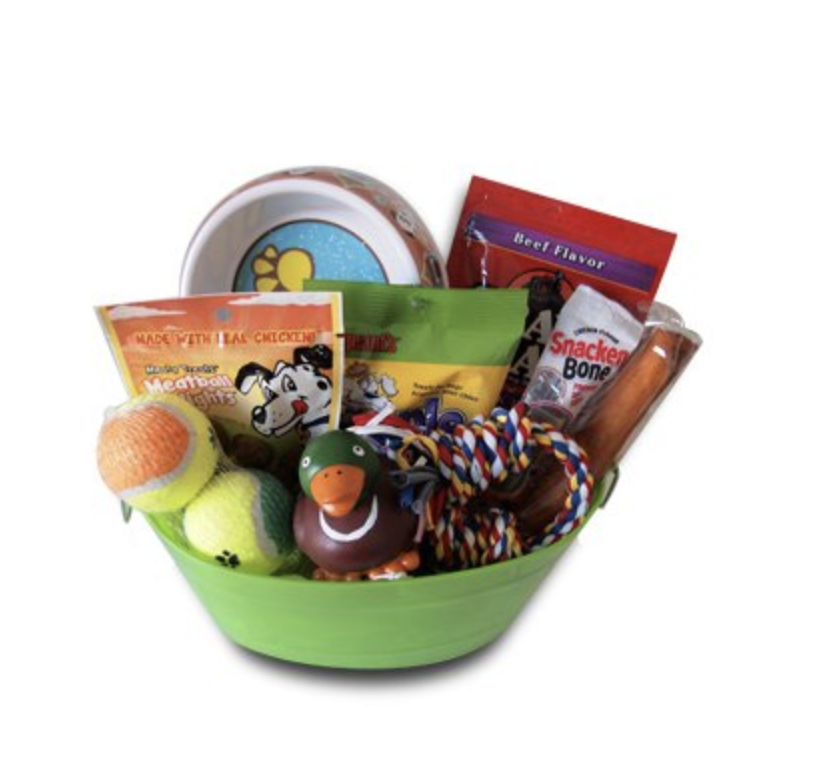 Includes:
1 Dog bowl
5 Assorted dog treats
2 Tennis balls
2 Dog chew toys
Pawsative Ruffview: "This is the second time I have purchased this product. It is quick and simple as a gift for the doggy in your life or anyone's for that matter. It comes wrapped in plastic which is nice. It doesn't get everywhere. IF you are sending straight as a gift just know they will just have a plastic bin with goodies, it would be set up and pretty like the photo. I prefer to have it shipped to me so that I can remove the plastic and sit all the décor up for a better presentation. I do plan to keep purchasing this product in the future."
Get the Dog Treat Basket for $39.11
#2 Gift Basket for Small and Medium Breeds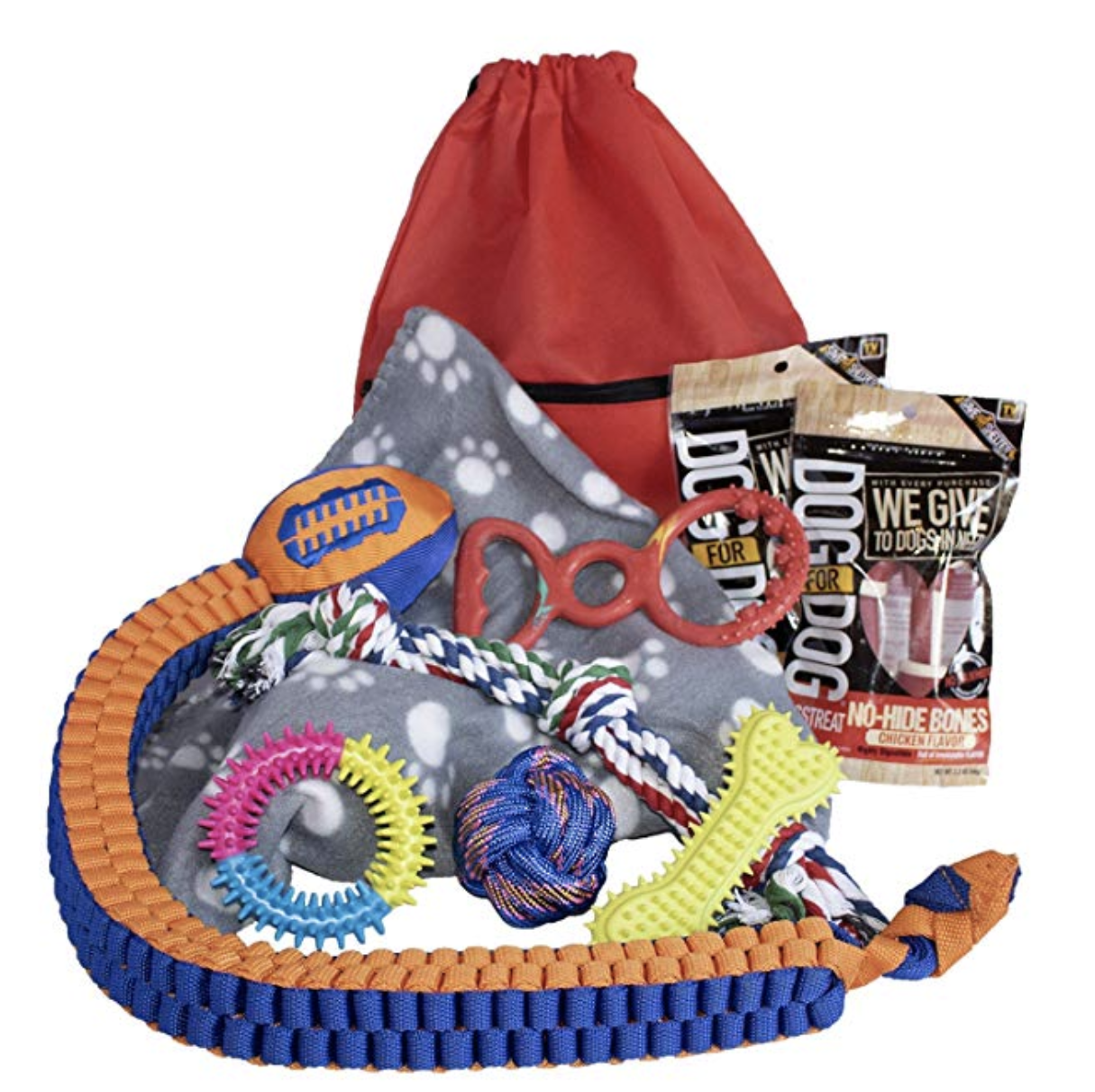 Includes:
Rope toys
Tug toys
Chew toys
Interactive toys
Comfy blanket
Chicken flavor bones
Get the Toy Basket for $32.97
#3 Small and Large Breed Gift Basket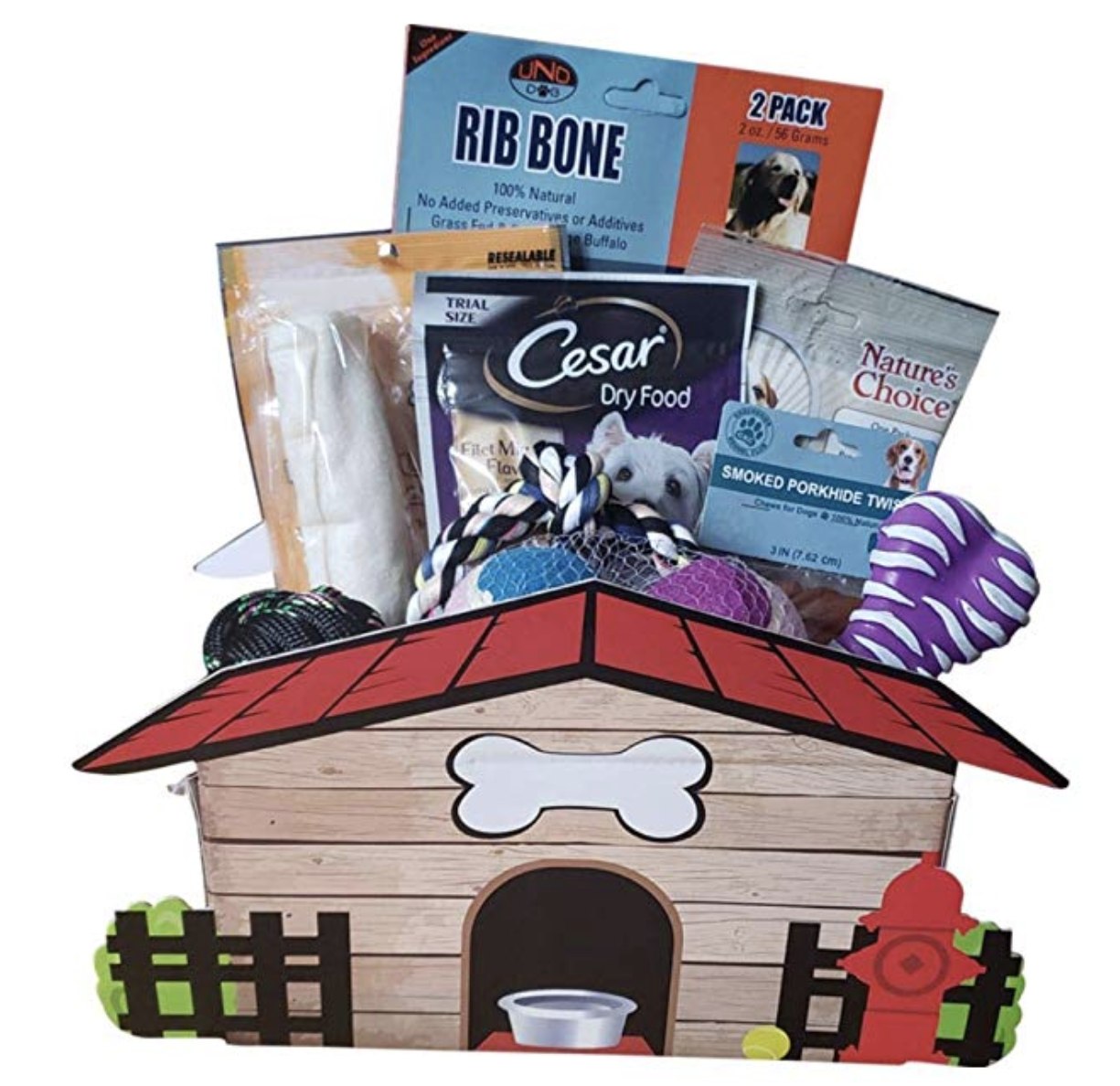 Includes:
Rope toys
Squeak toy
2-Pack tennis balls in varying colors
Hip & joint treats
Dental hygiene treats
Smoked porkhide twist
Casar dry food
Dog house-shaped box keepsake
Pawsative Ruffview: "I bought this as a gift and she was very pleased with the variety for her new dog."
Get the Toy + Treat Gift Basket for $39.92
#4 Deluxe Dog Gift Basket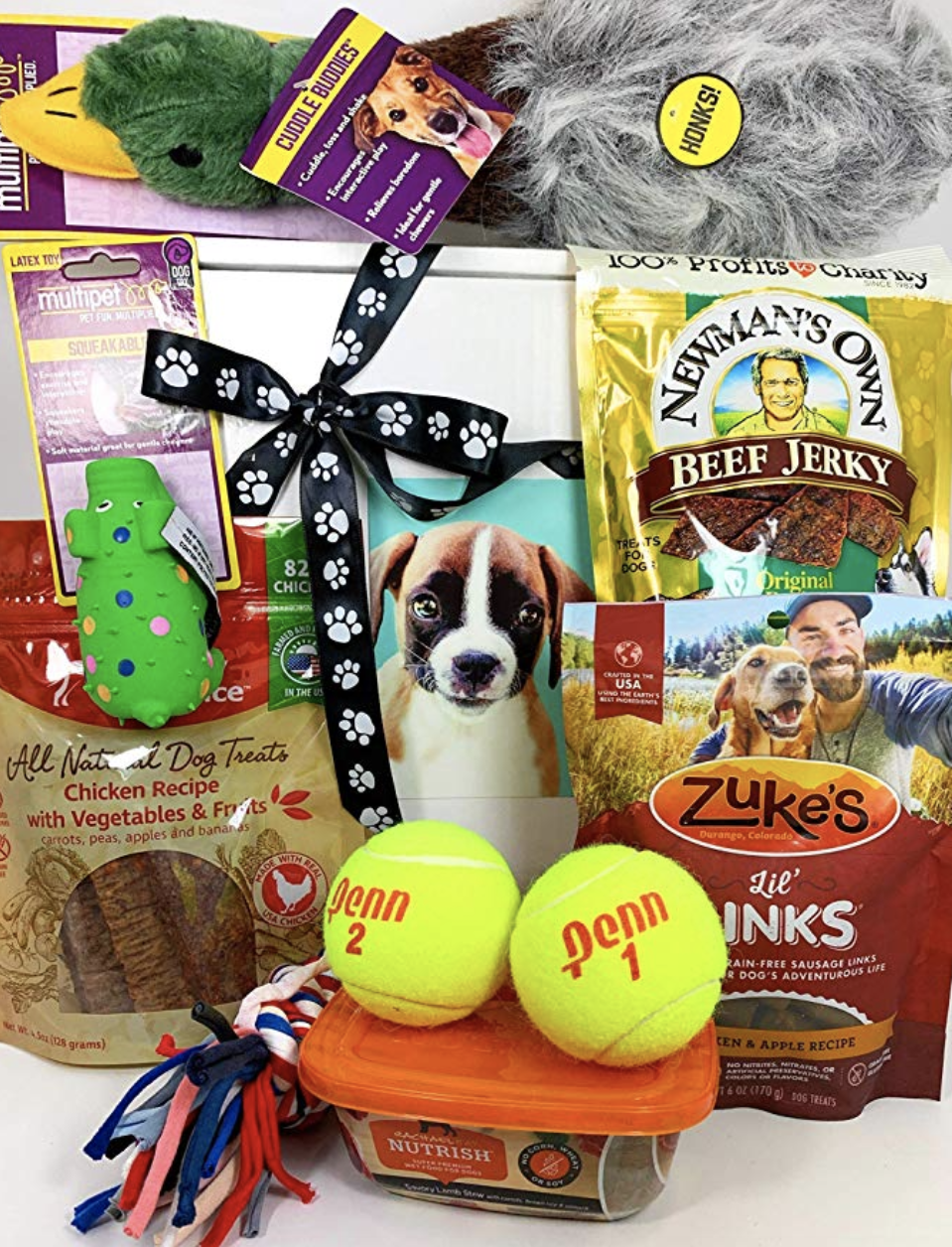 Includes:
Newman's beef jerky
Healthy Balance chicken snack bites
Large plush duck squeaky pig toy
Rope toy
2 Tennis balls
Zuke's lil links healthy sausage links
Rachel Ray Super Premium savory lamb stew
Sturdy basket
Pawsative Ruffview: "Dog loved the treats."
Get the Premium Gift Basket for $69.95
#5 Wolfe & Sparky Gift Box Deluxe Fleece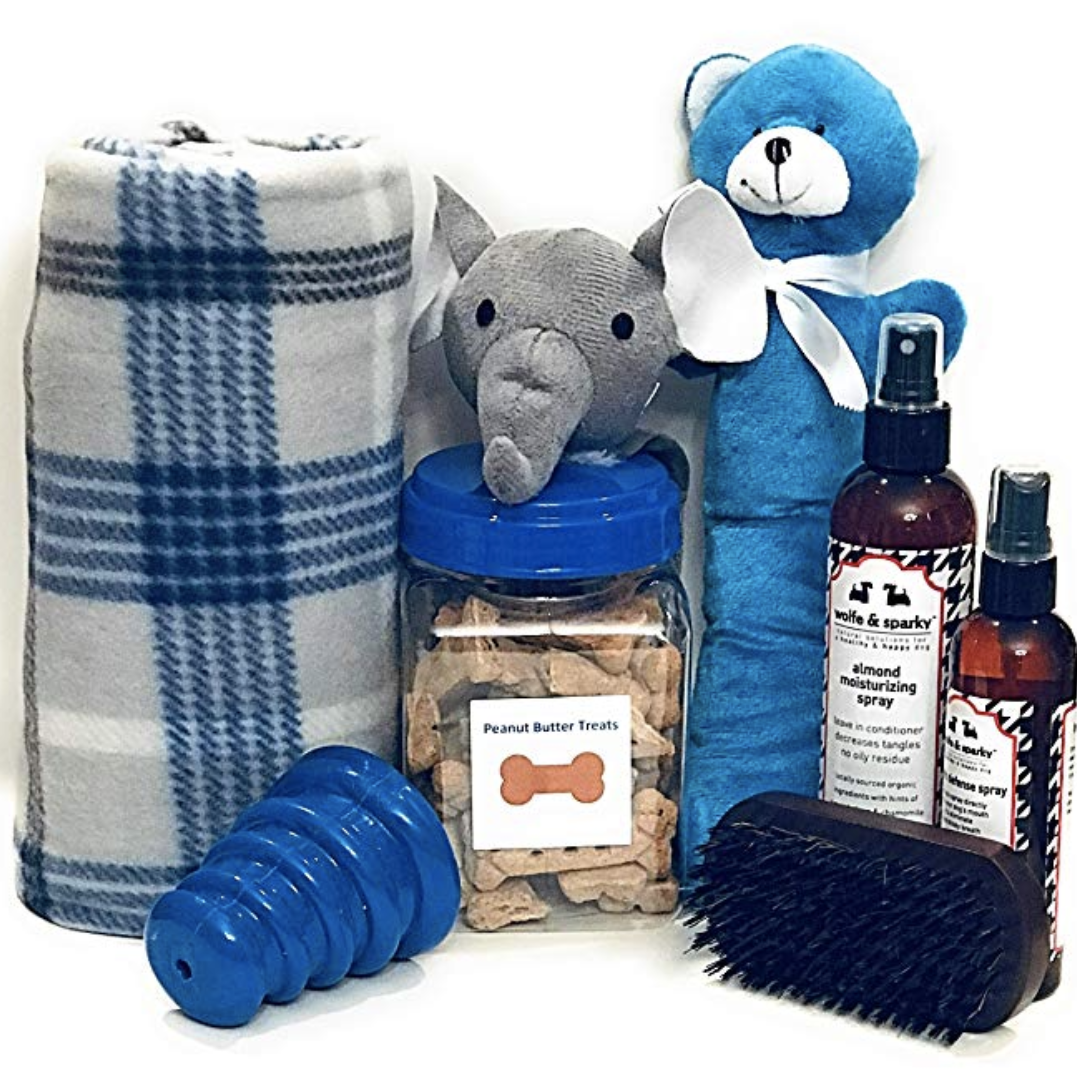 Includes:
Dog blanket
2 Wolfe & Sparky grooming products (breathe defense and moisturizing spray)
Healthy peanut butter biscuits
2 Interactive dog toys
High-quality brush
Pawsative Ruffview: "This was a perfect care package for my grand pup that broke his leg. He really liked the blankie!"
Get the Grooming Gift Basket for $42.95
#6 Dog Gift Basket Toy Treat Set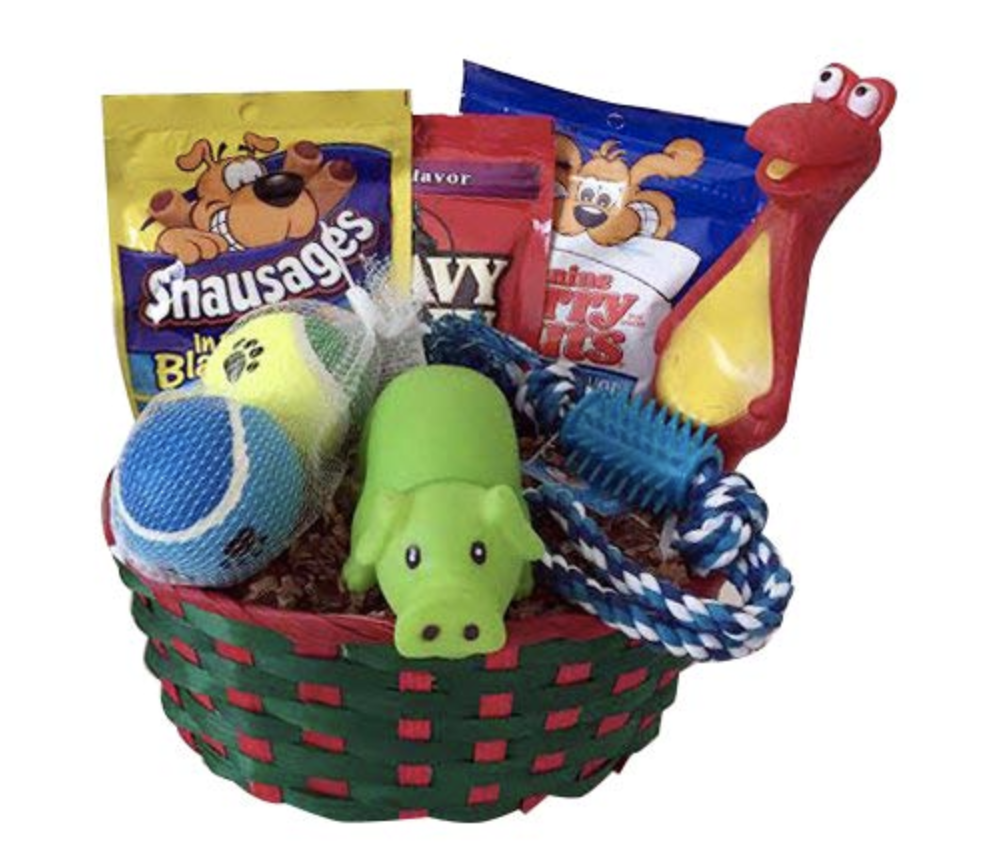 Includes:
4-Dog Crew Toys (ex. piggy)
3-Assorted dog treats (ex. sausages)
Upscale presentation in red and white basket
Pawsative Ruffview: "Great product for the money. Scooter enjoyed his toys and the treats."
Get the Set for $32.99
#7 Just Chill'in Doggo Gift Set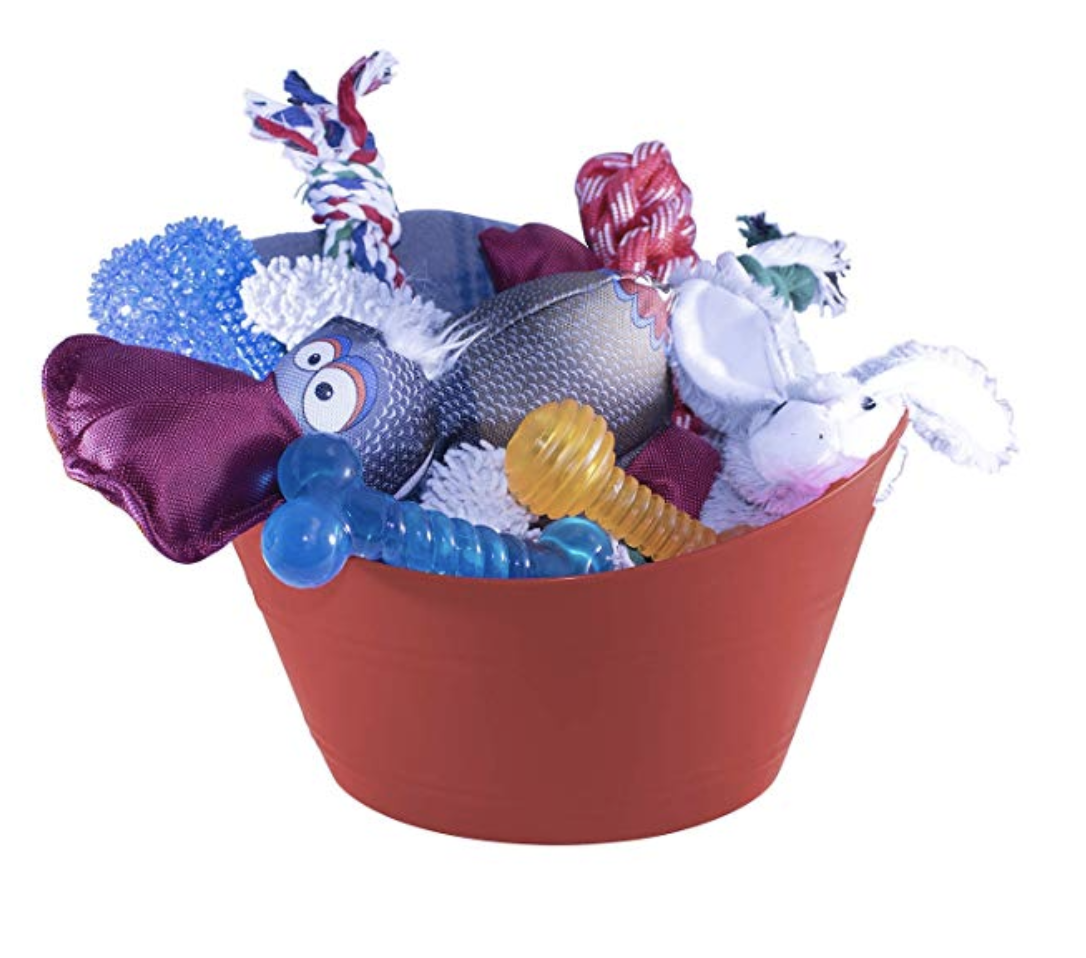 Includes:
Rope toys
Tug toys
Chew toys
Interactive toys
Jerky treats
Dog blanket
Red basket
Pawsative Ruffview: "My Daughter stated this was AWESOME! She also said that my grand dog Nova loved all the toys. Have not seen the actual products at his point, but it seemed to be worth the price."
Get the Pup Basket for $47.57
#8 Canine Gift Box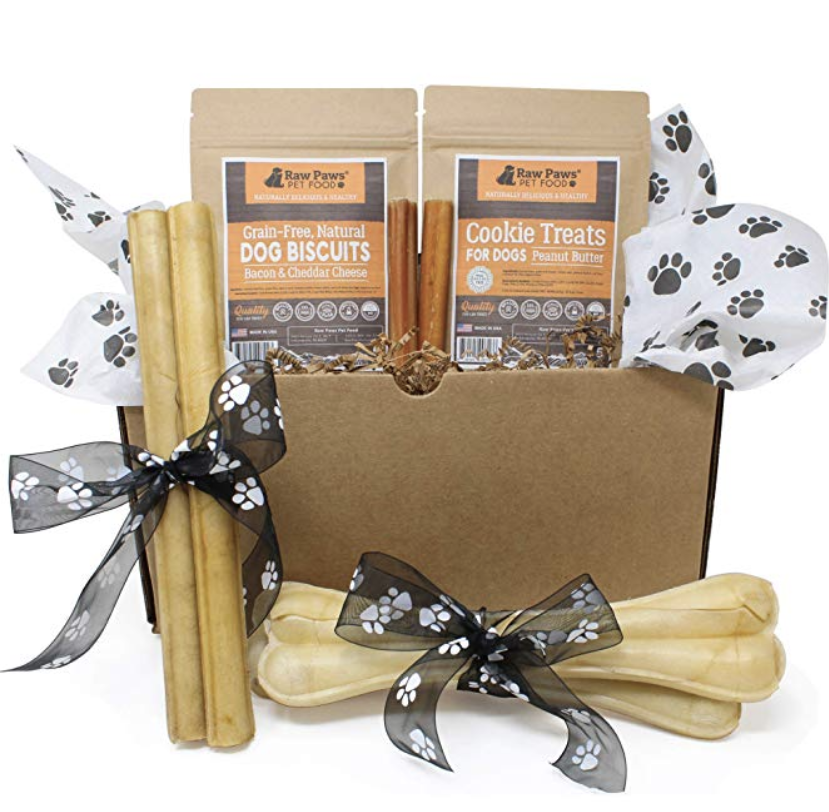 Includes:
Compressed rawhide sticks and bones
Jumbo bully sticks
Grain-free dog biscuits
Peanut butter cookies
All-natural treats, 100% digestible and free from artificial ingredients
Pawsative Ruffview: "My pup Parker got this as a get-well gift and he LOVED everything in it. It's great quality and presented nicely. Highly recommend!"
Get the All-Natural Canine Gift Basket for $49.99
#9 Bulltug Toy Gift Set with Foldable Storage Box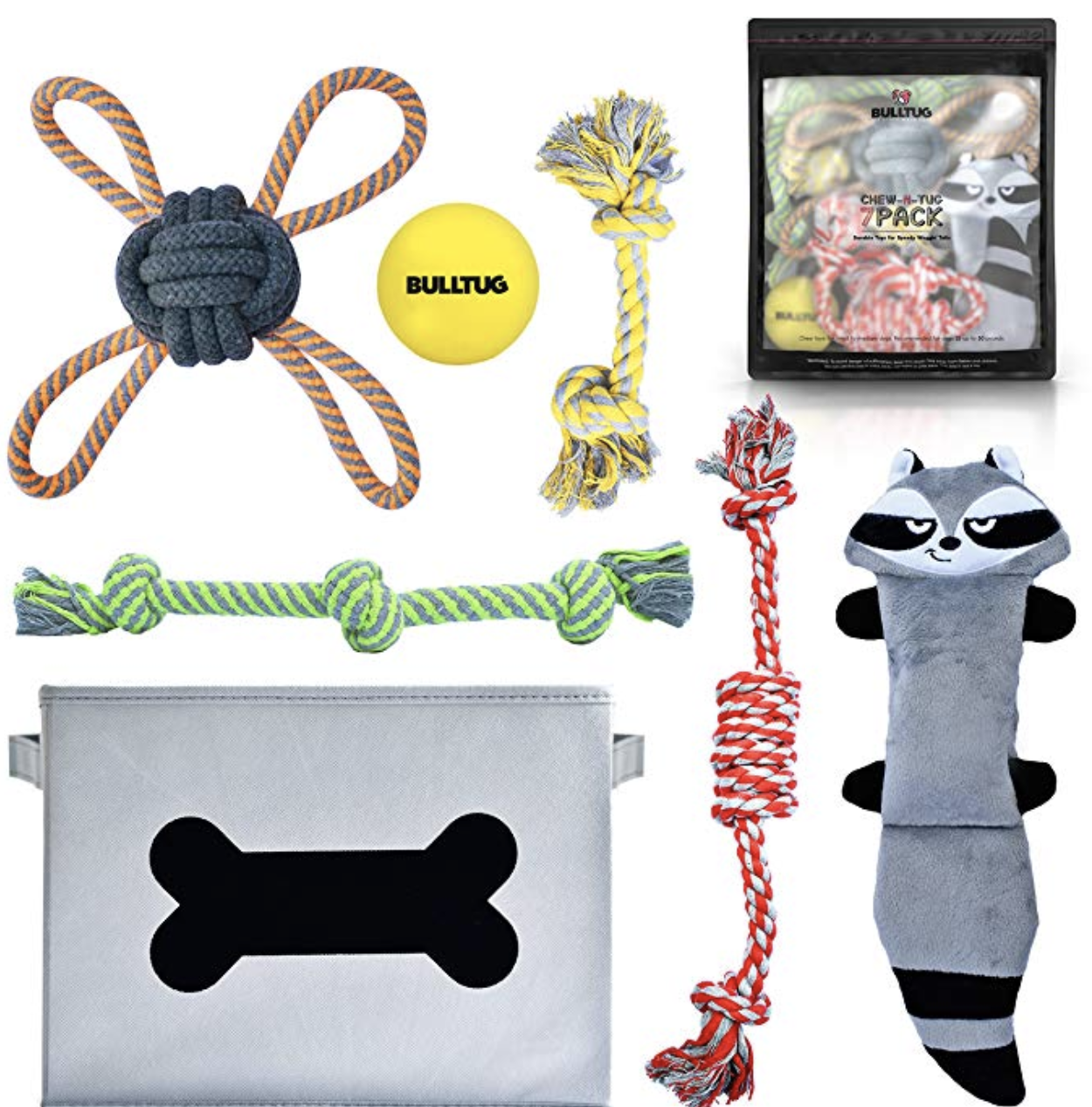 Includes:
4 cotton chew ropes made from natural cotton
Squeaky raccoon plush toy
Hi-bounce ball
Foldable storage box with chalkboard space to write your dog's name or "Toys"
Pawsative Ruffview: "Wow! This product really works! Here's my story: we rescued Lucy (the latest addition to our family) but could not get her to play for a long time. When we came across Bulltug, we were excited to get a variety of toys so we could find out what my puppy loves. Turns out, Lucy LOVES rope toys and also LOVES the raccoon in the box. She doesn't seem to care for squeaky toys much at all, except for this one haha. Plus, the box is super convenient. This was a worthwhile purchase and I highly recommend it to anyone looking to get their furry family member a set of AMAZING toys."
Get the Toy Gift set for $24.99
#10 Perfect Pooch Treat Gift Pack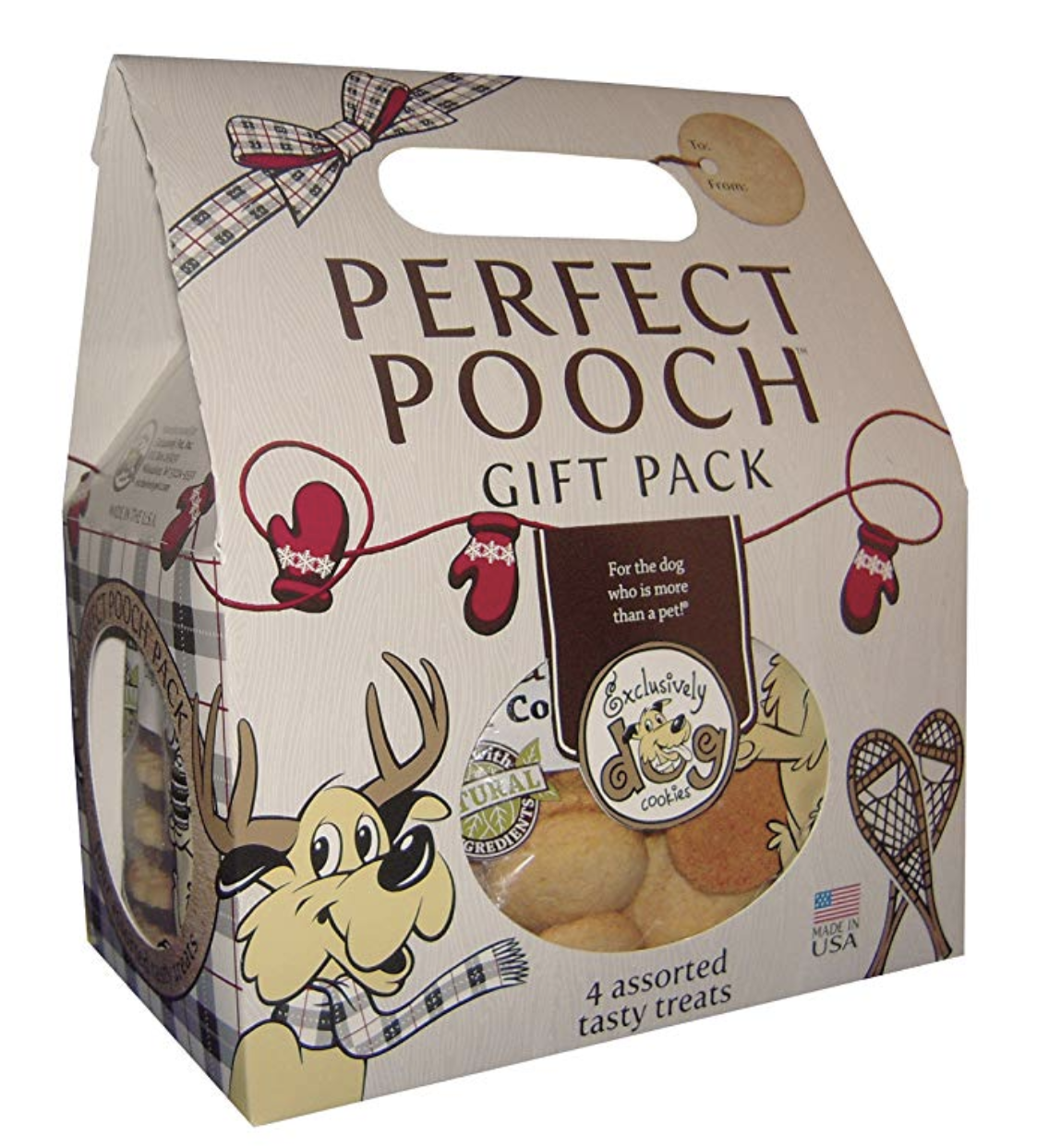 Includes:
4 assorted packages of dog treats (ex. vanilla wafter cookies, carob and vanilla sandwich cremes, peanut butter bites, cheese flavor dog treats, etc.)
Certified Kosher ingredients and no artificial colors or preservatives
Comes packaged in adorable holiday-themed box
Pawsative Ruffview: "Not that I ate them. This was a gift for a friend's dog who had eyelid surgery. Soon as the package was opened he was in it like he knew it was just for him."
Get the Assorted Treat Pack for $22.26
#11 BarkBox Supersized 90s ThrowBack Dog Toy Bundle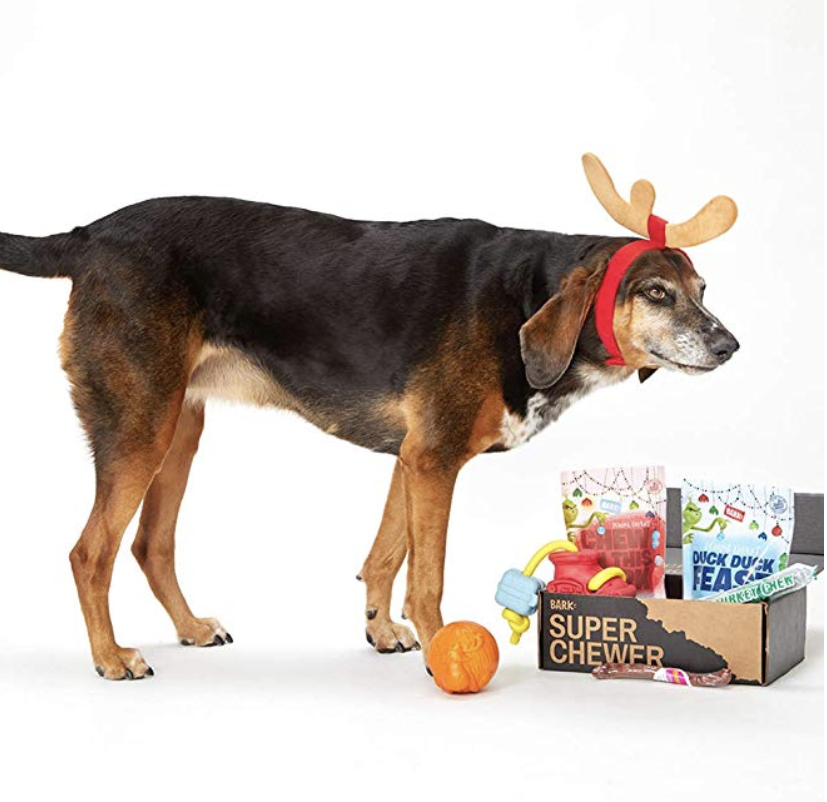 Includes:
2 durable chew toys
2 treats
2 chews
One free bonus wearable dog reindeer antlers
All natural treats
All natural rubber
If your dog destroys the toys, they'll send you a new one for free
Pawsative Ruffview: "Hi, I'm the dog in the above pic and I frickin' love this box!!!! Huge fan of The Grinch (love his change of heart) and also the treats in this box are A+++++. Highly recommend for all my dog friends, I could not keep my face out of the package when it came…love it so much!"
Get the High-Quality Toy Bundle for $45
DIY Dog Gift Basket
If your dog is picky, you can always make him or her a dog Christmas gift set. This way you can put in the perfect, unique treats and exactly the type of toys your dog loves
What you need
Supplies
Filler, such as tissue paper or paper shreds
Toys:
Treats:
Suggestions- For ideas read our guides:
Instructions:
Place the basket in the middle of the cellophane roll. Make sure there is enough room on each side to fold upwards.
Put the tissue paper or paper shreds into the bottom of the basket.
Arrange dog toys and treats in the basket in an aesthetically pleasing way.
Fold cellophane upwards and tie at the top with ribbon.
Option: Buying cellophane bags will make this project easier.
DIY Dog Gift Basket Video Instruction