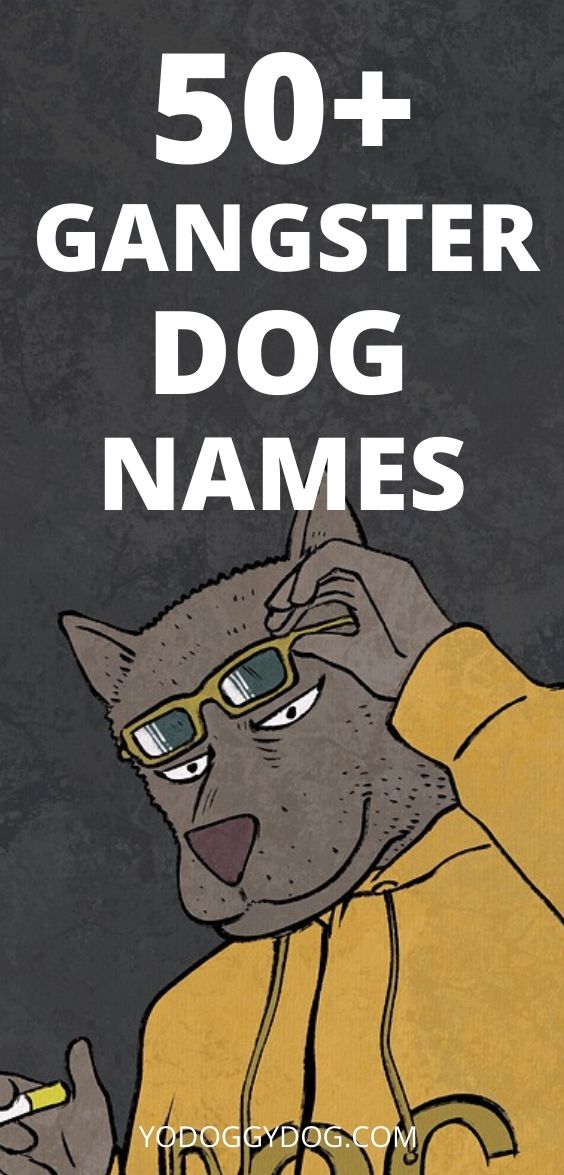 Some people want to name their dog something cute and fluffy.
Other people want their dog to seem tough and badass. If that's you, you'll probably find this post helpful.
What To Consider
Are you sure? When your grandmother or people on the street ask your dog's name, you'll have to be comfortable sharing the name.
Do you want your dog to seem tough? If you have a dog that already has a tough exterior, giving him a gangster name can make him seem more intimidating (but maybe that's what you want)
Spell it a different way. For example, the name Buster instantly sounds more gangster when you spell it Busta.
Gangster Dog Names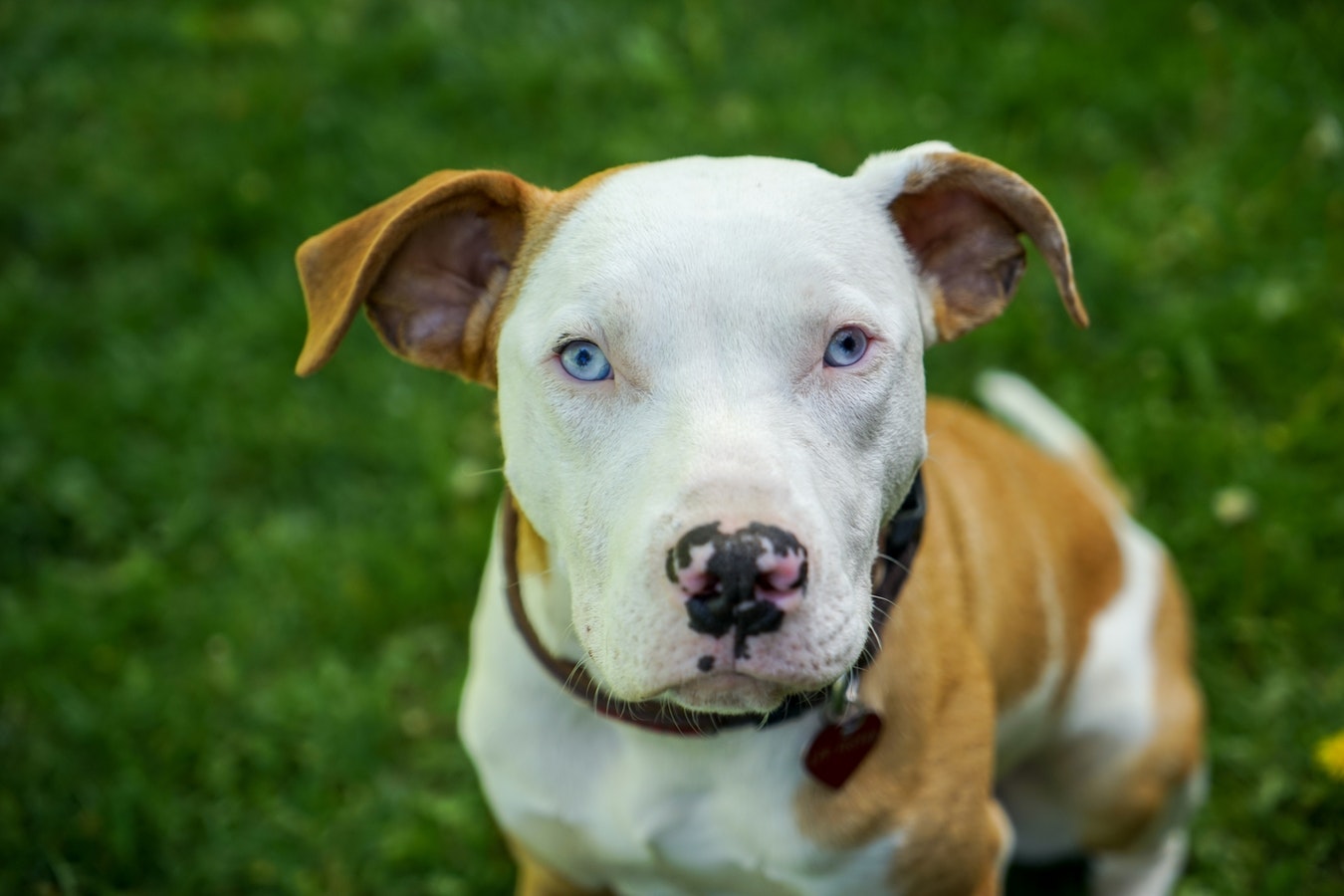 Here's a list of gangster dog names for both male and female canines:
Chainz
Bones
Scar
Diesel
Gunz
Gunner
Ice
Havoc
Dagger
Killer
Pistol
Grizzle
Boss
Cobra
Sniper
Foxy
Cash
Hammer
Snake
Rampage
T-bone
Chop
Kiki
Busta (Buster)
Rambo
Alpha
Rock
Ace
Gold
Rhymez
Viper
Stonez
Bullet
Dogzilla
Sledge
Venom
Millie (short for millionaire)
Chronic
Ammo
Flamez
Guy
King
Queen
Beast
Solo
Blaze
Ceelo
You can also check out our list of hilarious dog names.
Gangsta Dog Accessories
Now that you've picked the perfect gangster name, make your dog look equally as badass with these Amazon finds.
W&W Lifetime Custom Ultra Strong 19MM 14K Gold Plated Slip Chain Dog Collar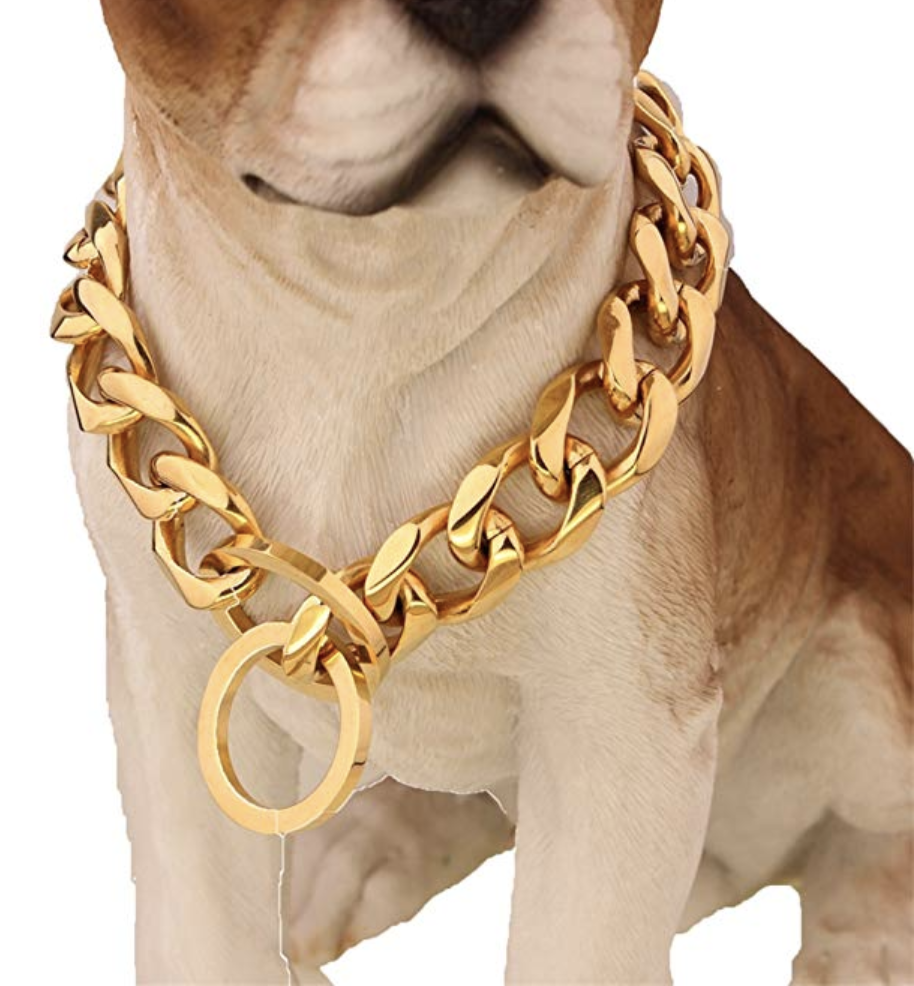 Have a dog brand? Get a Free Pinterest marketing course starter pack to help you reach dog lovers 🙂
If you love a badass looking pitbull, this gold chain is sure to elevate her game. Ths one will never tarnish or rust, so you'll only need to buy one for life.
Price: $28.99
Rating: 4.5/5 with 76 reviews
Pawsative Ruffview: "Been using this for months on my pitbull and so far so good! No discoloration of the collar or her fur, no rusting, no chips in the metal. She wears it all day until she goes to bed at 11pm and it works great. No fur snagging either!"
Adidog Dog Sweatsuit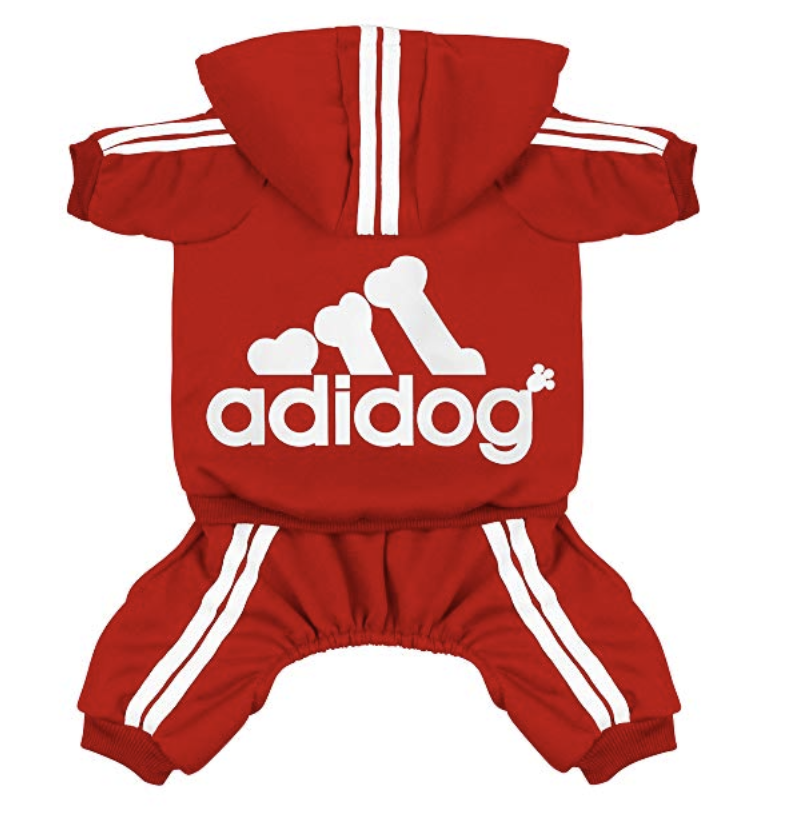 All gangsters sometimes enjoy rolling around in a high-end tracksuit, same goes for your doggo. Coming in 10 colors with over 10 sizes, whether your fur baby is a little runt or a big canine, there's one he'll look sick in. If you only want the sweater part of the tracksuit (without the pants), you can get that here.
Price: $11.99
Rating: 4/5 with 4,926 reviews
Pawsative Ruffview: "Our Corso pup was quite the attraction on a weekend outing. Everyone loved it."
Genuine Leather Adjustable Loui Vuitton-Style Collar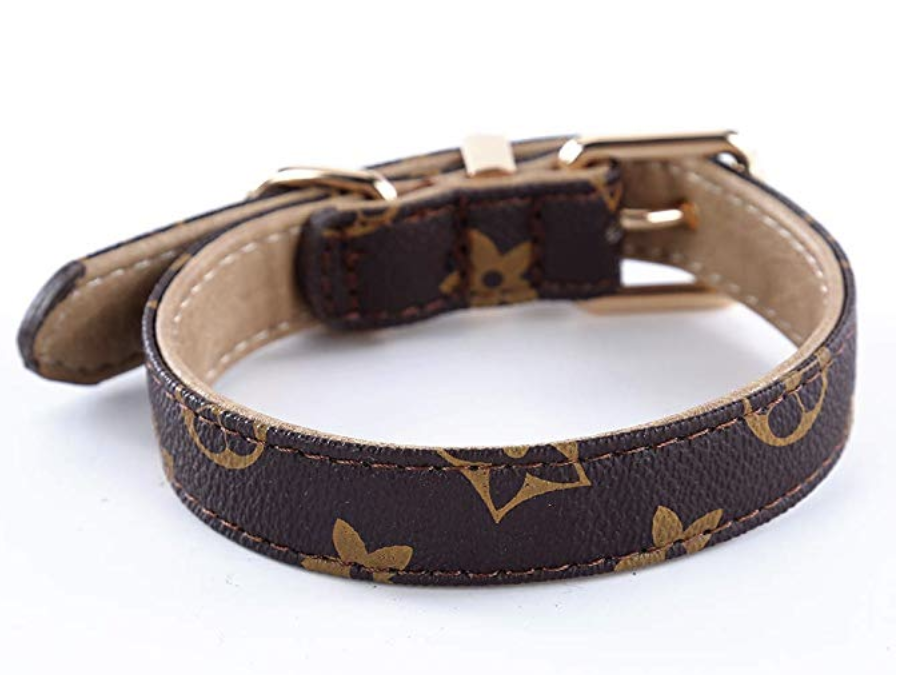 Gangsters rake in the cash and spend in on designer items. Your pup can take his earnings and save up for this designer-inspired collar (at a fraction of the price).
Price: $10.99
Rating: 4.5/5 with 7 reviews
Pawsative Ruffview: "If you want a LV inspired dog collar this is a nice one. I was surprised at how nice it was! It's mase very well and doesn't seem cheap looking in person. It also came with two little bells that you can attach if you have a little pup that needs keeping track of. I'm actually going to buy another one for a gift to a friend."
Weed Dog Onesie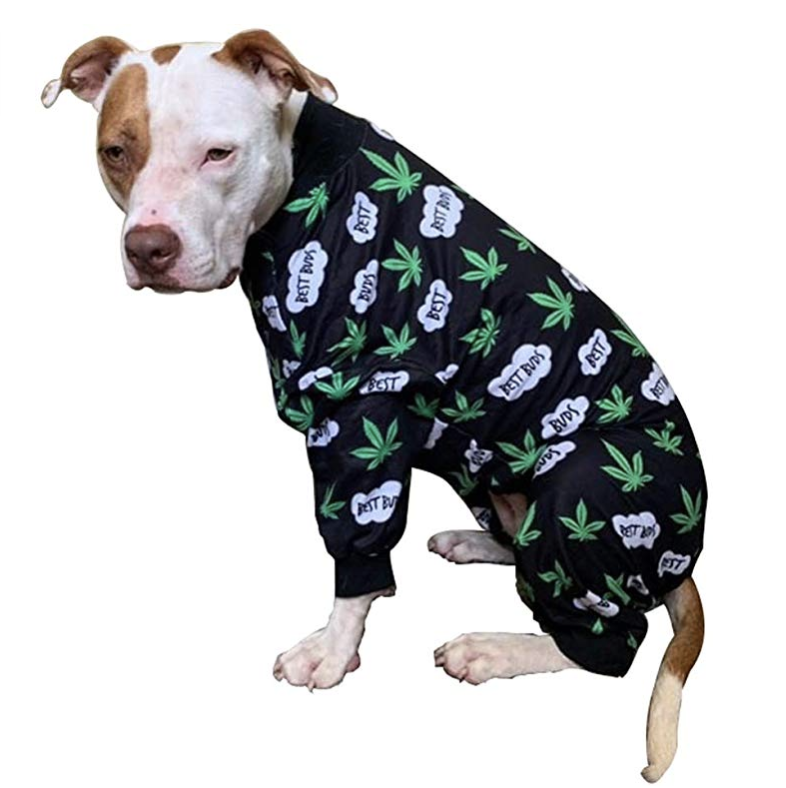 Who said onesies are for baby's? No, they're for bada$$ HAMS! This onesie features weed leaves and the punny phrase "best buds."
Price: $13.99
Rating: 5/5 with 10 reviews
Pawsative Ruffview: "These pjs look so cute and fit my Chi so well. . think I've found my new favorite.
High quality and thick. First time buyer of this brand and I am very pleased. Will definitely purchase more."
Chain Leash for Gangster Dogs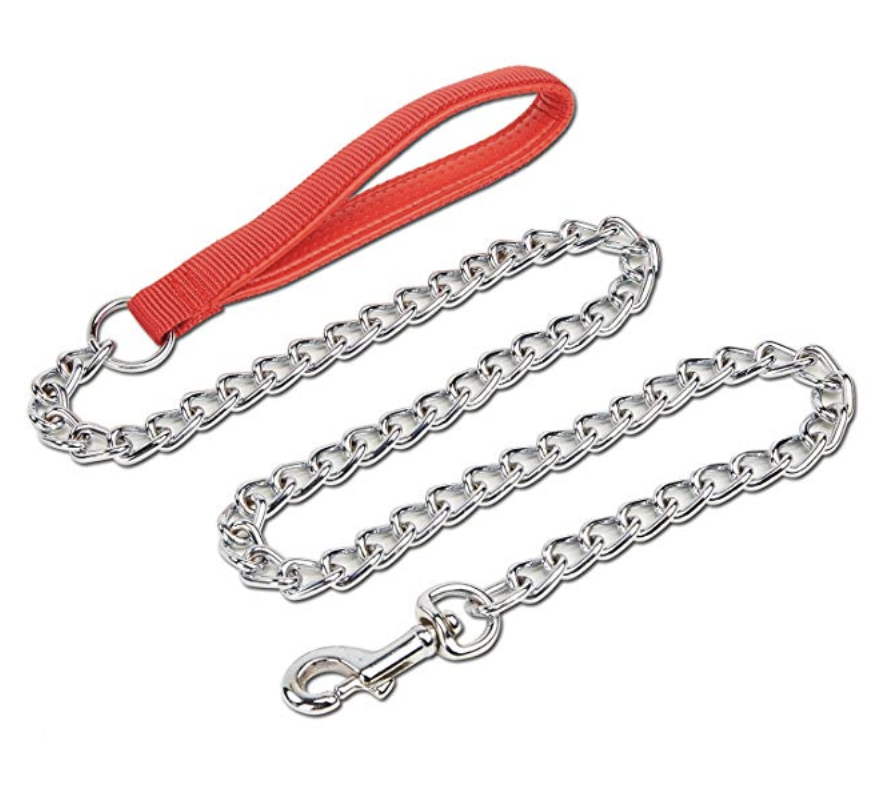 Even badasses shouldn't have to walk themselves. But you'll look a whole lot cooler walking with her with a chain-style leash. Comes in blue, black and red.
Price: $13.29
Blunt Toy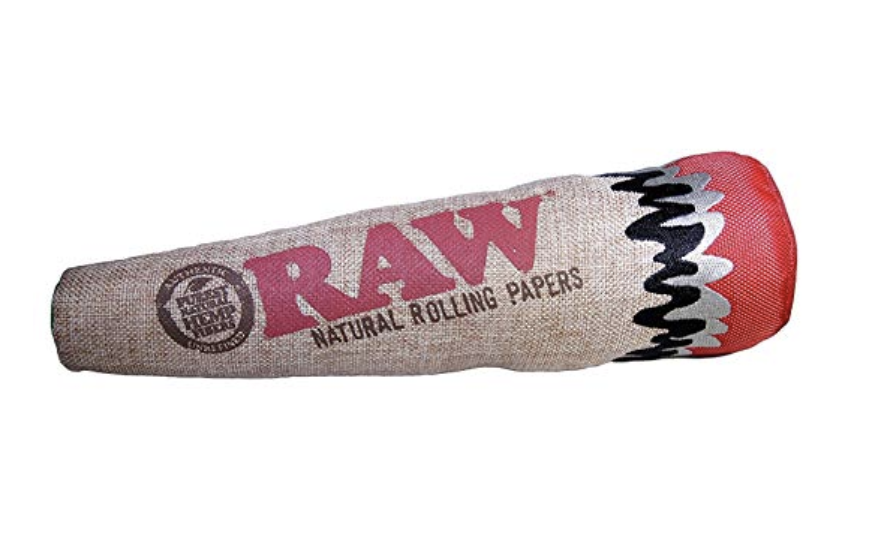 Are you really a gangster without a frequent blunt in hand? Now your dog can partake with a weed joint toy that makes him look like he's smoking every time plays with it.
Price: $17.50