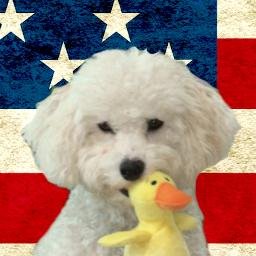 Headlines are swirling around presidential candidates Hillary Clinton and Donald Trump, but why hasn't the media picked up on the most interesting candidate?
Toby, an adorable Bichon hopes to take Obama's place and make history for being the first ever dog president.
Between making speeches and participating in presidential debates, he has been super busy these days. However, Toby took a few moments out of his schedule to answer a few of YoDoggyDog's questions:
???? What inspired you to run for president?
I decided to run for President because I was the subject of a children's book titled "Toby the Doggie", and since I was already gaining pupularity due to my incredible cuteness, and I had a lot of ideas of how to help my country, I decided to be brave and run for president.
???? What changes would you make?
The most important thing I want to promote is peace, so there would be no need for violence with me in charge. If the president were a cute little dog like me, one look at my adorable face would calm even the most violent criminal.


???? Who would be the vice president if you won?
If I won, my vice president would be Boots the Cat. She is a sweet feline with a lot of attitude. And she's loves dressing WAY more than I do! More power to her for that!
???? How would you combat terrorism?
Finding an effective and peaceful way to combat terrorism would be tricky, but if I sent dogs and cats as diplomats to help get America on peaceful terms with other countries, I'm sure that would work. After all, who can resist puppy-dog or kitty eyes??!!
???? What would you do to create more jobs?
Creating more jobs would be easy. There are plenty of dogs, cats, and other animals who need to be cared for. Many are wandering the streets as we speak. If we built more shelters and care centers to house them, that would open up plenty of new job opportunities.


?What would you do to curb gun violence?
How could anyone feel like hurting people if a cute little dog was staring at them from every poster and TV screen? The answer is they couldn't. It's not possible!
?What will a little dog like you do in the White House?
The White House is much too big for a little dog like me, so I'd probably live in a dog house in the backyard, and let my Campaign Manager, Alastaire Lundeen, my vice president, Boots the Cat, and anyone who needs a place to stay live in the White House. I don't like big laces. I get lost too easily.