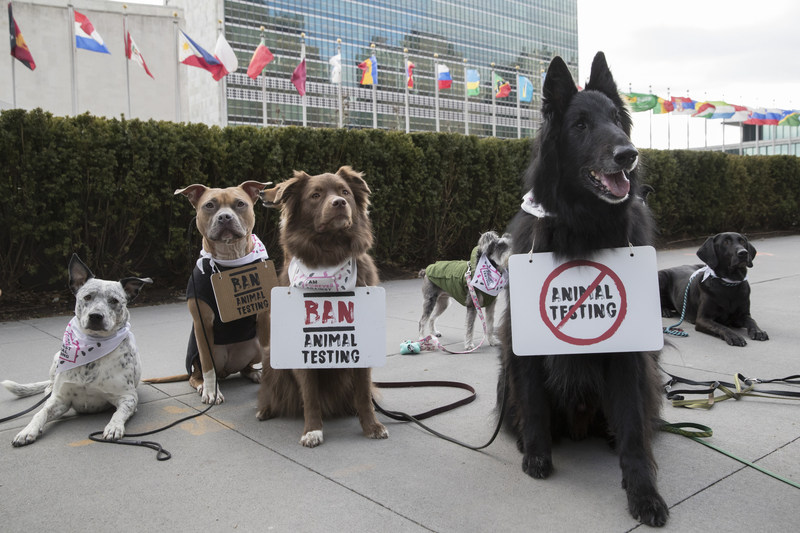 The world's first animal protest outside the headquarters of the United Nations took place in New York on 24 January 2018.
The protest, which included 8 dogs of different breeds and sizes, was in support of Forever Against Animal Testing
It's a joint campaign by The Body Shop and Cruelty Free International. The dogs took to the streets with protest signs, bandanas and miniature banners in show of their support.
The protest aimed to highlight the shocking fact that 80% of countries worldwide still have no laws banning cosmetic animal tests and encourage consumers to support the campaign by signing the global petition at http://www.foreveragainstanimaltesting.com.
Once the petition reaches 8 million signatures, The Body Shop and Cruelty Free International will present it to the United Nations, calling for an international convention to ban animal testing on cosmetics to protect millions of animals around the world. Last week, the organisations met with UN officials to progress discussions on the topic.
Having gathered 4.1 million signatures in the last six months, the petition is now the biggest ever against animal testing in cosmetics. The Body Shop and Cruelty Free International are inviting all companies that are against cosmetic animal testing to pledge support for the campaign, and is supplying assets to help other companies and their employees get involved.
In September 2017, The Body Shop was acquired from L'Oreal by Natura, the Brazilian-listed multi-national cosmetics company, which is cruelty-free and a publicly-listed B Corp.   Both Natura and The Body Shop's new sister company, Aesop, have today officially backed the campaign.
"At The Body Shop we believe passionately in animal welfare and that animals shouldn't be used for cosmetic testing," says Jessie Macneil-Brown, Head of Global Campaigns at The Body Shop.
"We staged our animal protest with dogs, as they have been a powerful symbol for us throughout our Forever Against Animal Testing campaign, representing the relationship we have with animals and connecting with our cruelty-free supporters.
"Today's protest sends a strong message to consumers and brands around the world that we need their support," says Michelle Thew, CEO of Cruelty Free International.
"We have made huge progress towards our goal of banning animal testing for cosmetics, but there is still work to be done. We want to see every company that is against animal testing pledge their support and encourage their customers to do the same".
For more information, click here.