Ghosts, freshly fallen leaves and cozy overtones.
There's a lot to love about fall. And if autumn is your favorite season, you may someone who tries to find anyway to bring more of it into your life.
Another way to add some fall aesthetic to your every day is with your dog's collar.
If you're into that, you're going to love our finds for you today. Here are 10 fall dog collars that can be found on Amazon.
What to Look for in a Fall Dog Collar
When searching for the best one, take these tips into account.
Style
Of course, the first thing you're looking for in a dog collar is the design of it. First, do you want a harness style one, or a buckle or snap buckle? Then, consider what symbols you want on it. Do you want a masculine dog collar or a more feminine one?
Size
Make sure the dog collar you're looking at has the size you need. For example, some brands only make collars for small breeds. Also, different brands have different sizing charts. You should always measure your dog's neck to make sure you're picking the right one. Amazon has easy returns where you simply printout the shipping label and send it back for a return. But why go through that hassle if you don't have to?
An easy way to measure your dog's neck is with a piece of string or yarn. Loop it over your dog's neck and make a mark where the two pieces meet. Then line it up with a ruler to see the length of it.
Versatility
Some fall dog collars are very specific to the season. For example, one made out of ghosts and pumpkins would look out-of-place in the spring. However, if you pick something with less specific symbols, your dog can wear it all year along if you want. Or, instead of symbols, you can purchase a striped collar with fall colors. That would look good during any season.
How Quick You Need It
Of course, if you're getting an autumn-themed collar, you want it to arrive at the beginning of the season so you can get your full use out of it. Not every option on Amazon has quick shipping times, so be sure to check if it's shipped by Prime or some independent retailer with an estimated delivery time of 3 months.
10 Fall Dog Collars on Amazon
Here are our favorite finds for autumn-themed dog collars that are affordable with quick shipping.
#1 Country Brook Design's Autumn Collection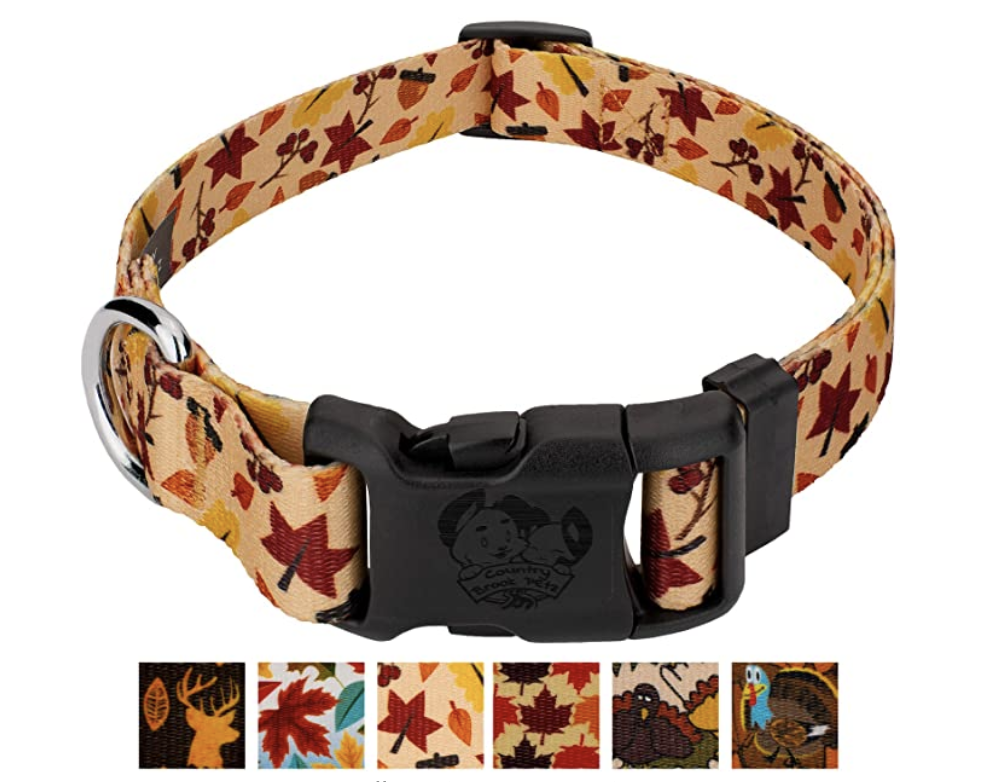 There are so many options in this collection that every fall dog lover can probably find something. There's colorful designs, such as falling leaves on a blue background. And there's more monotone ones, such as deers on a black background. This collection comes in neck lengths of 16″ to 22″.
Price: $9.95
Pawsative Ruffview: "These collars are well made and maintain their color. My young cairn has such a spunky personality, they are a wonderful addition. She sports her collars and she doesn't mind them, she dislikes harnesses and jackets. Thank you for putting a smile on many people's faces."
What Fido Thinks: "So many options. I'll take the turkeys. Delicious."
#2 Blueberry's Autumn and Halloween Collection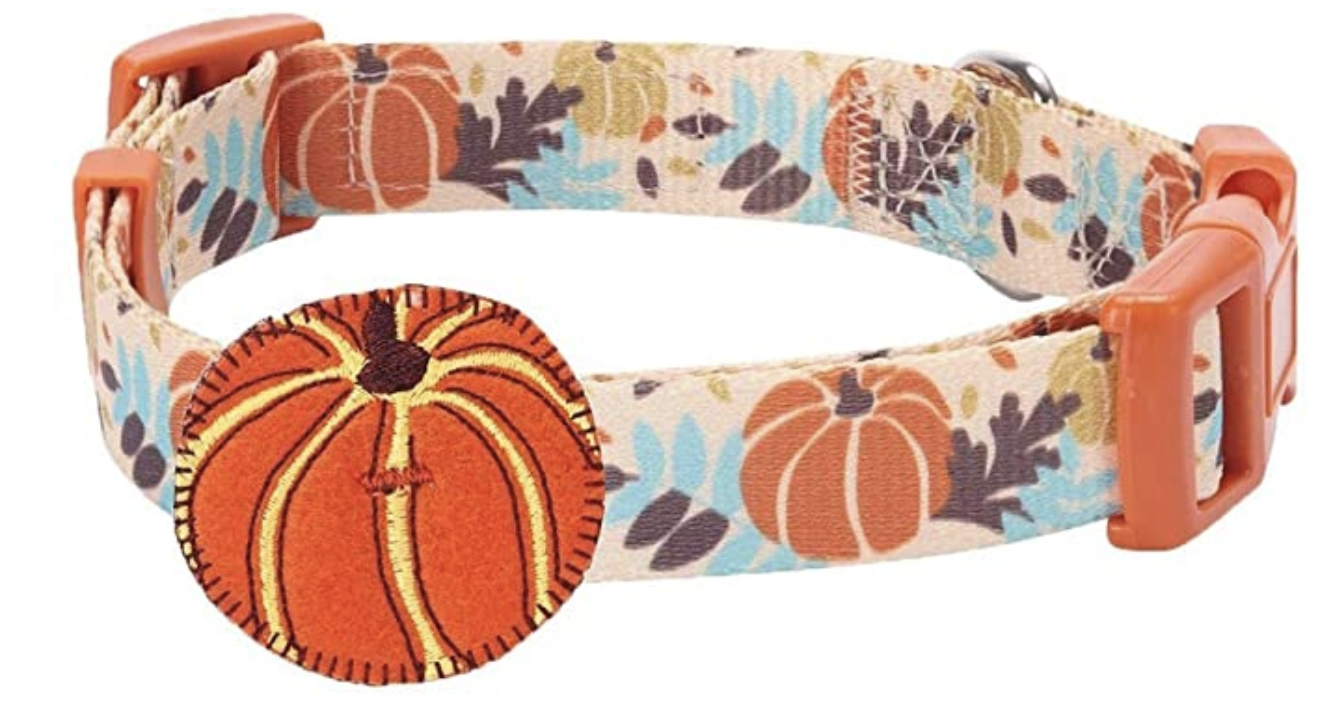 When it comes to dog collars on Amazon, Blueberry is always a good place to start. Their quality is usually pretty good and reviews typically reflect that. In this collection, you have the choice of fall designs—such as leaves and turkeys—or Halloween symbols—such as black cats and haunted houses.
Price: $13.99
Pawsative Ruffview: "PROS:
> I thought the little pumpkin would quickly be an afterthought, but they are well made and attached via elastic banding, so you can move it around, and it lasts!
> Collar gets attention
> Collar brings feelings of warm and cuddly, festive seasons! Always reminds you that it's Fall.
> Makes you feel like you care enough about your fur baby to buy a festive season collar… because you do! :)"
What Fido Thinks: "Yus the purple one will make passersby turn their heads and give me the rubs."
#3 Native Pup's Halloween Dog Collar Collection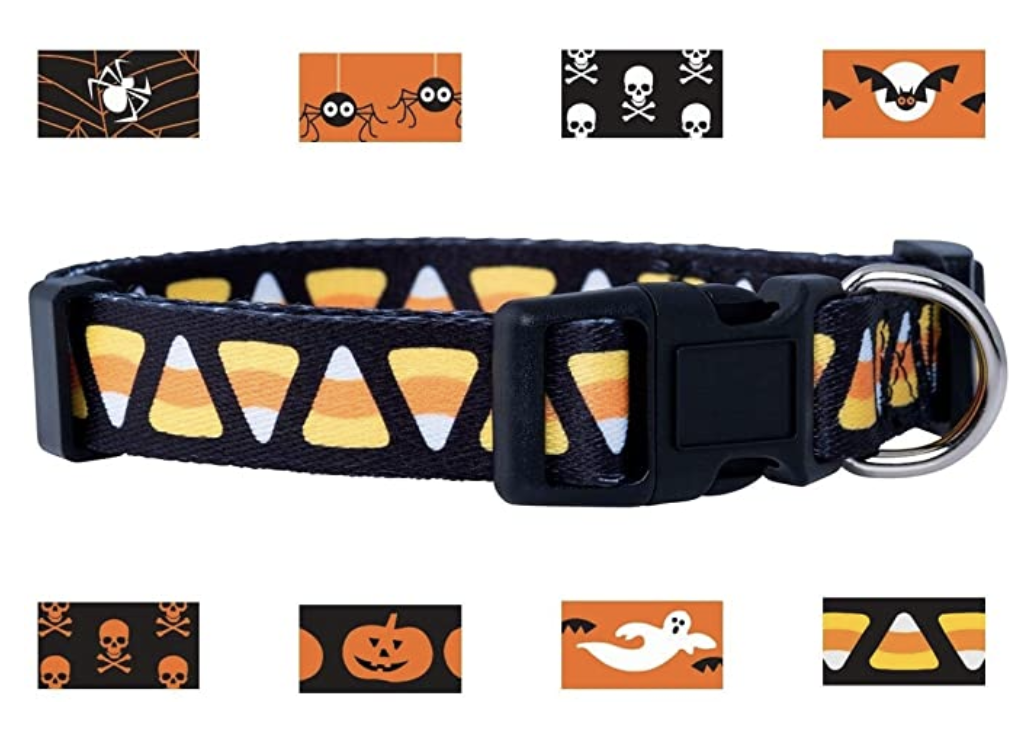 Native Pup's collection is mainly geared toward Halloween but may favorite, the candy corn one, can probably be worn all season. It's more subdue compared to bright orange backgrounds. Of course, skulls work all year around and specially at Halloween too.
Price: $9.99
Pawsative Ruffview: "I just can't say enough about the Native Pup collars! I have so many my husband just rolls his eyes when I put A new one on our dog… And my girl always looks stylish no matter the occasion!"
What Fido Thinks: "Does the candy corn one doubles as a delicious treat?"
#4 Fall Plaid Dog Collar Bow-Tie Style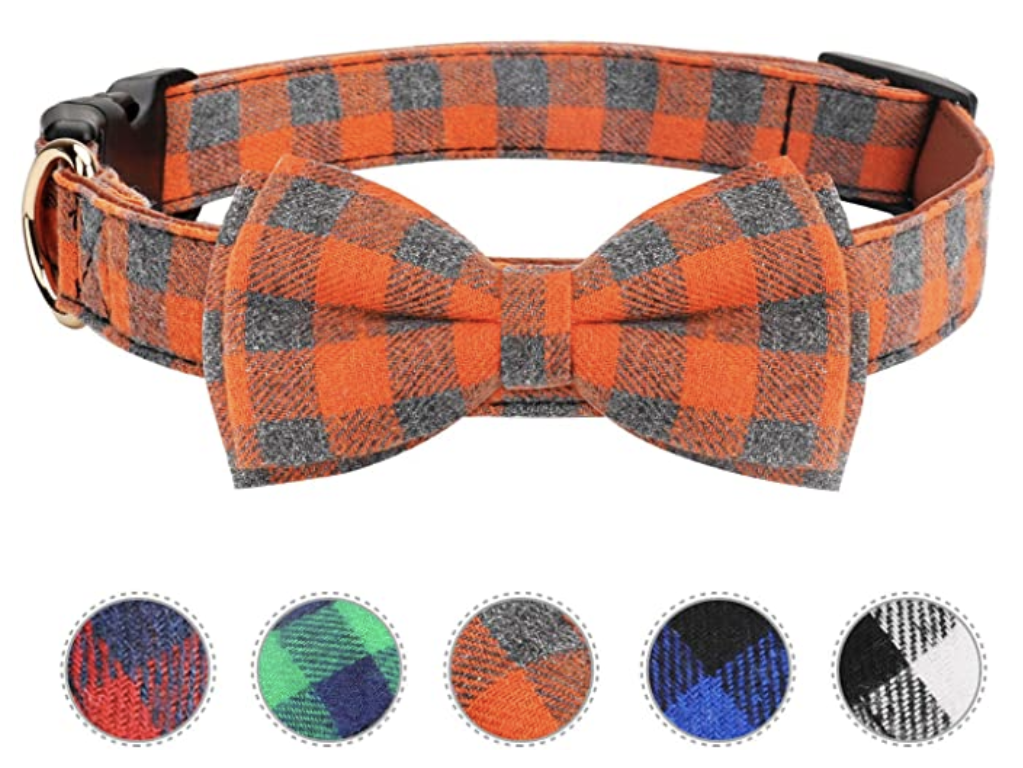 These adorable bow ties are perfect to add a little bit of autumn aesthetic without going overboard. Although the orange one is ideal for fall and Halloween, the black one also works for Halloween and the entire year. They have sizes small to large.
Price: $11.99
Pawsative Ruffview: "Recently rescued a senior puppy from the animal shelter and needed a collar for him. He looks absolutely dashing and I couldn't be happier with it. The material is very thick and soft."
What Fido Thinks: "If I wear this bow tie, am I dressed appropriately enough to join you for Thanksgiving dinner?"
#5 Fox and Acorn Dog Collar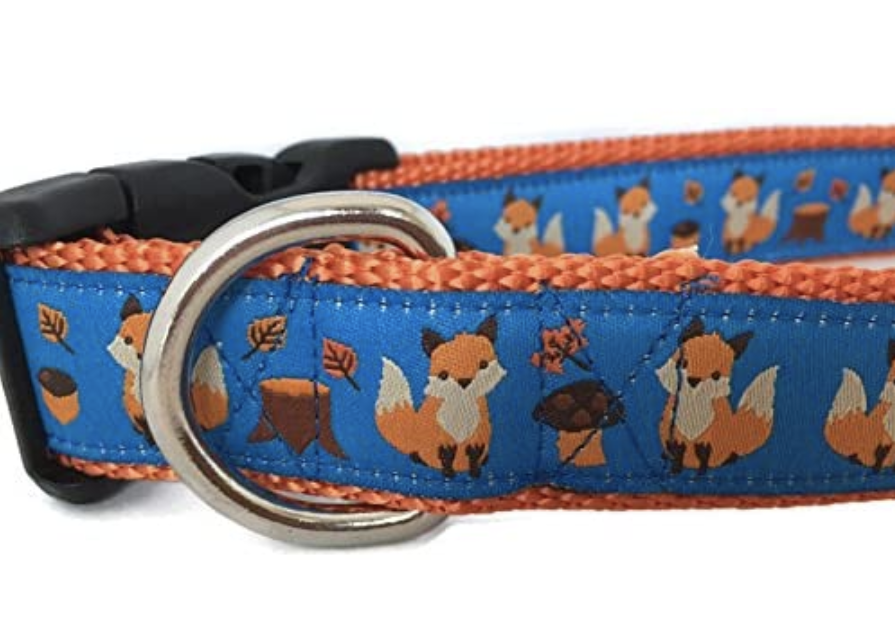 This collar is bright enough to make your dog pop and it would be adorable on puppies. It's a bit different that other designs on this list with its unique foxes sitting beside tree stumps and acorns. They also have another option with a pumpkin patch design with a white background. According to the reviews, this brand is known for behind very durable and high-quality.
Price: $14.95
Pawsative Ruffview: "So cute and sturdy. It looks well made in person too. I've had to wash it several times because my dog has never found a mid puddle she didn't like and it still looks great. I would definitely recommend this brand."
What Fido Thinks: "Fox, acorn, tree stump. No food here. Pass."
#6 Thanksgiving Turkey Collar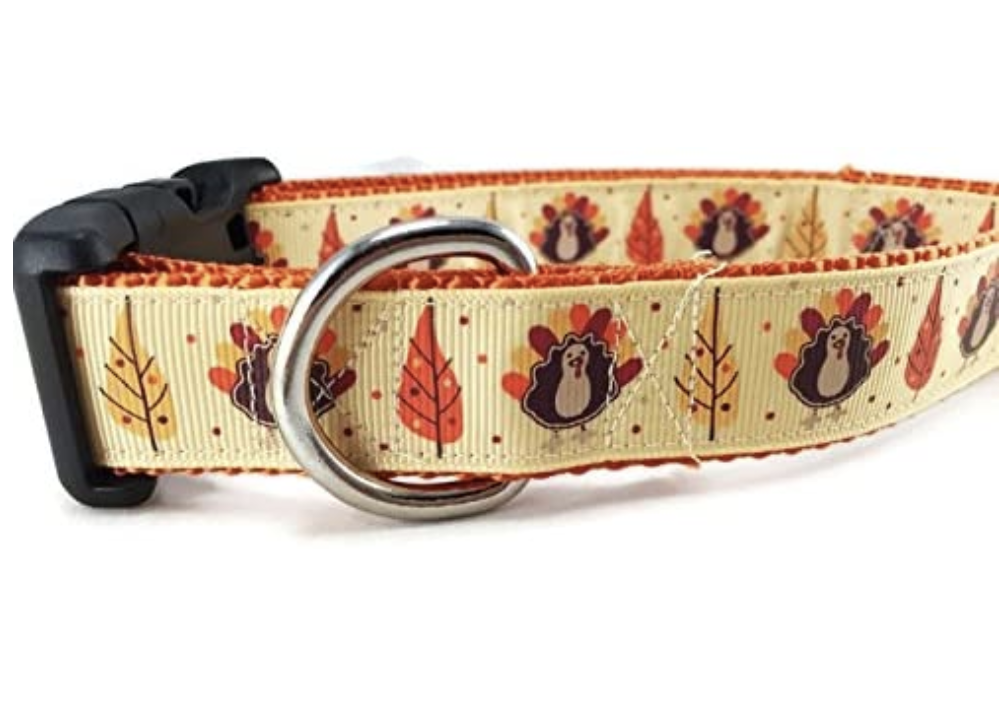 This fall dog collar features aesthetically pleasing seasonal colors decorated with adorable turkeys. CanineDesigns claims that the heavy nylon makes it strong while the high-quality print makes it resistant to fading, even after machine washed.
Price: $14.95
Pawsative Ruffview: "What's not to love about a cute turkey collar. Looks super cute. We have the Christmas one too. Very sturdy have taking my Staffy for walks on this collar."
What Fido Thinks: "The more turkeys the better mom."
#7 Red Fall Plaid Dog Collar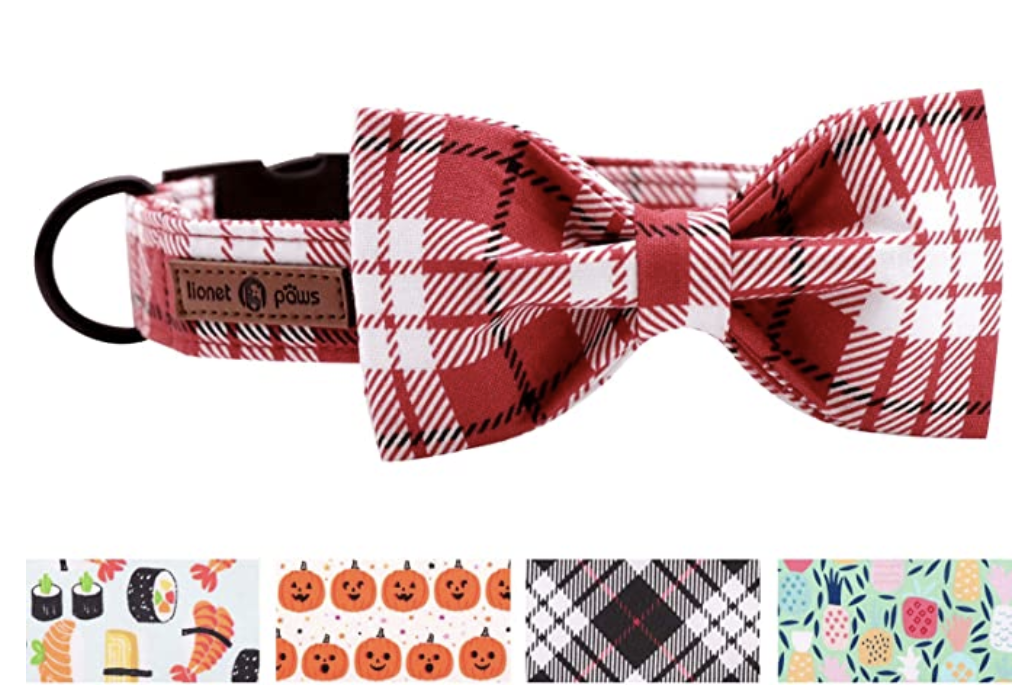 Another dog bow tie collar option on this list is b Lionet Paws. They have a red and black plaid option, along with a white one adorned with smiling pumpkins! It's suitable for just all breeds with the sizes ranging from XS to XL.
Price: $13.99
Pawsative Ruffview: "The small is a little big for my 12 lb dog, but the quality and durability is perfect! Super cute patterns too."
What Fido Thinks: "Please can I wear this while you wear your plaid shirt? I want to match you mom."
#8 Blueberry's Scottish Dream Plaid Collar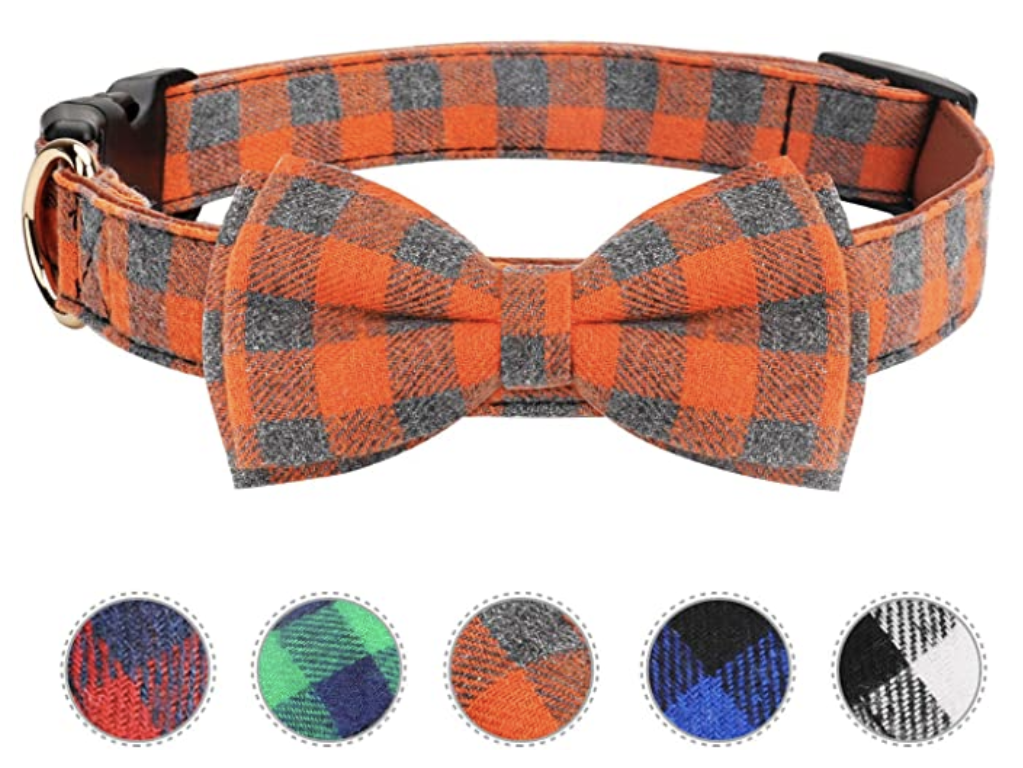 As we mentioned above, Blueberry always seems to be a pretty reliable brand for dog collars. We like this one in particular because the colors are perfect for fall and Halloween. However, it can also be worn all year around (given the "Scottish Dream" name of it). The only downside is that it isn't ideal for goals (read the review below).
Price: $15.99
Pawsative Ruffview: "Our goat loves this collar compared to his last one. The neoprene and slight stretch make it so much more comfortable than his last (typical nylon) collar…He totally digs the stylish tartan plaid. Update: After a few months of full time wear, Goatee the Goat has all but destroyed this collar… So bottom line is, it's probably great for a dog, as it is intended. Just don't put it on your goat."
What Fido Thinks: "This collar really does make me look mature mother."
#9 70's Design, Fall Color Collar
This is one of my favorite collar's on this list because it can be worn for autumn and all year around. The tone of the brown, orange and red immediately remind you of the 70s, making your dog on-trend. It comes in sizes teacup to large.
Price: $11.95
Pawsative Ruffview: "Super cute collar for a great price."
What Fido Thinks: "I'm ready to boogie down with this collar."
#10 Rolled Leather Dog Collar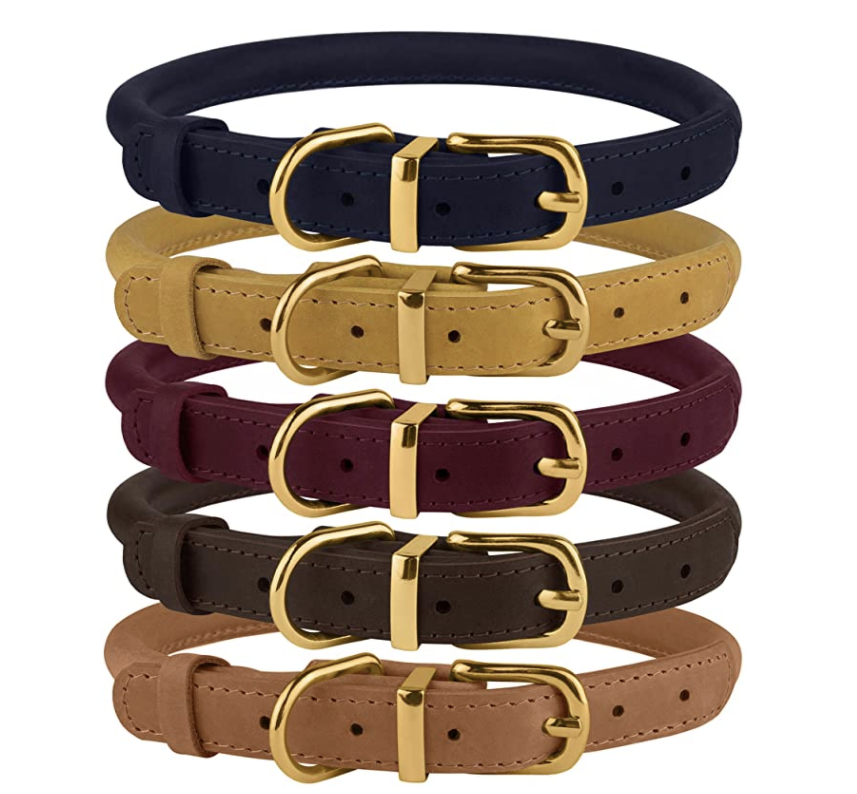 These high-quality, durable dog collars are another great option if you want a fall color collar but need it to look appropriate all year around. There's several options available from Bronzedog, many of which have autumn vibes. I love the yellow and light brown in particular. The hardware on these is gold-toned too, making it look seasonal yet sophisticated.
Price: $12.99
Pawsative Ruffview: "I love this collar, it looks very sharp on my German shepherd. The maroon color is very nice against his black coat. I love the leather material, it is thick and very durable."
What Fido Thinks: "I would look just ravishing."