Mornings aren't always easy.
But getting your caffeine fix out of a dog can get your day started right. Whether you're buying gifts or just want a conversation starter mug for yourself, there's more options than the boring ones you find in stores.
Here's 15 cups to pay homage to your doggo.
#1 F Off, My Mom is the Best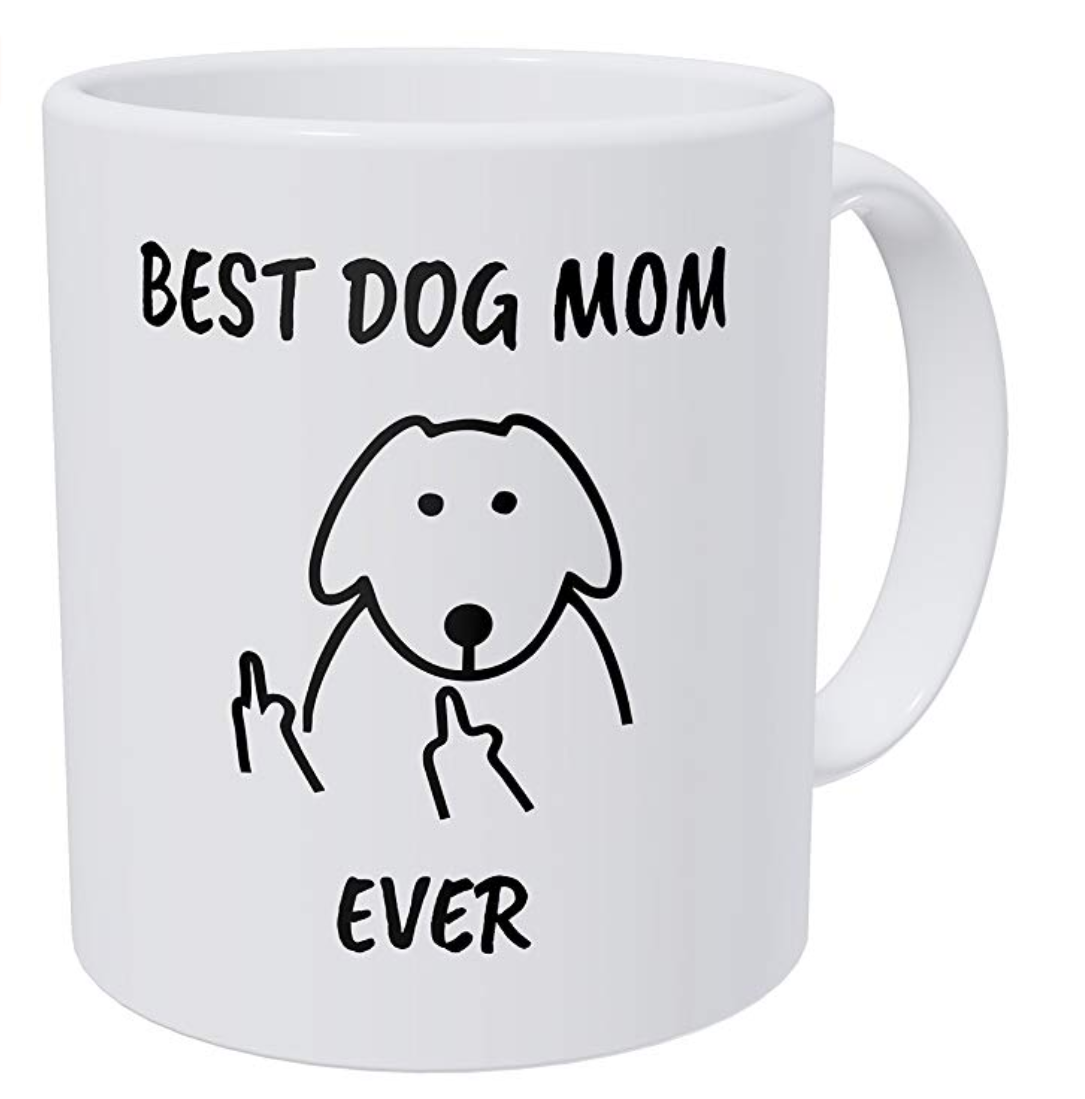 This mug simply states what your dog already knows: You're the best doggo mom ever! But the mug isn't too nice: It also features a dog giving the middle finger.
Price: $11.99
Pawsative Ruffview: "I crack up every time I look at it. Makes me so happy. Will order different mugs again as well. Came in one piece!"
#2 Mornings are Ruff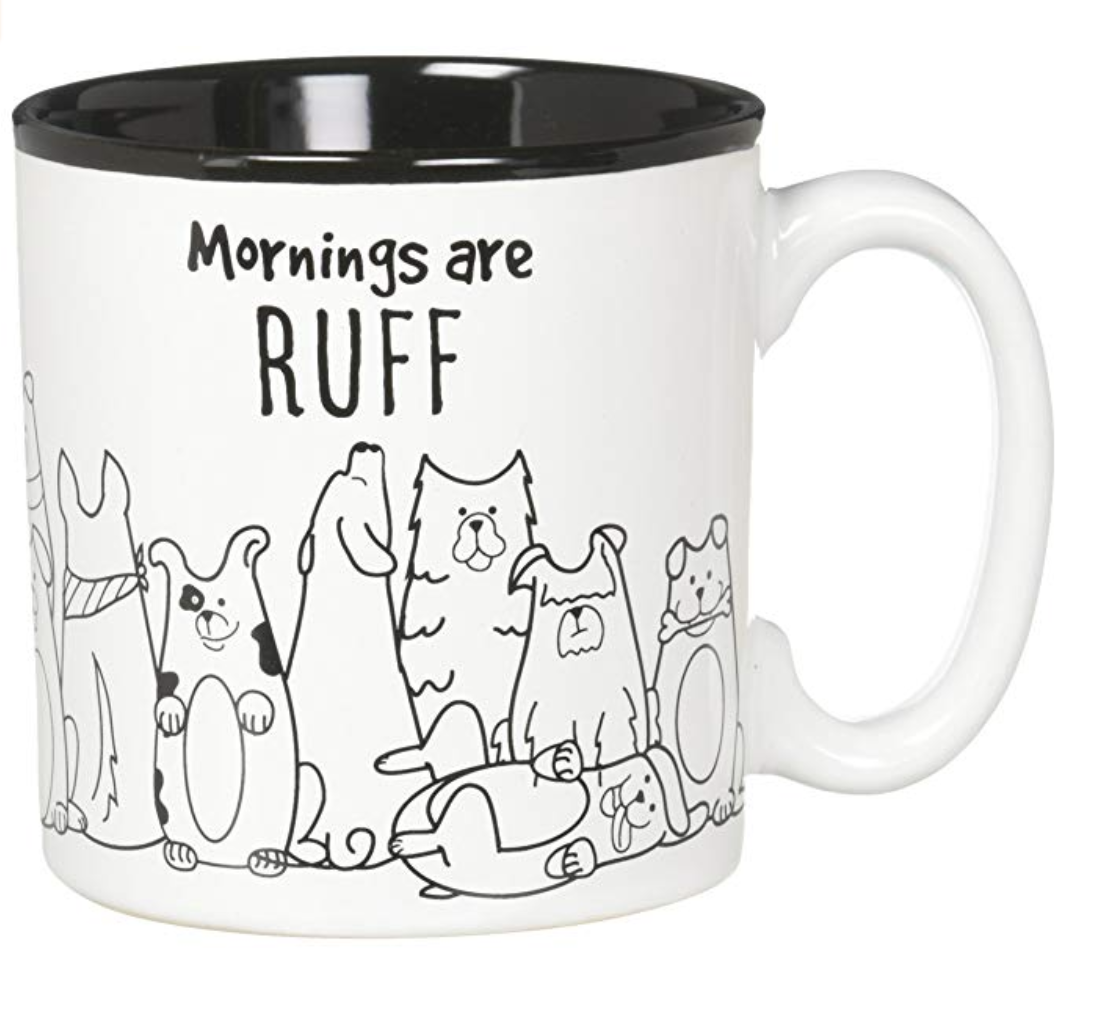 They sure are! But we think mornings are going to be a tad less difficult if you get to see this mug every day.
Price: $9
Pawsative Ruffview: "Just looking at the pictures on this mug can turn your "Ruff" mornings around. So cleverly done; beautifully made. Just ordered my 2nd one. The first was a gift for Christmas. Perfect for anyone who loves dogs & is something they don't already have."
#3 My Dog Deserves a Better Life
Everyone always says they want their kids to have a better life than they did—but what about your dog? He deserves the best life too! Tell all your co-workers where your work ethic comes from.
Price: $10.99
Pawsative Ruffview: "My husband says this all the time to me! And laughed so hard when I saw this. Had to buy and he got a good laugh out of it."
#4 You're Pawsome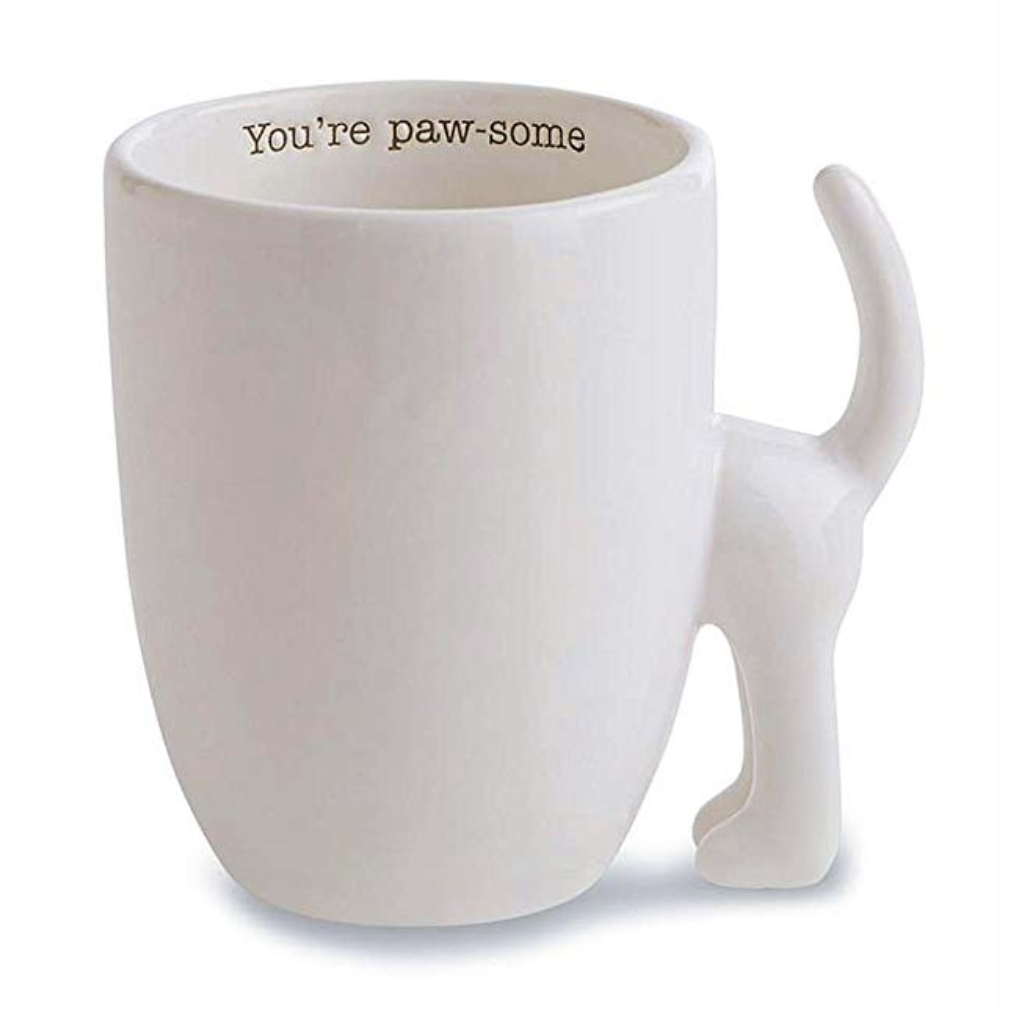 A perfect gift for anyone who is truly awesome, this mug's handle is ultra unique, featuring a wagging doggo tail
Price: $13
Pawsative Ruffview: "Purchased this as a gift for a fellow dog lover, and it's so cute I put it on my Christmas list!"
#5 Dog Hair Everywhere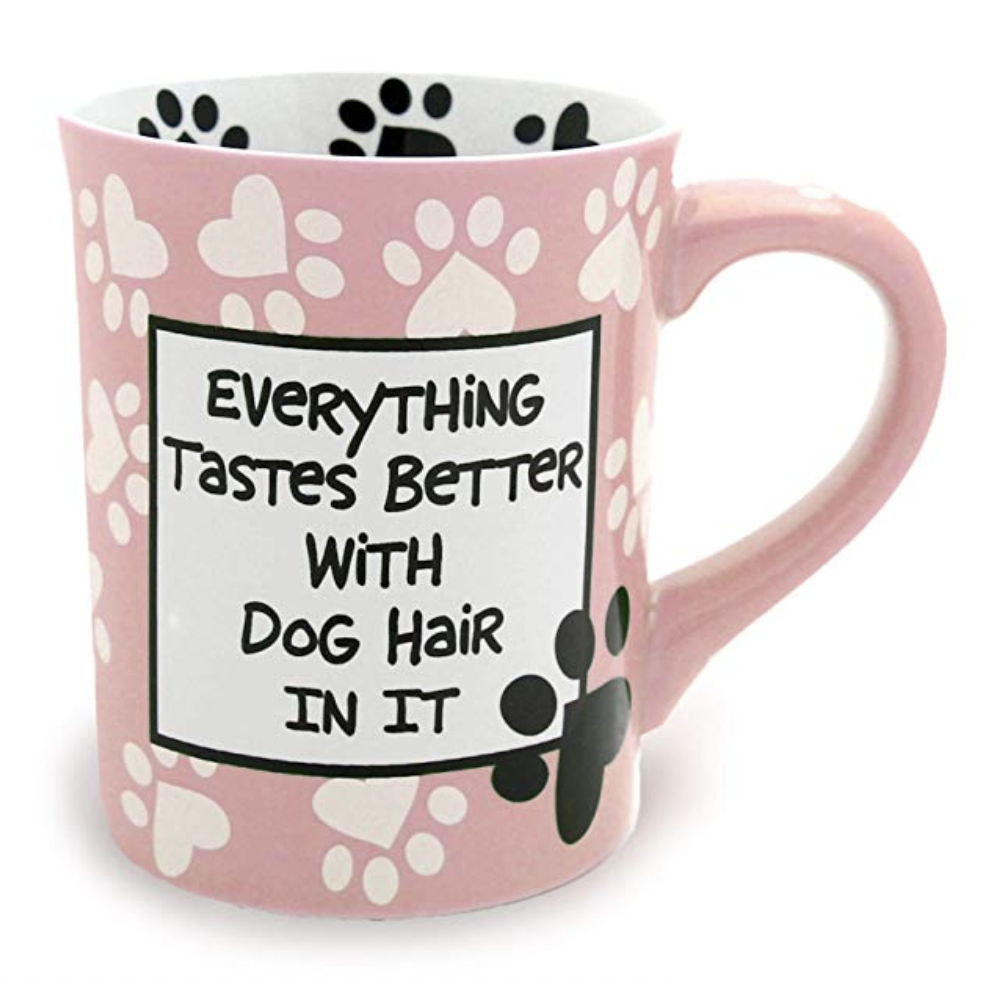 Hands up if you've ever had dog hair in your coffee or food! Unless she doesn't shed, I know your hand is up! While non-dog lovers may be freaked out, it's kinda everyday living for a pet parent.
Price: $12.99
Pawsative Ruffview: "We were about to lose our 15 yr old terrier cross to kidney disease when I saw this, and shortly after receiving the mug, she passed. We had never had such a hairy dog. We never did see her skin, her coat was so thick… I laughed when I saw this mug because these two dogs will always be in our hearts and their hair in our carpets and clothes."
#6 Surprise Woof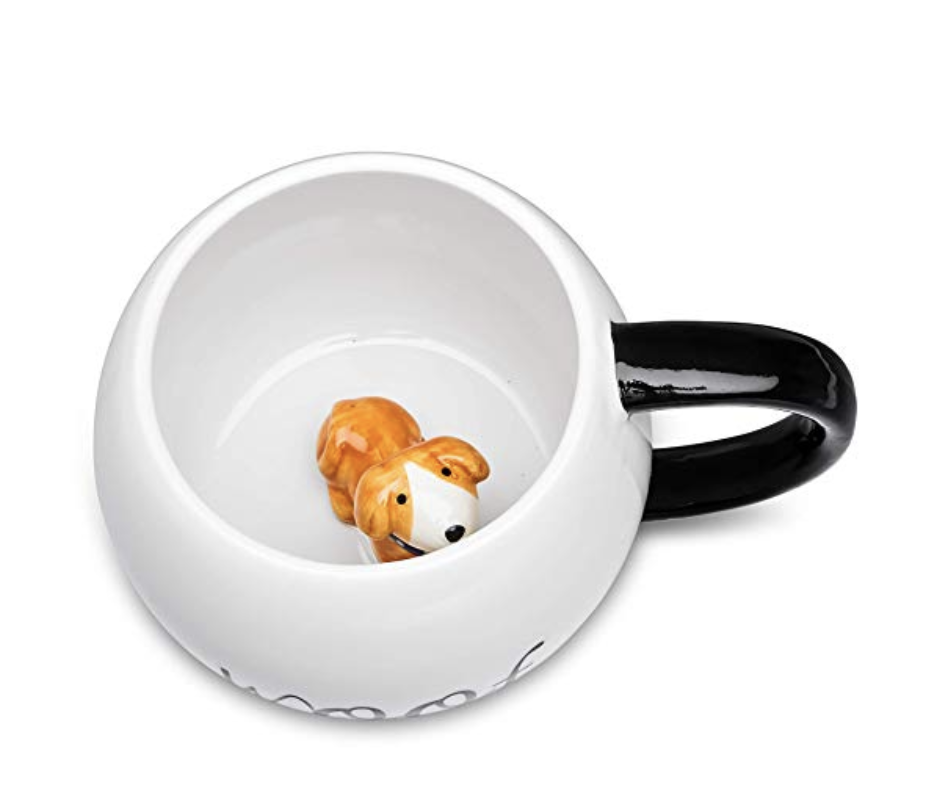 Your prize for finishing your coffee is a cute doggo to make you smile. Since it's a more rounded design, it's ideal for anyone who needs to start their morning with a whole lotta caffeine.
Price: $12.98
Pawsative Ruffview: "Shipping was fast and looks exactly like picture. It's so cute!!"
#7 The Dog Rulebook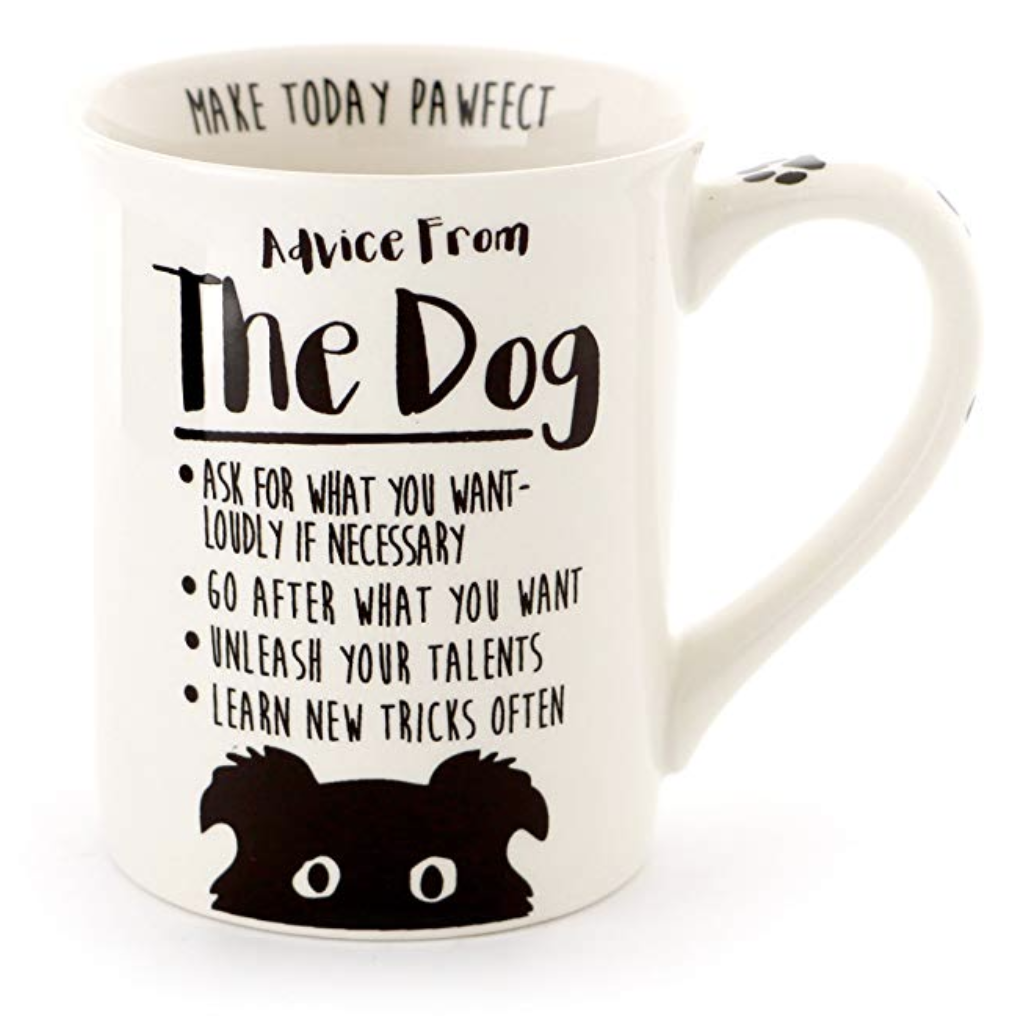 Wanna know what it takes to be a dog? This mug clearly outlines the top 4 rules you must follow. Get started now—if you want this mug, let out a loud bark!
Price: $13.83
Pawsative Ruffview: "This mug is very cute! It seems to be very well made & durable. It is very large; a little larger than I would normally use but I still love it and would definitely give as a gift."
#8 1 Dog in 2 Cups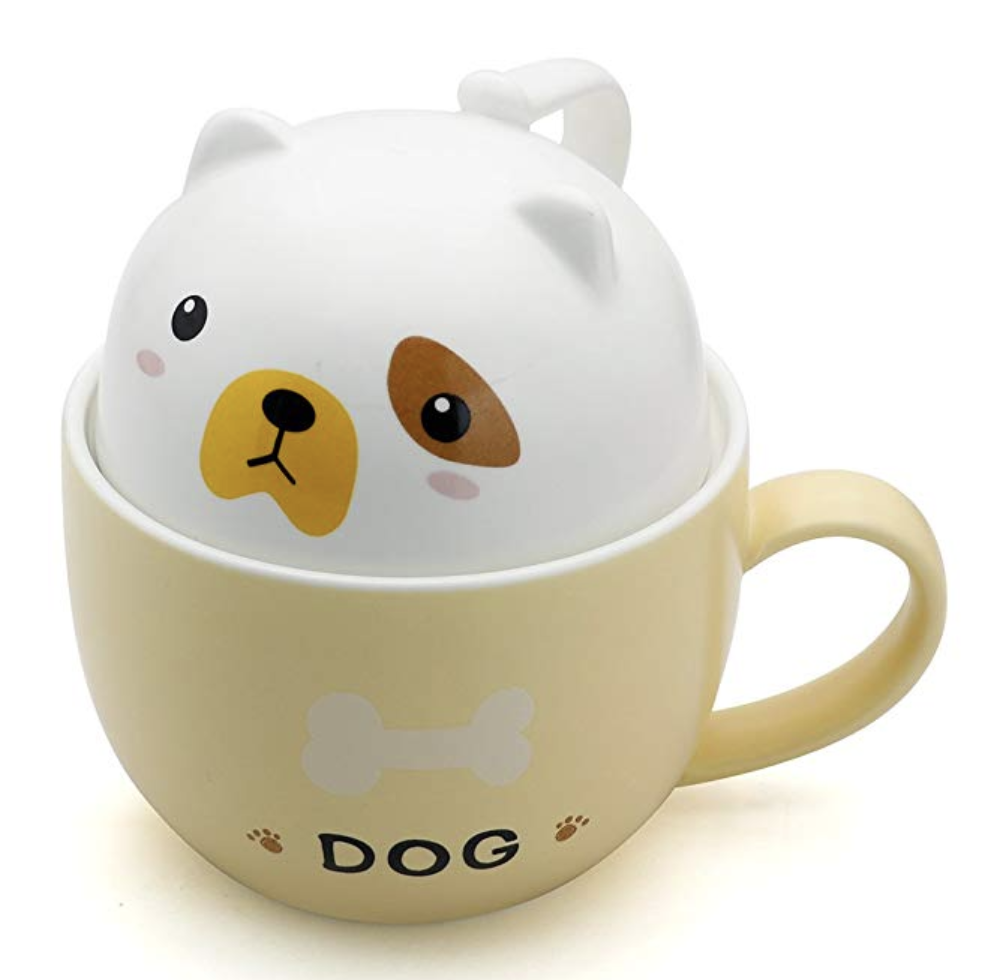 Pawsibly the coolest and most unique on this list, the top of this mug actually comes off and flips over to use as a second, smaller cup. Perfect for mother and daughter or BFF roommates.
Price: $15.99
Pawsative Ruffview: "I bought this on impulse as a cute little gift for my husband and he LOVES it!! It is so cute and he enjoys drinking tea from it."
#9 As Long as the Dog Lives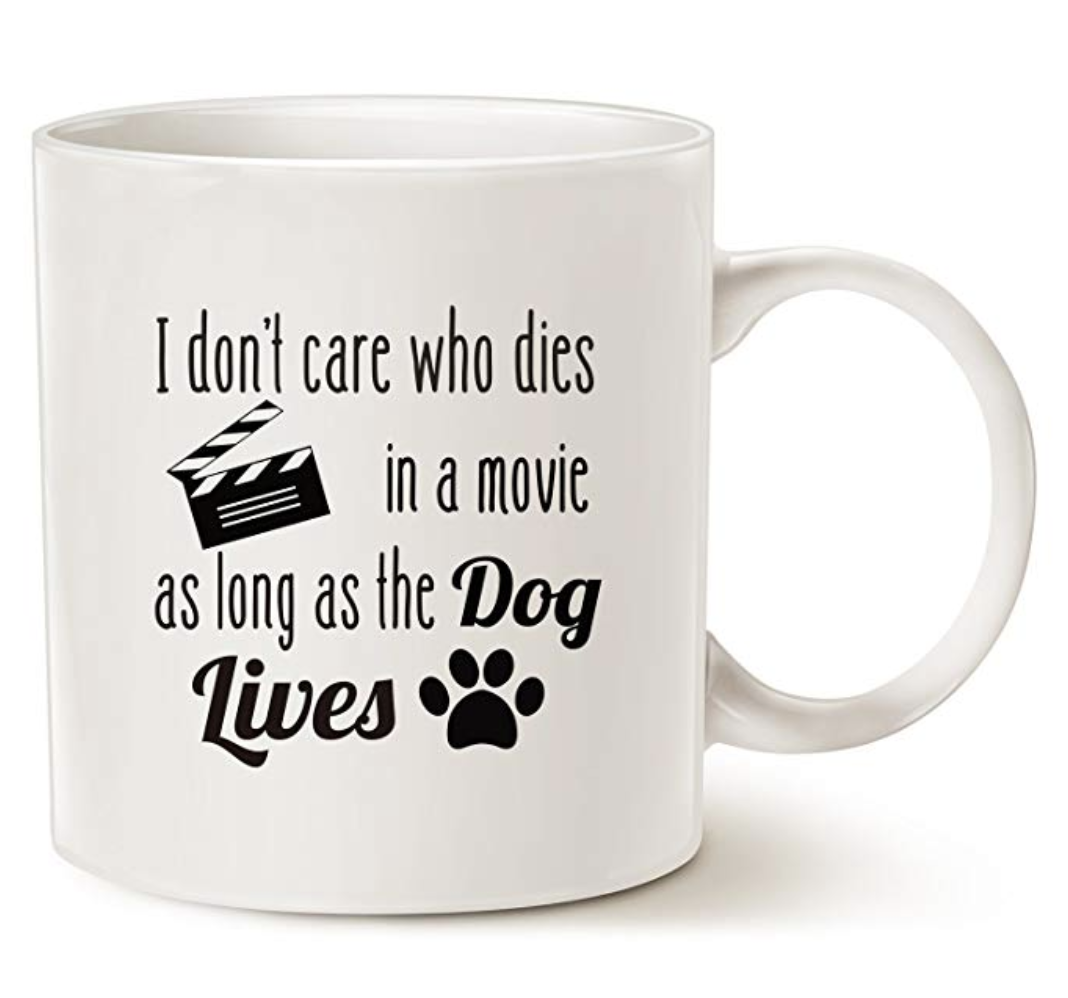 Let's be honest: We don't really care who dies in a horror movie. But if it's the dog—now that's just cruel. How dare you.
Price: $8.99
Pawsative Ruffview: "Been holding out on this one for a while, but finally had to buy it. Was too perfect for my dog-centered relative who appears to agree with the sentiment; he got a real kick out of it."
#10 Customizable Dog Letter to Mom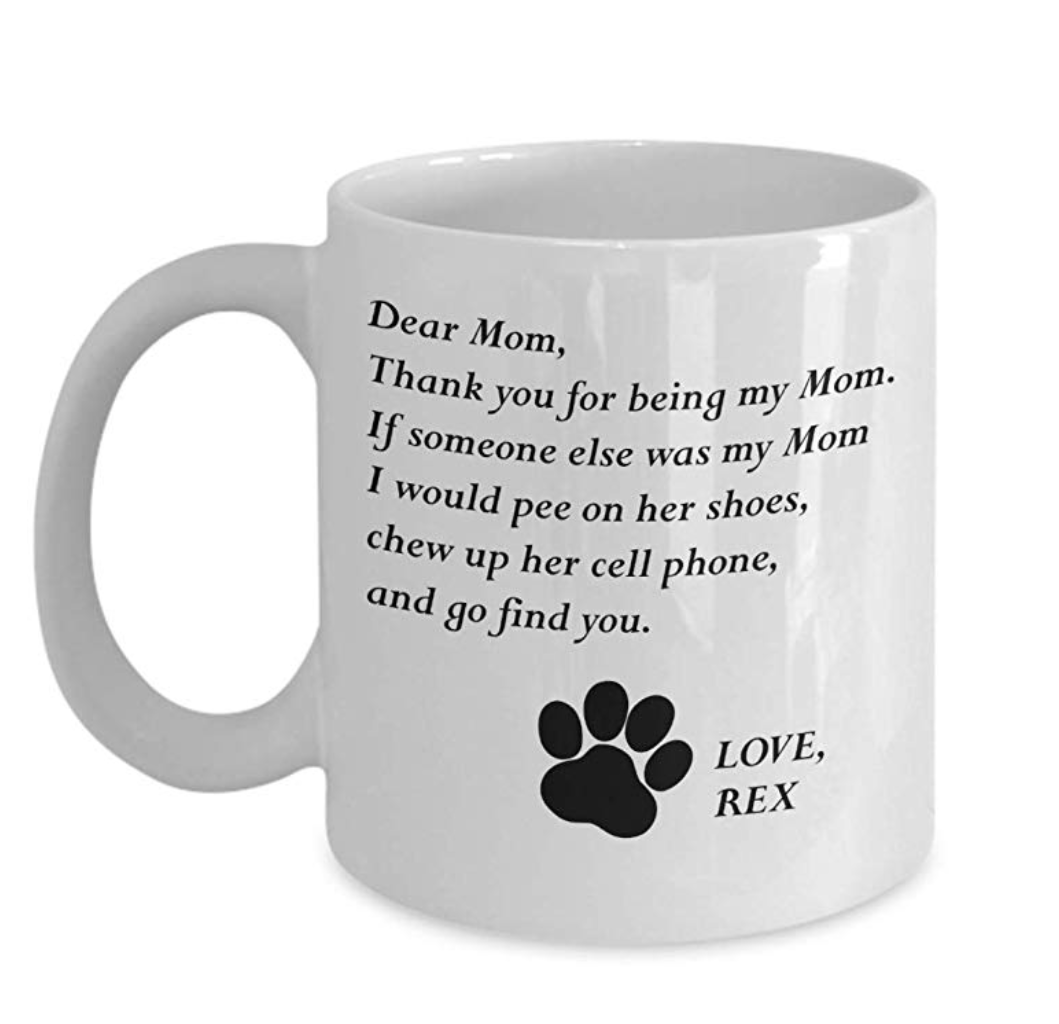 If you know a dog mom in your life, this is the perfect gift. Since dogs can't talk, this mug says it all. No one could replace you and if they tried, I'd make their life a living hell because they're not you.
Price: $21.95
Pawsative Ruffview: "When she teared up seeing it, I knew it was something dear to her. She has a heart of gold and a love for our lil girl Electra…this is now her favorite cup."
#11 Dog Therapy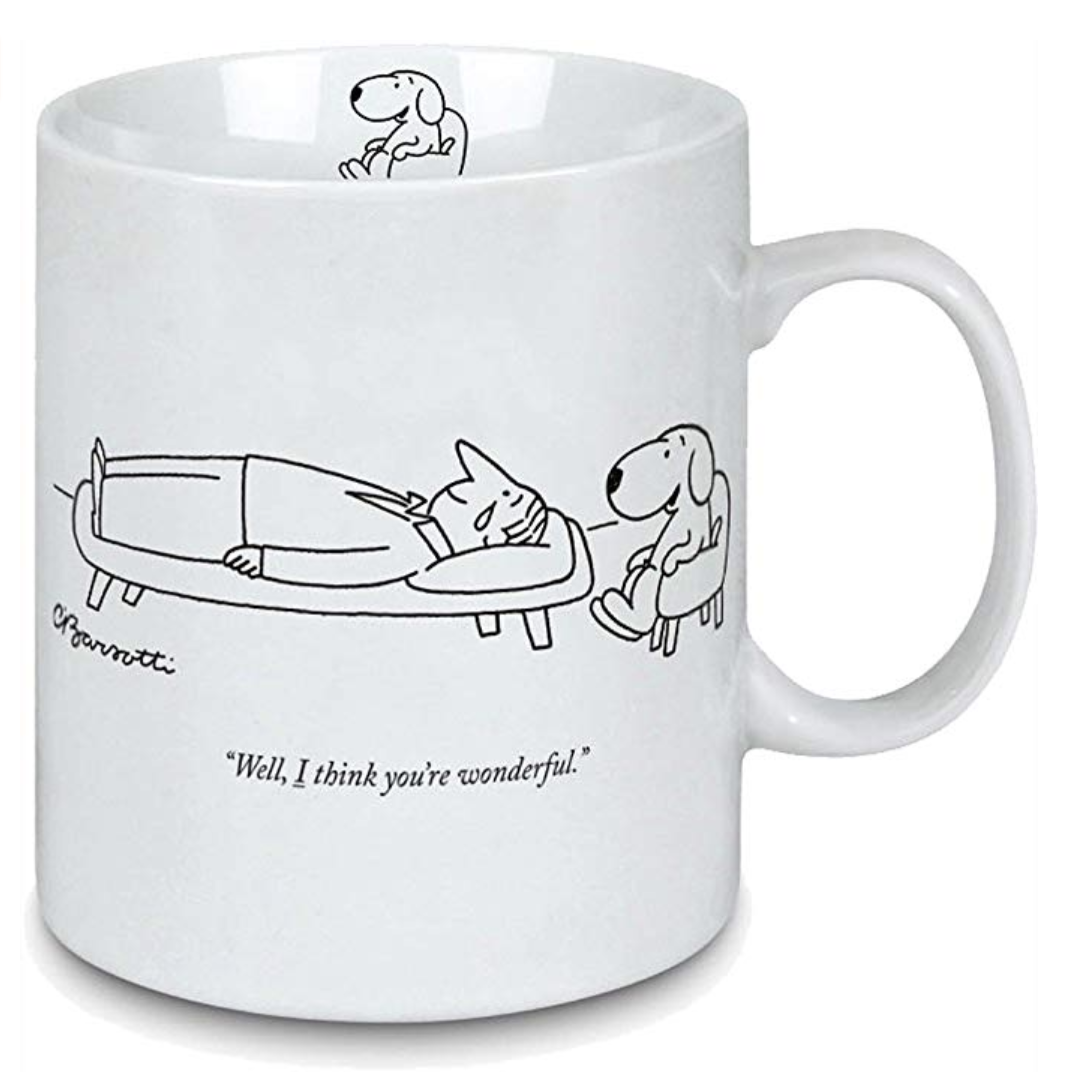 If your dog is your therapist, you'll be able to relate to this mug. You can share all your heartaches, failures and fears with pup and she's still always going to think you're wonderful <3
Price: $16.95
Pawsative Ruffview: "Excellent mug. my wife is a veterinarian and this was gift for her. she says its a bit hit with her clients and coworkers."
#12 3-D Lab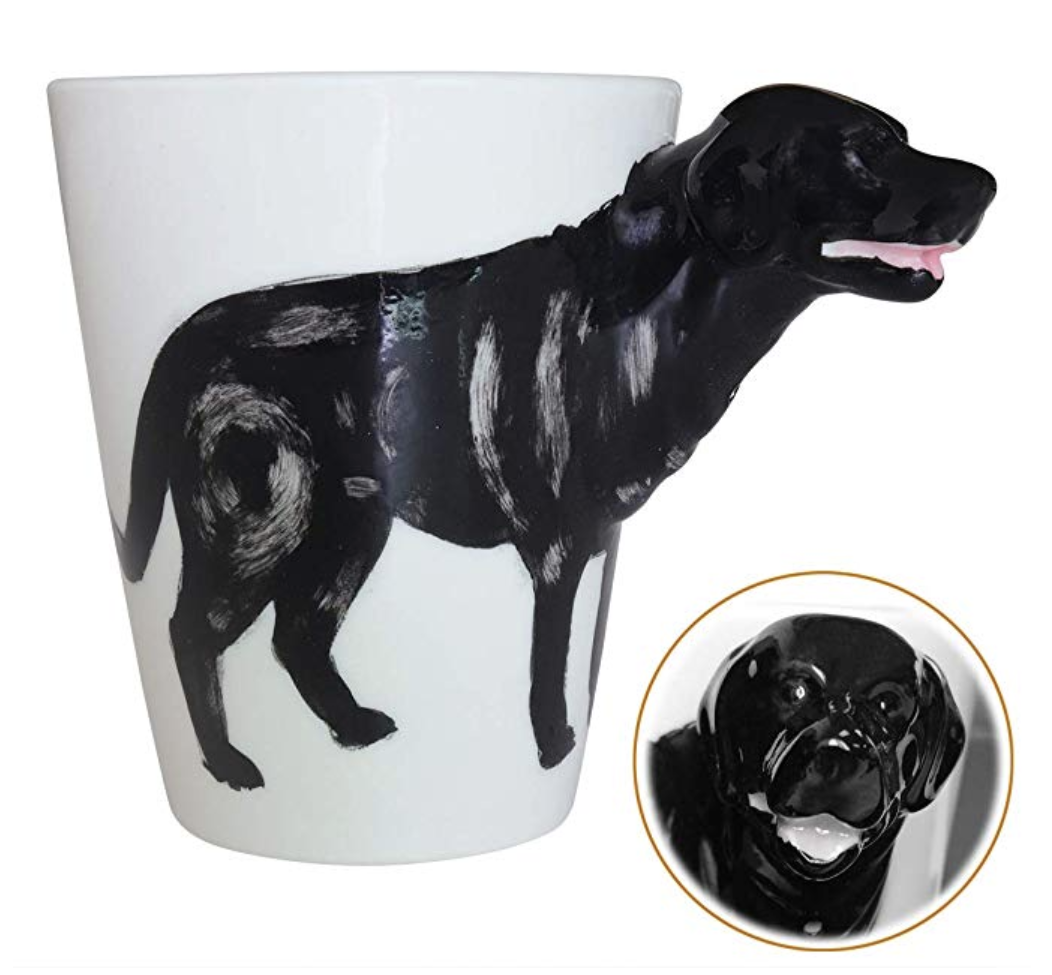 The beautiful black lab featured on this mug stretches to become the handle. If you're looking for a cool cup to impress guests (or to make you grin every morning), this is it! P.S. There's different dog breeds available in this design!
Price: $14.99
Pawsative Ruffview: "The cup is so cute. I leave it in a kitchen corner and it still gets everybody's attention. Quality is good and it is more than I expected."
#13 My Dog is the Reason I Wake Up Too Early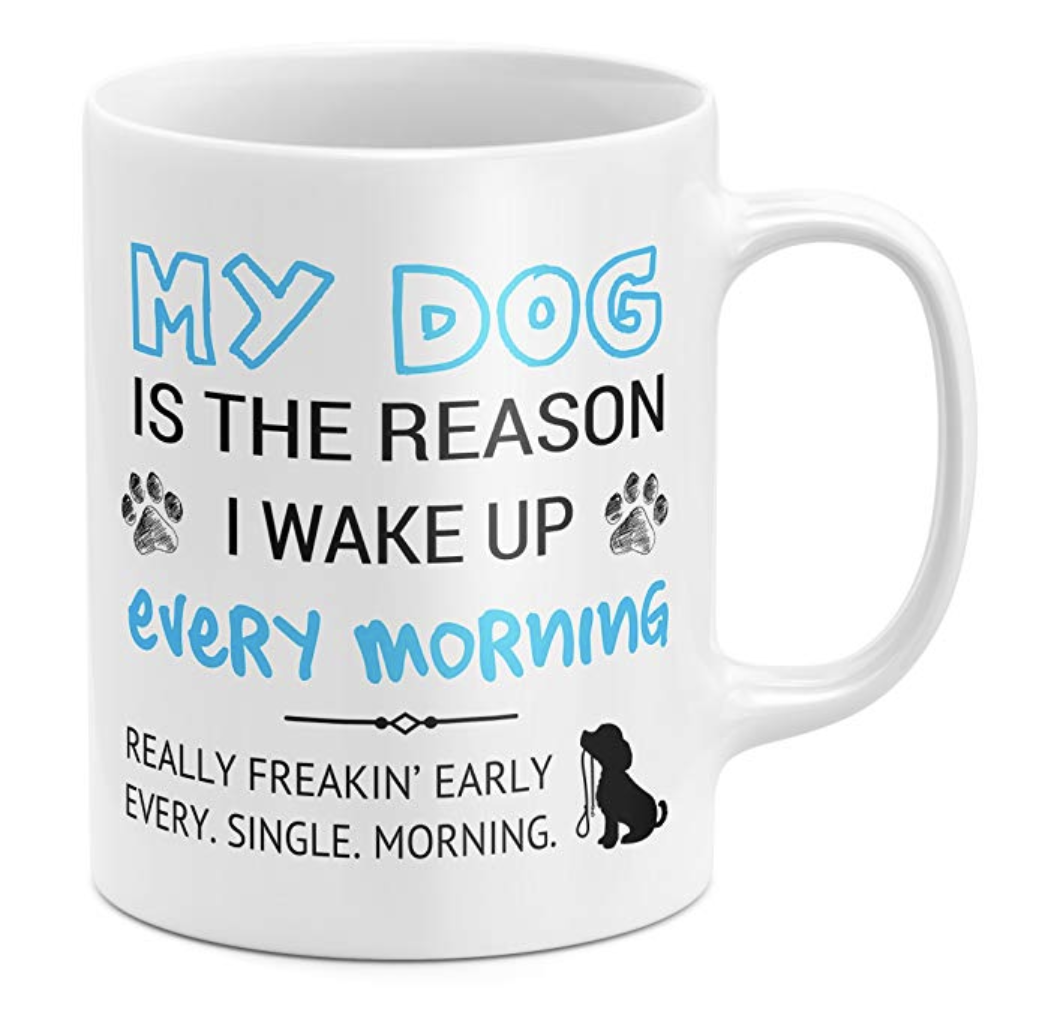 Ever tried to sleep in and your dog is like, "I have to pee. I need to eat now. You've had enough sleep"? And then, if you don't comply, he keep bashing his body against the bed until you get up. Well, now you can let everyone know why you're always so tired.
Price: $14.99
Pawsative Ruffview: "Husband LOVED this mug. It says it all. Great company to buy from. Item is holding up great in the dishwasher !! No fading at all. Great purchase at a great price. Fast shipping too."
#14 I Prefer Dogs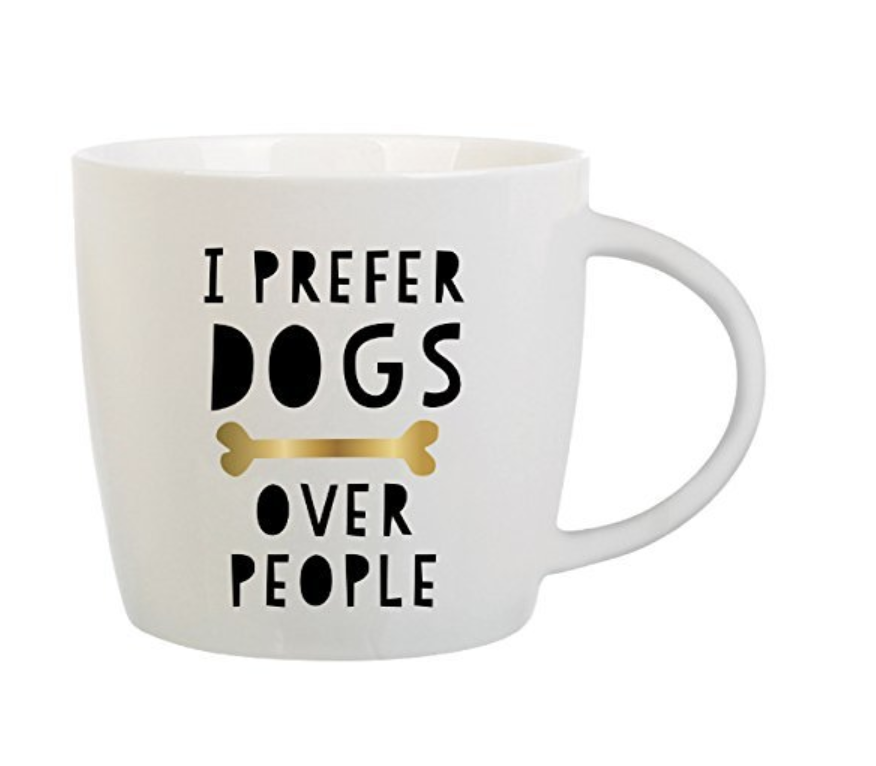 I think most dog lovers can relate to being continuously annoyed with humans, but never dogs. If you're an introvert but transform into an extrovert around animals, this is for you!
Price: $19.86
Pawsative Ruffview: "Really cute mug. Very relatable. I got it as a gift for a friend, but this mug is so cool that I would keep it for myself."
#15 I Woof You
We've saved the sweetest mug on the list for last. Adorable and simple, this mug would make for the perfect gift for any pet parent.
Price: $12
Pawsative Ruffview: "My husband and I love our mugs! I have to admit, I think I love them more than he does, lol. They are quite big, but I love that they are not heavy for their size and they carry great meaning for both of us."