There's so much to know when you first get a puppy.
Besides the basics though, there's a few hacks that can make life easier.
Even if you're a long-term dog owner, many of these tips will be new to you.
Read on to see 33 tips every dog owner should know
33 First Time Dog Owner Tips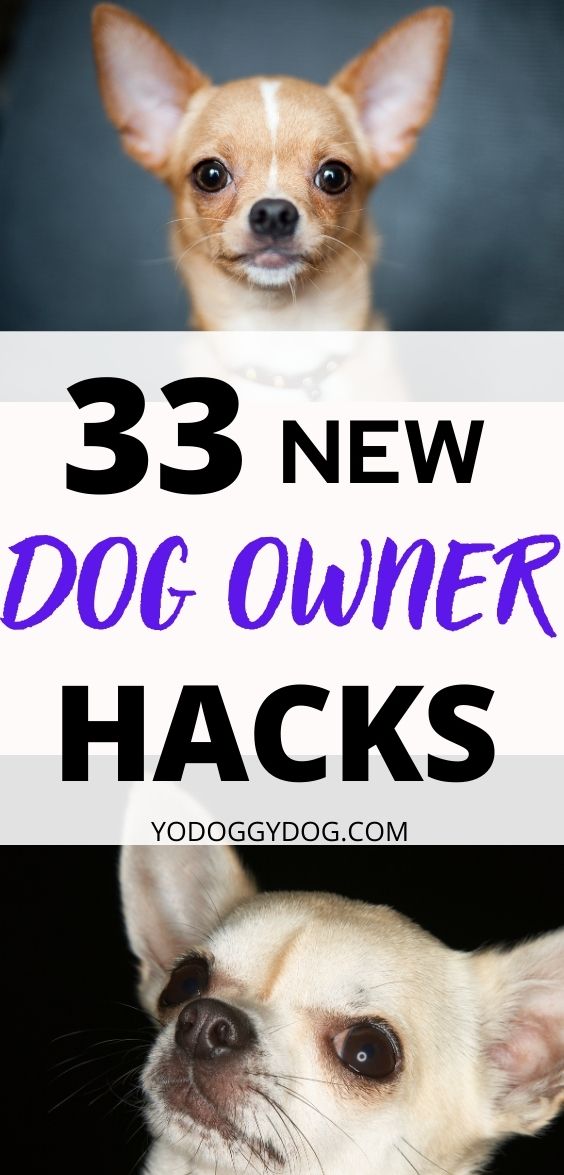 Whether it's your first time owning a dog or you've had many, check out these dog owner tips for making life easier.
#1 DIY Dog Shampoo
Find dog shampoo too expensive? Maybe your dog reacts to some formulas? You can make your own with:
Warm water
Non-toxic dish soap
White vinegar
See the recipe on American Kennel Club.
#2 Slow Dog Eating
If your dog mows down on everything too quickly and you don't want her to hurt her stomach, invest in a slow feeder or puzzle bowl. The designs inside the bowl act as a challenge for your pup, making her slow down.
#3 Too Much Neck Pull? Try a Harness
If your dog pulls on walks and you have to adjust her by pulling back, it can eventually lead to neck strain and pain. To help prevent some of this, get a harness instead of a collar. These make it easier to control your dog while walking, but also takes the force off of just their neck.
#4 Get Pill Pockets
If you need to give your dog medication, it can be very difficult to get her to eat it. One easy way is to buy pill pockets. These are treats that have a hole where you can insert the medication without your dog even knowing.
#5 Make Pill Pockets
If you don't want to buy pill pockets, you can also make your own. Think of dog-safe foods that you can wrap around the pill. For example, hiding the capsule in a small piece of processed cheese is something most dogs wouldn't reject. Of course, if you give your dog daily pills, you're better off with something healthier, like a treat pill pocket.
#6 Sock Treat Toy
Has your dog wrecked all of his toys and needs a new one ASAP? Make one by taking an old sock and stuffing kibble inside. Seal the end of the sock with something, such as an elastic or string. Your dog will sniff it out and try to tear through it to get to the goodies.
#7 Store Dog Food in Pitcher
Hate pouring your dog's food out of the bag every morning? An easier and less messy way is to keep dog food inside a pitcher, that way you can simply pour it out. Just make sure it has a tight lid so the food doesn't go stale.
#8 3-Ingredient Dog Treats
Some people think making dog treats is difficult. It's actually easier than making human baked goods. Many recipes only require a few ingredients. For example, check out these 3 Three-Ingredient Dog Treats.
#9 Boredom Busters
If you ever find yourself with a free day and nothing to do, remember that you have a pal to do fun things with! If you're not sure of activities you can do involving your dog, check out 101+ Fun Things To Do With Your Dog: Free, Low Cost and Near You.
#10 DIY Pup Ornaments
You can buy Paw Print Ornament Kits on Amazon. The final product will be a keepsake you can hang on your tree every year. However, you can also make a DIY Paw Print Ornament with things you already have inside your home.
#11 Freshen Bad Breath
If your dog has smelly breath, you can freshen it up by putting some parsley into his dog food.
#12 Put Sound On When You Leave
If your dog has some separation anxiety issues, put something on the TV or radio when you leave the home. In my experience, dog's love the voices and colors in kid's shows!
#13 Dog Cocktails
Having some friends over for drinks and your dog is feeling left out? Of course, your dog can't drink alcohol, but she can enjoy some other alternatives. Check out these 5 DIY Cocktails for Dogs.
#14 Help Dog Adjust with Clothing Piece
Let's say you're rescuing a dog from a family that can no longer take care of her. To make her feel more safe in your home, ask if the family can give you a piece of clothing they wore. Place it inside her cage or bed. The scent will remind her of home and calm her. This is also a good trick to use if your friend is babysitting your dog and she has separation anxiety. Even if your dog gets anxious leaving every day for work, it's a nice thing to do!
#15 Soften Kibble
Whether your dog has trouble chewing or you just want to spice up their meal, you can add warm water or broth to make it into a mush she'll enjoy. (This isn't a good every day idea for most dogs though since they need to eat harder foods to scrub off teeth plaque.)
#16 Use Baby Gates
If you don't want your dog to go into a certain area of the home (especially snooping puppies), simply use a baby gate.
#17 Broth Pupsicles
Dogs love chicken broth! You can make it with low-sodium store-bought chicken broth. But you can also make a healthier version simply by boiling whatever chicken you have left over. Pick out the bones, keep the meat chucks and freeze it in an ice cube tray for some pupsicles.
#18 Use Treats When Training
Training a puppy can be a long and frustrating process if she doesn't get it right away. However, it's made a lot easier when you include treats as rewards.
#19 Exercise to Reduce Dog Annoyances
Is your puppy being annoying? Constantly getting into things, tearing things apart, snooping everywhere she shouldn't be, licking or nipping you? There could be different explanations. But most commonly, dogs act annoying because they're bored. An easy way to make this stop is by getting her some exercise and wearing her out.
#20 Chose Tiring Exercises
If you have a high-energy dog, tiring him out may take more time. Unlike other dogs, walks may not cut it. Exercises that require more stamina will get the job done. For example, playing fetch down a hill is more difficult for her. Jumping for a toy or stick also takes a lot more effort and will wear her out sooner.
#21 Dryer Sheet for Thunderstorms
If your dog is afraid of thunderstorms, one reason could be because of the static electricity in the air (they can feel it even though we can't.) Interestingly, rubbing a dryer sheet over their fur helps minimize this.
#22 Vacuum Your Dog
Many dogs hate vacuums, but with some training, they can get used to it. Vacuuming your dog's hair with a proper attachment is a good way to get rid of dog dander instead of letting it fall all over the home.
#23 Essential Oils for Dogs
Essential oils for dogs can be used in several ways, such as reducing anxiety or helping to clear up hotspots. However, only a small amount should be used in very specific ways. And some essential oils shouldn't be used on dogs at all. To read more, check out 10+ Safe Dog Essential Oils.
#24 Use Hand Signals Over Words
When you're training your puppy, you need to realize that she doesn't understand English. Although she'll eventually catch on, dogs typically remember hand gestures easier than command words. So, while you may be saying "sit," remember to pair with a hand signal to make it easier for her to recall.
#25 Use Cage as Side Table
Have a small apartment and having trouble figuring out where you should put your dog's cage? You can use it as a side table. Place it beside your sofa and put a tray onto as a stable surface you can put things on.
#26 DIY Sickness Meal
If your dog is sick or is having trouble keeping things down, one of the best things you can feed her is plain rice and chicken.
#27 Kiddie Pool to Cool Off
Hot day? Get a kiddy pool and fill it up and let your dog splash to cool off.
#28 Use Paw Protector
Salt used to melt road ice and hot pavements in the summer can burn your pup's paws. One way to stop this is to apply some paw wax before heading outside.
#29 Dog Easter Egg Hunt
Whether you want to give your dog an Easter egg day surprise or just a fun random game, here's how to make an Easter egg hunt for your canine.
#30 Wrap Dog Gifts
If you give your dog treats and toys for their birthday or Christmas, consider wrapping them up for a fun game. Although wrapping paper may be hard to get through, many dogs can tear tissue paper. If she doesn't know how, show her at first and she'll likely learn when she smells the goodies inside. Just make sure she doesn't get it stuck in her mouth!
#31 Make Peeing Outside a Celebration
Trying to teach your dog to go outside? Act like it's a celebration every time your dog pees or poops in the right place. Give him verbal praise and a treat as a reward!
#32 Spice Up Kibble with Spices
Yes, you can add some spices to your dog's food to give her some variety. Here's a list of 6 Spices Good for Dogs.
#33 Stop Nail Bleeding with Cornstarch
If you cut your dog's nail and she starts bleeding, it can be hard to stop it. You can buy Kwik Stop, but you can also make something similar simply by dipping your dog's paw in cornstarch.
Summary of First Time Dog Owner Tips
If it's your first time owning a dog, you'll likely go through some learning curves. Even if you've had many dogs before, the hacks in this post can help make life easier and happier for you and your canine.