Custom dog socks are a way to make sure your dog is with you everywhere you go.
They're also the most adorable conversation starter ("hey, have you seen my new socks?").
Whether you want them for yourself or to give to your partner or friend as a Christmas gift, it's a great way to incorporate dogs into your wardrobe.
In this post, we're featuring 6 of the best custom dog socks on Amazon.
Uploading Your Photo
We've read the reviews for many customized socks on Amazon and one thing is clear: The quality of your sock depends on the quality of your photo. All of these options require you to upload a picture of your dog. It should be a high-quality close-up. Since the printers can only work with what they have, if you send in a blurry photo cropped out of a big picture, don't be surprised if you're not happy with the results. If you don't have a good pic to send in, it's worth it to spend a few extra minutes taking a photo specifically for your socks. When choosing a photo, keep these tips in mind:
Close up. Thinking of cropping your dog's face out of a large family photo? Think again. Blowing up that small spot can lead to a pixelated, blurry photo. Instead, take a close up photo of your dog's face.
Straight-ahead photo. It should go without saying that your socks will look the cutest if they feature your dog's entire face. While side profiles will work, they won't capture your dog's full personality.
Happy dog. You can choose a photo of your dog wearing a blank expression. However, if you're taking a photo specifically for your socks, we recommend holding out until you snap a really good one. To get your dog smiling with his tongue out, try holding a treat above the camera lens or saying an exciting word, such as "treat," "cookie," or the name of his favorite person.
Lighting. When taking your dog's picture, ensure the lighting is good so you can fully see him when his image is printed. For best results, you can use natural lighting or a light in your house. Then, point lamp light towards him or use a smartphone attachment light.
6 Custom Dog Socks with Picture
Here's our top picks for socks featuring your dog on Amazon.
#1 Custom Personalized Photo Socks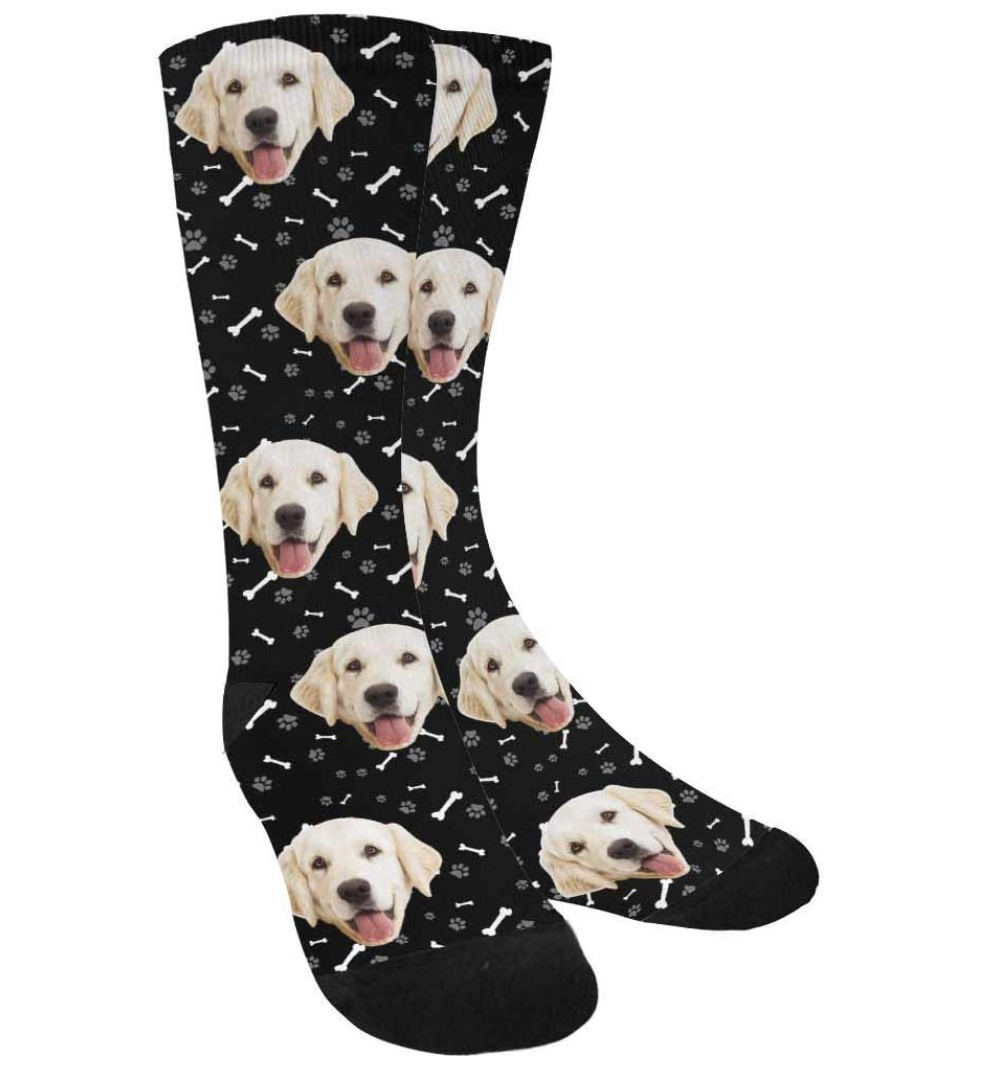 Whether you have a dog, cat or even a rabbit—all you need to do is click "customize now" and upload your pet's picture. It will be featured alongside paw and bone symbols in a color of your choice. This option comes in 19 colors including varying shades of blue, green, red, pink, purple, orange, yellow, white, gray and black.
Rating: 4.5/5 with 45+ reviews
Pawsative Ruffview: "Love these!! I was so surprised with how good these turned out. So simple to upload the photo. It took approximately a week for item to ship to my door-which was accurate to sellers time. I purchased 2 more for other family members–everyone was super excited and happy to receive."
Price: $15.59
#2 Put Your Dog on Socks! Socks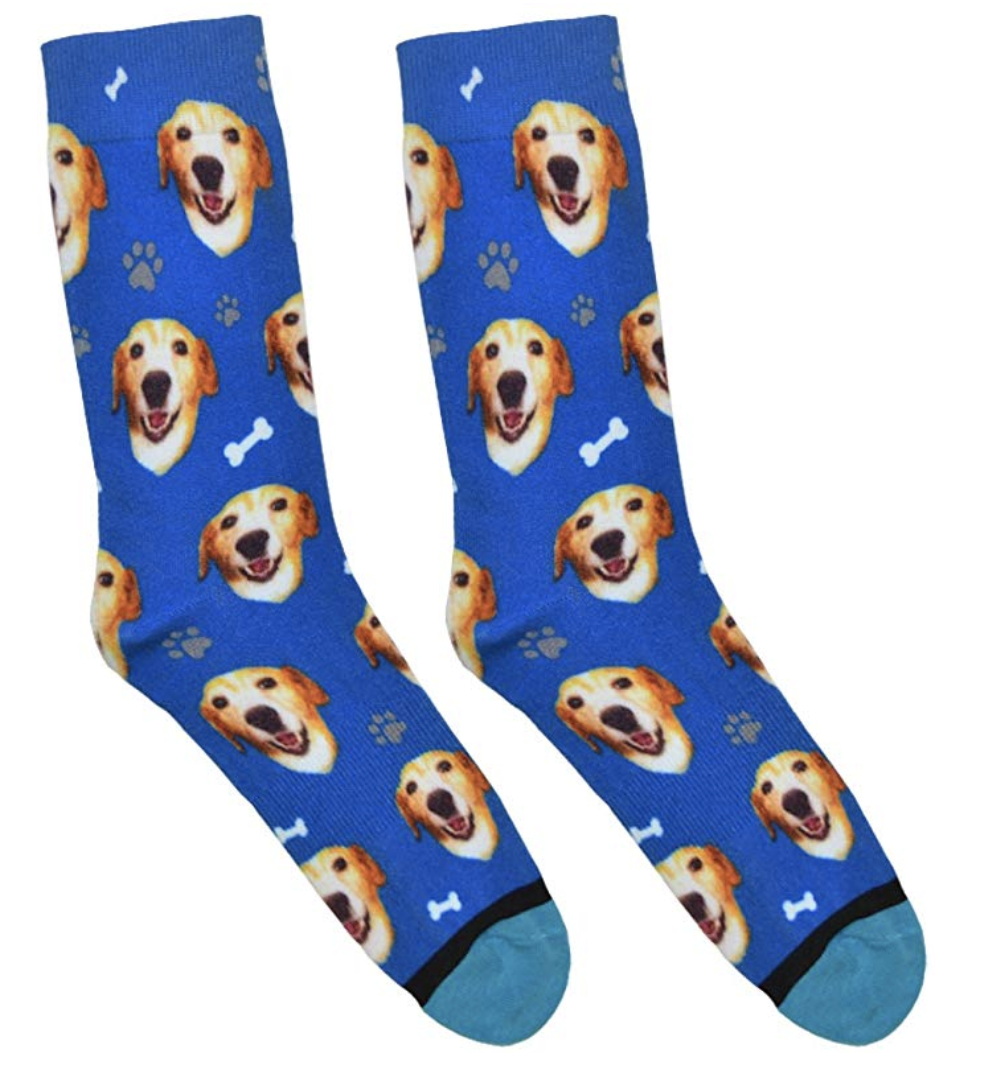 This sock design is similar to the one above, with the main difference being the light blue toe fabric color. These come in 10 colors including blue, green, gray, orange, pink, purple, red and yellow. The polyester nylon fabric makes is comfy for everyday wear (so be sure to purchase a few pairs if you like the results!).
Rating: 5/5 with 153+ reviews
Pawsative Ruffview: "I received my order two weeks early and they were even better than I expected. The quality was great and the likeness to our dog was absolutely perfect! I had purchased these socks for my daughter after we sadly had to put one of our beloved dogs ("her" dog for 14 years) to sleep just two weeks before. I intended to save these for her birthday in a month, but I could NOT wait to give them to her. She cried, but they were tears of joy this time. She was thrilled with them for the obvious sentimental reasons as well as the quality of the socks and the image. This was a great purchase that has helped us start to mend our broken hearts and celebrate our faithful companion."
Price: $24
#3 Custom Made Socks with Dog Picture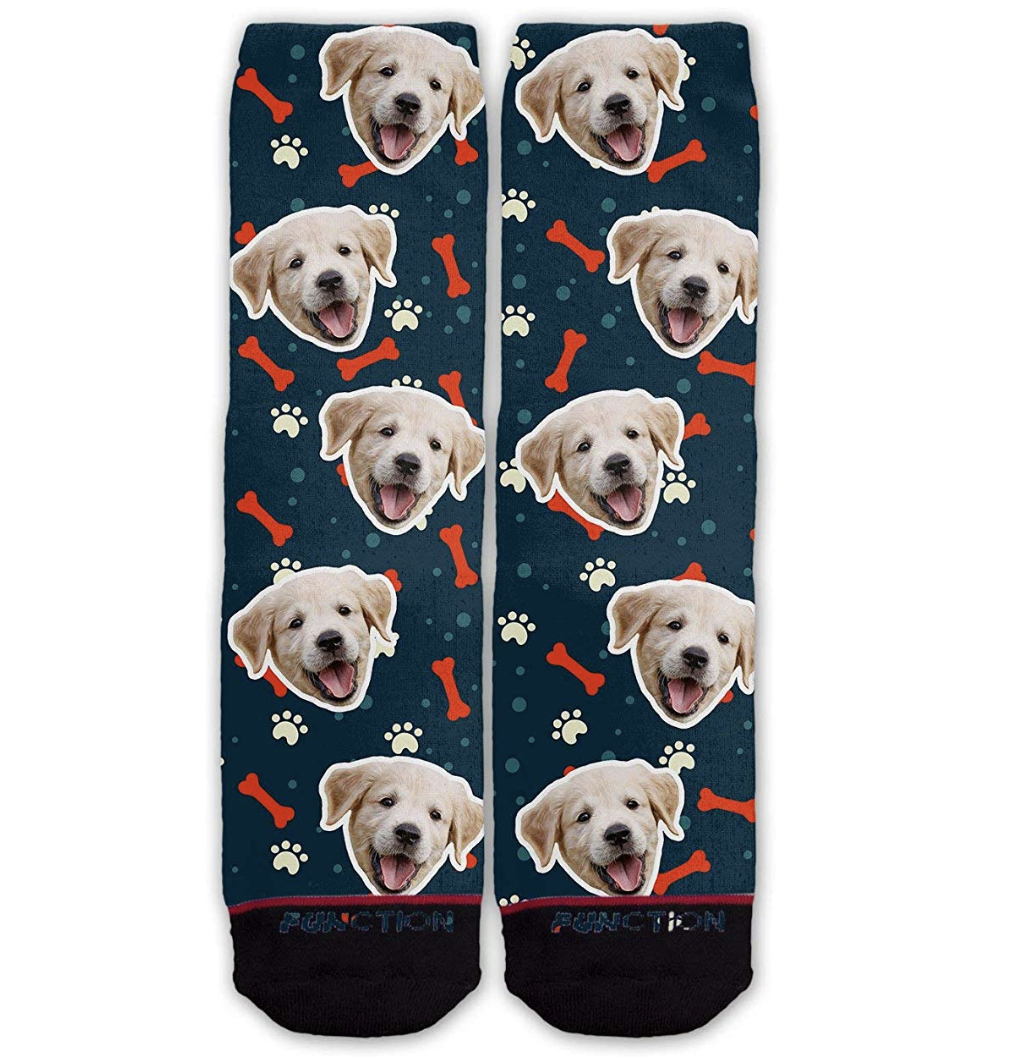 After uploading your photos, the designer will place it in a repeat pattern with paws, bones and circles. Similar to the pattern of others, these socks differ because your dog's face is highlighted by a white line. They're also made with 100% polyester to increase breathability and reduce stinky feet smell. It comes in black, blue, orange, green, pink, purple and yellow.
Rating: 4.5/5 with 9+ reviews
Pawsative Ruffview: "I purchased these socks for my Mother-In-Law for her birthday. Purchased two pairs, one each for each of her dogs. They turned out really nice with clear pictures of the dogs on the socks. I was worried because my pictures were not the greatest, but it turned out perfect! Used my iPhone X to take the pictures of the dogs."
Price: $23.95
#4 Custom Dog Face Space Nebula Style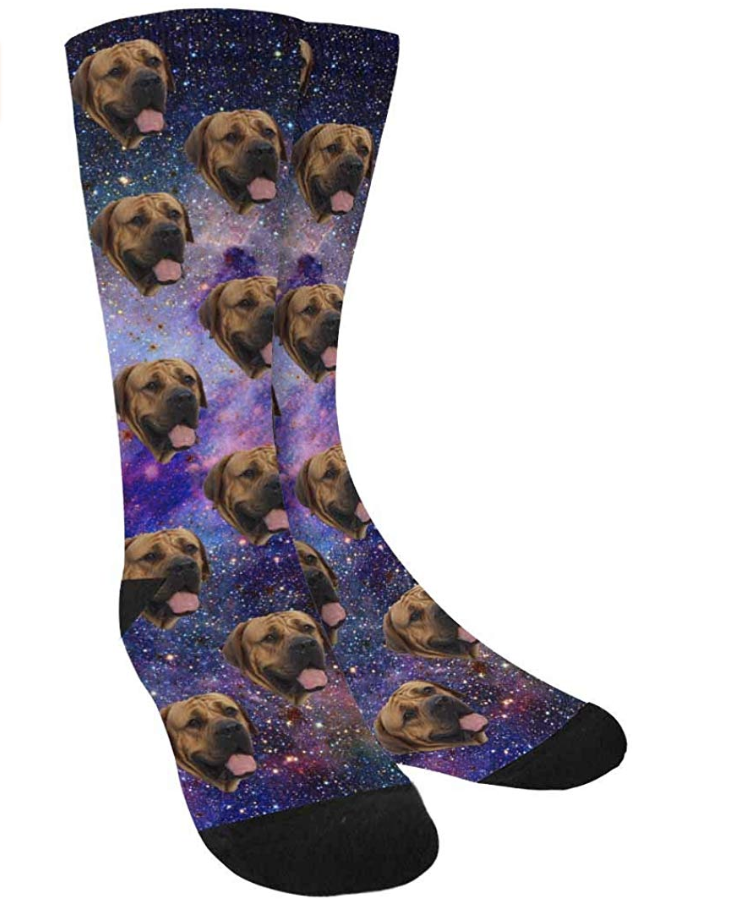 Colored socks too boring for you? Or need an extra magical Christmas gift for dog lovers? These socks feature your dog's head floating in space with a pink/purple/dark blue background. Made from high-quality polyester, these could be one of the softest socks you'll purchase.
Rating: 5/5 with 1+ rating
Pawsative Ruffview: "Turned out just like the pics! I'll order again :)"
Price: $15.99
#5 Tiled Custom Dog Socks with Picture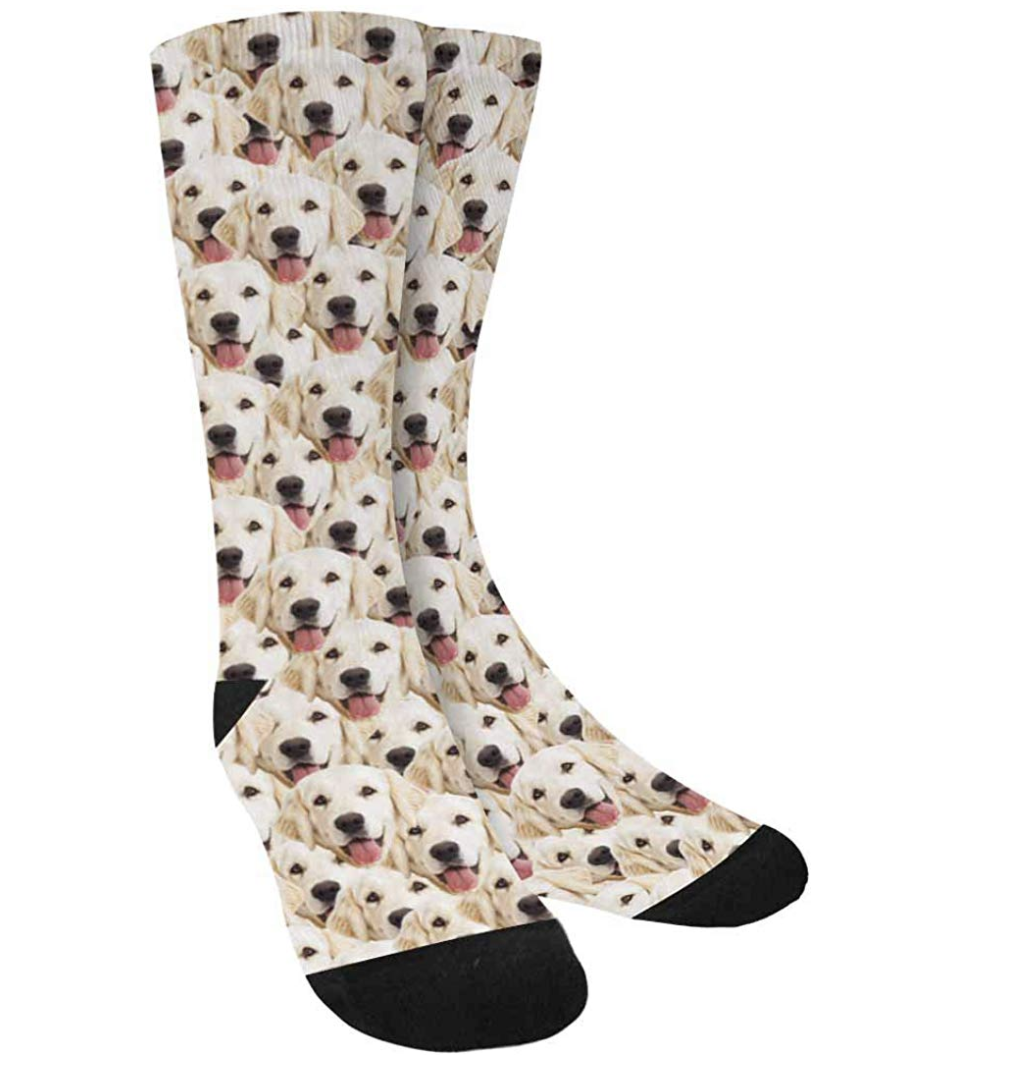 The rest of the dog socks on this list feature your dog's face among other symbols. This pair features only the face tiled all over the socks. Simply upload your photo, choose the tiled options and the designers will take care of the rest.
Rating: 4.5/5 with 56+ reviews
Pawsative Ruffview: "My husband could not stop laughing when he received this for Father's Day. I selected a silly pic of him. We were surprised by excellent quality of the photo and the softness of the socks. Great quality and had held up several washes. Will definitely purchase again."
Price: $15.59
#6 "I Love My Fur Babies" Doggo Socks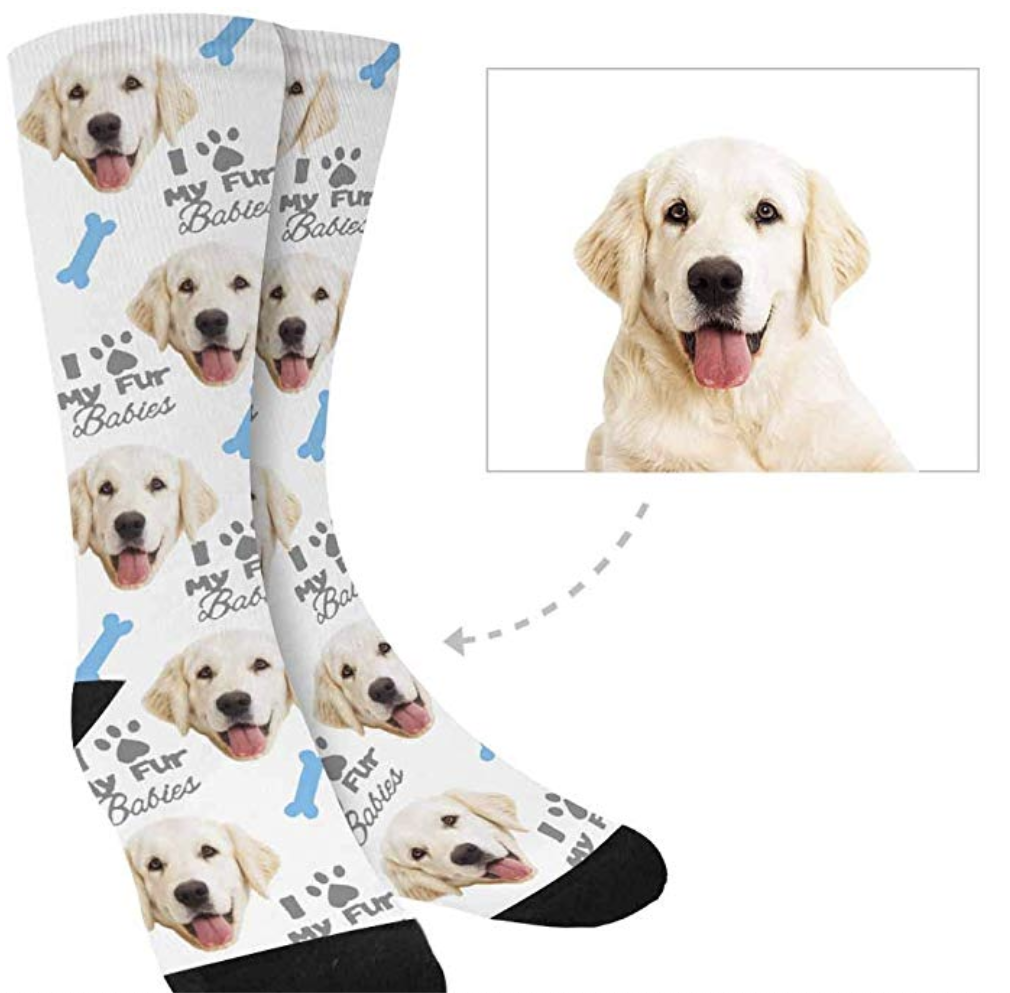 Unlike the others on this list, this option features a written saying amongst your dog's face and bone symbols. It comes in pink, purple and white. The high-quality polyester provides maximum comfort while also delivering in the style department.
Price: $19.99