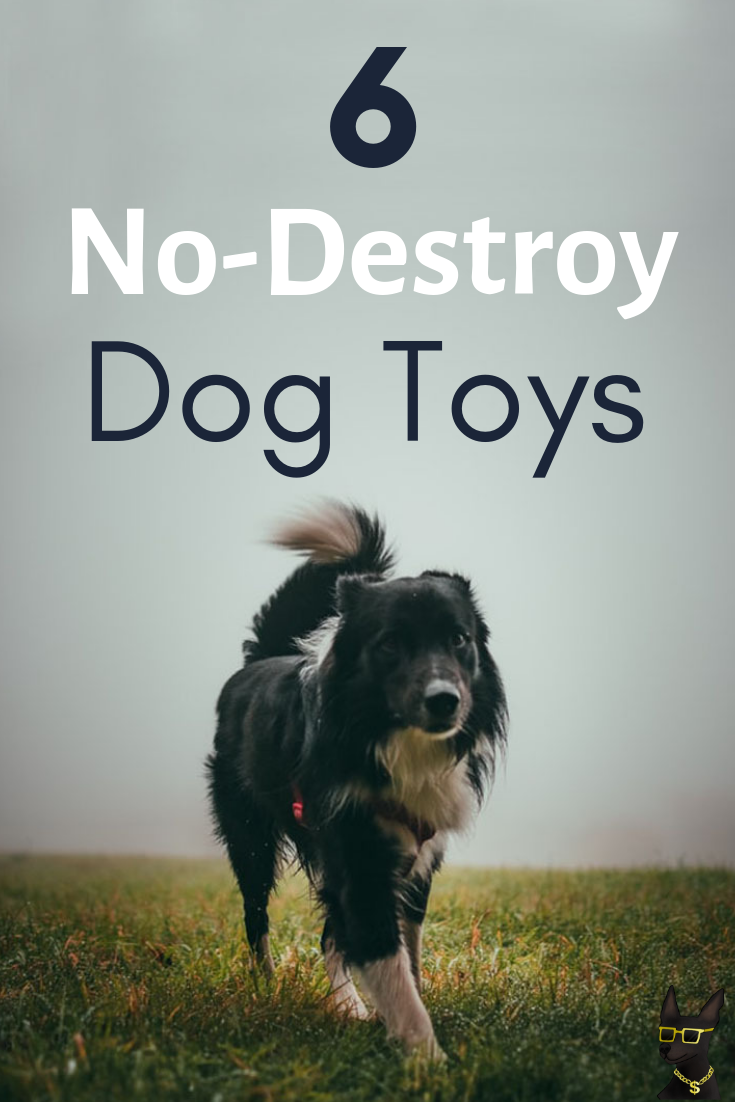 Every dog owner has experienced cleaning up the remains of a newly purchased toy.
The cute toy you bought hours ago is now fluff spread all over the house. Your pup feels accomplished; you feel annoyed. The solution? Stop buying cheap toys and start making wise buys.
Great quality toys will save you time cleaning, save you money not buying new toys, and give your dog longer playtime. Basically, you can think of it as an investment.
Of course, not every toy will be completely indestructible. Rather, these toys will take a whole lot longer to break, if your dog can break it at all 🙂
Here's our recommendations for indestructible toys.
KONG Classic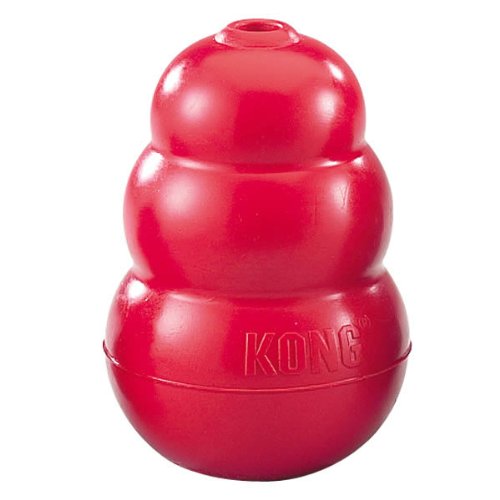 The most popular option by far is the KONG Classic toy.
The Kong Classic has been known as a durable dog toy for over thirty years. Dogs that like to chew will find great value in this bouncy, red-rubbered toy. It makes for a perfect chewing toy, but it's also perfect for throwing in a game of fetch — the bounce gives it extra distance.
Kongs are a good option for any dog since it comes in sizes from extra small to large. Our KONG kit includes a Classic KONG toy and tasty Peanut Butter Paste to put inside the toy. As an added bonus, a rawhide shoe treat is included.
Pawsative Ruffview: "I bought this product for my 30 pound, 5 month old puppy who has severe separation anxiety when we put him in his cage while we are gone. I got this product so that I could fill it with treats and peanut butter to give to him when he has to be caged. Before, he would cry immediately after being put in his cage and now I am at least able to leave the house and know that he is entertained for 30 minutes. The product is durable and he has not been able to destroy it or even leave a mark in it. Would recommend for big chewers."
Price: $14.20
KONG Air Squeakair Tennis Ball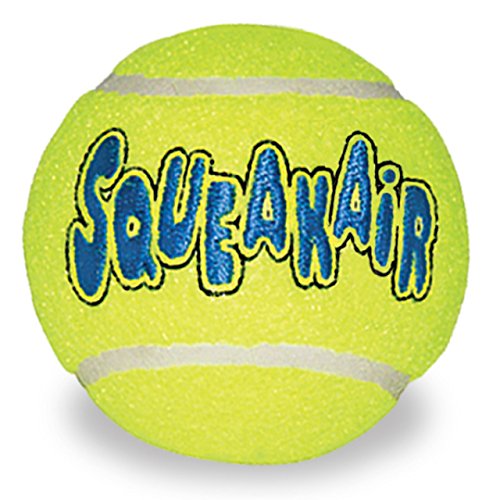 If your dog loves the traditional tennis ball for fetch, KONG also has an option for you. The KONG Squeakair is made of special and non-abrasive fabric. Owners worried about their dog's teeth getting harmed from their intense chewing will be happy to know that the material will not wear down dog's teeth.
Pawsative Ruffview: "Ha ha ha…we bought these to go with the iDogMate ball thrower bc our Jack Russell DESTROYED the balls it came with. These were perfect! They squeak and she can gnaw the yellow felt off but it takes her WEEKS rather than minutes to destroy them."
Price: $11.33
Bacon Flavored Nylabone Dura Chew Hollow Stick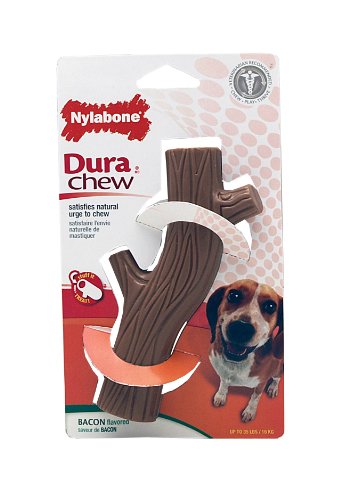 Mmmm mmm good. Every dog loves bacon! This veterinarian recommended toy was created with strong chewers in mind. Not only does it last longer and taste like bacon, but it also helps your dog's teeth! Small bristles raised during chewing are designed to clean teeth and control the build up of plaque and tartar. I can personally vouch for this one because it took my doggo months to even put a dent in it.
Pawsative Ruffview: "German Shepherd Pup LOVES this chew toy ! We've only had it for a week but I can already tell you it will last a very long time. I didn't know how she would like it at first so buying it was sort of a gamble because I have bought her rope toys since she was 2 months old (She will be 1 on February 9th, 2019) and the mess was UNBEARABLE at times with string everywhere lol. I bought 5 chew toys from Nylabone (all at once, I know it was a gamble to get toys she has not used before) and All of them are excellent so far. She is a chewer (Unlike my other German Shepherd who is almost 4 and NEVER chews) and tends to chew on anything that she can get if she is bored, but since we got these chew toys, I can tell you that this was the best decision I have made regarding chew toys for her. I recommend buying these for any dog with a chewing problem :)"
Price: $6.99
Petmate Chuckit! Firefly LED Ball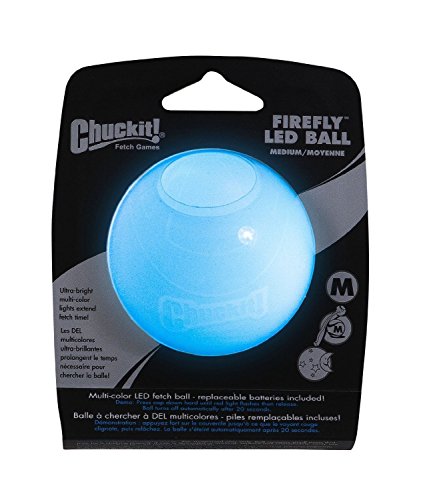 Another popular durable dog toy brand is Chuckit! The brand's Firefly LED Ball lights up while dogs are fetching, helping your pooch locate the toy. Our Firefly ball comes with replaceable batteries, giving your dog hours upon hours of active playtime.
Pawsative Ruffview: "My dog loves this ball! I have a year old husky who loves to chew on everything. This ball can handle her destructive nature. I work late and by the time I get home, it's dark out but I still want to spend time playing with her and this ball works amazingly. I toss it infront of a light for a few minutes and its charged ready to be thrown. She loves the ball so much that when she's done playing fetch, she'll bring it to bed with her. There's a hole in the middle that makes a whistling noise when thrown which catches her attention. Great ball, glad I bought it."
Price: $5.95
Wobble Wag Giggle Ball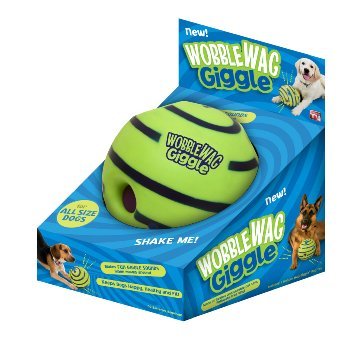 The Wobble Wag toy is made of durable and flexible material. The ball has six pockets so that your dog has several options to grab, carry and toss it. The more your dog plays, the more the ball makes giggling and fun sounds. It's the perfect toy for leaving your dog home alone — it's interactive and entertaining.
Pawsative Ruffview: "My male dog has zero interest in this ball. But I feel compelled to give this toy a 5 star rating because my female huntress dog absolutely ADORES this toy. It is her all time favorite toy. She treats it like a security blanket. We had a thunder storm with wild winds and she was anxious from the noise. So she went to get her wobble wag giggle ball to lay with it to comfort her. She likes to sleep with it at night and lay with it during the day. She never chews it, which is interesting because she is a big chewer and this is the first toy that she has not destroyed yet. "
Price: $10.79
KONG Cozie Squeaky Toy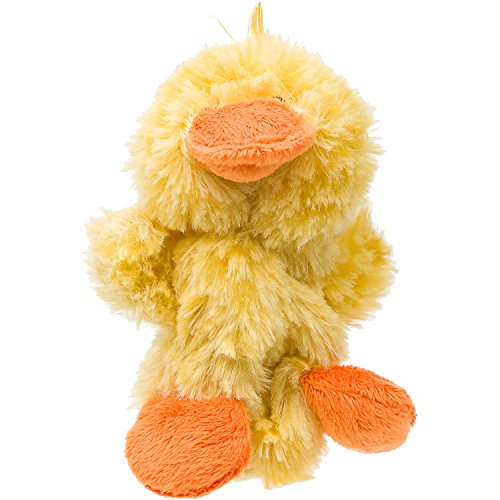 If your dog just can't give up plush squeaky toys, we have a better option. While we cannot promise that your dog won't eventually wear it down, we do ensure it will last significantly longer.
There's minimal filling to lessen the mess and an extra layer of fabric to increase the strength of the toy. You can choose from cute characters, such as the blue dog, alligator, or moose.
Pawsative Ruffview: "I got this toy for my German Shepherd puppy from the beginning. This was the first toy I gave her at 8 weeks when I went to pick her up. She loved this thing which lasted for until she was 8 months and decided to kill it completely while I was at work. The squeaker did get punctured when she got to be around 6 months and all her adult teeth came in, but at that point it was a good toy for her to play with when I needed her to be a bit quite and didn't want to hear a continuous squeak squeak squeak."
Price: $9.44