At a glance, purchasing a dog collar may not seem like too complicated a task.
Most people opt for the basic, over-the-counter variety, and this is often a sufficient choice. These collars may not have the extra bells and whistles, but they are a cost-effective solution for dogs who don't require much training. Before making a choice, though, you should consider the full range of designs. There are other styles available that may better suit your dog's requirements or comfort preferences. Read on to find the perfect collar style for your dog.
Basic Dog Collars
For most dogs, a basic collar will suffice. They do not have any fancy features, but they are comfortable and cost-effective. Basic collars are typically nylon or leather with metallic or plastic buckles. They are available in a number of different designs and styles. If your pup is yet to have their growth spurt, a basic collar may be a good starter purchase. This way, you will not have blown the budget on something we will grow out of in a matter of weeks.
LED Collars
LED collars are like a standard collar but high-vis! They are ideal for dark conditions. Whether you're walking your dog before sunrise or after sunset—or if your dog joins you for camping or hiking trips—an LED collar literally highlights your dog's presence with LED lighting and reflective materials. Your dog will be more easily visible to oncoming traffic and pedestrians.
Waterproof Collars
Another variant of a standard collar, waterproof collars are great for wet-weather walkies, or for aquatically-inclined canines. Waterproof collars are more bacteria-resistant and are more easily cleaned than nylon- or leather-based collars. These collars are by far the most durable; however, are not suitable for dogs requiring a training collar.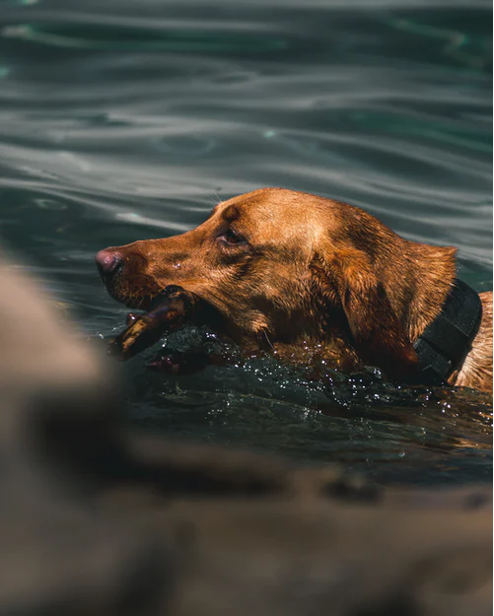 Training Collars
Training collars are for doggos in training, or dogs who require stronger control in stressful walking conditions. If you are new to this type of collar, ensure to conduct thorough research prior to making your purchase. These collars can be harmful if used improperly, so it's important to fit and use them correctly. There are a variety of different training collars, some more controversial than others. See below for a list of training collars, starting with the least controversial and moving up from there.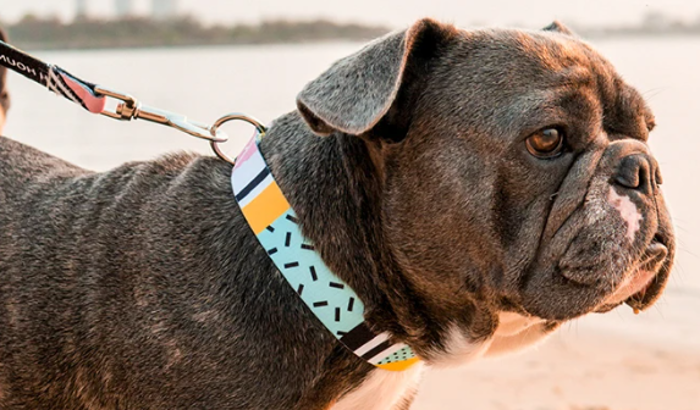 Martingale Collar
Made from nylon and a small chained section, martingale collars are the most popular and least harmful training collar available. This collar is like a padded, more comfortable version of a chained collar, which is a greater choking hazard for your dog. Ultimately, the martingale collar will clench and tighten when your dog pulls on the lead, but release to a more relaxed fit once their stride is in the correct alignment. Softer alternatives use fabric instead of a chain, which is a gentler, lighter fit and better for smaller breeds and skinnier-necked dogs.
Choke Chains
Colloquially known as 'chokers', choke chains perform the same function as martingale collars. The crucial difference, of course, is that these collars are 100 percent chain, unlike their nylon-based counterparts. Choke chains are not as comfortable as martingale collars. Despite being a loose fit, the former can pull a lot tighter than the latter. Choke chains are available in varying levels of thickness and lengths, and they do not have buckles. We recommend rigorous research prior to making a purchase—just in case the choke chain lives up to its name a little too well.
Choke chains should hang loosely from the neck.
Prong Collars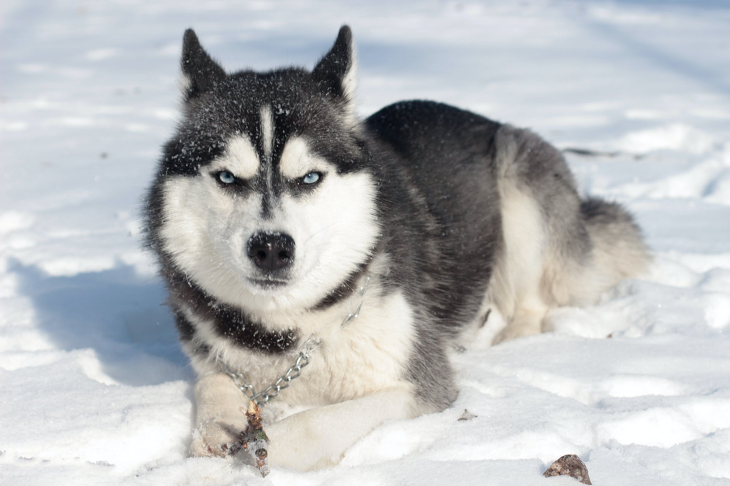 Prong collars are a step up from choke chains. Instead of chain, the collar consists of inwardly contained prongs. When your dog strays from their required alignment, the prongs will pinch your dog's neck. This is negative reinforcement turned up a notch, as a pronged pinch will hurt more than a general tightening around the neck.
We strongly advise against using this as a first training collar. They are also unsuitable for dogs with thinner skin around their necks, and are more for larger dogs. If your dog is responding to the martingale collar or choke chain, then a prong collar will be an unnecessary purchase. Please only use these collars as directed by a professionally certified trainer.