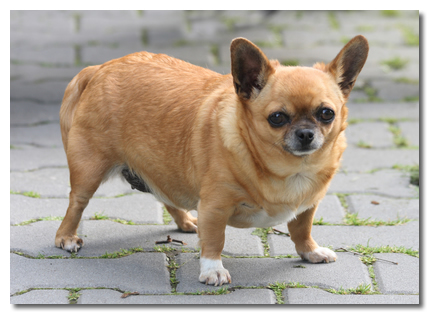 Hello again humans.
I'm back for my second edition of dog with a blog.
As I mentioned in my last post, I've just finished school and self-graduated. I'm moving on into the "real world" as they say.
Real world my ass.
In the real world, I would be able to find a job. I would not be discriminated against because I'm a Chihuahua, because I'm a little chubbier or because I'm a dog.
Yet, I feel like that's what's happening.
I've been spending the better part of my days on job boards, searching for the purrrfect opening. NONE, I'm telling you, NONE of the jobs read: "DOGS NEED NOT APPLY." Although they should. I've not got one call back and I'm working my tail off here.
You may wonder what jobs I'm applying for.
Well, IT'S NONE OF YOUR BARKING BUSINESS.
Just kidding.
I'll share.
I'm applying for an administrative position. Shouldn't be hard to get, right? Hey, I would even settle for a measly data entry job. After all, my typing skills are through the roof.
My humans have been wondering why I haven't been waking them up at 6 am per usual. Well, it's because I'm getting up and going directly to the computer to look for jobs. I can't waste a moment. Not one.
I've even taken a liking to pissing inside. Of course, my humans don't like it. But I can't wait for them to let me out…and let me in…and etc. etc. When I gotta go, I gotta go. I try to make an easy cleanup my going in the washroom on the titled floor. For some reason, that still makes them angry.
They think I'm stupid. They think I'm still not potty trained. They treat me like a little baby. Little do they know, I'm one of the smartest dogs out there.
Anyways… back to my employment venture…
The jobs I find are very low pay. It's disappointing. I won't ever be able to pay for my treats at that wage. But, nonetheless, I have to suck it up; the economy is ruff.
I take about an hour per job posting. First uploading my resume. Then, for some reason, these barkers always want me to type my resume and fill the info into tiny little boxes.
IDIOTS, IF YOU ASKED FOR MY RESUME, WHY DO YOU WANT ME TO TYPE IT AGAIN? WHY DON'T I CALL YOU AND EVEN RECITE MY RESUME TO MAKE SURE YOU HAVE A THIRD, VERBAL COPY.
Then, after all that effort, they have the audacity to ask me more questions.
Why do you want to work for your company?
What makes you the best candidate for our company?
I don't know, maybe because I'm a friggen dog. I don't need to take smoke breaks, I can't gossip and I'm pretty damn loyal.
When I've reached the final step, I hit another roadblock: They demand ruffrences. How the hell does a dog get ruffrences?
I have no previous employer. None of my dog friends can even type like myself. And my humans are too clueless to even know I basically gave myself a PhD.
So, I did the only thing I could do, I made up ruffrences.
Don't give me that look, humans.
I know you've lied on your resume too.
I'm banking that they won't call my ruffrences. I've heard that most employers don't anyways.
And, if they do?
Well, good ol' Barb down the street is in for a nice surprise.
So is our lawn mower, Gary. Gary is kind of slow though. He may just play along.
It's been almost a month of this nonsense. I'm really trying. I even emailed the local dog shelter, offering to be a volunteer administrative assistance, just to get some experience. Check out my letter below.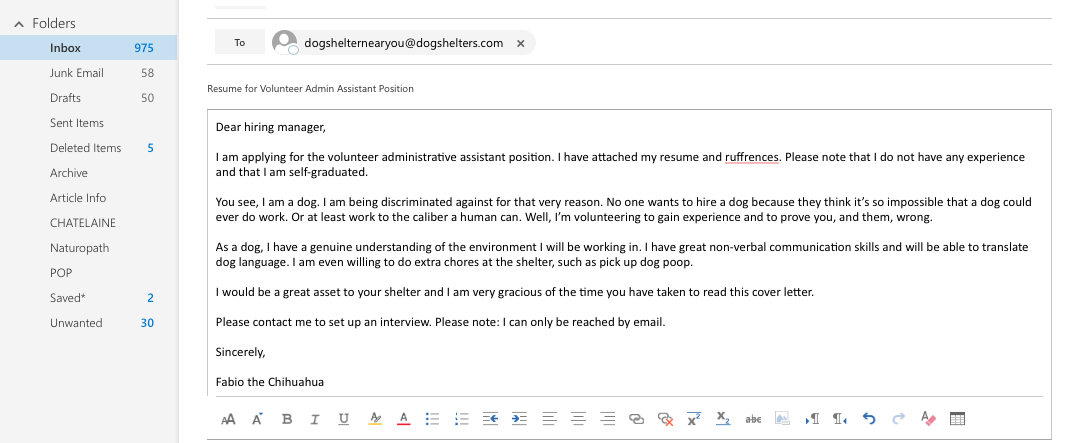 rel="lightbox"
Sounds so great, I know.
But… apparently the shelter did not think so.
I got an email back with accusations of pranking them.
ME? A prankster?
Ok, well sometimes.
But not lately. Since I have graduated, I am matured into a full-grown Chihuahua. I am serious about my future and would not prank a potential employer.
I am offended they would even think such a thing.
I responded to the email with only two works: BARK YOU!!!!
Well, thanks for listening to me rant, humans.
Please wish me good luck in the rest of my dog search; it looks like I'm going to need it.
In the meantime, if you have any job leads or any recommendations, please tell me! I need to know!
Well, here I go back to the shitty, annoying, tedious job search.
Barkya later humans,