Looking for a fun way to spend an evening with your dog? I have the cutest dog date idea to share.
This weekend the weather called for a washout. And I was already feeling cuddly.
I decided to embrace the mood with a unique idea: Camping indoors with my pup.
I used my living room to set the stage. I brought out my mattress and decorated it as if it were the magical outdoors.
To involve my dog, I brainstormed some fun camping-related dog actives we could do.
Of course, camping is complete without snacks.
Actually, in my dog's books, no night is complete without snacks.
So we put together some doggy smores and popcorn for a delicious evening.
In this article, learn 5 activities to do on your indoor camping doggy date.
How to Camp Indoors with Your Dog: Dog Date Idea
To make the night magical and fun, we suggest preparing ahead of time so you have what you need.
VIDEO
Get the Campsite Ready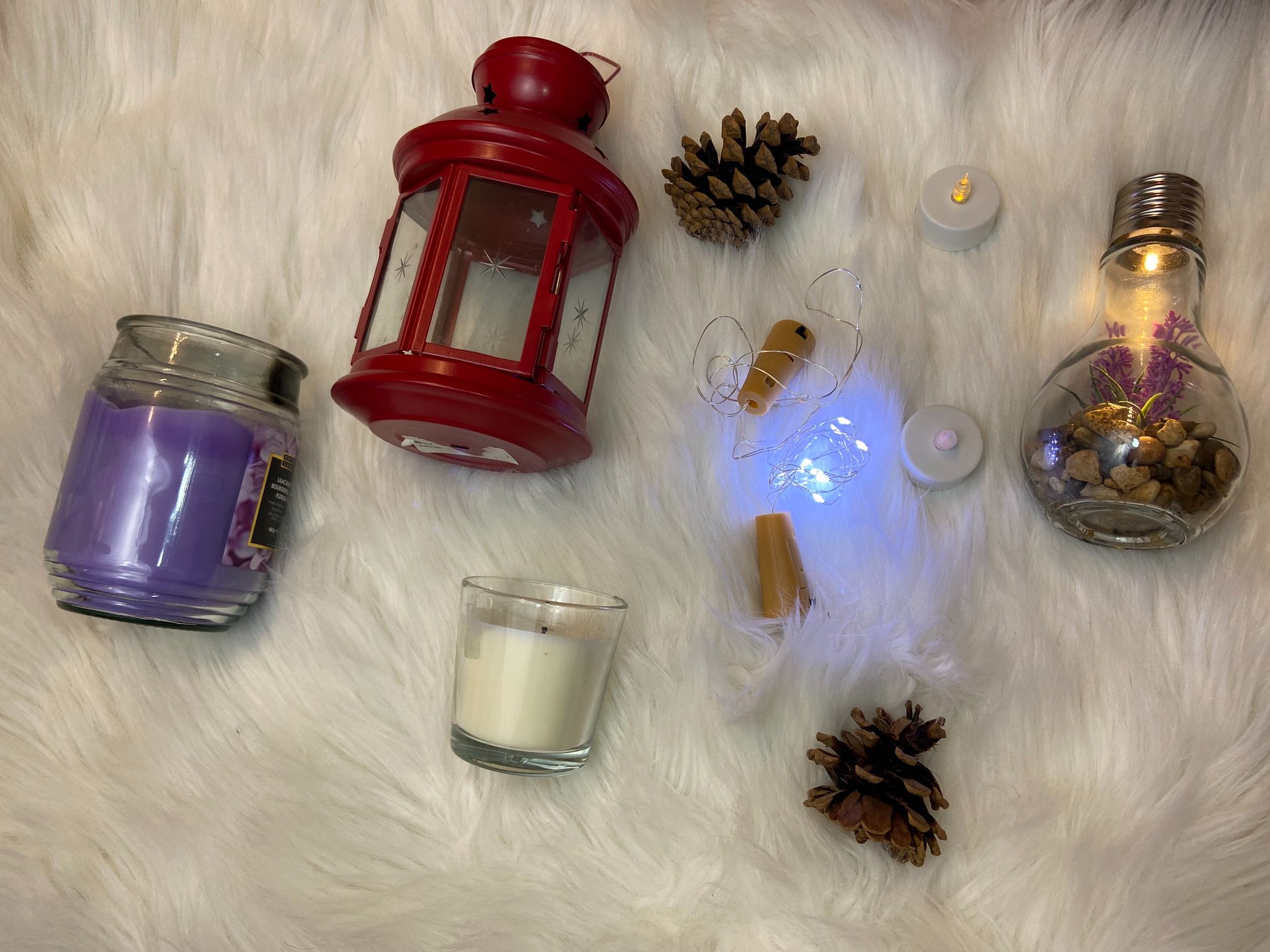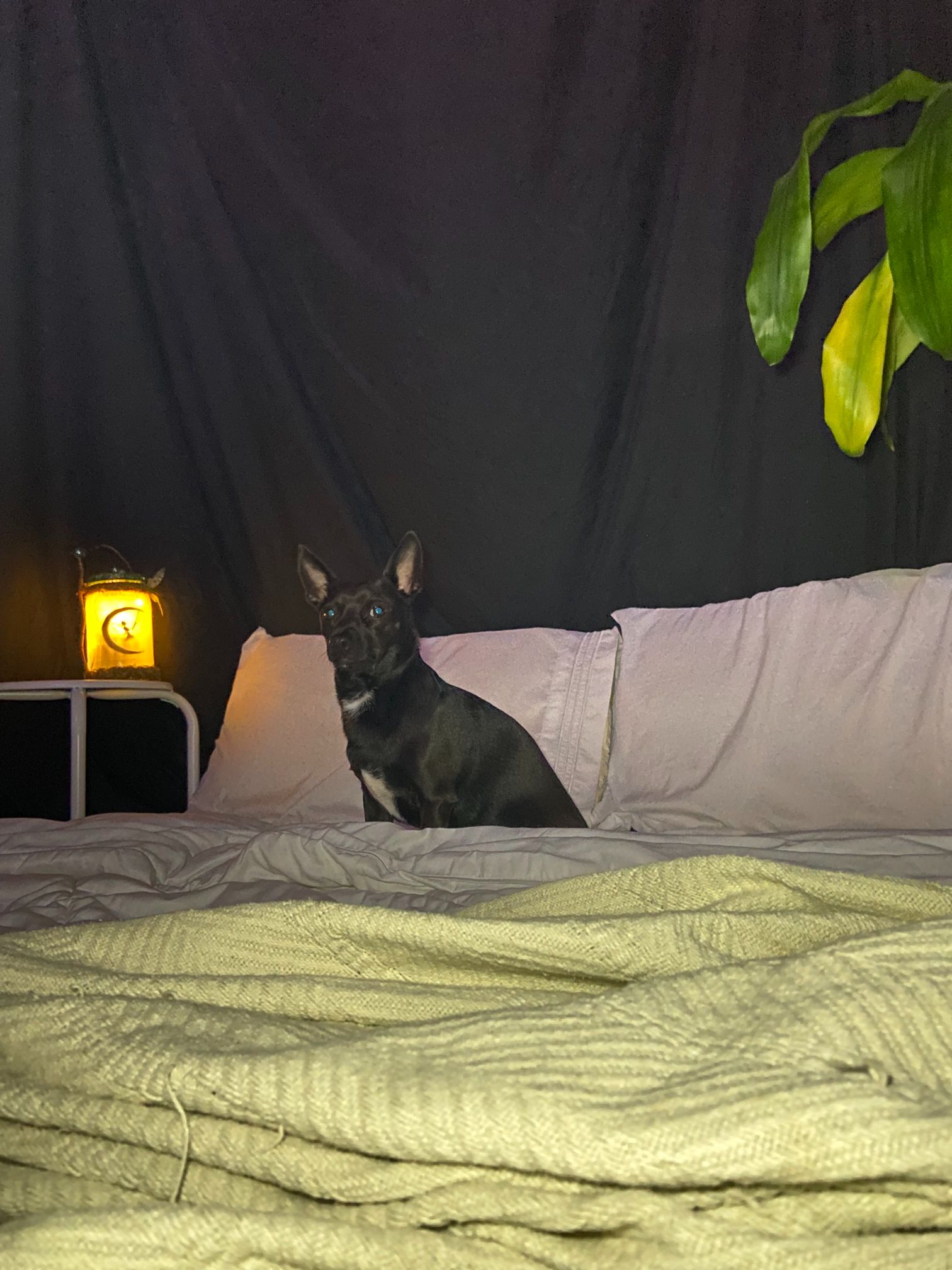 Brainstorm ways to make your living room into an outdoor campsite. Here's a few ideas:
Bring mattress into the living room and use hung blankets to make a fort tent around it (this is what I did)
Pitch a real tent if you have one
Candles (out of dog's reach)
Battery-operated candles
Lanterns
Pinecones
Fairy lights
Start with the blanket fort or tent. Once that's set up, display your outdoor décor. Hang fairy lights from the blankets or tent and place lanterns beside the bed.
Nail the Outdoor Scent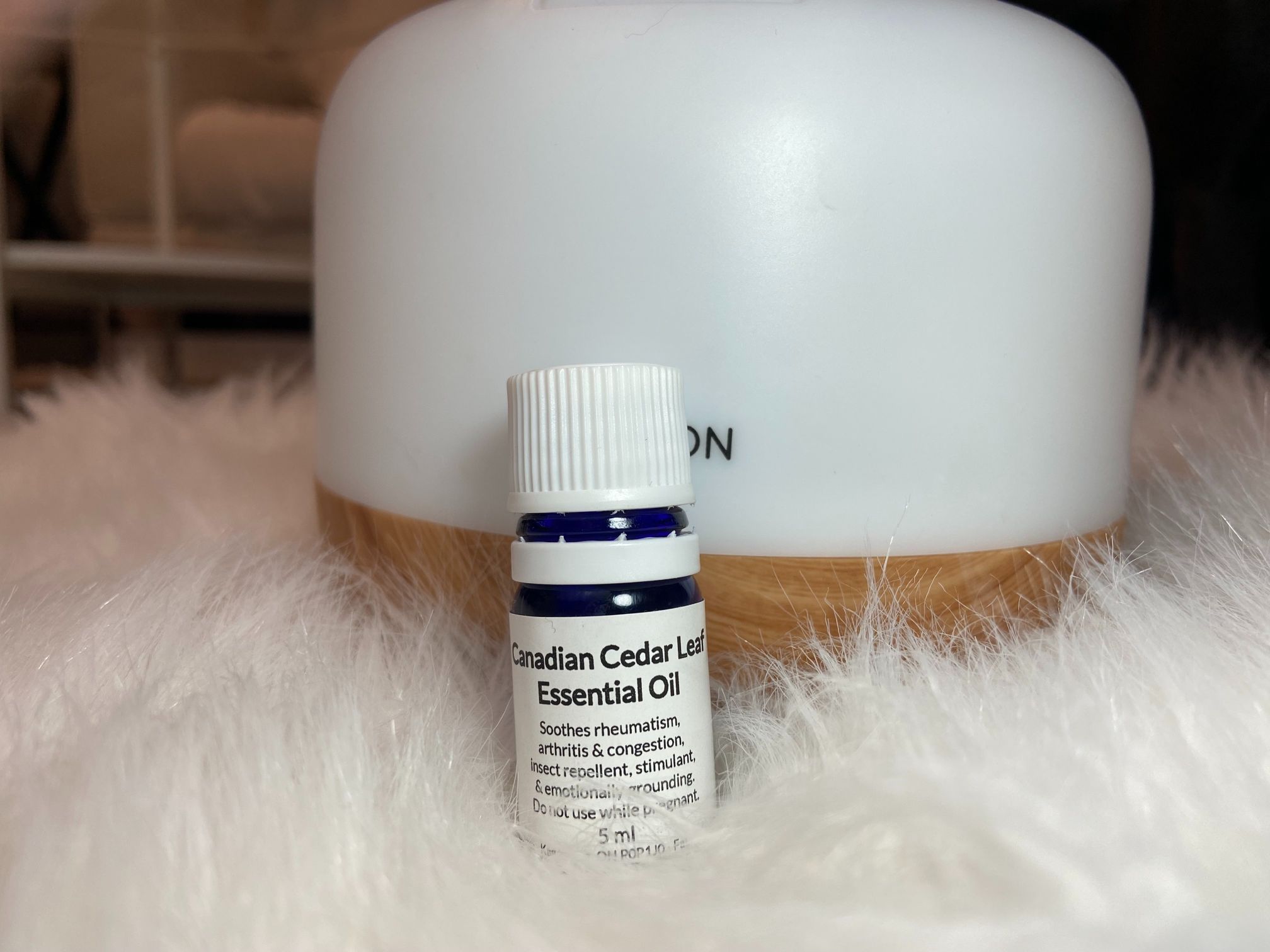 The city smells a lot different than backcountry. Mimic the smell you'd experience while camping with some essential oils or candles.
I used my essential oil diffuser and birch essential oil. If you're using an essential oil, use a small amount. Make sure the smell doesn't irritate your dog or cause allergy symptoms.
Fishing Dog Activity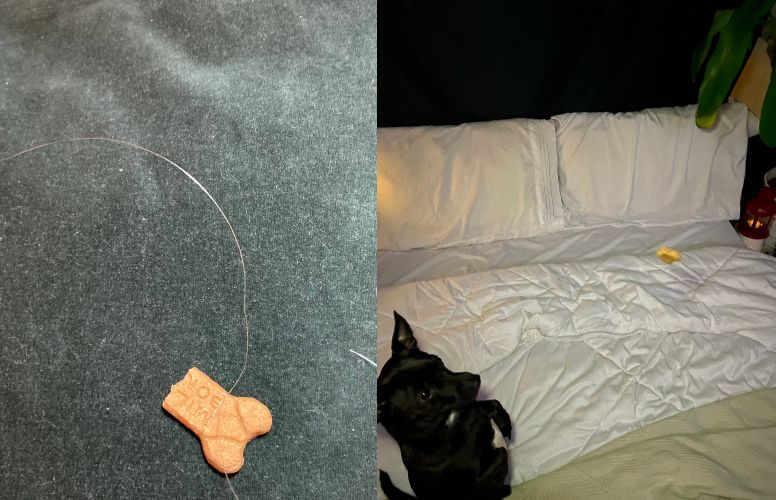 Fishing is the #1 camping activity but you can't exactly do that from your living room.
Instead, fish for your dog! It's hilarious and super fun—easily my favorite part of the night.
All you need is a treat and fishing line. Tie the fishing line around the treat. Dangle and bounce the fishing line around, making your dog chase it. (See the video above!)
Since fishing line is bouncy, it creates a "hopping" effect that's different than your dog's usual playtime routine. And because they can't see the fishing line super well, it's an added challenge. Like fishing, even when your dog "catches" the bait, it can easily hop out of their mouth.
Binky loved it. I think it gave him the same excitement of squirrels.
Popcorn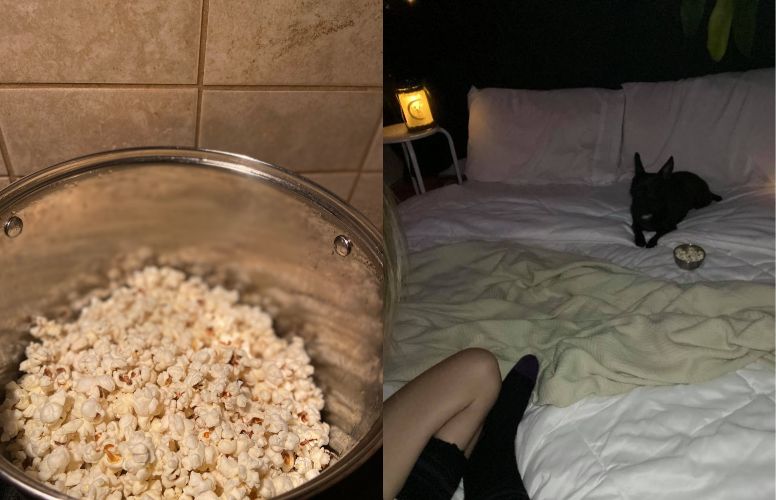 The easiest dog-friendly camping snack to make is popcorn. Plus, they love the crunch!
Popcorn is safe for dogs to eat in moderation as long as it's not laden with butter or seasoning.
To make it the healthiest way possible, pop it over a stove using minimal oil. I use these directions and it works for me every time.
When it's done popping, separate the popcorn into two bowls: yours and your dogs. Add whatever you want on yours while keeping your dog's plain.
Chase Flashlight Dog Activity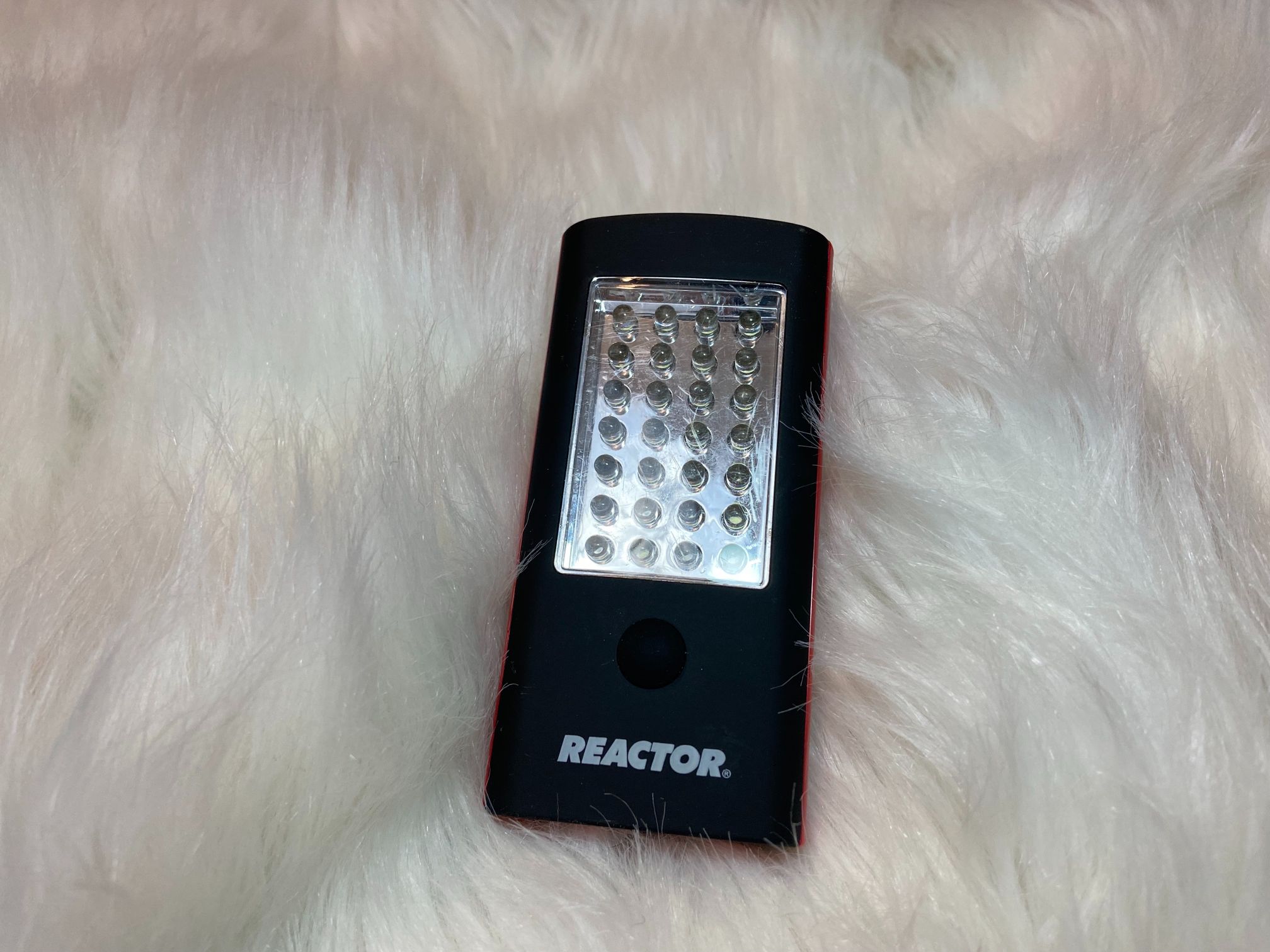 Take advantage of your dark living room by playing the flashlight game.
Point your flashlight around the room and watch your dog chase it, trying to catch the elusive light.
Make Smores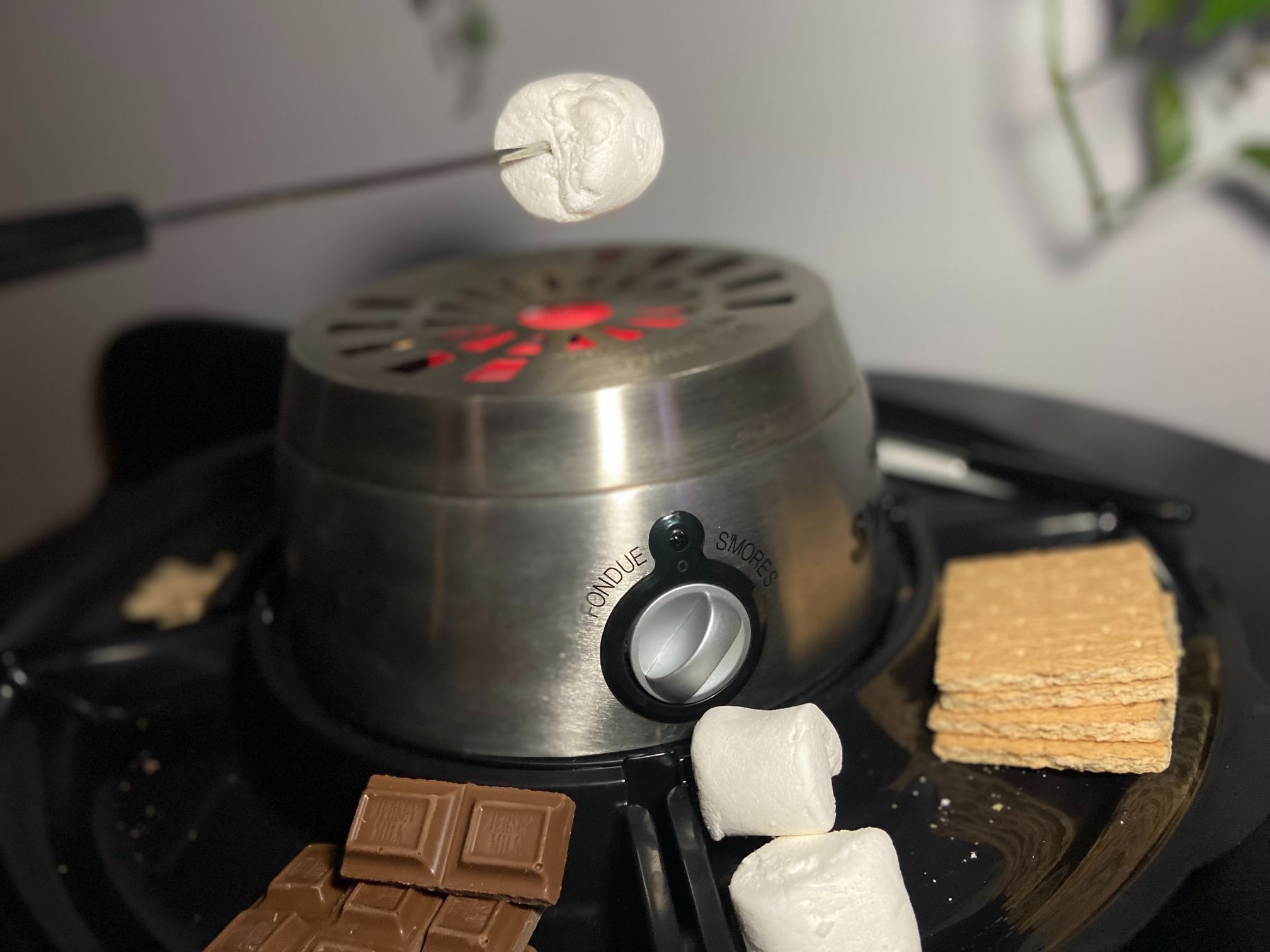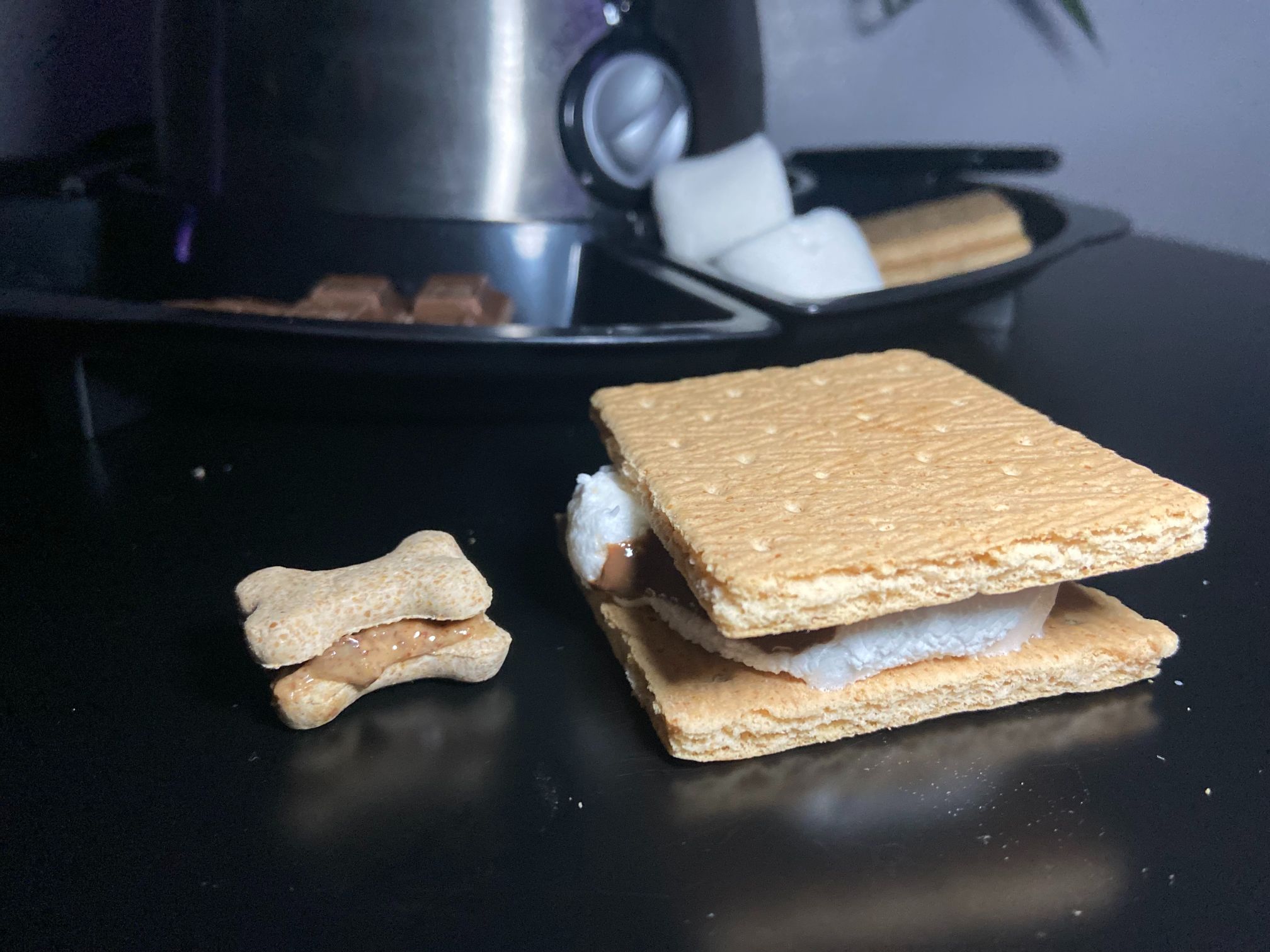 Smores are another campfire classic that you can't go without—even indoors!
I'm lucky to have a smores maker. This is a flameless element that you can plug-in and roast your marshmallows over.
Of course, smores contain chocolate and are a big no-no for dogs. So follow the recipe below instead.
Dog Smores
A heatless campfire classic without the chocolate.
Ingredients
2

Small dog biscuits

Peanut butter
Instructions
Spread a small amount of peanut butter onto one dog biscuit. Add the other dog biscuit on top, forming a sandwich.






Cuddle and Watch a Movie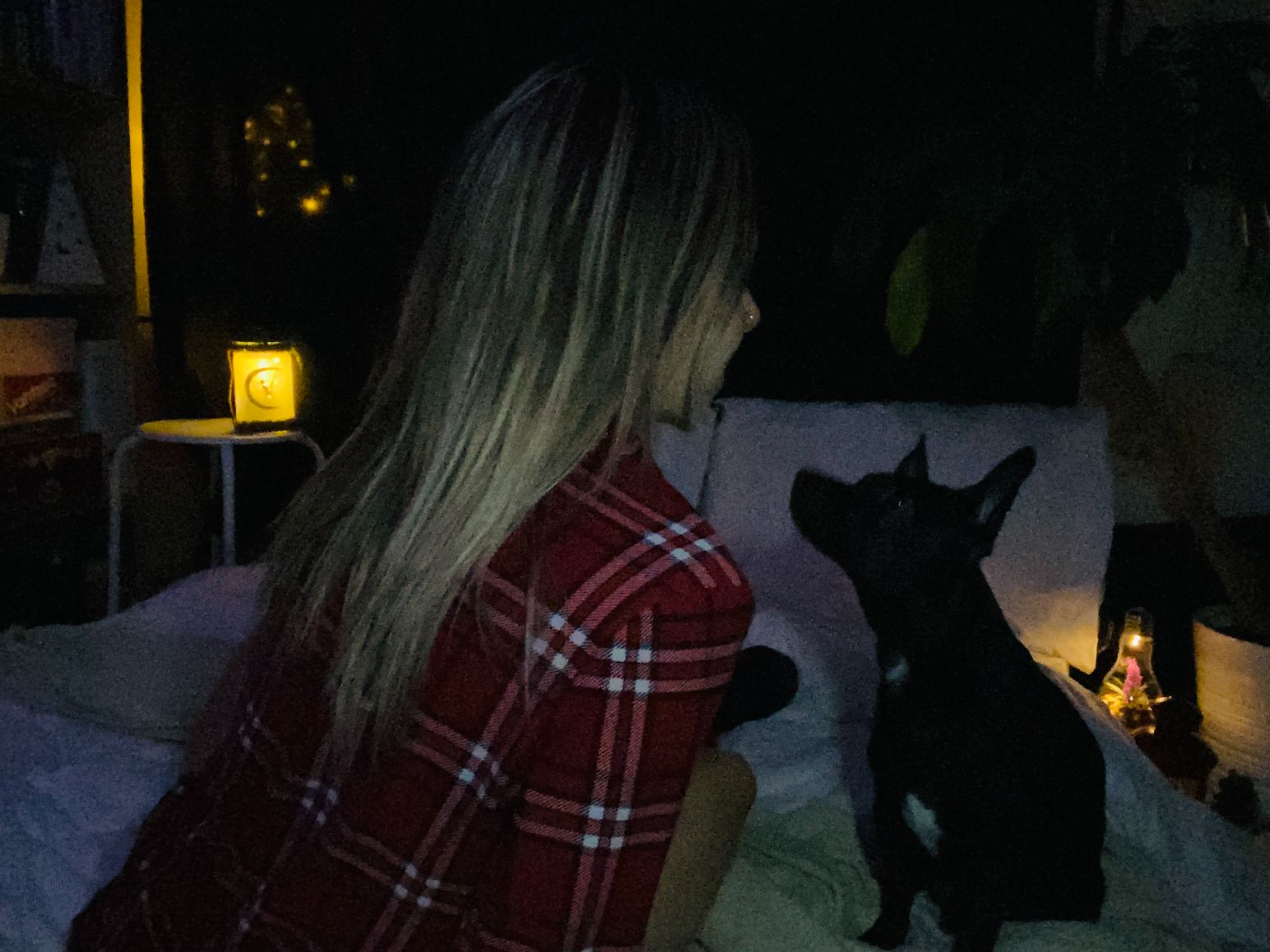 If you were really camping, you'd probably end the night with some stories or songs over the campfire. Since that's not an option, we'll go for the next best thing, watching it!
Cap the night off by watching a scary movie or a movie about camping. I chose the movie RV with Robin Williams. Other ideas for camping movies include:
Camp Nowhere
Blair witch project
Parent Trap
Don't forget to give your pup a good cuddle to keep them warm from the outdoors!