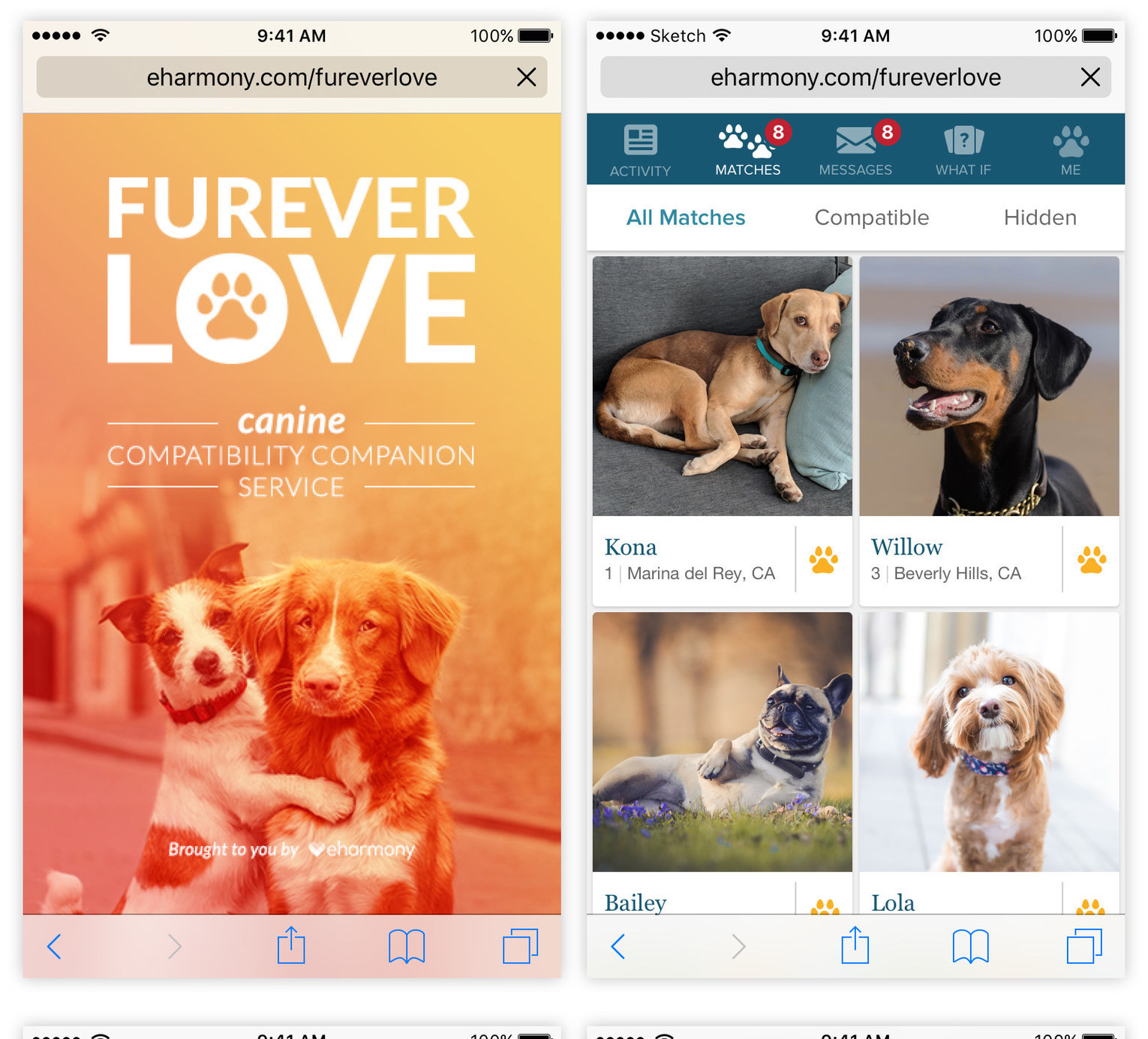 Based on the algorithms eharmony uses to create highly compatible relationships for humans, the new "Furever Love" Canine Compatibility Companion Service.
It helps users create robust profiles for their pups based on key dimensions of personality that predict the most compatible, highly successful, long-term relationships.
eharmony users can log on and use the new "Furever Love" feature to create a profile for their furry companions.
The service will automatically find and suggest highly-compatible matches based on responses to questions about a dog's personality, activity level, and other key relationship success indicators. Users can then set up doggie dates or playtimes. eharmony canine experts will be available to assist with any questions or translation needs as they arise throughout the process.
"For nearly 20 years, we've been mastering how to create lasting relationships for humans," says Grant Langston, chief executive officer for eharmony.
"We didn't want our most trusted four-legged friends to feel left out, especially since they often seem to know more about love and happiness than we do."
You may be wondering what happy dog couple even looks like. How can you tell if your dog has found the one?
Personality traits: smart, social, adaptable, joyful, loving
Activity level: medium-high (best when it matches)
Social skills: outgoing/extroverted, friendly, gets along well with cats/children
Geography: tend to live in cities with dog-friendly parks, cafes, shops
Human factor: tend to live with happy humans in long-term relationships
Behavior turn-offs: stubbornness, slobberiness, lack of bathing, inability to share toys
How happy are American dogs in their relationships?
Like their human counterparts, love is a huge factor in American dogs' overall happiness. A sense of commitment/loyalty, having lots of healthy play time, and feeling secure about the number of treats/bones available at any given time are also key factors that directly correlate with happiness.
Dogs living in cities with large parks tend to be happier in their relationships
Being "in love" correlates most with happiness: much more than relationship satisfaction
Almost 8 out of 10 reported high barks for shared activities, such as swimming, long walks, and car rides
Happiness peaks among those in committed relationships of any type including: those who have been in a relationship for 5 years or less
Happiness is greater among those who are employed as assistance animals or those who consider themselves to be the main household watchdog
As might be expected, high levels of happiness correlate with top marks for signs of affection, such as tummy rubs, bedtime stories, and kisses
As dogs get older, they tend to rank long naps as more important than play/activity compatibility, though the seniors tend to also enjoy computer games and dog sudoku
Why are puppies most positive about relationships?

While the recent Happiness Index: Love and Relationships in America revealed that millennial humans ages 25 to 34 are the happiest in their human relationships, puppies ages 10 weeks to 12 months also barked highest when it came to playfulness and willingness to try new activities.
Young dogs are 2x more likely to prize personality over looks when seeking companions
Male pups were likely to seek out a friend for comfort if they were lonely
More than a quarter of all puppies have already sought professional help, whether it was through a trainer, dog whisperer, therapist, dog walker, or YouTube
Do dogs care about romance & affection like we do?
Yes! Studies show that dogs' brains have a striking similarity to humans in the caudate nucleus. That means their "feel good" dopamine receptors light up when they see or experience something they like. As such, our canine respondents reported high barks for signs of affection from their canine and human companions alike.