The CBD market is on fire and the product choices for dogs is only set to grow.
But is all that hype really worth it? What claims are proven and which are just flat out bullcrap?
Many owners share miraculous stories about how CBD oil or CBD dog treats have helped their fur friend overcome pain, anxiety, aggression and even tumors. The truth is the research is still in the early stages and there's several things you should know before trying it on your own dog.
In this post, we're talking about what CBD oil is, the research behind it and how you should dose your dog. Finally, we'll end with some suggestions if you feel that it could be right for your dog.
* This post contains general information and is not a substitute for vet medical advice. Please contact your vet before introducing any new medication to your dog.
What is Dog CBD Oil?
When we talk about CBD oil for dogs or humans, we first need to point out that there's two main types:
#1 Hemp CBD Oil
Most dog CBD oil you find is made from hemp, meaning that it doesn't contain any THC. THC is the psychoactive chemical that gives cannabis its high. While you probably don't want your dog to get high and may see hemp oil as the best option, cannabis-derived oil can be more powerful, as we explain below. If you see a dog CBD oil sold online or in stores, it's most likely (but not always) hemp-derived because hemp is legal. You should also know that "hemp oil" is NOT the same as "CBD oil." CBD oil can be hemp-derived, but a product labeled "hemp oil" does not necessary contain CBD, so make sure to check the ingredients.
#2 Cannabis-Derived CBD Oil
Cannabis-derived CBD oil does contain some THC, but still doesn't get your dog high. Although it's only a small amount of THC, it can help ease pain and other issues. THC is also believed to make CBD more effective when they're present together. This is called the "entourage effect," a theory that's been developed, yet hasn't been definitively proven yet. For this reason, oils containing CBD may work better medicinally if your vet approves. Since THC isn't legal recreationally in the U.S., cannabis-derived CBD oil isn't as widely available as hemp CBD oil, but may be available through a vet or on some websites in some states or in Canada.
How to Administer CBD Oil for Dogs
Before you purchase a CBD oil for your canine, check how it says to administer it. While instructions may vary, it can typically be administered in a couple ways:
Under the tongue. The most effective (yet probably most difficult way) is to place the oil directly into your dog's mouth to be absorbed under the tongue. This is called sublingual administration. The membranes in your dog's mouth carry the drug into his bloodstream.
Mix in dog food. You can also mix the dose in your dog's food or buy dog treats made with CBD oil. While this can be a good method for difficult dogs, it changes the way the oil is absorbed. Instead of going directly to the bloodstream, it needs to be digested first, which means the effects can take longer to show or feel. Most people know that "weed edibles" take longer to feel than simply smoking marijuana because of the digestive process involved; it's the same idea.
Mix in dog water. You can place the dose drops in your dog's water bowl, but since she probably doesn't drink the full bowl in one go, monitoring the exact dose and times is difficult. Administration this way can also take longer because it needs to pass through the digestive system.
Does CBD Oil Get My Dog High?
If you're using a hemp CBD oil, it's impossible for your dog to get high from it because it doesn't contain THC.
If you're using a THC/CBD oil for dogs, your dog still won't get high because the THC level is probably very low. Of course, this will depend on the brand you use. However, if you give your dog more than the recommended dose, that means you're giving him more THC and intoxication could be possible depending on your dog's weight and the brand. People using a THC/CBD dog oil usually obtain it from their vet, who provides education on the side effects and dosage.
Studies on CBD Oil for Dogs
Although the cannabis plant goes back in history, research on it is still fairly new because it hasn't been legal medicinally for that long. In fact, researchers are still discovering new cannabinoids (marijuana's chemicals).
The two most well-studied cannabinoids are, of course, THC and CBD. Again, research on how CBD effects humans is still in its early stages. While there is evidence to back up many claims people make about CBD, the claims are largely anecdotal (meaning that they're based on personal experience, not always science). In humans, studies have shown CBD may be effective for:
Epilepsy in children
Staying asleep
Falling asleep
Pain
Inflammation
With that being said, how CBD effects dogs specifically is even less researched. However, there are some studies to back up claims. Here's a quick overview:
An old and small 1988 study found that oral CBD wasn't absorbed well by dogs. Out of 6 dogs, only 3 had traceable amounts of CBD after administration due to its low bioavailability.
One 2018 study found that 2 mg/kg of CBD twice a day helped dogs with osteoarthritis (OA) gain activity and comfort. It's worth noting the bias in this study: It was paid for by ElleVet Sciences, a company that makes hemp CBD dog oils.
Preliminary results from a 2018 study show that CBD may be effective for dogs with epilepsy. Those promising findings prompted the American Kennel Club Canine Health Foundation to fund a future large-scale study of 60 dogs.
Yep, that's all the studies specifically on dogs. While knowing what humans studies say may give us a hint about what to expect on dogs, it's important to note that the effect on humans does not equal the effect on dogs. As you probably noticed, your body is psychologically different from your dogs. The differences in weight can also have a big impact.
CBD Oil Uses Dogs
While there isn't yet enough research to back up the effectiveness of CBD for many dog ailments, many people have reported their dog's health improving.
Out of the three studies on dogs and CBD specifically, here are the potentially evidence-based uses:
Pain caused by osteoarthritis
Inactivity caused by osteoarthritis
Epilepsy
Anecdotally, CBD oil may be used to help with dog:
Anxiety
Calmness
Depression
PTSD
Aggression
Behavioral issues
Cancer tumors
Appetite
Blood pressure reduction
Nausea reduction
Although preliminary studies and stories are promising, once again, these uses aren't scientifically-backed yet because there just isn't enough research. For a treatment to be considered scientifically effective, one study isn't enough. There must be several large-scale studies.
CBD Oil for Dogs Side Effects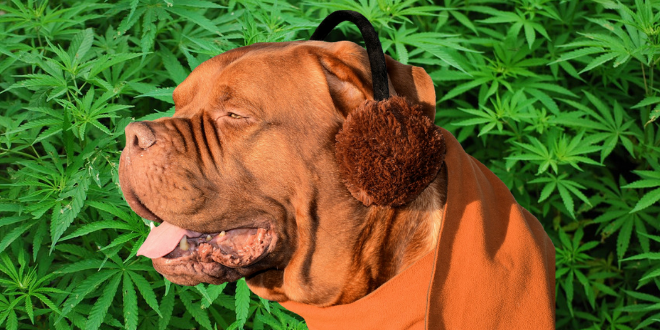 Since CBD oil isn't yet widely studied, we may not even fully understand the side effect it may on humans. However, out of the proven potential side effects, he can theorize what the side effects of CBD for dogs may be:
Dry mouth (may see your dog drinking more water)
Lower blood pressure (which can cause dizziness if it gets too low)
Sleepiness in higher doses
The first time you give your dog CBD, you should be with her to monitor any side effects. If you observe sedation, vomiting, intoxication or an overload and unusual amount of excitement, discontinue use and talk to your vet. Compared to many other drugs, CBD from hemp is thought of to be a very safe medication.
CBD for Dogs and Drug Interactions
If your dog is taking any medications, you should especially speak to your vet before giving her CBD. People often label cannabis or hemp products as "natural" and assume that because you can buy it online, it must be safe. The truth is that CBD is still a chemical and may cause some drug interactions. Drug interactions can change the effectiveness of other medication and may have negative consequences.
CBD dosage for dogs
Of course, you should always talk to your vet before introducing any new medication. If your vet is well-versed in CBD dog treatment, he or she should be able to tell you the optimal dose.
Since there isn't enough research on CBD and dogs, there is no conclusive, proven optimal dose. In the 2018 study mentioned above, CBD was effective for arthritic dogs when given in two doses of 2mg/kg of CBD twice a day. That means if a dog weighed 66 pounds (30kg), they were given 60mg twice a day.
However, that recommendation was based on the specific CBD oil formulation used in that study and specifically for arthritic dogs. Some vets recommend a dose as low as 0.05mg/kg a day. As you can tell, the recommendations can vary vastly. The ideal dose may be different depending on the levels in the oil you choose, so reading the label or inquiring with the manufacturer is a good starting place. You'll want to weigh your dog beforehand to ensure you have an accurate reading. You can do this by picking up your canine while on the scale and subtracting your weight from the combined weight reading.
You should also note that if you have CBD oil for yourself, the label's instructions are for humans only. Humans can safely take in a lot for CBD than dogs, so don't assume the dosage instructions are the same. In addition, the formulation for humans may be stronger than that made for our fur friends.
Start Low
As with many medications, it's a good idea to start your dog off with a very low dose. This will give you time to look for any negative side effects and it will also give your pup time to build a tolerance. If everything goes well, you can gradually increase your dog's dose.
Increase Bioavailability
If your dog CBD oil says to administer twice a day, you may be tempted to give the two doses in one swoop. However, the reason medications indicate several daily doses is because it's because its more effective that way.
Different chemicals have different bioavailability levels, meaning that only a certain amount of the medication is actually absorbed and used. Since dogs can only absorb so much CBD at one time, breaking up doses ensure the best effect and no product waste. Since the 1988 study we referenced above suggested a low CBD bioavailability in dogs, breaking up doses could be critical.
CBD Oil Vs. CBD Dog Treats
If you're wondering whether to get oil or CBD dog treats, here are some things to consider:
CBD oil can be given sublingually for a (typically) faster onset.
CBD oil can also be added to dog food or water.
Dog treats with CBD oil need to be digested first, meaning the effect can take longer for them to feel.
Dog treats are a no-hassle way to ensure your dog gets the medication.
You need to check both CBD oil and dog treats for their quality (lab results) and dosing recommendations.
What to Look for in CBD Oil
Since the dog CBD market is booming right now, there's no shortage of options to choose from. The issue is knowing which ones are the best. Here are some points to consider:
Hemp or Cannabis-derived— As mentioned, cannabis-derived CBD may be more medically effective because of the low amount of THC present. If your dog has a serious ailment and you live in a legalized state, you may wish to talk to your vet about cannabis-derived CBD oil options.
Clear instructions— Does the product you're considering contain clear dosing and administration instructions?
Lab results— Since the CBD boom, some companies add fillers or just straight up don't include the amount of cannabinoids it indicates. The FDA tested some of these oils and sent out warning letters about their false claims. As a result, many companies now clearly display the lab results for each CBD oil batch on their website. This gives you proof of how much actual CBD is in the product. It can also let you know about the presence of any toxins of potentially harmful contaminants. The product you buy should clearly state that it's been tested by a 3rd party lab.
Customer service— If you have any questions about how to use the oil on your dog or which dosage is appropriate, the company should be able to educate you. After all, your dog's health is important and no one should expect you to blindly by any medication.
CBD Oil for Dogs Amazon
Since Amazon is almost everyone's favorite go-to online shopping spot, you may be looking for a list of CBD Oil products on Amazon. Unfortunately, Amazon cannot sell CBD oil, so anything you buy on there will not contain CBD.
Although there's many "hemp oils" on Amazon, they DO NOT contain CBD. It is actually against Amazon's policy to sell CBD products. When you search "CBD oil for dogs" on Amazon, results will show up. This is because the description of these products contain the word CBD, as in "contains no CBD." Marketers are smart and can specifically use the keyword to show up in results, tricking people into thinking it's genuine CBD oil.
The good news is that CBD is available online in other places. Here are a few of our picks:
Canna Trading Co.'s CBD Pet Line— This company also makes products for humans, but has a specific line for animals, including CBD capsules, dog treats, coconut oil blends and tincture oils. All of their oils are independently tested and contain less than 0.3% THC. You can view their full guide on CBD dosage for dogs.
Canna-Pet— Whether you have a dog, car or even a horse, you can find CBD capsules, oil and treats here. The treats come in a variety of delicious flavors, such as maple bacon, turkey dinner and peanut butter, banana and apple mix. When you click on their "View Product Testing Info," you can see they've been tested for things such as pesticides, residual solvents and heavy metals. They also test to see which terpenes are present. Terpene and cannabinoid research is still also in it's early stages, but many researchers believe they also have medicinal properties and play a role in the theorized entourage effect.
King Kanine— King Kanine caters specifically to dogs who may benefit from CBD oil. Their product line includes CBD oil, topicals (applied to the skin) and CBD dog treats. You can view the full lab results for each of their products here. You can see their CBD dosage chart for dogs here.
Best CBD Oil for Aggressive Dogs
Although CBD oil has not been studied to see if it impacts dog aggression, the cannabinoid is known to be calming and some owners have reported improvement.
Since CBD itself may have a soothing effect, you don't need a formulation specifically for dog aggression.
King Calm CBD Oil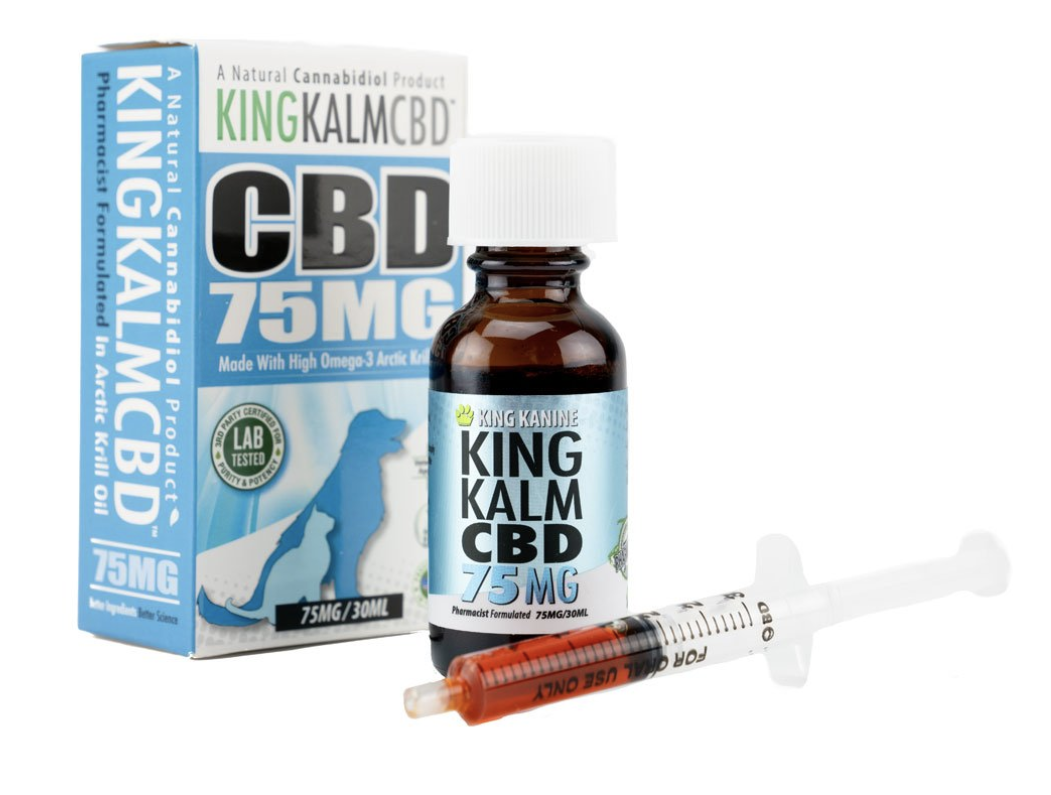 This CBD oil for dogs had a broad spectrum of cannabinoids and terpenes that may help induce a feeling of calmness. There's different oils for varying CBD dose amounts.
Price: $59.99
Organic CBD Olive Oil for Dogs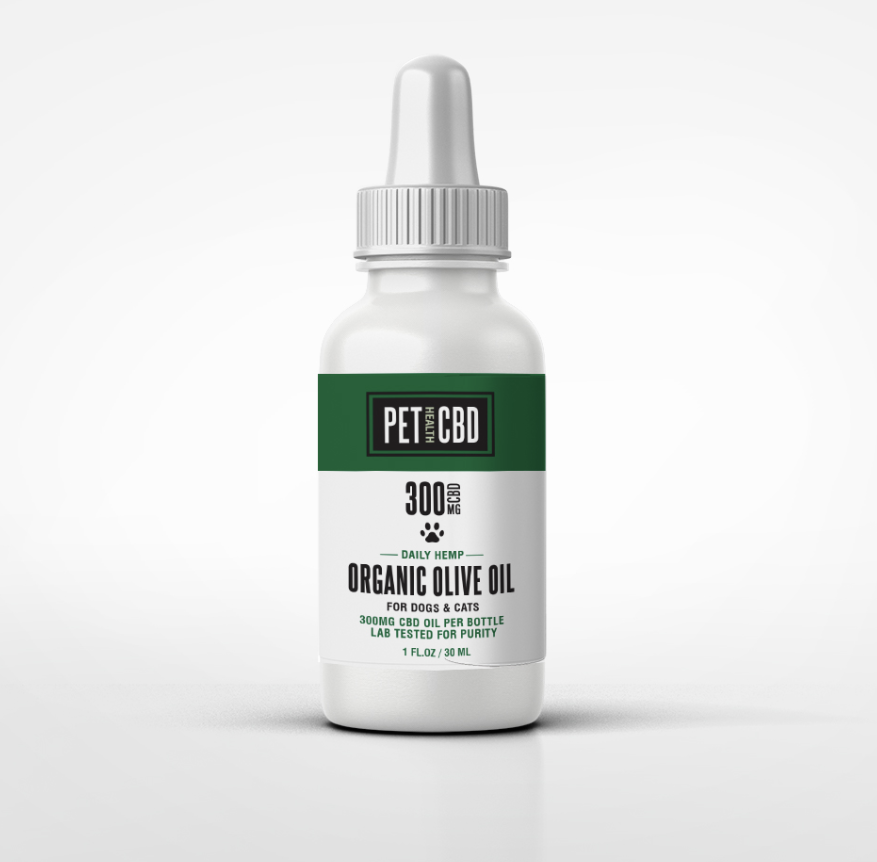 This CBD oil is made with industrial hemp and combined with a locally sourced olive oil. Since this is a general dog CBD oil, it can have a variety of uses.
Price: $39.95
King Kalm Blueberry Dog Treats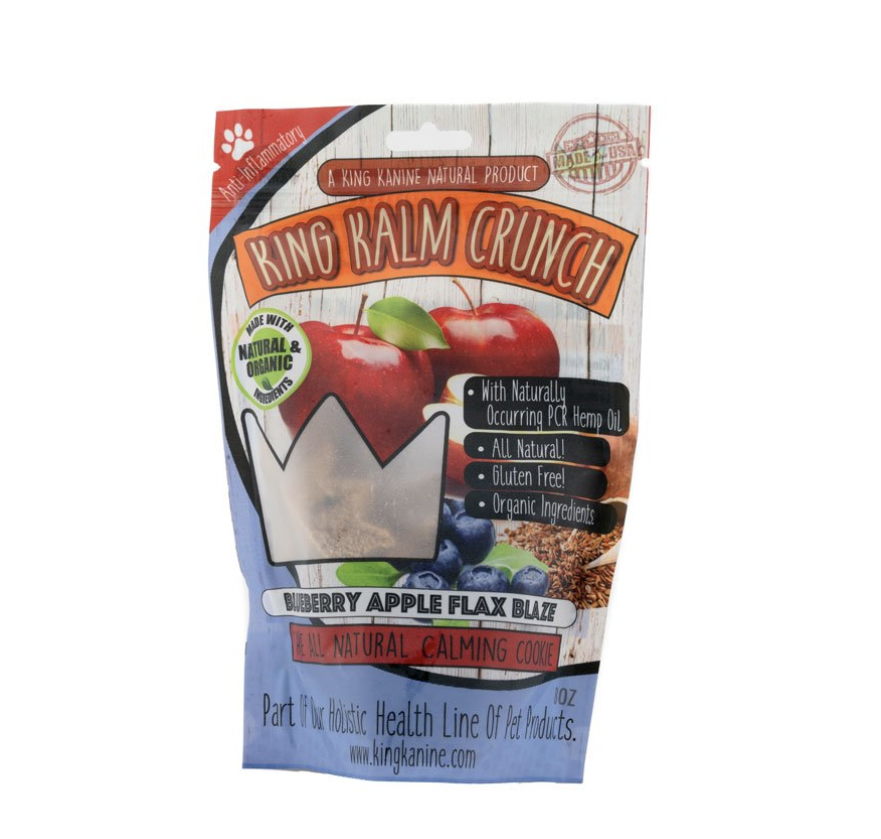 If your doggo is picky with oil, giving him treats can be an easier way to administer CBD. They're also packed with vitamins and Omega-3.
Price: $34.99
Best CBD Oil for Dog Anxiety
CBD hasn't been studied on dog anxiety specifically, but early research shows that it can help with human stress. With that being said, there's a lot of anecdotal evidence about dog's anxiety levels improving with the addition of CBD oil.
Since the cannabinoid likely has anti-stress effects, you do not need a specific formulation for dog anxiety, a regular, high-quality CBD oil may help. With that being said, products specifically for dog anxiety may contain extra herbs or ingredients that could further promote calmness.
Anti-Separation CBD Tincture
If your dog is anxious whenever you leave the home and acts out when you're gone, CBD oil may help lessen his separation anxiety. This formulation is free of THC, additives and impurities. You can see the lab results for the current batch here.
Price: $39.95
King Kalm CBD Oil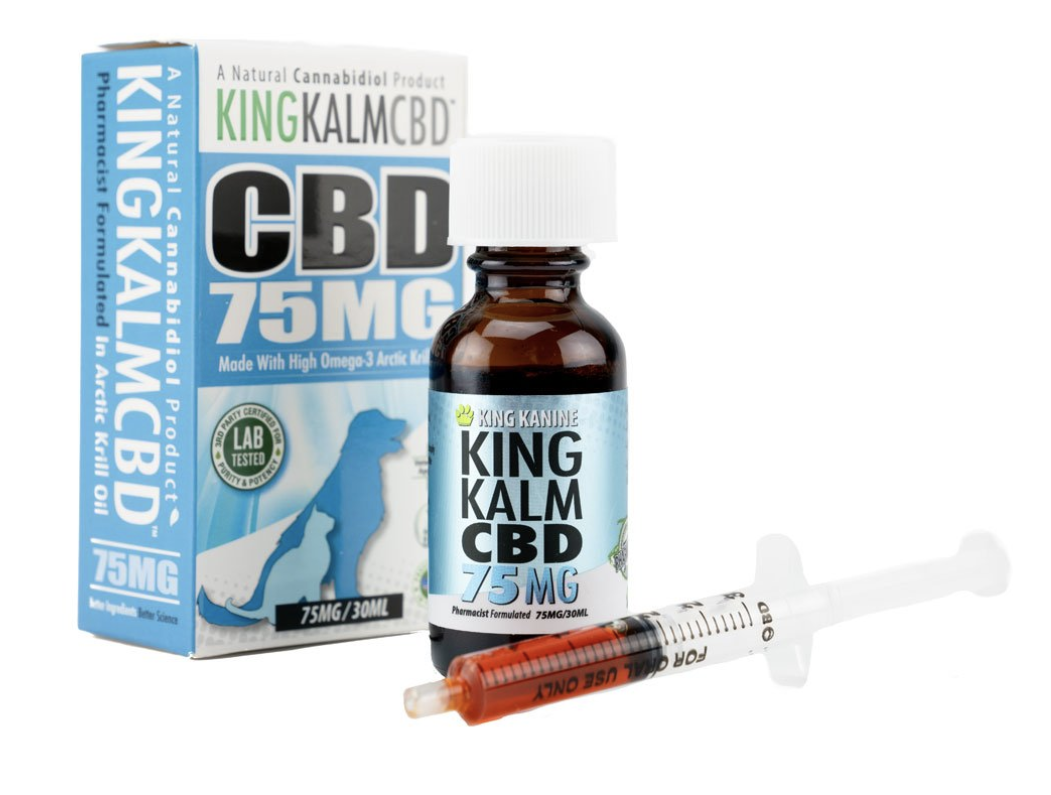 As the name implies, this general CBD oil may help calm stressed out doggos. The hemp oil s made with healthy omega-3 rich krill oil and has been tested in a third-party lab.  It also comes with an oral syringe for easy administration.
Price: $39.99
Turkey Dinner CBD Dog Treats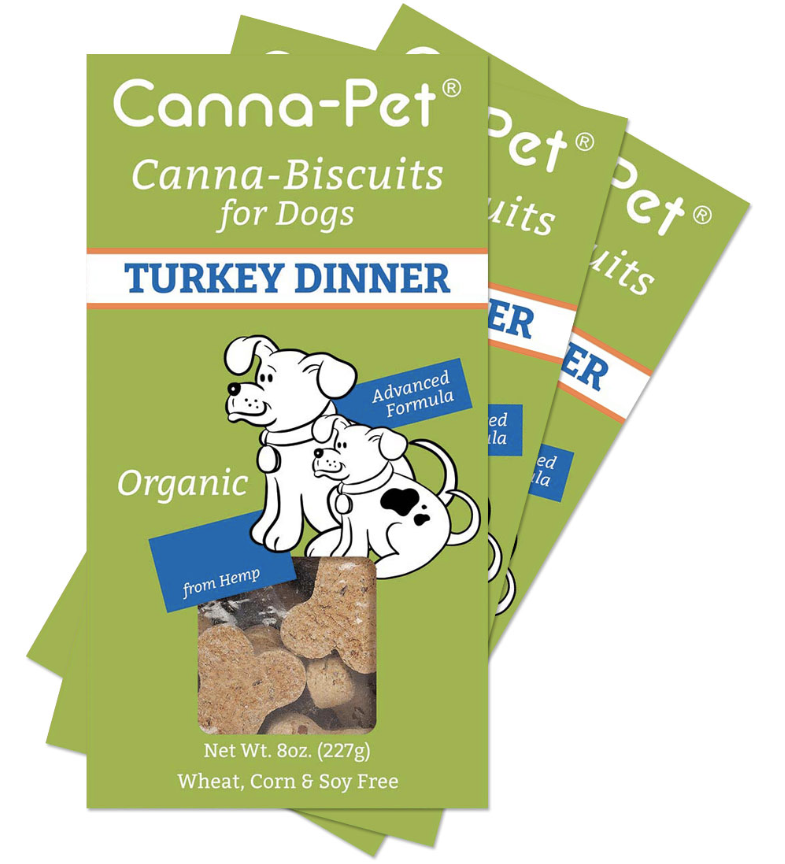 Baked with organic and non-GMO ingredients, these treats have a mix of CBD compounds and terpenes.
Price: $39.99 for 3 boxes
Best CBD Oil for Dog Pain and Arthritis
Early studies show that CBD can help with pain and inactivity in dogs with arthritis. Since CBD has anti-pain effects, you don't need a specific pain relieving formulation. However, specific formulations may have additional ingredients that could combat dis-ease.
Muscle and Joint Dog CBD Oil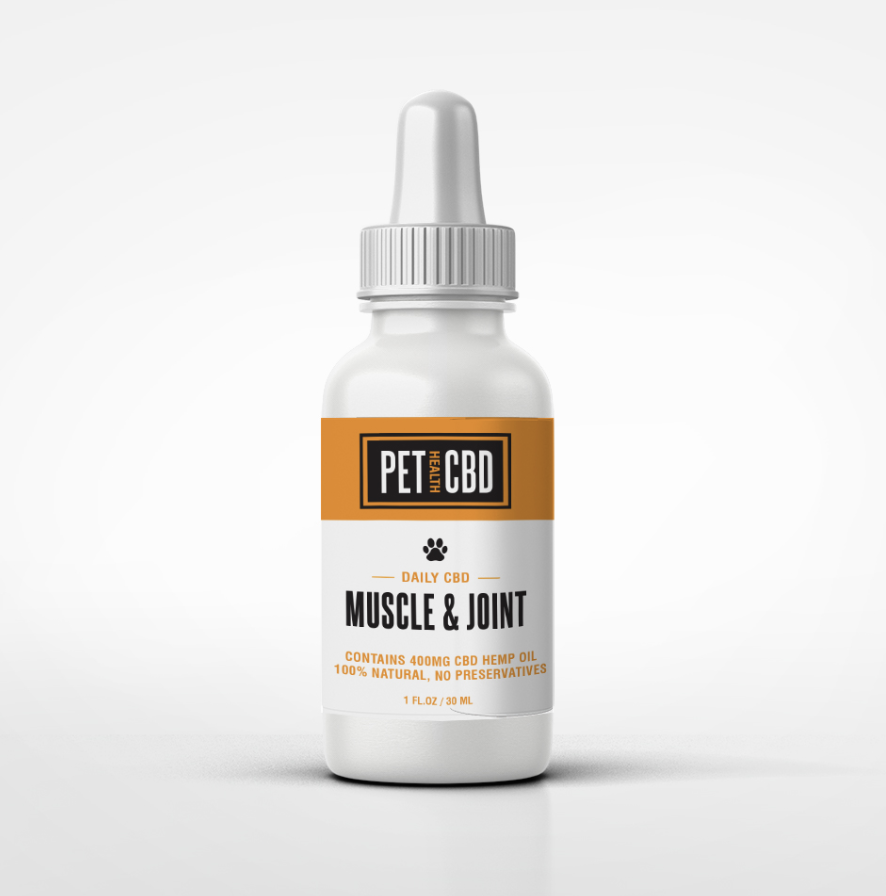 If your dog is experiencing arthritis pain or muscle aches, this specially formulated CBD tincture may help reduce inflammation to get your dog back to their normal selves.
Price: $39.95
Me & My Dog CBD Tincture Oil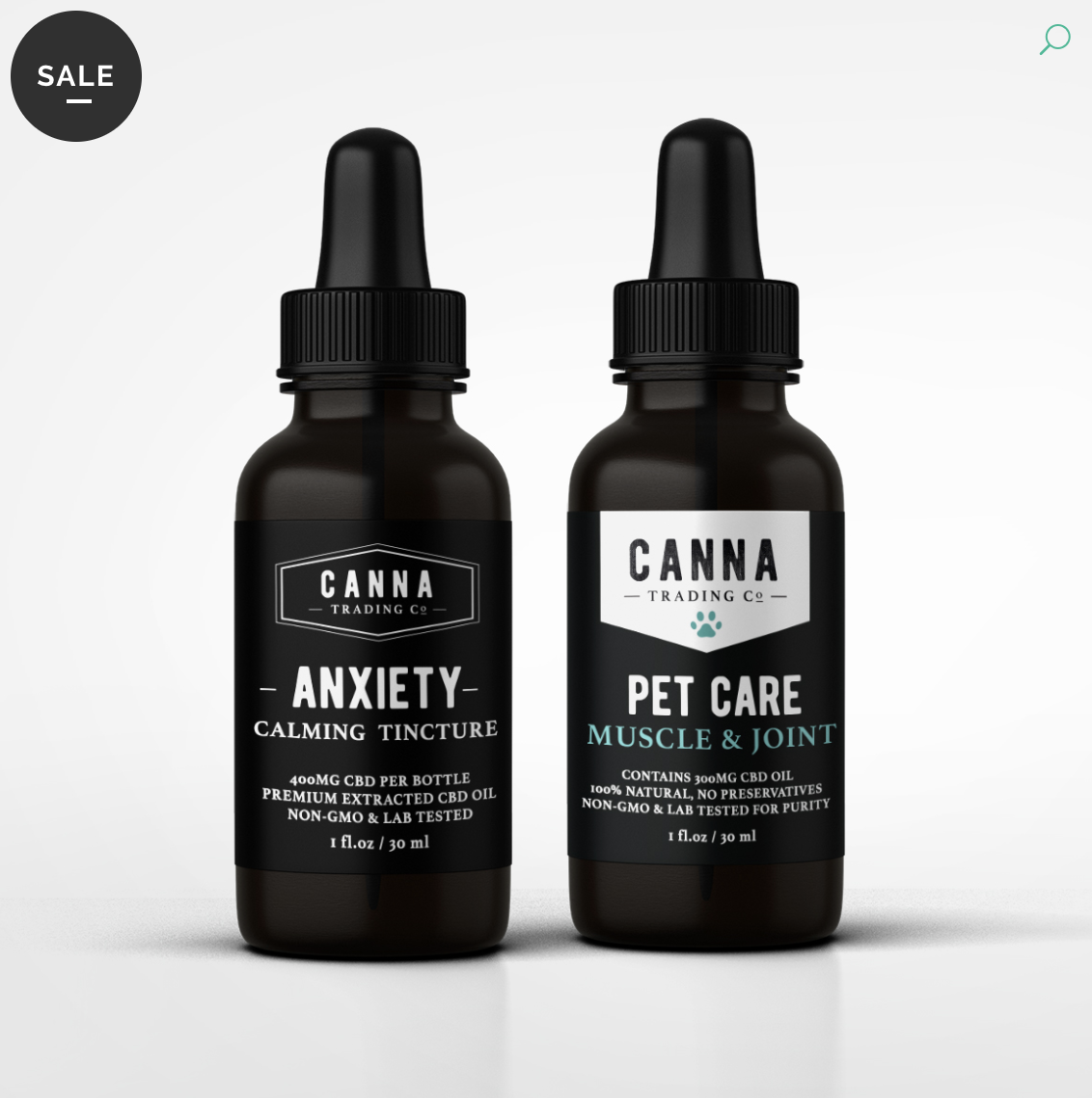 If you're looking for a CBD oil for yourself too, this bundle includes a calming human formulation and one for joint pain.
Price: $80.69
Canna-Pet Advanced MaxCBD
This formulation is made from organic, whole plant hemp extract. The bottle comes with a dropper you can easily use to administer the oil in your dog's mouth.
Price: $79.99