Does your dog have separation anxiety when you leave in the morning for work? Does he cower when thunder rolls during a storm? Has previous trauma made him nervous of just about everything?
We have the solution. And no, it's not spending money on expensive and time-consuming dog training.
What if we told you a cannabis product was the best all-natural way to give your pooch the anxiety-free future he deserves?
But wait? Cannabis… that's like marijuana, right? Let us explain.
WHAT EXACTLY IS CANNABIS FOR DOGS?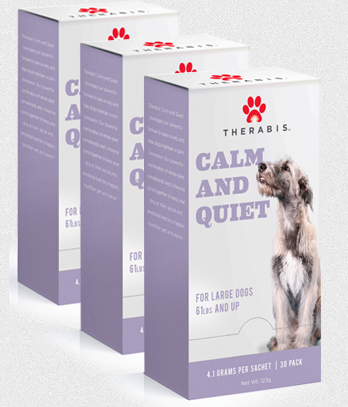 Therabis is made from hemp-derived cannabinoids. Simply put, CBD — which is a cannabinoid found in the cannabis plant — has proven to treat various illnesses in various studies. Researchers have found that cannabis with lower THC and higher CBD can be effective for relieving anxiety in humans. The same can be said for dogs.
The medicine also includes L-theanine, which has been proven in studies to increase a dog's human interaction and overall comfort.
The all-natural medicine to relieve dog anxiety comes in single sachets and can be mixed into your pooch's food.
CLICK HERE to try Therabis for 25% off– for a limited time only.
SIGNS OF DOG ANXIETY
Worried about/avoiding/escaping people and other animals
"Half moon eye" (looking sidelong and seeing the whites of his eyes)
Yawning with more intensity than a tried yawn
Panting without much physical activity
Pinned ears
Hiding during thunderstorms
Refusing food
Tucking tail
Low body posture and tense
Barking, chewing and urinating/defecating can indicate separation anxiety
DOG ANXIETY SEPERATION MEDICATION
Anxiety is very common in dogs who have been adopted from shelters. Sadly, many of these pets have trauma from the abuse of their previous owners. Because of this, they could be untrusting of their new, loving owners. Using Therabis can help erase the painful memories of previous owners and can calm dogs so that they realize their future is brighter and safer.
DOG IS A MAN'S BEST FRIEND — BE HIS TOO
He's there for you on the bad days. Now you can be there for him, too. The Calm and Quiet blend by Therabis increases your dog's beta wave production and decreases his stress. The product is not a gimmick. It's backed by 25 years of veterinary experience, research and development.
Don't believe us? Try it out yourself. We got you a 25% off offer for a limited time only.
A happy doggy is a happy family ?