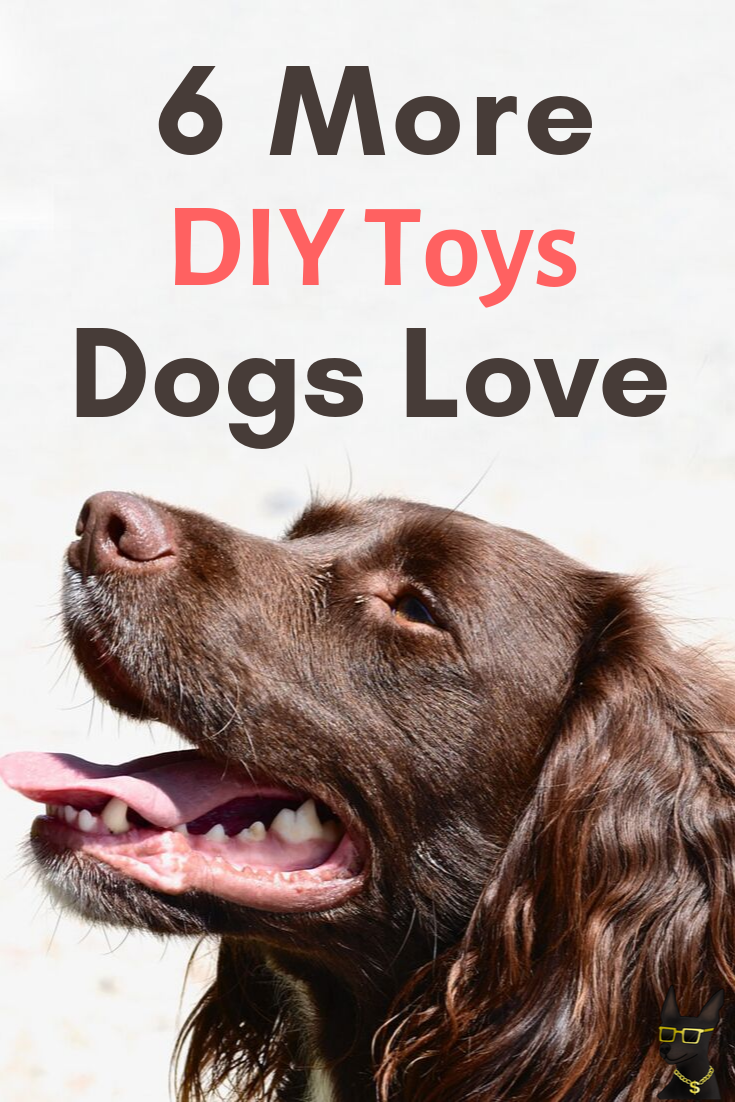 Your dog thinks they can never have enough toys. He's probably right.
We originally posted 5 DIY Dog Toys You Need to Make Right Now, but decided that you probably need a few more.
Why? Well, for a couple of reasons.
#1 Dog Toy Variety
To put it simply, dogs get bored. Imagine if you're a dog and you have to play with the same three toys over and over for the rest of your life. Your best shot at getting a new toy is ripping up your old one and leaving it all over the house. That will force your owner to get a new one. Hey, maybe that's why dogs destroy almost every toy in the first place!
Like humans, dogs need new toys every once in a while. Different toys stimulate dog's minds in different ways. Keeping dogs on their feet helps keep them youthful and their brains sharp. Some of these toys are more traditional, such as the apple Kong or the jean knot. Others are new toys, such as the food trap toy, which will challenge dogs and make them use their brains.
#2 Why DIY Dog Toys?
Dogs need new toys, but it gets expensive to keep buying new toys. Most toys are pretty expensive and let's face it—many will be ruined just days after your dog gets his paws on it. While getting new toys is a nice treat, making toys yourself can be a great money saver and can allow your dog a better toy variety.
You don't have to love crafts to make DIY dog toys. You just need a willingness to make your dog a little happier and to put in a tiny bit of effort. The DIY toys we've listed here don't require any talent. In fact, they hardly require any materials. One of the toys isn't even really a DIY, it's a household object you probably never really considered could be a toy.
However, if you are creative the options for DIY dog toys are literally endless. This list can spark your imagination and can inspire other ideas. Think about common household objects that you can use different. Many empty containers can be used as toys or can be transformed into a new type of toy with a few simple tweeks. Fabrics can be sewed, stuffed or knotted to create new toys as well. Experiment with different types of fabric, especially ones that you think your dog will have a harder time destructing.
Easy DIY Dog Toys
#1 Apple Kong
Every dog loves the Kong, but we bet they will love this version even more. Cut the core out of the apple and fill the empty hole with peanut butter. Your dog will lick the Kong trying to get at the peanut butter and will eventually eat the entire toy. A Kong that's completely edible—what more could your dog want 🙂 This is also a great healthy snack to give your dog. It's one that you won't mind him destroying (because if he doesn't, it will rot). And it's a cheap treat that he will love for two reasons: it's a toy AND a treat.
#2 Ringing Tennis Ball
This toy is especially great for dogs that are blind or that are losing vision. Cut a hole in a tennis ball and insert a couple of small bells, or one larger bell. All dogs love playing with toys that make noise. And blind dogs will finally be able to play fetch too!
#3 Frozen Sock
Take an old, clean sock and run it under water. Ring the sock out so that it's no longer dripping and tie it into a big knot. Stick it in the freezer until frozen. Take it out and let your dog enjoy the hard-to-tear chew toy!
#4 Food Trap Toy
This toy will keep your dog busy for a while and will work his brain too! Cut a few toilet paper rolls in half and place them up in a dog food bowl. Add enough toilet paper rolls to cover the bowl. Drop some treats into each toilet paper roll. Call your dog over and watch him rack his brain, trying to figure out how to get the goods! He will have to knock over or move the toilet paper rolls to get to each treat. This is a great DIY dog toy to stimulate your dog's brain. This way, you're not just giving your dog treats for no reason. Your dog is working for the treats while keeping himself mentally sharp.
#5 Jean Knot
Unlike many other fabrics, jeans are harder to destruct, making is a longer lasting toy for your pup! Simply take an old pair of jeans and cut about a foot of fabric off. Tie it into a knot and use for a great game of tug-of-war or simply for a chew toy.
#6 Milk Jug
This is so simple that it really doesn't even qualify as a DIY. Plastic jug containers can be easily used as toys because of their handle and their plastic makes them more difficult to destruct. Your dog will love it as a chew toy or even as a different toy to play fetch with. Tip: Look for plastic containers or old plastic objects that can be used as toys. Try them out with your dog and see if he likes it. If you're going to throw the object out anyways, you might as well test it out as a toy first!
If you've made any of these dog toys before, make sure to leave us a note on social media to give us your tips and share your pictures. If you're new to making DIY dog toys and decide to make one of them listed here, post your pictures on our Facebook Page or tweet us on Twitter to let us know how it went. Maybe you're super creative and these ideas inspired you to come up with ever better DIY dog toy ideas. If so, we want to hear them! We're always looking for new ideas and new ways that we can make dog owners' lives cheaper and easier and to make dogs happier. If you share your ideas with us, we will promise to give you credit and praise!