It's close to Halloween and you've spent all the time on your own costume.
But what about your fur baby?
Even if you only have a day or two until the spooky night, there's some quick dog costumes you can pull off.
These costumes are DIY ones that you can make from home. However, remember that if you live in a big city, Amazon Prime delivers SAME-DAY. If that's an option for you, check out these guides:
If you order online, remember to measure your dog correctly, especially if you're buying it last minute and don't have time to return it. Use a tape measure or string to measure your dog and compare that against the specific costume's size chart.
With that being said, we recommend leaving enough time before Halloween so that you can exchange the dog costume if you need to. All you need to do is get on Amazon customer service chat and ask them to email you a return or exchange label. Then, pack it up, send it off and wait for your exchanged size.
TY Beenie Baby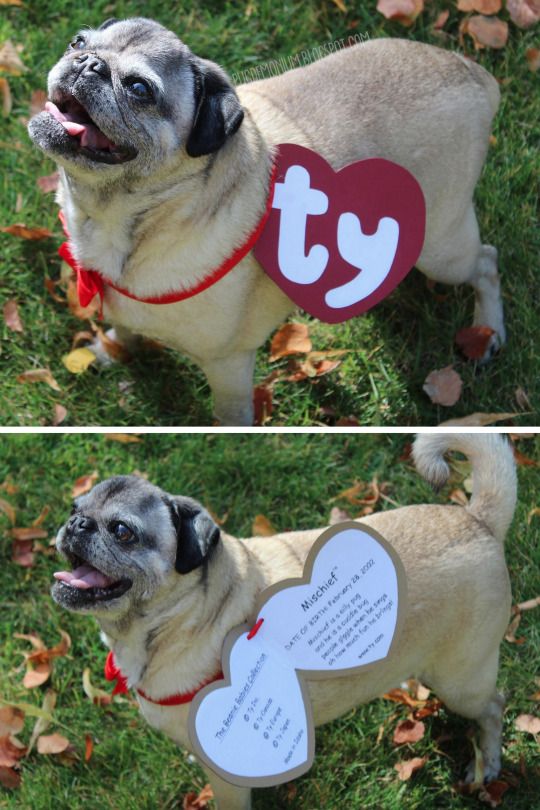 Remember the TY Beenie Babies? They were so cute—and so is your dog. So why not make him a Beenie Baby for Halloween? All you need is red ribbon, cardboard, paint and only a tiny bit of artistic talent. The easiest way to make the tag inside is to make it in a Word document and print it out. Look at some Beenie Babie tags for inspiration and put your own spin on it!
Undercover Dog Cops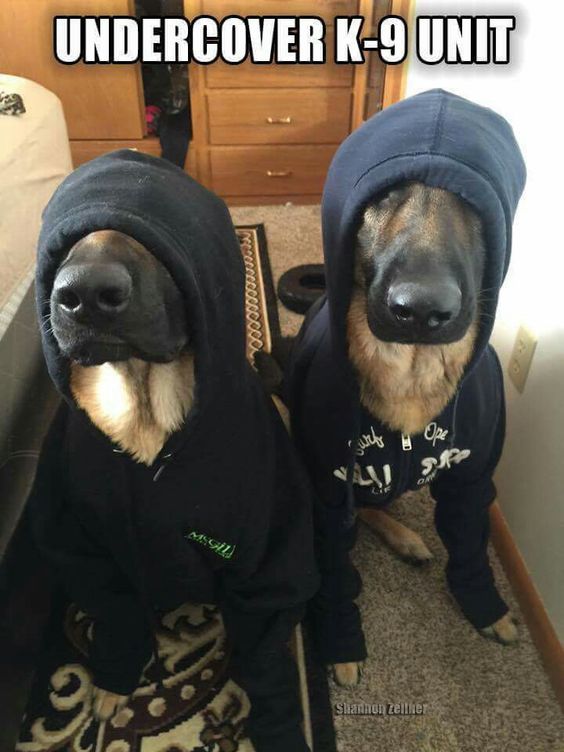 All you need is a sweater—which you probably already have! Then, put it over your dog's head whenever you want him to look like a tough undercover cop.
Dog Baby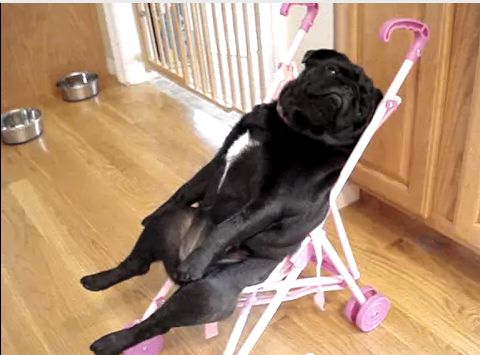 If you have a little dog, put him in a doll stroller and he automatically has a Halloween costume! A baby! He also may enjoy being strolled around all day–especially if it involves snacks!
Shower Pouf!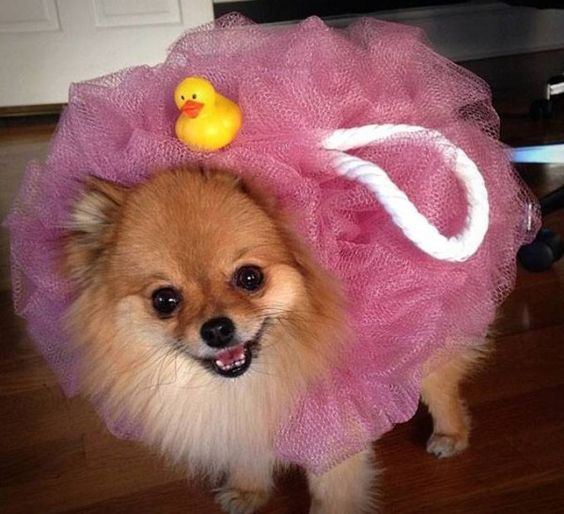 So adorable. You can find the Pouf material at a fabric store and attach some to a rope. He will forever be clean. Squeak Squeak.
Poop Emoji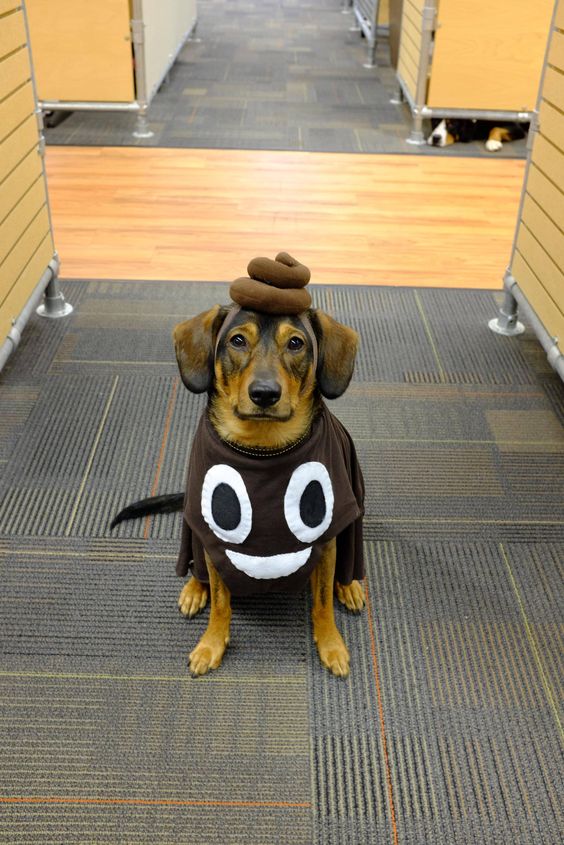 Not the fanciest costume—but it's hilarious! If you're crafty, you can make your own poop emoji smile dress, or you can just use a brown fabric or t-shirt. You can find poop plush toys at dollar stores or other specialty stores. If you're in a pinch, you can also get one on Amazon with same-day shipping. Once you have it, attach it to a headband or stretchy elastic and your pup will be a party hit!
Skunk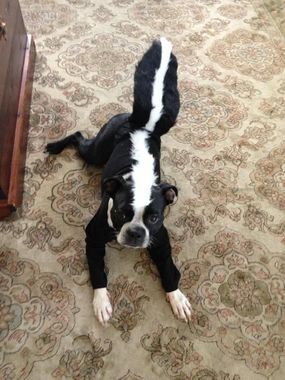 If you have a black dog, you can simply buy some white dog hair dye spray (made specially for dogs!). Spray a line down his back and he's very clearly transformed into a skunk! To make it even more realistic, let him roll in something super disgusting on Halloween (just kidding, you'll regret this).
Skeleton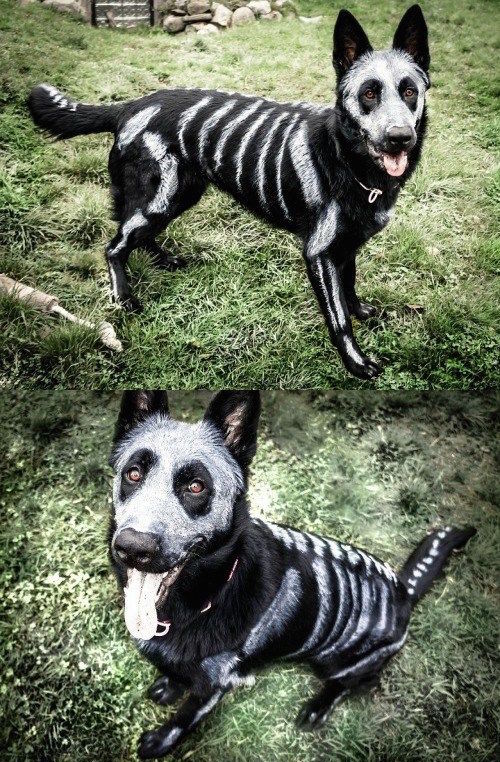 Another spray paint option! If your dog is black, you can use your artistic talent to create a skeleton on his coat. Such a good idea! Just remember to use spray paint made for dogs. Also, keep it away from his eyes and be extra careful if you're doing a face design as the above picture shows.
Dog Rocket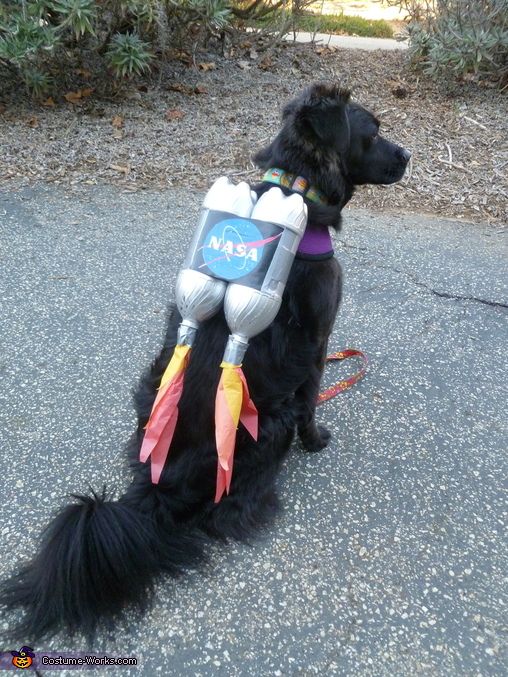 Now this is a little more complicated—but if you can pull it off, it will be great. You only need a few simple items, such as 2 large soda bottles, paper, tissue and a harness. You can print out the NASA logo on your computer and attach it to the pop bottles. You can either spray paint those silver or stik silver tissue paper inside to change the color if you're in a pinch.
Starbucks Cup
So cute, right? All you need is cardboard, paint or logo print out and a lid! When people ask what he is, you can say he's a Pupuccino 🙂
Amazon Prime
With Amazon Prime, if you live in a popular city, you can get many dog costumes delivered within 2 days- sometimes same day! Here's a selection