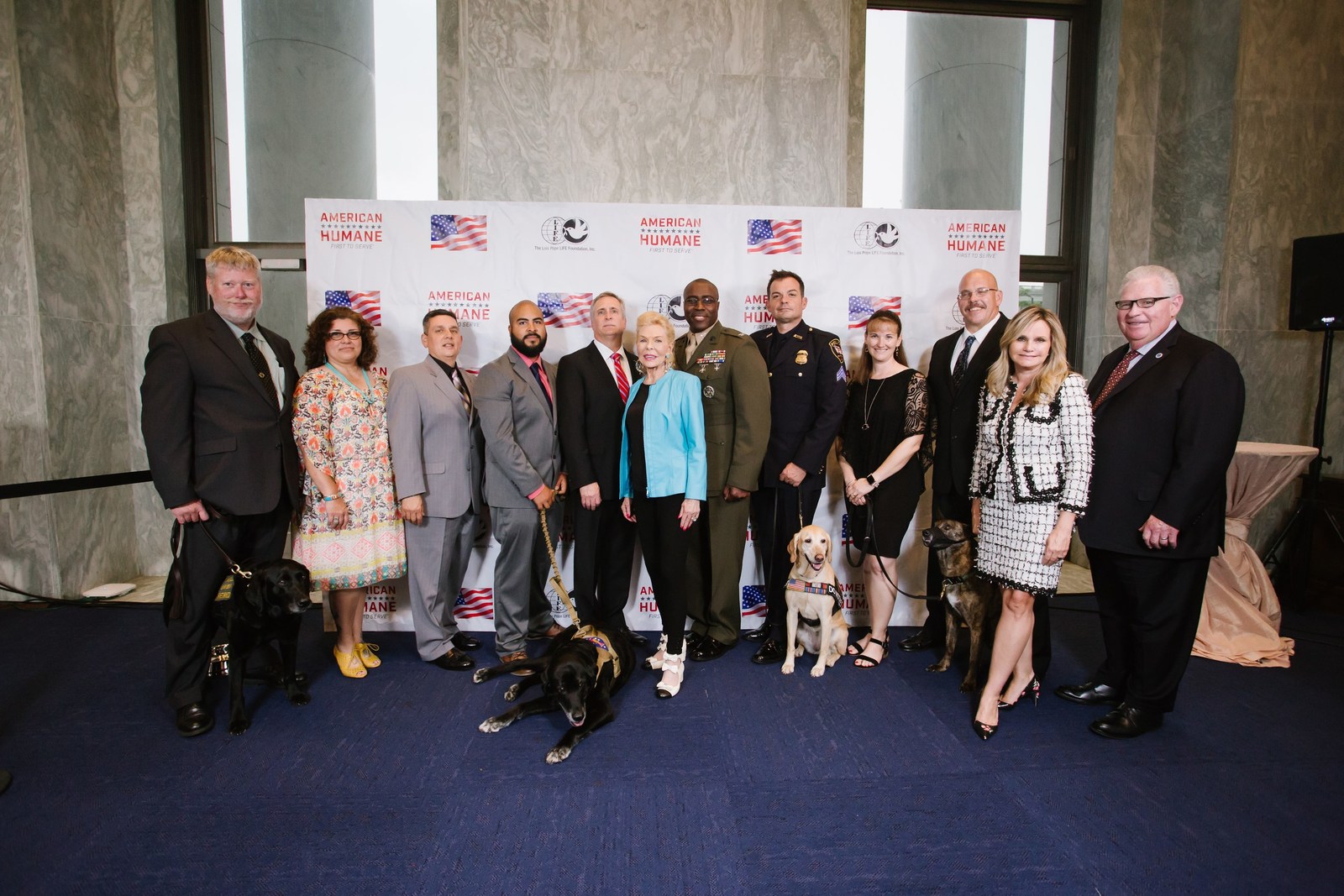 Four heroic military dogs were recognized with the nation's highest honor for canine service to our country in a special ceremony on Capitol Hill Tuesday with top military leaders and members of Congress.
The courageous canines were the 2018 recipients of the American Humane Lois Pope K-9 Medal of Courage, presented annually to a select few outstanding military dogs for their extraordinary valor and service. Created under the aegis of American Humane, the country's first national humane organization, which has worked with the U.S. military for 100 years, and internationally renowned philanthropist and veterans advocate Lois Pope, the awards were conferred upon the courageous canines with the help of U.S. Navy Rear Admiral Thomas Kearney (Ret.) and U.S. Marine Corps Colonel Zachary White.  Some 200 members of Congress, their staff, and the media attended the packed event.
"These remarkable dogs have given us their best.  They have put their own lives on the line to protect us, to defend us, and to save us," said Mrs. Pope, who conceived and spearheaded the American Veterans Disabled for Life Memorial.
"Working side-by-side with the men and women of our Armed Forces while putting their own lives on the line for our country, these dogs have taken loyalty to a whole new level through their service and, by doing so, have saved countless thousands of lives.  Today is the perfect time to properly recognize their valiant sacrifices and contributions to our nation at the highest levels."
"Soldiers have been relying on these four-footed comrades-in-arms since the beginning of organized warfare and today military dogs are more important than ever in keeping our service men and women safe," said American Humane President and CEO Dr. Robin Ganzert. "At American Humane, which has been working with the U.S. military and military animals for 100 years, we feel it is time to recognize and honor the extraordinary feats and acts of devotion these heroic animals perform every day."
Meet this year's medal winners
Jag
Specialized Search Dog Jag met Army Sergeant Dennis Dow more than a decade ago, when they were paired together on the first day of training. With Sergeant Dow at his side, Jag learned to detect deadly explosive devices and identify other threats to his platoon. The pair deployed to Afghanistan and Germany, where Jag worked to locate lethal bombs and other security threats. On their very first mission together, Jag sniffed out a hidden weapons cache of deadly artillery rounds, alerting Dow of the immediate danger. His tireless bravery and keen sense of detection was put to the test during thousands of searches and hundreds of missions… but Jag tirelessly defended his fellow comrades. Jag, now twelve, retired after seven years of courageous military service—that's almost five decades in dog years. Sergeant Dow, who is now retired, adopted his best friend and today the pair volunteer at their local fire department, helping provide comfort to the community after fires and other tragic incidents.
Taba
Taba is a nine-year-old Dutch Shepherd who served with the U.S. Army's Special Forces Group 10 as a Multi-Purpose Canine specializing in explosives detection, patrol, and tracking during her two years of service. Taba was adept at locating deadly IEDs and bravely participated in many dangerous raids during her deployment to Afghanistan, saving an unknown number of lives.  After Taba returned from service, she was adopted by a former K-9 police dog handler and his family. As the family helped Taba adjust to retirement, a previous injury in her rear leg began to flare up, eventually requiring amputation. Taba is healing from the recent surgery and this warrior is now living out the rest of her days free of pain, just as she deserves.
Taker
Taker is a 12-year-old Labrador Retriever who served with United States Marine Corps Sergeant Kevin Zuniga in Iraq and in Afghanistan during Operation Enduring Freedom where he worked as an Explosives-Detection Dog. During that time, he saved uncounted lives while risking his own under harsh environmental and psychological conditions. Taker is retired from military service, but he continues to serve in another capacity. He now acts as a life-changing service dog, helping his longtime Battle Buddy cope with Post-Traumatic Stress, which affects so many of our brave warriors. In so many ways, a war dog truly is a warrior's best friend.
Summer
Explosives Specialized Search Dog Summer is a seven-year-old Labrador Retriever who courageously served with the U.S. Marines Corps, conducting routine patrols, finding numerous weapon caches and IEDs, clearing routes and coming under fire several times during her years of service. Summer never stopped serving her country. Summer retired from the military but continues her selfless dedication to protecting our country. Today, she works as a member of a TSA K-9 team for the Amtrak Police Department in Washington, D.C., with her partner, retired U.S. Air Force Sergeant Micah Jones. The inseparable pair has provided coverage and security for VIPs and foreign dignitaries and works each day to play a vital role in the war against terrorism.