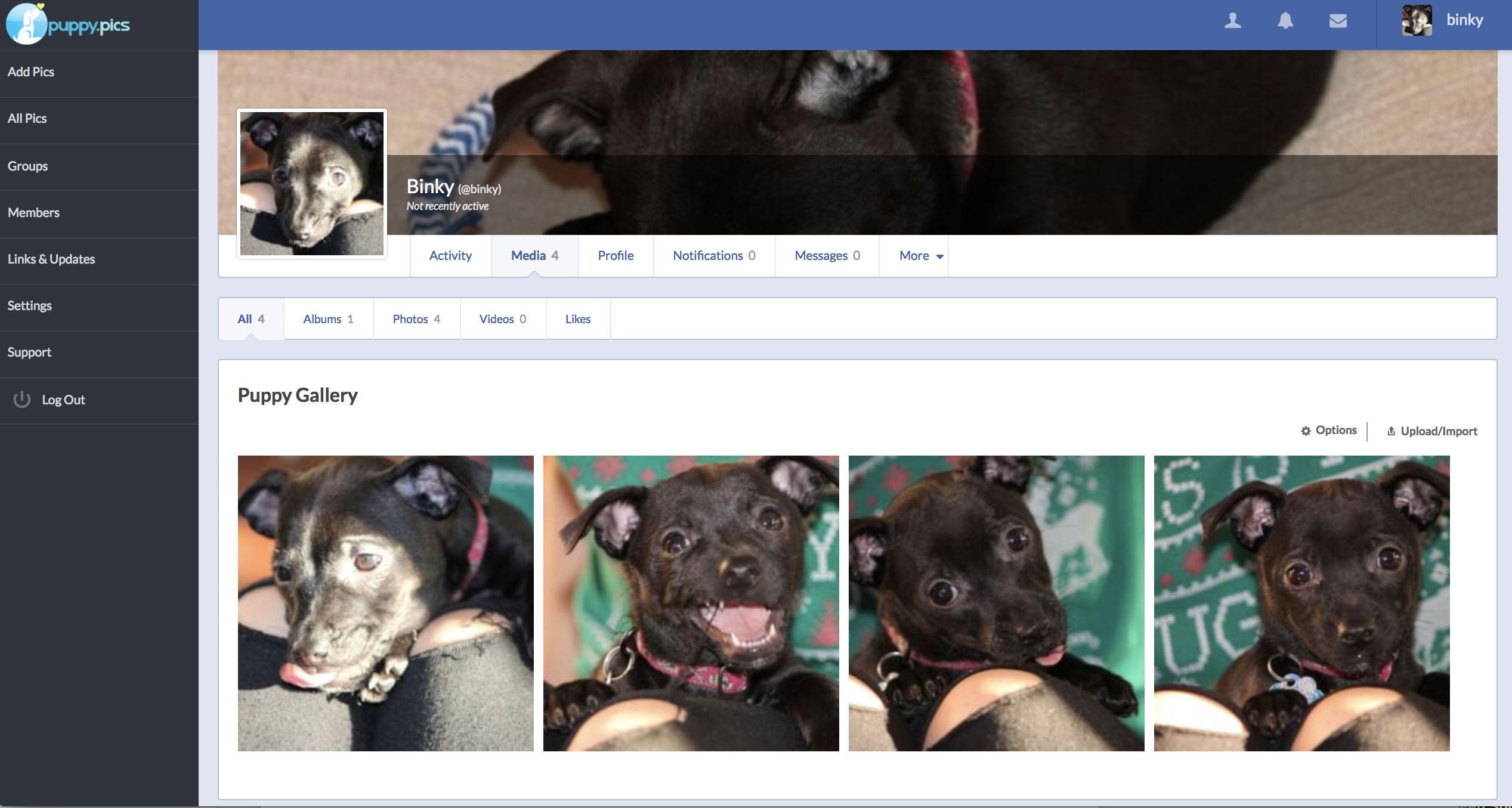 Puppy.pics is a new site similar to Facebook—but with the best people: dog lovers only.
Sign up
There's two ways you can sign up:
Using your Facebook account. This way, the site will automatically fill out your profile picture and handle. This is a great option if you want a super quick and easy sign-up. However, if you'd rather use different information than what's on your Facebook, option #2 would be better for you.
Fill out a standard sign up form.
Setting Up Your Profile
If you didn't import your info from Facebook, you'll need to set up your profile. First, click "Change Profile Photo" to add a photo. Here, we decided to add a photo of our own dog since we used his name on sign up. But you can also use your own pic and name.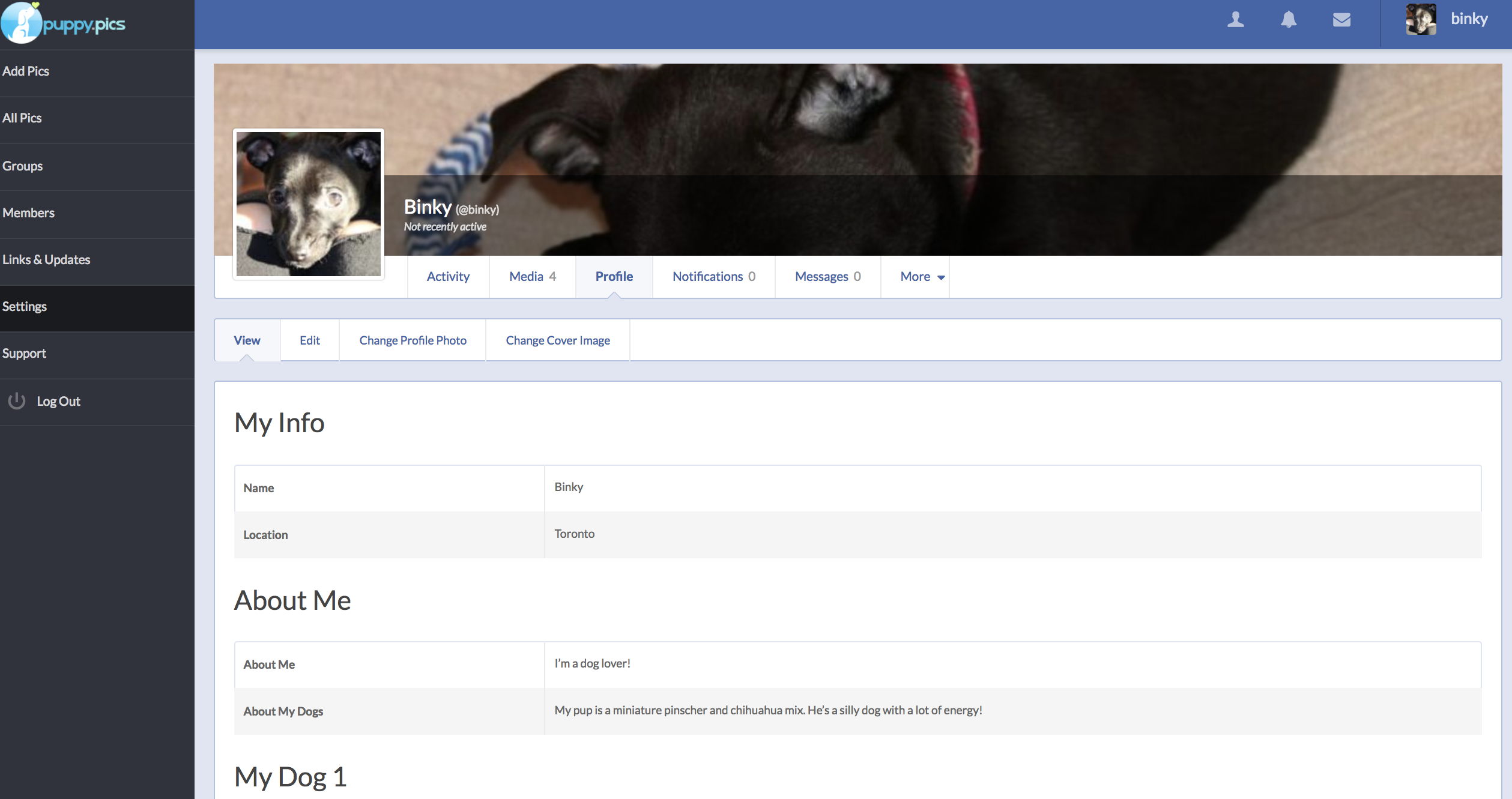 Next, click "Change Cover Image." The same as Facebook, the photo you choose will be the banner for your profile.
Then you can click the "Edit" tab. Within that tab, you can click "About Me." Here, you can add some info about yourself and also about your doggy!
You can also make a mini profile for each of your dogs under headings like "My Dog 1" or "My Dog 2" etc. Fill in the name, breed, birthday, photo and about the dog.
If you click the "Media" tab, you can also add more photos of your dogs.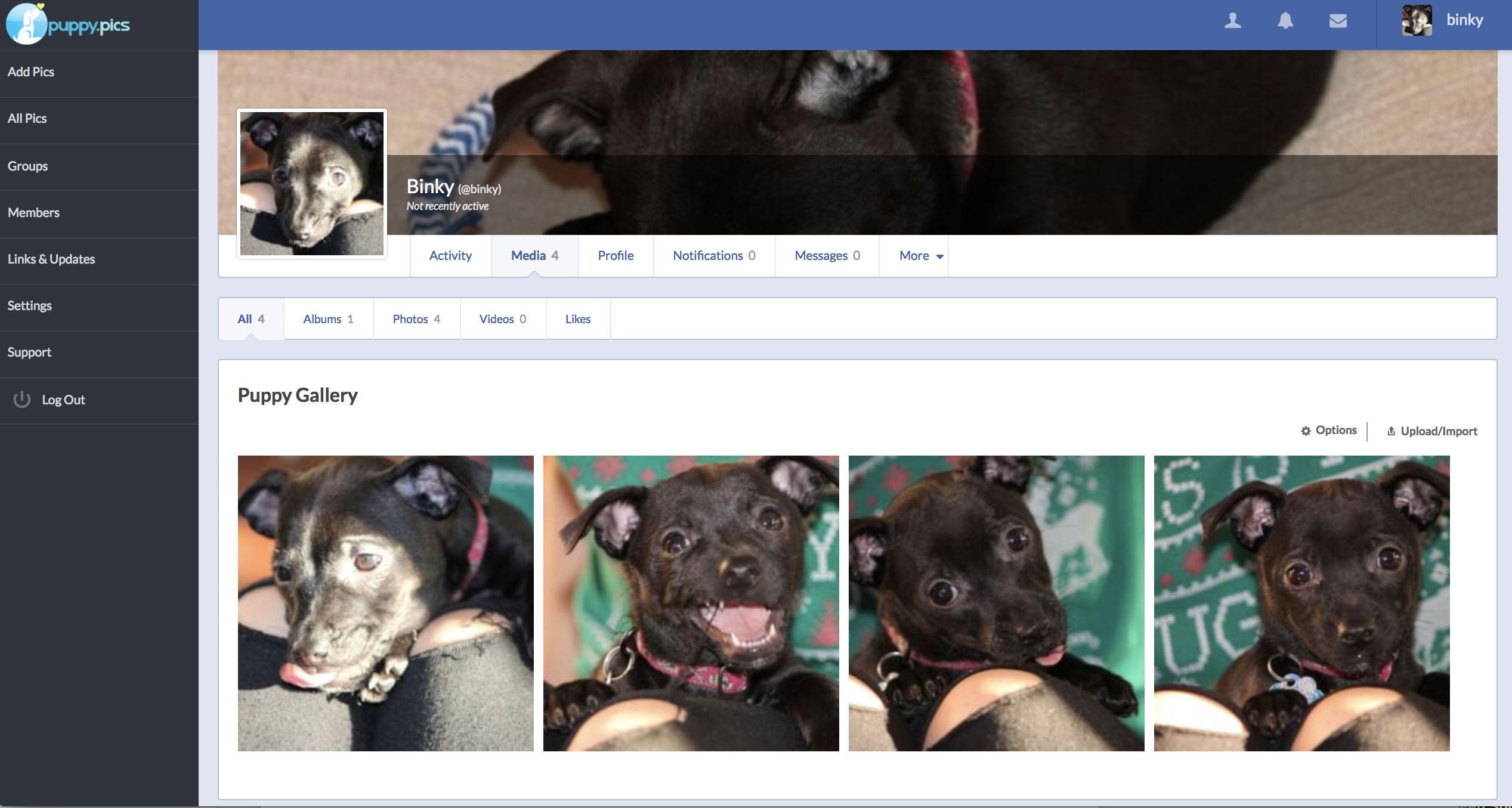 As with Facebook, you can select the privacy settings you'd like for each part of information you fill out.
Using puppy.pics
Now that you're all set up, you're ready to use the site! If you have a Facebook account, this site will be pretty easy to navigate.
You can use the menu on the left side to click "All Pics." Here you can see the pics everyone else has uploaded.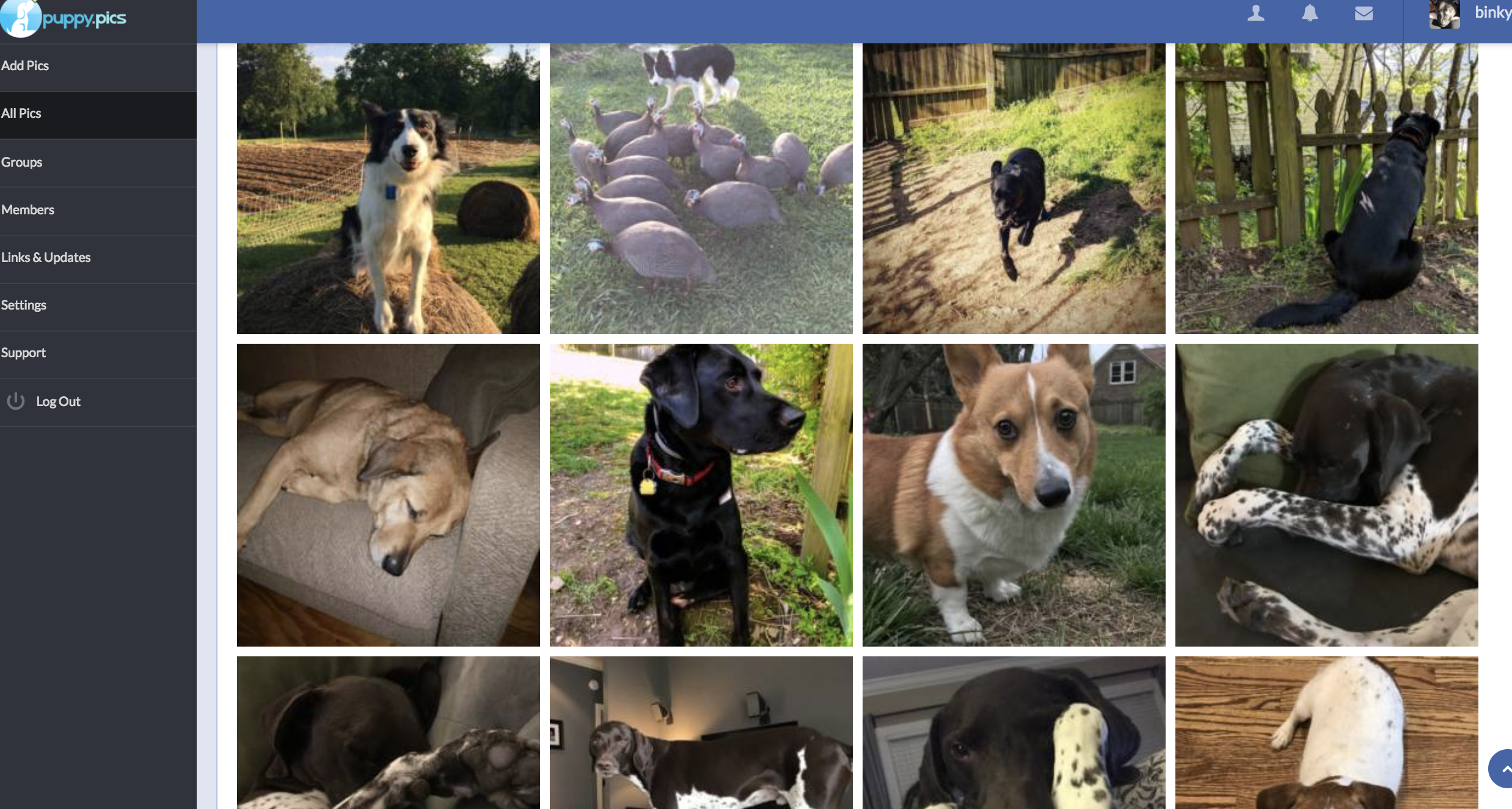 On Facebook, you can "Like" a photo. The equivalent to this on puppy.pics is giving a treat. If you find a dog cute, you can click the "Give a Treat" link. Of course, you can also comment.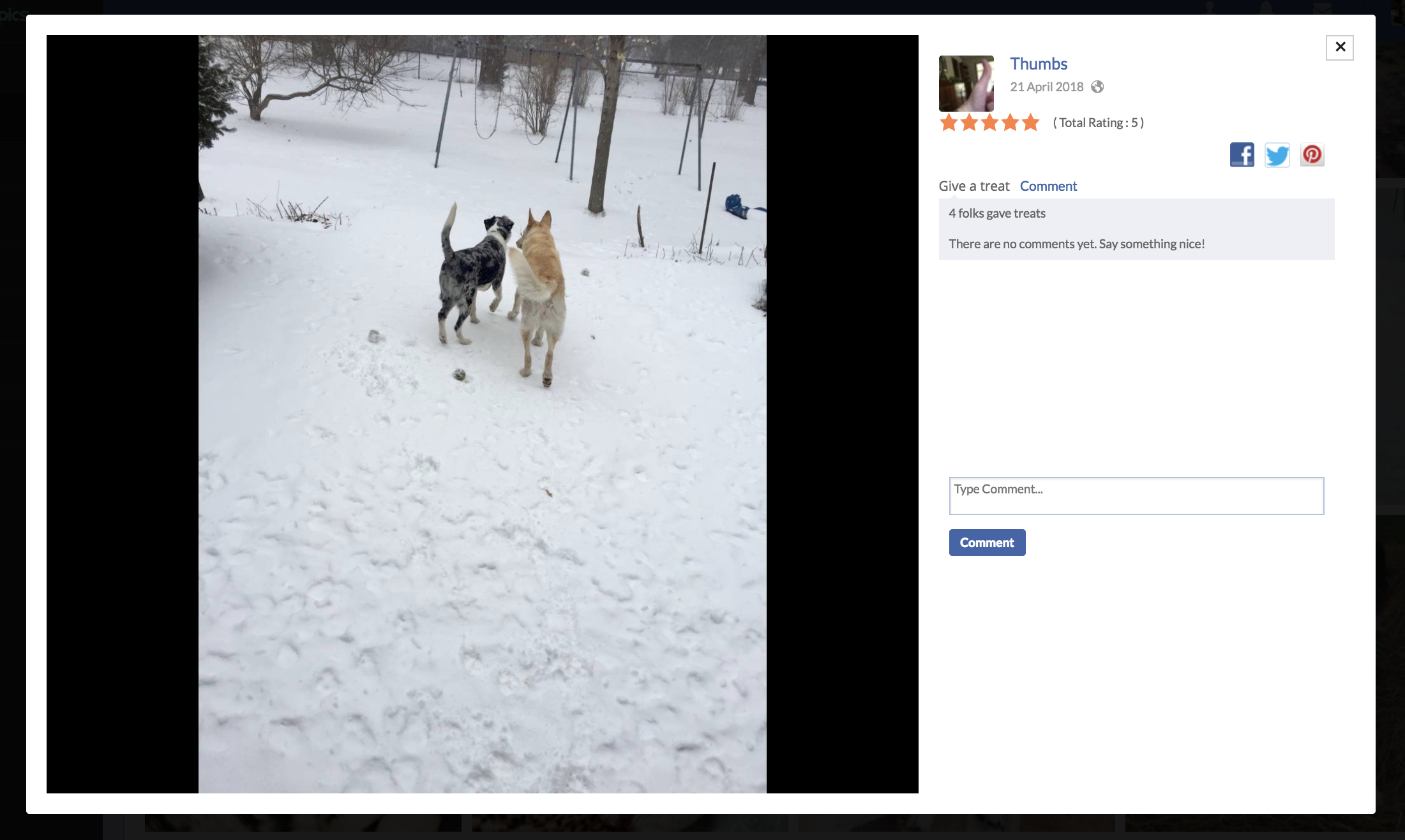 This is also a good way to find other dog lovers' profiles. Once you click on a profile, you have the option to add them as a friend or follow. You can also send them a public or private message.
Another way to meet potential friends is to click the "Members" tab on the menu on the left side.  You can scroll through members or search for a person.
To see your "timeline," click on "Links and Updates" on the left-hand menu. This will include updates from your friends or anyone who has made their info public.
Another way to get social is to join a group by clicking on the "Group" tab. There are groups for specific breeds or topics, such as dogs who have passed. If there's a specific group you're looking for, you can search it.
What We Think
Since the puppy.pics layout is very similar to Facebook, it's easy and intuitive to use. Also, as opposed to Facebook, here you don't need to read about people's negativity or crappy political views. It's a place everyone can come together just to love dogs! We love it!