Dogs love to have their own space to retreat to when they're tired or overwhelmed with the world.
But sometimes the designs of cages and houses aren't the most aesthetically pleasing—except for the options in this post.
Some of the dog houses can be used outside or inside or both. From balconies and patios to full-on ranch-style homes, there's an option for every pup personality.
Best part? You can find all these dog houses on Amazon.
Modern Indoor Dog House with Wire Door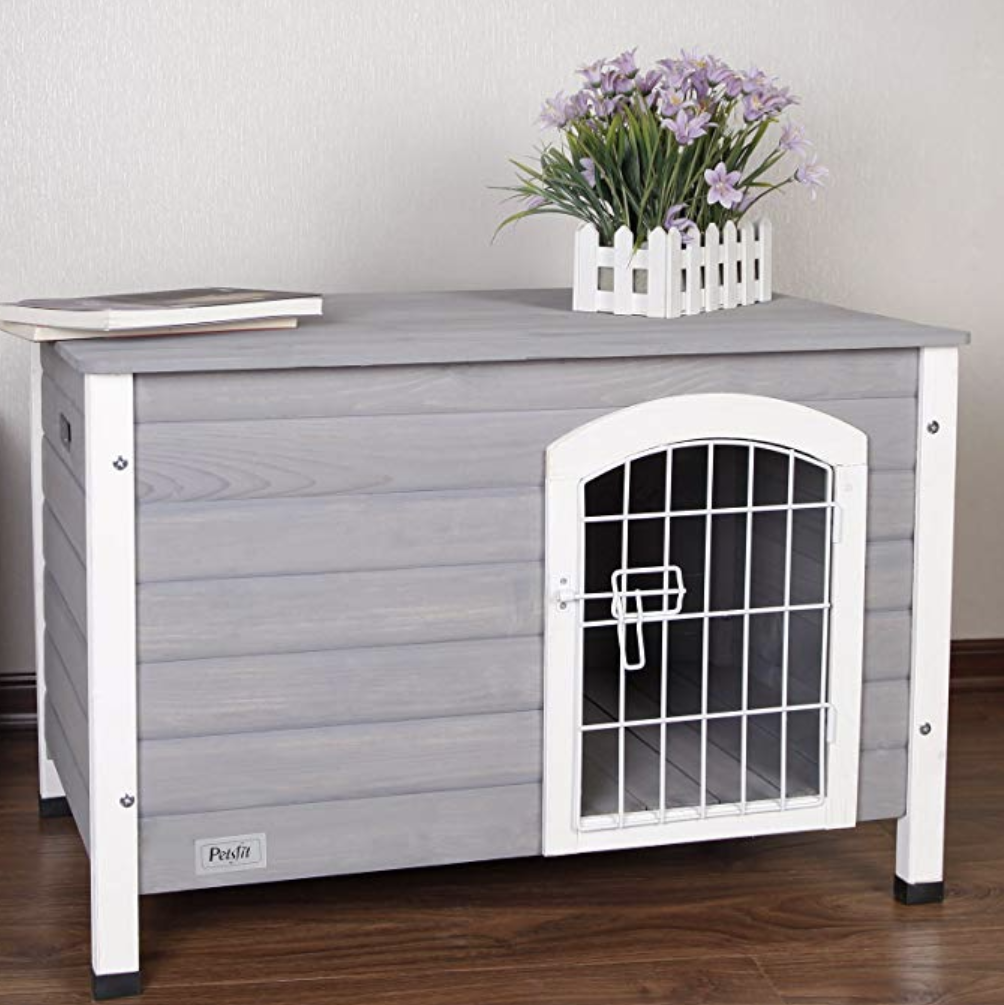 This color would fit perfect in any home with a modern or minimalistic design. While the wire door makes it into a cage, the solid top surface can be used as a table to display items on.
Price: $119.99
Rating: 4/5 with 54 reviews
Pawsative Ruffview: "This product is excellent. Looks right on point as the pictures. It looks great in the corner of my living room, like actual furniture, I just love it. Highly recommended. It isn't cheap but it's a really good quality."
Weatherproof Wooden Cabin Dog House with Patio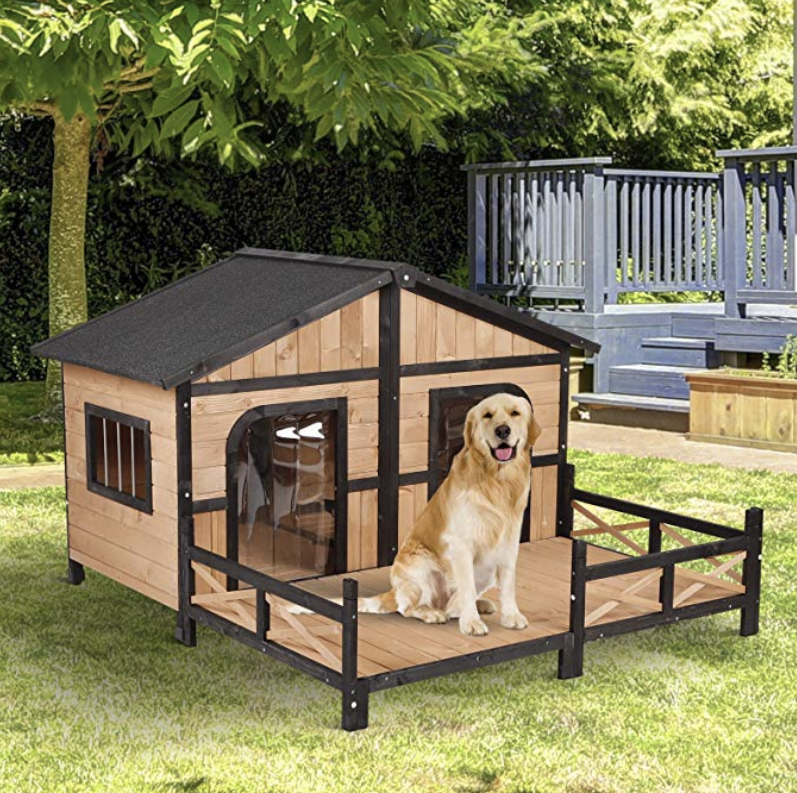 If you want your dog to have a home that's like an actual human home, we've found it. Not only does it feature a patio, but there's also 2 separate rooms inside. You can use it inside, but it's also fine outside with weatherproof construction such as a hinged roof and durable asphalt shingles. Since it's elevated, it protects the dog house from ground moisture.
Price: $339.99
Rating: 3.5/5 out of 15 reviews
Pawsative Ruffview: "Super cute, well built! Has lasted outside with all this ridiculous amounts of rain we got this year and looks as if it's still brand new"
Indoor/Outdoor Dog House with Stairs (with Free Warranty)
Similar to the previous kennel we shared, the colors are subtle enough to fit in any home or yard. It's made from kiln dried cedar and treated with a water-based paint, making it safe for dogs and cats. Of course, this house is only suitable for small breeds or cats. The wire latch makes the house a cage but can be removed for an open concept apartment and patio.
Price: $99.99
Rating: 4/5 with 100 reviews
Pawsative Ruffview: "My sister has a little tiny dog, kinda obnoxious if you ask me, but not too bad anymore. She prefers to kennel it up when she's not home and if we are eating. This thing makes that possible without the gaudy kennel, it's pretty cute actually and the pup likes to climb on it and rest on top when it is out. The little rat dog also enjoys it so much he will sleep in it even if he isn't locked in. Works well."
Hidden Dog House Nightstand Table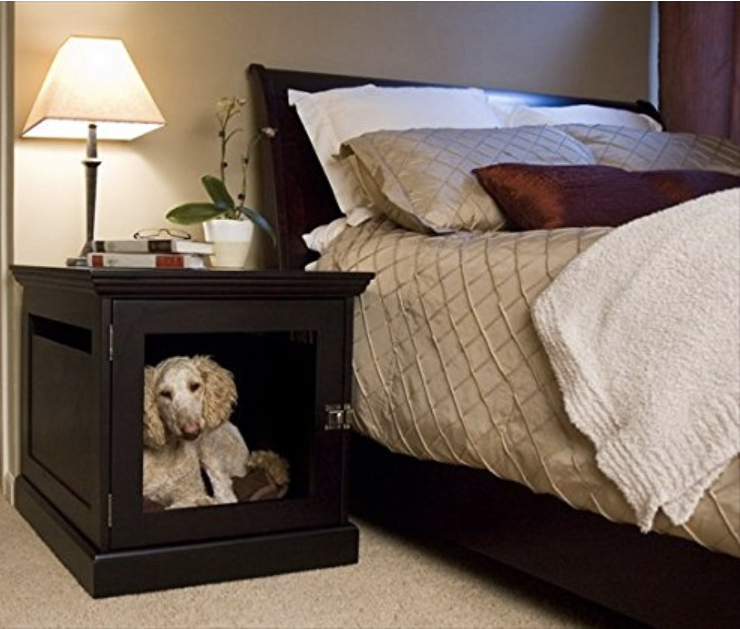 It can be hard figuring out how to integrate a dog cage into your home design. Cages provide the shelter pups love, but they're also not the most beautiful things you can own. Instead of trying to hide a cage, you can purchase a nightstand with a built-in cage. That way, your dog can be beside you every night too!
Price: $479
Rating: 5/5 with 2 reviews
Pawsative Ruffview: "I grew tired of the wire crate I used for my miniature dachshund and I've been looking at these for awhile. She likes to be "covered" when in her crate and I used a blanket. This looks SO much better and provides her with the amount of security she needs. EASILY could hold a much larger dog – certainly 2 – maybe 3 – mini dachshunds. It goes great between my two recliners in the den. Assembly was a breeze and it goes well with my Pottery Barn end tables. It is definitely a piece of furniture."
Dog House for Large Dogs with Porch: Fits 2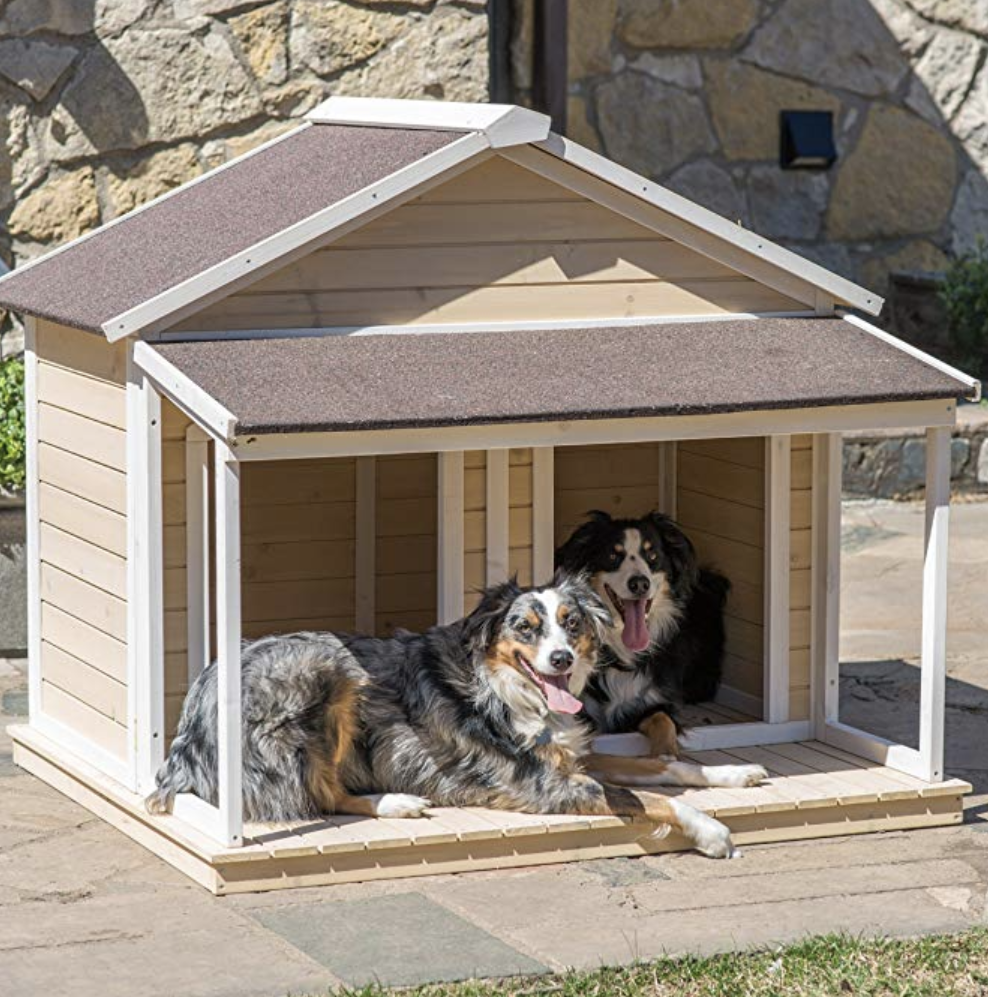 If you need a house for both of your pup pals, this one has two separate entrances. It's just like a townhouse! If you just want to spoil one dog, simply don't install the wood divider.
Price: $283
Rating: 3/5 with 17 reviews
Pawsative Ruffview: "My babies are a little too pampered and don't really spend much time outside but when they do, they can surely be found hanging out in their cute little duplex. It does have a piece of wood you can install to make it two separate rooms, but we noticed both dogs were just cramming into one side to be together anyway, so we took the wood panel out of the center of ours and now they have one large room with two doors. Everyone that visits, loves it as well and always asks where did we ever find such a thing!"
Outdoor Dog House with Natural Wood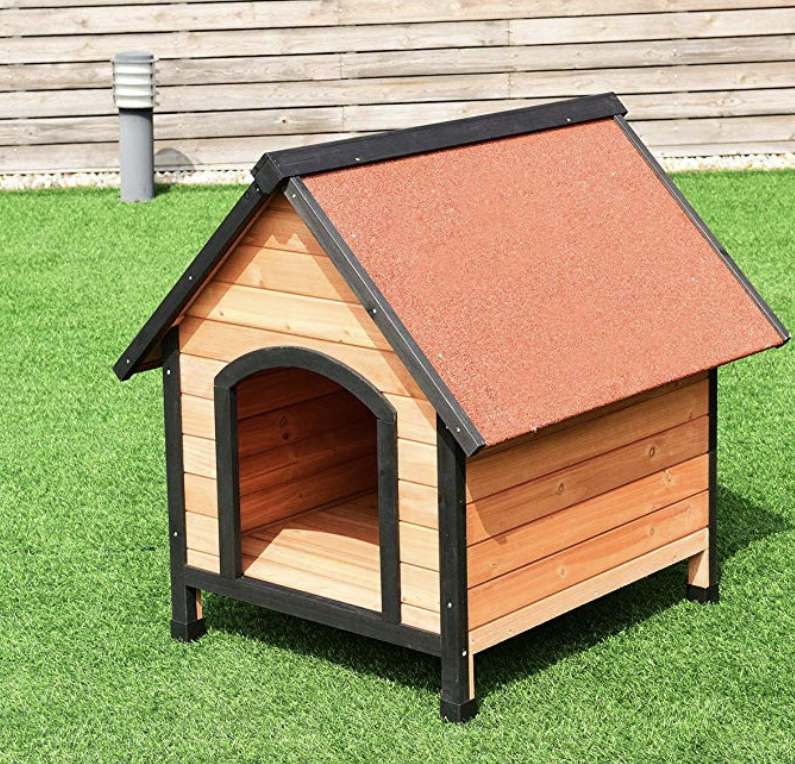 Coming in small and medium sizes, this house is made from high quality fir wood. It's easy to put together and makes a great compliment to any yard or garden.
Price: $92.99
Rating: 4/5 with 70 reviews
Pawsative Ruffview: "This dog house has a slat wood floor which allows drainage. We weatherproofed ours with some sealant before putting it to use, and it's been raining all week without much weathering of the wood (no leaking from the roof or walls as well, nice job Tangkula). This house is also really quite a nice looking house (stained wood, matching asphalt shingles); it matches our deck nicely versus the plastic ones. It also has feet which raise it off the ground slightly, which I think was a nice design touch. We are very happy with this purchase and our dog seems to enjoy hanging out in it when she's outside."
Outdoor Dog House with Hinged Roof and Cage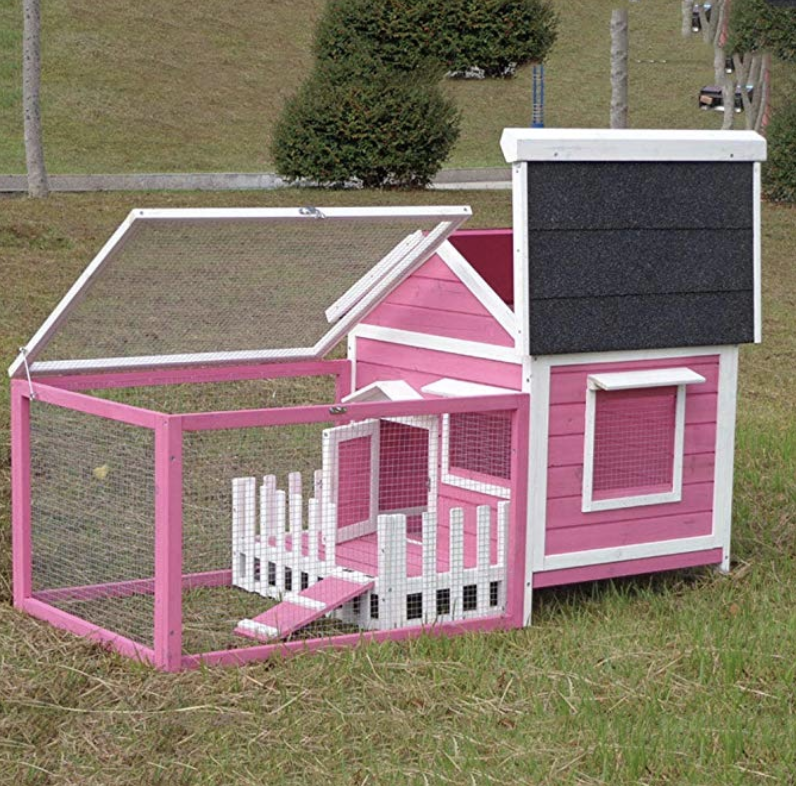 Although this ones only suitable for small breeds, it combines both a dog house and a cage in one. To make it easy to insert a bed, you can simply lift up the proof. It's elevated from the ground to prevent posture and the high-quality asphalt roof will last through the seasons. The company also offers different colors if pink isn't your shade.
Price: $902
Barn Insulated Dog House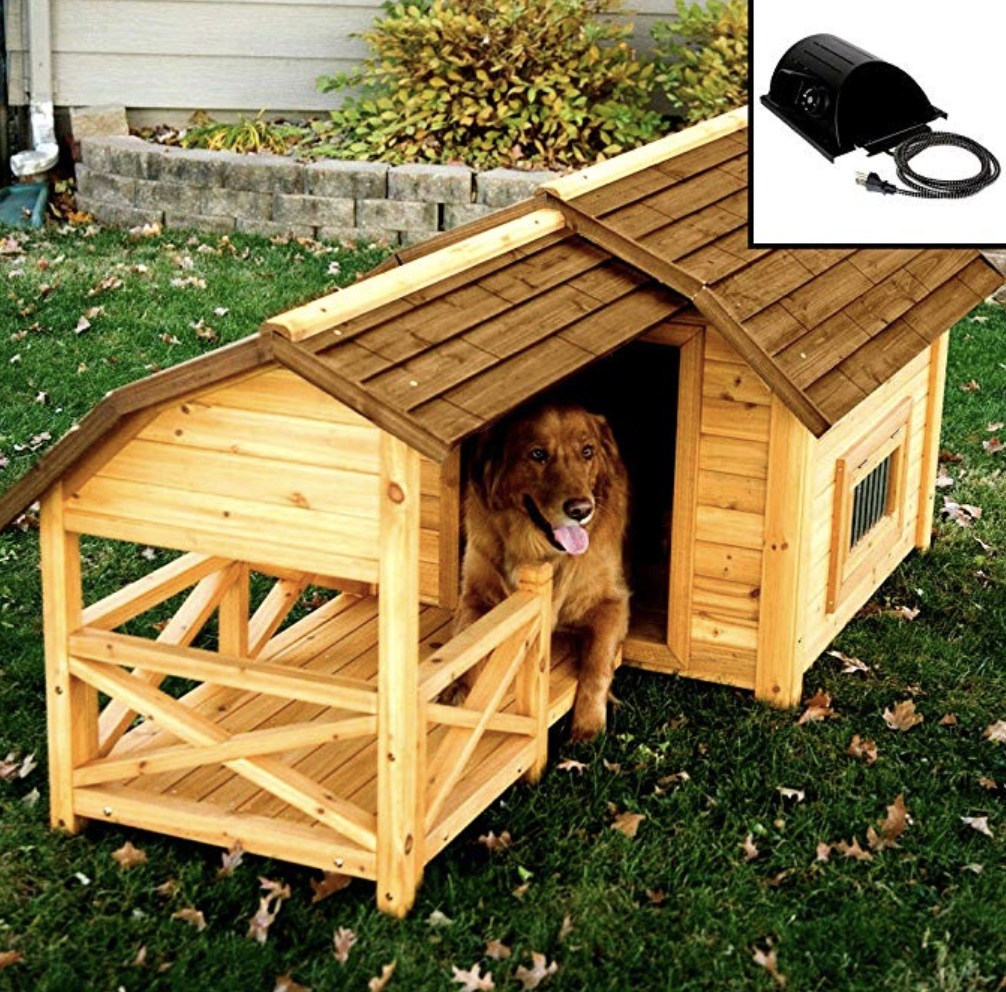 This dog house features a room for your dog to lay and a barn style porch so he can enjoy the views. The spring-protected cord of the heater is dog-safe and is thermostatically controlled.
Price: $670
Outdoor Insulated Dog House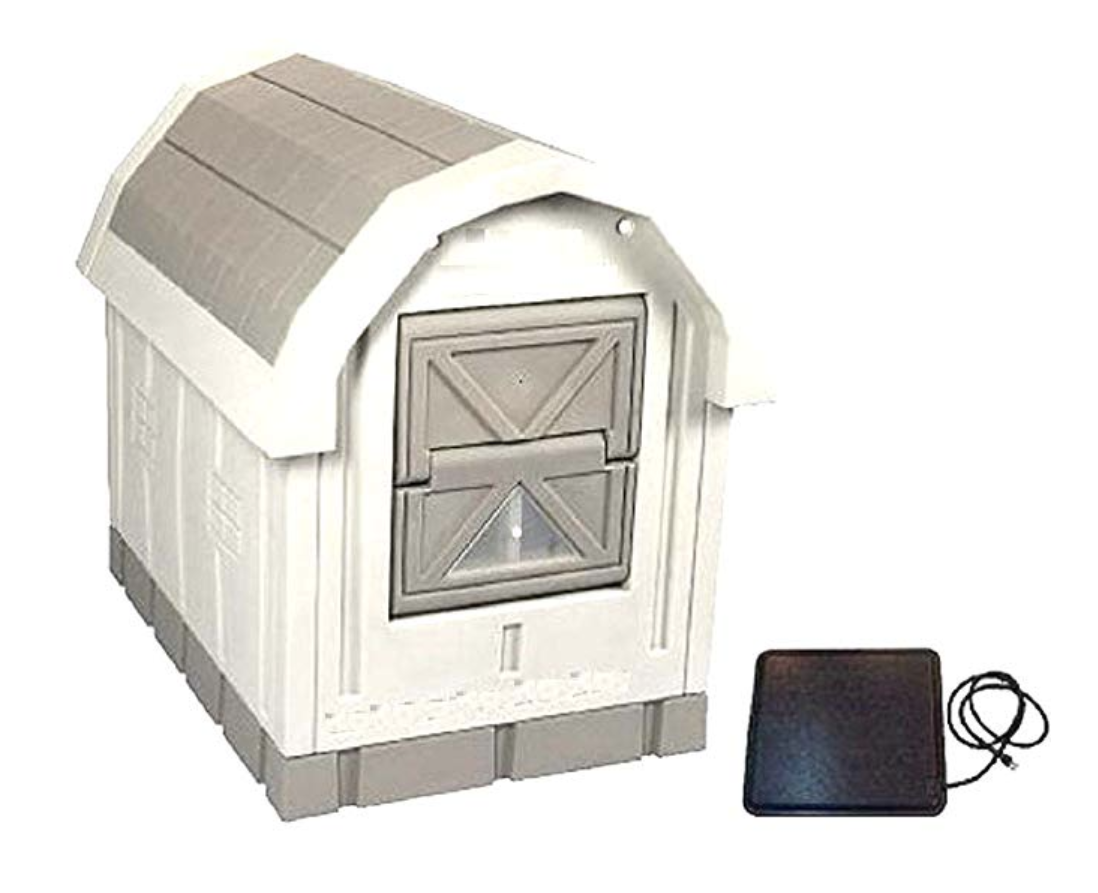 This durable dog house comes insulated heating pad and raised floor to keep your pup dry. The heating system has an integrated thermostat so you don't need to worry about adjusting it.
Price: $577
Anti-Corrosion Wooden Dog House with Rooftop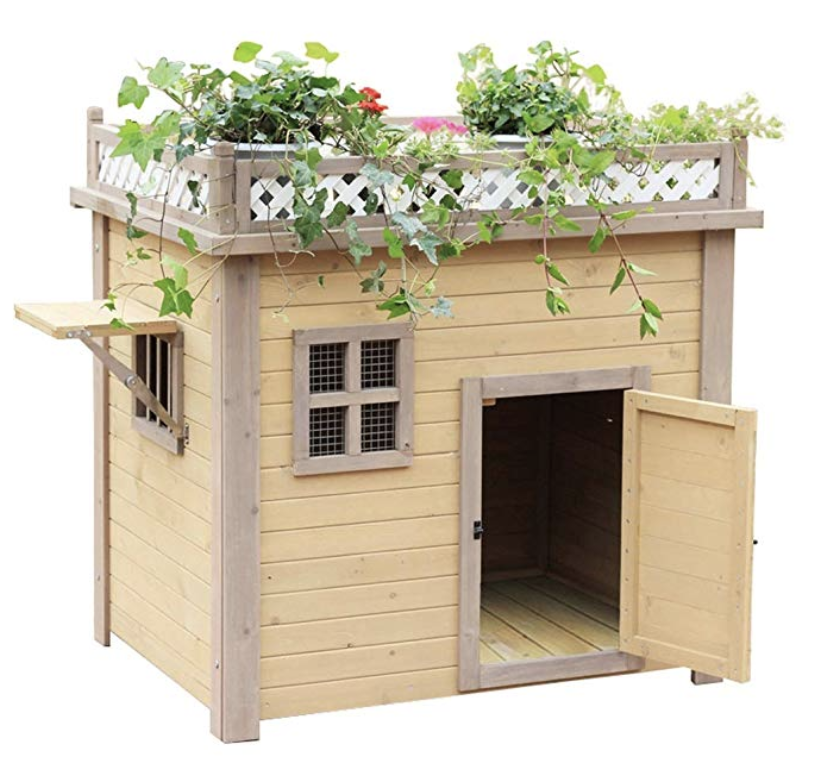 This house is so aesthetically pleasing that I could see someone getting it even if they didn't have a dog. The natural wood floor can be pulled out from under the door so it's easy to clean. The windows provide ventilation and the rooftop can be used as a mini-garden for a beautiful design.
Price: $507
Outdoor Dog House with Slanted Roof and Porch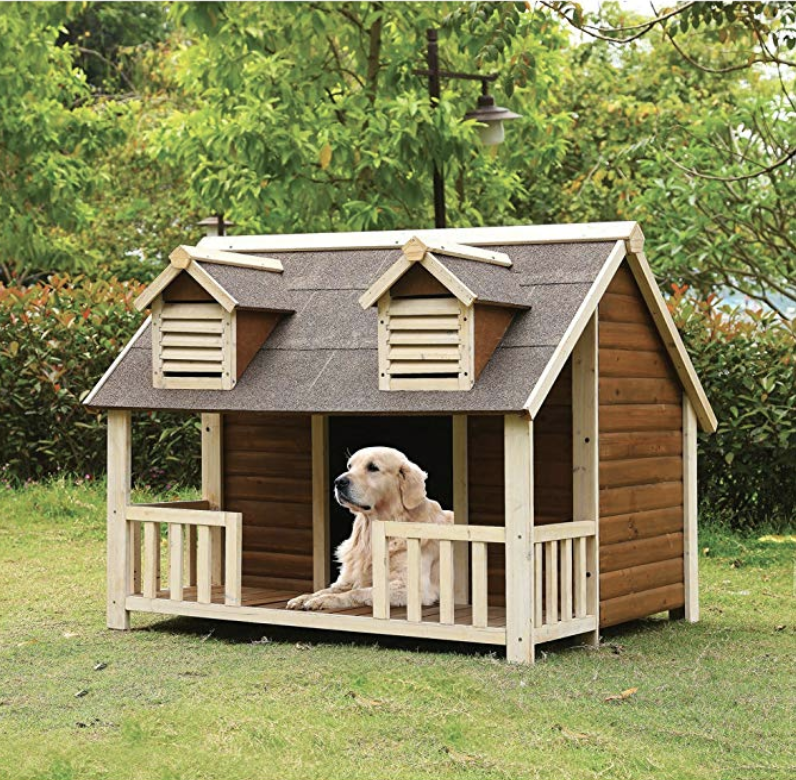 This ranch style home is perfect for medium sized dogs with owners who love the country vibe. The slanted roof helps keep the water out while the raised bottom also helps keep water out.
Price: $419