Some dogs have too much personality for a regular ol' dog bed.
Whether they consider themselves to be the queen of the castle or too cool for school, we have some interesting choices to suit your doggo.
From hot dog beds to pumpkin caves, here are 13 super unique dog beds.
13 Awesome Dog Beds
These are the most awesome dog beds we could find on Amazon.
#1 A Literal Dog Bed with a Blankey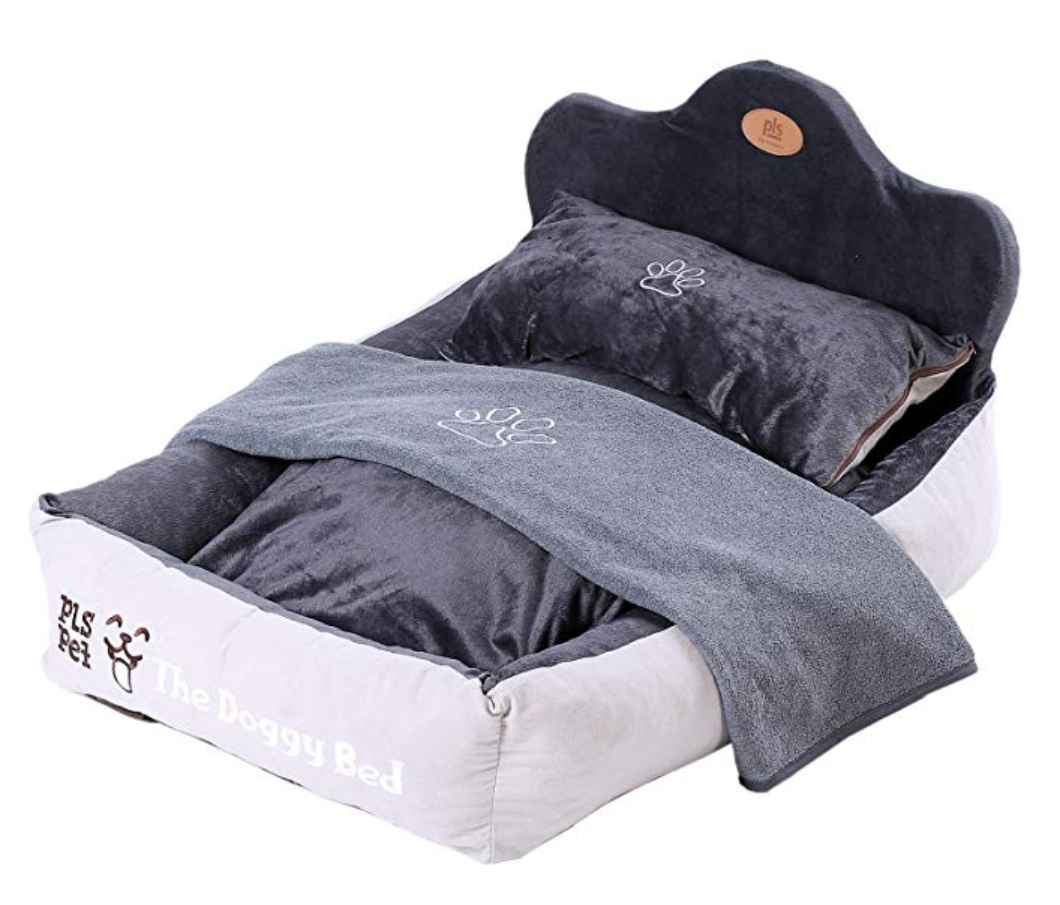 Dog beds aren't usually shaped as actual beds, but this one is. Complete with a cushion headboard, pillow and blanket, your little guy will get the full human experience. And don't worry, it's all completely washable.
Price: $69.80
Pawsative Ruffview: "This bed is really cute. I put it out and she crawled in and got her toys and put them in the bed with her and fell asleep. The next day her big brother decided that he was going to take over it. He has never been one to use a dog bed, so that was surprising."
#2 Hot Dog Bed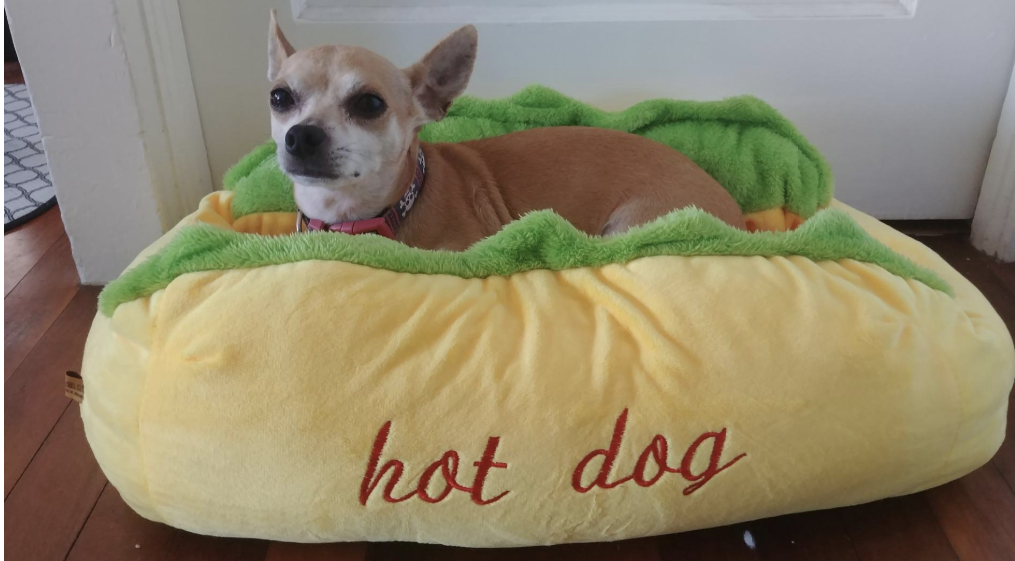 Transform your dog into a delicious dinner with this adorable hot dog bed. The only thing left to decide is… ketchup, mustard or relish?
Price: $26.99
Pawsative Ruffview: "I got this bed for my chiweenies dog just because of the idea. But he really loves it. It is extremely soft and snuggly. My other dog tries to steal it from him all the time."
#3 Eaten By a Shark Bed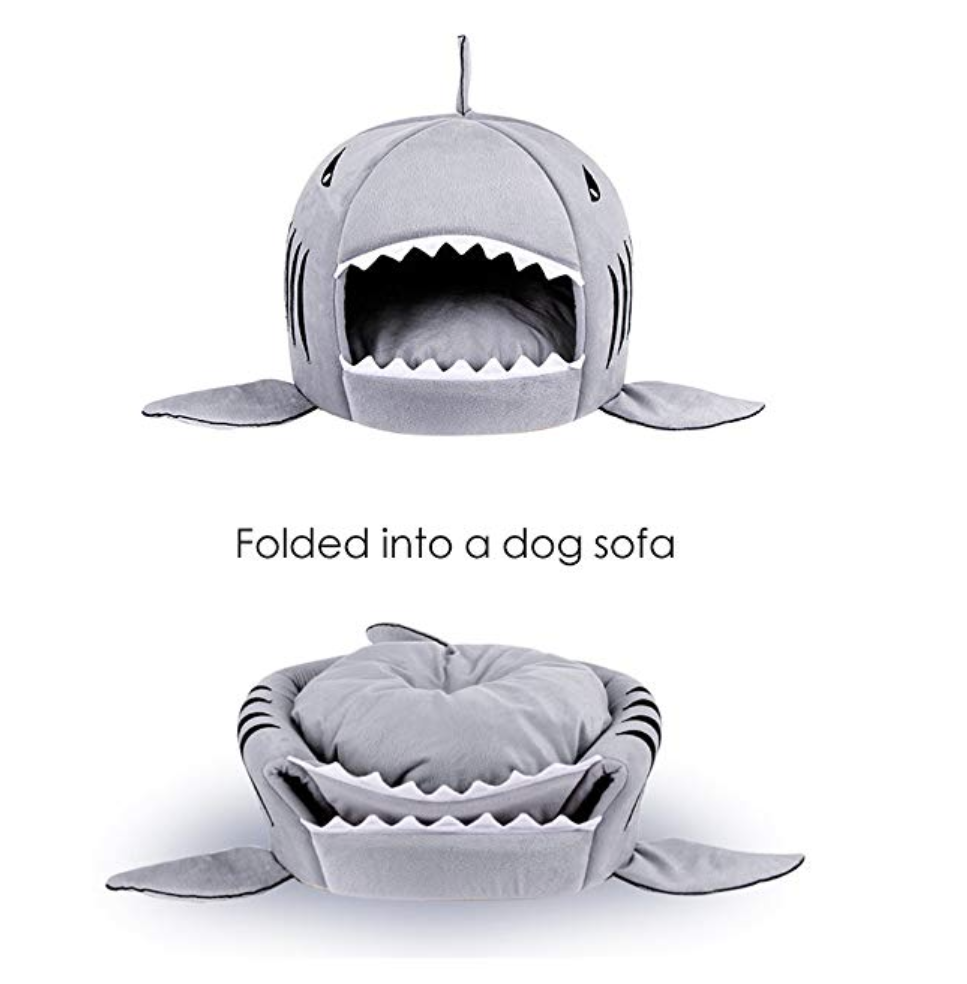 If you're a shark lover, this bed is sure to make both you and your doggo smile. Your dog can be nice and warm inside the shark's mouth, or you can fold the shark down for a traditional bed.
Price: $16.99
Pawsative Ruffview: "My chihuahua loves this shark! It goes everywhere he goes. He won't go on a car ride without it. Thanks so much for making my sweet baby happy!"
#4 Cozy Brick Cabin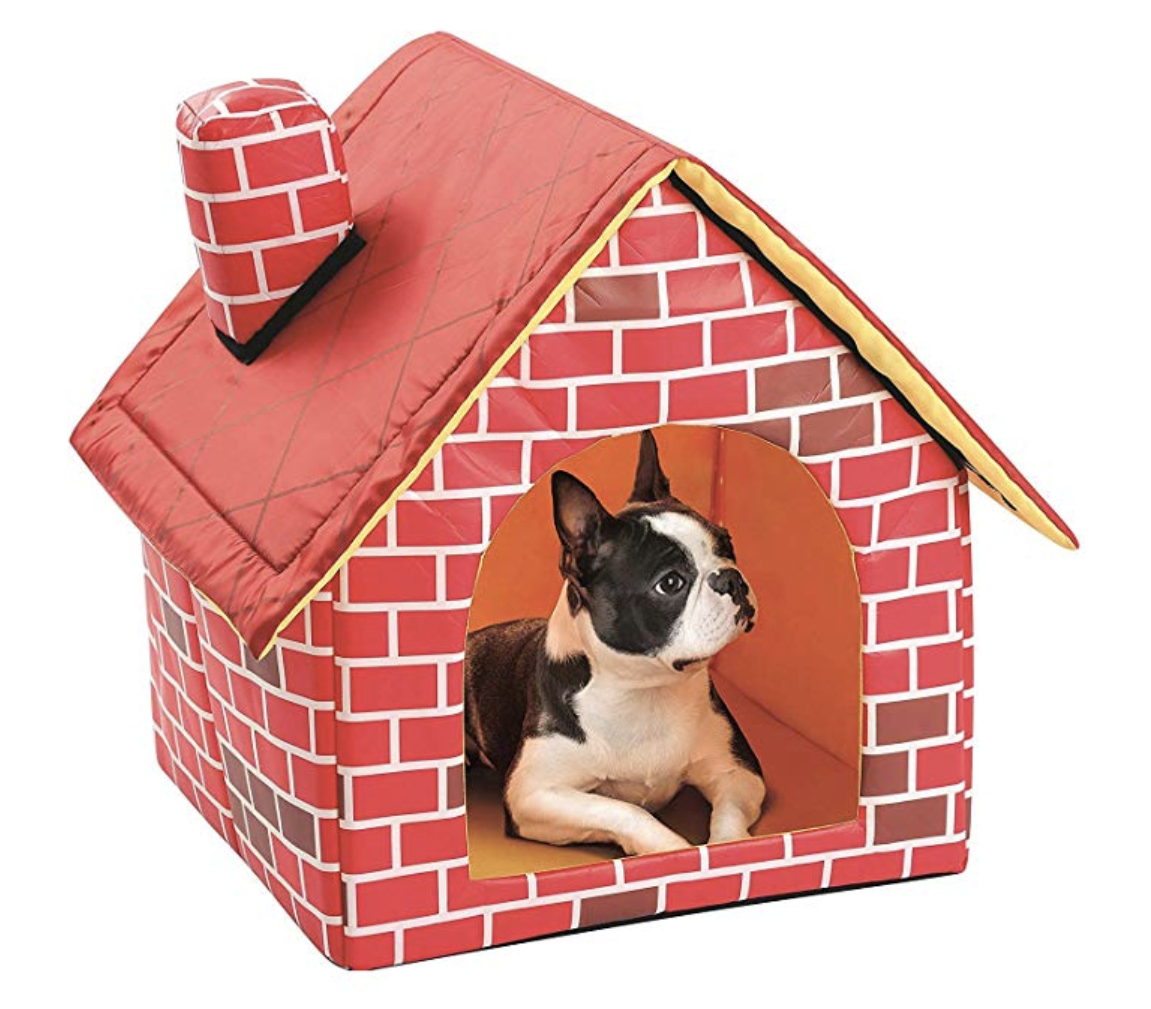 Give your canine his own house with this snuggly, foldable bed. As you probably know, many dogs love to be covered from all sides to feel safe,  o small furbabies are sure to go mutts for it.
Price: $23.99
Pawsative Ruffview: "Very cute brick pattern! Just the right size for my room. When folded it's quite portable. Love it!"
#5 Diva Dog Bed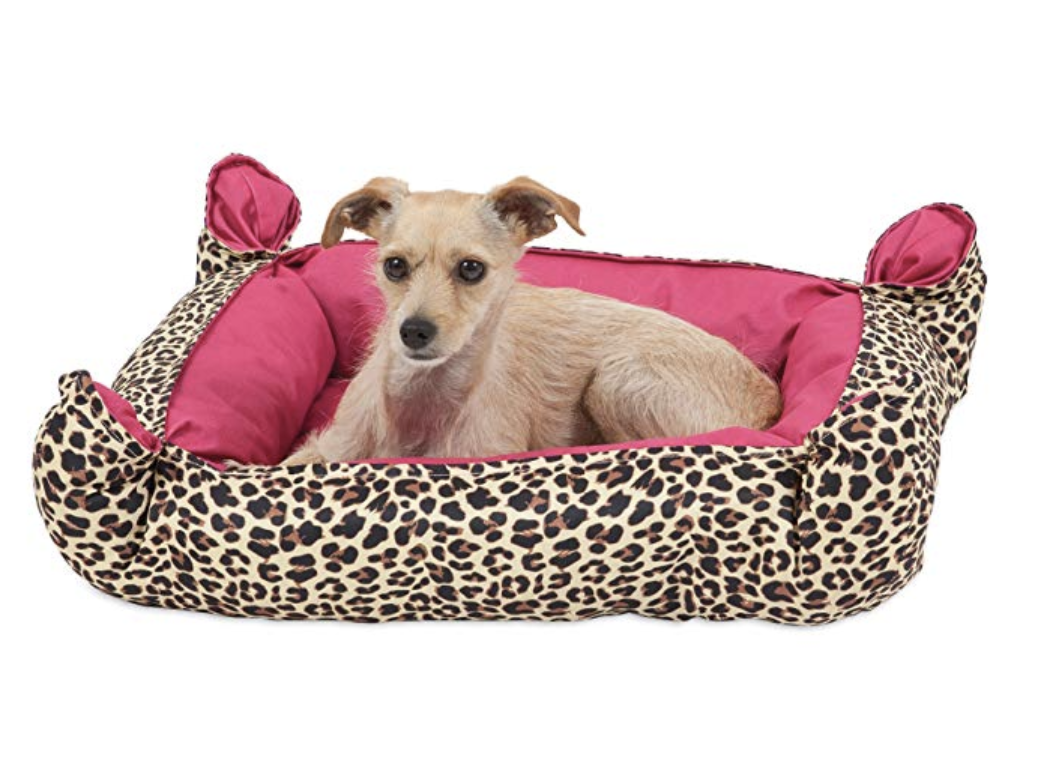 If your dog identifies as a diva, make it official with this sassy bed. With enough cushioning to keep your furfriend warm, she'll drift asleep to dream of the popstar version of herself.
Price: $15.49
Pawsative Ruffview: "We got one for the kitty. Then we got one for the old chihuahua. Then we got one for the new chihuahua. The three pets take turns claiming each bed and then moving to another to plop down. It's fun to watch. The leopard spots and DIVAS logo are glitzy, but the critters don't mind. Note that all our pets are seven pounds or less–just right for a bed this size."
#6 Pumpkin Dog Bed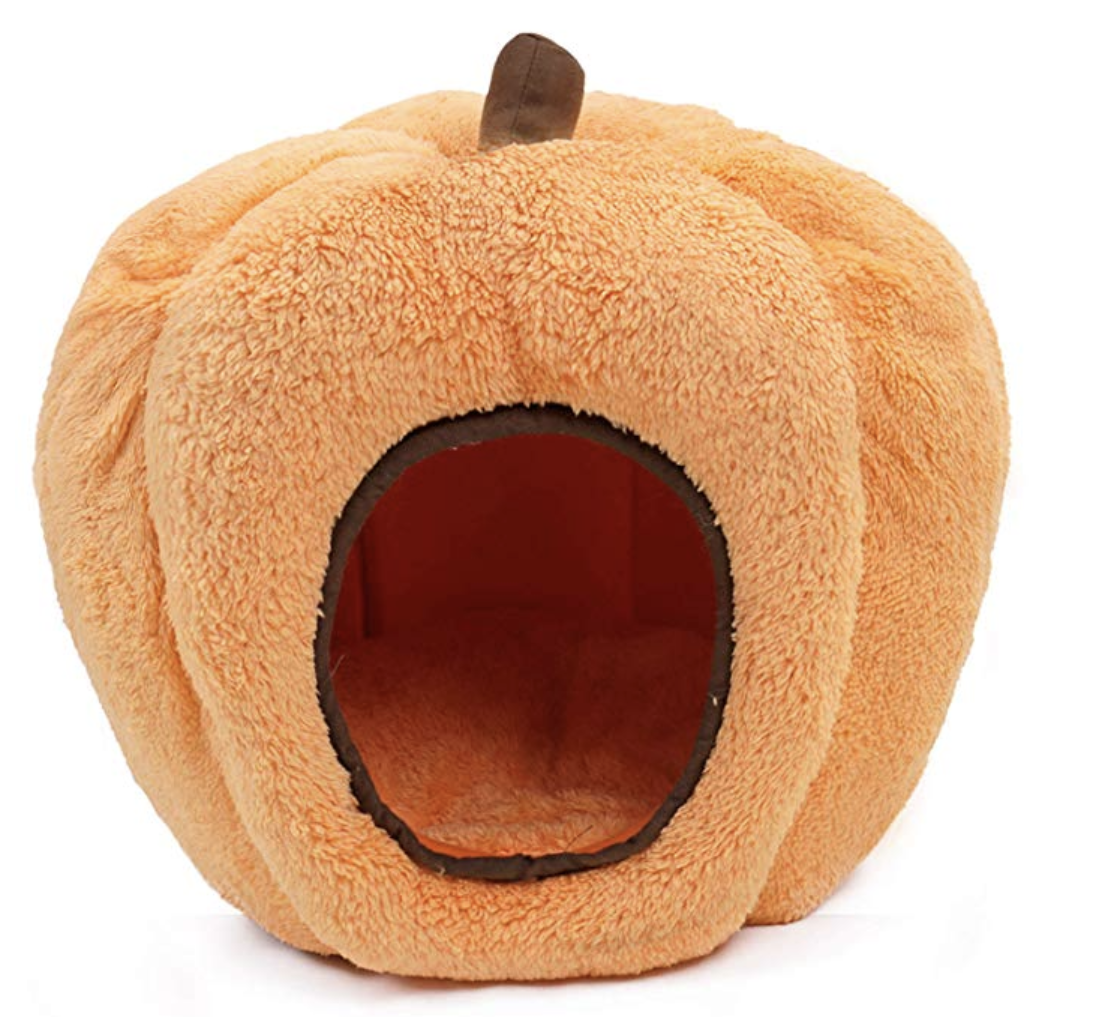 Make your little pumpkin an actual pumpkin with this bed. Your small dog or puppy can crawl inside and end up in a soft, comfy cave
Price: $29.99
Pawsative Ruffview: "I purchased this plush pumpkin pet bed for my 10 lb chihuahua who loves to burrow and pretend to live in a den. This bed was originally intended to be a relaxing getaway for those times when my dog wants her quiet privacy. Little did I know, the pumpkin would soon become the focal point of regular games of hide and seek between my two dogs. My pets have invented a fun game where my smaller 10 lb dog hides inside, while my larger 15 lb dog uses his body to block the hole on the bed and prevent her from escaping. Then, he will suddenly jump out of the way, which is her opportunity to poke her head out like a little snapping turtle emerging from the shell. These two will repeat this game for hours. The pumpkin bed is DURABLE."
#7 Enchanted Snuggle Sofa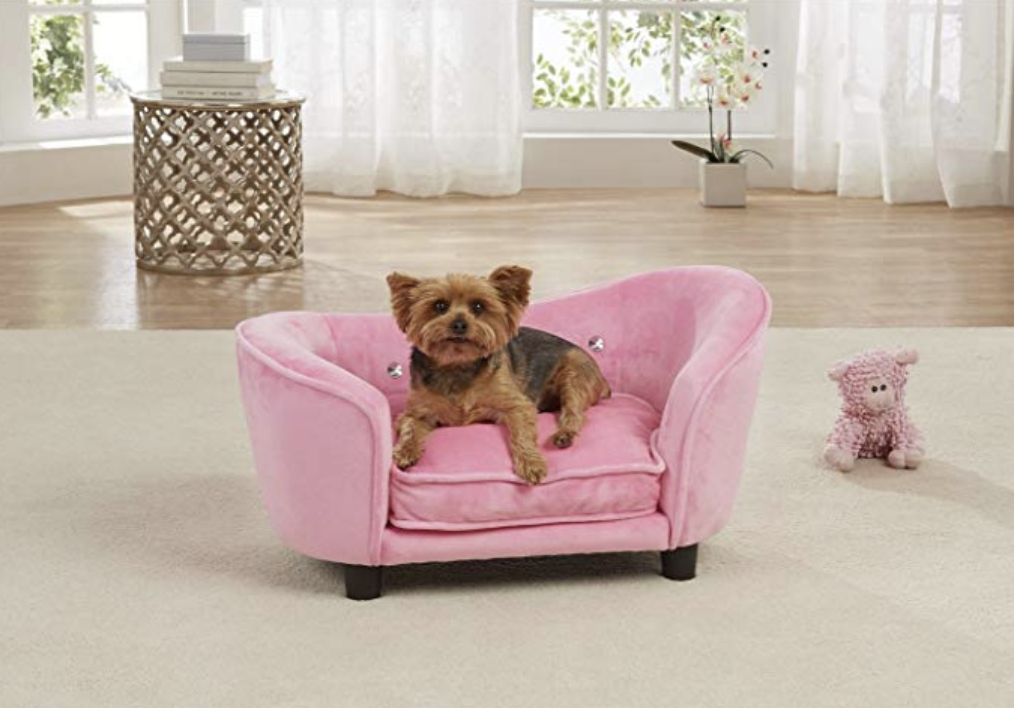 For the super girly dogs of the bunch, this bright pink sofa is a great choice. The handmade, high-quality bed also comes with a removable cushion cover for easy washing!
Price: $79.99
Pawsative Ruffview: "Even cutier in person. Soft and good height for smaller dogs. Miss Trixie loves it! ?"
#8 Tropical Pineapple Bed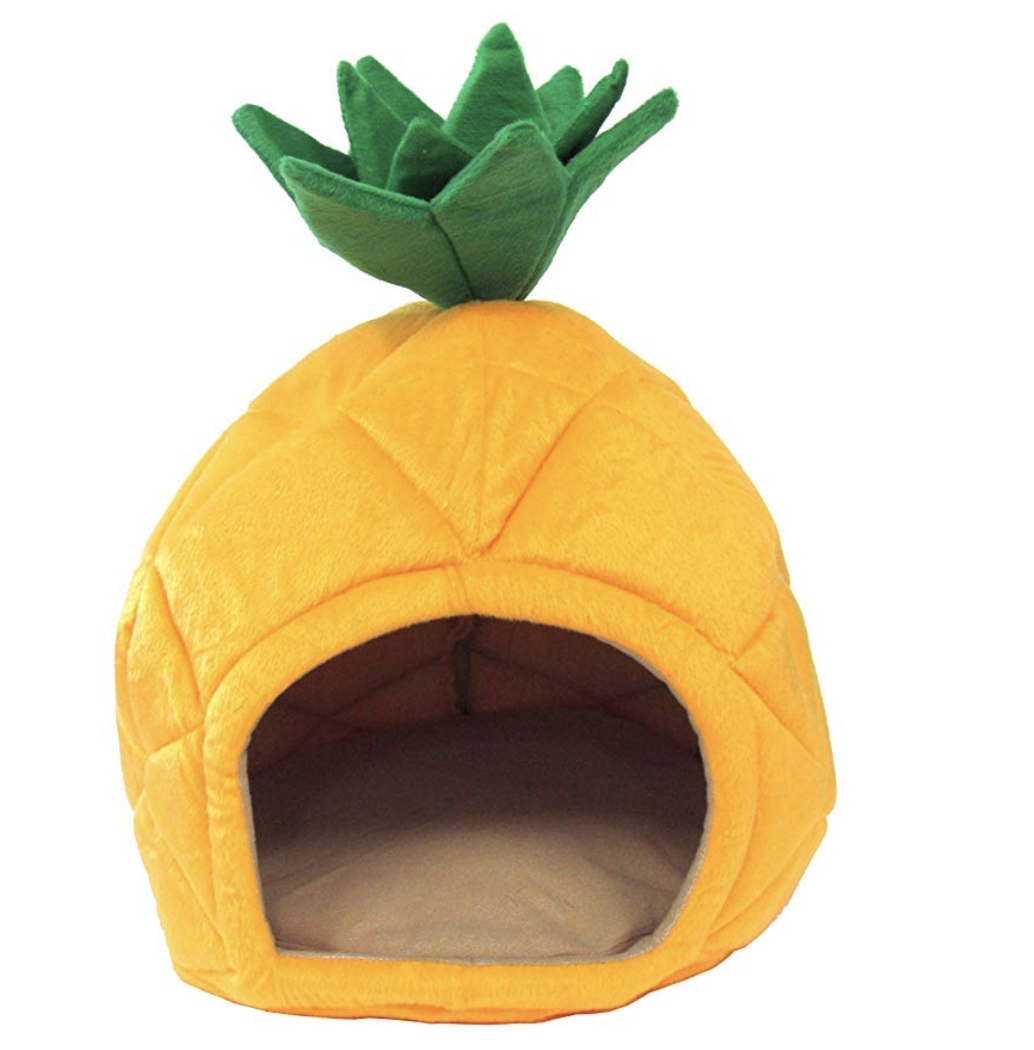 Who lives in a pineapple under the sea? Not Spongebob Square Pants anymore. Send your pup on a vacation every time she crawls inside.
Price: $29.99
Pawsative Ruffview: "It's a good size. My chihuahua/ jack russell fits inside with lots of extra space. We took out the pad that goes inside just to put his favorite animal inside. Whatever works to make him comfortable. He likes it, we like it. It is well made and the foam allows it to hold its form pretty well. I'm happy with this product."
#9 Watermelon Dog Bed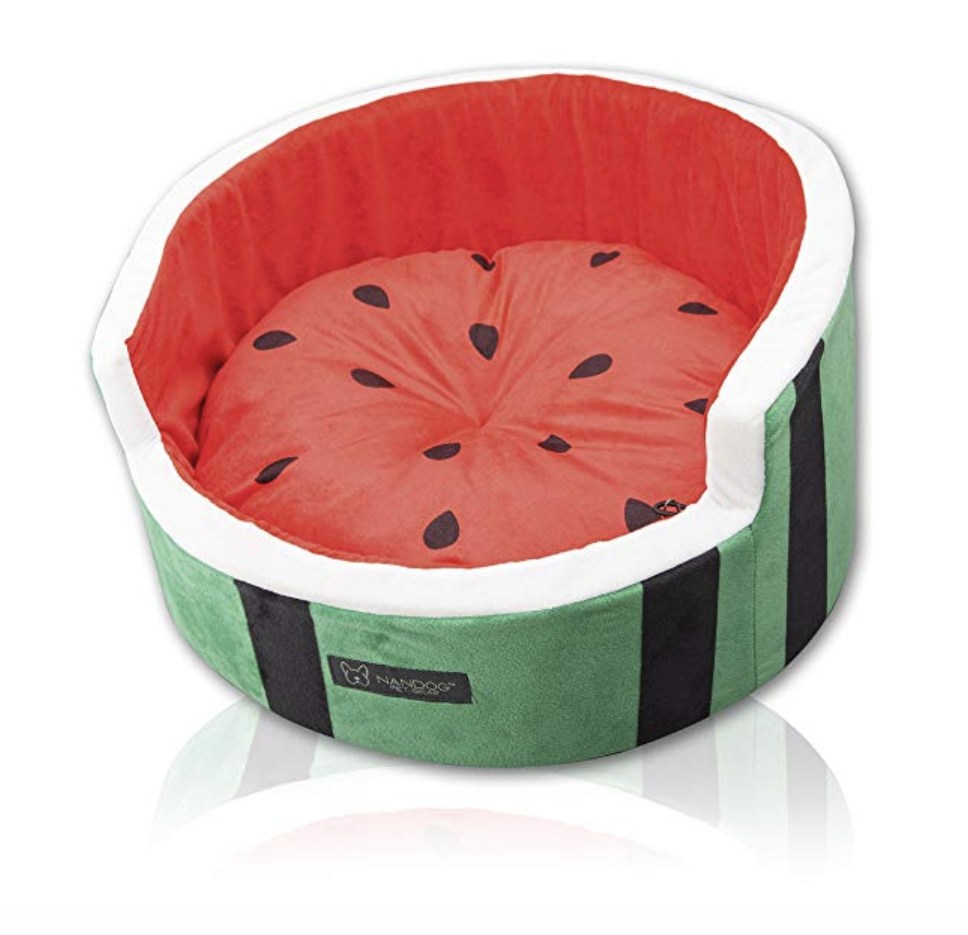 This soft, high-quality watermelon bed will add a stylish punch to any home while also giving your canine her own space. Don't fret, it's seedless 😉
Price: $70
Pawsative Ruffview: "My 11 pound dog loves this bed! She is a gentle chewer, so she can gnaw on the pointy bits, then nod off to sleep. The high edges keep our the drafts. Very pleased with this purchase!"
#10 Crown Dog Bed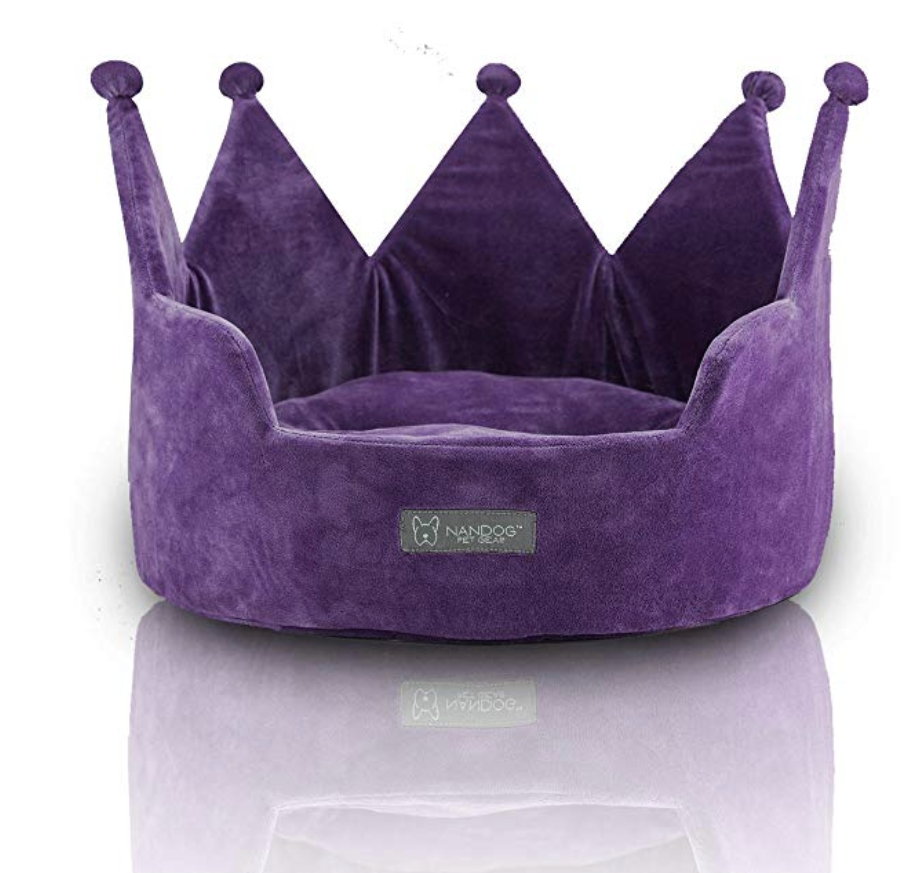 Every King (and Queen!) deserves his crown. The royal purple color and soft fabric will make it his new go-to throne.
Price: $79.99
Pawsative Ruffview: "I think this crown bed is so cute. My puppy loves sleeping in it! ❤️"
#11 Bow Lace Elegant Dog Bed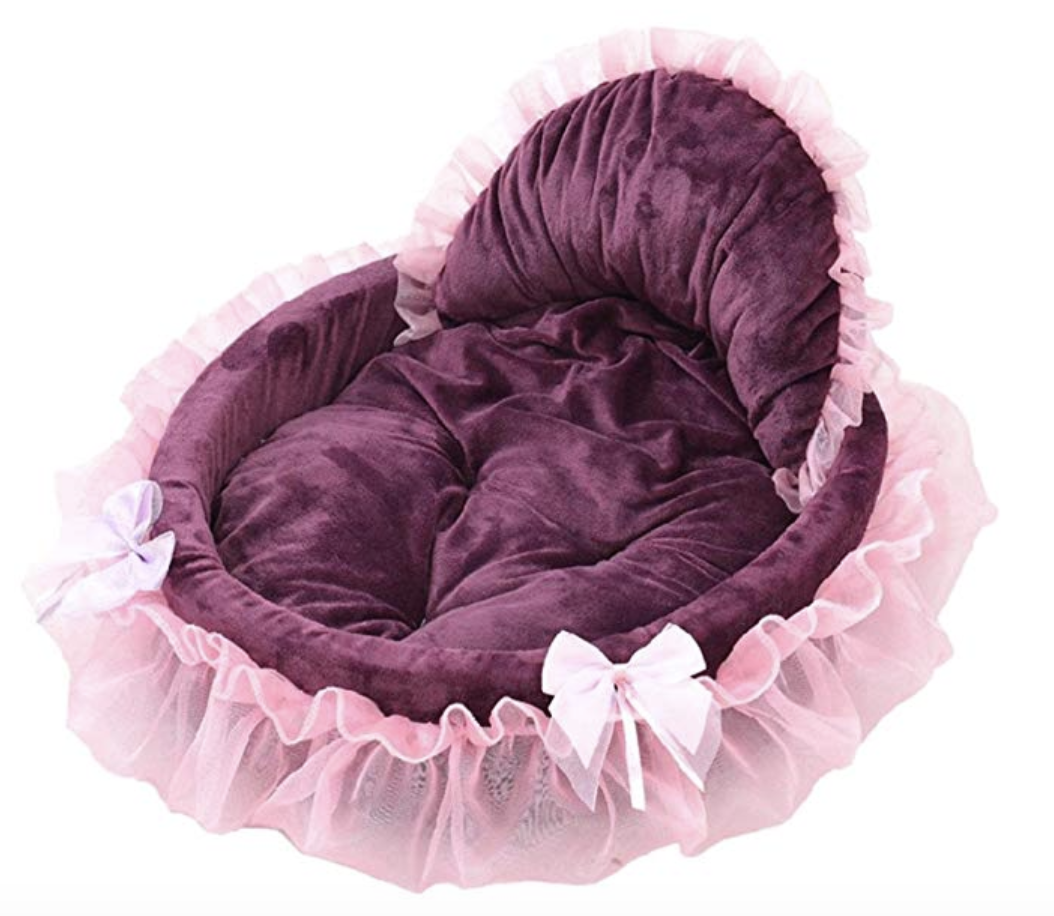 If your pup thinks they're a princess, they're going to feel like a queen in this dolled-up bed. The comfy cushion will make for a relazing shut-eye.
Price: $9.99
Pawsative Ruffview: "I got this bed for my cocker spaniel puppy it is very cute and girly and she loves it! it is just as described and made with soft cushion she sleeps like a baby."
#12 Fruit Tart Bed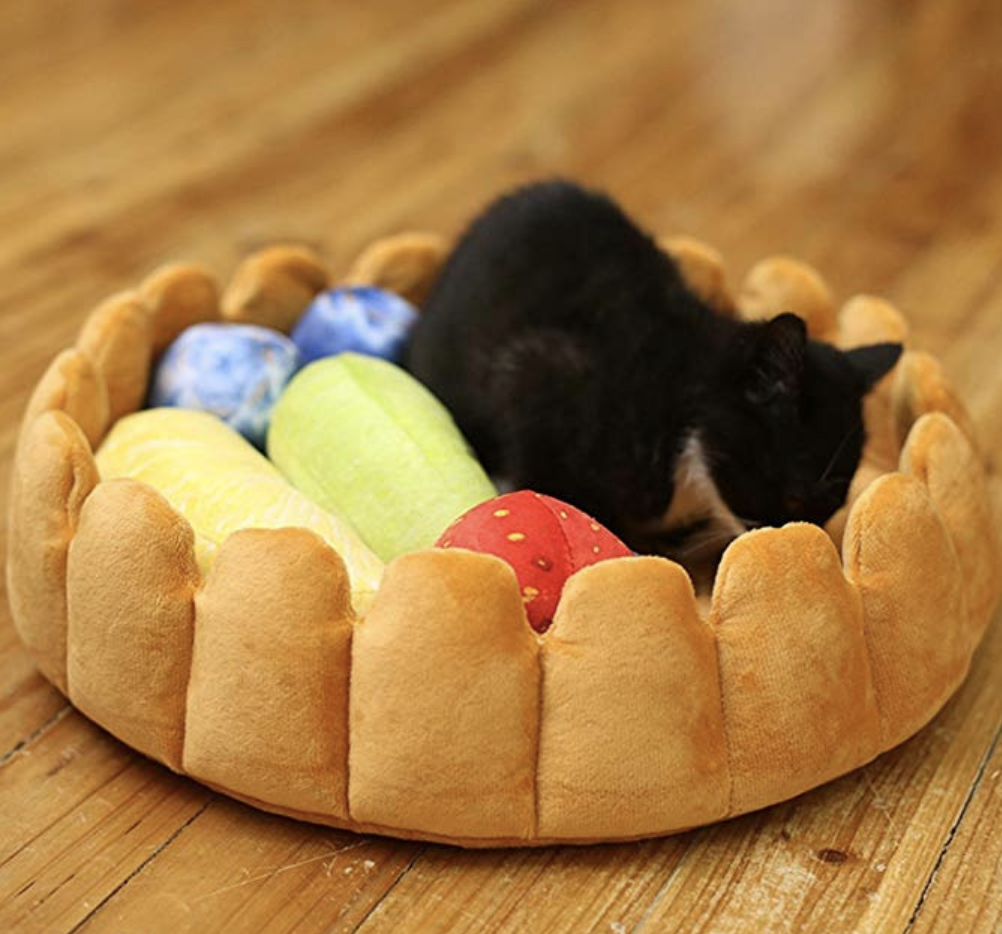 Make your tiny dog into a little fruit tart by placing her into the tart and filling it with delicious sweet toppings (AKA fruit toy cushions).
Price: $24.99
Pawsative Ruffview: "This bed is so cute. I originally bought it for my cat but my dog ended up in it more often. The fruit make excellent toys for both dogs and cats! Probably my favorite purchase I've made this year."
#13 Badass Sports Car Dog Bed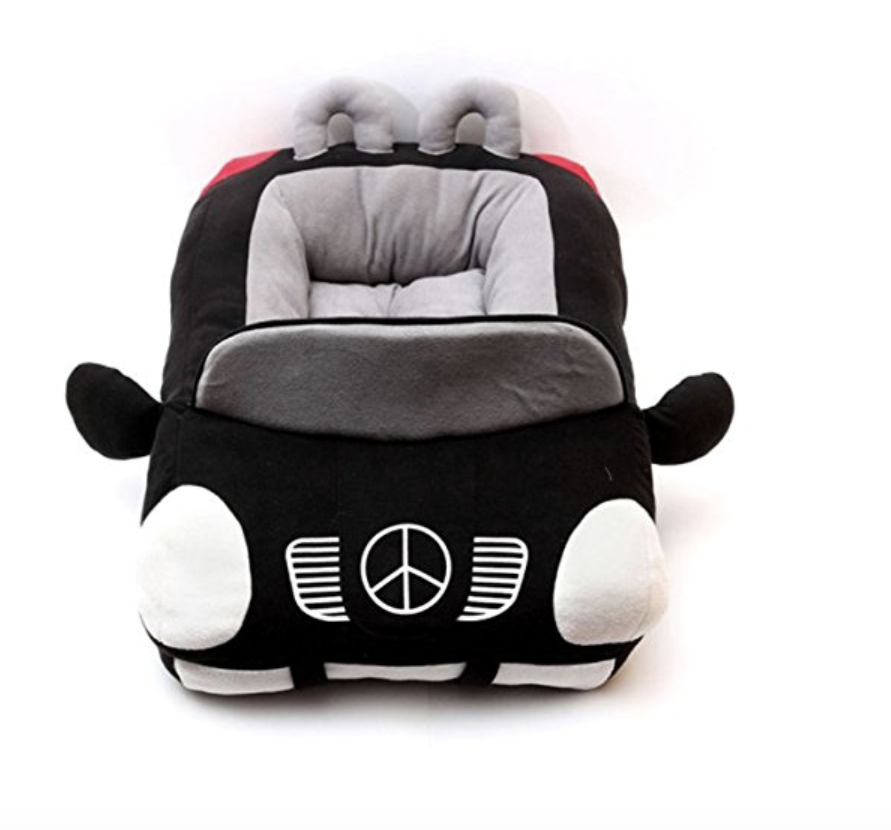 Your dog's going to look so cool—even when he's fast asleep like a little baby. With a thick, spongy cushion and a warm hugging sensation, your pup will be speeding off to sleep in no time.
Price: $43.99
Pawsative Ruffview: "It is very nice! Soft and cozy! My puppy loves it! ❤️ ?? The size is perfect for a small size dog! Fast shipping!"