If you're a big fan of the holidays, once they roll around, almost everything needs to be themed.
Your décor. Your drinks. Your food. And yes, your dog.
Lucky for you, Ms./Mr. Christmas Obsessed, we have 15 holiday-themed dog toys to keep pupper busy this season.
They can all be found on Amazon for under $20.
Christmas Dog Toys on Amazon
It's time to throw away all those raggedy toys and give your doggo an upgrade. Here's 15 options to stuff in his stocking this holiday.
#1 Holiday Dragon Dog Toy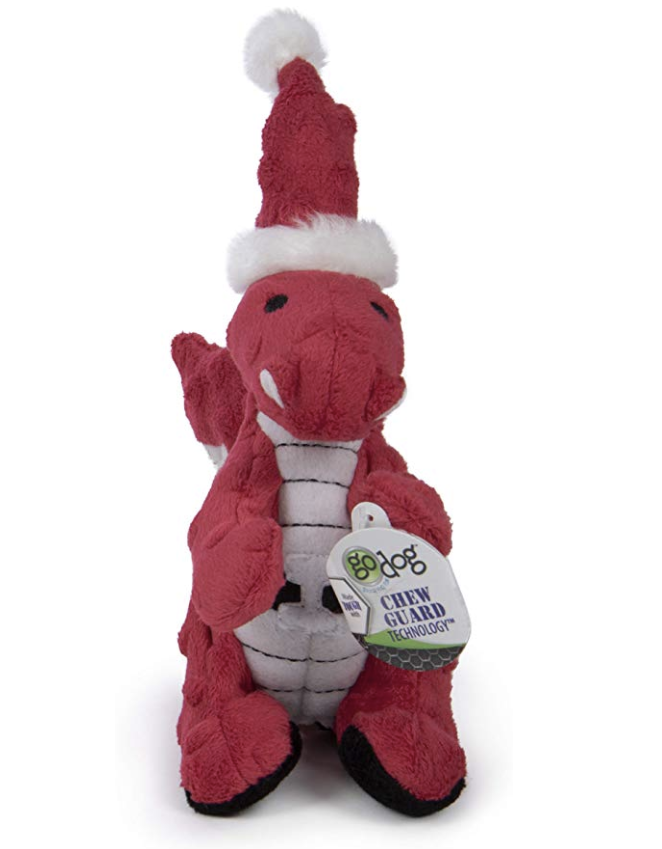 This red dragon proudly wears a Santa hat while waiting to be destroyed by your dog. The squeaky toy claims to stand up to tough play because of its "Chew Guard Technology."
Pawsative Ruffview: "This is the second one of these we have purchased for our little dog. He loves it, and it seems to be very durable. The first dragon lasted about 4 months before he tore the heck out of it, which was a record in our house. He was able to defeat the squeaker in the second in a couple weeks, but still loves the Christmas Dragon. We also have a second dragon by the same company. It is also very durable, and a favorite in with our dog."
Get this Christmas Dog Toy for $8.50
#2 Gingerbread Man Dog Toy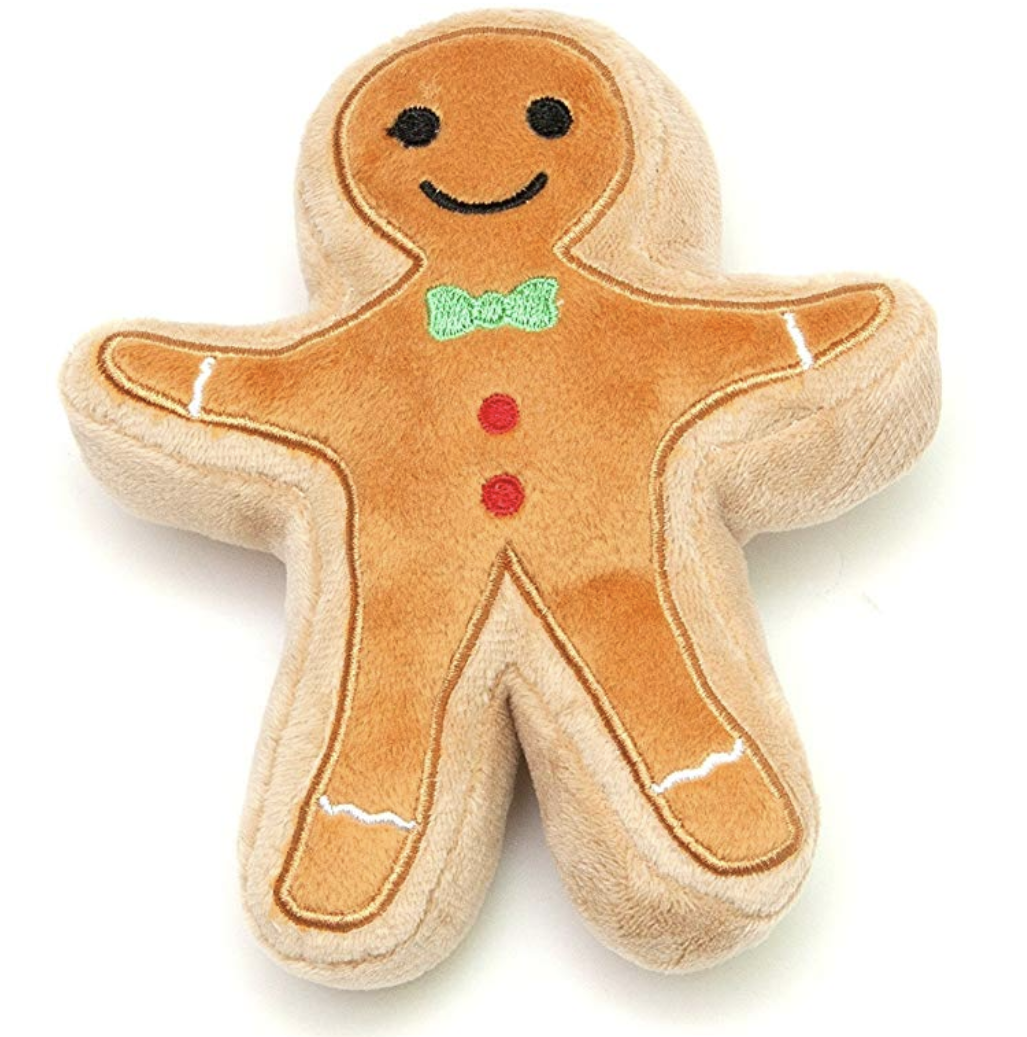 If your dog hates ginger flavor but still wants to get into the holiday spirit, give her this adorable toy. It comes with a squeaker and comes in small and large versions.
Pawsative Ruffview: "My Weimaraner is enjoying his new Christmas present. He's tired now from all his Christmas excitement."
Get the Sugar Cookie Plush Toy for $14.99
#3 Interactive Gingerbread Hidden Toy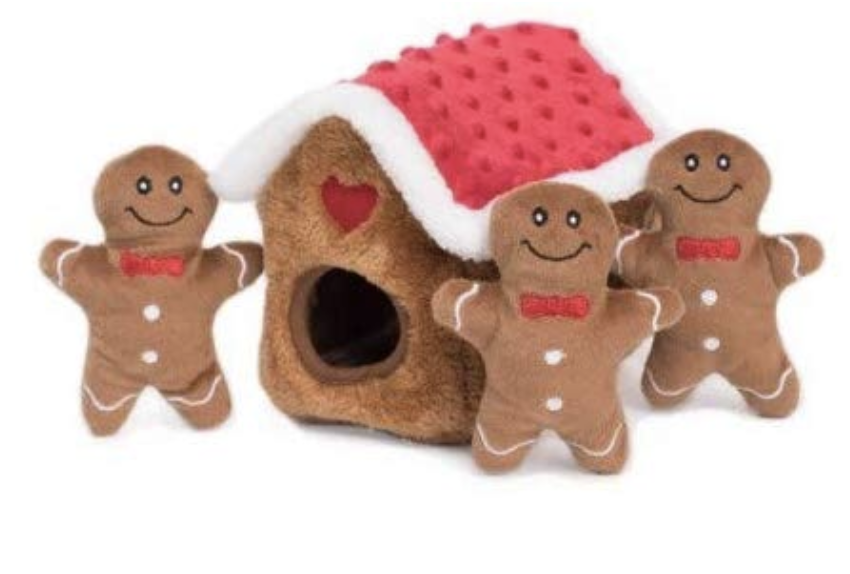 These gingerbread people wait inside their house for your dog to find them. This hide and seek game keeps your dog busy while he wonders where his buddy went!
Pawsative Ruffview: "My 1 year old puppy loves his ginger bread house. I bought for him to give it to him for Christmas. He loves it so much. He has to hump it lol."
Get the Gingerbread Hiding Toy for $9.99
#4 4-Pack Plush Holiday Toys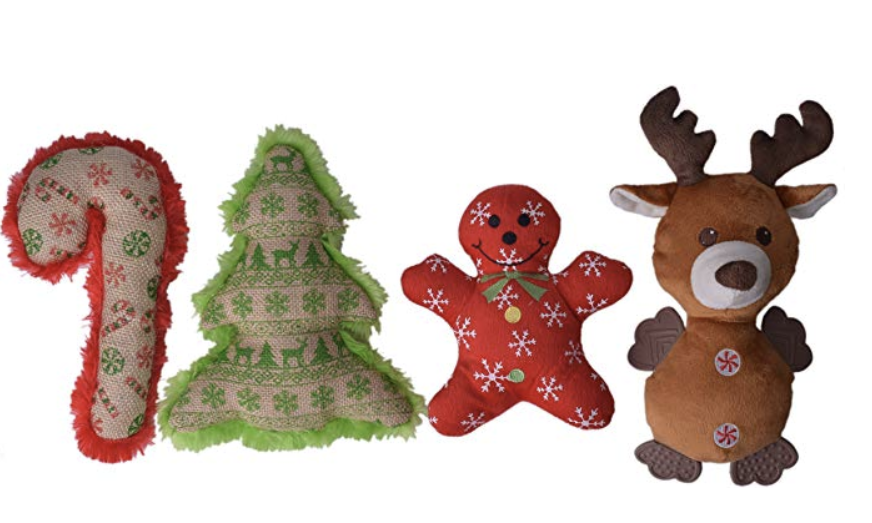 If your pup likes varying fabric in his toys, this is the set for him! The candy cane and tree toy are made from canvas-type fabric while the other two are made from a softer fabric. All include squeakers to keep your dog entertained.
Pawsative Ruffview: "Fitz has a reindeer toy that is his absolute favorite from a few years ago so when I saw this bundle I had to get it. The toys have different textures and also squeak. The reindeer is a bit for my 6.5lbs Pomeranian/Papillon mix but I'm sure he will love sleeping with it and chewing on the rubber hooves. We are going to share the toys with our larger pup friends so overall I am happy with this purchase!"
Get this 4 Pack of Christmas Dog Toys for $15.99
#5 Christmas Designed Squeaker Balls
If your dog is one that love to hoard toy balls, this will be his ultimate gift. There's 4 balls of each color: red, blue and green and all feature some sort of holiday design, including tress or snowflakes.
Pawsative Ruffview: "My little yorkie, Gus loves playing fetch with these Christmas balls. Very colorful and festive for the holiday season. I can see the bright colors so I don't step in them."
Get the 12-Pack of Christmas Balls for $17.99
#6 Holiday Hedgehogs Christmas Dog Toy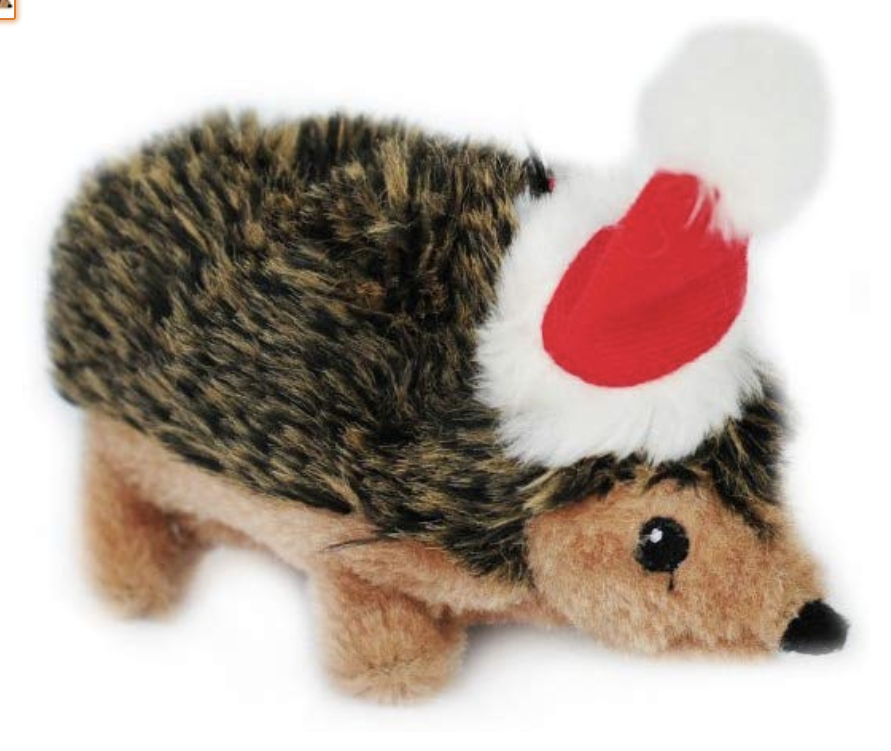 What makes this hedgehog festive? Well, it's the little Santa hat he wears, of course. This squeak plush toy if perfect for playing and cuddling. It comes in small, large and extra-large for every breed.
Pawsative Ruffview: "This has held up pretty well. It has a really strong, large (and loud) squeaker. In some plush toys, you have to search around for the squeaker, but not this one. It is just starting to get a hole in the side after almost four months of heavy use. The boys have removed some stuffing, but they still fetch and squeak it without trying to rip it apart. It's the current favorite toy in my three dog house."
Get the Holiday Hedgehog for $6.49
#7 Santa with Squeaky Toy Sac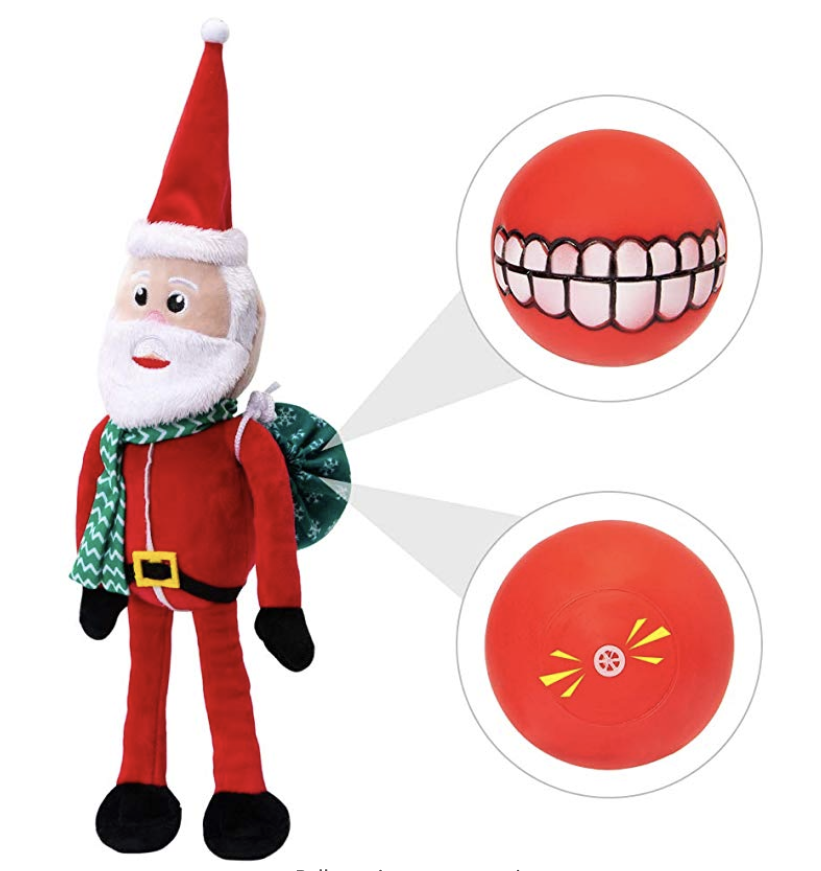 The perfect size for small and medium-sized breeds, your dog can chew on the fabric Santa or squeak his toy sac. Just make sure he doesn't destroy it before Christmas Eve—Santa still has a lot of gifts to deliver, you know.
Pawsative Ruffview: "This Santa has a squeaky ball in his bag of presents. Really cute toy for pups. Wouldn't recommend for strong chewers but great otherwise. Will make a great addition to our fur baby 's stocking."
Get the Santa Squeaker for $10.99
#8 Dog Stocking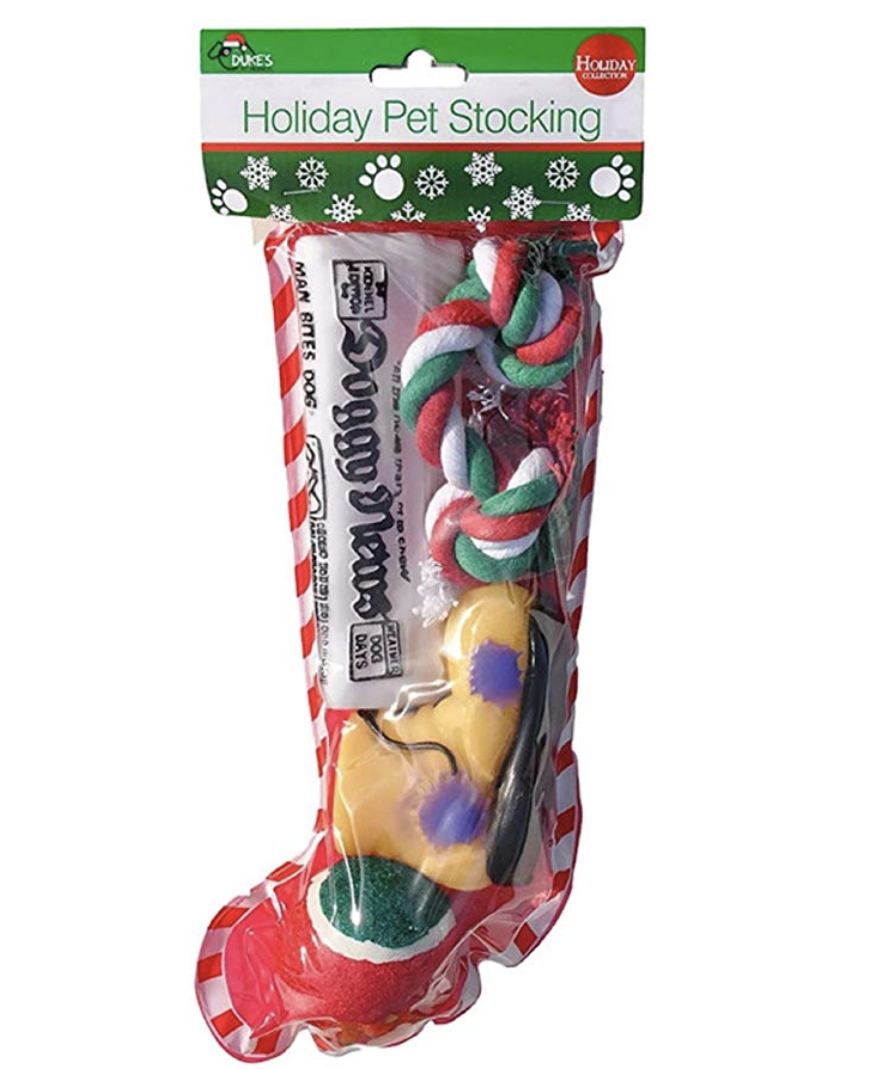 If you don't want to package up all your dog gifts, you can simply purchase an all-in-one gift like this stocking. It has 4 toys, including 2 squeakers, a rope and a tennis ball.
Pawsative Ruffview: "My dog loves getting these for Christmas. I wrap them up. Come Christmas morning, I will have 20 packages total under the tree and he will run right to the one that is his even though it is wrapped and none of the other gifts are open. I don't know how he knows, but he does. He is 15 this year and we will see if he does in again on Dec 25."
Get the Dog Christmas Stocking for $10.90
#9 Red Santa Plush Dog Toy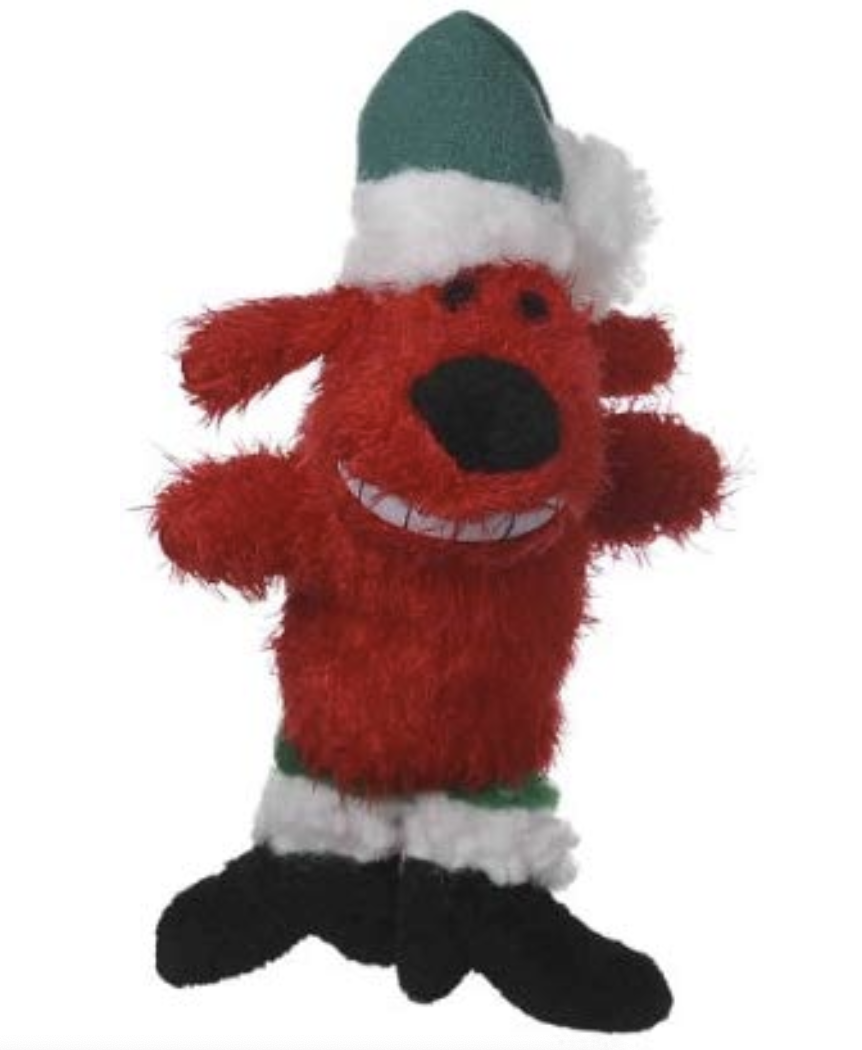 To be honest, this toy looks a little creepy to me, which means it's something most dogs will probably love. Ideal for small breeds, it comes with a squeaker to spread the joy of the holiday season.
Pawsative Ruffview: "We have a very active chewer and expected this to be a toy for Christmas morning, but puppers is still playing with it! Good purchase!"
Get the Santa Christmas Dog Toy for $9.50
#10 Marvin the Moose | Kong Christmas Dog Toys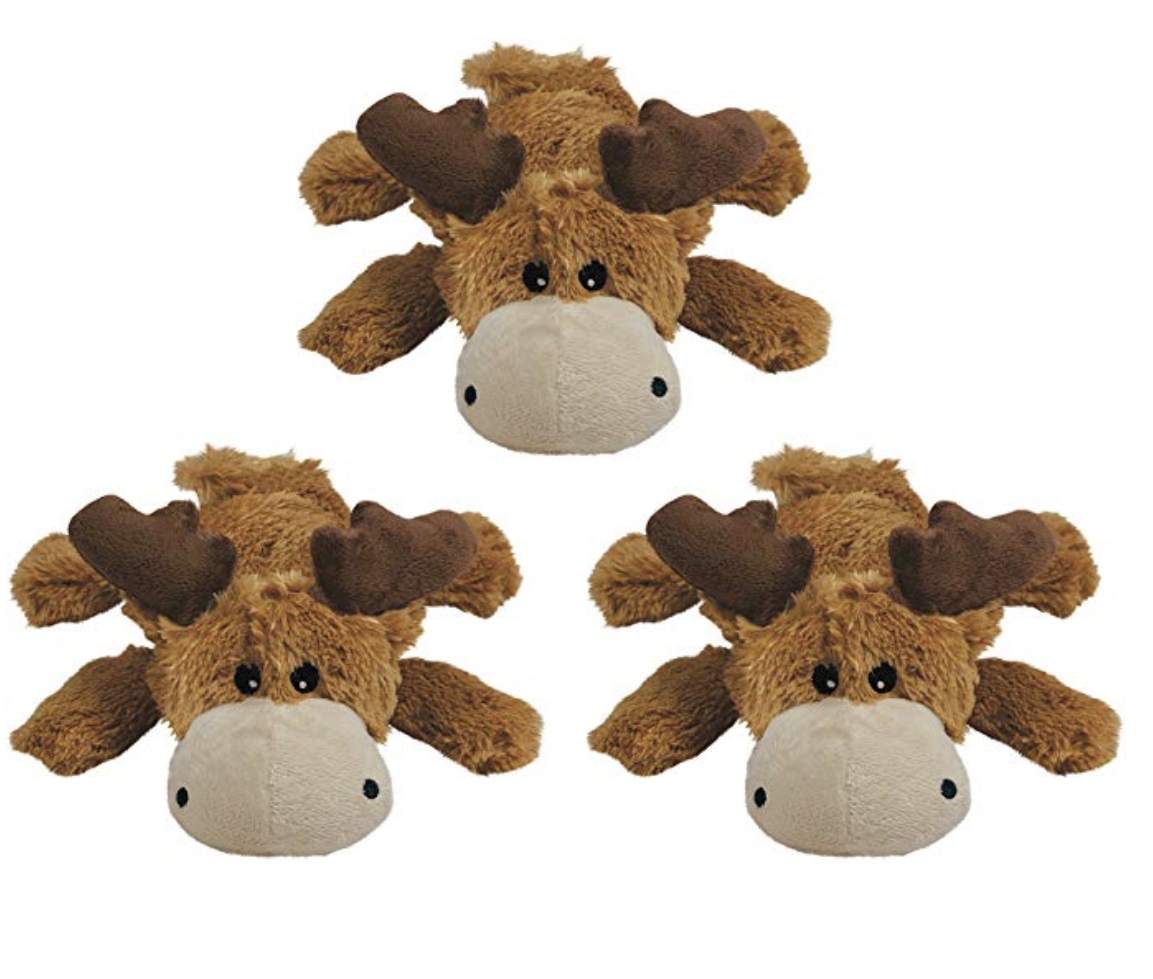 Okay, this isn't specifically a Christmas toy but it kinda is—moose are reindeer, right? Regardless, we had to include a Kong toy on this list because, in my experience, they last the longest out of any plush toys. Since there's less filling, it means less mess and it also has an extra layer of material to increase durability.
Pawsative Ruffview: "My dog does not put his down, I have rolled over and it's been in bed with me. I have gone to the kitchen and it's on the floor in the kitchen. I've gone outside and it's in the yard. He loves it. he carries it around like it was a treat. I gave one to my sister's dog m, he absolutely loves it, he flips it and flops it all around the house. I gave the other one to a friend of mine. she asked me where I got it and if they had any others because her dog absolutely loves it. They all carried around by the antler's and by the tail. They flip it they catch it. they run around the house with it. they absolutely love it great toy for medium to extra-large dogs."
Get the Moose Dog Toy for $25.99
#11 Starbucks Puppermint Mocha Dog Christmas Toy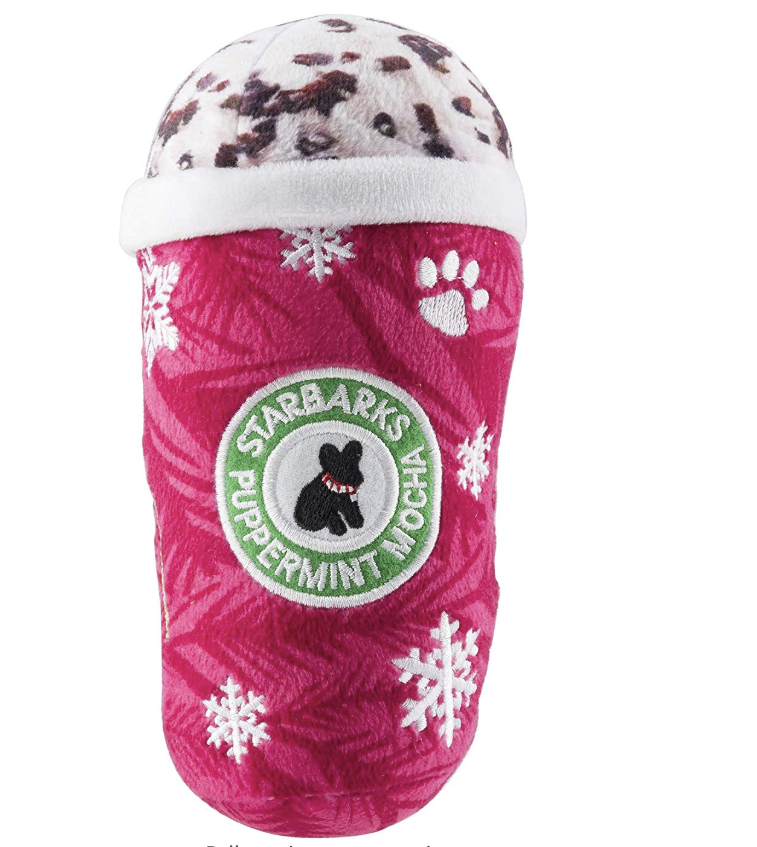 Now your dog can also enjoy Starbuck's holiday peppermint mocha. This adorable toy even has the "cocoa dusting" on top and can be enjoyed all year around.
Pawsative Ruffview: "My baby is obsessed with these coffee look alike dog toys! He originally stole the puppermint mocha toy from our dog's toy bin, and being that she's a lab, she so graciously allowed him to acquire it as his own. I got him this toy so he could have a coffee mug like mommy and daddy and he loves it just as much as the other one."
Get the Starbucks Christmas Toy for $13.99
#12 Red, White and Green Chew Ropes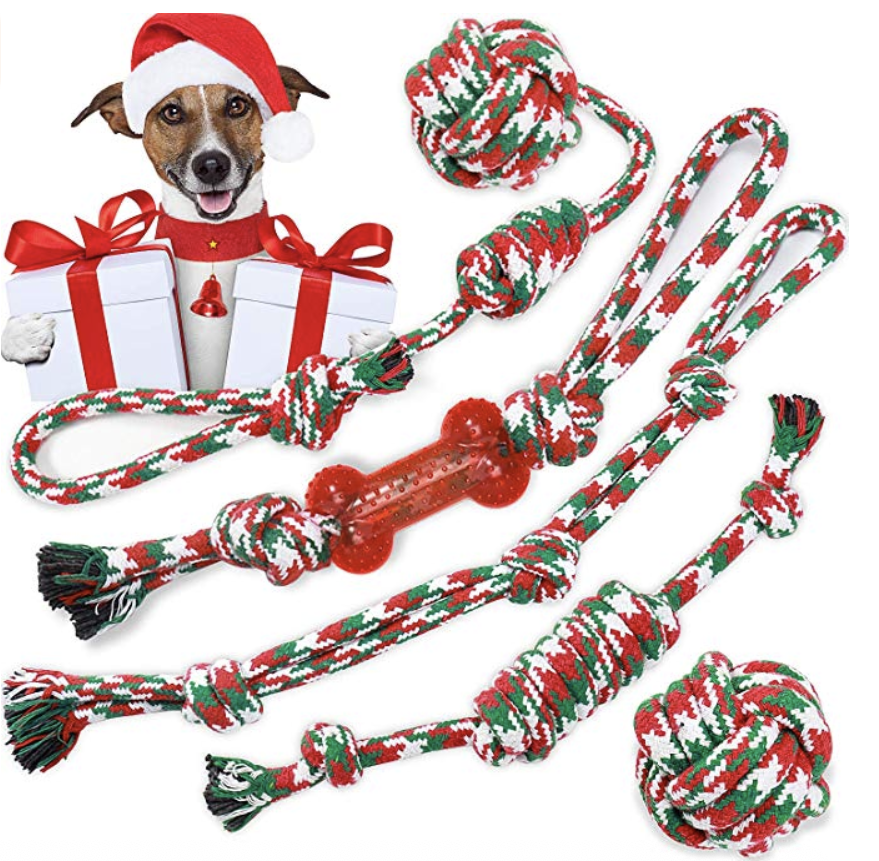 This pack is suitable for puppies and medium-sized breeds who want a little more color in their holiday. It comes with a tied ball and 4 types of knotted ropes to keep your doggo busy all season long.
Pawsative Ruffview: "Both of my girls love these! They get so excited with them! They don't usually chew on their ropes other than tugging on them so they stay intact! Cute and Christmassy! Great stocking stuffers! I wanted to use them for that, but they knew exactly what it was when I removed it from the Amazon packaging! ?"
Get the Christmas Dog Ropes for $12.99
#13 Squeaky Buddies Holiday Dog Toys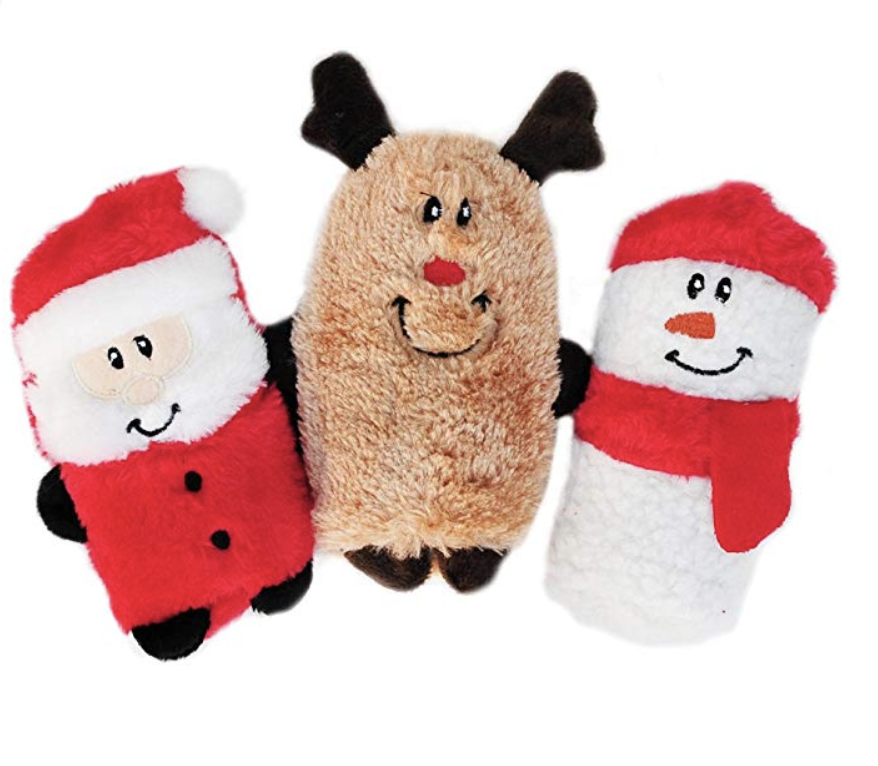 Santa, a reindeer and a snowman. What more could your pup want? These squeaky pals contain no stuffing which means no mess if your dog rips them up.
Pawsaive Ruffview: "If my dogs could rate this toy, they would give it a 10/5. They have a large container full of toys, and no matter where I hide them inside the container…they…will…find them!!! They are OBSESSED with these toys. Despite being so happy that my dogs are in love with these toys I must warn you….the squeaking from these toys will haunt your dreams. The background music to my life is these squeaker toys. I try to watch a movie in peace, but they are always squeaking. When friends are over, they are squeaking. When I am trying to sleep, they are squeaking. I don't know how much longer I can allow my dog to play with these toys because I just need one day without the squeaking."
Get the Squeaky Buddies for $9.99
#14 Squeaky Plush Christmas Bear
This soft and cuddly toy makes the perfect bedtime companion for any dog. The red snowflake scarf he wears makes it perfect for the holiday season but subtle enough to use all day along.
Pawsative Ruffview: "Excellent product!!"
Get the Holiday Bear Dog Toy for $16.65
#15 Squeaky Plush Christmas Bones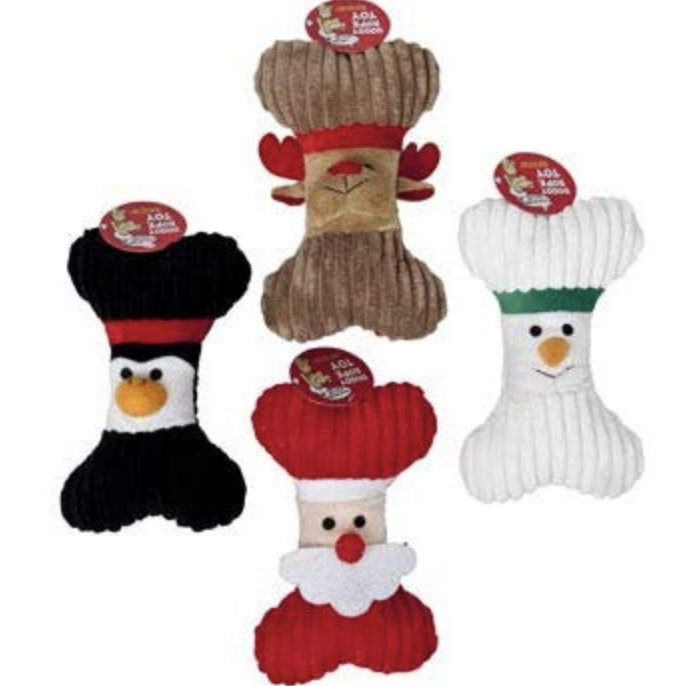 These plush bones are unlike regular toys– they're designed as penguins, reindeer, snowman and Santa. You get 4 in a pack, so if your dog rips one up, there's still 3 more to tear though.
Pawsative Ruffview: "Our dog loves these toys. Really cute and well made!"
Get the Christmas-Faced Toys for $14.99