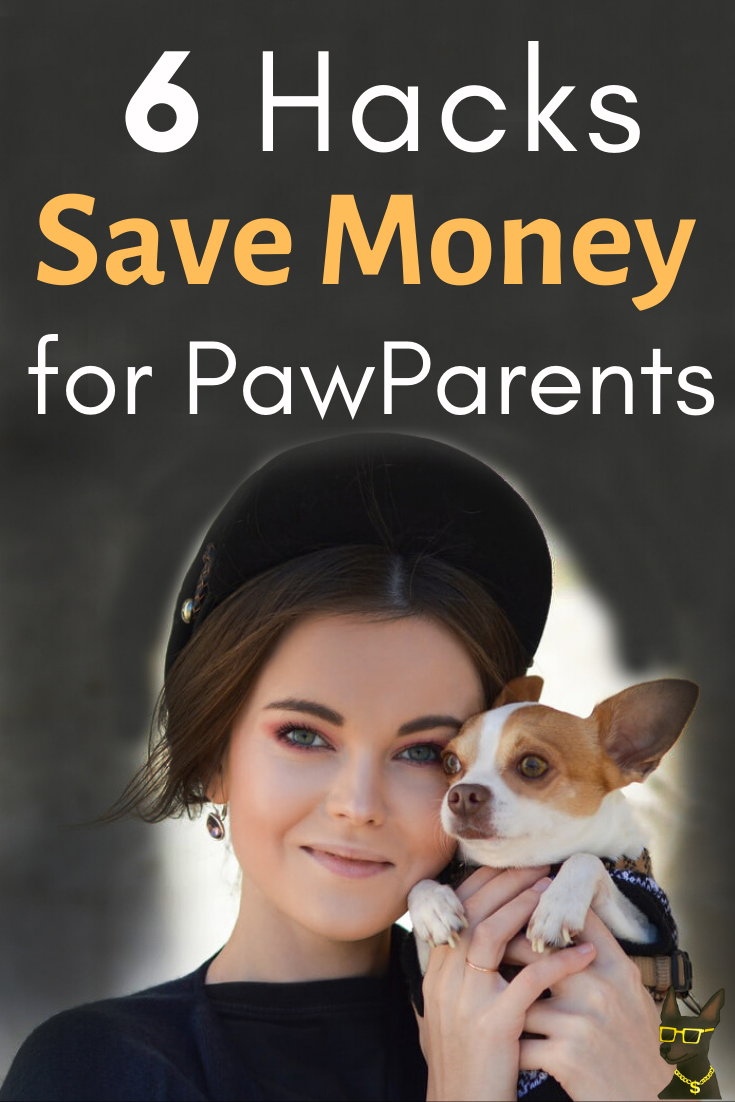 Having a furry friend fills your heart, but how much does it drain your wallet?
According to the ASPCA, the first year of owning a dog can cost from $1,400 for a small dog to over $2,000 for a large breed. While the coming years may be less expensive, there's still many reoccurring costs that add up over the years.
We're going to help you make it a little cheaper with these hacks.
#1 Check the Dollar Store First
If you're looking for basic dog supplies, try looking in the dollar store before heading out to the pet store or even Wal-Mart. Things like bowls, leashes and ropes can be found at significantly less.
#2 Make Your Own Toys
If your dog destroys everything, making toys won't stop it, but it will save you a few bucks. For example, my dog loves to chase around empty plastic water or pop bottles. You can make several toys with things you already have in your home. Check out:
#3 Buy High-Quality Toys
If you're not into making your own toys, it's often worth it to splurge on good quality toys. For example, if your dog wrecks cheap toys almost as soon as he gets them, you'll need to rebuy them constantly, leading to more spend in the long-run. On the other hand, if you know a $20 toy lasts a few months or longer, you won't need to keep purchase it as frequently.
#4 Make Your Own Treats
Many dog treats can be found at reasonable prices. However, if you already have the ingredients in your house, homemade treats will probably be cheaper and healthier. Need some ideas? Check out:
#5 Sign Up for Free Samples
This is one of my favorite tips. There's some websites that will send you free products if you review your experience with them after. It's not going to replace your treat stash, but who would turn down free treats and bones? Your dog gets a surprise in the mail every now and then and you're introduced to something new. I signed up for SampleSource.com and made sure I filled out my profile to include my dog (it works in the U.S. and Canada). Now, I get random dental chews and treat packages.
#6 Try Online Training
If you're not having success training your dog with your own knowledge, try an online course before shelling out for an expensive in-person course. Of course, if your dog is aggressive with others, a dedicated dog trainer will be needed. Otherwise, you can train your dog by working to increase their intelligence.
#7 Trim Your Dog's Own Nails
Clipping your dog's nails at the groomers can cost from $10-$15 each time. If her nails grow fast, that can add up over time. Save money by buying a pair of good clippers and learning how to do it yourself. Read: How to Deal with Long Dog Nails: Trim Like A Pro!
#8 Regularly Give Bones
Not just because he's a good boy, but because they're also good for his teeth. Whether they're specially made dental bones, regular bones or hard chew toys, they can help scrape off plaque. Since dog teeth problems are very expensive to fix, prevention is key for his health and your wallet.
#9 Price Compare for Medicines
Go to the vet to diagnose the issue and figure out the solution. However, if the solution is medicine, you may want to reconsider when you're buying it. Often, buying dog medication online can be cheaper than buying it at the vets office. Similarly, if your vet tells you to give your dog a supplement like glucosamine, it may be cheaper in a regular drugstore than at your vets (just make sure you get the correct dosing).
#10 Limit Dogsitter Fees
If you're going out of town and considering hiring a dogsitter, check to make sure someone you know can't do it first. If you have a friend or family member that loves dogs, ask them if they'd like to spend the weekend with her. Many people can't fully commit to a dog, but would love to spend some time with them (for free!). If not, are there any pet friendly hotels where you're going? If so, is the added cost cheaper than boarding your dog?
#11 Check Online Ads
If you need an item like a new dog cage, check online classified sites such as Craigslist and Facebook Marketplace. As long as the item is in good condition, you could save a lot of money compared to if you were to buy it brand new.
#12 Buy in Bulk
Once you find a dog food that your pup loves and is healthy, start purchasing it in bulk. Sure, a little bag may be cheaper today. But that big bag saves you a few bucks in the long-run. Even if you have a small dog who doesn't eat big portions, as long as you store it properly, it should last.
#13 Discounted Neutering and Spaying Services
Some organizations offer neutering and spaying services at a discounted price to encourage people to do it. Instead of paying a couple hundred dollars that the vets charge, I paid around $80. Sure, you may have to be on a 6-month waiting list, but for that savings, it's definitely worth it. For example, in Ontario, the OSPCA offers significantly lower fees. The ASPCA in the States has a similar program. Also, if you don't spay or neuter, you'll incur even more fees when the puppies come along.
#14 Dog Walk to Cover Your Dog Walking Costs
If you're someone who works long hours away from home, you may have to pay someone to walk your dog during the day. If this is the case, fees can add up each day. However, since you want your dog to get exercise and go to the bathroom outside, there's not really another option. However, you can offset those costs by dog walking yourself in your free time, perhaps in the evening or on weekends. Many local companies hire part-time dog walkers. You can even try out something more casual, such as a dog walking gig app.
#15 Shop Around for Vets
Don't just choose the vet closest to you, assuming it's the best option. You may be surprised to find that vet fees can widely vary by office. You may be able to check the price of some services on their website. If not, call or email to ask. Of course, when you get the price, you'll want to compare that against reviews to make sure you're making the smartest decision.
#16 Limit the "Oh, This is So Cute" Items
This tip is really for me, but maybe you can relate. I was in a clothing store one time shopping for myself and they happened to have dog pajamas in the checkout line. They were so adorable, I couldn't not buy them. Obviously, my dog doesn't wear pajamas to bed. In fact, he wore them two times, very briefly. They're cute, but it was a waste. The only caveat here is for dog sweaters if your dog actually likes them. For example, my dog actually uses sweaters inside and outside during cold months. Otherwise, he will shiver.