If you're getting a dog during Halloween season, you could name him Sparky.
Or Fido.
Or Bella.
Or some other generic-sounding name. But why not take advantage of the fact your dog was born or came to you during fall or Halloween?
It will be fun to use every year when the season comes around and you can reminisce about the first time you ever met your best pal.
And, let's admit, the name will make him look bad@ss all year around.
In this post, we're listing over 160 Halloween dog names you can consider for your newfound canine BFF.
Benefits of Halloween Dog Names
Naming your dog after something Halloween-themed has its advantages and disadvantages. Here, we're covering why someone would choose such a name.
First, naming your dog something more obscure could give him the attention most dogs only dream of. For example, imagine two identical dogs who act the same way. One's name is Fido and the other's is Fog. Who is more likely to get pet? I'm going to bet Fog will get far more belly rubs from the crowd.
Another benefit could be how people perceive you because of how you named your dog. Let's say you want your dog to be the ultimate protector and to tackle anyone who threatens or hurts you. Imagine the potential attacker being fake friendly and approaching you, asking your dog's name. Which is going to scare him off more? A dog named Bella or a dog named Bones? Again, I'm going to say Bones takes the win here. Of course, in reality, a dog name won't stop a deranged attacker. But it could… make you feel… more safe anyway? Just sayin'
Or, maybe you just hate talking to strangers and you're someone who doesn't like making small talk with other dog owners. While a name like "Fido" says "come chat, Karen," the name "Bullet" says "get the F out of my way." (Even if you don't choose a Halloween-themed dog name, this would be an interesting experiment, no?).
Let's take another Halloween dog name for example, like the name "Witch." While you may be into using your magik for good, others may see the name "witch" as a bad omen. As such, they could be more likely to just leave you alone on your walks of solitude.
Point being, people are less likely to talk to you when your dog is named something scary or spooky. Instead of depleting your small-talk quota, they're more likely to think you're an unfriendly person and move along walking their dog.
Another scenario: Your dog is about the partake in the fight of his life against another dog and he's trembling and sweating. Before he gets in his first pawpunch, he barks his name loud enough for all the land to hear. His name "Bullet" bark-echoes through the sky and his opponent is suddenly too intimidated to fight. Now, all dogs are safe because of his intelligently-chosen Halloween dog name.
One real reason you may want to give your dog a Halloween name is because it represents something about YOUR personality. For example, perhaps you name your dog "Witchy" because you love Wicca and nature and all the good magik it brings. Then, surely that name will mean something deep to you and tell others something important about your personality or interests.
The most sensical reason for giving your dog a Halloween-themed name: Hey, maybe you just like fall season.
Be Careful with Halloween Dog Names Though…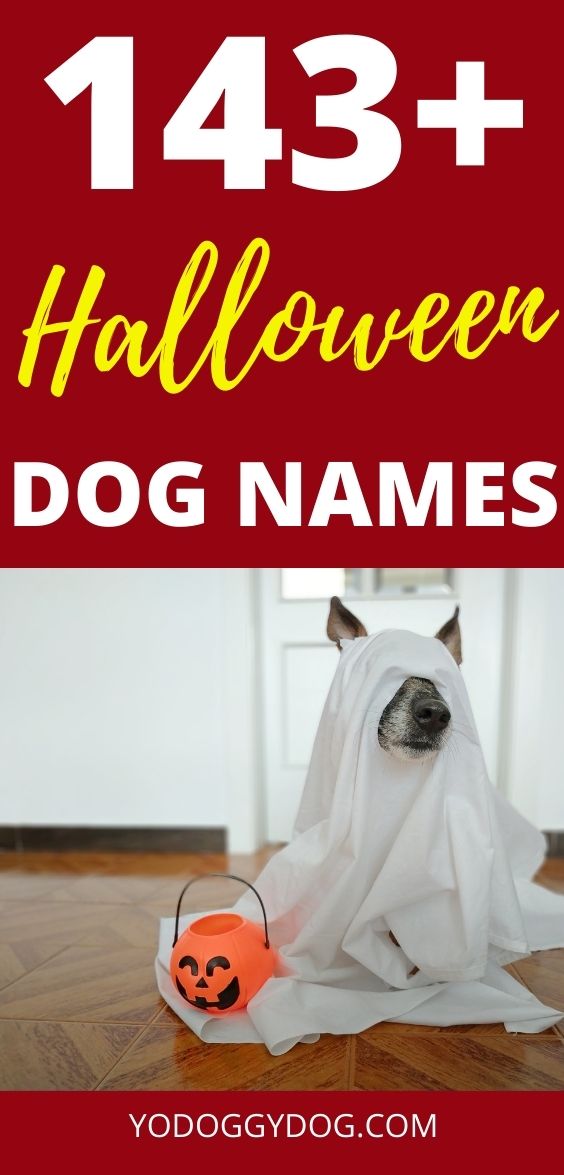 We just have you multiple reasons why you should give your dog a Halloween dog name. But now we're giving you reasons why you may want to re-think that.
First, you want to be sure the name is something that you'll use all year around. For example, Ghoul is the perfect name to give your dog in the month of October. It's timely and he fits right into the season. But calling him "Ghoul" during the holiday season makes it seem like he's the ghost of Christmas past. And calling him that in the summer… well, people may just ask you to repeat his name 5 times before giving up, wondering why you'd name a dog something like that.
Another thing to consider is if your dog's name will be a constant source of conversation. In the section above, we said a scary dog name may lessen small-talk from fellow dog walkers. But there's some cases where the opposite could be true. For example, if people always ask you to explain why you'd name your dog "Ghoul," that's going to get annoying after the third time. And in that way, you could actually be inviting yourself into more conversations than necessary.
You may shrug this off, but it's an important point if you're an introvert like me. I thought it would be hilarious to name my dog Binky. It was. But you know what's not hilarious? The number of times I need to say his name before someone pretends to understand it.
"Did you say Inky?"
"Trinky"
"Rinky"
And the only one I'll actually correct because it's a stupid name (sorry)…
"Pinky!"
Ugh.
Just a word of caution that this daily convo can be avoided if you choose something more generic, even if it's less exciting. Just a thought.
And yet another thing to think about is how people could wrongly perceive you based on how you name your dog. A name like "bullet" sounds tough and as such, the wrong crowd may be attracted to you for the wrong reasons. I'm not saying your dog's name is going to score you an "invite" to the Bloods and Crips. But what I am saying is that a more generic name could draw less attention.
Last, another thing to think about is whether people will actually call your dog by his Halloween name. For example, if you name your dog after a character, such as "Jack Skellington," you can pretty much bet people will NEVER call him by that full name. Instead, he'll be referred to as "Jack" which is far lamer than what you'd envisioned. In these cases, you should also consider whether you'd like the nickname most people would give your dog. For example, if you name your dog "Bogeyman," the name Bogey still sounds adorable at any time of the year.
140+ Halloween Dog Names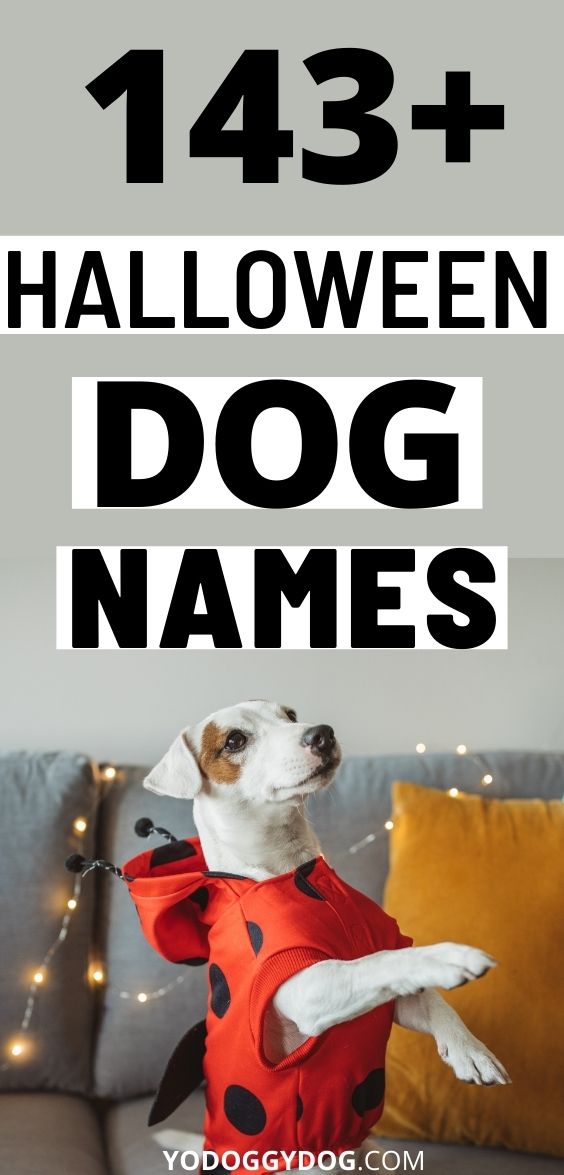 Want to pay homage to Halloween or the fall season by giving your dog a spooky name? Here's some ideas to get you started.
Bullet
Ghoul
Ghost
Goblin
Haunty
Haunter
Haunt
Apple
Witch
Raven
Cape
Witchy
Fangs
Devil
Poltergeist
Blaze
Broomstick
Corn
Zombie
Psycho
Salem
Rosemary
Crown
Reaper
Noir
Phantom
Mars
Hocus
Pocus
Ninja
Werewolf
Wolf
Scarecrow
Spell
Monster
Spice
Eve
Cauldron
Samhain (pronounced sow-in)
Gremlin
Trouble
Onyx
Spirit
Rain
Boo
Night
Rascal
Snickers
Eerie
Saffron
Maple
Luna
Creeper
Stone
Trick
Trickster
Treat
Pumpkin
Howler
Joker
October
Willow
Merlin
Pandora
Potion
Batman
Sorcerer
Magik
Medusa
Fright
Crystal
Maize (Maze)
Orangey
Spider
Cloak
Troll
Thunder
Sage
Snarl
Lief (Leaf)
Bones
Twilight
Willow
Shadow
Hex
Stormy
Vixen
Eclipse
Thorn
Surprise
Psychic
Wizard
Clove
Fog
Hunter
Cobweb
Forest
Mummy
Cadaver
Cinnamon
Crow
Hazel
Spooks
Carver
Rusty
Breezy
Tears
Knight
Cider
Topaz
Blood
Tarot
Oujia
Moon
Butterscotch
Killer
Patch
Bogey
Grim
Blade
Omen
Pendulum
Halloweenie (perfect for a dachshund name!)
Gargoyle
Autumn
Birch
Jinx
Charm
Bat
Crescent
Skeleton
Beast
Charcoal
Astra
Echo
Nightmare
Ripper
Cackle
Harvest
Ashes
25+ Halloween Dog Names after Movie Characters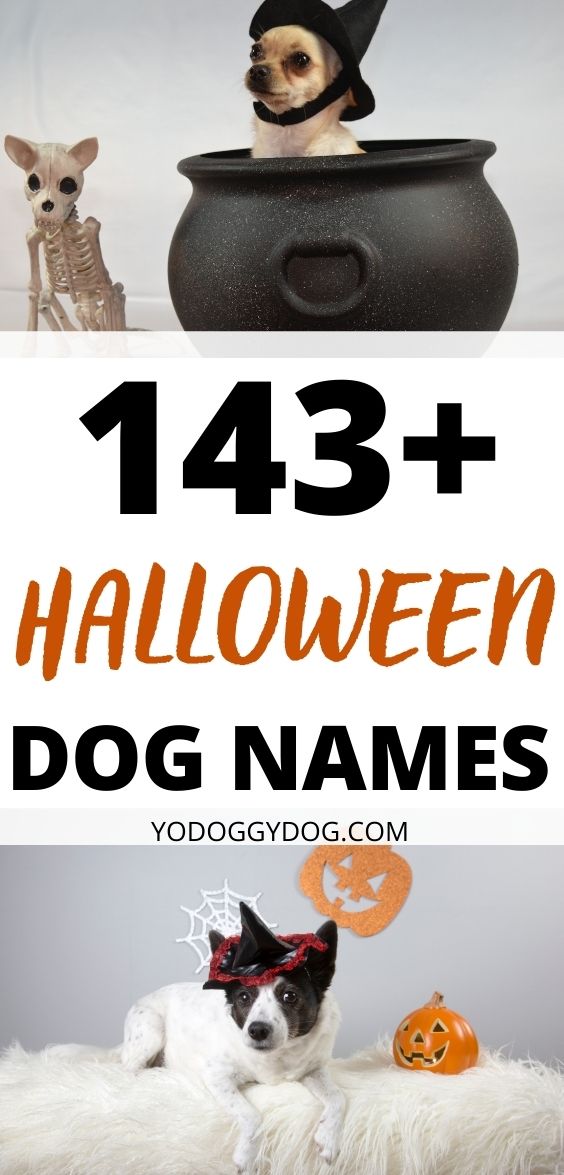 If you're a big fan of Halloween movies and shows, take a look at these for some inspiration:
Jack the Ripper
Jack Skellington
Frankenstein
Dracula
Grim Reaper
Alien
Yoda
Casper
Gizmo
Stephen King
Dexter
Bogeyman
Lucifer
Buffy
Freddy
Exorcist
Damien
Sherlock
Jack-o-Lantern
Wednesday
Norman
Darth Vader
Edward
Cruella
Hitchcock
Summary on Halloween Dog Names
If you're getting a dog during the fall season, you may want to give him or her a Halloween dog name. Before you do that though, there's a few things to think about. Will the name be suitable all year around. If not, will you care? Will others actually call them by that name? And, will the name invite more or less conversation? And are you ok with that? In summary, there's pros and cons to choosing a Halloween dog name and the one you choose depends on you and what you're comfortable with. In this post, we've outlined many names for your consideration.
Need more naming ideas? Check out: