When the holidays roll around, you may be one to start scouting for decorations.
Which new ornaments will grace your tree this year?
We have a suggestion: Beautiful doggy ornaments.
Whether it's a pup wearing a Santa hat or scarf, these ornaments are adorable and are sure to become family favorites that you look forward to each year.
In this post, we're highting magical Christmas ornaments that can all be found on Amazon. Many offer breed-specific selections, so be sure to check for your dog 🙂 If you're more into personalized ornaments, we've included a few photo and name customizable options.
Magical Christmas Ornaments with Dogs
Love dogs and celebrate the holidays? We've rounded up the cutest options… all of which can be found on Amazon 🙂
#1 Black Lab Santa Hat and Scarf Ornament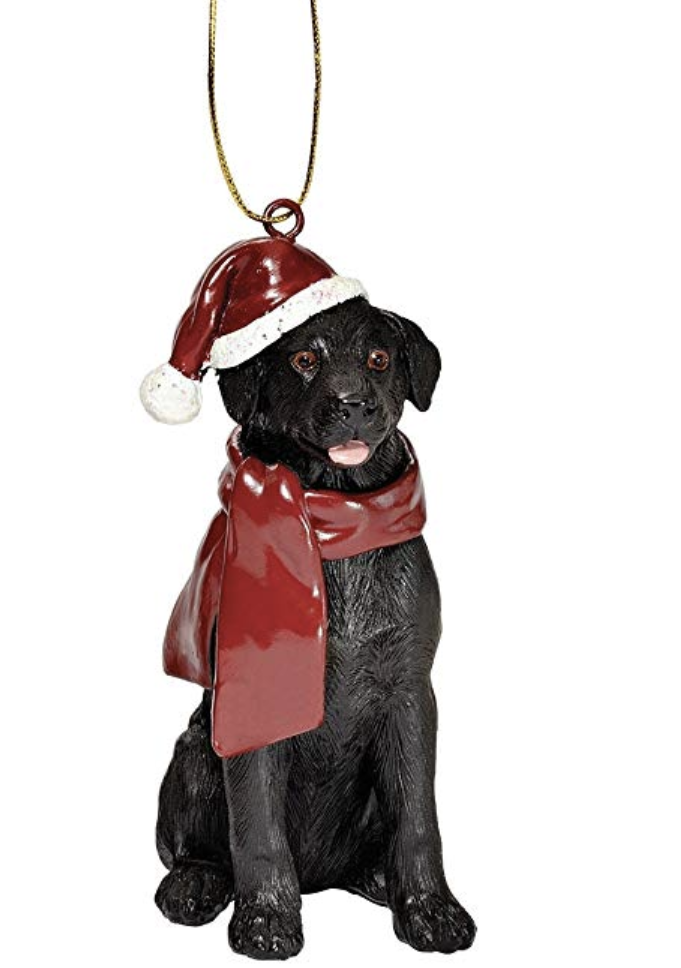 This high-quality ornament comes in various breeds, including black lab, Charles cavalier, chihuahua, dachshund, pointer, Huskey and Yorkie. It would make a great addition to your tree or for a friend that owns one of these breeds.
Pawsative Ruffview: "This was perfect. I bought it for my parents as a Christmas gift, because it looked just like our dog that had passed away recently. Brought tears to all our eyes and it had a very special place on our tree. Love it!"
Get the Breed Specific Ornament for $12
#1 Angel Wing Beagle Magical Christmas Ornament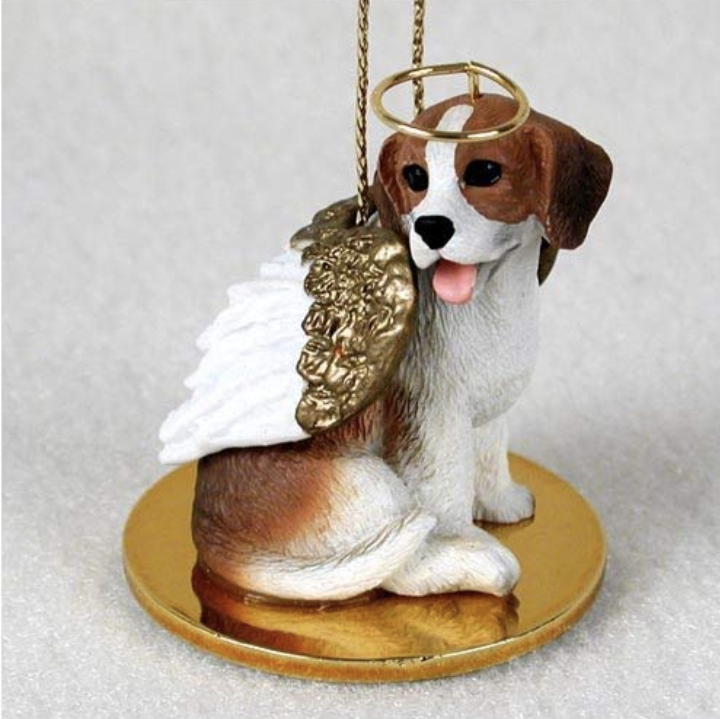 This beautiful design features a beagle sitting on a gold platform with white and gold wings. He's surely a good boy with a halo hover over his head.
Pawsative Ruffview: "Bought this in memory of my beagle who recently passed away. It is relatively small but it's beautiful. I am pleased with this purchase."
Get the Angel Beagle for $14.97
#2 I Love My Dog Christmas Tree Ornament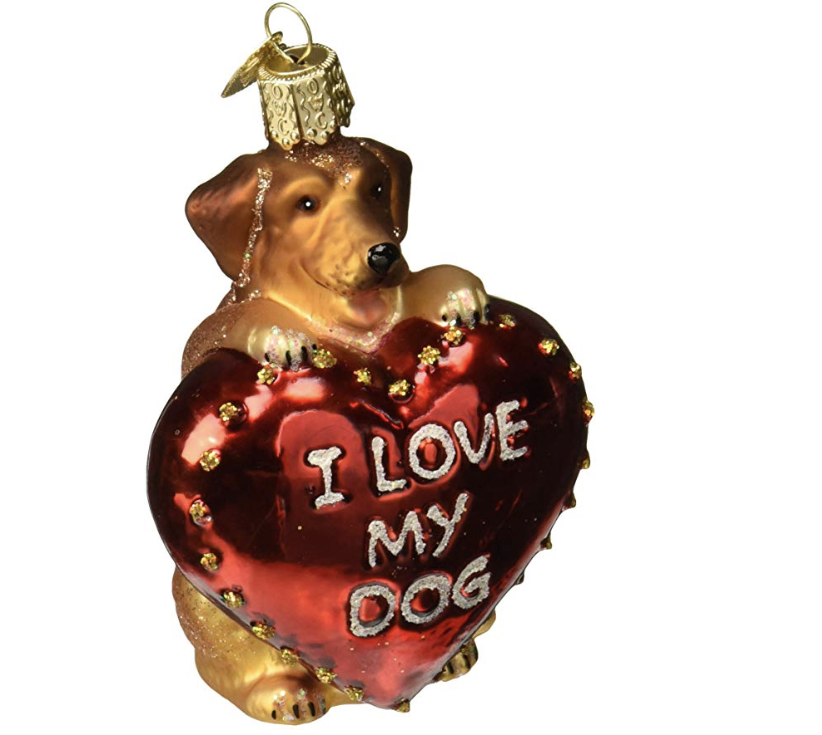 This would make the perfect dog lover gift because we can all relate to it! This subtle sparkle ornament features a dog hugging a red heart with the writing "I love my dog." There's also a paw print ornament version that's centered around wings.
Pawsative Ruffview: "This is a beautiful Old World style Christmas ornament… and especially meaningful for anyone who has lost a beloved companion animal… The ornament is a perfect size… wonderful old fashioned-style ornament. If you have a friend or family member who lost their companion animal even years ago, this will have great meaning. It really is a lovely ornament."
Get the Dog Lover Ornament for $5.69
#3 Slinky Dog Ornament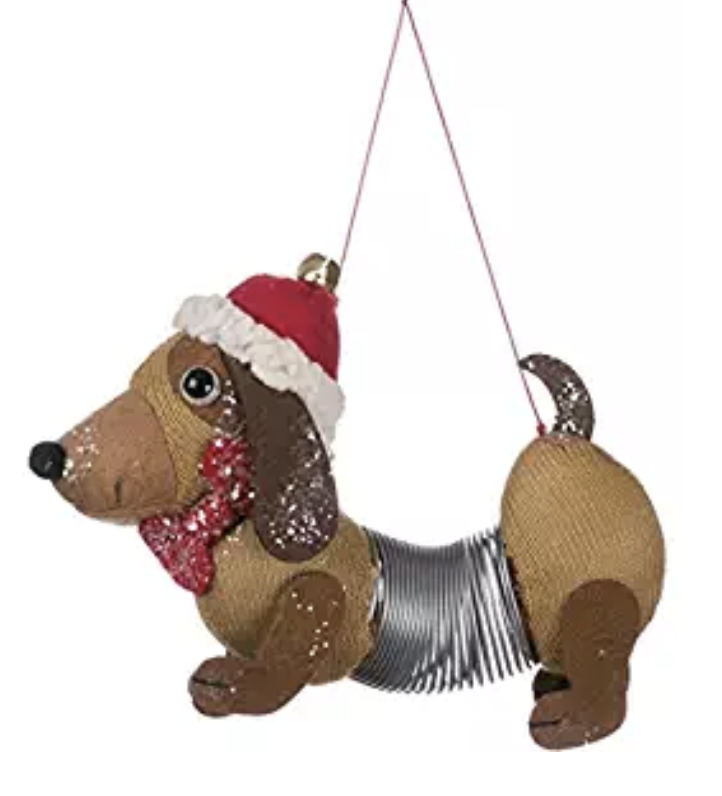 Unlike the other dog ornaments, this one is made of plush and mental/slinky material. It comes complete with glitter and a Christmas hat and bow.
Pawsative Ruffview: "The person I gave this to smiles every time she looks at it. Mission accomplished."
Get the Slinky Pup for $14
#4 Angel Breed Specific Magical Angel Ornaments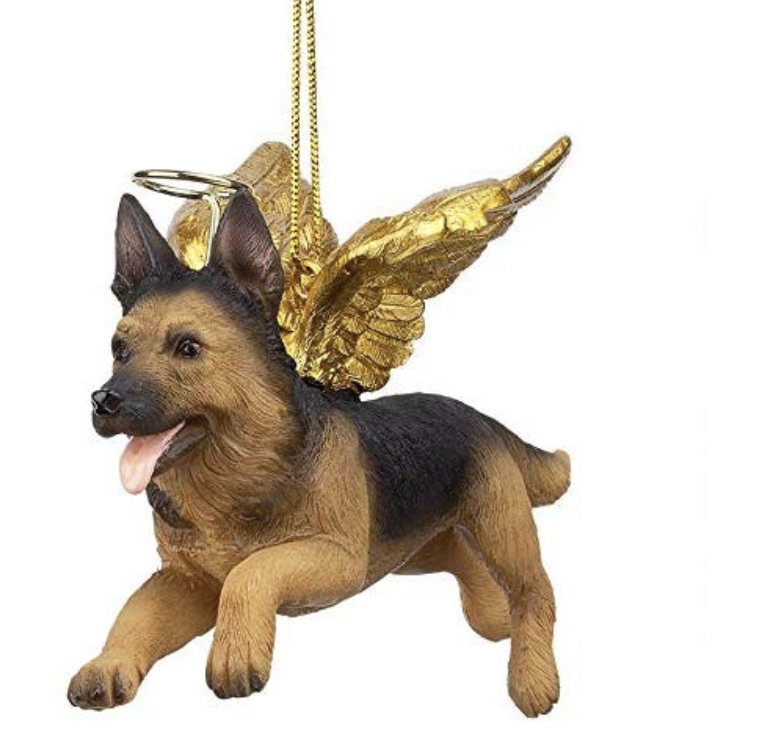 This is a great ornament to honor pets who've passed on or even those that are still here. Comes in several breed designs, including:
Beagle
Border collie
Chihuahua
Dachshund
Doberman
German
Shepherd
Maltese
Welsh corgi
Yorkie
Pawsative Ruffview: "I got this for my sister's boyfriend. He loved it and put it on the tree immediately. At the top..under the angel. I wanted to cry all over again."
Get Your Specific Breed Ornament for $14.90
#5 Australian Cattle Dog Gingerbread House Ornament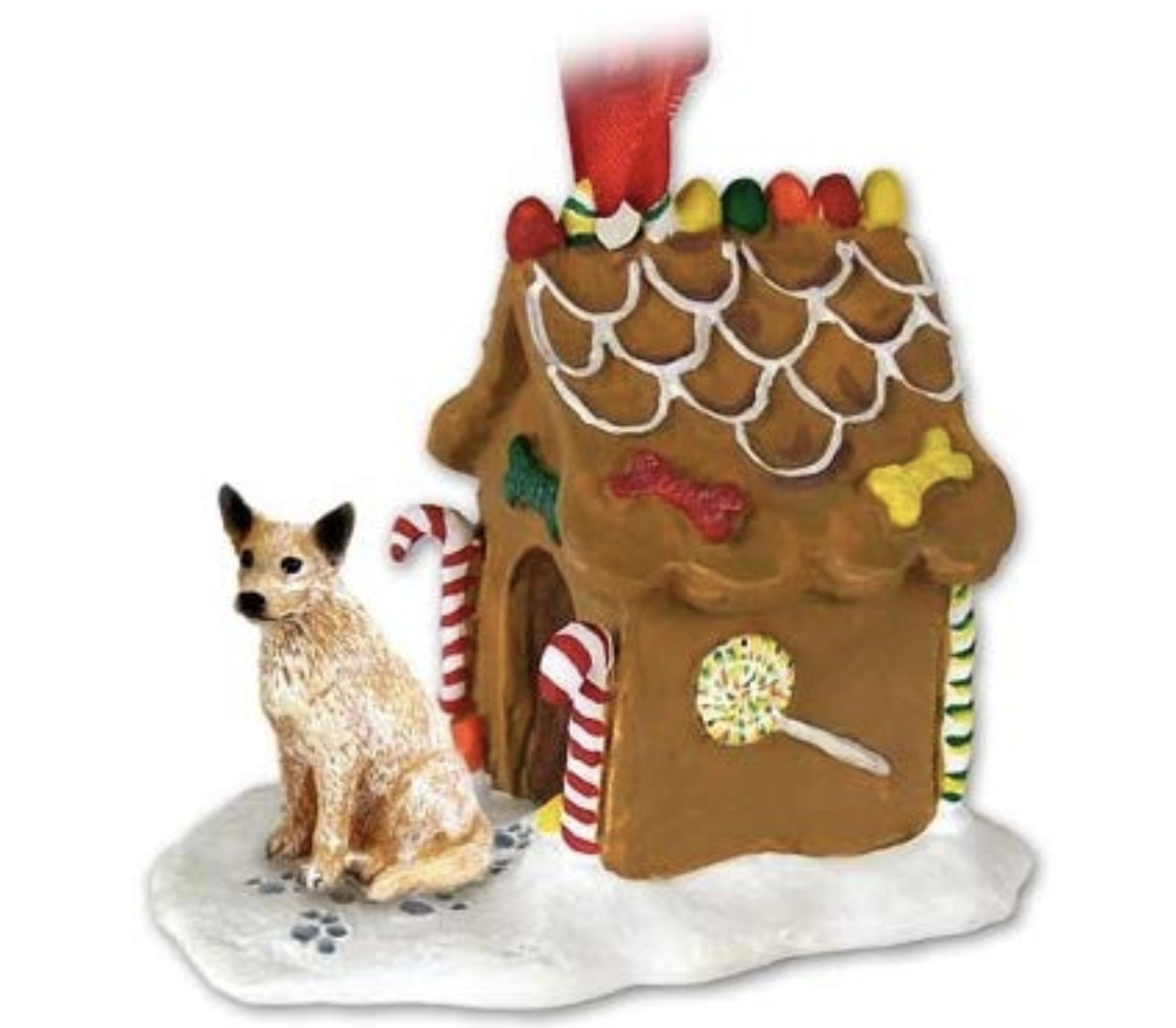 This detailed magical Christmas ornament features a dog sitting outside a gingerbread house. Of course, it's not just adorned with candy-it also features colorful dog bones for decoration.
Pawsative Ruffview: "I have searched for YEARS to find ornaments of my pups, I saw these and they are the closest I've seen to match my pups! They are adorable plus they all match! Shipping was fast and the quality is great! Xbox controller is for size reference. :)"
Get the Gingerbread House Dog ornament for $17.99
#6 4-Pack of Assorted Dog Christmas Tree Ornaments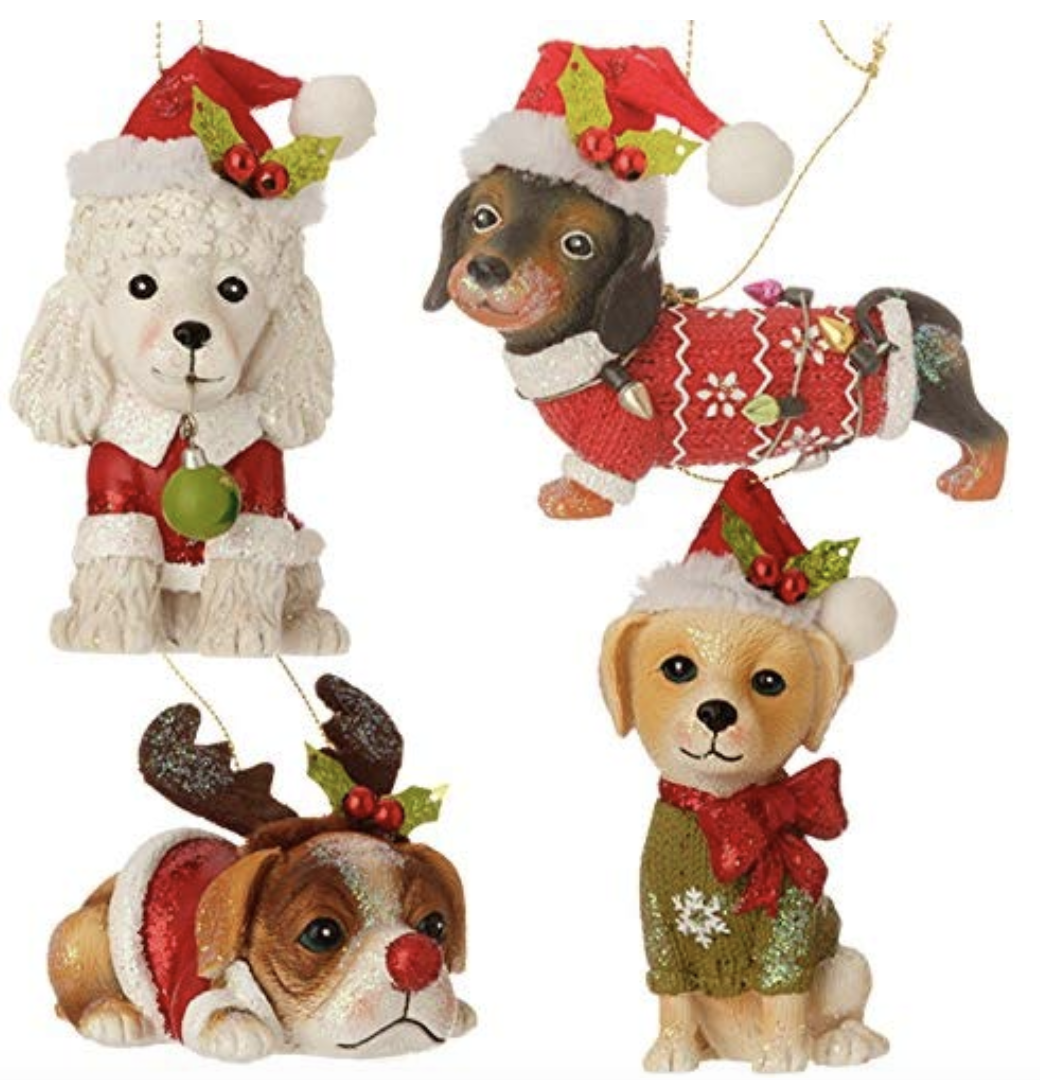 Crazy about dogs? Why settle with just one dog ornament? This set includes 4 adorable pups who sport Santa hats and reindeer antlers while dressed in festive sweaters.
Pawsative Ruffview: "Loved these ornaments! They helped to make my "dog" tree special."
Get the 4 Ornaments for $27.98
#7 French Bulldog Ornament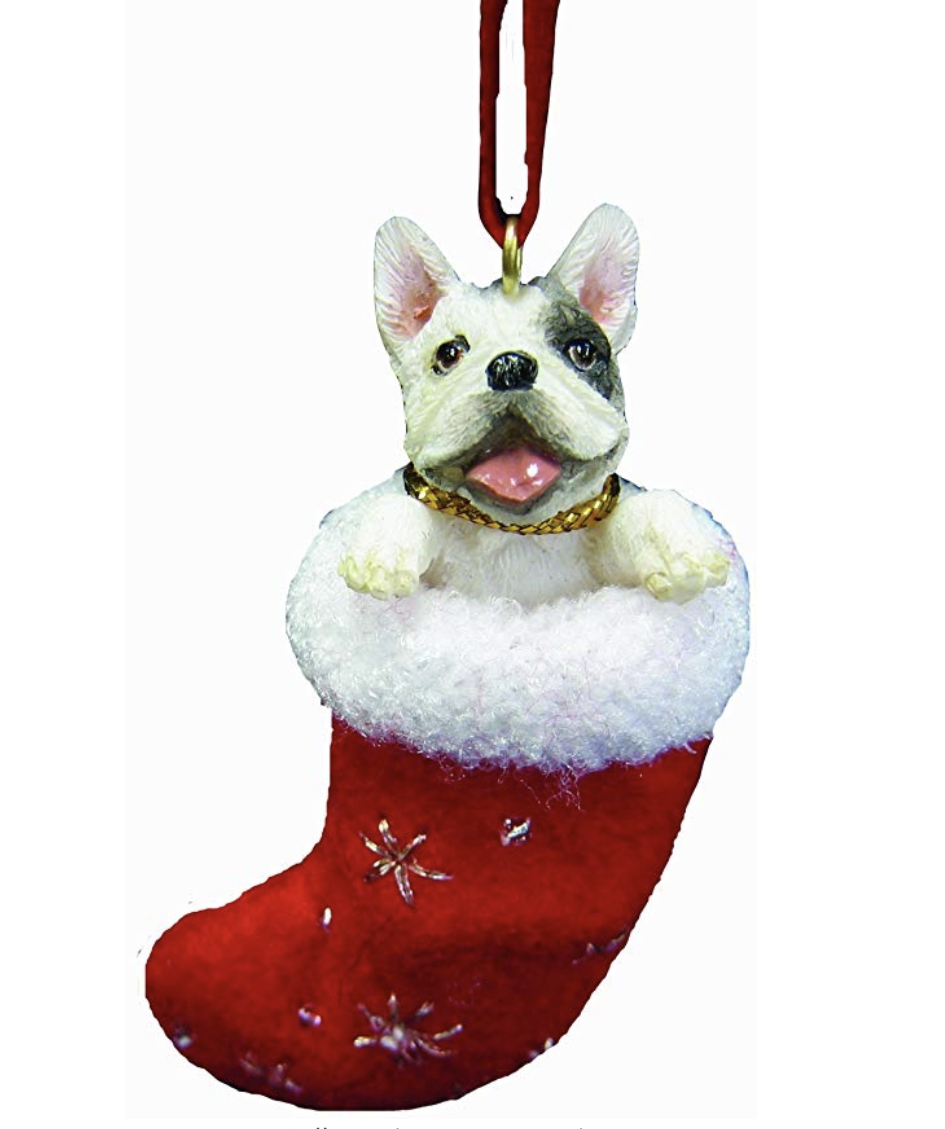 Each of these ornaments are hand-painted and are made to capture the breed's features.
Pawsative Ruffview: "This item is so adorable. Fits perfectly on Christmas tree, with little weight. It's a wonderful gift to give. We just love it."
Get the Frenchie for $8.75
#8 Yellow Lab Christmas Ornament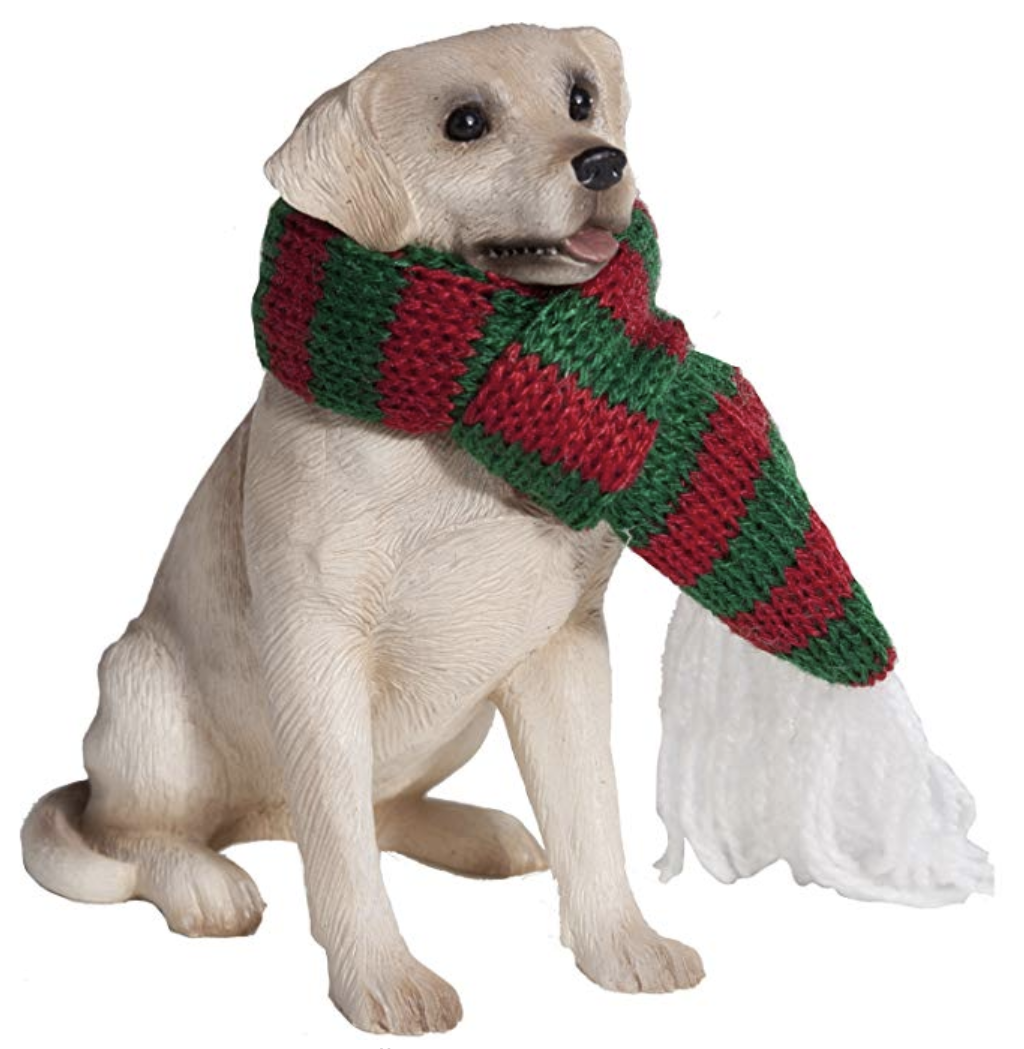 If you have to love yellow labs, this is the ornament for you. There are a few dropdown options you can choose from to decide whether you'd like him to wear a scarf, hat, etc.
Pawsative Ruffview: "I had 2 pedigree yellow labs. On June 16th 2014, I had to let my oldest one go, she was almost 15 and my everything. My husband bought me this life size sitting yellow lab, it arrived in 5 days of ordering. I opened the box she came in, a flood of emotions hit me she was BEAUTIFUL!! This statue looks exactly like both my labs. I washed my baby girl's collar and put it on the statue, it was like she came back to life. My surviving puppy girl and I are now doing fine, every time I look at my new gift I feel at peace and best of all I feel she is still with us. Amazing! Just to let anyone interested, amazon gives you a choice of ordering a male or female. It truly is spectacular!"
Get the Dressed Up Golden Retriever Ornament for $9.95
#9 Frenchie with Eyeglass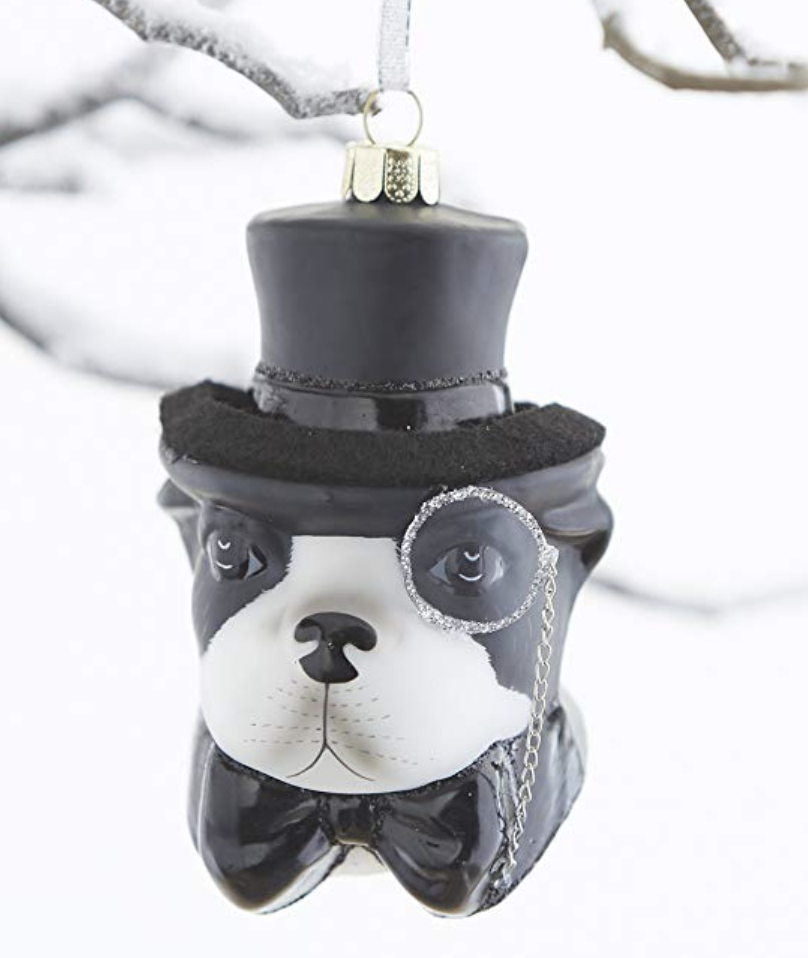 This is probably my favorite ornament of them all because it's so unique and adorable. A French bulldog hangs with a top hat while looking through an eyeglass.
Pawsative Ruffview: "Nice ornament!"
Get the Looking Eyeglass Pup for $17
#10 Good Boy Gold Bone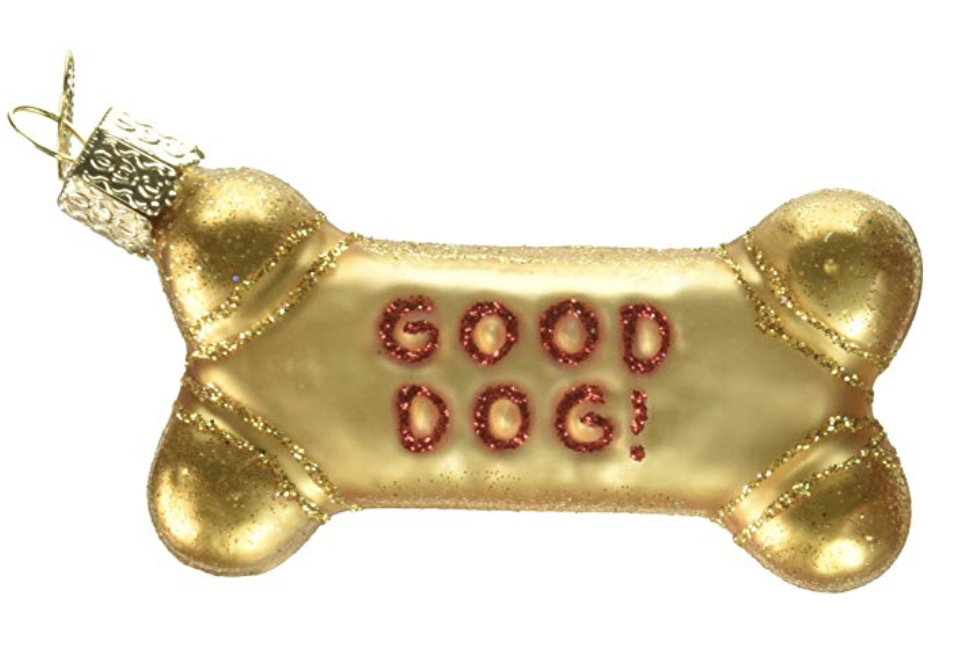 Has your pup been a good boy this Christmas? Reward him with the ultimate gold bone ornament (okay, and also an actual bone 🙂
Pawsative Ruffview: "This looked so cute on my doggie tree. With my Cavalier King Charles Spaniel and other ornaments from OWC. I personalized mine with my pup's name."
Get the Good Boy Ornament for $2.20
#11 Boxer Pup With Christmas Lights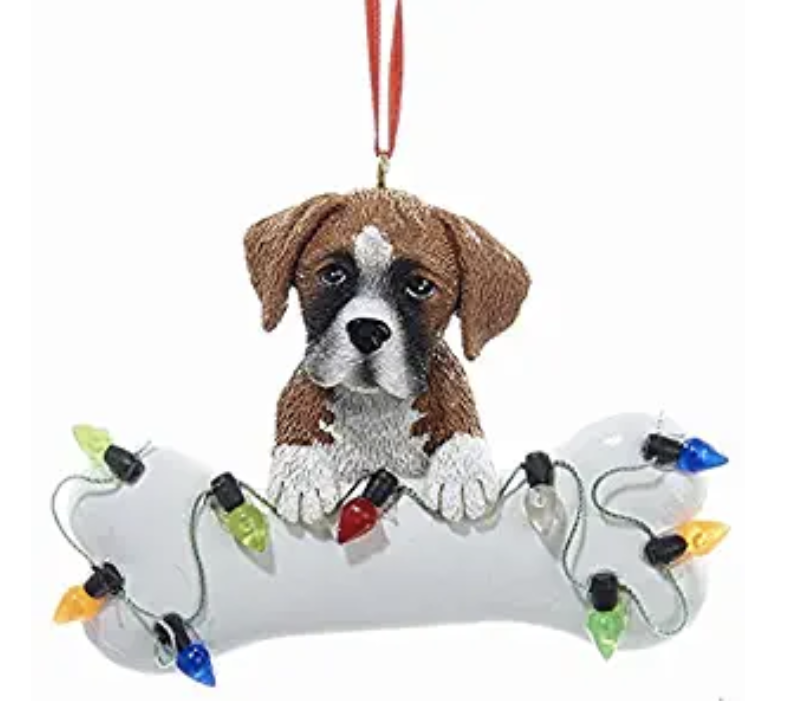 This pup hovers over a white bone with dangling multi-color holiday lights. Whether you have a boxer or just like dogs, it's an adorable addition.
Pawsative Ruffview: "My Christmas tree is decorated with a kids/pets theme. Since I love animals, have 4 dogs and 4 cats of my own, plus I foster for our local no kill shelter (currently fostering 9 animals), one of our rescues is a boxer so when I saw this I had to buy it. It really looks like our Rocky and is a breed that was not yet represented on our tree. Very cute ornament."
Get the Dog Light Ornament for $12.44
#12 Mini Talking Dog Magical Christmas Ornament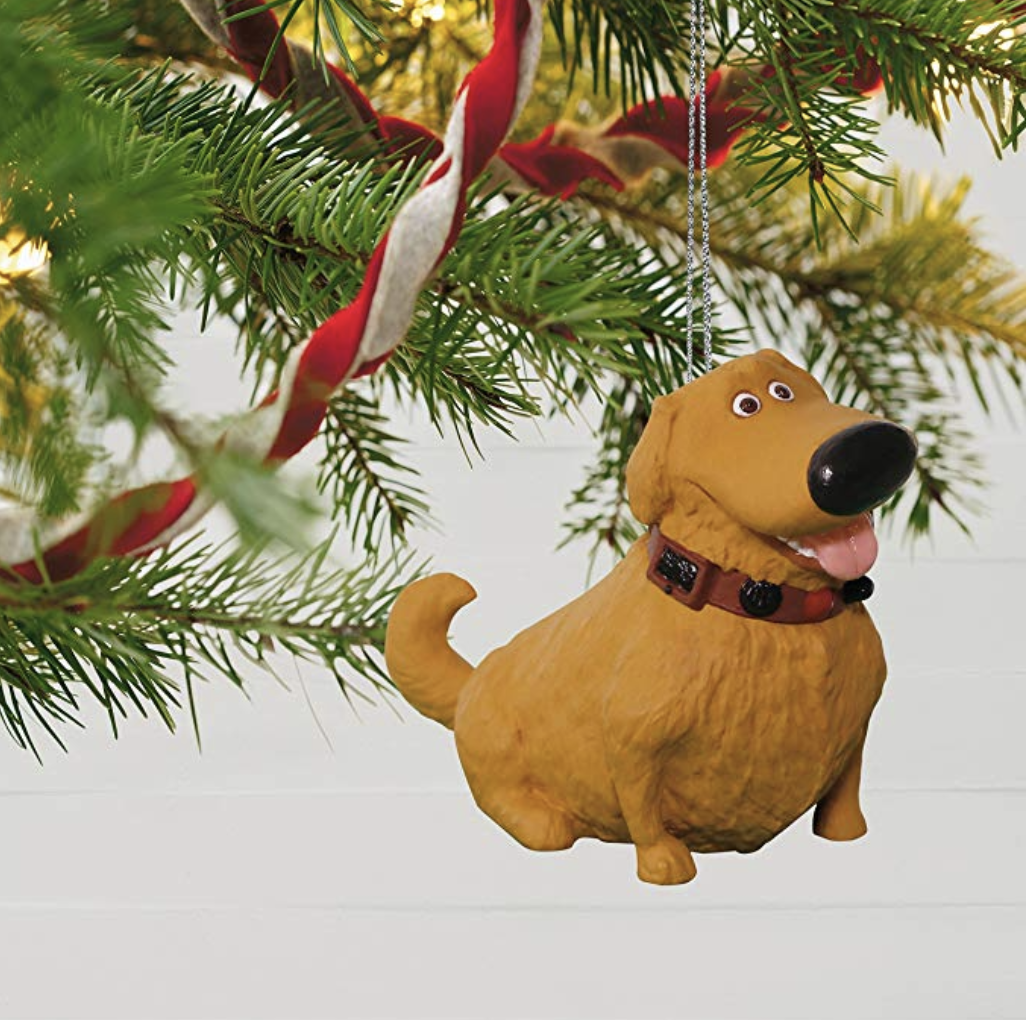 Truly a magical ornament, this pup talks when you press a button. He says several phrases such as "oh! Squirrel!" and "I just met you and I love you." If he looks familiar, it's because he's from the movie Up.
Pawsative Ruffview: "Who doesn't get distracted at the office. We call this the "squirrel" movie just like in the movie "Up". So whenever we have a "squirrel" moment at work, we press the button on this cute little ornament (may have to push it a few time to get it to say the phrase but that's ok – what's another distraction at work :)"
Get the Talking Dog for $27.95
#13 Black Lab and Breed Specific Ornaments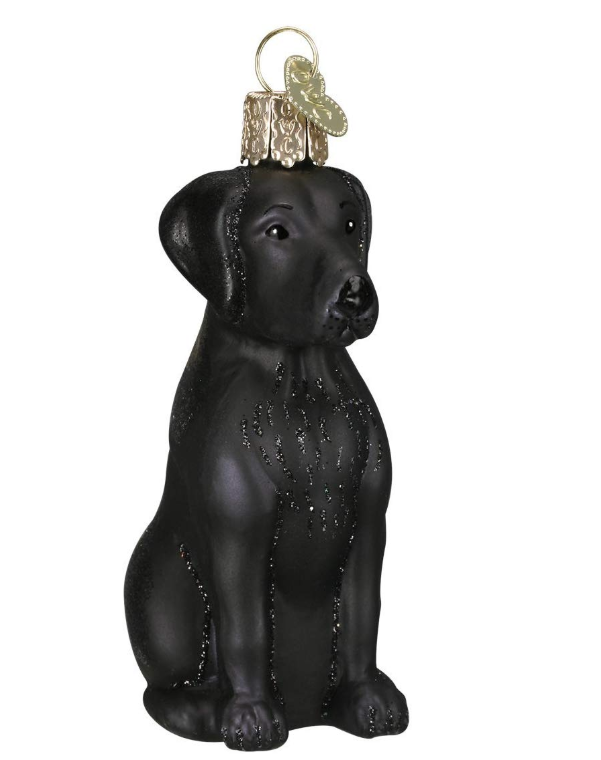 This black lab features sparkly accents that catch the Christmas tree lights. It's handcrafted and hand-painted, ready to be placed on your tree. They have over 20+ breeds, so be sure to check for yours!
Pawsative Ruffview: "I ordered this ornament in memory of my dog, Ty. I lost him this year. I always try to memorialize my pets with ornaments, and this one is great."
Get the Magical Christmas Ornament for $9.49
#14 Brown and White Bulldog Ornament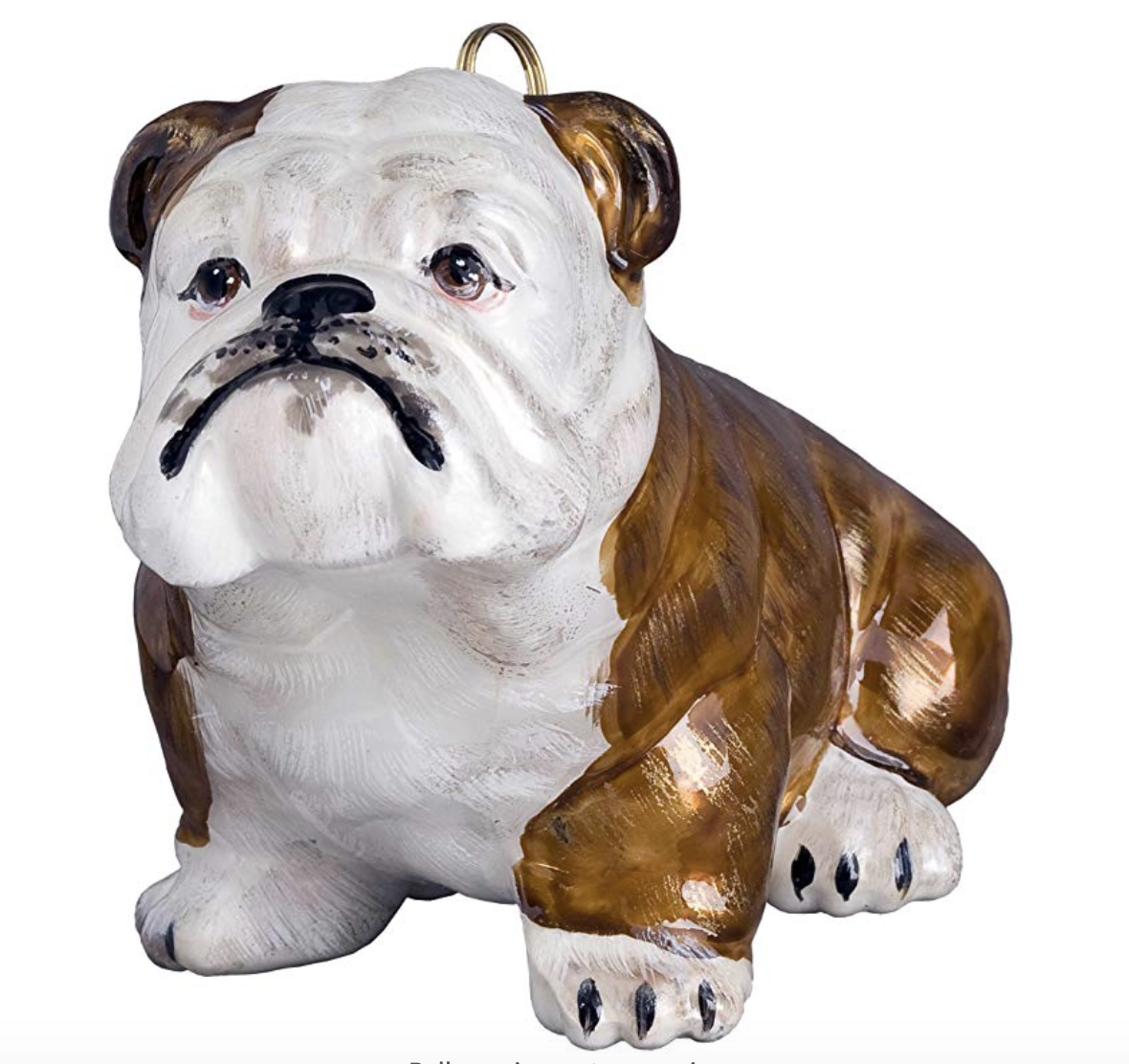 This company makes and sources all their materials in Europe, ensuring they're high quality. It's mouth-blown and hand-painted, taking several days to make this masterpiece.
Pawsative Ruffview: "I love my English Bulldog ornament! Detailed very nice and will become a family heirloom!"
Get the Prestigious Bulldog Ornament for $32.98
#15 Chihuahua and Breed Specific Shatter Proof Ball Ornament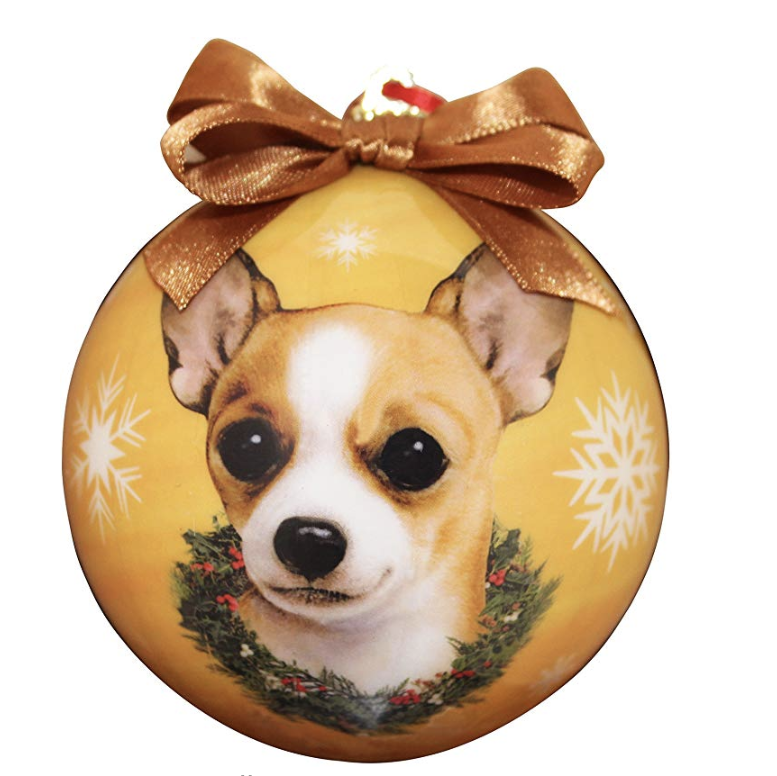 This is another great choice if you want a decoration specific to your dog breed. Also a great choice if you're prone to breaking things. Choices include:
Basset hound
Dachshund
Boston terrier
Boxer
Pitbull
Cocker Spaniel
Golden Retriever
Black or white chihuahua
King Charles cavalier
Pomeranian
Pug
Rottweiler
Sheltie
Westie
Poodle
Pawsative Ruffview: "Perfect addition to our tree!!! Love it!!! Wonderful quality!!! Looks just like our little chihuahua rescue (and the bichon ornament looks just like our little bichon rescue)! Wonderful ornaments!!!!!"
Get the Breed Specific Dog Ornament for $8.97
#16 Multi-Breed Noble Gems Glass Dog Ornament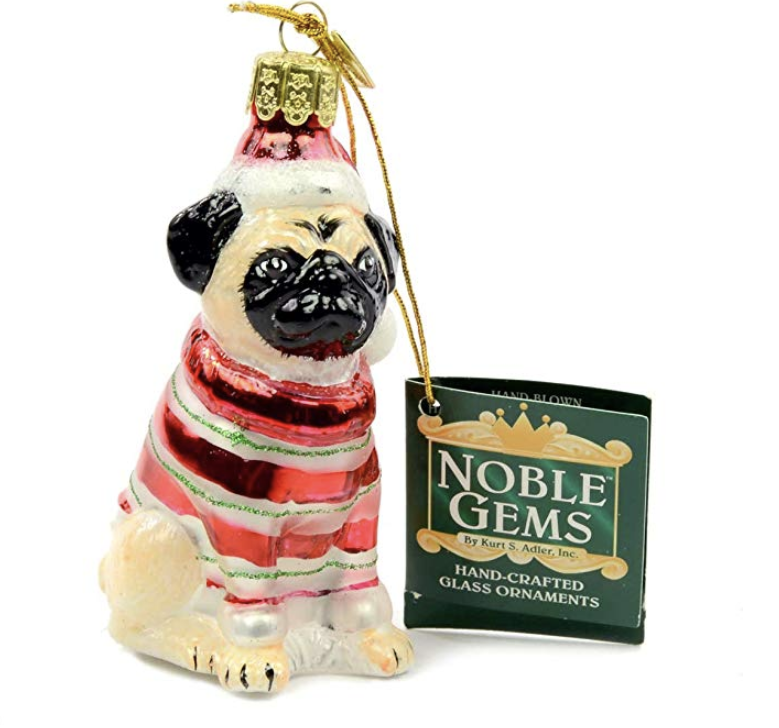 These beautiful ornaments feature magical sparkles in the right spots, looking exactly like your pup if she's a:
Black poodle
Shih-Tzu
Bulldog
Chihuahua
Daschund
Golden retriever
Pug
White Poodle
Pawsative Ruffview: "I love my doxie ornament… the colors are nice and vibrant! Well made and looks like my sweet girl "Harley Sue"! A great addition to any doxie lovers Christmas tree!"
Get the Doggo Ornament for $14.34
#17 Dog Christmas Lights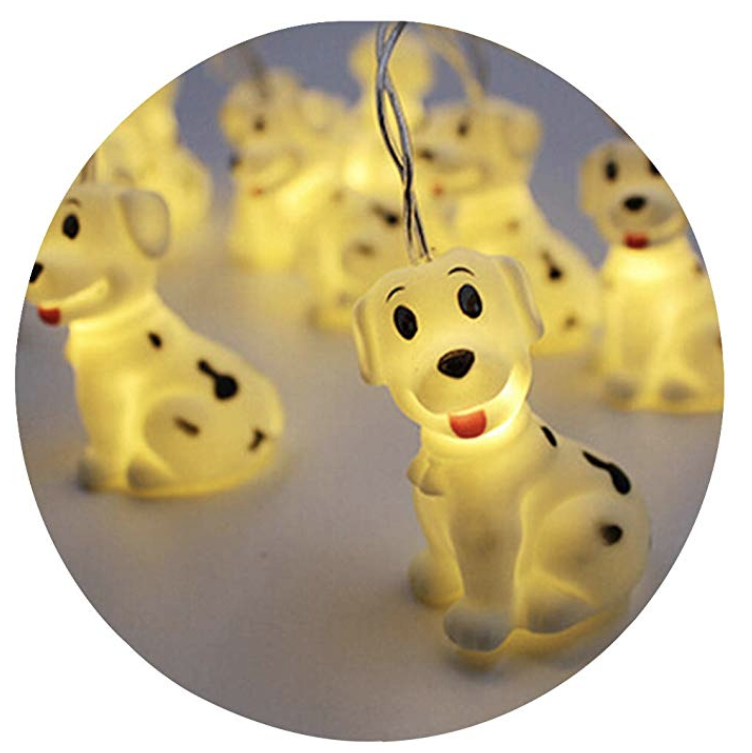 If you want to change it up from the traditional holiday lights, check out these adorable dalmatian string lights. They're battery-operated, so you can place them anywhere– whether it's on your tree or to glow up your window.
Pawsative Ruffview: "Put them on decorated golf cart for Christmas parade. Cart had north pole dog taxi theme so they fit right in. Had tons of compliments and took first place in competition."
Get the Doggy Lights for $13.99
Custom Dog Christmas Tree Ornaments on Amazon
If you're looking for a custom dog Christmas tree ornament but don't want to make it yourself, you have a few options.
#18 Personalized Ornament for Dogs in Heaven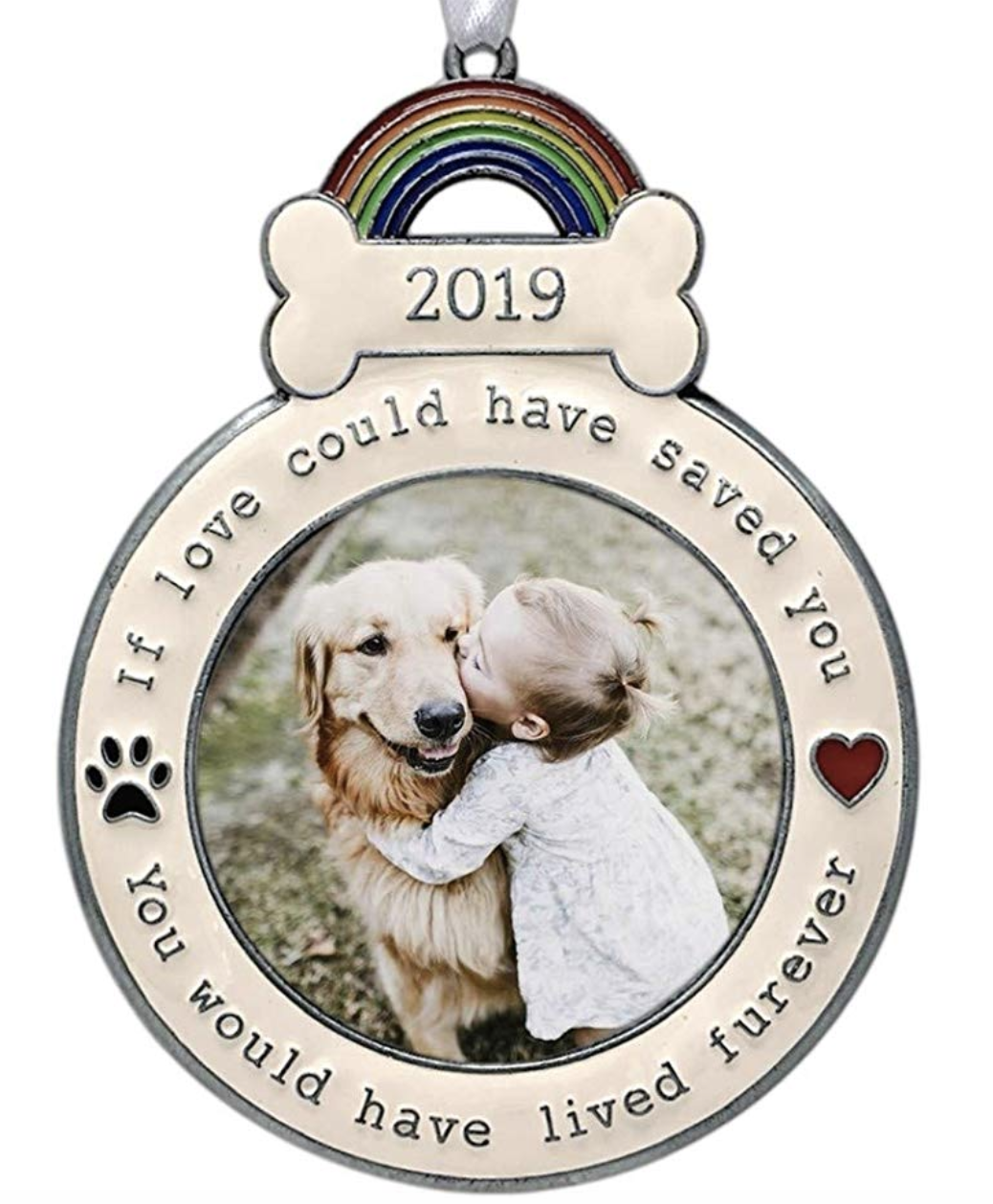 Ugh. Doesn't this one just pull at your heart strings? If you have a fur friend who's passed on, this is a great way to remember her at this time of the year.
Pawsative Ruffview: "I purchased this ornament for a friend whose dog passed just before the holidays.❤️ I was pleasantly surprised at how cute the ornament was and of the heavy high quality. You won't be disappointed with this purchase."
Get the Dog Christmas Tree Ornament for $14.99
#19 Wood Paw Print Cut Out Ornament for Passed on Pups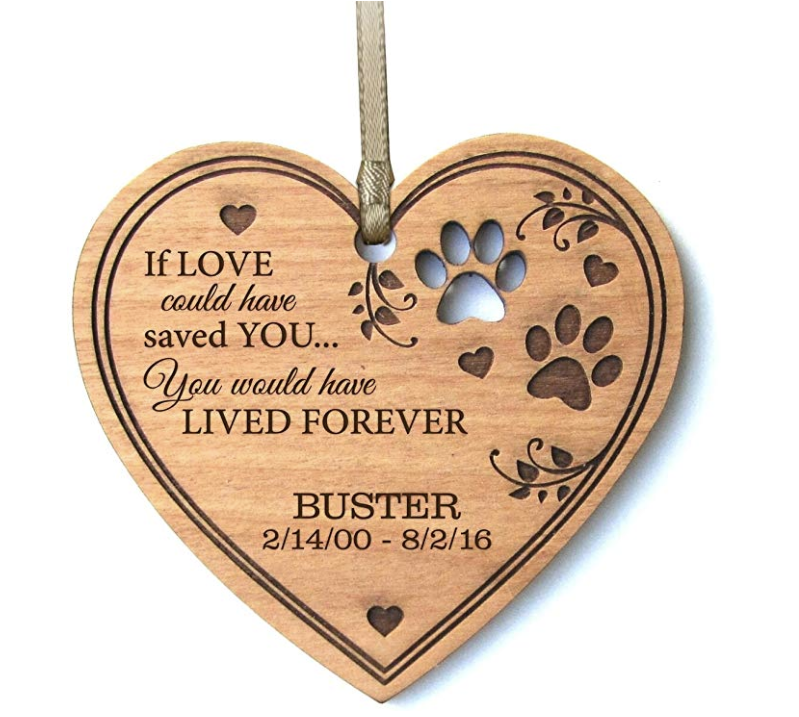 It's the same saying as above, only it features a personalized birth/death date rather than a photo. This classy decoration looks beautiful on the tree while also serving as a reminder of Fido.
Pawsative Ruffview: "I bought this for a friend who recently had to put down her dog down due to bone cancer. She absolutely LOVED this and said she would cherish it forever. It was well made and absolutely beautiful. I would definitely purchase this again."
Get the Passed On Doggo Ornament for $19.99
#20 Custom Dog Photo Name Ornament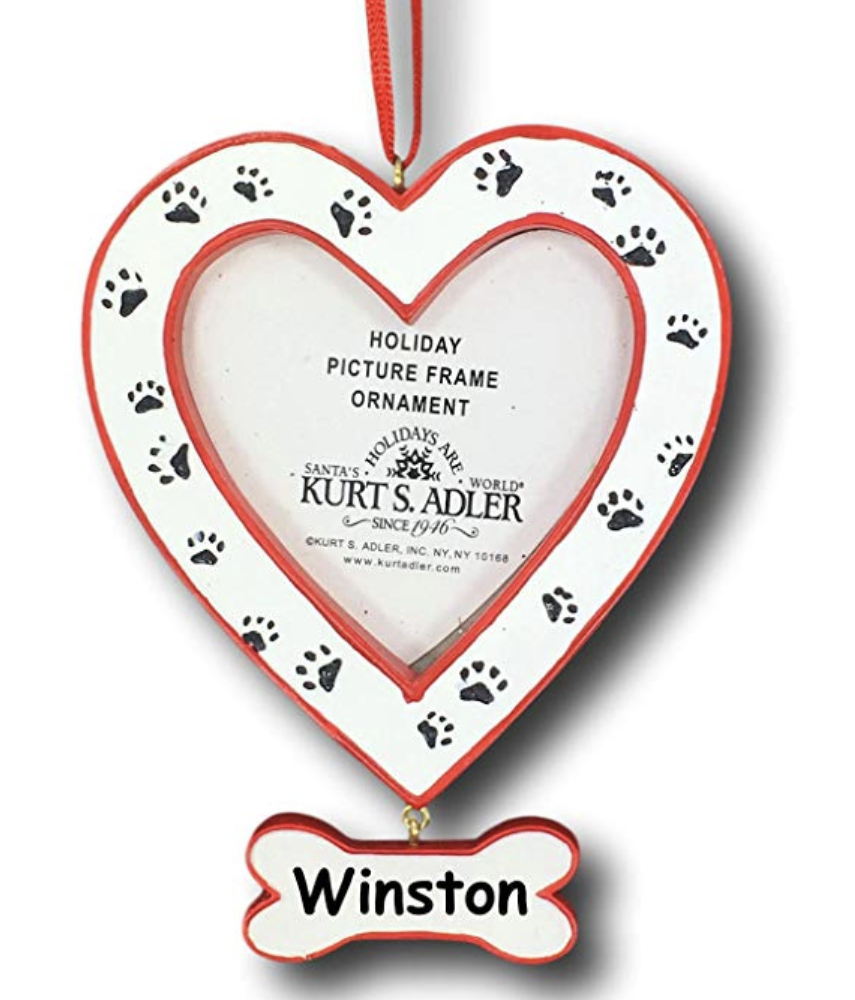 You can order an ornament such as this one and have the seller customize it with your dog's name. When you receive it, simply put in a photo of your pup and hang it.
Pawsative Ruffview: "Very cute. All my dogs have their own photo ornaments, and this one was for our new puppy. Would buy again"
Get the Custom Dog Photo Ornament for $8
#21 Custom Dog Name Ornament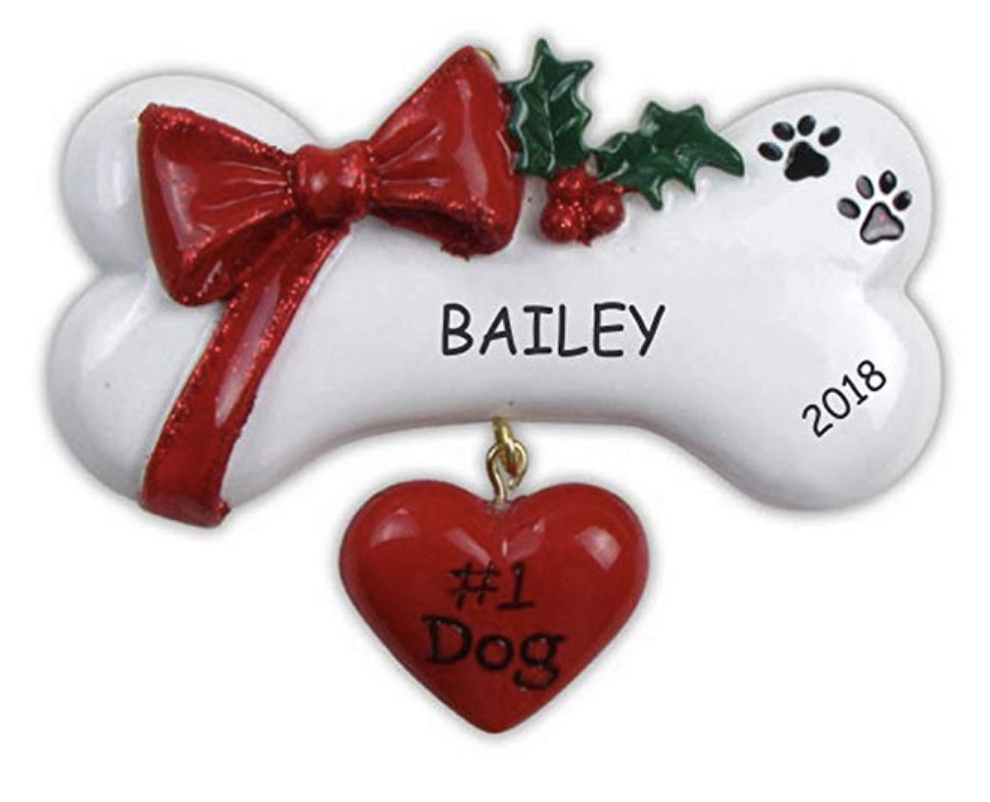 There are so many differently designed ornaments that you can get your dog's name printed into. Click the link below for more options.
Pawsative Ruffview: "Amazing ornament and came quickly too. It was packaged very well (lots of bubble wrap) and marked fragile which is a good thing. I purchased the #1 Dog ornament and I couldn't be happier. This will be my puppy's first Christmas and the year at the bottom make it's just that much more special. The ornament is made with quality materials and looks so cute. It's made of polyresin so it can break. I'm using a wire hook and the included ribbon to make sure it's secure on my tree. The bow, mistletoe, and heart have red glitter and looks great. The ornament even came with a little keepsake red satin bag with ties. Thank you DIBSIES Personalization Station. I recommend this ornament and this company. I will definitely buy from you again!"
Get the Custom Dog Name Ornament for $18
#22 Double Photo Dog Ornament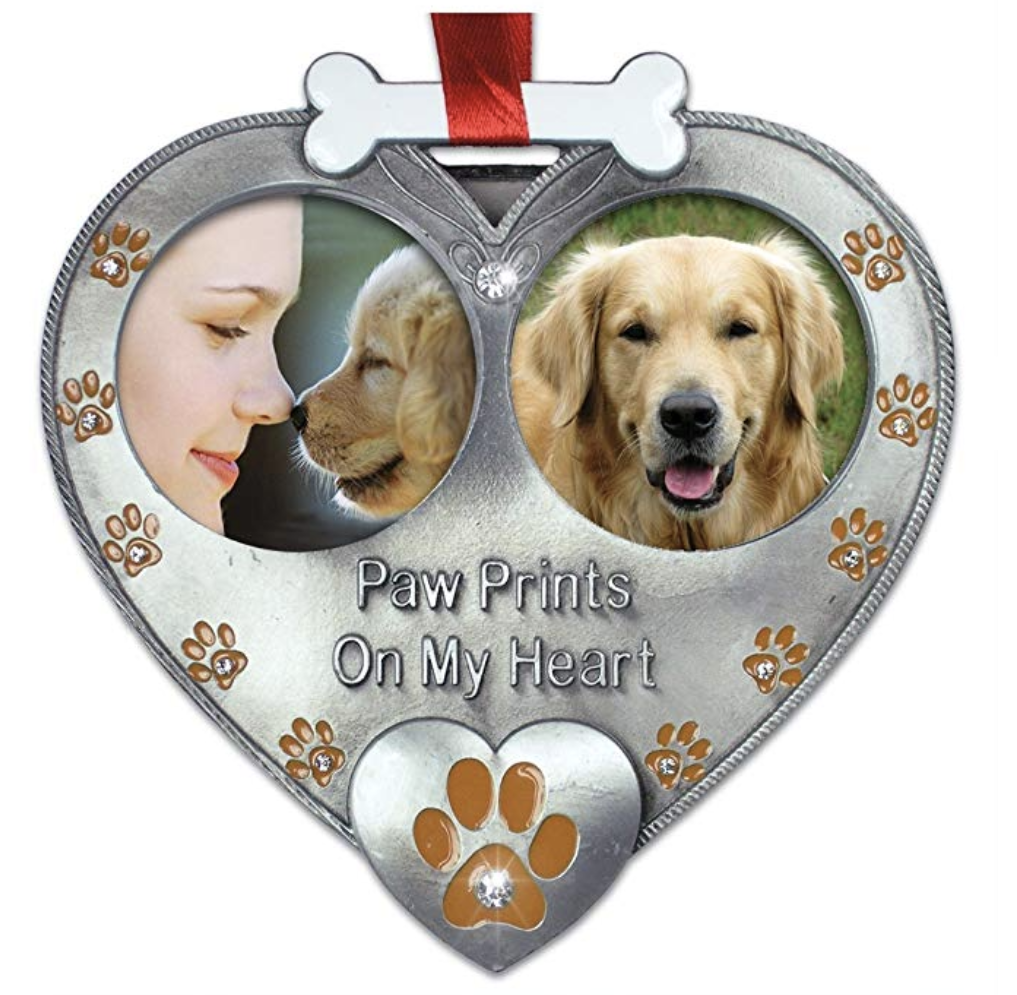 The seller doesn't customize this one with a name, but it does provide 2 photo spots. You can fill it with two of your dogs, or your dog and you, your dog and your child, etc.
Pawsative Ruffview: "This is my first Christmas in 15 years without my dog. I was very picky about what ornament I wanted to put her picture in to go on my tree. It came 2 days sooner than expected. I took me a few days to open it because I wasn't ready to put her picture up. When I opened it it was perfect. I had the perfect picture and now my tree is complete."
Get the Personalized Engraved Dog Ornament for $14.99
DIY Paw Print Ornament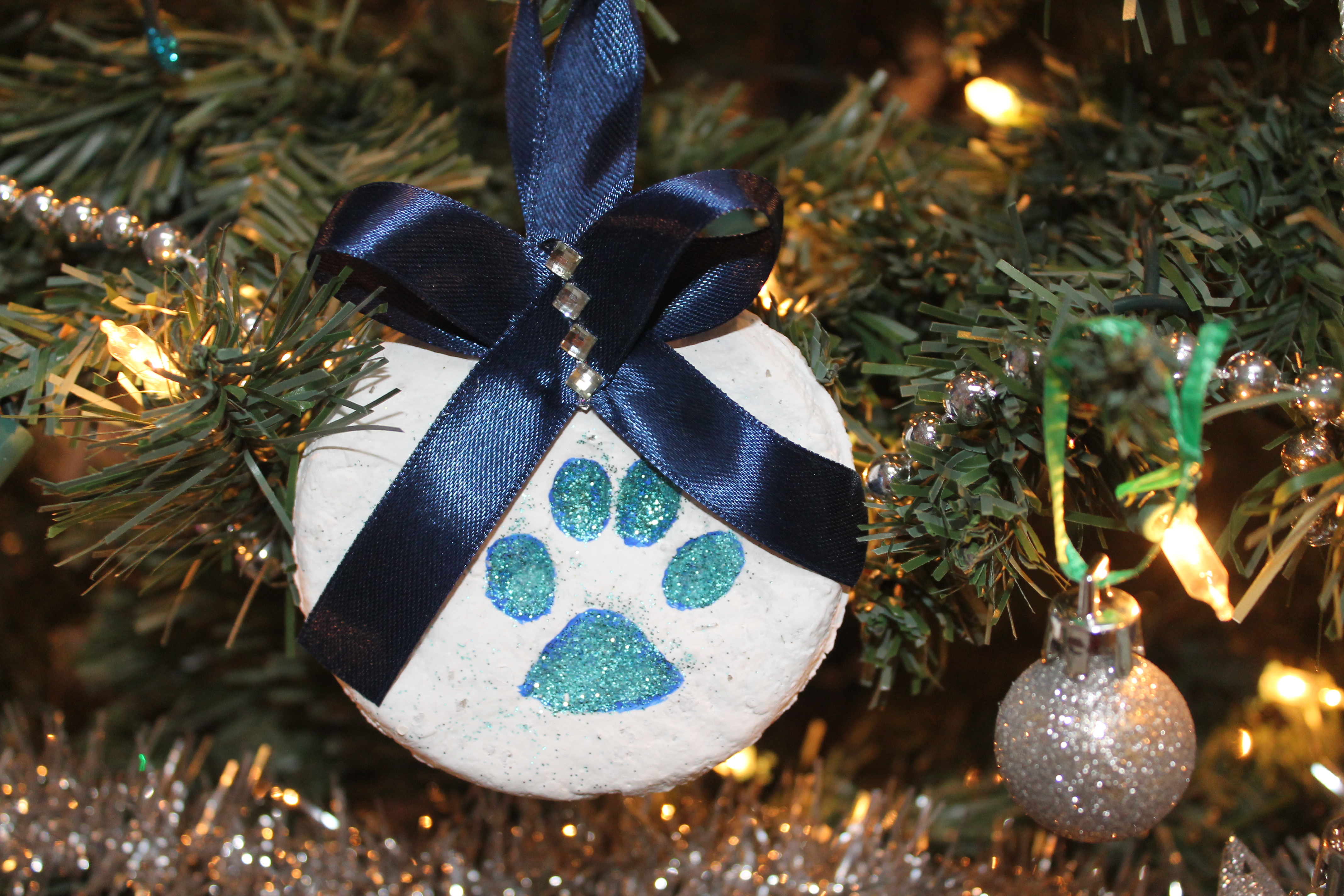 Another option is to make your own paw print ornament with ingredients you probably already have in your kitchen. See the full instructions here.