My dog loves to open up gifts at Christmas.
I don't mean just receiving them, I mean actually opening them up.
I'll wrap them up in soft tissue paper and hand him the gift.
He'll give it a few sniffs and then use his paws to rip it open.
For that reason, I always get my dog gifts for his birthday and Christmas. I love to see his happy face when he sees his new present.
From toys, treats, clothes and accessories—there's so many options, but not all are worthy as gifts. We're narrowing it down to the top 32 things to get your dog this holiday. Since all these can be found on Amazon, almost everyone can order them and get them before the holiday with plenty to time to spare!
Dog Gifts: What to Consider
Personality— What does your dog like? Is he more of a squeaky toy dog? Or does he prefer tug-of-war type games? Or perhaps he enjoys interactive toys to pass his days. Keep his playful personality in mind when selecting toys.
Dietary restrictions— Treats are also a great gift, but keep in mind your dog's likes and dislikes. Is he sensitive to any ingredients? Does she have any favorite flavors?
Wrapping— If your dog is like mine, he may love to open up his gifts. If you want, try it out for yourself. Although my dog could open regular wrapping paper, it's easiest to do on his own using tissue paper.
Splitting Gifts— If you have more than one doggo, you may wish to split up treat gifts into their own individual packages. This way, they can both open up their gifts and you don't need to spend money on an extra bag.
Sizing— There's a few doggy clothing options on this list. If you choose one, here's a few tips to get the sizing right. Instead of randomly purchasing by guessing, use a fabric tape measure (or string and regular measure) to get your dog's dimensions. Then, compare them to the brand's sizing chart. Also, check reviews to see what sizing worked for similar sized breeds. If you want, you can sort the reviews by pictures to get a better idea.
47 Christmas Gifts for Dogs
Using the tips above, scroll through these finds to select the best Amazon Christmas Present for your dogs.
#1 Doggo Ice Cream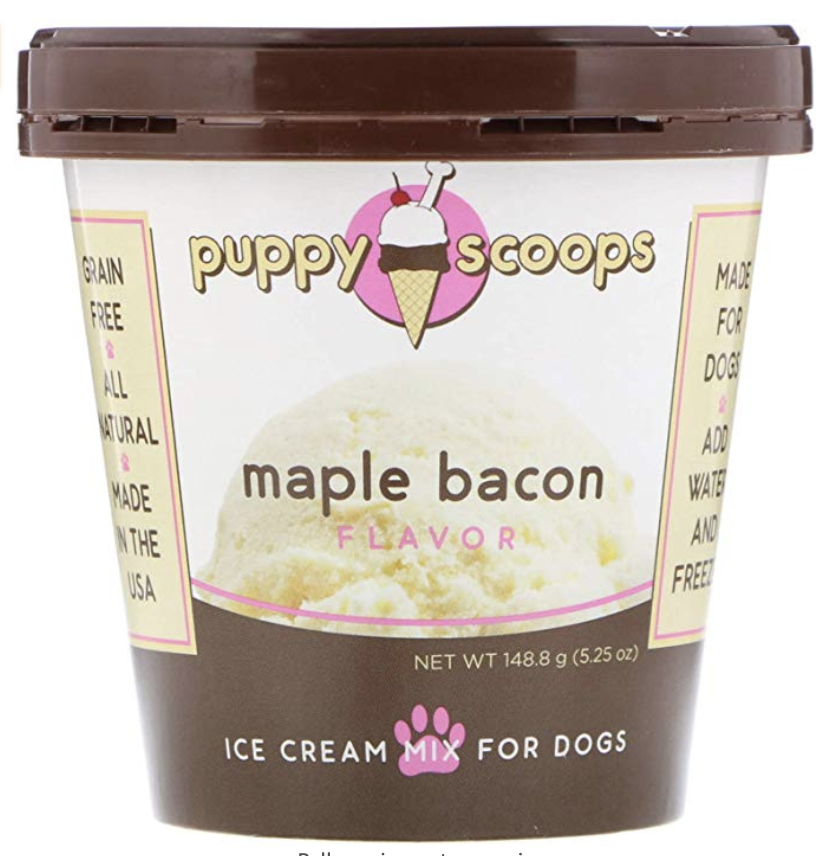 Okay, I know it may be the middle of winter where you live, but I promise your dog doesn't discriminate against ice cream. Even on a freezing cold day, she'll still gobble down a few scoops. Puppy Scoops is a mix that you add water to and freeze. Whenever you're ready, simply pull it out and serve it up. There's many flavors for every pup's palette:
Maple Bacon
Peanut Butter
Vanilla
Pumpkin
Carob (dog-safe chocolate flavor)
Blueberry
Pawsative Ruffview: "The ice cream was a hit. I bought this for my dog for her birthday. She loved it. Even my cats got to taste it and they liked it. And …. don't tell anyone, but because of the ingredients, I licked the spoon to see what it tasted like. I'm impressed. I'm not going to sit down and eat a bowl of this stuff, but it didn't make me gag. It just tasted like salty, bacon flavored milk. I'll buy this again for MY DOG for other special occasions."
#2 Big Barker Orthopedic Dog Bed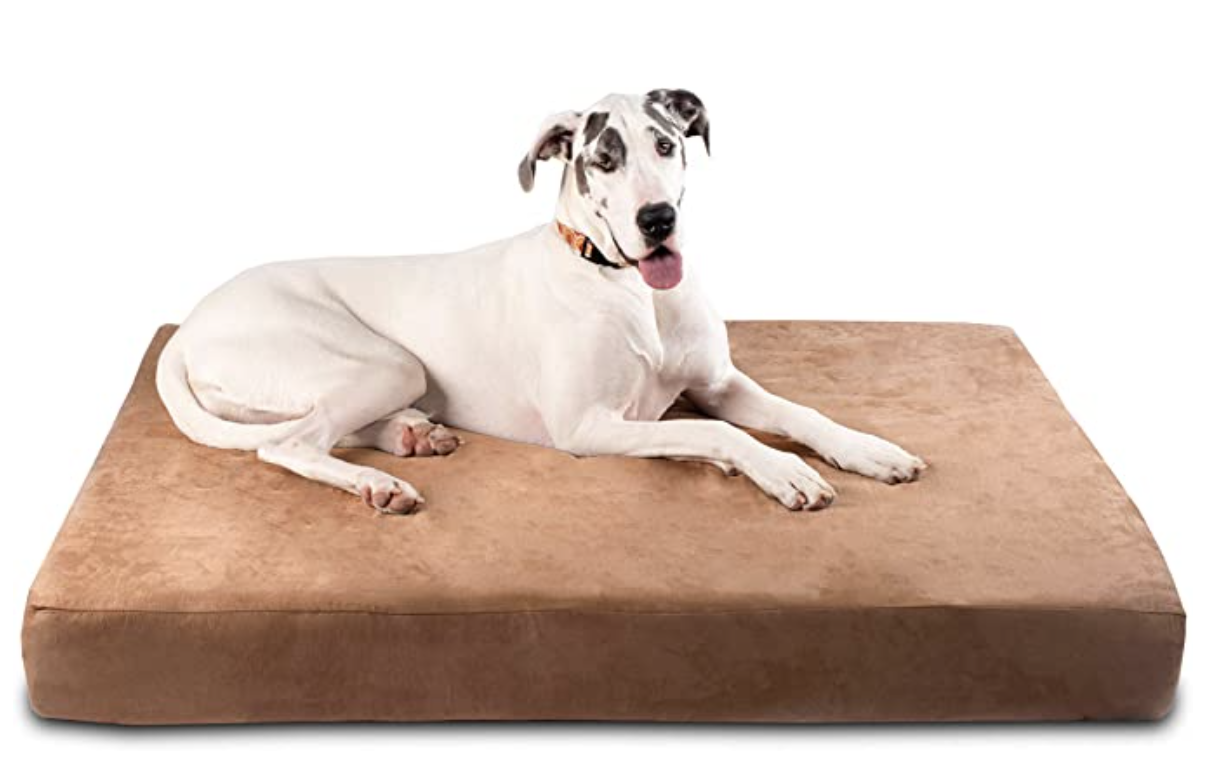 This orthopedic dog bed is the perfect dog gift for any pup dealing with pain. Its highly reviewed with over 2,500 ratings and comes with a 10 year warranty.
Pawsative Ruffview: "Within days of ordering this bed, we received it. Both my dogs (bullmastiff and an Eng. working cocker spaniel) love it. Unlike most dog beds, this one is firm and doesn't sag at all as they lie on it. The material is lovely. I would recommend this bed to anyone. It is also guaranteed for 10 years!!!"
Get the Orthopedic Dog Bed for $399.95
#3 Gold Dog Chain Collar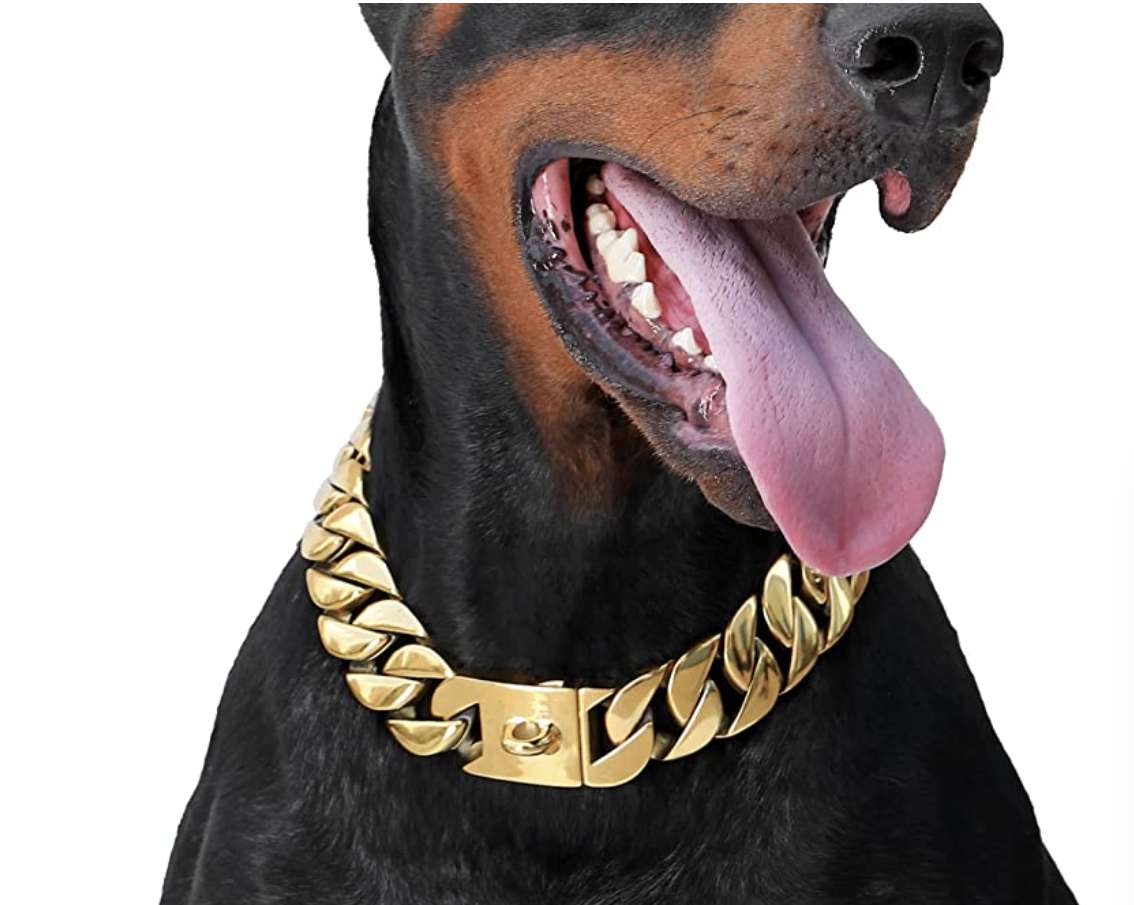 Make your dog even cooler with a real gold chain. This one is 18K goldplated for a strong, heavy-duty build.
Pawsative Ruffview: "This collar is super heavy duty and has a good weight to it, the clasp is very secure. My frenchie likes wearing it and it looks high quality. I'm very impressed with the color and feel for the price, honestly one of the best investments so far for my dog. I'm sure this applies to many other big breeds. Overall great product and definitely recommend. Heavy, sturdy, and attractive."
Get the Gold Dog Collar for $105.99
#4 Posh Brass Sleigh Dog Pet Bed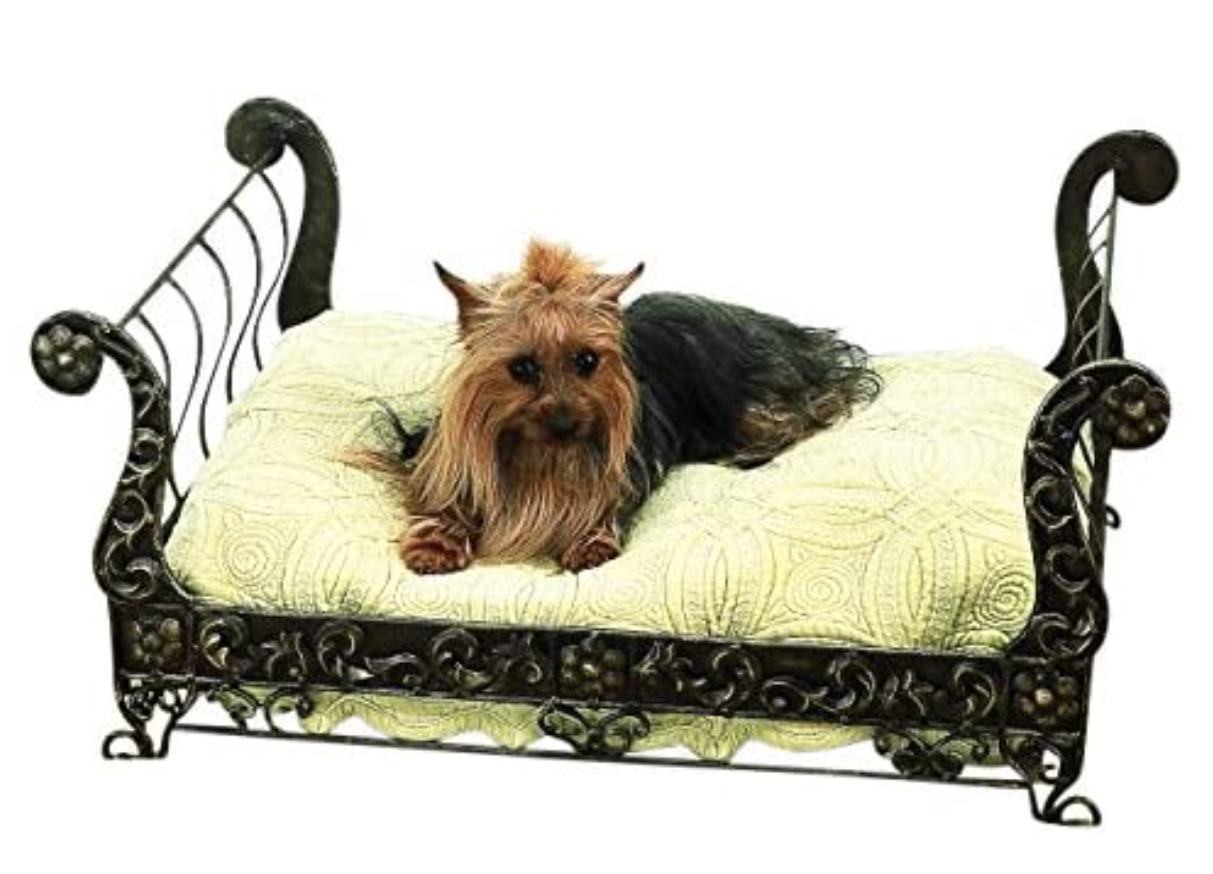 This hand-forged iron and tole bed is made for the fanciest of pups.
Pawsative Ruffview: "I love these beds and so do my tiny yorkies."
Get the Elegant Dog Bed for $245
#5 Pet Door for Rough Weather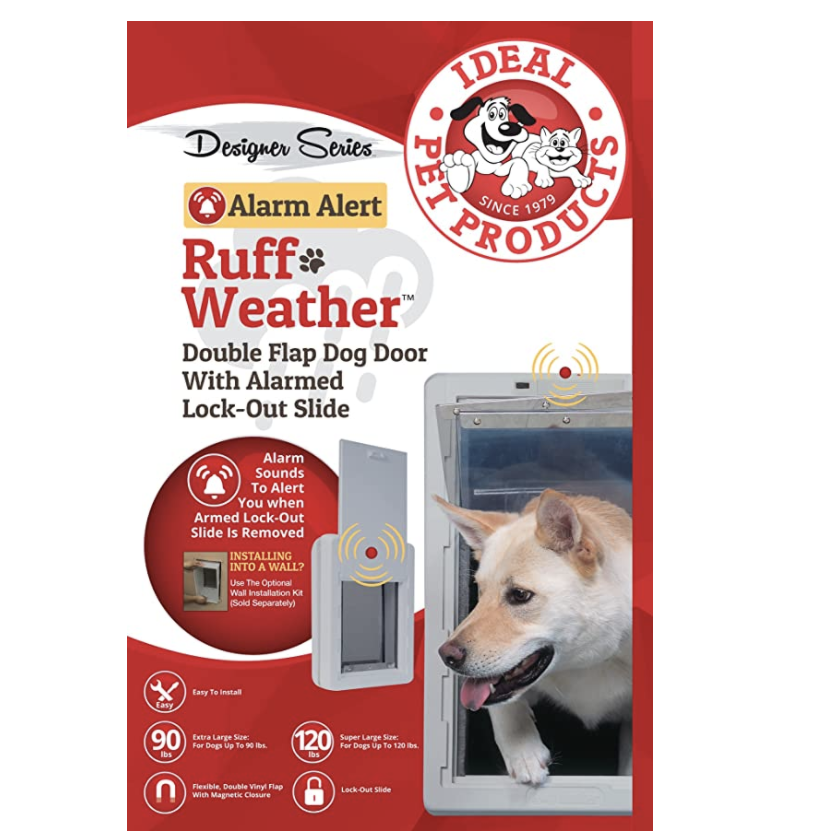 This is the perfect solution for large breeds who live in cold climates. They can come in and out whenever they please. It has a double flap dog door with an alarmed lock-out slide.
People with pets who live in cold climates will love with special pet door. It's made for large breeds and thanks to its double flap door with an alarmed lock-out slide, it will work in rough weather.
Pawsative Ruffview: "My dogs love this door and the gentle alarm on the slide is a handy reminder when I want it to stay closed."
Get the Rought Weather Pet Door for $204.69
#6 Dog Crate End Table with Cushion
Your dog will love this dog crate bed space for 2 reasons. First, dogs love being guarded on all sides. Secondly, since it's an end table, he'll always be close to you. Use it in the living room or bedroom and your pup will always be near!
Pawsative Ruffview: "I bought two. One for a lab and one for a shih tzu and placed on either side of my couch as end tables. Great for saving space, looking great and two birds…one stone. They were well packaged, easy to assemble and even more sturdy than I had anticipated."
Get the Dog Crate Dog Bed for $229.99
#7 PupRug Memory Foam Orthopedic Fur Dog Bed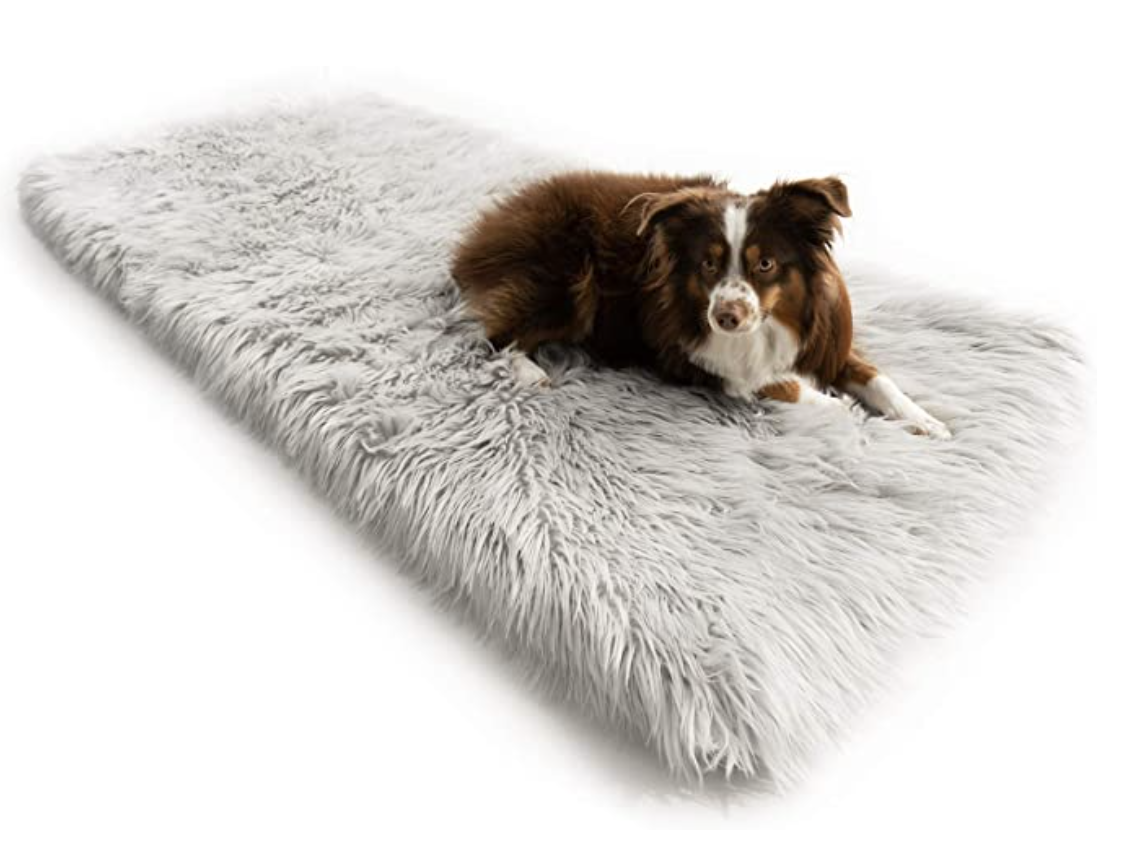 This dog bed is ideal for any dog suffering from joint pain or mobility issues. Its stylish design makes it a statement piece in any household.
Pawsative Ruffview: "Very comfortable. Our dogs liked it so much we had to have 2. Update.. the cat enjoys it also."
Get the Orthopedic Dog Rug Bed for $229
#8 Wagz Freedom Smart Dog Collar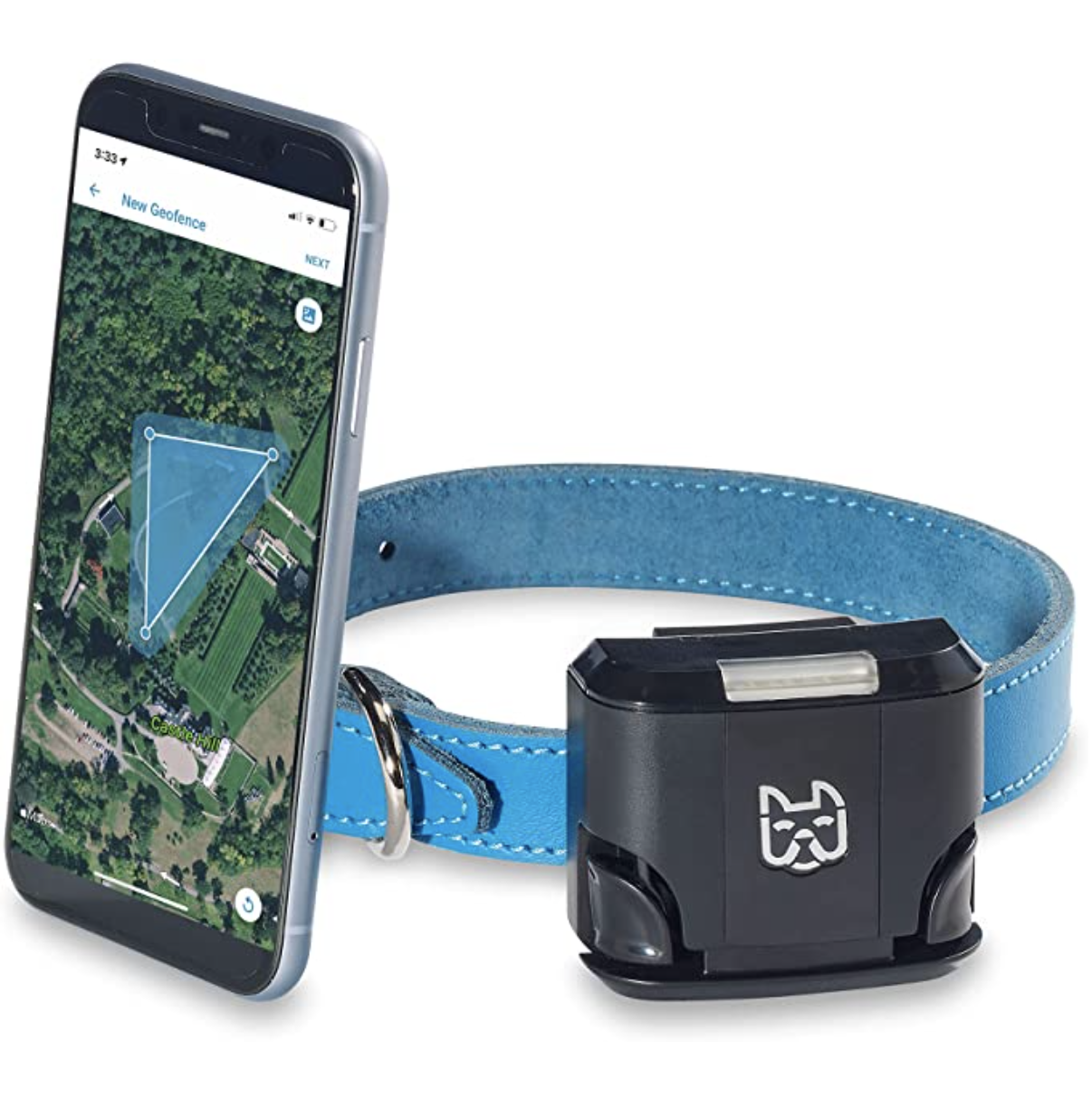 This dog collar tracks your dog's location along with health information like exercise and sleep. It also can offer shock-free corrections.
Pawsative Ruffview: "It's been the perfect solution for keeping my new (6 month old) puppy contained and content. He's still learning to behave, but this collar is definitely helping! The collar was easy to set up and the rechargeable batteries last for a long time. Overall a great product to take control of your dog's behavior and health!"
Get the Smart Dog Collar for $249.99
#9 Heavy-Duty Dog Stroller Carriage with Convertible Compartment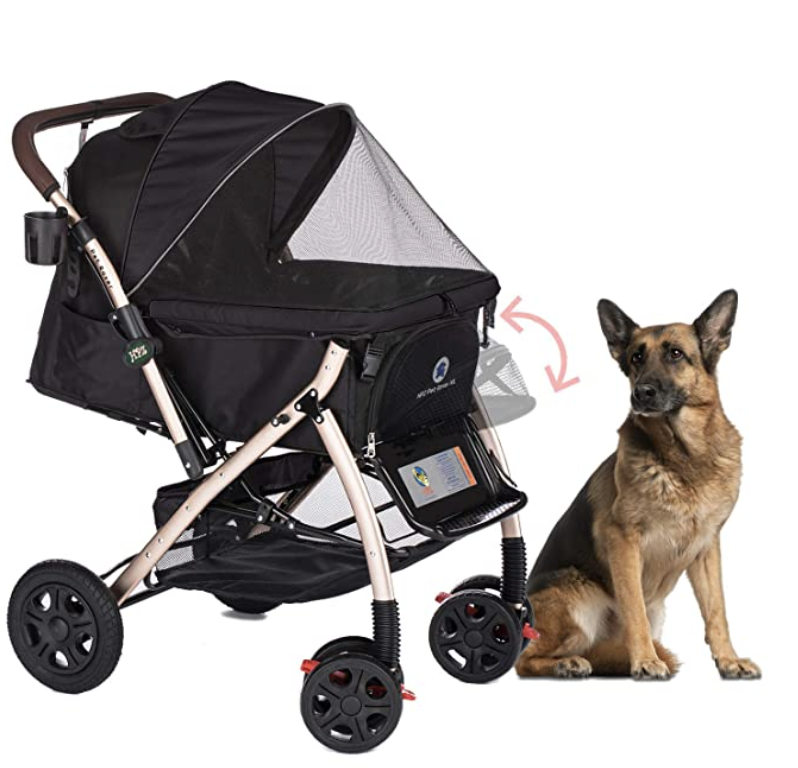 Bring your pet anywhere and everywhere with this heavy-duty stroller!
Pawsative Ruffview: "Let me start this review by saying that we have been searching high and low for the best pet stroller that would accommodate our needs. We had one from a different company, but it always pulled a bit to the right and just wasn't big enough, the size of this stroller is great and the only one I've found that is this large yet so elegant."
Get this Pet Stroller for $256
#10 Dog DNA Test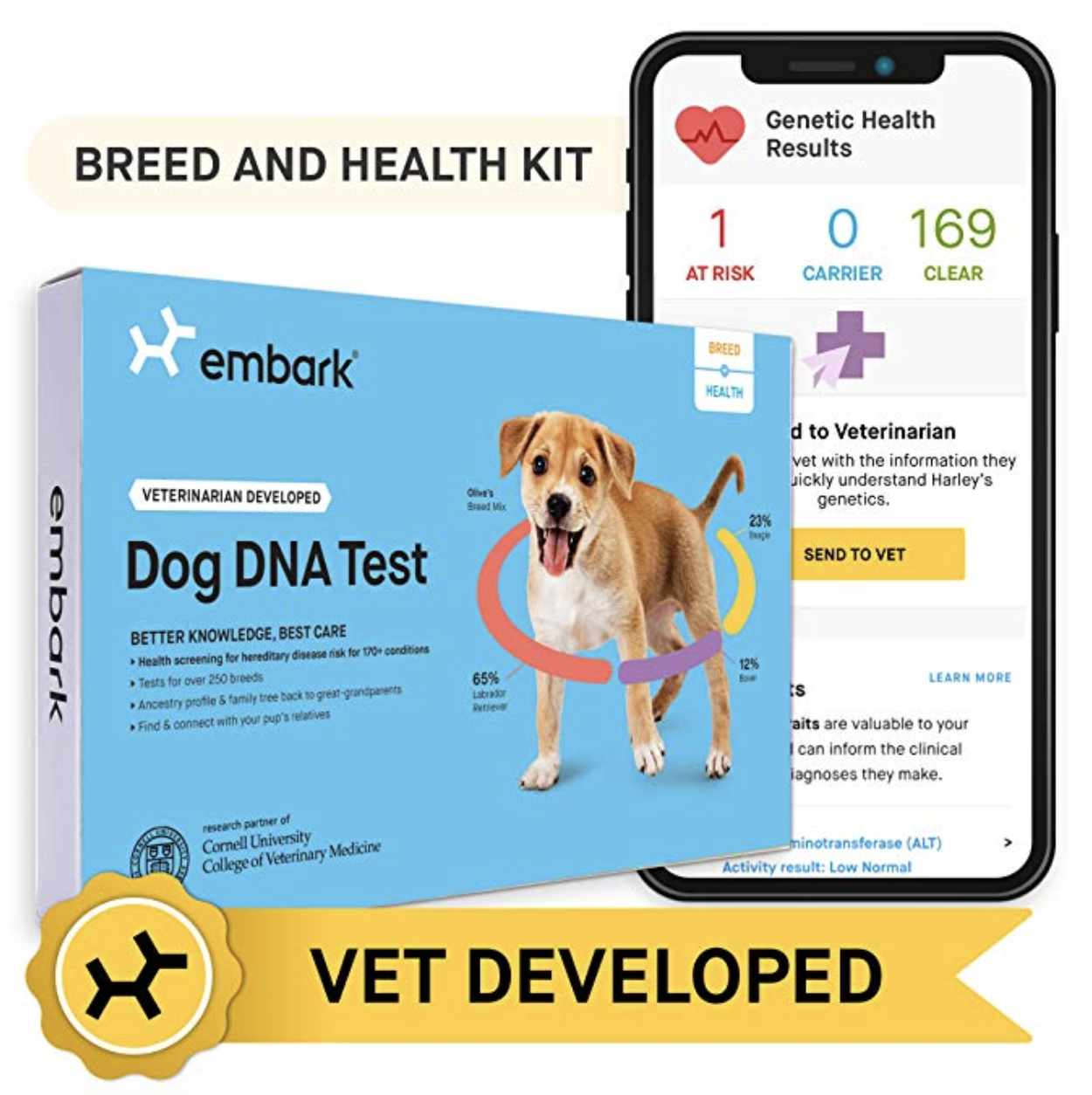 What type of dog is your pup? Finally get the answers this year with a dog DNA test.
Pawsative Ruffview: "We sent our puppy's DNA in for testing just days after we rescued her. She was called a "Beagle mix" and we had just lost our beloved Beagle to cancer. We knew she wasn't very Beaglish (except for the one floppy ear) but she doesn't act like the Jack Russell everyone thought she was mixed with. It took 10 weeks to get the result but Embark communicated several times that they were working on it, it just takes longer for mixed dogs. And she is REALLY mixed. Now, when people at the dog park ask what kind of dog she is I just whip out my phone and show them her family tree. I should probably get a commission from Embark because I've sent them so many customers, lol.
It's also good to know that she has NO genetic predisposition to any diseases. I recommend this test highly to anyone who is concerned or just curious about their fur baby."
Get the Dog DNA Test for $189
#11 Pet Winery's Dog Champagne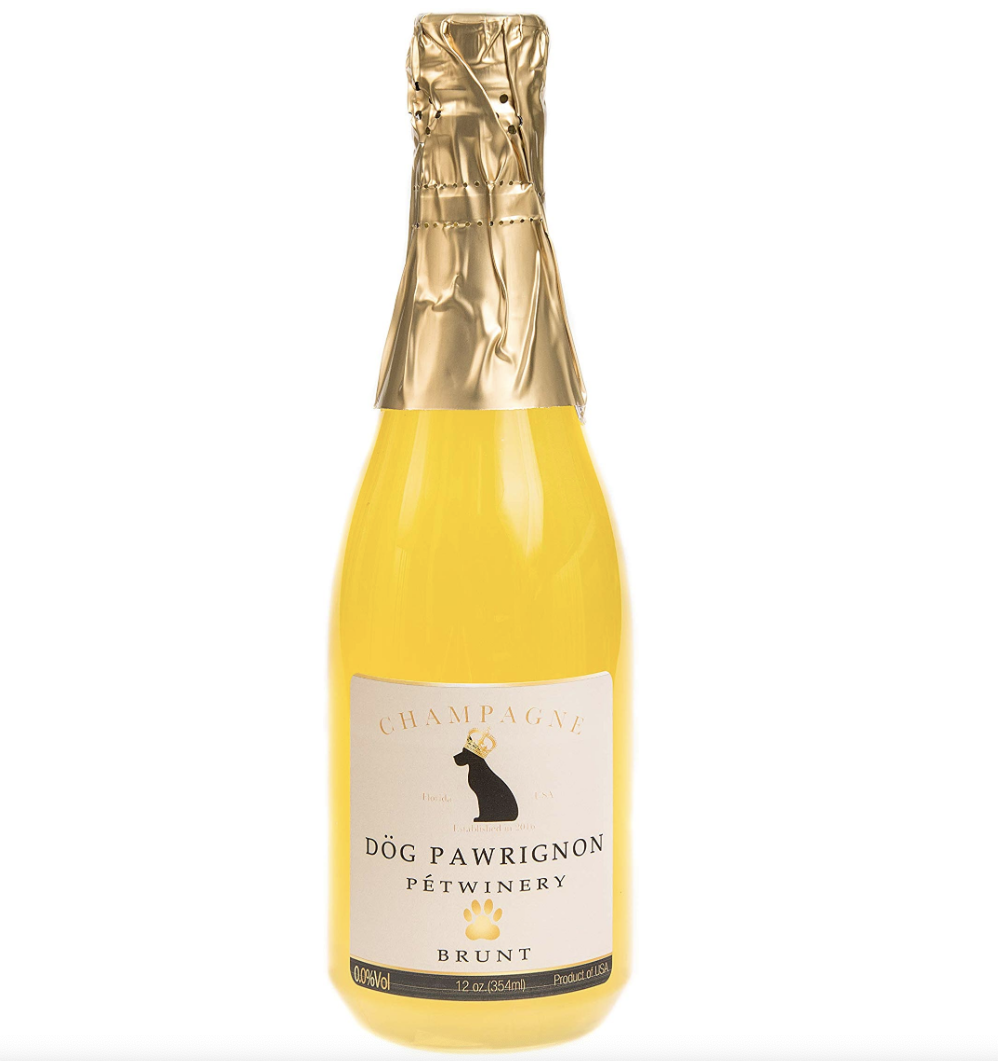 How will your dog toast without his own champagne/wine? Now she can! This all-natural drink is enriched with wild Alaskan salmon oil to help promote a healthy coat and skin. It can also be frozen for a "champagne pop" treat. Don't worry, this one is also non-alcoholic.
#12 Gumby Dog Toy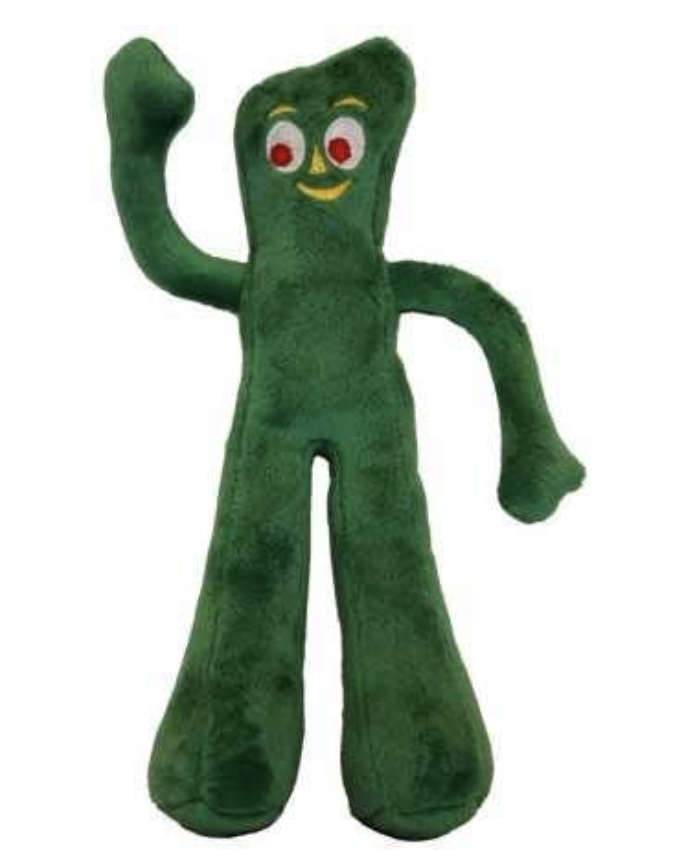 If you don't want to spend an arm and a leg on dog gifts, this is one of our cheapest recommendations. Gumby is a random… green thing? that's plush-filled and comes with a squeaker. To be honest, we're not really sure what it's supposed to be but it has so many excellent reviews.
Pawsative Ruffview: "Gumby has been in my home for about two weeks now. My dog grabbed Gumby out of my hand when I took it out of the box and it has become his new favorite toy. Everywhere that he goes in the house, Gumby is hanging out of his mouth. If he is laying down somewhere, Gumby isn't far away. He treats this toy different than the other ones that I have purchased for him. It's not a chew toy to him and he doesn't throw it around. He just holds it in his mouth. All the time. It's just odd but we are going with it because it seems to make him happy."
Get the Gumby dog toy for $3.99
#13 Dog Christmas Onesie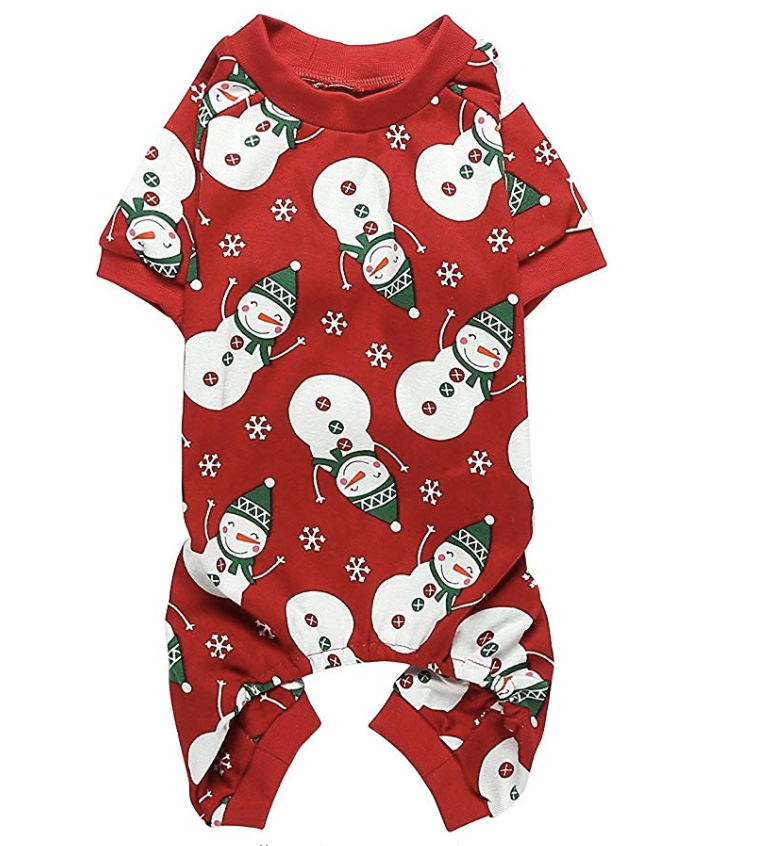 If it's cold where you live, snuggling up may be a lot easier in a onesie. Also, they look super adorable on doggos. If your pup likes clothes, check out these adorable snowman onesies. They also come in an owl design. If you're looking for more holiday options, read: 6 Dog Christmas Onesie: The Most Festive and Adorably Doggy PJS.
Pawsative Ruffview: "I absolutely love them but better yet Riley does! She doesn't want to take them off and they are intended as a Christmas gift LOL. I purchased the medium… Riley is 15 pounds."
Get the Christmas Dog Onesie for $13.98
#14 Indestructible Dog Chew Bone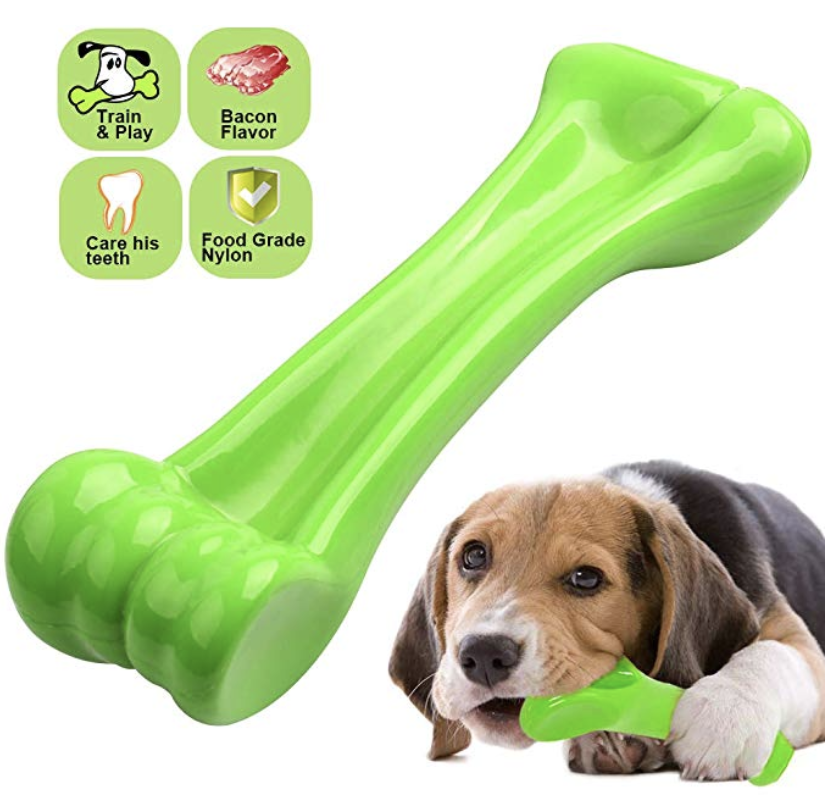 If your dog likes to destroy things, this bacon-flavored toy will be his next muse. The food-grade nylon will help clean his teeth while also keeping him busy.
Get the Chew Bone for $12.99
#15 Dog + Family Matching Pajamas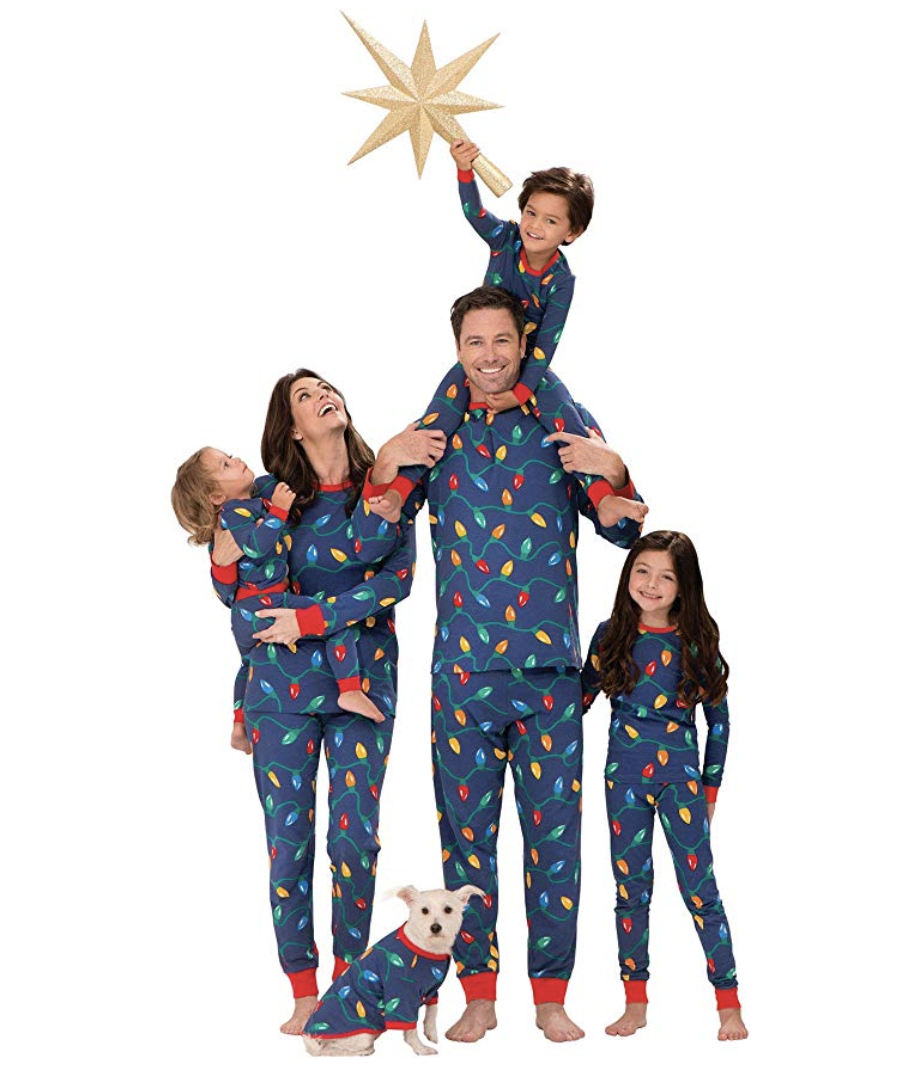 Here's a gift for the whole family! These designs come in every size imaginable for you, your dog kids and your actual kids. We've featured one design here, but we have an entire post of more options. Read: Snug Up with These Dog and Human Matching Christmas Pajamas: 7+ Options.
Pawsative Ruffview: "My extended family decided to do matching PJ's for each family member. We got ours (including for our doggo) and they are amazing. They are very soft and fit perfectly. Our dog is a Chi and weighs about 5 pounds. The XS was a little big for her, but I was able to roll up the sleeves and she was good to go."
Get the Dog and Owner Matching Pajamas for $14-50
#16 Puzzle Brick Dog Toy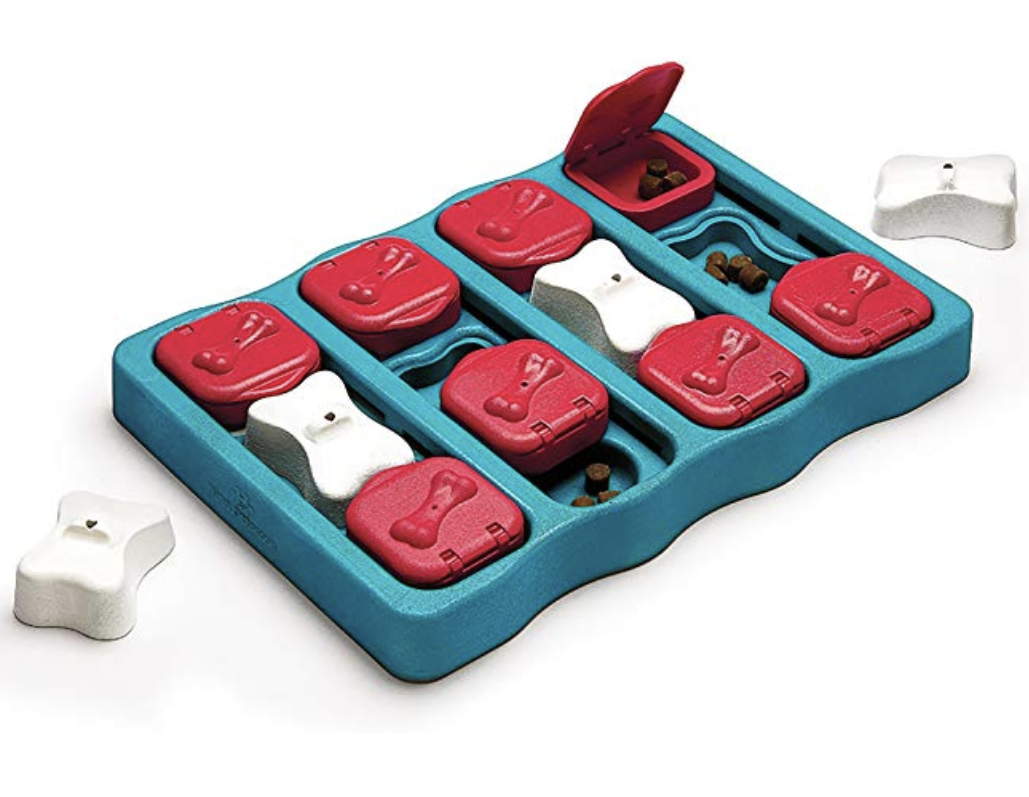 This interactive 2-level toy allows you to hide treats under the compartments. The compartments shift around and can be lifted up using your dog's nose. It provides mental and physical stimulation while also being easy to clean. He'll be busy all Christmas day!
Pawsative Ruffview: "Bar none, the brick puzzle is the best toy/treat/activity item I have ever, ever purchased for my 9 1/2 lb Yorkie. Piper is totally food motivated; willful, stubborn, and way too smart! This puzzle is a perfect size, extremely durable (believe me, Pipe beats the s%#* out of it), just difficult enough to keep her attention and desire, but not so much as to frustrate her."
Get the interactive dog gift for $17.99
#17 Wabble Wag Giggle Ball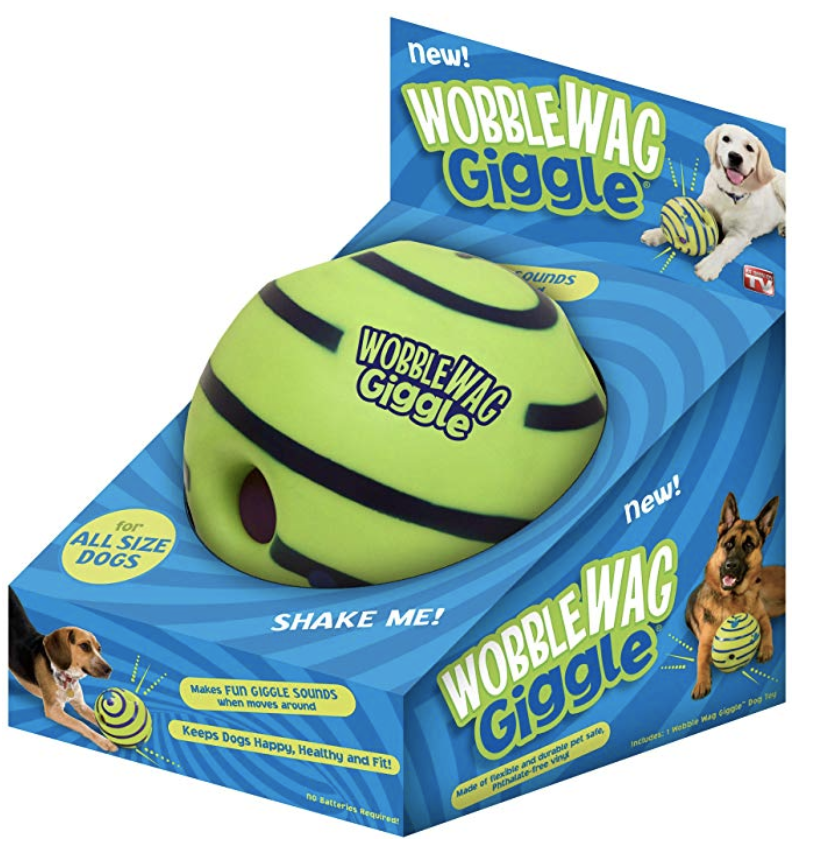 This ball features a tube inside that emits giggle sounds (and it doesn't even require batteries!). There's 6 pockets for your dog to grab easily as he rolls, fetches and shakes the ball.
Pawsative Ruffview: "I have a 7 month old Corgi puppy and this was his favorite toy out of all his toys he got for Christmas! He loves it so much that I have to put it up and away just so I can sleep. It's sturdy and not way too noisy. (I live in an apartment). His toy preference is for toys that make noise instead of plush toys without squeakers. It's lasted a whole week of play without any problems unlike another toy he already tore up, so it seems durable, at least for small to medium breeds."
Get the Wabble Ball for $11.99
#18 Pet Fountain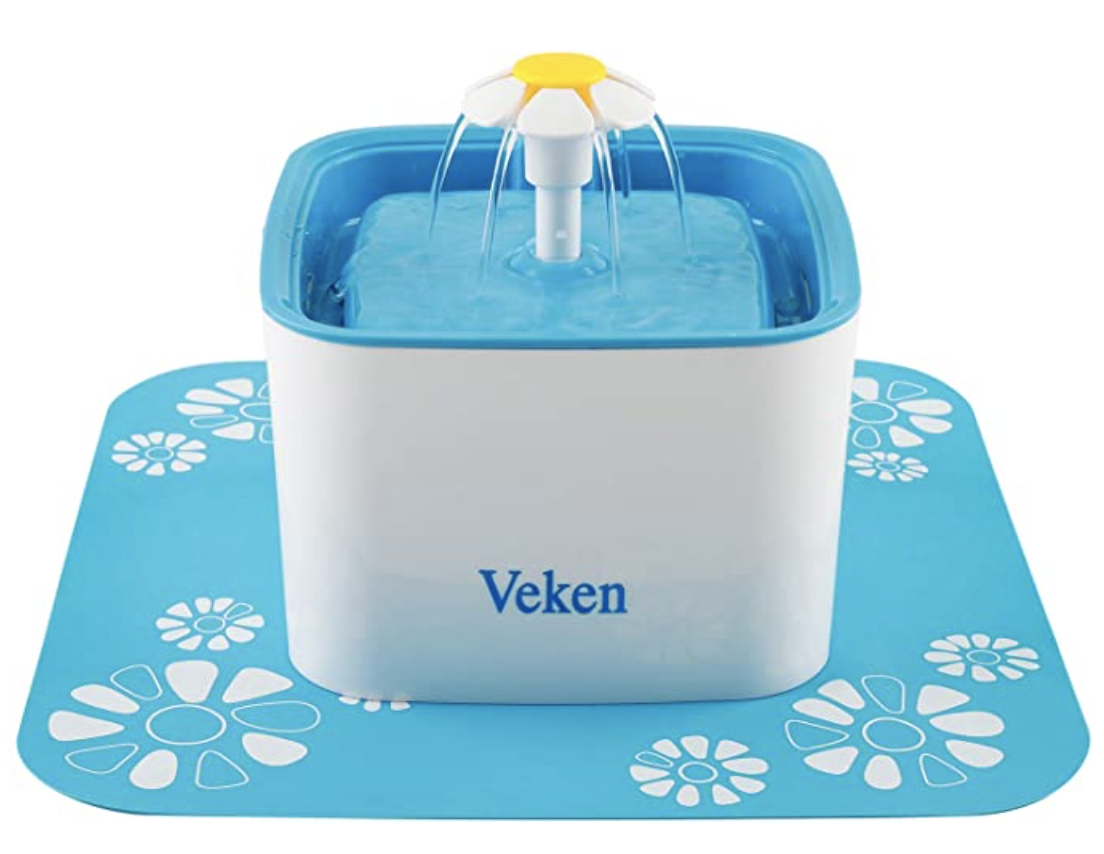 Your dog will love being able to get a fresh sip whenever they please.
Pawsative Ruffview: "This is by far the best Pet Water Fountain I have gotten! We have gone thru about 10 before this one! This fountain, is easy set up, easy filter change, and best of all..the design is such that pet hair does not get in the bottom in the water, bc the filter traps it up top!!"
Get the Pet Fountain for $26.99
#19 Treat Throwing Dog Camera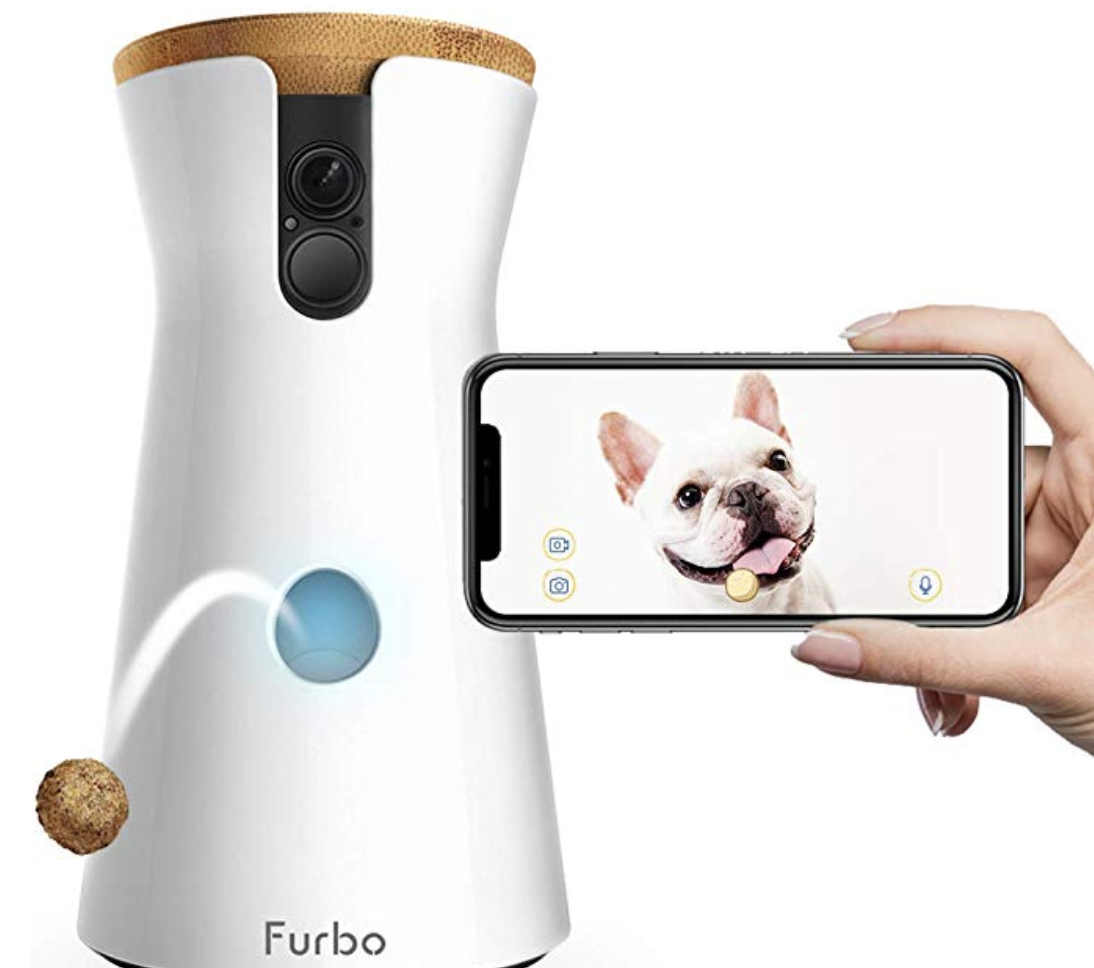 If you work away from your dog, give him a gift that he can use every day. This camera allows you to see and hear your dog from your smartphone. Since the audio is two-way, he can hear your praise too! It can also throw out small treats whenever you want. If you want to see other options, read our Full-Guide on the Best 6 Dog Cameras According to Reviews.
Pawsative Ruffview: "I love being able to watch my pug literally just sleeping for seven hours a day and my coworkers really enjoy the constant updates of me telling them where my pug is sleeping and forcing them to watch his small, fawn body laying in the same spot. I have learned that my cat must leave the house when I go to work because I never catch her on the camera. Maybe she has a job? It would be nice if she paid some rent. The treat shooting mechanism shoots small treats, which is fine for him, well maybe not for him because he'd prefer it shot pizza slices, but they're the proper size treats for a smaller dog."
Get the Dog Camera for $199
#20 12-Pack of Adorable Dog Toys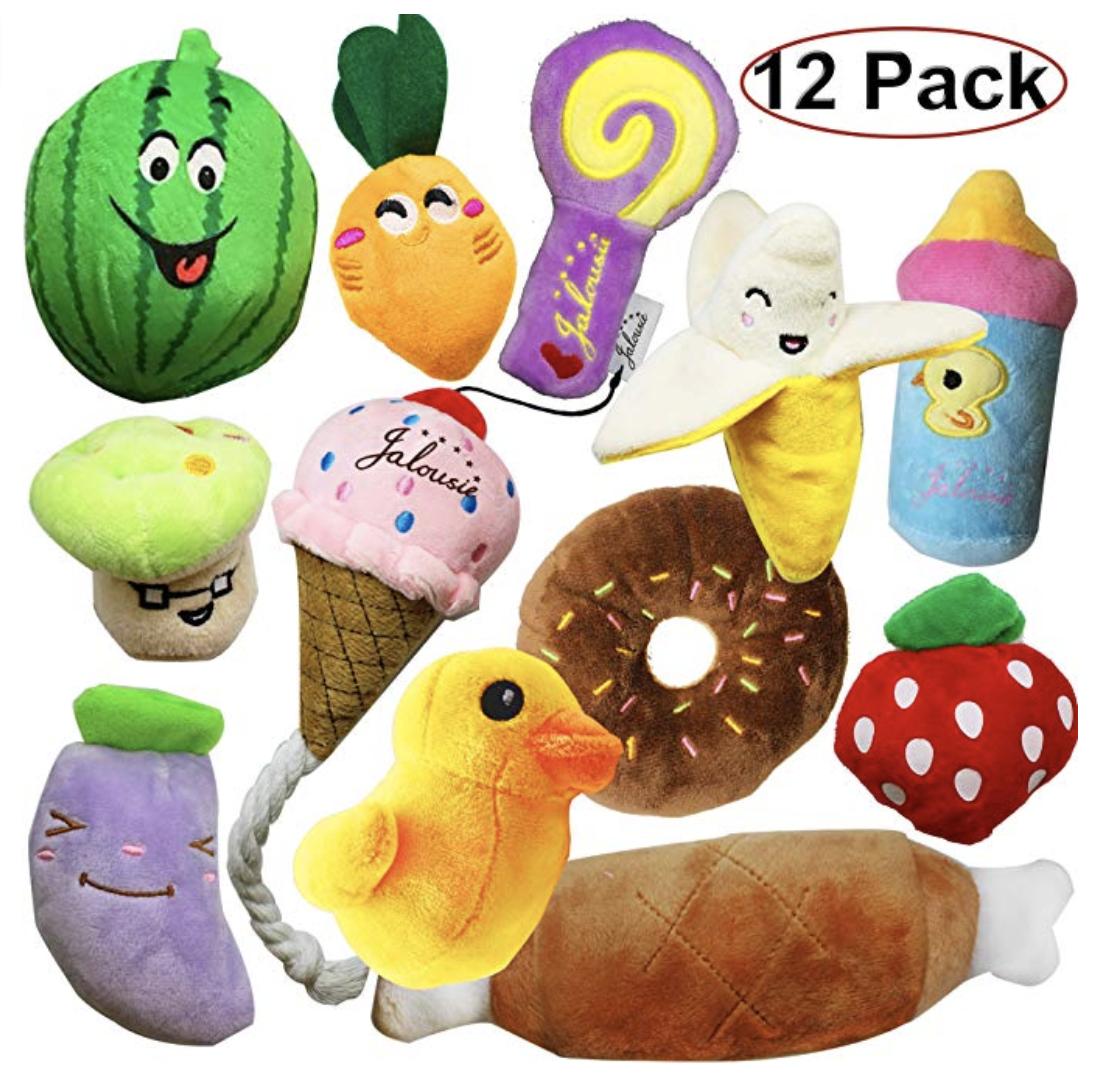 While we don't recommend this one for strong chewers, it's a good idea for gentle dogs who love everything cute. Ranging from ice cream and donuts to bananas and a baby bottle, this pack comes with 12 adorable squeaky plush toys. You can even same some as gifts for other special occasions.
Pawsative Ruffview: "They are all stuffed animals, so creative too in the choice of animals. My little Shih Tzu loves them and they all have squeakers in them. Well worth the price, just watch your dog if it is a chewer. Mines a squeaker and gentle on toys. He was so excited at Christmas for his new presents and plays with them a lot. I only gave him 2 to start with until he gets bored with them."
Get the 12 pack for $15.99
#21 Waterproof Winter Dog Jacket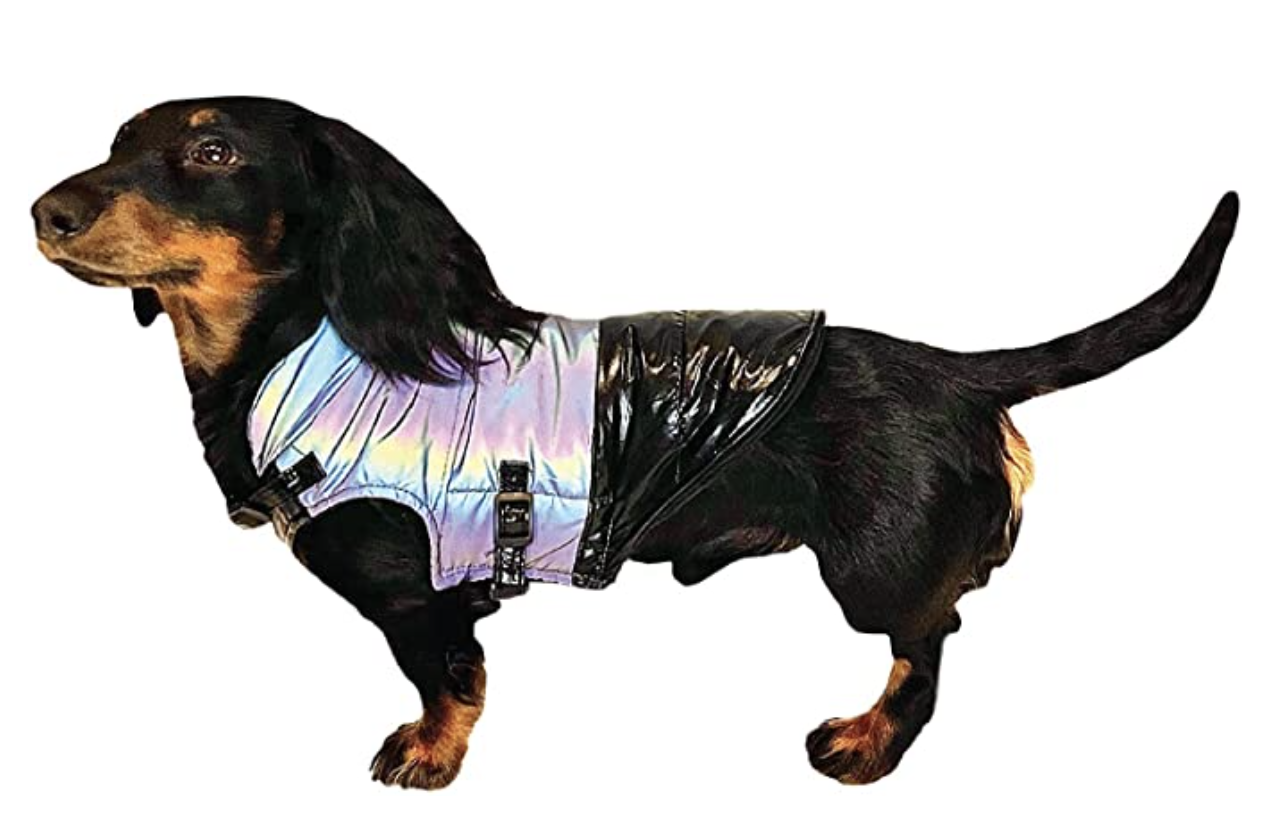 This stylish jacket keeps your dog dry and safe in the dark winter with its reflective qualities.
Get the Waterproof Dog Jacket for $27
#22 Hiding Squeaky Squirrel Toy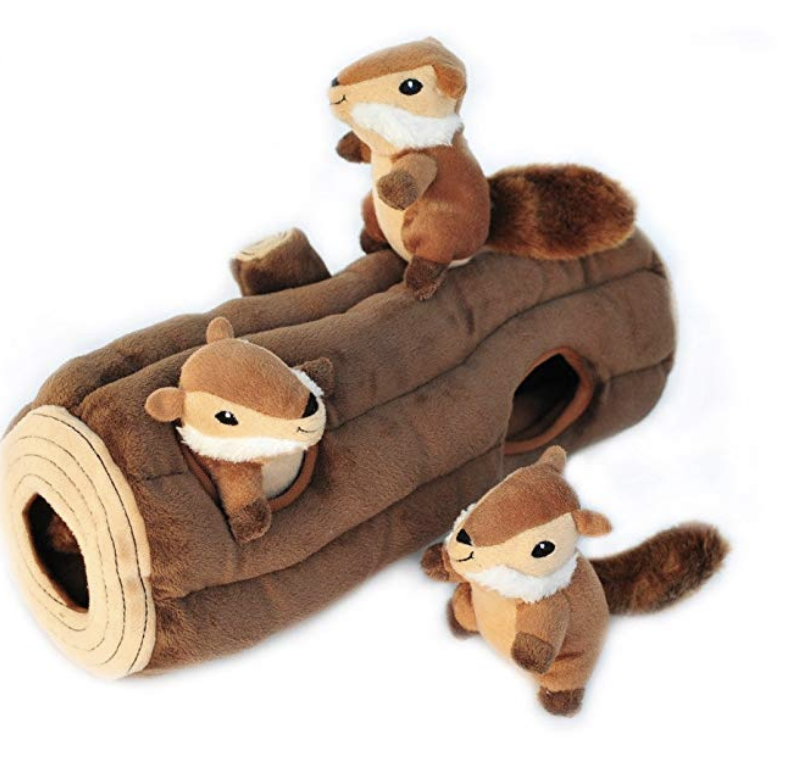 Smart pups are going to love this interactive toy. You simply place the small squirrels inside their tree trunk and watch your dog try to find and get them out. The large size is perfect for big breeds while the mini size is ideal for little runts 🙂
Pawsative Ruffview: "My dog LOVES this toy. I gave it to her for Christmas and it's still the only thing she wants to play with. Usually she gets bored with toys in a week. It's been about four weeks and she still loves her hedgehogs. It didn't take her long to figure out how to get the toys out. It used to keep her busy for a while but now it takes about 10 seconds for her to get them all out. She's gotten very fast at getting the hedgehog's out. She still loves to play with them and wants me to load them back up. I always make sure to load them up before I go to work in the morning and they are always all over the house when I get home."
Get the Squirrel Dog Gift for $13.99
#23 Gingerbread Burrow Toy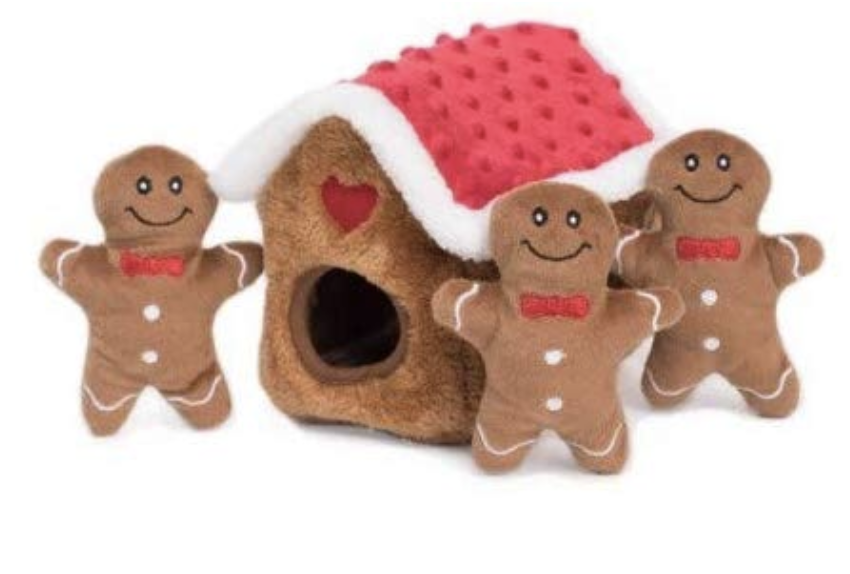 If you're into holiday dog toys, choose the Christmas version of the one above. These gingerbreads hide inside their house waiting for your doggo to find them.
Pawsative Ruffview: "My 1 year old puppy loves his ginger bread house. I bought for him to give it to him for Christmas. He loves it so much. He has to hump it lol.."
Get the Interactive Gingerbread Dog Toy for $9.99
#25 Petyard Passage Dog Fence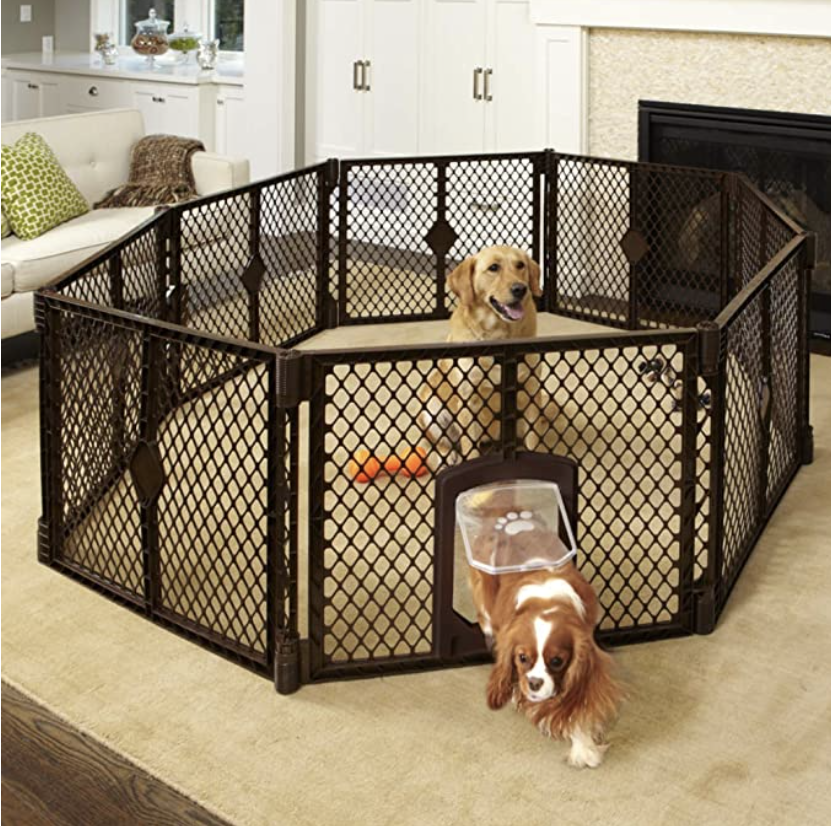 If your dogs need a contained space to play, they'll love this 8-paneled fence with a locking pet door.
Pawsative Ruffview: "I love this petyard! I live in a ground level condo and have set it up on my porch like a little fence. Now my little 9 pound Yorkie can hang out on the porch with me and I don't have to worry about her being on a leash!"
#26 Santa Belt OR Candy Cane Bed Christmas Gifts for Dogs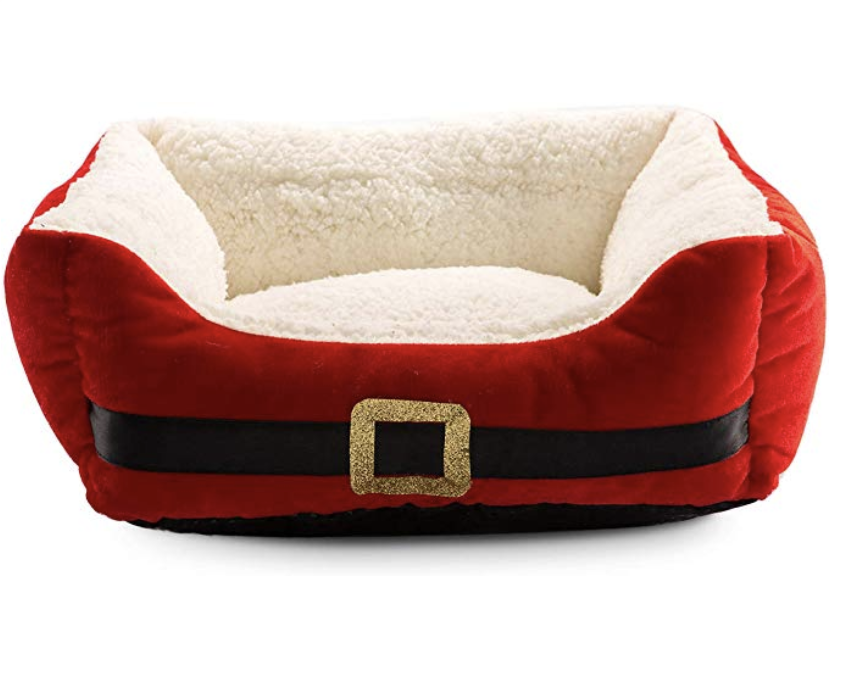 If your pups in need of a new bed, consider this comfy holiday-themed dipped cushion. It comes in other holiday designs—like candy cane—and also non-holiday designs to be used all year around.
Pawsative Ruffview: "For the first time since her rescue she's sleeping in a bed instead of my lap. I set it on top of a heating pad and it's a hit!"
Get these Extra Soft Dog Nest for $16.99
#27 Wild Bear Knotted Toy by Kong Christmas Toy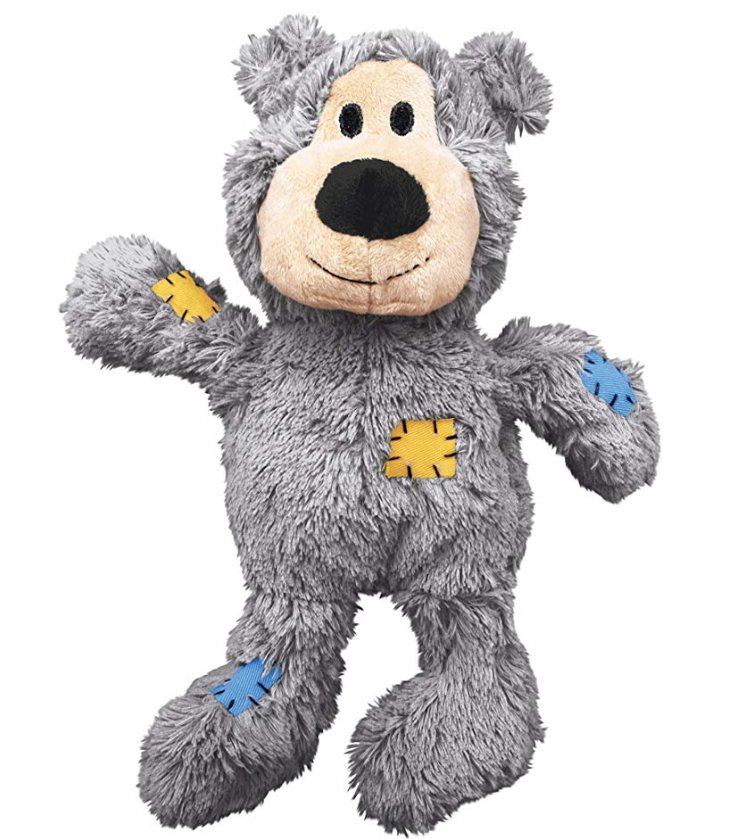 Kong is one of my favorite dog toy brands because it takes my dog A LOT longer to destroy them. Rather than being filled with regular plush, it has a knotted rope inside, making it good for tough chewers. Since the outside is still covered in soft fabric, my pup likes it as much as plush (sometimes he gets bored with hard canvas material toys). This is one of my top recommendations!
Pawsative Ruffview: "I bought this for my 8 week old Dane puppy. It quickly became his go to toy. It's been his favorite from the day he came home. He's now 12 weeks and believe me, it's gotten a LOT of abuse!! Lol, he gnaws, shakes & tugs at this poor bear for hours every day and it STILL looks great! No tears, unless you count the fact that he's managed to loosen a couple of the decorative patches that tempted Ruger enough that he felt they needed to be removed. He hasn't managed it yet, but give him time! They're only to make the bear cuter, just cosmetic."
Get the Kong Teddy Bear Toy for $19.10
#28 Designer Dog Cologne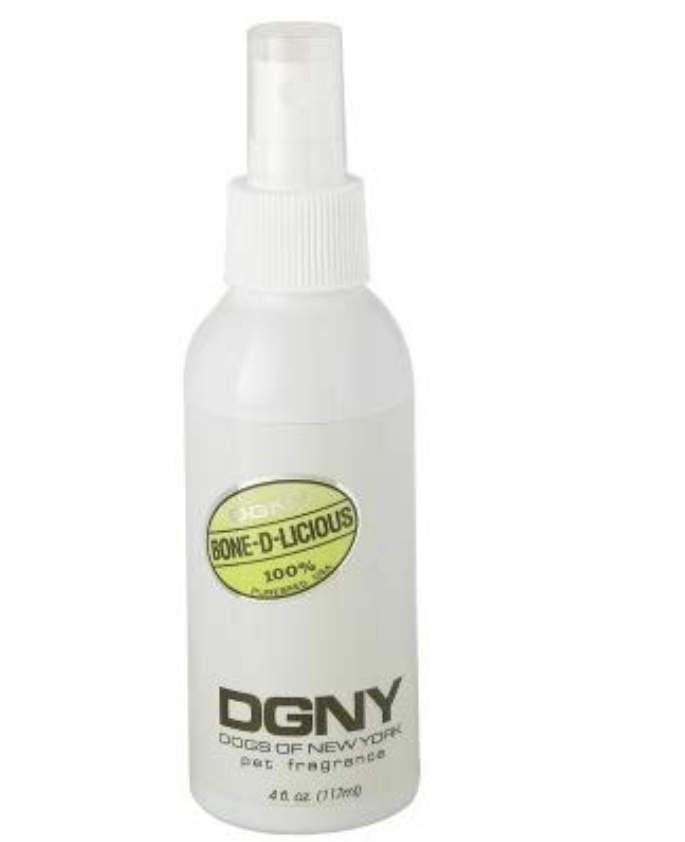 Omg. I can't tell you how much I love this dog spray. It makes my dog smell amazing. It's just like a regular man's cologne, only instead of DKNY it DGNY (Dogs of New York). Spray him after a bath or whenever he's smelling a little sh!tty 😉
Pawsative Ruffview: "Long lasting. Smells great."
Get this Designer Dog Cologne for $11.99
#29 Beautifur Designer Dog Perfume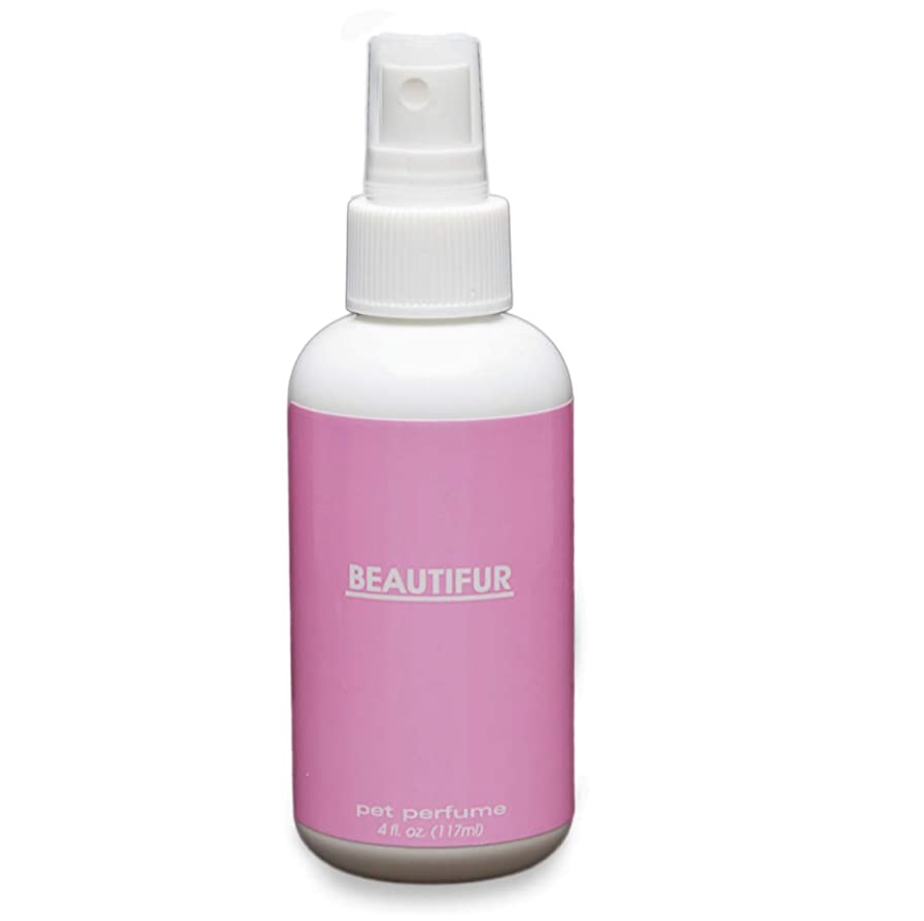 This is the girl version of the dog spray above. It smells elegant, sure to turn the heads of everyone at the dog park.
Pawsative Ruffview: "The best dog perfume on the market by far. I have used several brands & types over the years. By far, this one exceeds all of them paws down. I have used other scents by this brand and all of them have been very nice. This one is my favorite for my girls!!!"
Get this Designer Perfume for $17.99
#30 Chewy Vuitton Dog Purse Toy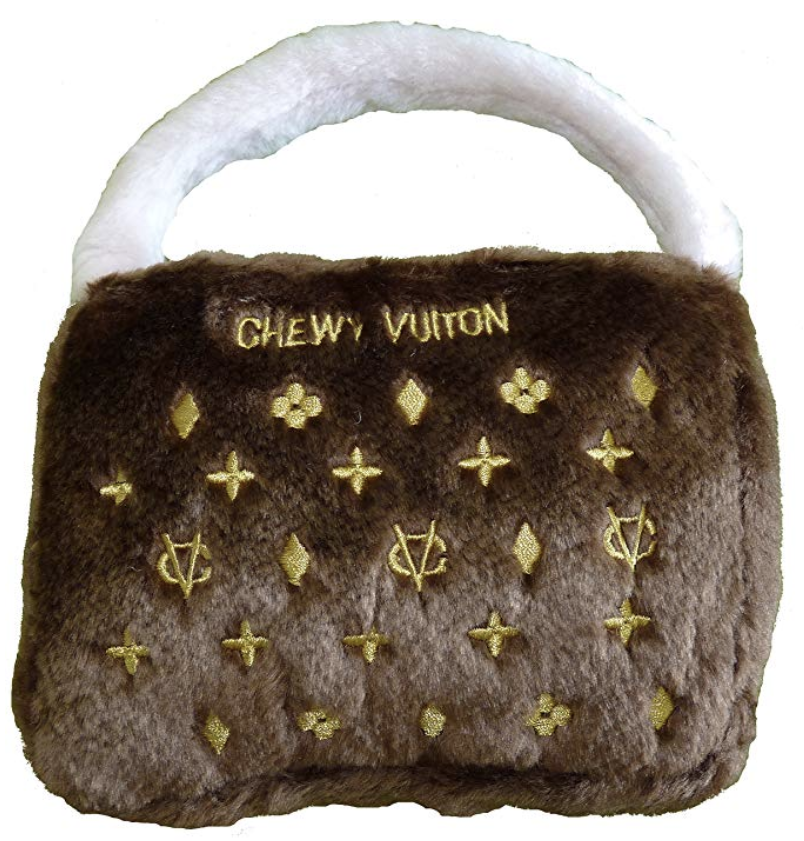 If your pup is a little girly girl (or girly boy, who's to judge?) she'll appreciate this fashionable Christmas gift for dogs. Whenever she plays with it, it will look like she's holding the purse in her mouth! Comes in different colors and designs to suit her personality.
Pawsative Ruffview: "Lemon Drop got a Chewy Vuitton for her birthday. It's her favorite purse LOL! She is a 6lb Papillon and it can be tricky to find toys small enough to fit in her jaws. I ordered this in size small and as you see in the pic it fits and she enjoys carrying it around. Just like a lady holding her clutch!"
Get this Dog Purse Toy for $12.99
#31 Cozy Waterproof Dog Reversible Jacket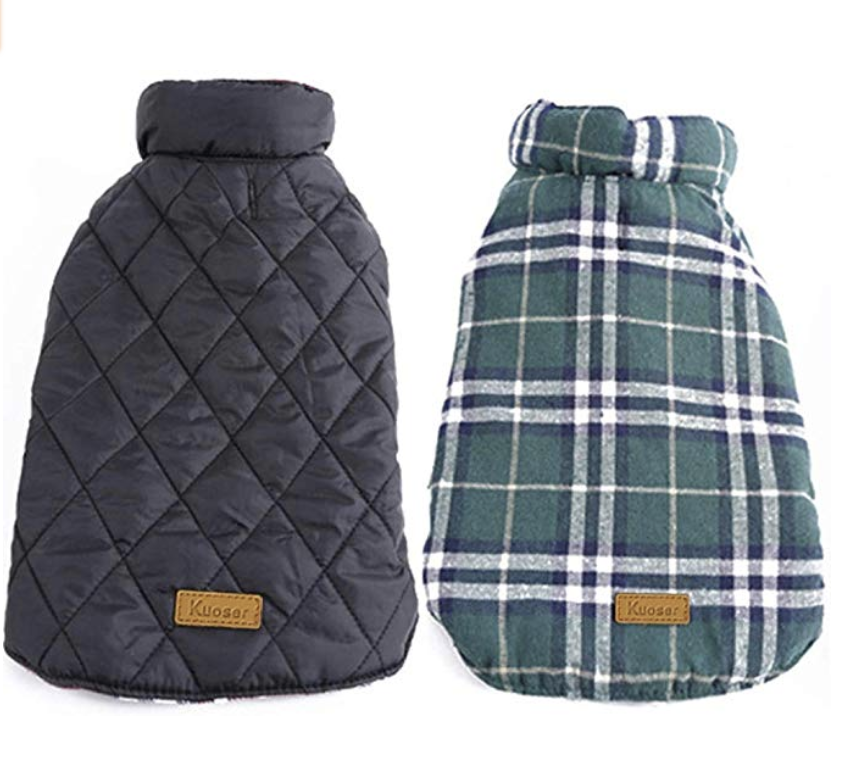 This water-resistant jacket is perfect to wear during those snowstorm walks you can't avoid. We also love that it's reversible so your dog can select his fashion style each day. Comes in varying sizes to fit every breed.
Pawsative Ruffview: "A very well made coat and very warm. My dog can move around freely in it. I have an 18lbs shih tzu and he fit perfectly in the Medium. I haven't had any issues with it and his harness clip can easily be accessed through the hole on the back."
Get this Cozy Dog Jacket for $20.99
#32 Starbucks Puppermint Mocha Dog Toy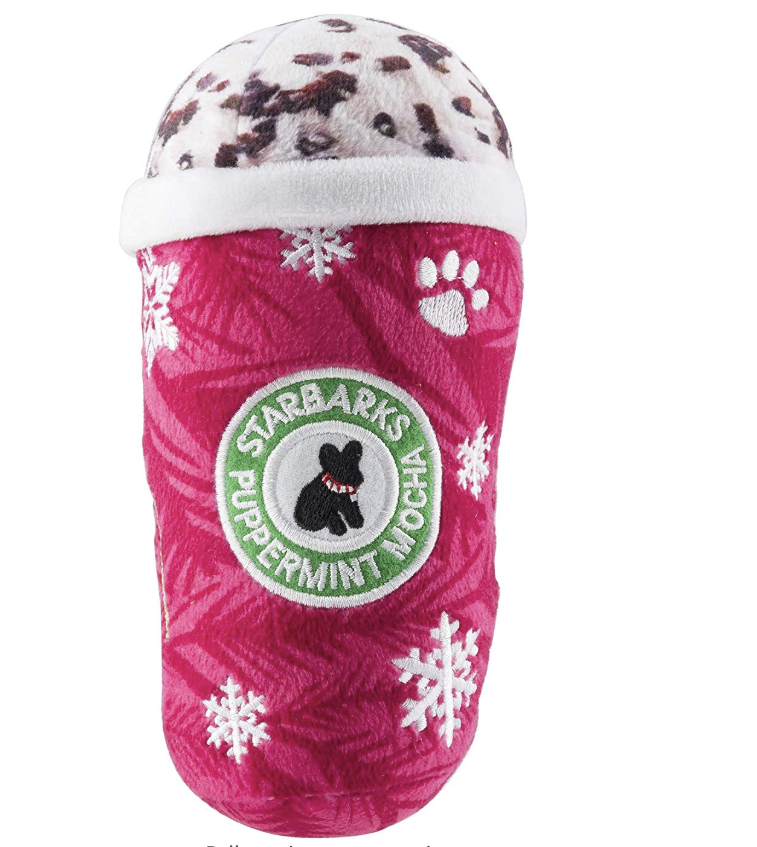 If you like Starbuck's holiday drinks, why not let your dog enjoy it too (in toy form)? Complete with the signature holiday Starbucks cup design and cocoa sprinkled on top, your dog will love showing off this squeaker. Comes in varying flavors and sizes.
Pawsative Ruffview: "My baby is obsessed with these coffee look alike dog toys! He originally stole the puppermint mocha toy from our dog's toy bin, and being that she's a lab, she so graciously allowed him to acquire it as his own. I got him this toy so he could have a coffee mug like mommy and daddy and he loves it just as much as the other one."
Get the Puppermint Mocha Toy for $13.99
#33 Classic Cremes Dog Cookie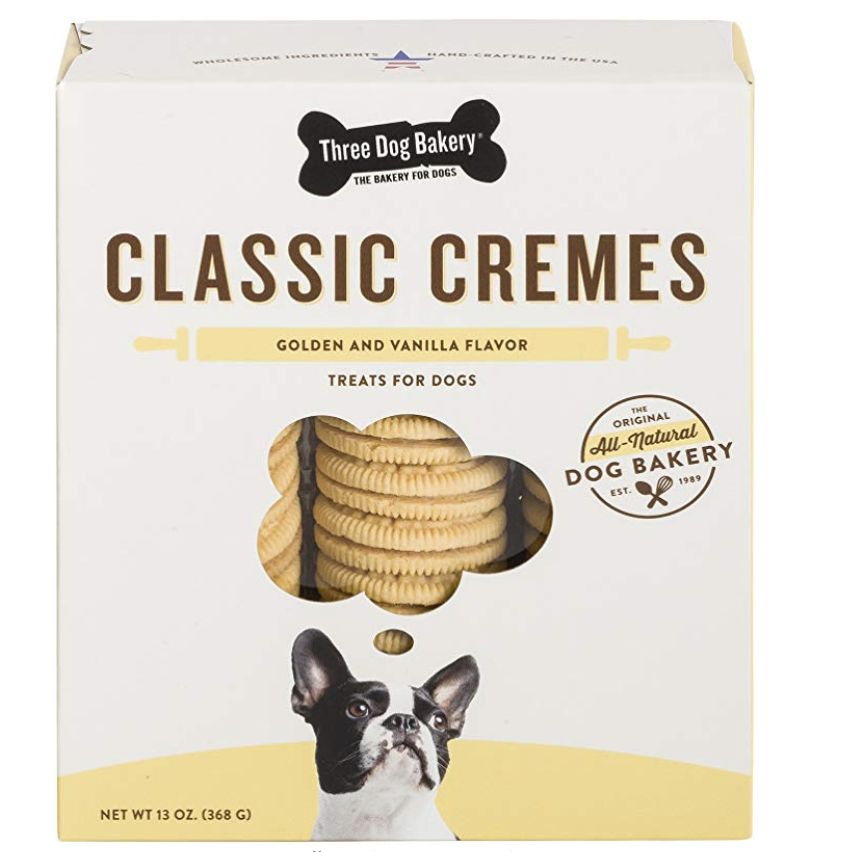 Perhaps your dog can enjoy his Starbucks coffee toy with a crème cookie. Made like traditional cookies, these all-natural treats feature hard biscuits with creme covered inside. They're made in the USA too! There's 3 delicious flavors to choose from:
Golden and Vanilla
Carob and Peanut Butter
Golden and Peanut Butter
Pawsative Ruffview: "My dogs loved these so much I was tempted to try one. Ok, I did. One little bite. Much to my dogs' dismay. It was good. I let them have the rest. They forgave me. I did it reluctantly."
Get the Crème Dog Cookies for $6.64
#34 Reindeer Rawhide Chew Christmas Gift for Dogs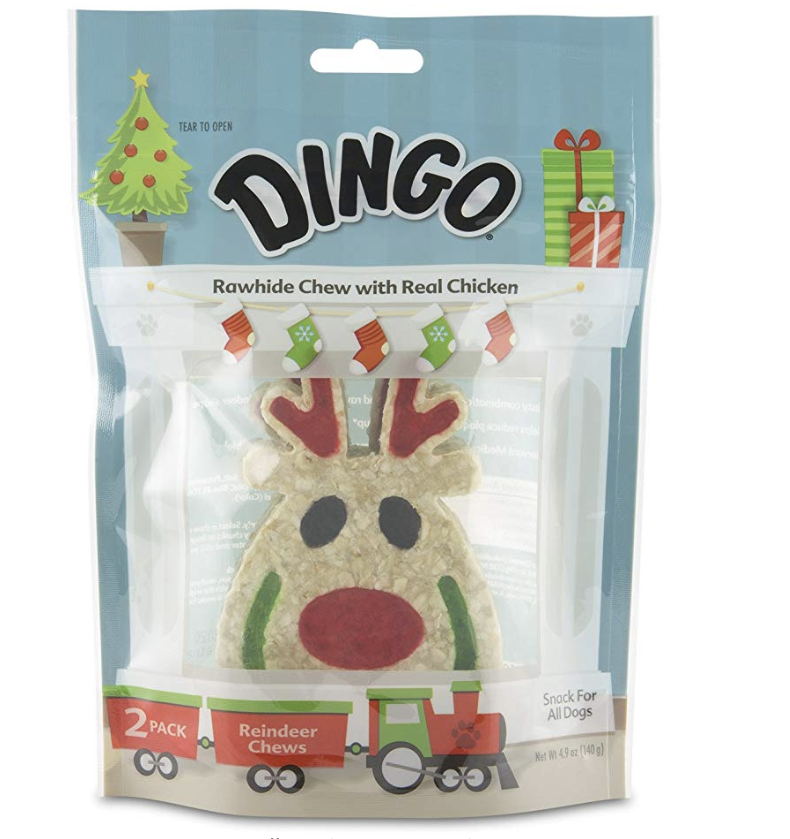 A rare find, this chew is made from reindeer hide. Just kidding. But the festive shape will make up for the fact that it's made from delicious chicken. Comes in other holiday varieties too:
Christmas Wreath
Gingerbread Men
Holiday Cane
Holiday Mini Bones
Pawsative Ruffview: "Our little puppy got these in his stocking for Christmas and he absolutely loved them! Super cute and we could tell they tasted great because they kept him occupied. We're always looking to feed our pup delicious treats made from real ingredients and these fit the bill. Definitely recommend for a cute, wholesome treat around the holidays."
Get the Holiday Rawhides for $4.37
#35 Christmas Dog Sweater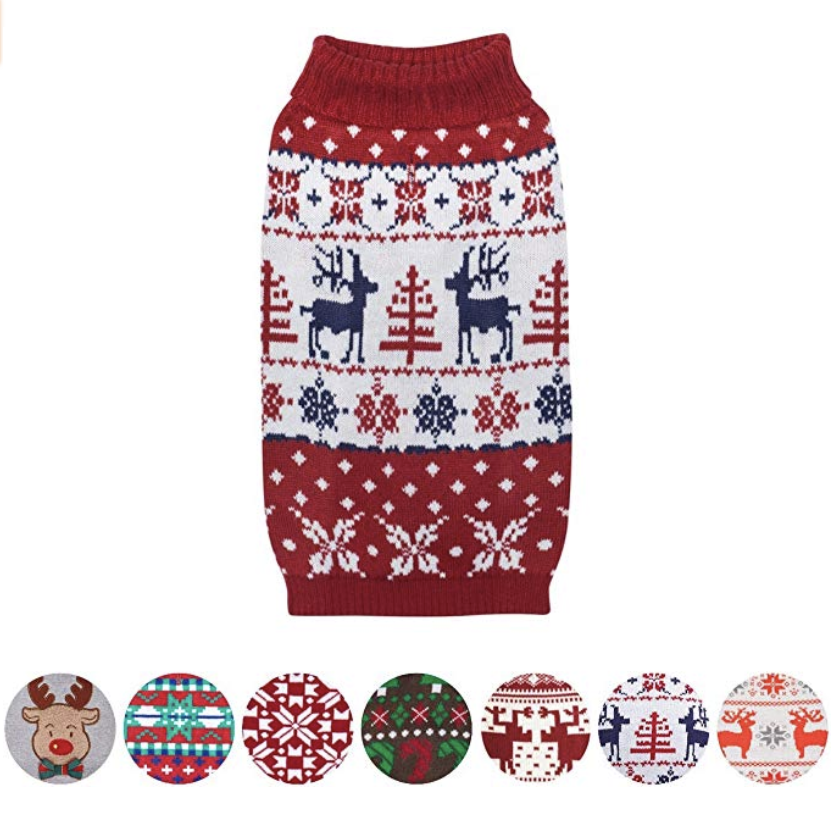 If your dog hates the cold and uses sweaters to keep him warm on walks or in the house, get him a holiday-themed one! These come in many designs, including trees, snowflakes, hoodies, reindeer and more! You can even purchase matching ones!
Pawsative Ruffview: "It's sooooo cute!!!! Love it, used the photos for my Christmas card this year!!! I actually ordered a men's small for the sweater because I didn't see women's in the one that I wanted, and it worked out great. I ordered the 14" length for my dog, also fit pretty well. It can be hard to find things that fit the lil guy, he is a beagle but a mix, his legs are long and skinny and he's only 22 lbs. Just measure your dog's back like they say and make your best guess."
Get these Ugly Christmas Dog Sweaters for $17.99
#36 Simply Turkey Freeze-Dried Treats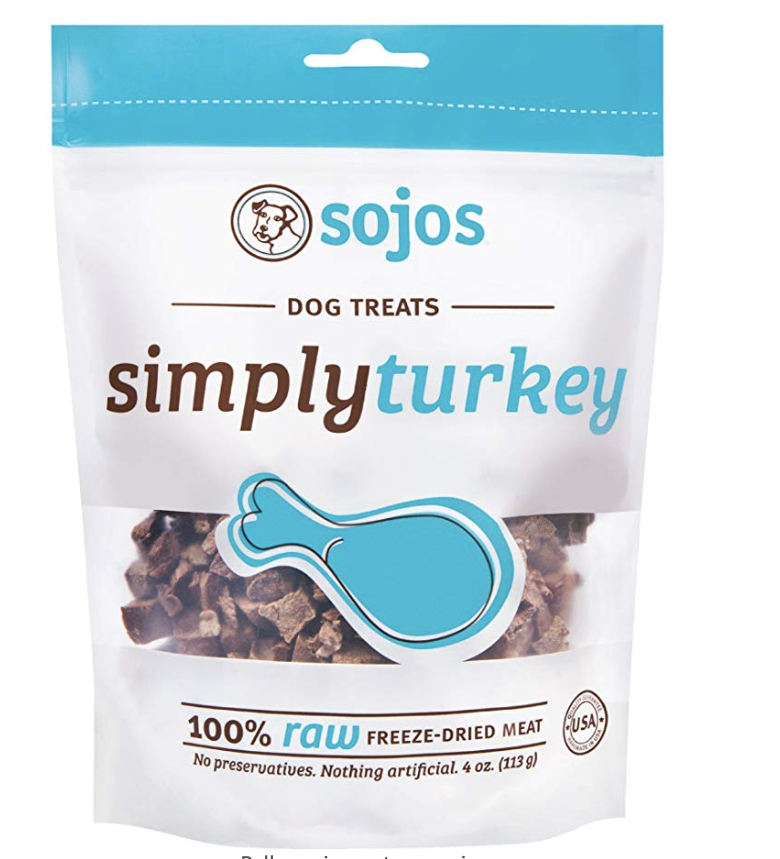 While you enjoy your nice turkey dinner, give your dog some of these. These all-natural, human-quality bites feature only turkey as the ingredients. It's made in the USA and has no preservatives.
Pawsative Ruffview: "This brand is awesome, and I wish my local pet store carried them. I have tried (or my dog has tried) both the turkey and the lamb flavors; I love that these are all meat, no processing, no flavors, nothing else added to them – my dog has several food allergies and these are a great training/reward treat that are easy on his skin and stomach."
Get the Freeze-Dried Turkey Dog Treats for $9.99
#37 USA Turkey Strips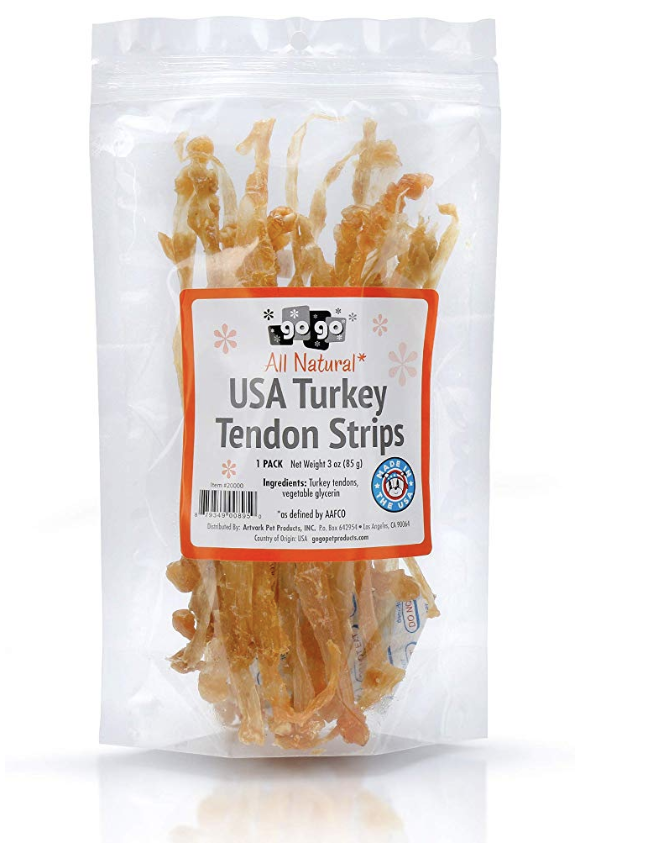 Another choice for your dog's "turkey dinner" are these jerky treats. They're only made with free range turkey and use no additives. They're like chicken strips only for doggos!
Pawsative Ruffview: "My dog literally cannot get enough!! I usually put down 2 or 3 other treats at a time just to get an idea of what she really likes and these are almost always her top choice next to beef jerky. It takes her no less then 3 minutes to eat one and the length of each is about 2/3rds of a ruler. These treats are a moderate chew, not soft but not very hard either. Overall a great product."
Get the Turkey Strip Treats for $14.99
#38 Santa Paws Classic Gourmet Dog Cookies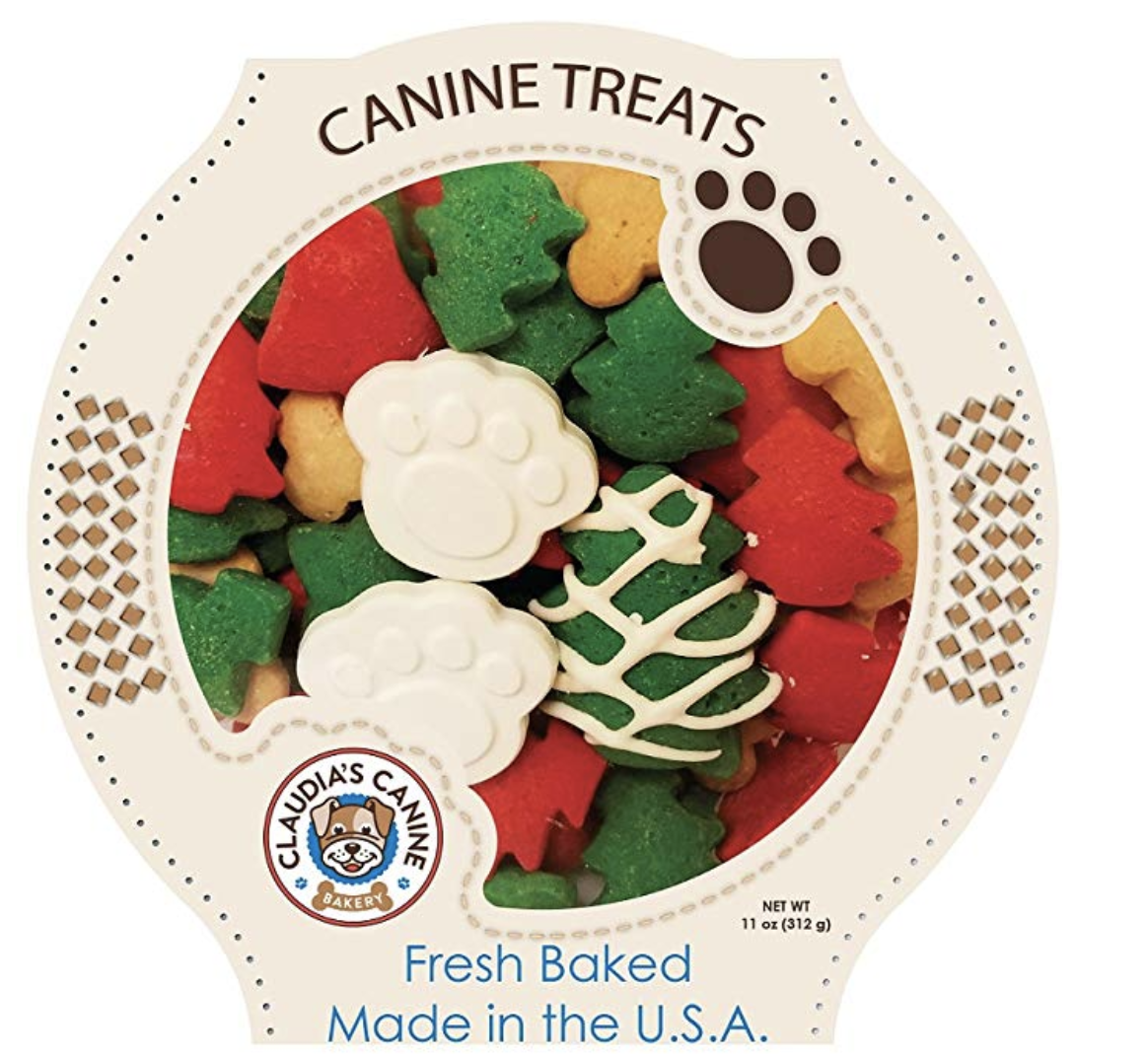 This cutely packed container has 50 treats in a variety of shapes such as paws, trees and bells. They're made from human-grade ingredients and are freshly baked.
Pawsative Ruffview: "These are the only dog "bakery treats" my doggies will eat! They don't like all of them but they do enjoy the red and green trees, which was enough for my to repurchase them for! When it's the holidays and we all have Christmas cookies, I love to be able to give my doggies a Christmas treat too!"
Get the Gourmet Christmas Dog Treats for $13.99
#39 Punny Muttgarita Dog Toy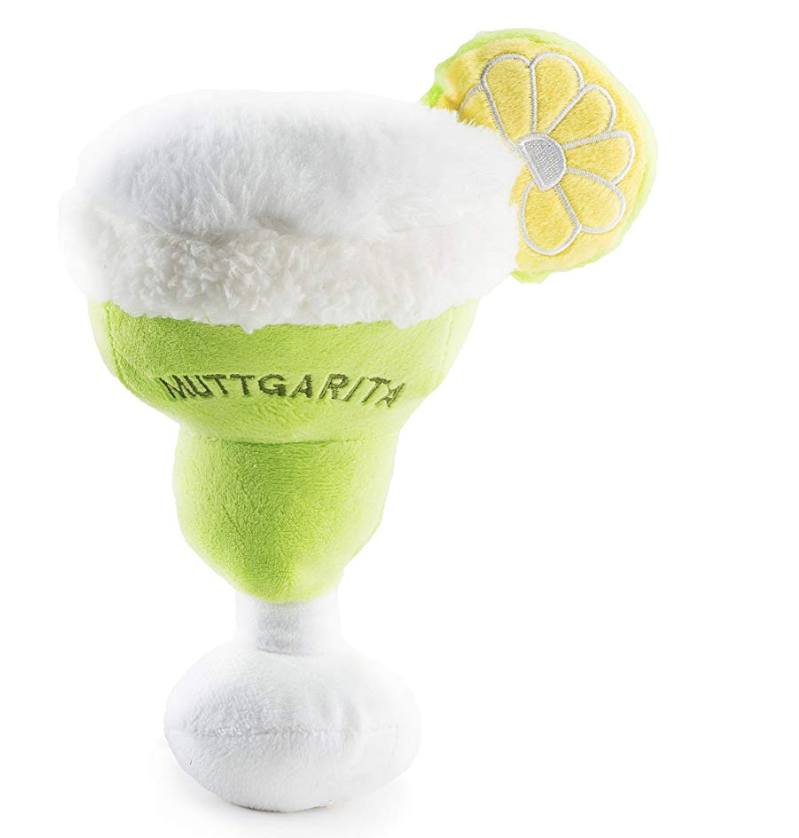 While you're sipping on your holiday drinks, let him squeak away at a cocktail of his own. It will be a great laugh for whenever guests come over too! Comes in other punny alcoholic toy designs:
Champagne
Grrrona Beer
Kennel One Vodka
Barkwieser Beer
Cosmuttpolitan
Johnny Dog Walker Ruff Label
Tanqueruff Gin
Pawsative Ruffview: "Lexi loves it and that's all that matters! To her!! But for me I always pull and tug before she does to make sure the toy is safe for her. Rub the material so I'm sure there aren't fuzzies going into her mouth. This is made very well and doesn't smell like some dog toys from China. Will buy from this company again and recommend them to friends."
Get these Alcoholic Dog Toys for $13.99
#40 RAW Squeaky Dog Joint Toy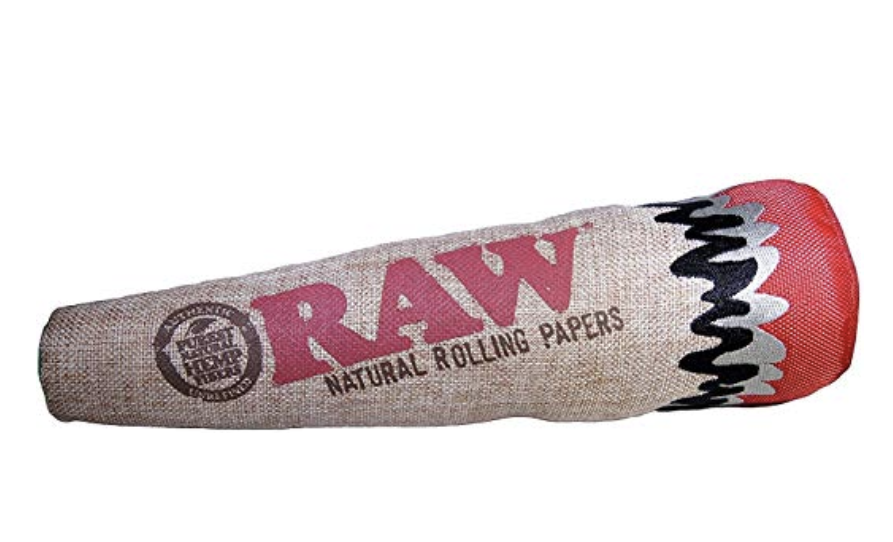 Perhaps your dog is less of a drinker and more of a smoker (or maybe you are ;). Now, he finally has a joint he can play with himself. Keeping with the cannabis theme, the toy is made from unbleached hemp and comes with a squeaker.
Pawsative Ruffview: "It came with actual weed????????" [Okay, this is one review we question, lol]
Get the Joint Dog Toy for $14.80
#41 Grain-Free Christmas Dog Treats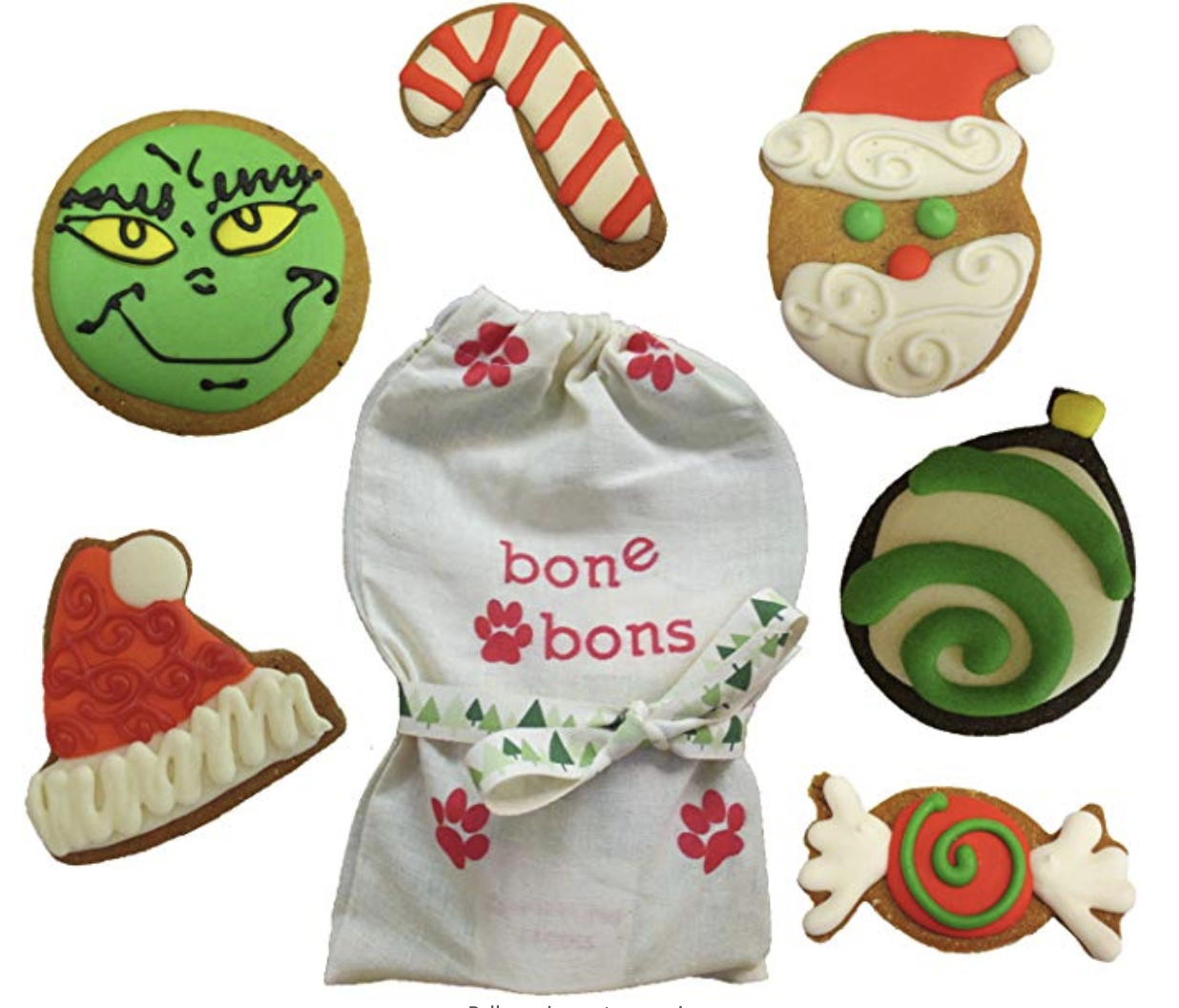 These dog cookies have icing designs similar to the ones you'd make yourself. The Grinch, a Santa hat, candy cane and more, your pup will devour these organic, USA-made treats.
Pawsative Ruffview: "Just gave a cookie to the dog on Christmas, and he loved it! He's a an 18-lb terrier, not very big, so now I give him 1/3 or 1/2 of one. They are about the size of a standard Christmas cookie, so they're big to give him a whole one. He has grain allergies, so I've not been able to get him real "cookies" before. This is a great treat."
Get the Natural Christmas Cookies for $19.99
#42 Christmas Dog Treat Gift Box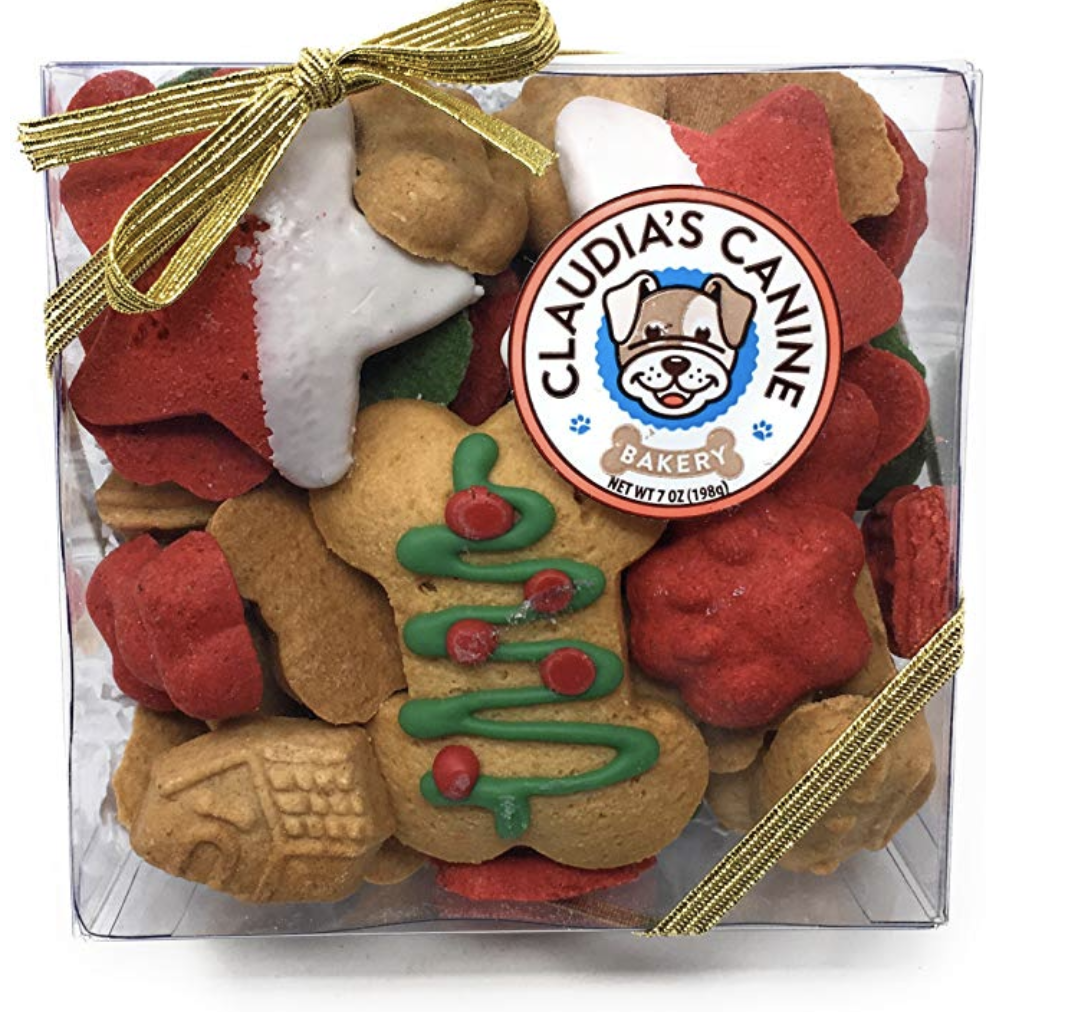 Yet another option for the Christmas-loving pup, these come with about 45 cookies in varying holiday shapes. They're made in a professional bakery the USA.
Get this Dog Treat Gift Box for $15
#43 Dog Treadmill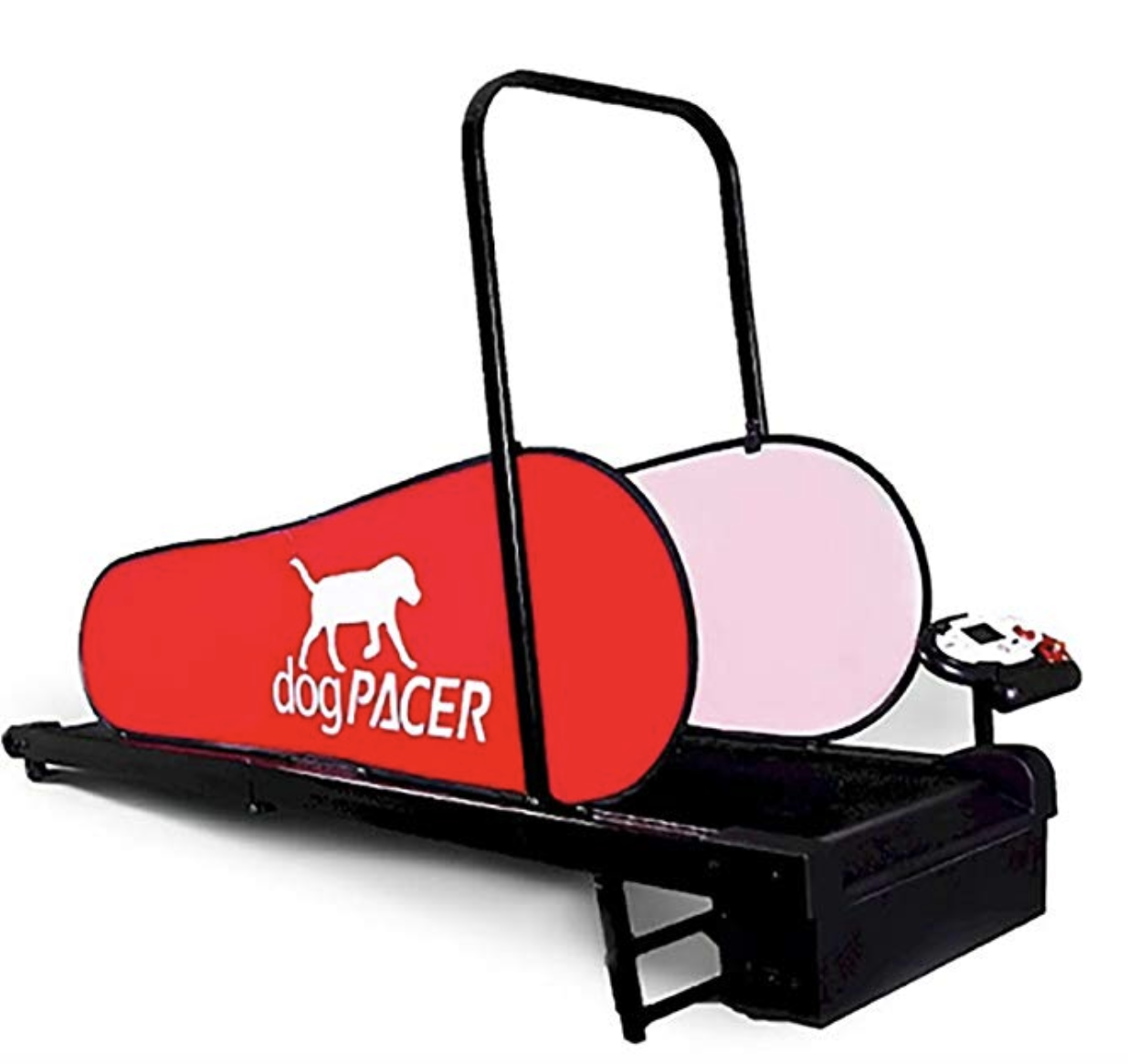 Does your dog need extra exercise or simply just love being active? Here's a treadmill made specifically for doggos! The computer even comes with pre-programmed canine fitness programs.
Pawsative Ruffview: "I'm a dog trainer and canine behaviorist. I have two Siberian huskies and we live in the desert… And its summertime. Needless to say, we only go out after dark. The pups wait out the sun with games, training, and lots of naps. Since buying the DogPacer, my dogs have stopped pacing the house every afternoon, bored out of their minds. Instead, they hop on the DogPacer and wait for me to turn it on! I love the pre-programmed workouts; they are a great challenge and confidence-builder."
Get the Dog Treadmill for $566.49
#44 Automatic Ball Thrower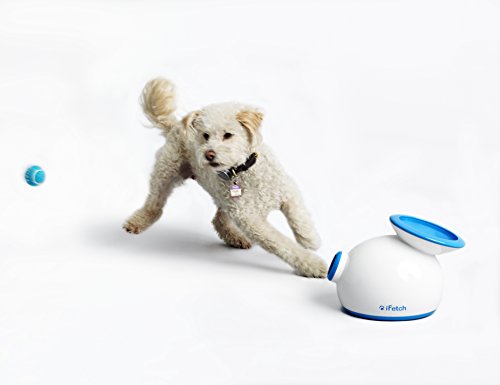 Pup can't get enough fetch no matter how many times you throw the ball? Get this automatic ball thrower and your dog will always be entertained.
Pawsative Ruffview: "Bought this for my 12 pound toy fox terrier. He LOVES it! We can play for hours. I was hesitant at first because of the size of the balls, but now that I've seen him with them I'm not worried. It is sooooo much fun!"
Get the Automatic Tosser for $159.99
#45 Doggy Doorbell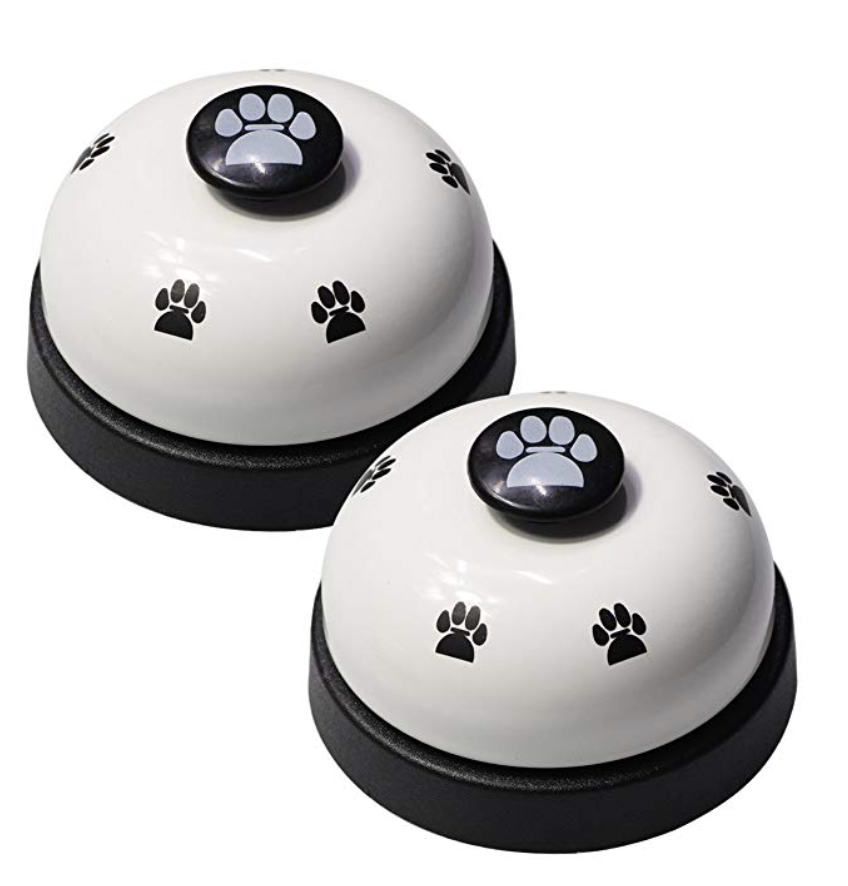 If you have a backyard, how do you know when your dog wants to come in? A bark? By pressing his nose or dirty paws against the door, leaving marks? Come on, it's 2019, we're more high-tech than that! Now, all your pup needs to do is step on the doorbell and you know he's done his duty. You can also place one inside so he can tap it when he wants out. It's a training method for no indoor sh!ts!
Pawsative Ruffview: "My puppy caught on QUICK (one day) & now she uses the bell every day to communicate what she wants. Sometimes I have to take it off of the floor, or she will get carried away. I use one bell for food/snacks the other next to the door for her to go outside."
Get the Special Doggo Doorbell for $8.59
#46 Dog Gift Basket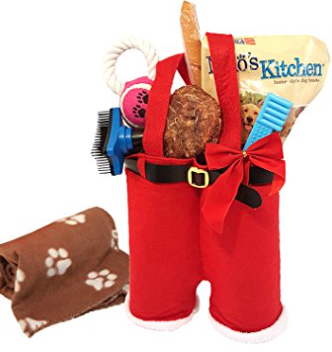 If you're not sure what to get Fido, what about a basket of varying things? Here's our list of the top dog baskets for doggos.
Get a Dog Gift Basket from $15
#47 Fancy Dog Houses
We're not talking about your regular run of the mill dog houses here. We're talking about the lavish ones or the ones so stylish you'll keep in your own home. Some even come heated to keep them warm during winter outings. Since there's so many unique dog house options, we have a guide on 11 Modern Dog Houses: Outdoor + Indoor Ideas for the Stylized Home.
Get a Luxury Dog House from $99.99