The holiday season has begun and the race to find gifts brings pressure to all of us!
If you have any dog-loving friends or family members or partners, you can take a deep breath and relax—we totally have you covered.
Are you looking for:
Christmas gifts for dog trainers
Dog walker Christmas gift ideas
Christmas gift ideas for dog groomer
Here are 11 unique gift options for dog lovers. They are f*cking awesome, if we do say so ourselves. We've even updated this post from last year to include everything new in dog lover gifts.
36 Gifts for Dog Owners
When selecting a gift, take into account the dog lover's personality and what type of items they want, enjoy or need. While these gifts are specifically for humans, you can also get them a gift that's actually for their dog. If that sounds like a good option, check out these Dog Christmas Gifts.
#1 Gold Dog Chain Collar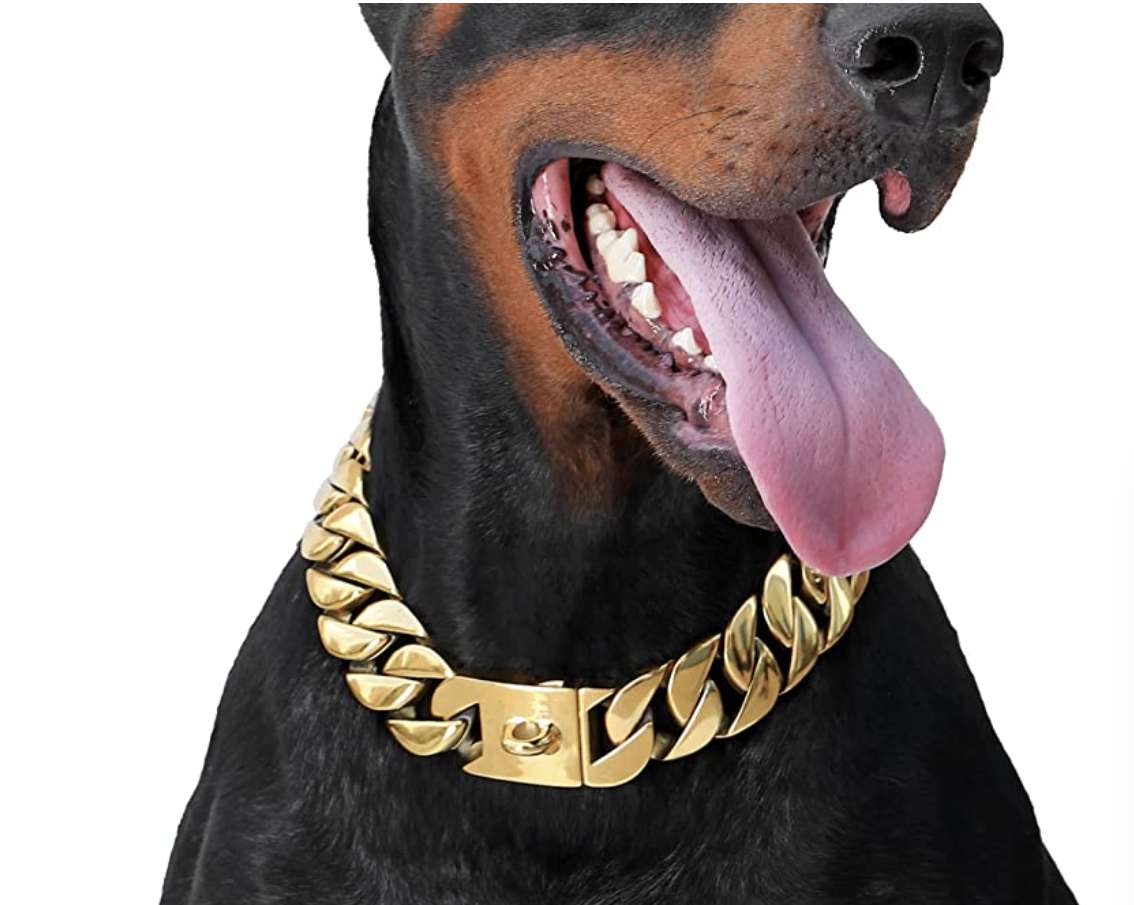 If your friend likes chains, they'll love how their dog looks in this 18k goldplated Cuban chainlink collar.
Get the Gold Dog Collar for $105.99
Pawsative Ruffview: "This collar is super heavy duty and has a good weight to it, the clasp is very secure. My frenchie likes wearing it and it looks high quality. I'm very impressed with the color and feel for the price, honestly one of the best investments so far for my dog. I'm sure this applies to many other big breeds. Overall great product and definitely recommend. Heavy, sturdy, and attractive."
#2 "Sleeps with Dogs" Pillow Case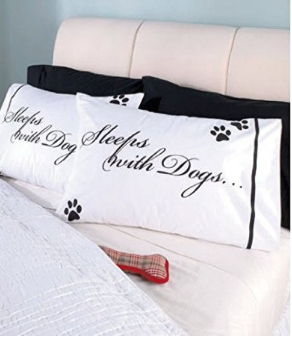 If your friend always sleeps with her dog by her side, she will love this pillowcase! It would also make a great Christmas gift ideas for your dog groomer.
Pawsative Ruffview: "Wonderful quality and beautiful lettering. I was very pleasantly surprised."
Get the pillow case for $14.50
#3 Pet Door for Rough Weather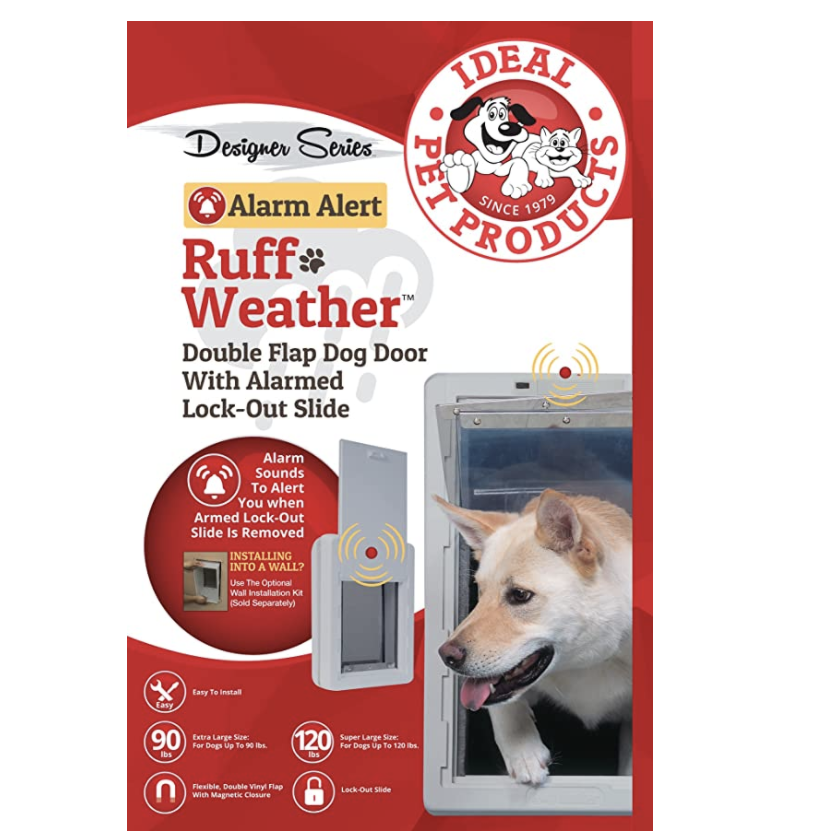 This is the perfect solution for large breeds who live in cold climates. They can come in and out whenever they please. It has a double flap dog door with an alarmed lock-out slide.
People with pets who live in cold climates will love with special pet door. It's made for large breeds and thanks to its double flap door with an alarmed lock-out slide, it will work in rough weather.
Get the Rought Weather Pet Door for $204.69
Pawsative Ruffview: "My dogs love this door and the gentle alarm on the slide is a handy reminder when I want it to stay closed."
#4 Dog DNA Test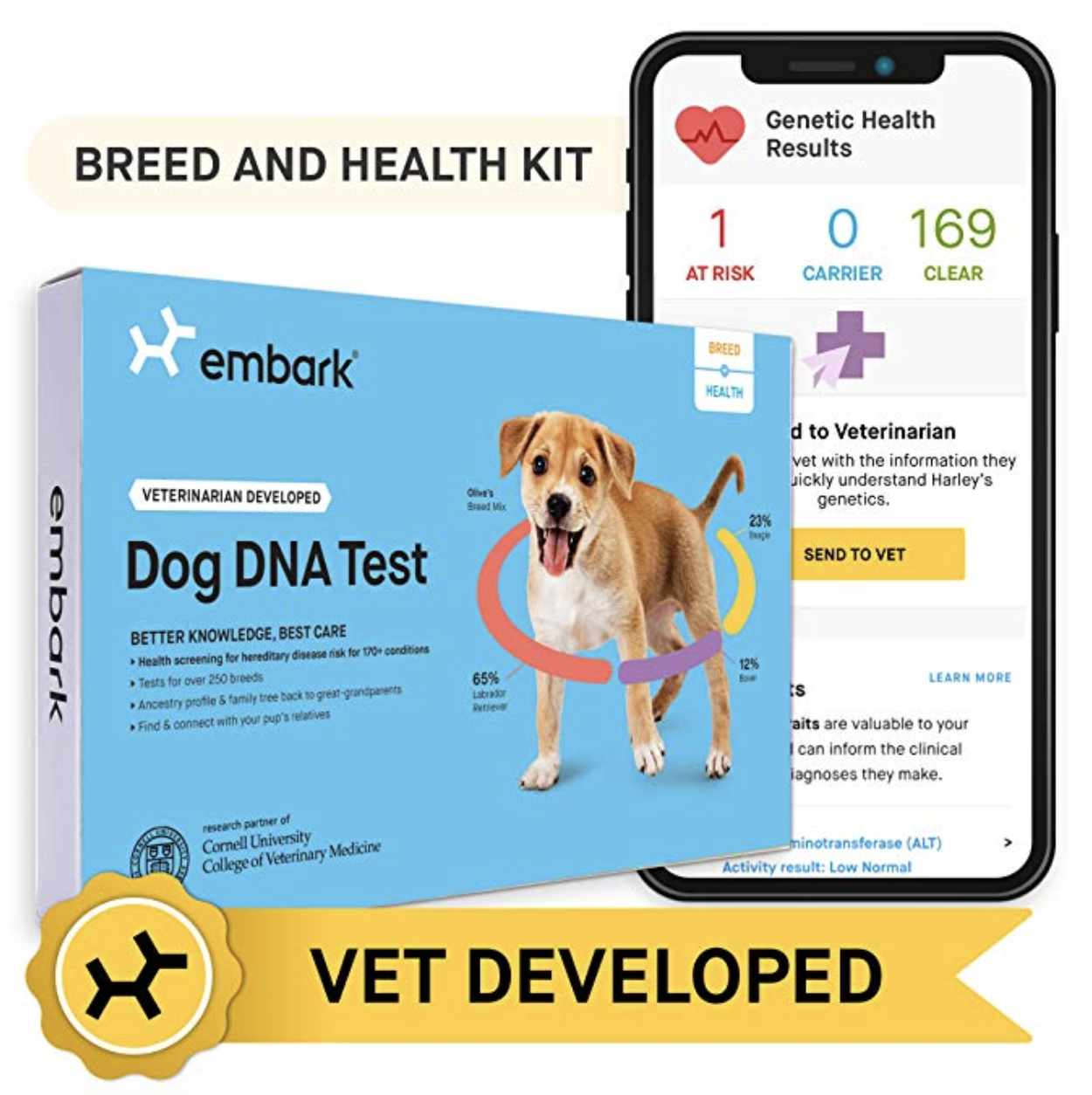 Does the dog lover in your life wonder what breed her rescue is? This dog DNA test will finally give her the answer! It also provides health screening and can help connect you with your pup's distant relatives! Yes, it's like ancestory for doggos.
Pawsative Ruffview: "We sent our puppy's DNA in for testing just days after we rescued her. She was called a "Beagle mix" and we had just lost our beloved Beagle to cancer. We knew she wasn't very Beaglish (except for the one floppy ear) but she doesn't act like the Jack Russell everyone thought she was mixed with. It took 10 weeks to get the result but Embark communicated several times that they were working on it, it just takes longer for mixed dogs. And she is REALLY mixed. Now, when people at the dog park ask what kind of dog she is I just whip out my phone and show them her family tree. I should probably get a commission from Embark because I've sent them so many customers, lol.
It's also good to know that she has NO genetic predisposition to any diseases. I recommend this test highly to anyone who is concerned or just curious about their fur baby."
Get the Dog DNA Test for $189
#4 Dog Crate End Table with Cushion
Anyone who loves their dog wants them to be close. This crate doubles as an end table. When used in the living room or bedroom, their dog will be as close as possible!
Get the Dog Crate Dog Bed for $229.99
Pawsative Ruffview: "I bought two. One for a lab and one for a shih tzu and placed on either side of my couch as end tables. Great for saving space, looking great and two birds…one stone. They were well packaged, easy to assemble and even more sturdy than I had anticipated."
#6 Pastabilities Dog Lovers Pasta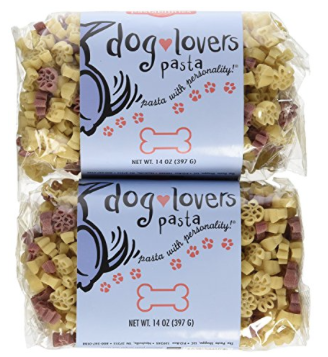 If your friend or family member loves pasta, they will definitely love this! The package includes doggie paw and bone shaped pasta. It also comes with a Dog Lover's Taco Pasta Salad recipe. Umm yummmm! After you get this for your friend, make sure they invite you over for dinner!
Pawsative Ruffview: "Cute and perfect for my daughter's zoo themed 2nd birthday party! A bit hard to really make out the shapes and I expected there to be more pasta than there was, but it worked out great anyways! I added some pasta to it in order to feed about 24 and I really did not need to with all the other food, there was still left overs everyone got to take home!"
Get the paw-shaped pasta for #13
#7 I Prefer Dogs Mug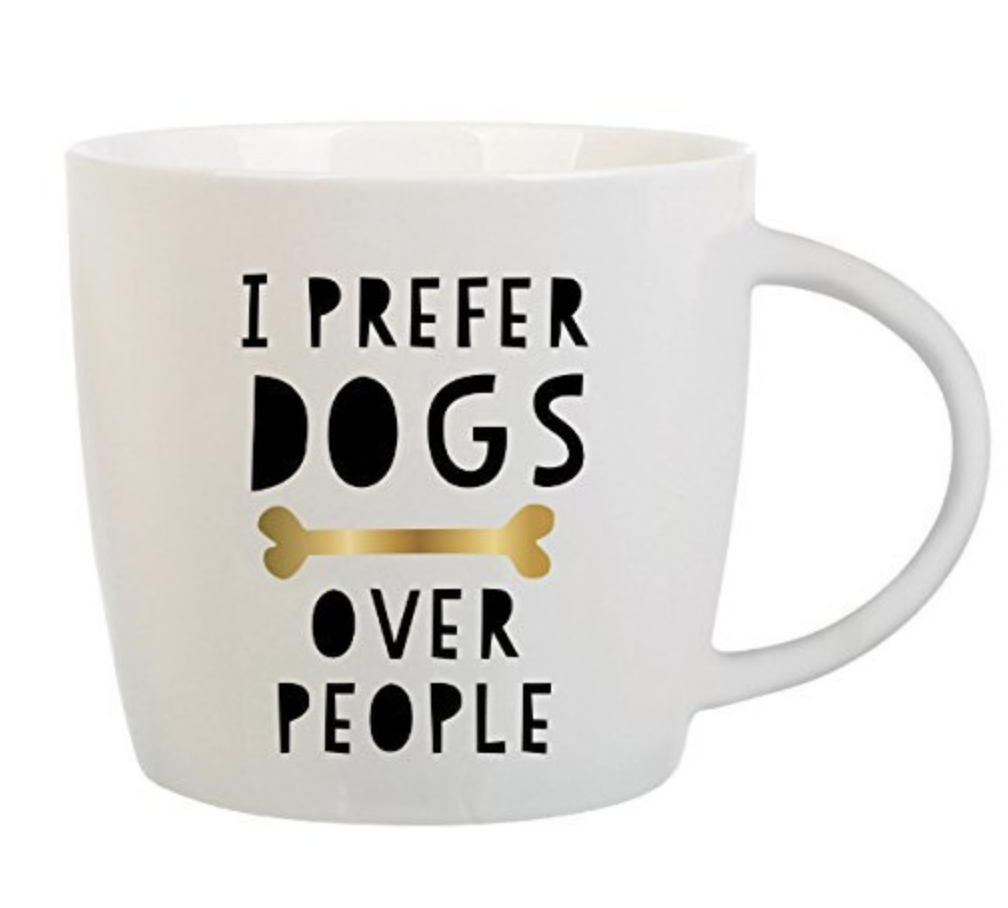 This is probably the truest mug for dog people. We can't talk to ANYONE before coffee. Except for our dogs. We can always talk to our dogs. If you're looking for dog walker Christmas gift ideas, this is a good one. We think mugs are a great gift idea because anyone can use them and the sayings can be specific to their personality. If you agree, you may want to check out our full list of 15 Mugs Every Dog Owner Will Go Mutts For.
Pawsativer Ruffview: "This was a gift for a dear friend who is a dog lover. It was very liked and appreciated. Good quality mug. Graphics were nice."
Get the dog loving mug for $19.99
#8 Wagz Freedom Smart Dog Collar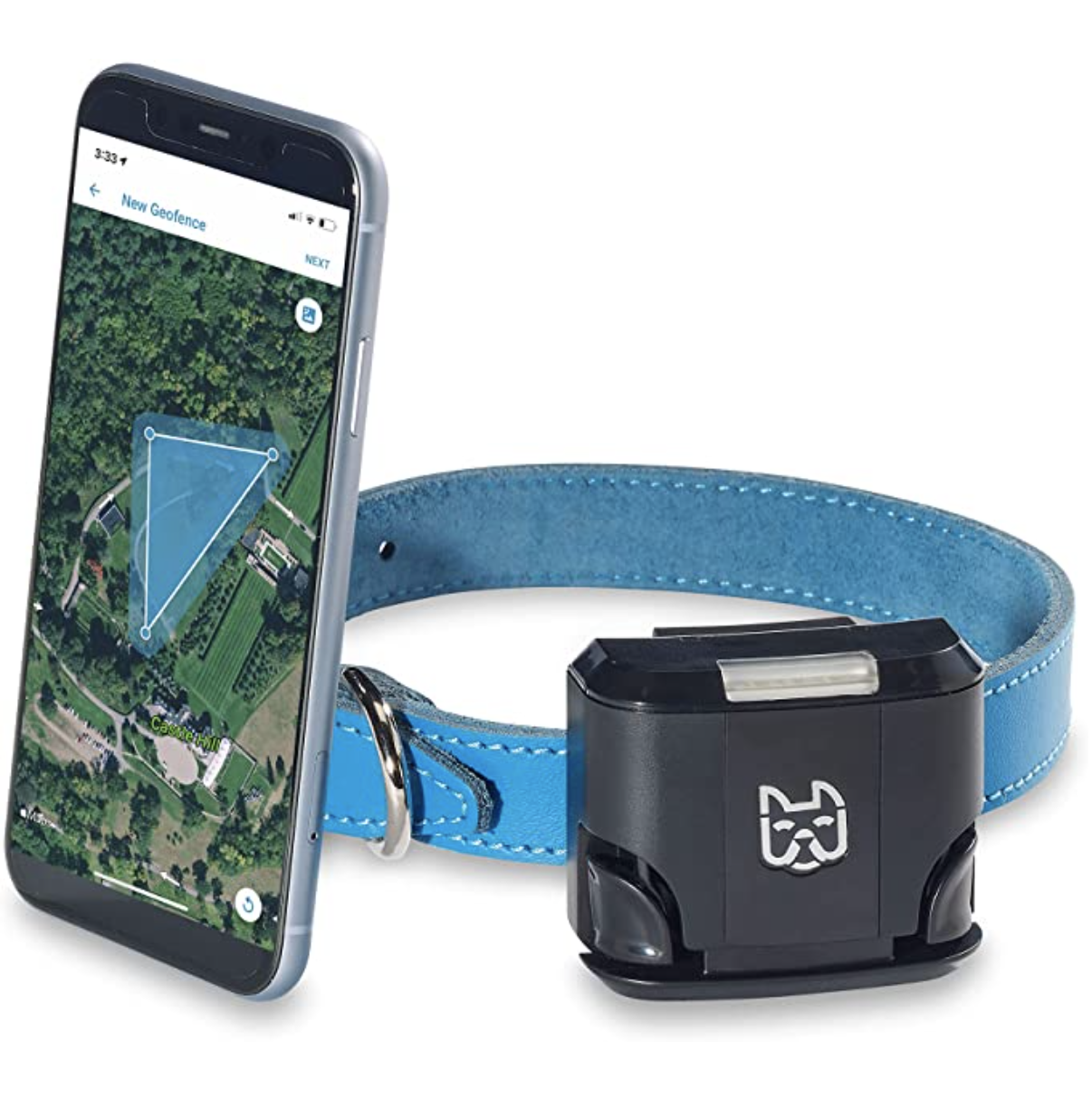 This is the ultimate gift for any new dog owner. This dog collar doubles as a GPS, dog health tracker, and shock-free corrector with ultrasonic and vibration options.
Pawsative Ruffview: "It's been the perfect solution for keeping my new (6 month old) puppy contained and content. He's still learning to behave, but this collar is definitely helping! The collar was easy to set up and the rechargeable batteries last for a long time. Overall a great product to take control of your dog's behavior and health!"
Get the Smart Dog Collar for $249.99
#9 Dog Welcome Sign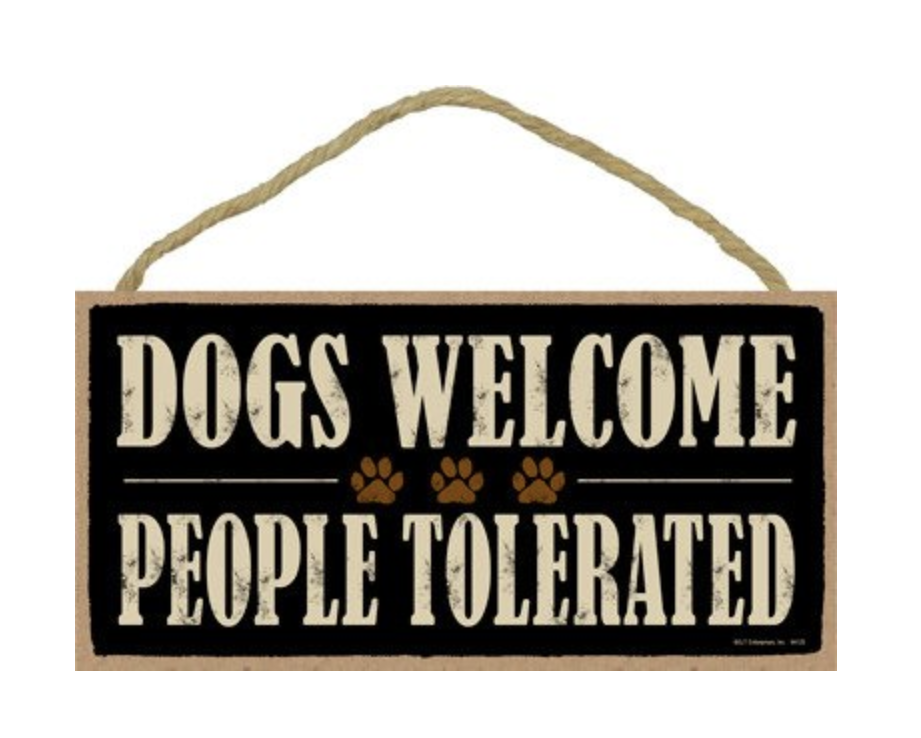 Let's get straight: dogs are the real ones welcome in this home! Now your friends can make it known with this untraditional sign.
Pawsativer Ruffview: "This sign is so stinking cute and describes me perfectly. The sign is thin, so it can easily fit on any door or on the wall. It looks excellent and always makes my friends smile (and roll their eyes) when they see it. The product looks like it does in the picture and I would totally recommend this! 🙂"
Get the dog lover gift for $11.99
#10 Handcrafted Doggy Russian Dolls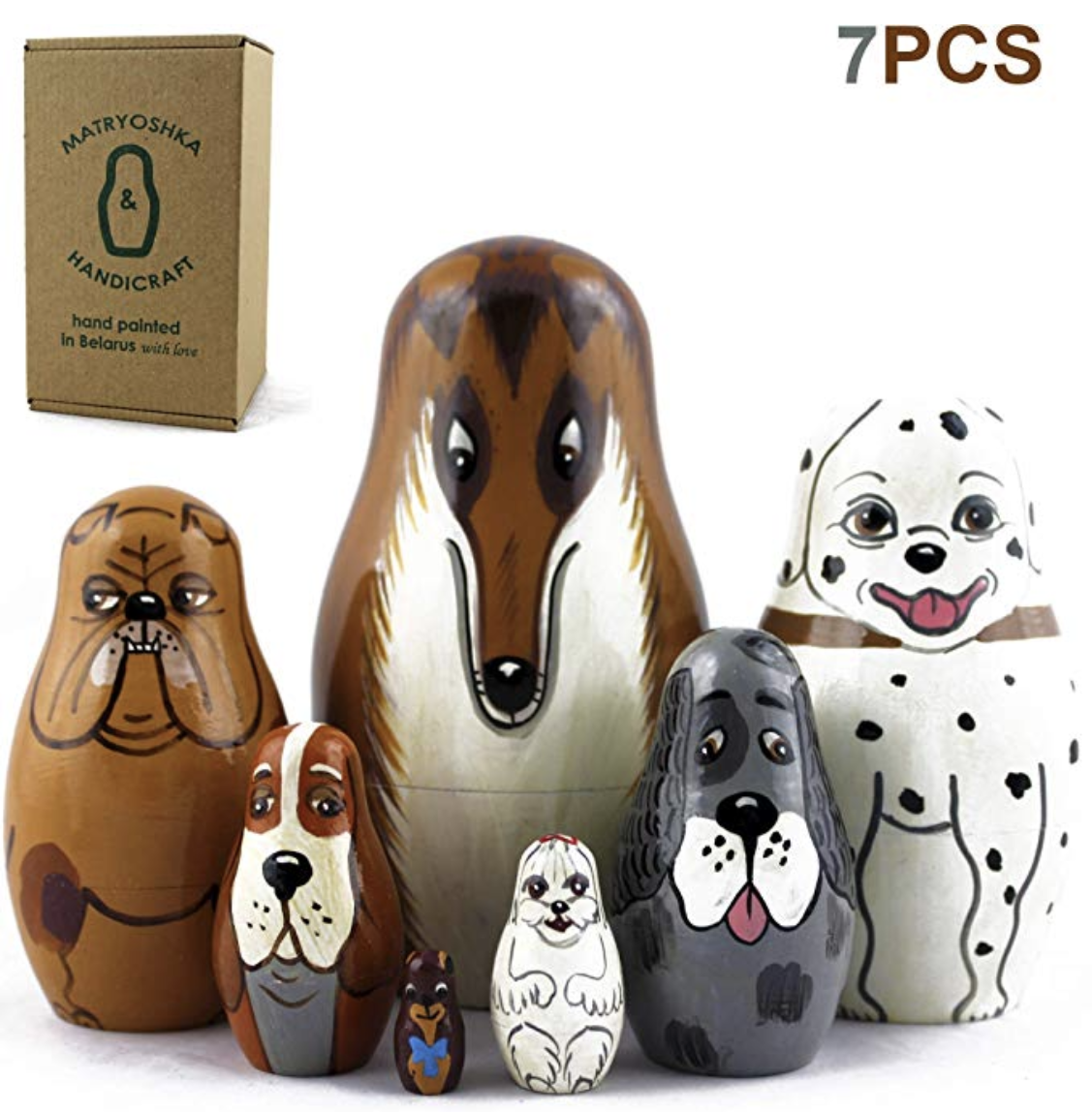 I love Russian Dolls. Every Christmas, I look forward to the Santa one my mom pulls out. And even though I'm no longer 5, I can't help but stacking them every year. These dog versions are just as cool and appropaite for the dog lover who's an adult or child!
Pawsative Ruffview: "I bought these for my mother-in-law for Christmas as she is a dog lover. They are so adorable and beautifully hand painted!"
Get the Dog Russian Dolls for $29.98
#11 Dog Socks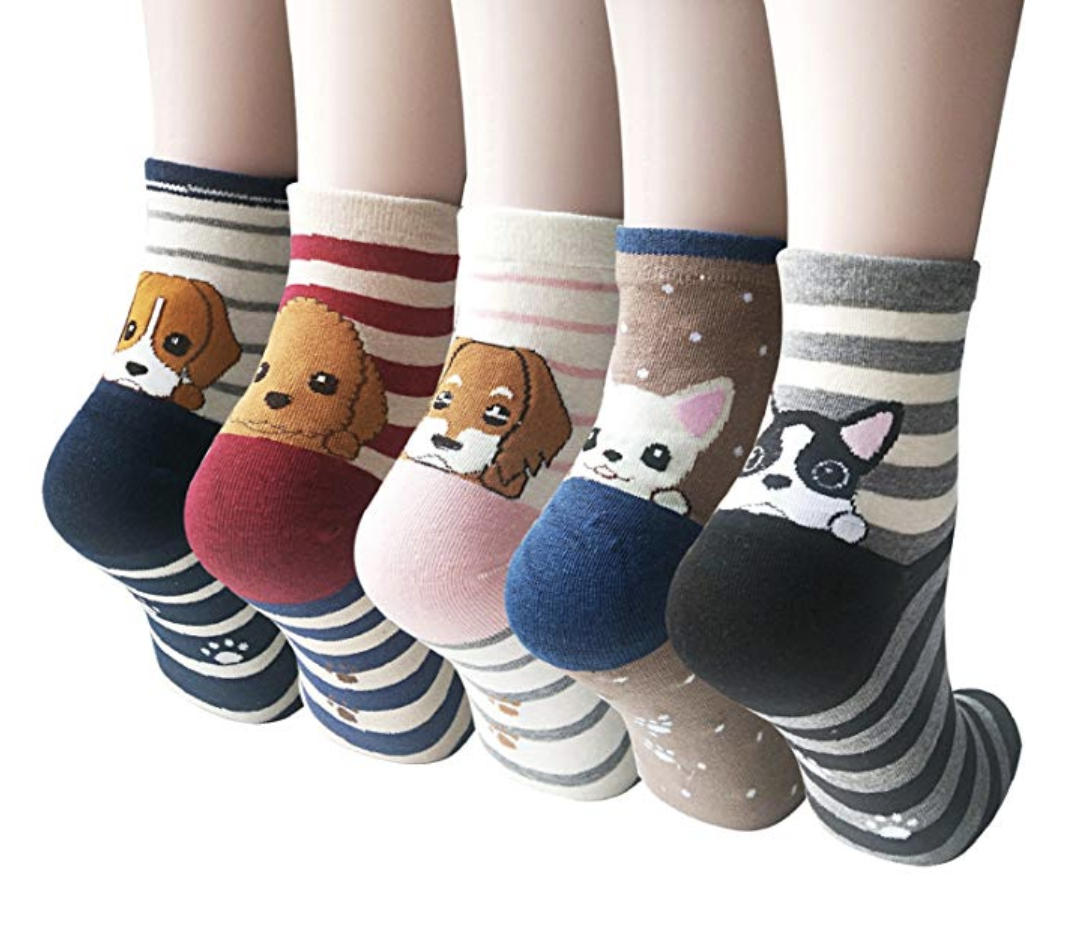 This would be the perfect stocking stuffer for a dog loving friend or family member. They can even pick their dog sock depending on their mood! If you're looking for Christmas gifts for dog trainer, this is a good go-to.
Pawsativer Ruffview: "I love these! I was a little concerned about how they will fit due to me not having the skinniest legs, well I would like to say they fit me just fine! They are super cute. Definitely looking into buying different styles! Warmer than expected for thin socks, but not too warm. Just right in my opinion."
Get the dog sock stocking stuffer for $8.99
#12 Dogs Make Life Better Wine Glass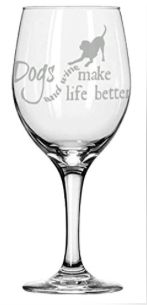 If your friend or family member loves wine almost as much as dogs, she will love this handmade wine glass.
Pawsativer Ruffview: "This etched wine glass is the perfect gift for someone who is both dog & wine lover. Great selection of breeds and my order was created promptly and very nicely packaged. Thank you."
Get this doggy wine glass for $14.99
#13 Heavy Duty Dog Stroller Carriage with Convertible Compartment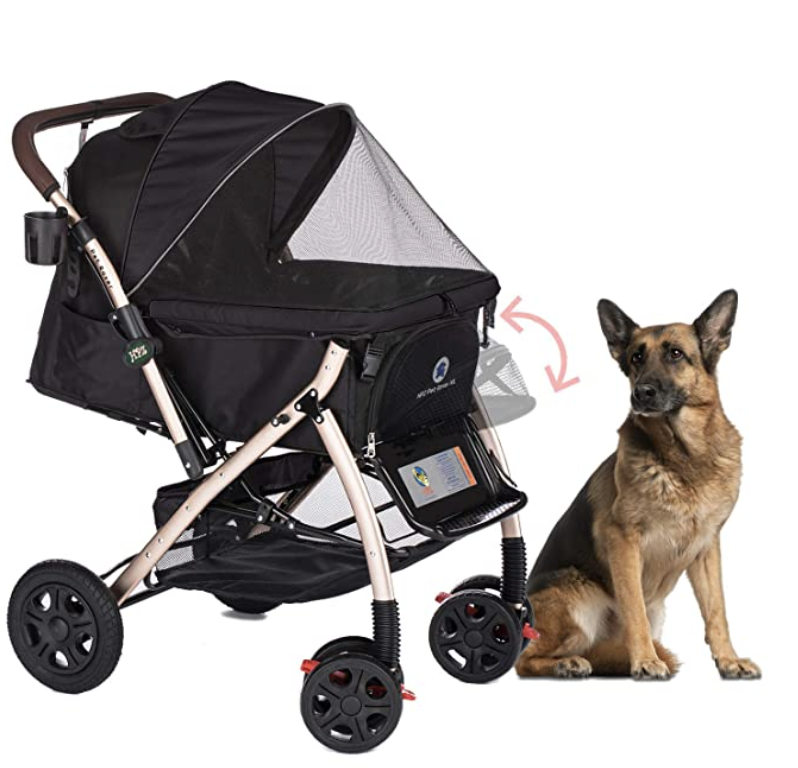 Your friend will get to bring their pup anywhere with this stroller!
Pawsative Ruffview: "Let me start this review by saying that we have been searching high and low for the best pet stroller that would accommodate our needs. We had one from a different company, but it always pulled a bit to the right and just wasn't big enough, the size of this stroller is great and the only one I've found that is this large yet so elegant."
Get this Pet Stroller for $256
#14 Dog Christmas Ornaments OR DIY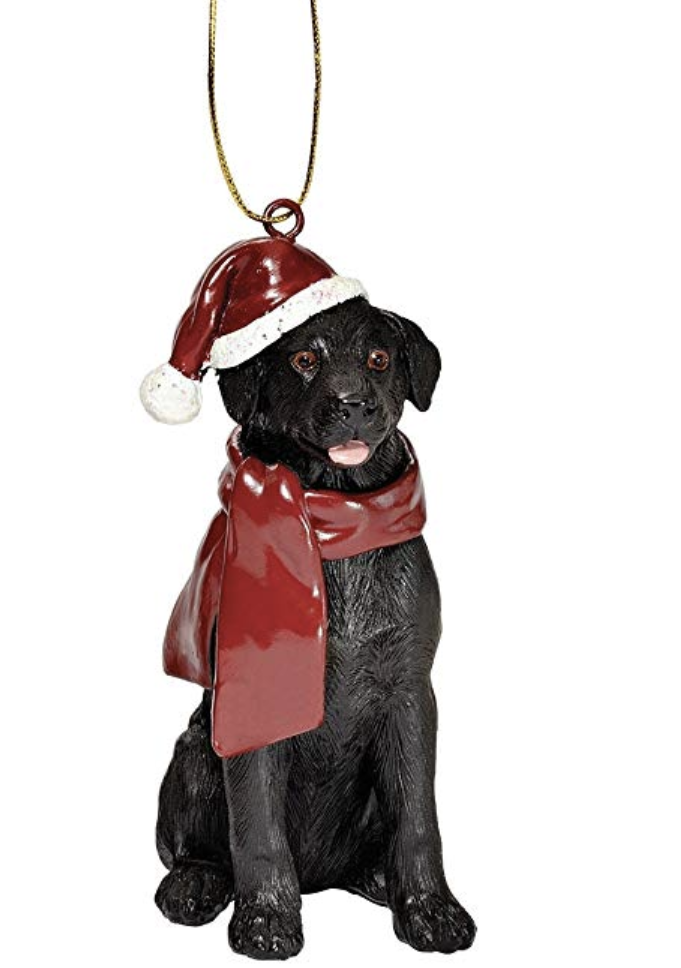 Dog parents who set up a Christmas tree each year will love these adorable doggy ornaments. You can even get one that matches their canine's breed. There's quite a few to choose from, so we've compiled a guide of the Best Dog Christmas Ornaments. There's even a low-cost homemade option if you're into DIY gifts!
Get these Ornament Dog Lover Gifts from $8
#15 Dog Crate End Table with Cushion
Anyone who loves their dog wants them to be close. This crate doubles as an end table. When used in the living room or bedroom, their dog will be as close as possible!
Get the Dog Crate Dog Bed for $229.99
Pawsative Ruffview: "I bought two. One for a lab and one for a shih tzu and placed on either side of my couch as end tables. Great for saving space, looking great and two birds…one stone. They were well packaged, easy to assemble and even more sturdy than I had anticipated."
#16 Dog Mom Stainless Steel Wine Tumbler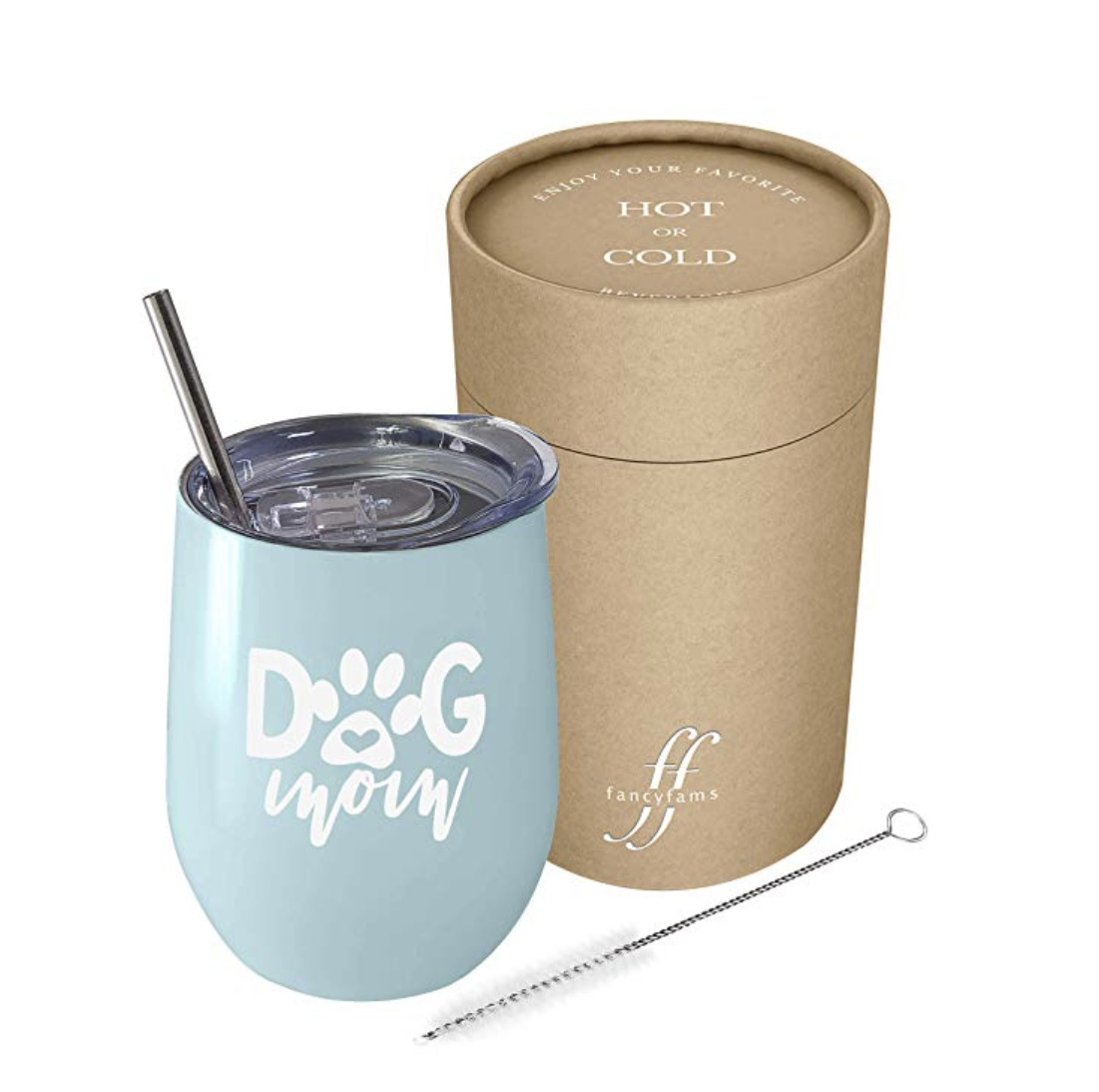 Coming in blue, white or pink, this tumnbler can keep beverages hot or cold for hours at a time. It's shatterproof and cmoes with a stiainless steel straw and brush cleaner.
Pawsativer Ruffview: "I received this item a few days ago and it's perfect! I love wine glasses like this for laying out by the pool or sitting at my complex's dog park with my fur babies. I have been getting compliments left and right about how cute this tumbler is and I'm very happy with the quality and durability so far (it's hard to carry anything when walking two crazy puppies)."
Get the Wine Tumbler for $20.95
#17 Dog Christmas Pillows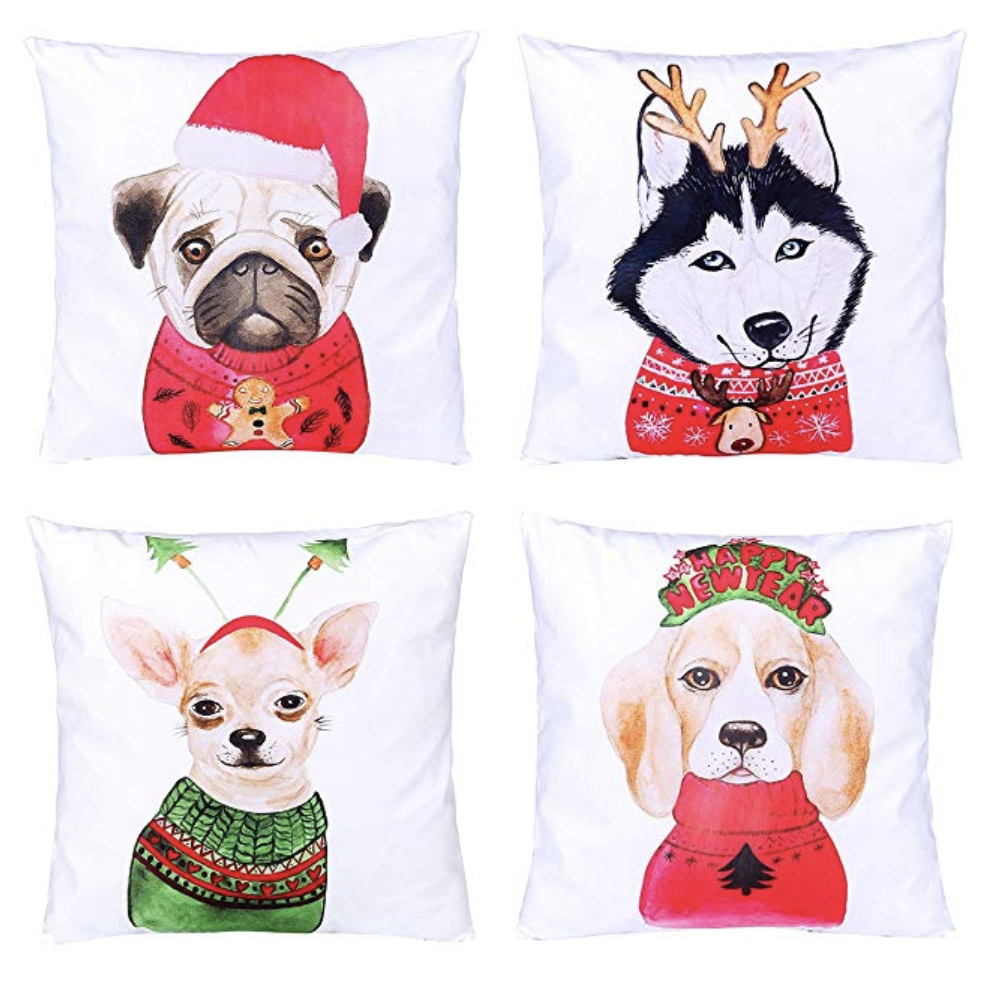 If the pet parent is someone who loves decor, consider some adorable dog-themed pillow cases. More specifically, you can get ones that fit int the holiday theme. See our full list of options here: 10 Festive Ideas to Cuddle up to This Winter.
Get Christmas Dog Pillows from $6
#18 The DogFather Shirt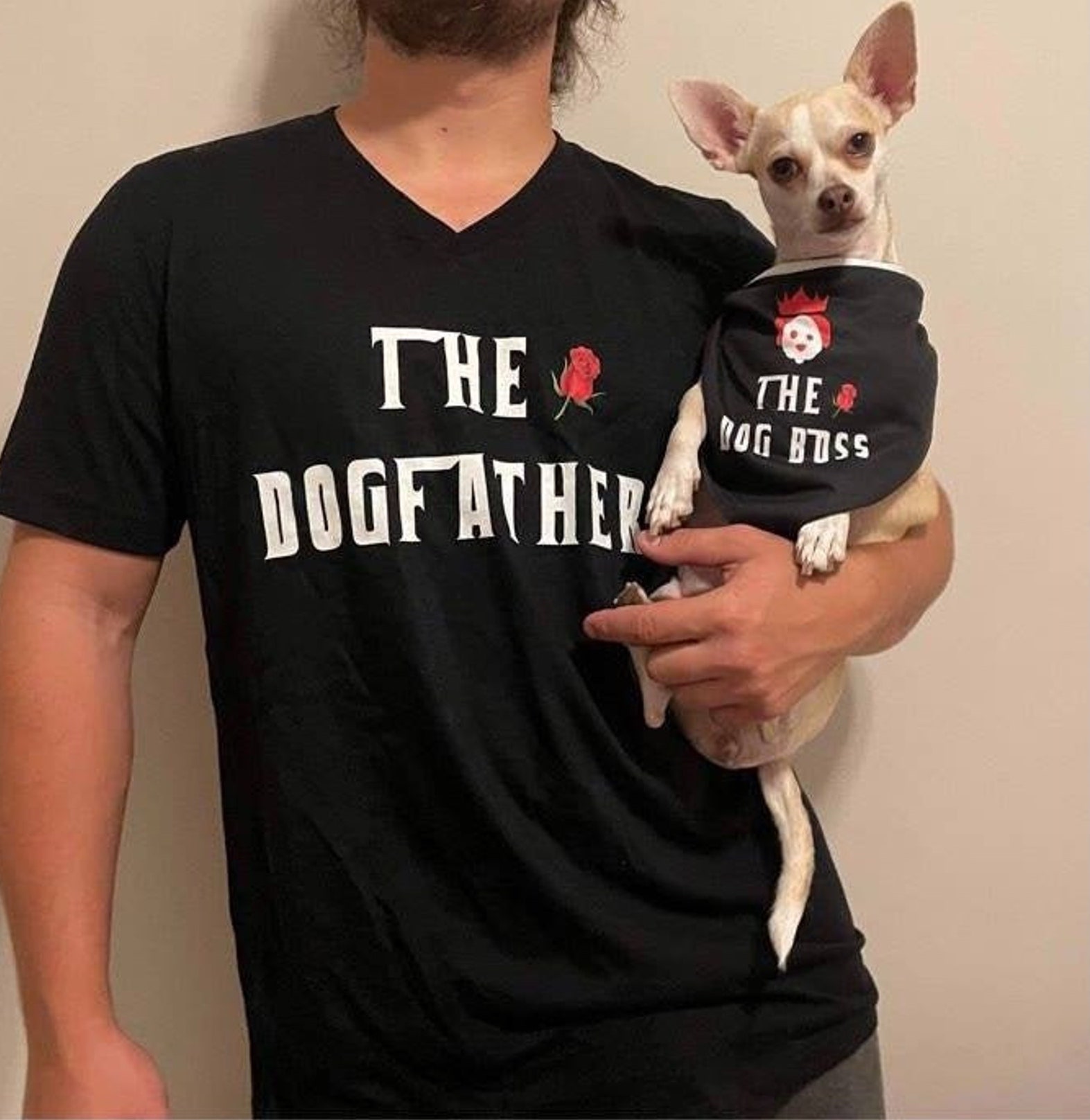 This shirt is perfect for the man with a dog companion in his life. A play on words will make for a funny gift, too!
Pawsativer Ruffview: "I gave this to my husband for Christmas. He loves his dog more than people. He wears it around the neighborhood while walking our doxie. Sometimes takes people a minute to realize the joke, then they love it. Washes well and true to size."
Get this doggy shirt for $15.99
#19 Dog Lover Adult Coloring Book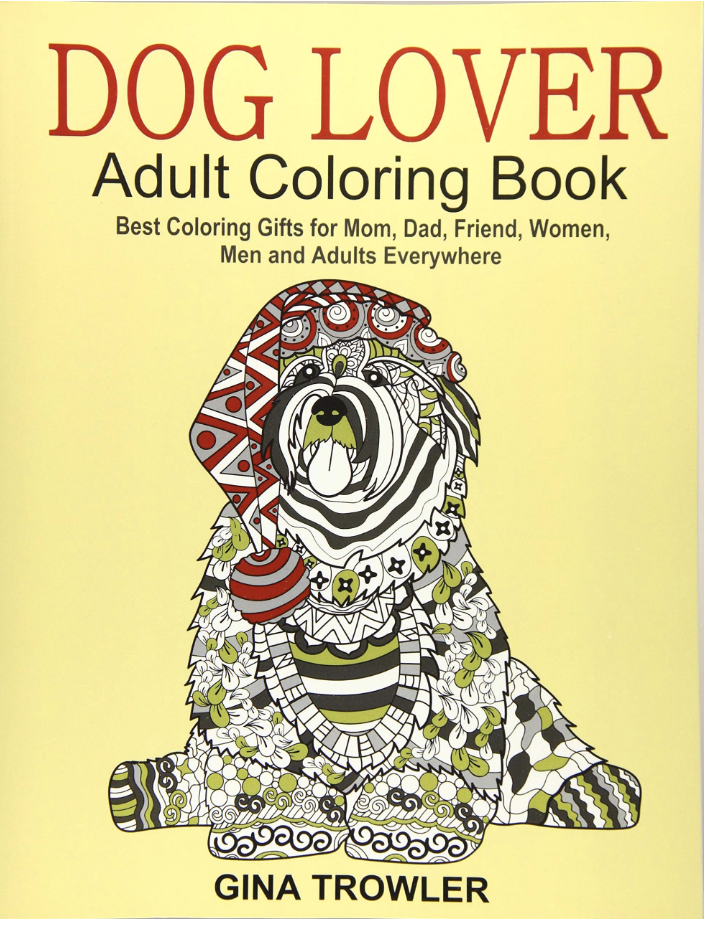 If your friend is also a creative, a dog-themed adult coloring book could be a great idea. We recommend wrapping it up with a new box of crayons, pencil crayons or markers for a complete gift!
Pawsative Ruffview: "I am 50 years old and I still love to color. When I saw this coloring book of dogs I knew that I had to buy it. I owned a dog boarding and grooming facility up until last November when I sold it. So I'm a little partial to dogs and had to have this to color. The pages are thick so the color does not bleed through to the next page. There is every breed of dog that you can think of in this book. This book is what I call "easy coloring". Not a lot of tiny little places to color, most are larger. Even though I love this coloring book, I think small kids would do really good with coloring these dogs."
Get the Coloring Book for $5.99
#20 Doggy Cologne
If your friend's dog smells like sh!t, help them out by handing them some doggy cologne. Not only is this a great dog lover gift, but it's super useful too.
Pawsativer Ruffview: "This dog cologne is awesome. I could easily use it on my own body, but I want every bit of the order to be used on my little 7 month old tom-girl. I've been looking for this 'particular scent that a blond film star sold in brushed aluminium cans like this one, almost 20 years ago. This is the one! Your dog or puppy will smell wonderful. A powdery scent with none of that overpowering chemical smell that most dog scents have, even when there is "baby" in the name. It lasts about 24 hours. Even the dogs love it. Amazing scent."
You can get the dog cologne here.
#21 Sterling Silver Dog Paw Bracelet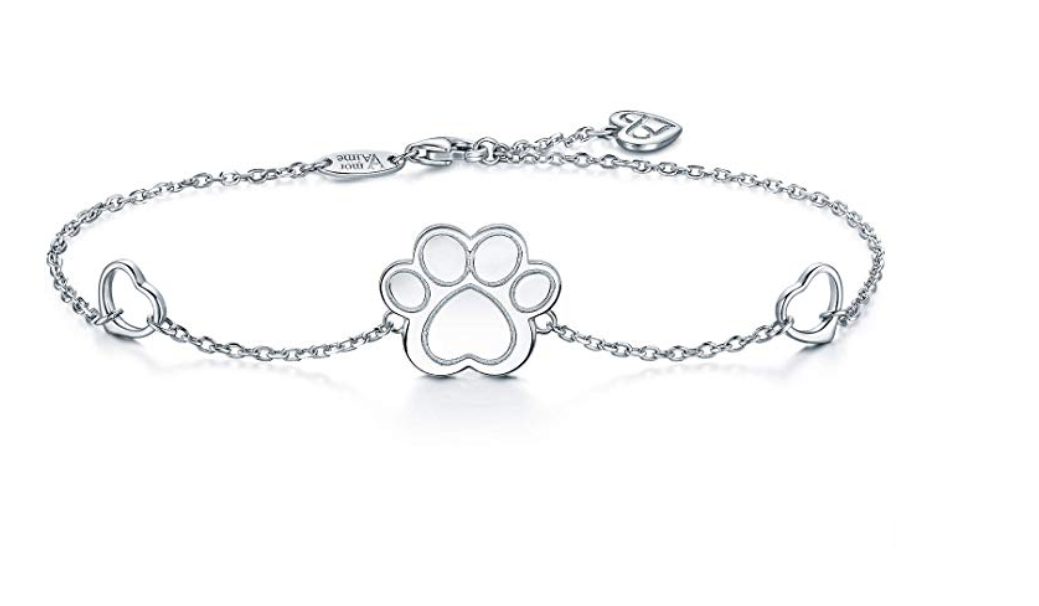 This high-quality braclet is perfect for the jewelry and dog lover combined. Centered by a paw guarded by two hearts, it's sure to catch compliments.
Pawesome Ruffview: "Great piece for any animal lover. I have a service dog and do not know what I would do without her so having something like this helps me remember how special she is. The bracelet is very well made."
Get the Sterling Silver Dog Lover Gift for $24.99
#22 PupRug Memory Foam Orthopedic Fur Dog Bed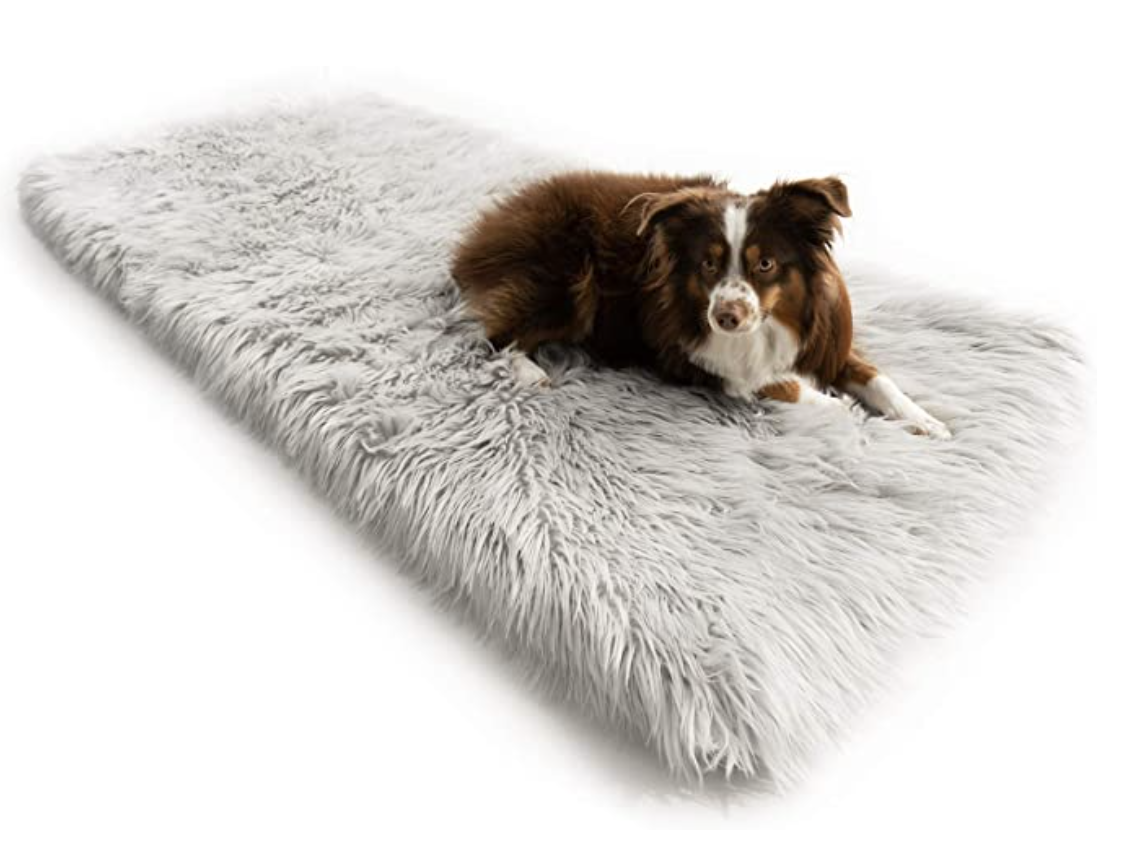 If your friend loves warm home decor, they'll love this faux fur rug. As an even bigger benefit, it provides orthopedic support for their aching dog, doubling as a bed.
Get the Orthopedic Dog Rug Bed for $229
Pawsative Ruffview: "Very comfortable. Our dogs liked it so much we had to have 2. Update.. the cat enjoys it also."
#23 Dog Paw Print Keepsake
This set includes a mold your friend can put their dog's paw in. From there, they can do whatever they want with it. But we think using it as a Christmas ornament is the best and cutest idea.
Pawsativer Ruffview: "Our ornaments are drying at the moment. This was so fun to do! I bought three of these; one as a gift for a friend and two for our dogs. After reading reviews for this I bought two packages, since we have a golden retriever and a husky. One package would definitely have been enough. We had enough left over to give the rest to mom for her chihuahua and yorkie.
This was super easy and fun! The clay worked up really easy. The dogs weren't so sure about it and we had to redo a few times. But they came out beautiful and can't wait to hang them on the tree!"
You can get the paw print set here.
#24 Studded Paw Earrings
When you're looking for dog lover gifts, consider these sparkly studded earrings. They're a great way for your friend to tell everyone that she loves furry friends. Comes in 5 different colors.
Pawsativer Ruffview: "I loved these. I bought them as a memorial for my dog."
Get these dog earrings here $15.99
#25 Watch Dog from Anywhere Camera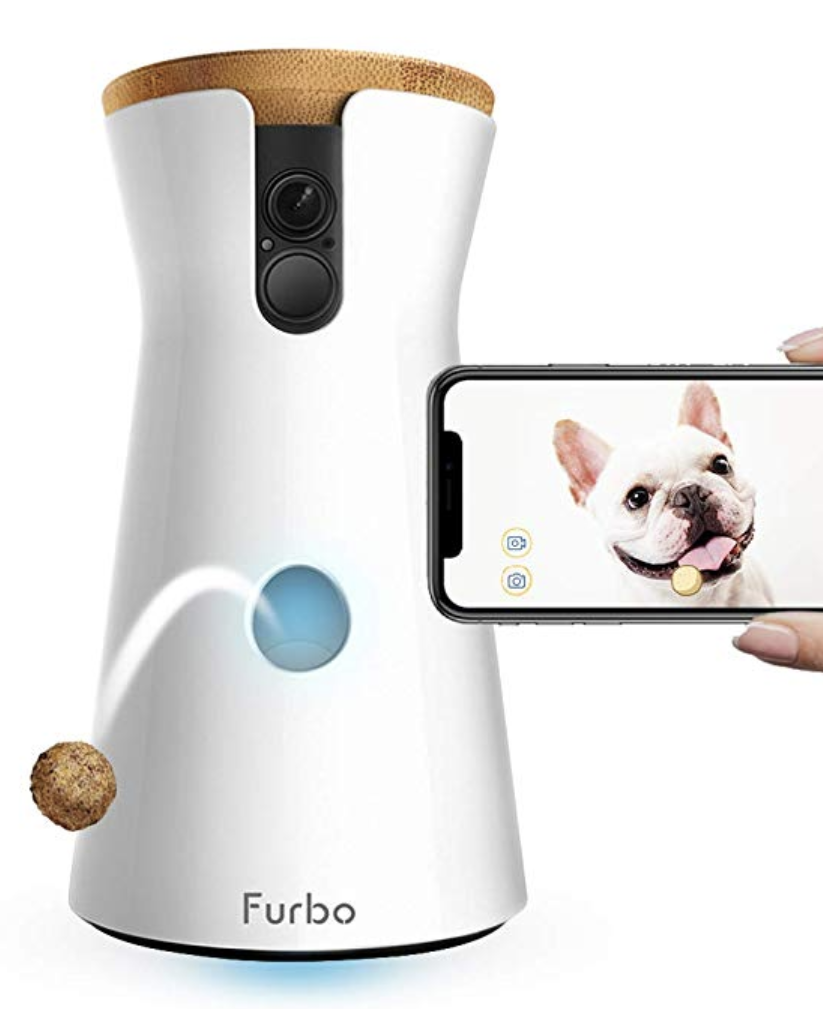 If your friend is obsessed with their dog, they'll love the ability to watch them from work, while they're out doing errands or anywhere that isn't with their fur baby. Some cameras even allow them to throw treats on demand from the connecting app. There's a few different cameras at varying price points, so we have guide for you. Read Watch Your Dog From ANYWHERE: 6 Best Pet Cameras According to Reviews.
Get a Dog Camera from $34.99
#26 You Had Me at Woof Bracelet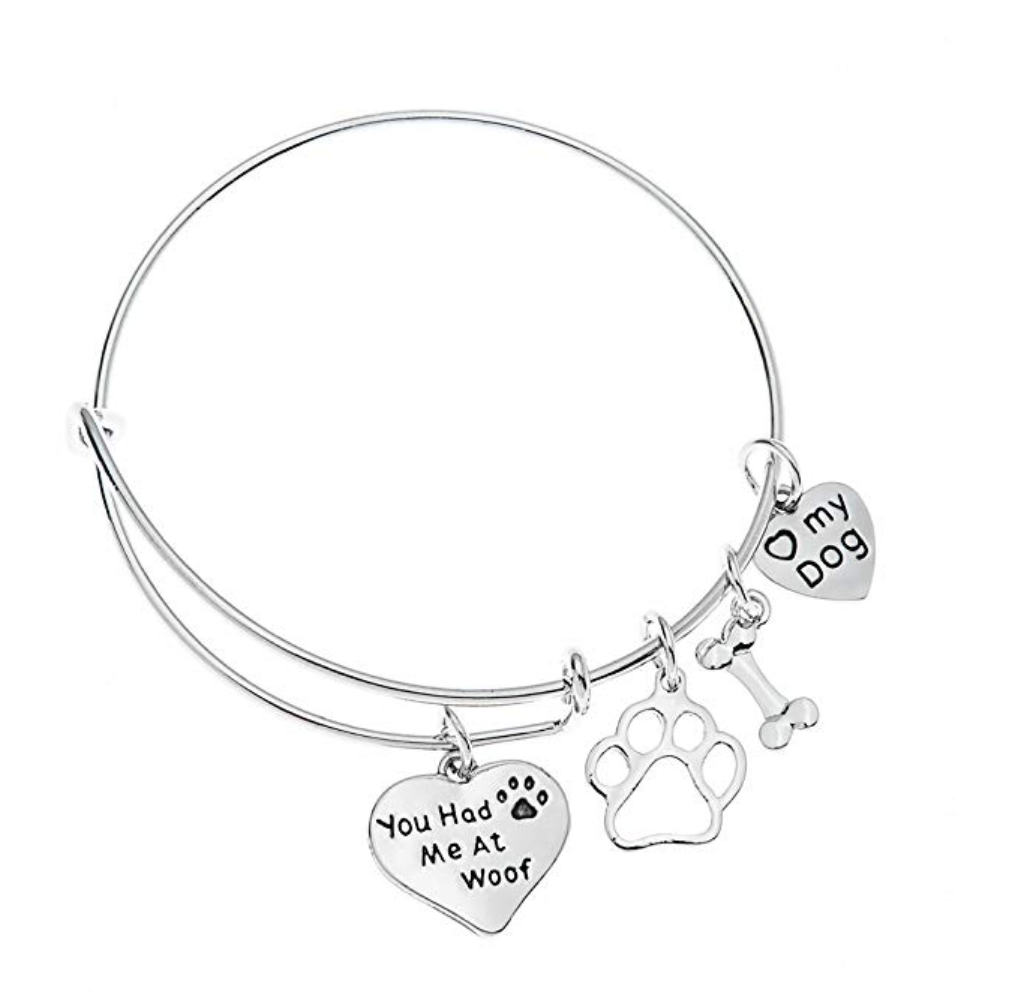 Let your friend show off their canine love with 4 charms perfect for any dog lover.
Pawesome Ruffview: "Absolutely love your products! Ordered my first Infinity bracelet and I'm impressed with the quality of the workmanship and I didn't have to pay an outrageous price to get it!"
Get the Bracelet for $16.50
#27 Matching Dog Shirts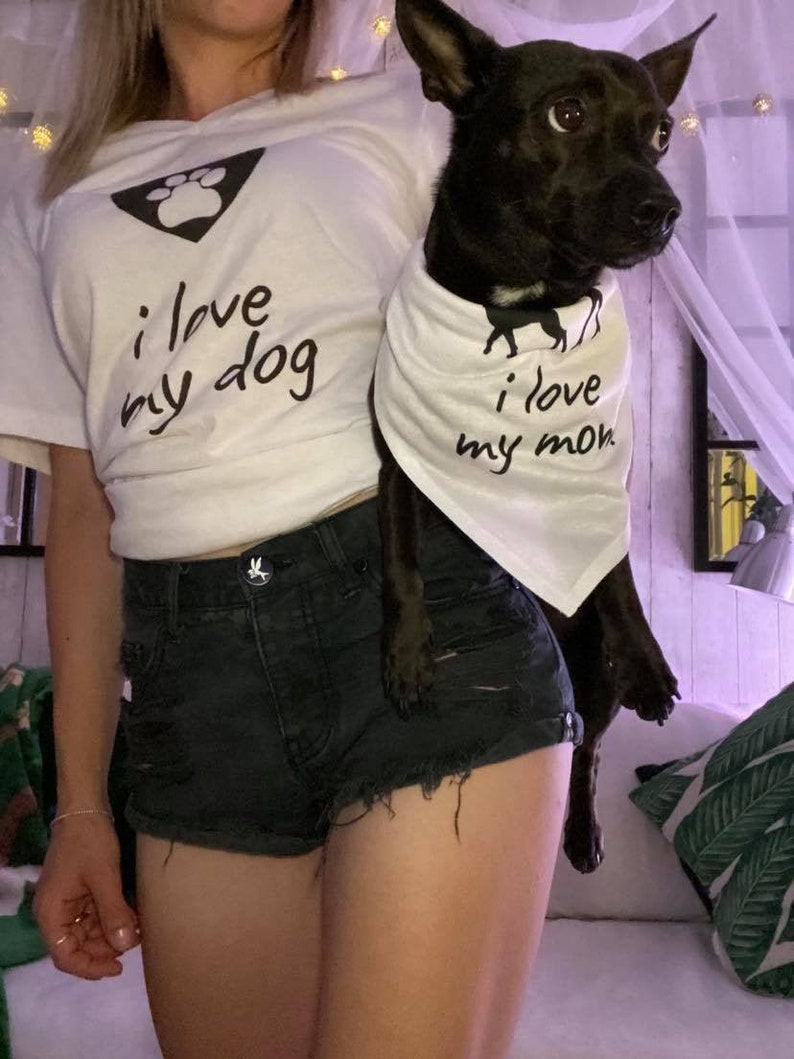 Match your dog in so many cute, funny and adorable styles!
Get Matching Dog Outfits from $39.99
#28 Handmade Sterling Silver Paw Print Ring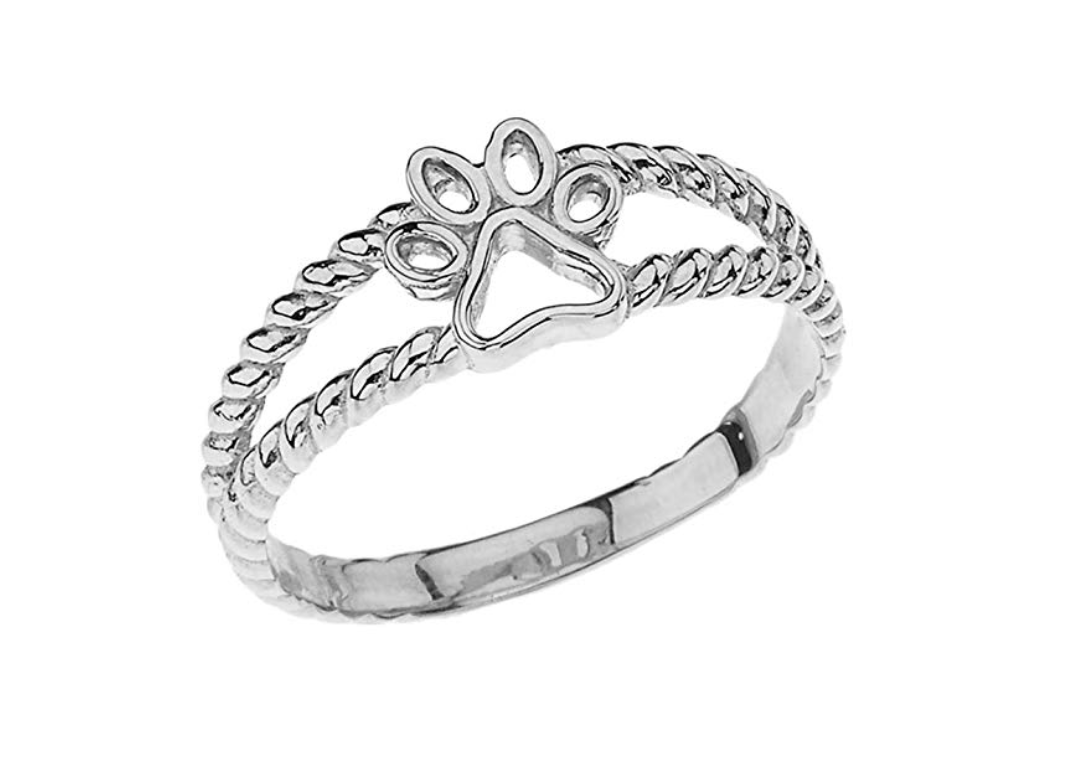 Rings are my favorite piece of jewelry because they're easy for everyday wear. The double rope style really makes the paw print pop with delight.
Pawesome Ruffview: "Love this! Very delicate and feminine. Great piece of jewelry for gift for yourself or someone else."
Get this Dog Lover Ring for $16.99
#29 "Only Talking to My Dog" T-Shirt
If your friend is an introvert AND a dog lover, we guarantee that they'll love this relatable shirt. Comes in:
Green
Blue
Pink
White
Gray
Red
Dark
Blue
Pawsativer Ruffview: "The fabric on this shirt is soooooo soft and comfortable! The size fits EXACTLY as described in listing; women's "FITTED". So if you don't like "FITTED" T-shirts, this shirt is not for you because you will think it's too small no matter what size you get. It's not! I originally listened to the reviews and got the next size up and it was too big and I exchanged it for the usual size I always buy….PERFECT! Do not go by the size the reviews say. They are judging size based on a box style T-shirt and this is not a box style, it's "FITTED". I feel I can't say that enough. FITTED to a woman's curves at the waist. FITTED T-Shirt!"
You can get this shirt here for $18
#30 Classic Poetry Written by Dogs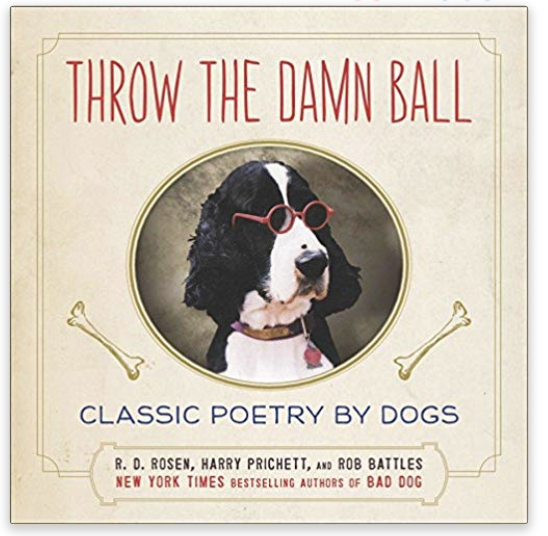 Know a dog lover with a great sense of humor? They'll be in stitches after reading this book of poetry. Here's a small excerpt:
"Dogs seldom make passes
At dogs passing gasses."
Pawsative Ruffview: "I'd originally bought this for a dog lover friend, but ended up ordering a second one to keep. This 6″ square hardback book is filled with quirky poems written from a dog's viewpoint along with an appropriate photo of an adorably wonderful pooch."
You can get the Dog Poetry for $13
#31 No Smell Pet Candle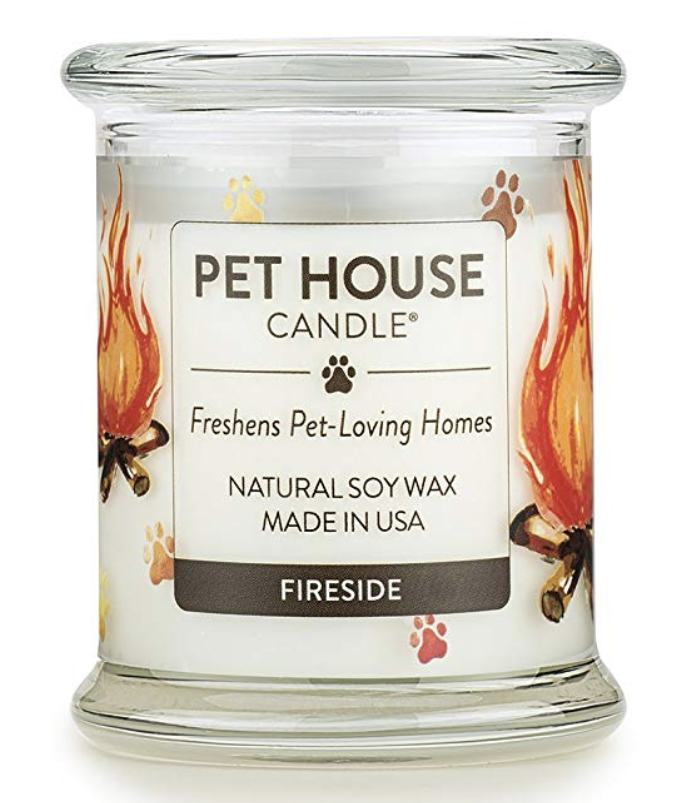 Is your friend constantly burning candles to get rid of the dog smell? Then they'll love these candles made specifically for that purpose. Coming in 20+ fragrances these soy candles can burn up to 60 hours to mask scents.
Pawsative Ruffview: "I have multiple dogs in the house and am always concerned that it smells like that to visitors even cleaning everyday. I have use other candles and melts that add a pleasant smell to the underlying odor, but One Fur All Pet House Candles do better. I have been able to leave the house for hours and when I first open the door, on my return, I don't smell dog. We recently had a house full of people (many of them pet parents) over for Christmas dinner and it was actually commented "Your house smells really nice. How do you keep the dog smell out?" I laughed and told them I was just wondering if the candles were working. I guess I got the BEST answer."
Get the No-Dog-Smell Candle for $21.90
#32 Sterling Silver Paw Print Pendant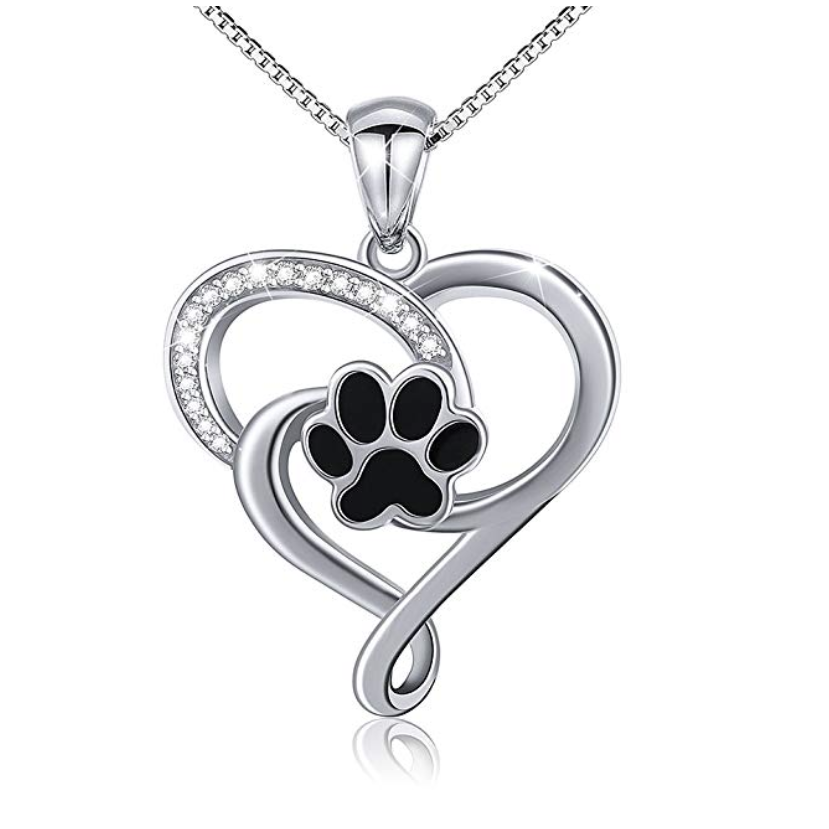 Whether it's a necklace to memorialize the death of a dog or just to celebrate the one you currently have, this pendant is a great choice!
Pawesome Ruffview: "If you love dogs like my wife, this is a perfect jewelry gift to buy them. They will not be disappointed, I promise. My wife is even picky when it comes to jewelry and she is honest. Yet, I did good on this purchase because she loves this necklace and wears the PAW very often."
Get the Paw Print Necklace Gift for $25
#33 Custom Dog Necklace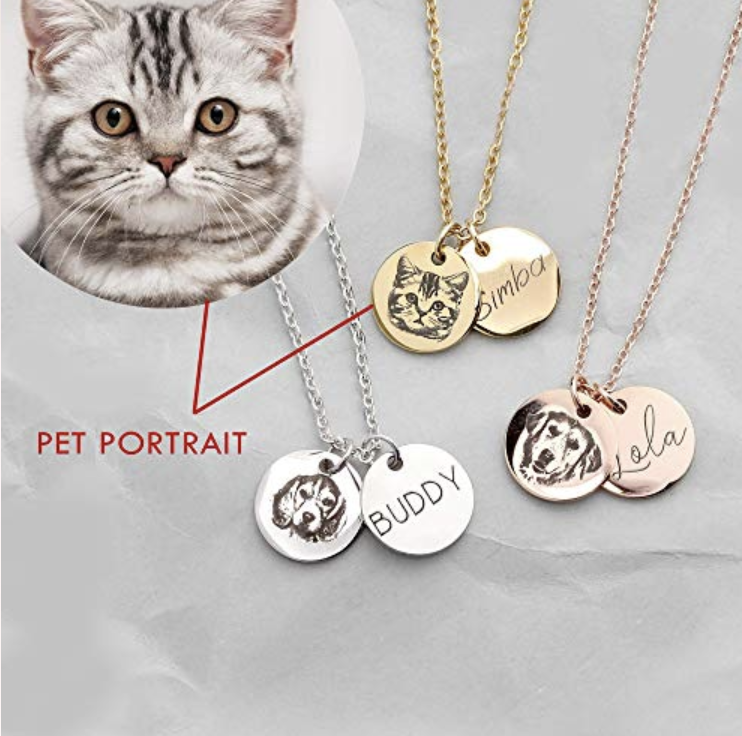 Know someone who wants to take their dog everywhere? Well, now they can! This necklace is customizable to their dog's name and face.
Pawesome Ruffview: "This was absolutely beautiful! My sister just lost her fur-baby that she had when she was a little girl. We surprised her with this sweet charm. The photo on the pendant was perfect!!! The first thing that she said, is that it looked like Clementine". I told her that it was Clementine! She absolutely loved this gift. We purchased a longer chain for the additional so the charm would align with her heart."
Get the Custom Dog Necklace for $22.50
#34  Thoughts of a Dog Desk Calendar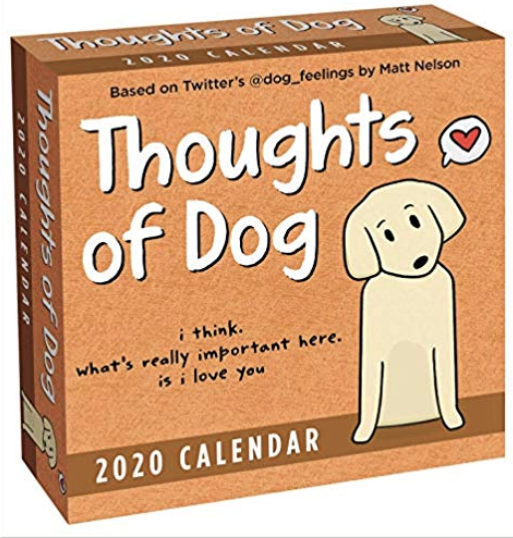 Each day, your friend will have a positive and adorable new message from a dog. If you're familiar with WeRateDogs, the calendar is made by the same owner and features the same funny doggo thoughts.
Pawsative Ruffview: "If you like dogs, you will love these daily dog thoughts. We also follow him on Twitter. So sweet and there are a few running jokes that you'll see pop up a couple of times, like the Skittle under the fridge, his best friend, Sebastian…"
Get the Dog Calendar for $14.38
#35 Matching Dog and Human Christmas Dog Pajamas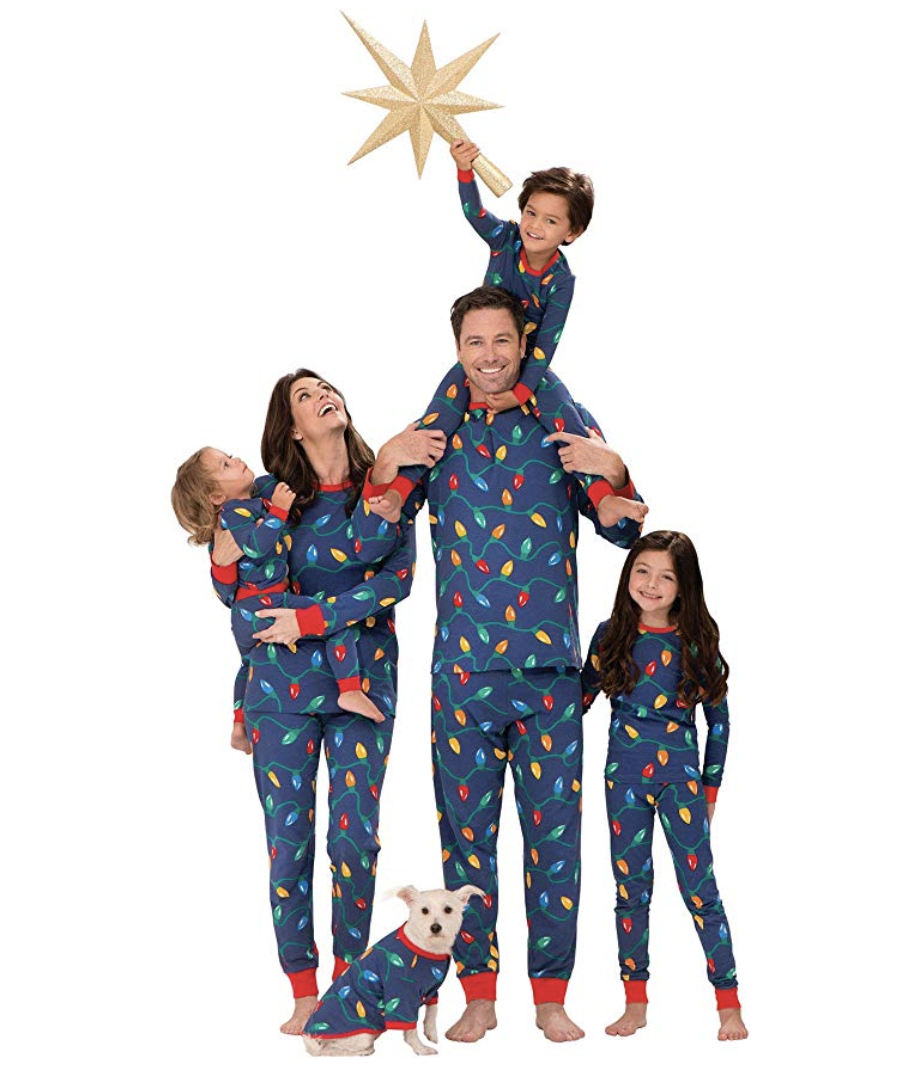 Cuddling up with a pup is even cuter with a set of matching PJs. You can buy a set for your friend and their dog–and if you want, you can buy extra matching sets for the rest of their family. From snowflake onesies to green plaid, there's a design for every pet parent. We have 8+ adorable options here.
Get the Dog and Human Matching Christmas Pajamas from $15
#36 Dog Slippers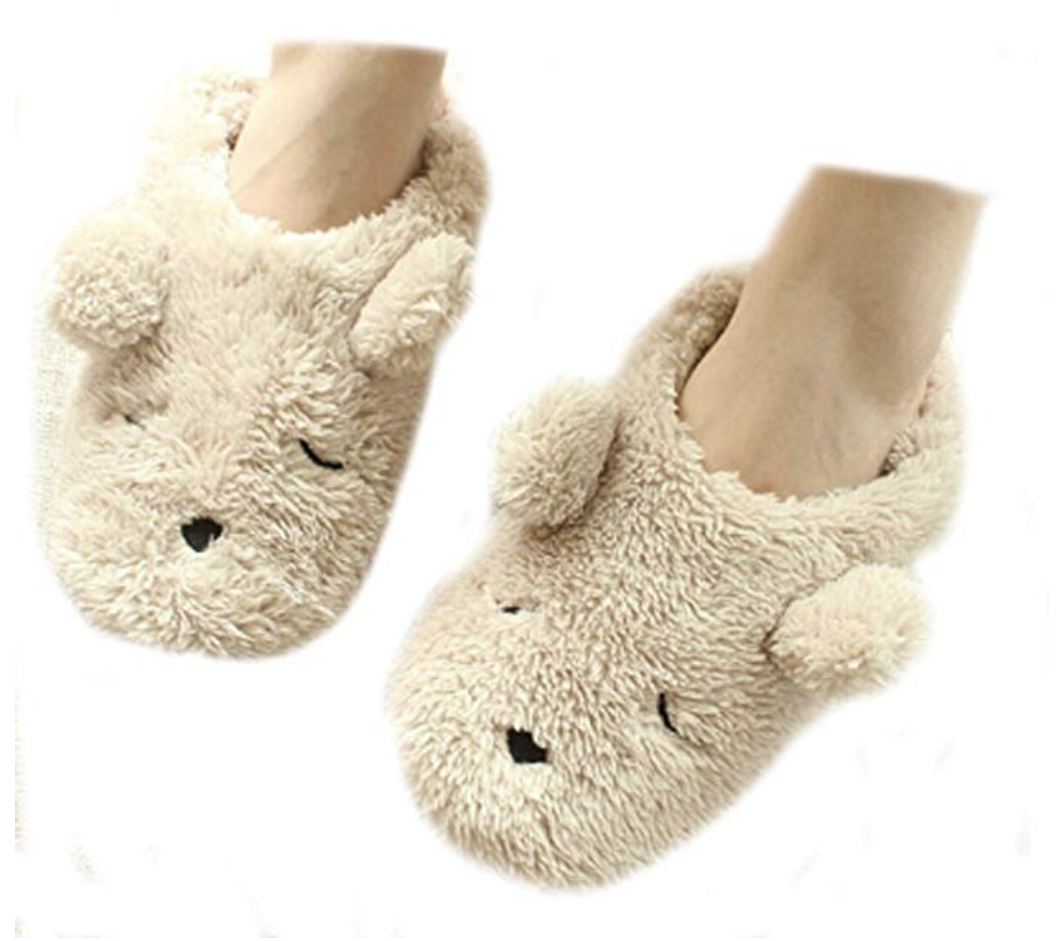 How about some doggy slippers to go with their matching pajamas? These fuzzy, comfy slippers feature a dog face and come in varying canine designs.
Pawsative Ruffviews: "Besides these slippers being super adorable they are really freaking soft and comfortable! The plush and inside base are super soft and nice on your feet, they keep my feet nice and warm when I am wearing them around the house. The outside base is rubber, so you can definitely wear these around or if you need to go outside to do something, they won't get wet since it isn't a plush bottom (which is great in my opinion)."
Get the Doggy Slippers for $14.98
Need more ideas? You can also buy gifts for your friend that are actually for their dog. If you think they'd like that, check out our dog gift guide here.