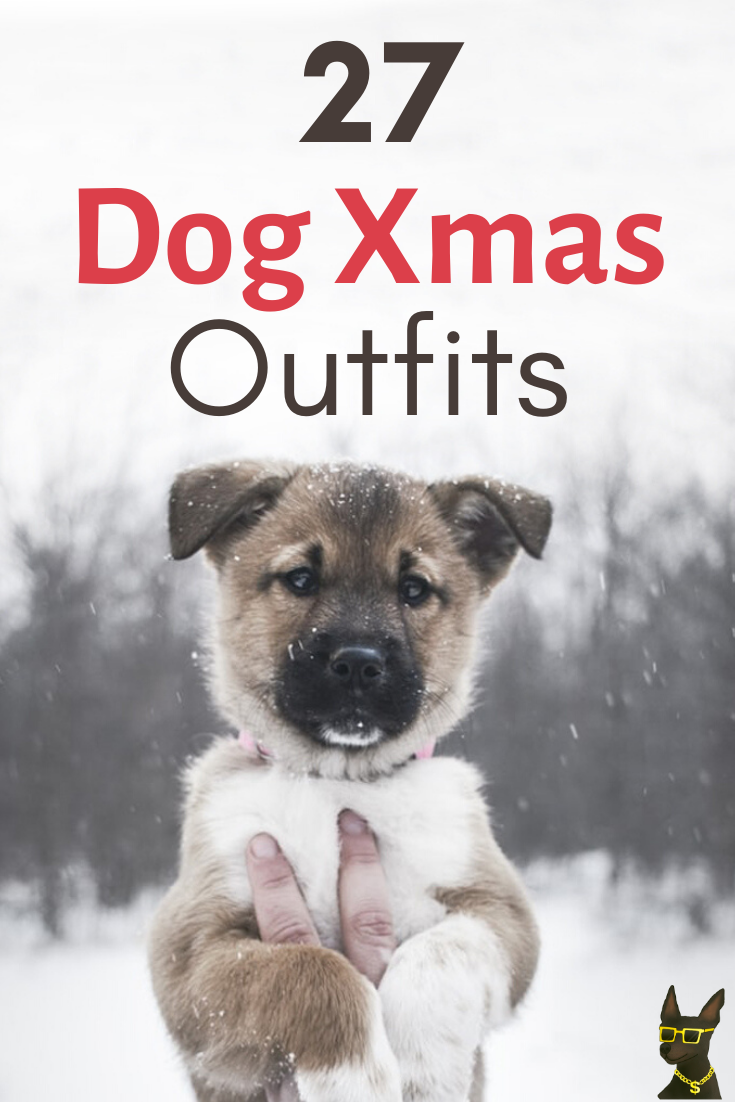 While you're getting dressed up in your tuxedo or little black dress for all of your holiday parties this season…
…your dog sits there, wishing he could dress up too.
Okay, probably not. But maybe.
If your dog doesn't mind a little doggy fashion every now and then, perhaps consider getting him a little holiday outfit. How cute would it be to show up at your family Christmas dinner with Rover all dressed up and in the spirit!
Today we're listing 27 dog Christmas outfits and rounding out the list with some ugly holiday sweaters for your pup too!
Dog Christmas Outfits
Whether your dog wants to be an elf, snowman, Santa or just wear an adorable holiday dress, we've got them covered!
#1 Earl the Elf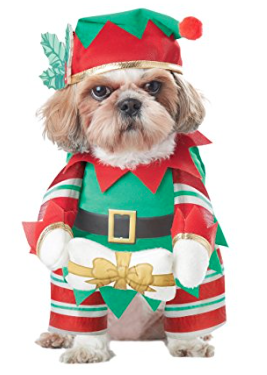 This green and red elf costume comes with attached arms and legs o make your pup look like an actual elf!
Pawsative Ruffview: "Love this product – and so did everyone else! It wasn't the most comfortable thing for our little Yorkie to wear… but it was Oh so cute!! Definitely recommend for a bunch of Ooooos and Awwwwws!"
Get the dog Christmas costume here for $19.38
#2 Lady the Little Helper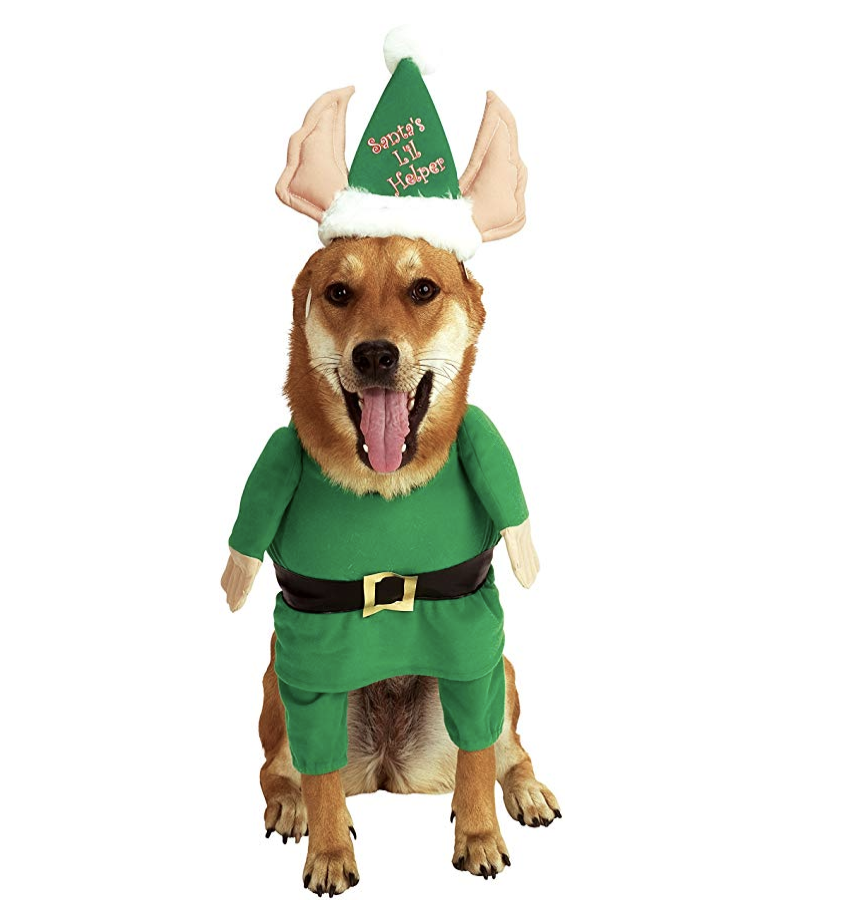 Do you have a feeling that your pup sneaks off in the wee hours to help Santa in his workshop? This is the outfit for him!
Pawsative Ruffview: "Loved it! My daughter had an Elf themed Christmas party and of course we had to dress up our French Bulldog. It fit great around the neck, but was really lose and long in the legs. Every time he walked he would step on the legs."
You can get this little Helper Costume for $22.55
#3 Gigi the Gingerbread Man
Why make a gingerbread house when you can make a gingerbread dog?
Pawsative Ruffview: "I have an 18-pound Boston Terrier, and this costume in the Small size fits him great, it's even a little loose on him so I think it's the perfect size for a heftier Boston Terrier or French Bulldog. My dog hates wearing costumes but he looks great in this. I'm going to insert some wires into the arms of the costume to help them stick out straighter, but they aren't all that floppy already. But I'm using this for my holiday card this year so I want it to be perfect :)"
Get the Dog Gingerbread Costume for $17
#4 Sammi the Santa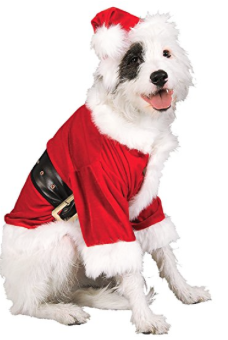 Complete with a Santa belt and festive hat, your dog is sure to sneak down the chimney in this outfit.
Pawsative Ruffview: "This Santa Suit for dogs is so cute. My Min Pin looks so adorable. He brings everyone a smile and Christmas cheer when they see him in this costume. Merry Christmas!"
Get the Santa Costume for $20
#5 Snickers the Santa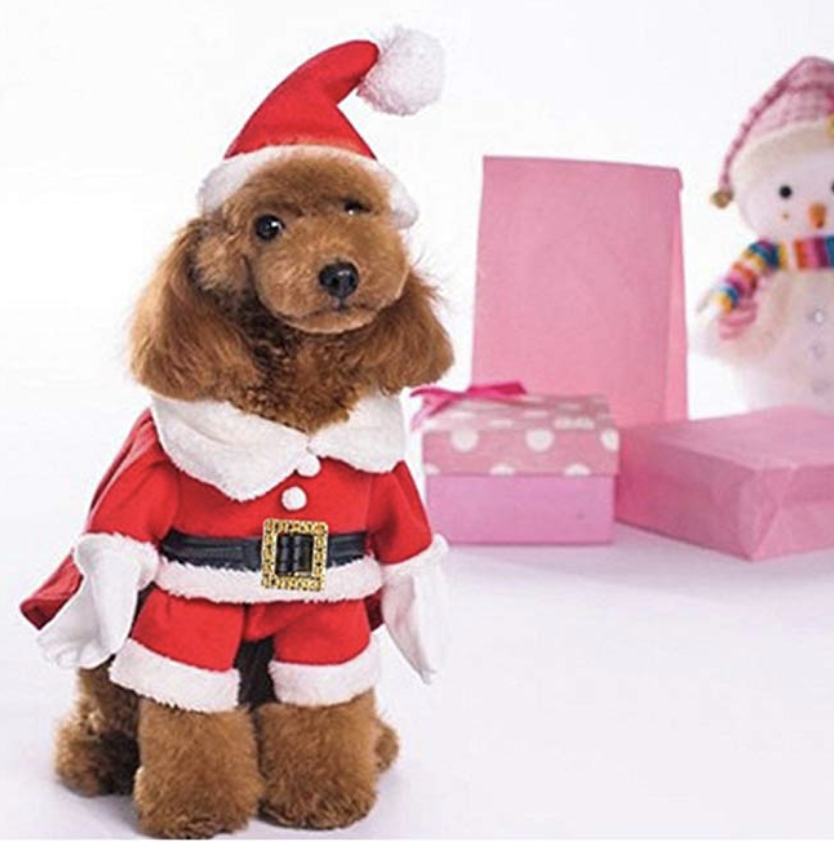 It's similar to the costume above, only with stick out arms. This makes him look like a real human Santa!
Pawsative Ruffview: "This was a BIG hit. Lot of OMG going on. Have a 13 lb Pomeranian (Jo-Jo) and the Large size fit great over all his fur. Almost ordered Medium, but that would have been too small. He didn't mind wearing it at all; in fact, seemed to enjoy it. Took him to all the small shops here in mid-coast Maine and couldn't get any shopping done with this guy; everyone had to stop to make of him and/or get a picture – lotta laughs. Many people actually thanked me for bringing him around – really cheered up their season. Thanks amazon, really enjoyed this!"
Get the Dog Santa Costume for $10.99
#6 Ella the Elf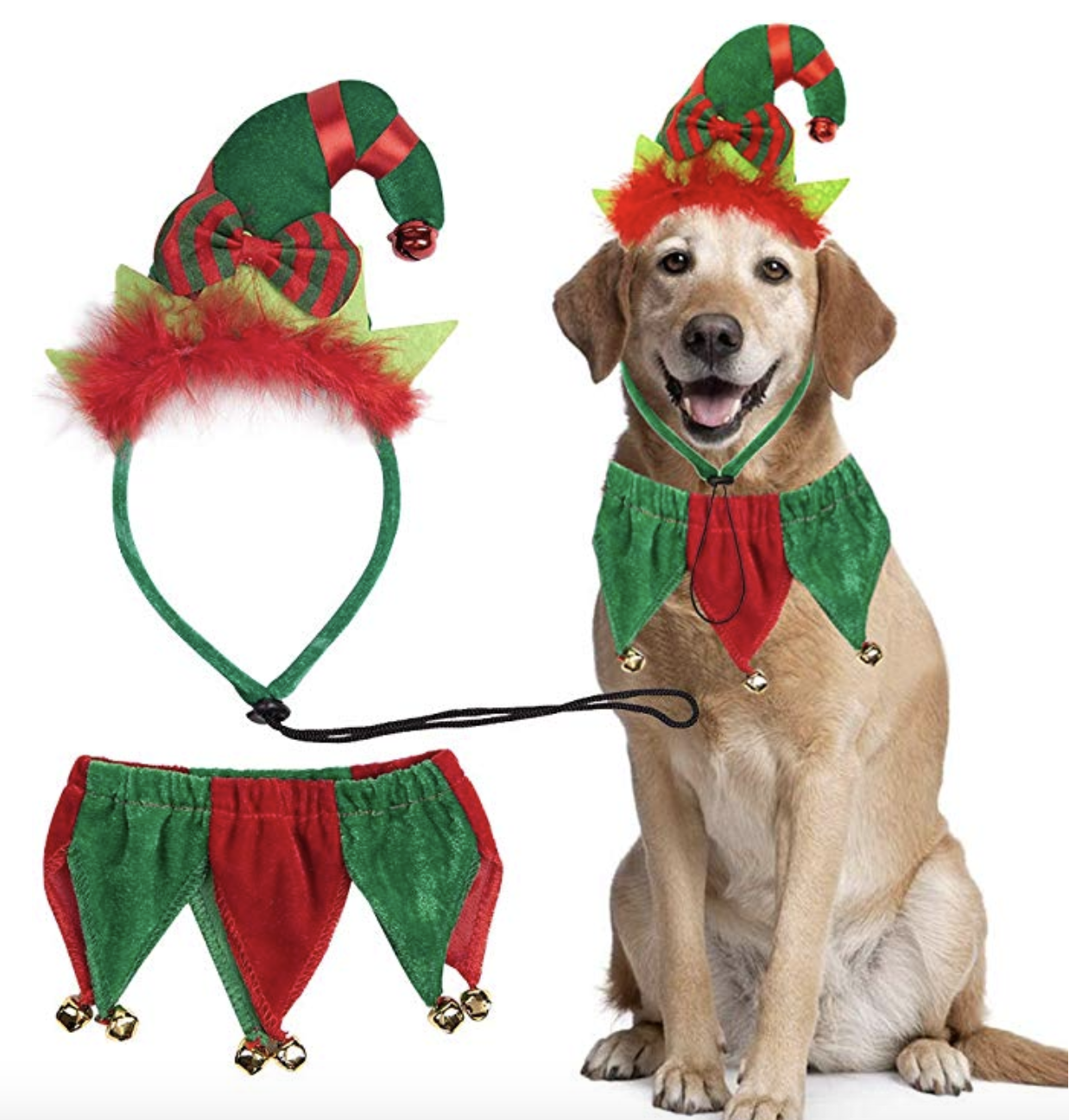 Bringing home dead rodents and random sticks, they may not seem like gifts to you, but she built them in her workshop!
Pawsative Ruffview: "Really sweet costume. Headband sits very comfortably on dog's head and you can tighten it under the neck if you need more stabilization. Soft material and love the cheerful collar. Looking forward to photo ops."
Get the Dog Elf Costume for $10
#7 Renee the Reindeer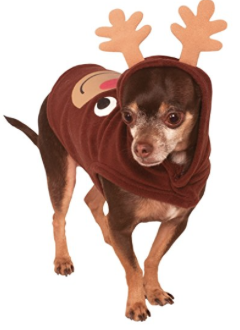 She may not be the one delivering the gifts, but she helps pull Santa along to make it all happen on time!
Pawsative Ruffview: "We buy family pajamas every Christmas for our Christmas cards photo and this year we got some super cool looking reindeer jumpers, complete with hood and antlers. Sadly, the set we got didn't offer any pet outfits for our chocolate lab (about 75 lbs). Luckily for us, we found this outfit at a great price. We got the XXL size which was a bit small and had a hard time keeping the hood up but it looked great! Our picture came out super once we finally got our dog to at least look in the direction of the camera for the shot! Very happy with the purchase."
Get this Dog Reindeer Costume for $15
#8 Sal the Snowman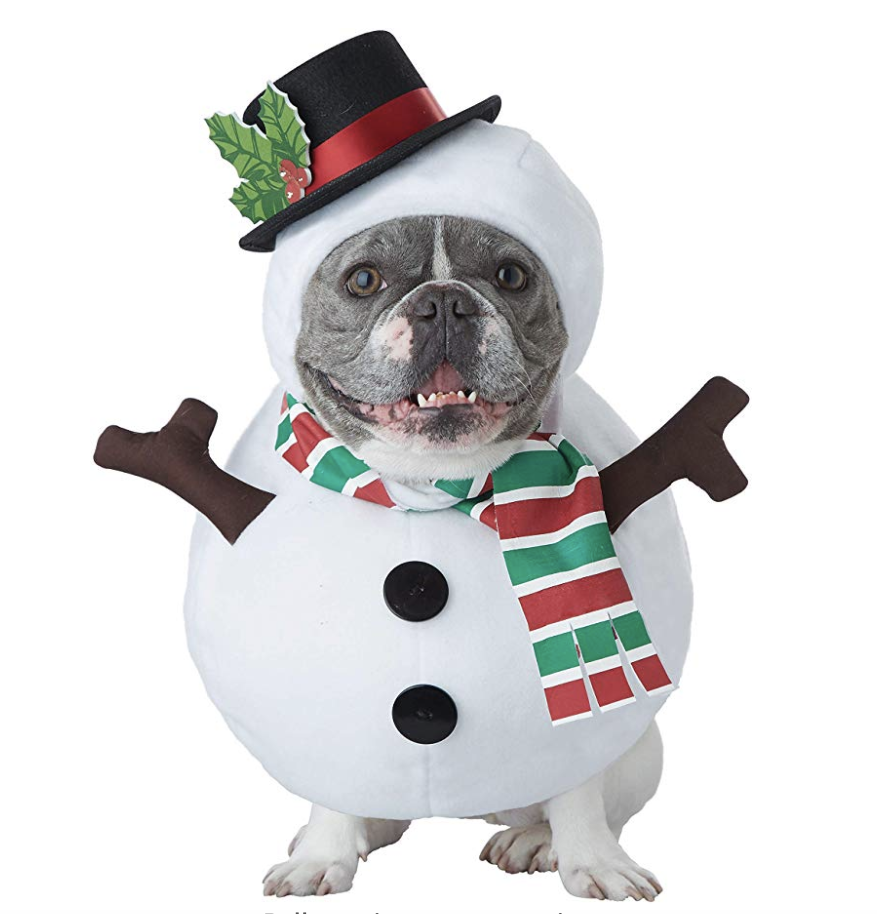 Finally, a snowman costume on the list! It comes complete with a green and red scarf and hat.
Get the Christmas Dog Costume for $25
#9 Tootsie the Tree Christmas Costume for Dogs
 Oh, Christmas dog.
Oh, Christmas dog.
Thanks for bringing home this random log.
Oh, Christmas dog.
Oh, Christmas dog.
Stop sneaking sips of my eggnog.
Pawsative Ruffview: "I really like this costume for my dog who goes to visit in nursing homes. I like that it does not have a separate hat because we had one before that did and it was a lot of trouble. This one will work well."
Get the Christmas Tree Costume for $15.99
#10 Randy the Reindeer Christmas Dog Outfit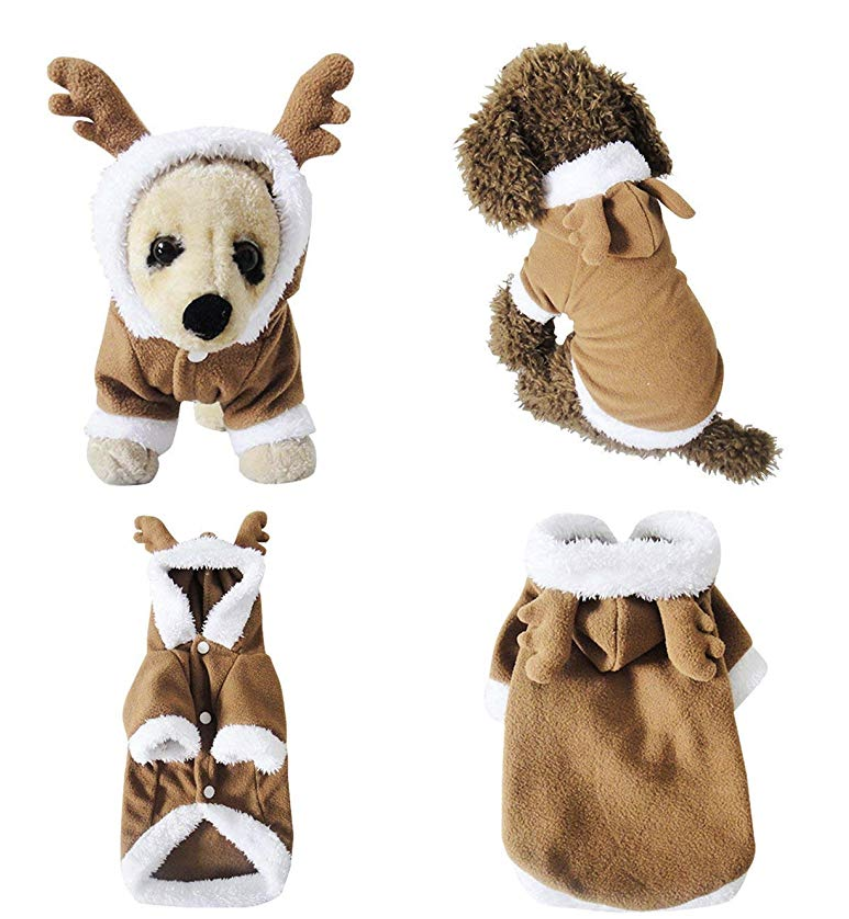 This costume is one that's easy and comfy for doggos to wear during the cold winter. The hood comes up to make your dog a little reindeer!
Pawsative Ruffview: "This is a very cute outfit for a dog. Atley is skinny and long and it fit just fine. As you can tell in the picture she is thrilled!! We loved it."
Get the Reindeer Dog Costume for $13.99
#11 Harvey the Hanukkah Dog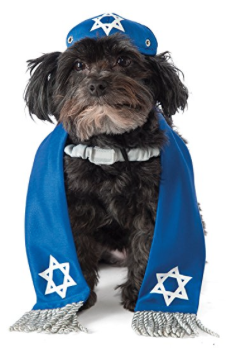 He's all ready to light up the Menorah!
Pawsative Ruffview: "Based on the fit description I was able to get the right size (M/L) for my Shih Tzus. Well made and worked perfectly on my two pups. My boy wore the yarmulke and my girl wore the tallis for her bark mitzvah. I highly recommend!"
Get this Yarmulke and Tallis Dog Costume for $15.77
#12 Sally the Sleigh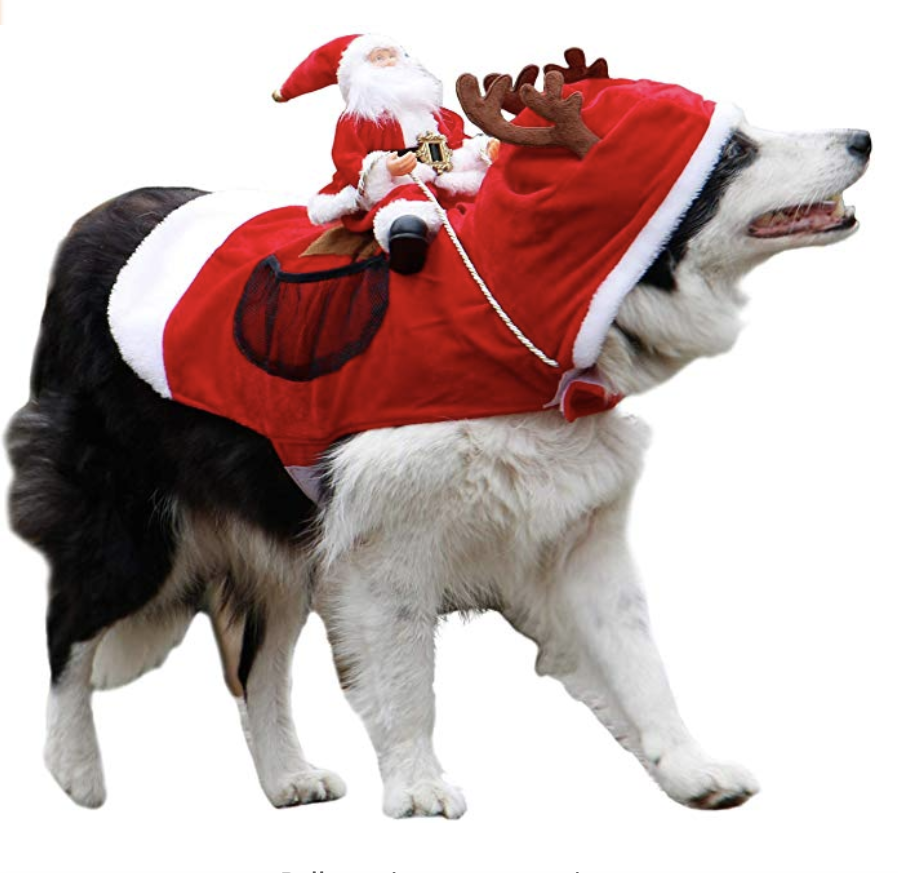 Santa doesn't need a sleigh this year. That's because he has this pup to help! Hoping she can fly over buildings too!
Pawsative Ruffview: "We bought this for my little miniature dachshund and it got many laughs from everyone who saw it. It actually fit pretty well on him which I wasn't originally expecting since everything fits him strangely due to his lengthy stature. You can see how it fits in the picture provided. The attached Santa held on through him running all around with it. It all attaches via velcro and seems to hold pretty tight. If you want a fun, holiday-fueled outfit for your pet that is sure to get your family and friends laughing during the festivities, this is a sure bet on getting that."
Get the Santa Riding Dog Costume for $29.99
#13 Buddy the Belted Santa Christmas Dog Costume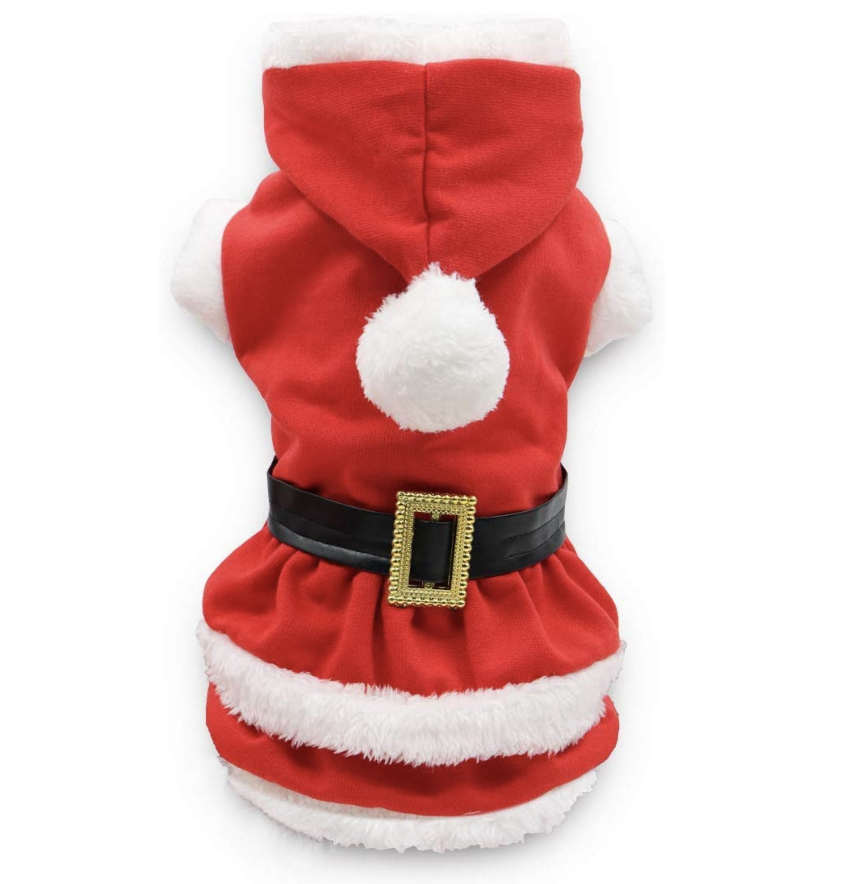 This differs from other Santa costumes because the hat is attached as a hood, making it easy to put on and off. It also features an adorable belt so he'll look as much like Saint Nick as possible!
Get the Santa Dog Outfit for $14.99
#14 Greg the Gift-Carrying Dog Christmas Outfit

Santa has a little helper this year! Your doggo! This adorable costume makes it look like your pup is carrying gifts with Saint Nick!
Pawsative Ruffview: "It may look inappropriate but it fits the season and its jolly. Falalalala la la la."
Get this Christmas Dog Outfit for $33.99
#15 Rolo the Reindeer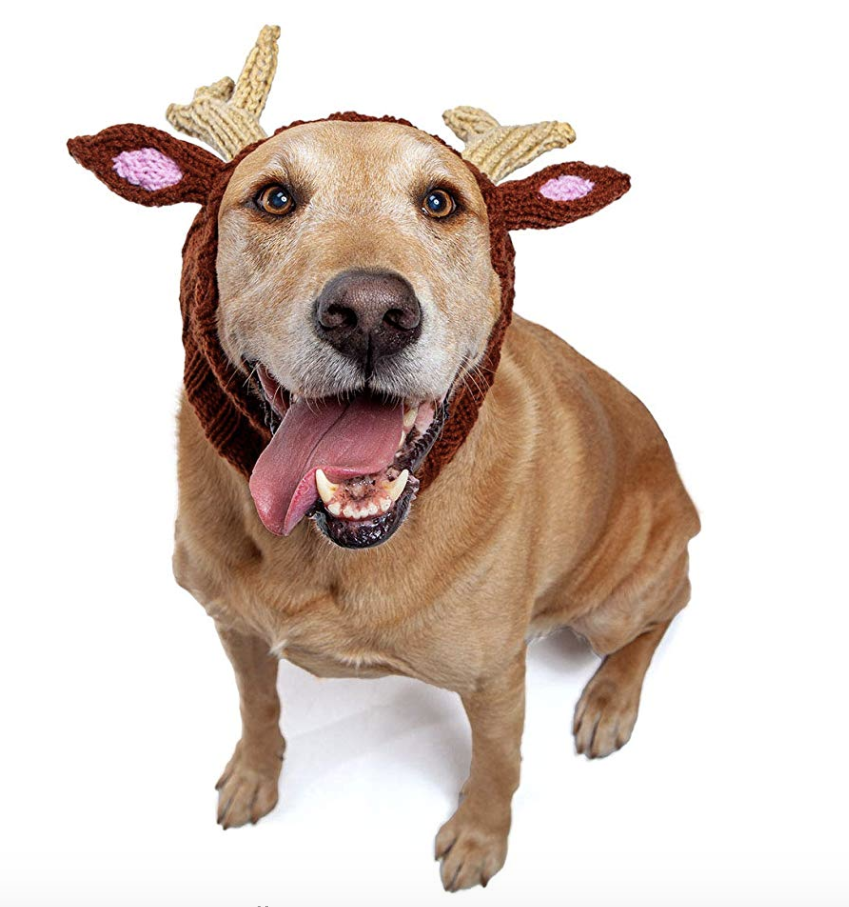 If your pup doesn't like full-on dog Christmas outfits, you can settle with just a headband. This one is also a knit neck and ear warmer, so it will
Pawsative Ruffview: "Oh my snood! This thing is ridiculously adorable! My little reindeer is the cutest. Just got 3 more. So much fun! They are very well made. The bottom part that goes over the head and on the base of the neck is not stretchy and they are true to the sizing guidelines provided. Love it!"
Get the Reindeer Dog Neck Warmer for $29.99
#16 Penelope the Pom Pom Hat Dog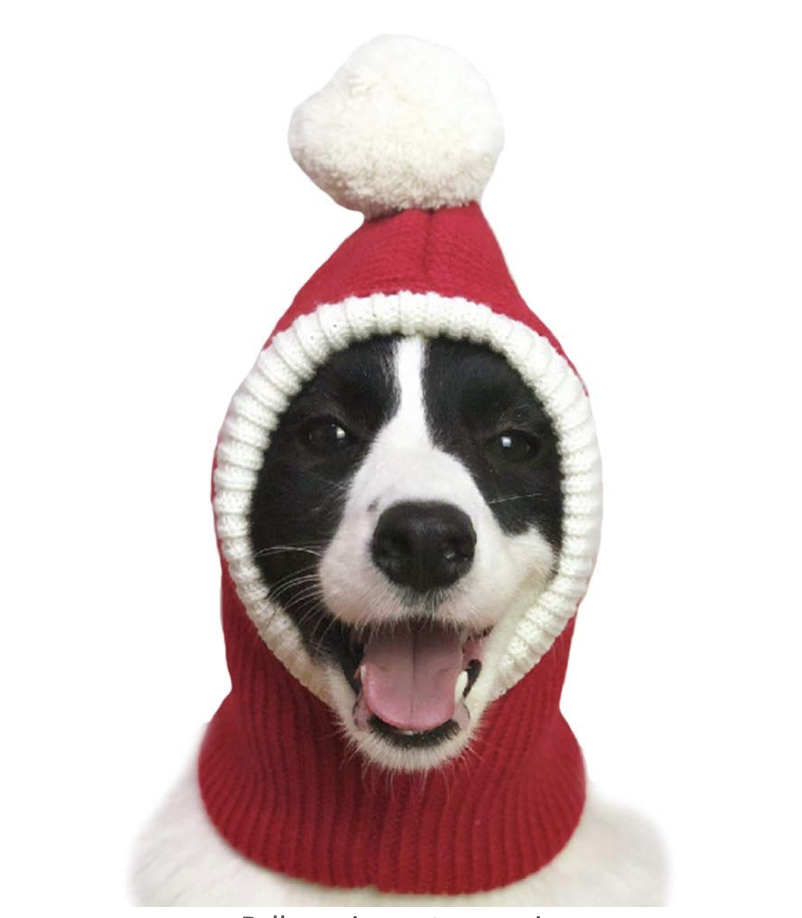 It isn't exactly a dog Christmas outfit, but if your dog is one to shiver in the cold, he may appreciate the warm yet festive accessory. Plus, it's super cute, right!?
Pawsative Ruffview: "Nicely made very thick. Will be warm I have a very small dog; fit perfectly!"
Get the Christmas Dog Hat for $18.90
#17 Gillian the Gowned Christmas Dog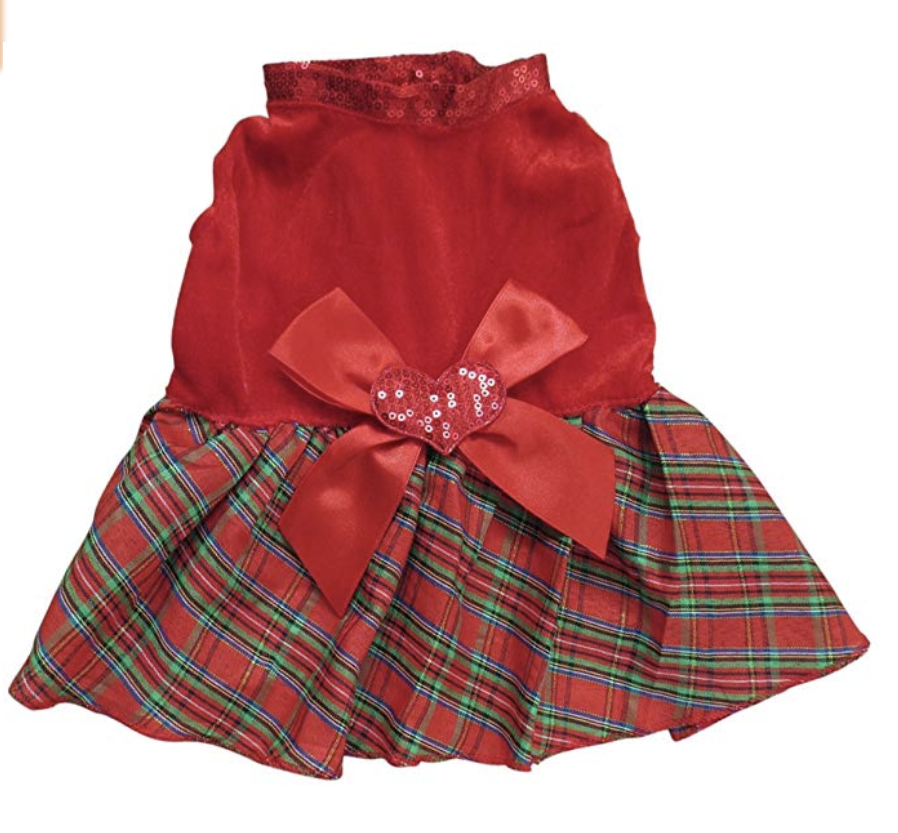 For the doggo who loves dresses, this is the right outfit for her! Featuring a flare out striped bottom and adorable bow, she'll be the most beautiful at any holiday party she attends.
Pawsative Ruffview: "Love it! Bought for her to wear on Christmas and everyone adored it. She's about 17in long from neck to base of tail. About 15in around her chest so I got a size L and it was still roomy. Very light and not hot."
Get the Christmas Dog Dress for $8.99
#18 Hannah the Hatted Dog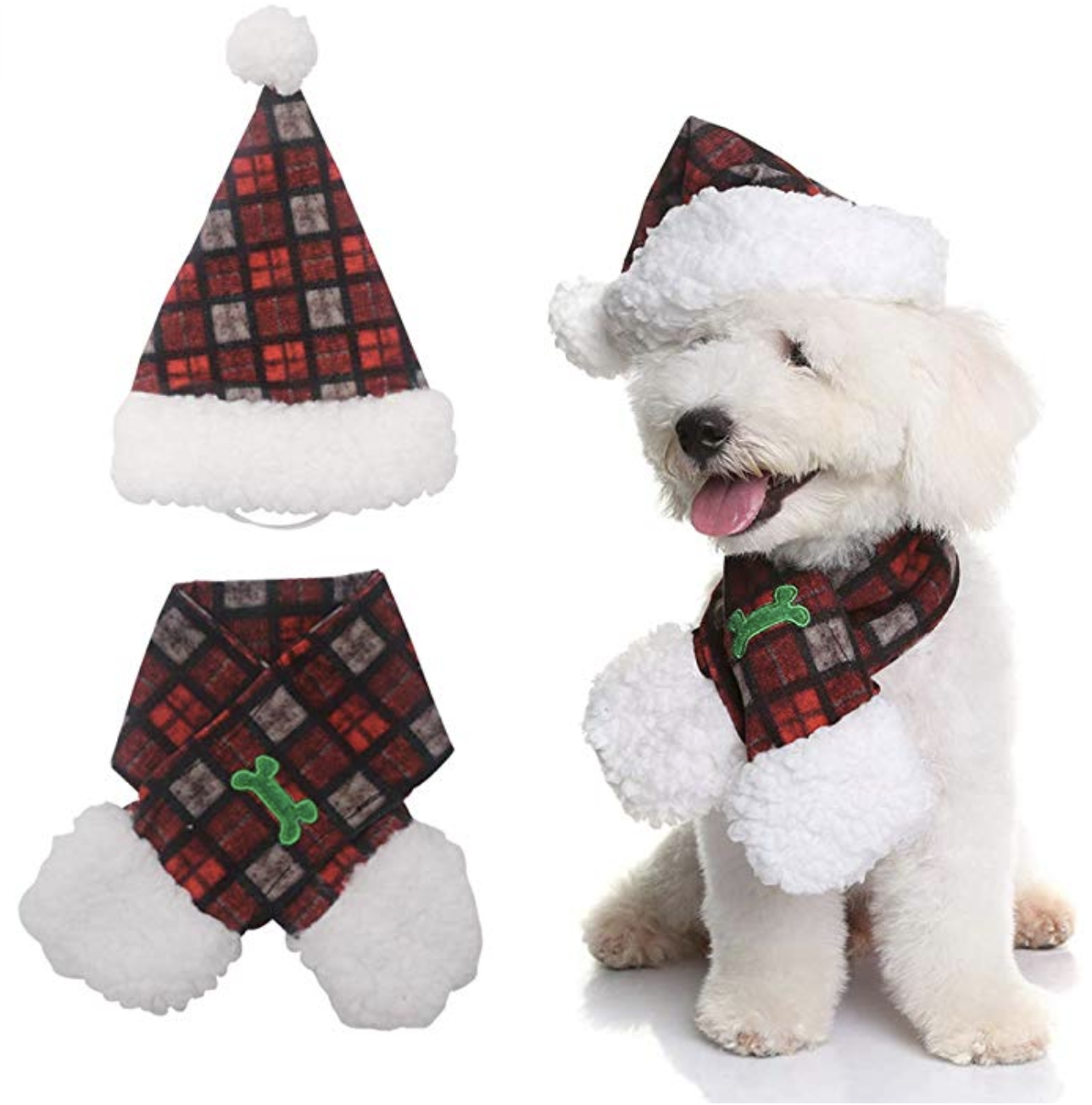 This red plaid scarf and hat set features a pom pom and a green bone on the scarf. Perfect for keeping your pup warm on cool nights!
Pawsative Ruffview: "So adorable in this costume used it for Christmas card picture."
Get the Christmas Outfit for $8.99
#19 Big-Eared Billy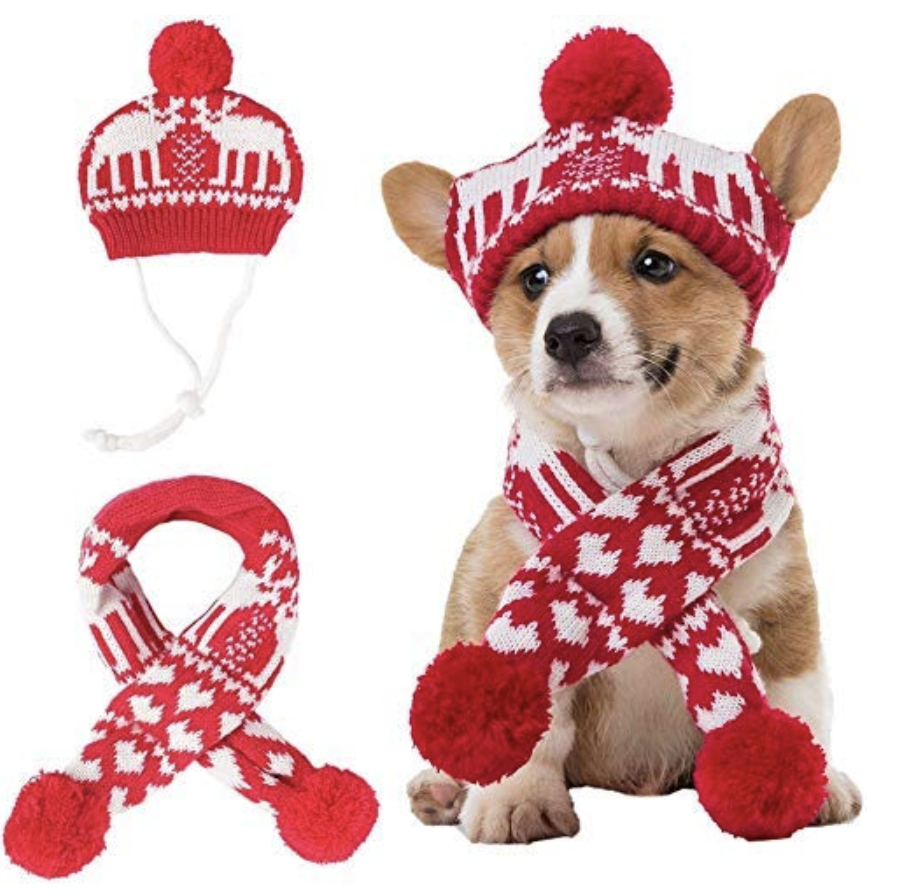 This dogs ears are huge and he's chosen the perfect hat to wear because it comes with ear holes for comfort. The adorable scarf also features pom poms on the bottom.
Pawsative Ruffview: "We used this in our annual dog Christmas card – everyone loved it!"
Get the Hat and Scarf Set for $11.99
Ugly Christmas Sweater's for Dogs
Perhaps Christmas dog costumes are just too much for your furpal. Maybe he's more comfortable with a holiday sweater instead!
#20 Light-up Christmas Dog Sweater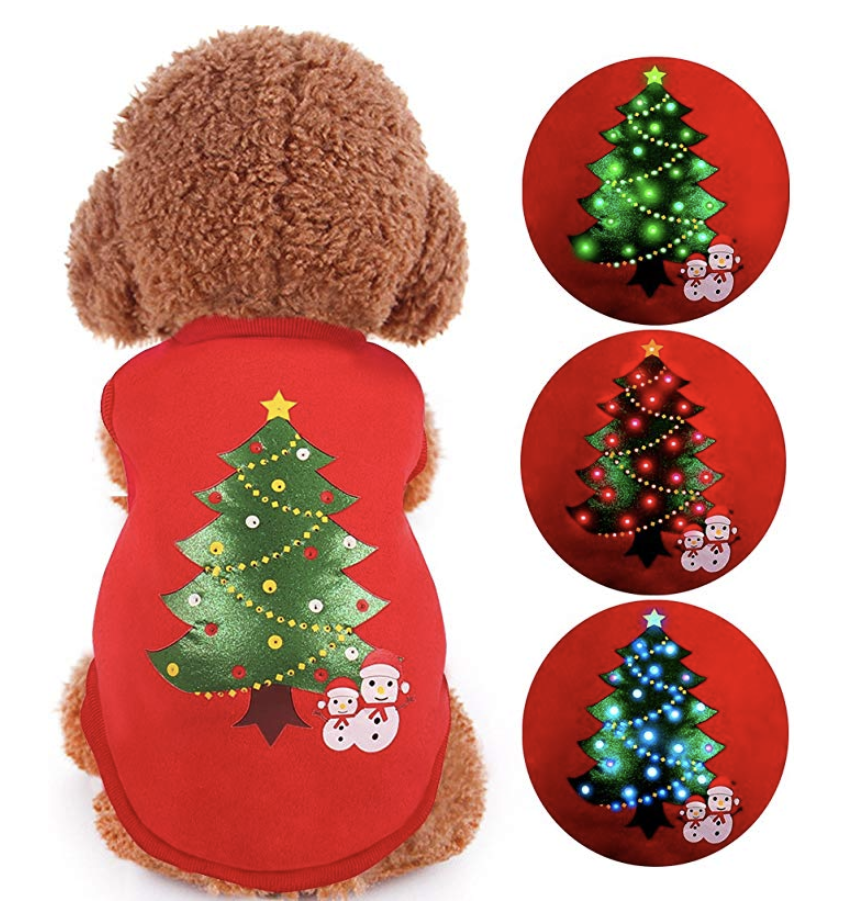 Great for the holiday and for late-night dog walking, this comfy sweater can power lights for 48 hours before the batteries need to be replaced.
Pawsative Ruffview: "This product exceeded my expectations. The shirt itself was well constructed and the light feature changed colors and flashed at different rates, which was very eye-catching. Plus, it came with plenty of extra batteries, which was a nice bonus. My dog is a bit of a ham and my family made such a fuss over him in this shirt that he didn't want to take it off. He wore it for the majority of two days and the batteries lasted. Beyond satisfied with this item!"
Get the Light Up Ugly Dog Christmas Sweater for $19.99
#21 Elf Christmas Dog Sweater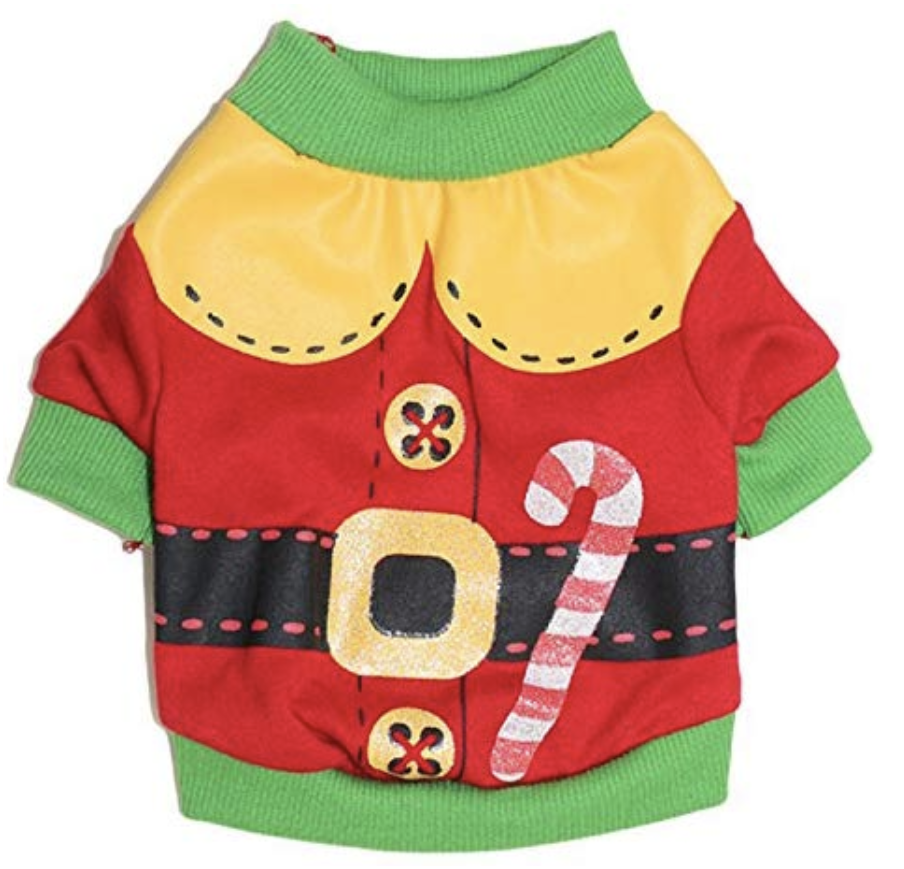 This small shirt is made specifically for small doggos who love to help Santa!
Pawsative Ruffview: "My Chinese Crested was all ready to be Santas elf on Christmas Eve! Cute shirt, well made, decent material."
Get the Elf Sweater for $9.99
#22 Santa + Snowman Dog Christmas Sweater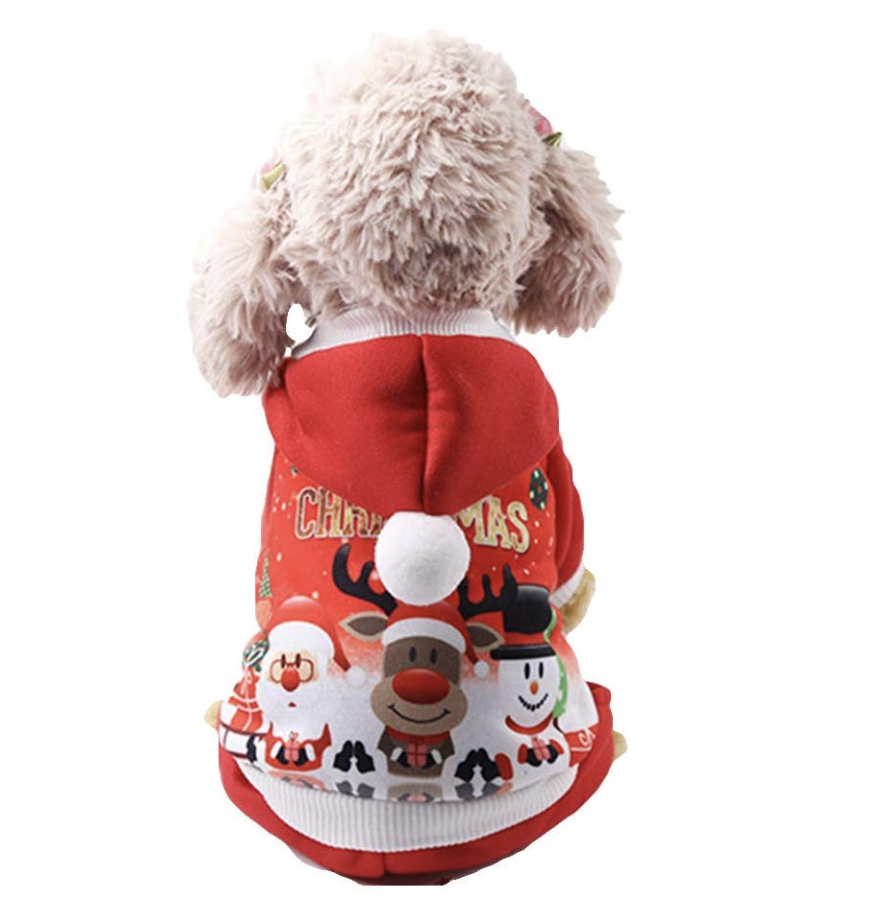 This adorable tracksuit features a hooded sweater with "Christmas" on it and all of the holiday's favorite characters: Reindeer, Santa and snowman. It's attached to comfy red pants too!
Get the Dog Christmas Sweater for $11.99
#23 Red Reindeer Ugly Christmas Sweater for Dog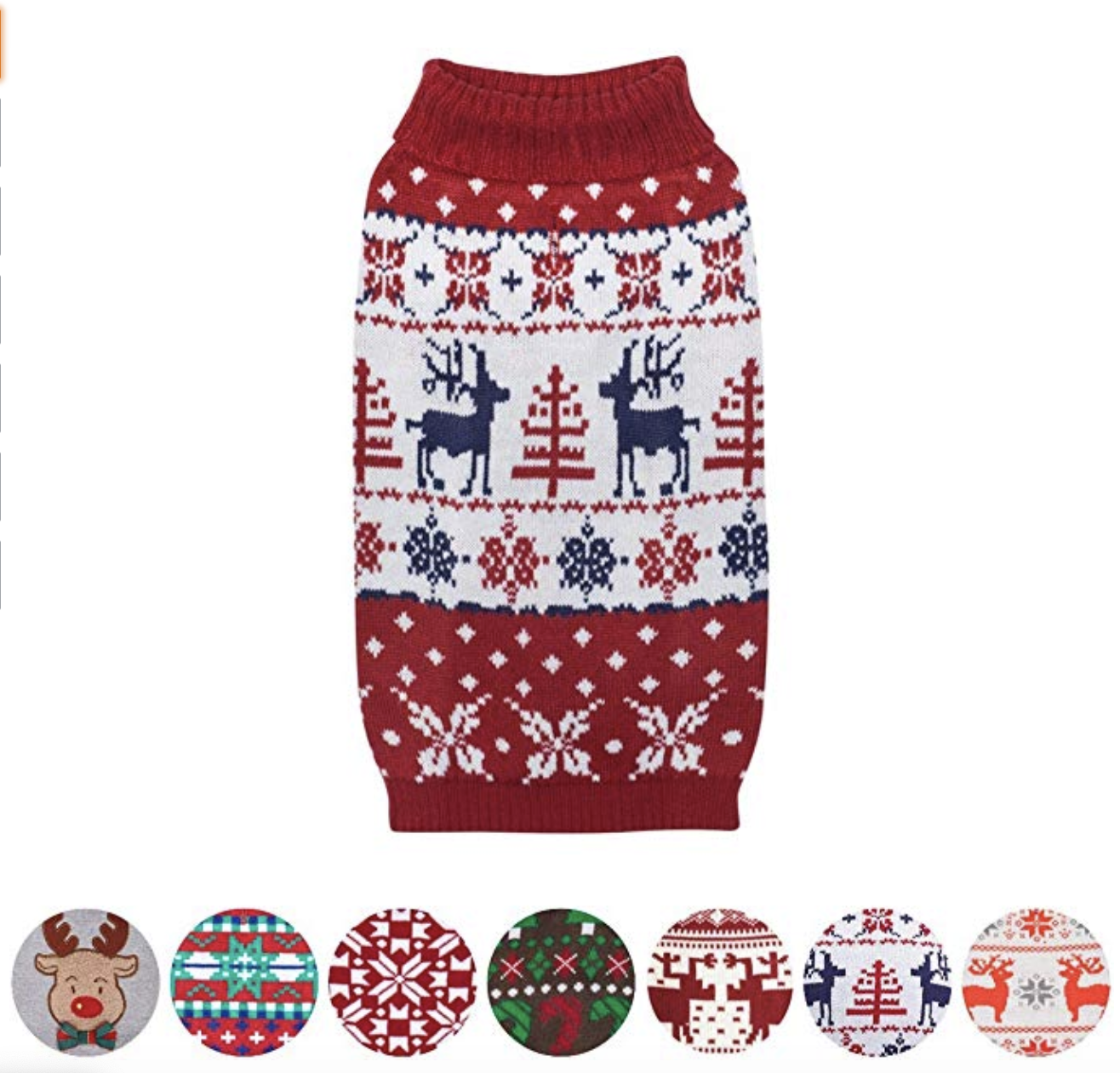 This ugly holiday sweater comes in 7 other colors and you know it's high-quality because it has about 1,500 reviews.
Pawsative Ruffview: "It's sooooo cute!!!! Love it, used the photos for my Christmas card this year!!! I actually ordered a men's small for the sweater because I didn't see women's in the one that I wanted, and it worked out great. I ordered the 14" length for my dog, also fit pretty well. It can be hard to find things that fit the lil guy, he is a beagle but a mix, his legs are long and skinny and he's only 22 lbs. Just measure your dog's back like they say and make your best guess. I think my dog's back measure was actually longer than 14" but I went down in size because of previous dog clothes ordering experience (he is not a normal size.) Anyway, I'm very happy with it!! Happy Holidays!!!"
Get the Dog Christmas Sweater for $21.99
#24 Black Reindeer Christmas Dog Sweater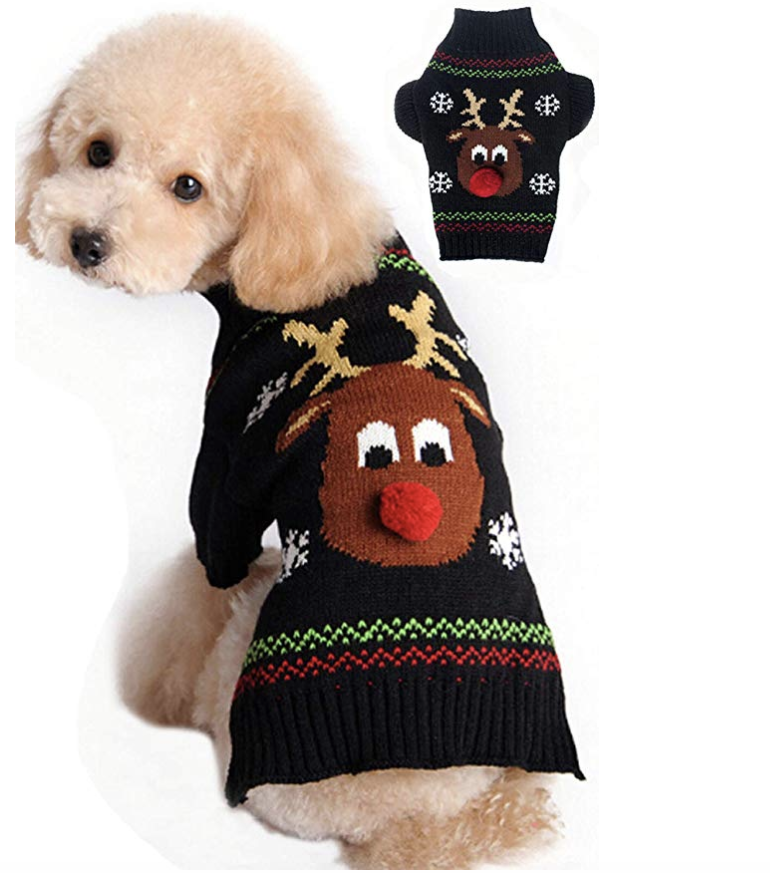 This sweater features a reindeer on the back with a large pom pom for his red nose!
Pawsative Ruffview: "Great quality, perfect thickness. I have purchased a lot of different brand sweaters for
my 15lb Westie and this one fits him the best! A perfect fit in large. He did not want to take it off. Pictures below."
Get the Ugly Dog Sweater for $12.90
#26 Ho Ho Ho Sweater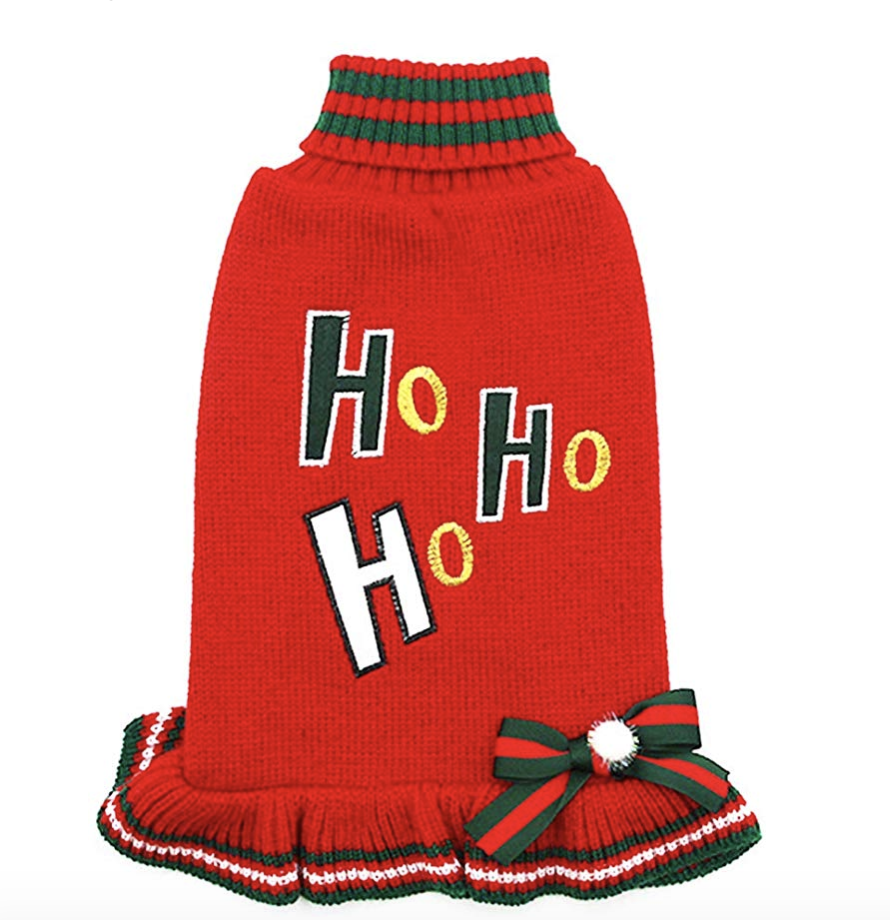 This dog sweater is bright red so your dog can be sure everyone will notice her!
Pawsative Ruffview: "Same as description, love this sweater, bright color and nice design."
Get the Holiday Dog Sweater for $9.99
#27 Snowman Christmas Dog Sweater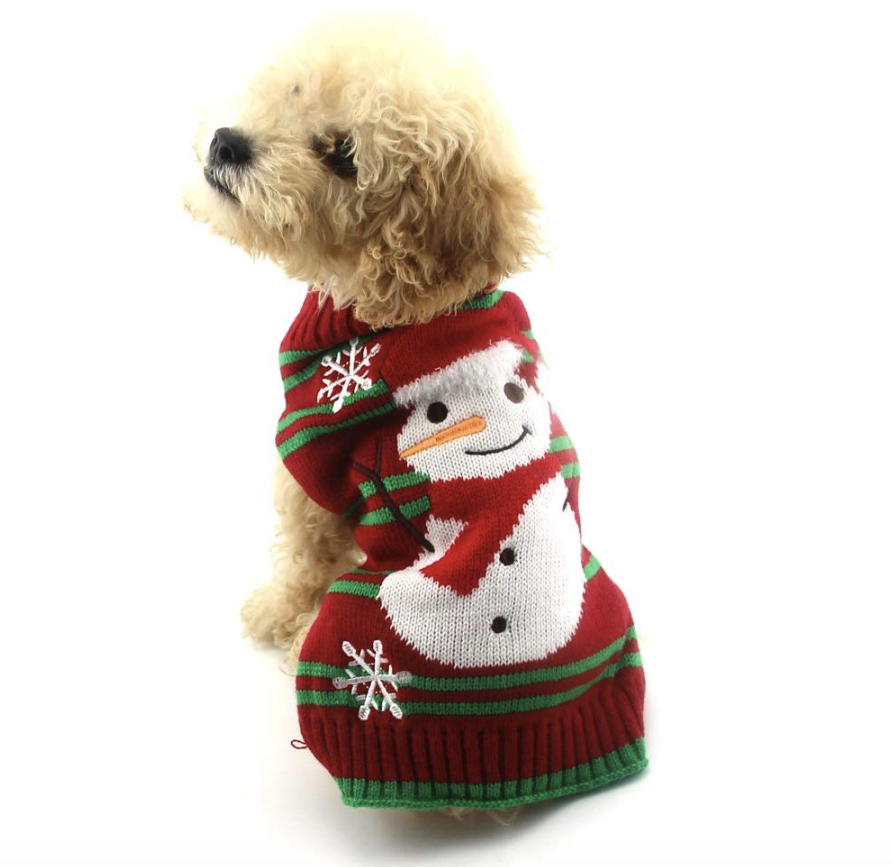 This adorable green and red sweater features a cute snowman on the back.
Pawsative Ruffview: "I was worried about the fit but a medium for my 11 lb. Maltese was perfect. I wanted the sweater to go all the way to the base of his tail and it does. Have received many compliments already. Nice quality."
Get the Snowman Sweater for $13.99