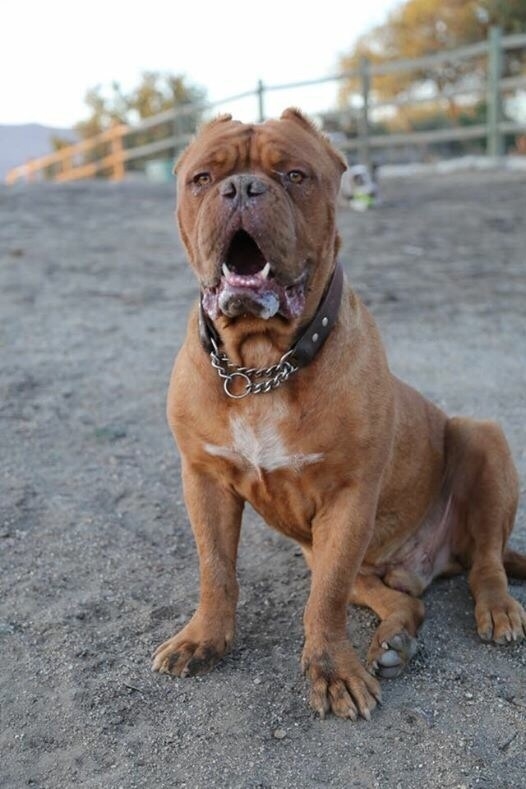 Hooch is a dog with badly cropped ears, a broken tail, and a bright spirit.
Following nearly a million votes by the American public and the opinions of an expert panel of celebrity animal lovers and dog experts, Hooch, a three-year-old French Mastiff from Tehachapi, California, has been named this year's most courageous canine.
Zach Skow, of Marley's Mutts Dog Rescue, learned about him from a shelter in Bakersfield, which told him Hooch would not eat or drink, instead thrashing his food and water bowls around "like a maniac." He was 35 pounds underweight, starving and dehydrated, and they thought that a broken or dislocated jaw was causing his behavior. But when he was taken to the vet and sedated for x-raying, a gruesome discovery was made: Hooch's tongue had been savagely removed at its base, likely in an attempt to prime him for the role of a bait dog. Hooch kept removing his feeding tube, but fortunately took well to being hand-fed, tilting his head back while food was placed in the back of his throat, and letting gravity do the work. Despite the terrible injuries inflicted on him by people, Hooch is a heroic example of bravery, overcoming, and forgiveness. He now works with Marley's Mutts' Miracle Mutts division serving as a therapy dog for abused, autistic, and special needs children, helping them with great gentleness, patience and kindness.
For his extraordinary bravery and good works, Hooch won the American Humane Hero Dog Awards' "Emerging Hero Dog" category for ordinary dogs who do extraordinary things. This year, the Emerging Hero Dog category is sponsored by Merial, maker of NexGard® (afoxolaner) Chewables. Thank you to them for helping draw attention to Hooch's story and spotlighting the remarkable ways dogs can and do help us even when they themselves were in need of help and healing.
The sold-out, star-studded awards honoring America's most courageous canines were hosted at the Beverly Hilton Hotel last night by television and film star James Denton and model and animal advocate Beth Stern, accompanied by a galaxy of celebrity stars and presenters including Pauley Perrette, Alison Sweeney, Barbara Niven, Mark Steines, Bailee Madison, Marilu Henner, Victoria Stilwell, Debbie Matenopoulous, Greg Louganis, Adam Rodriguez, Alex Meneses, Brandon McMillan, Robert Herjavec, Kym Johnson, Jack Wagner, Dave Foley, and Dr. Marty Becker.  "Big Bang Theory" star Kaley Cuoco, Mary Matalin and James Carville, and Hero Dog Awards spokes-dog Happy the Dog provided delightful pre-taped video skits.
Katharine McPhee provided the lead musical performances, including a tribute to previous American Humane Hero Dogs who have crossed the rainbow bridge with a rendition of "Over the Rainbow" that brought the audience to tears. A special memorial was also held in honor of last year's winner, Harley, a tiny, one-eyed Chihuahua who fought to bring attention to the issue of puppy mills. Before the show, the audience was treated to the artistry of The Alex Donner Band. American Idol star and recording artist Stefano Langone sang the national anthem.
The Hero Dog Awards were created to celebrate the powerful relationship between dogs and people and recognize extraordinary acts of heroism performed by ordinary dogs. The event will be broadcast nationwide by Hallmark Channel on October 28 at 8 pm ET/PT, 7 pm Central. The program will air as part of Hallmark Channel's Pet Project, the network's cross-platform advocacy campaign designed to celebrate the joy and enrichment animals bring to our lives.
"The American Humane Hero Dog Awards were created to honor some of the most extraordinary heroes the world has ever known, the very best of our best friends," said Dr. Robin Ganzert, president and CEO of American Humane, the country's first national humane organization. "These courageous canines have gone above and beyond the call of duty, saving lives on the battlefield, comforting the ill, aged and afflicted, bringing hope to those who have lost it, and reminding us of the powerful, age-old bond between animals and people. All eight category winners tonight exemplify what it means to be a hero, and we hope that their stories – and Hooch's – will inspire people to value our animal friends and to recognize and honor how much they do for us every day."