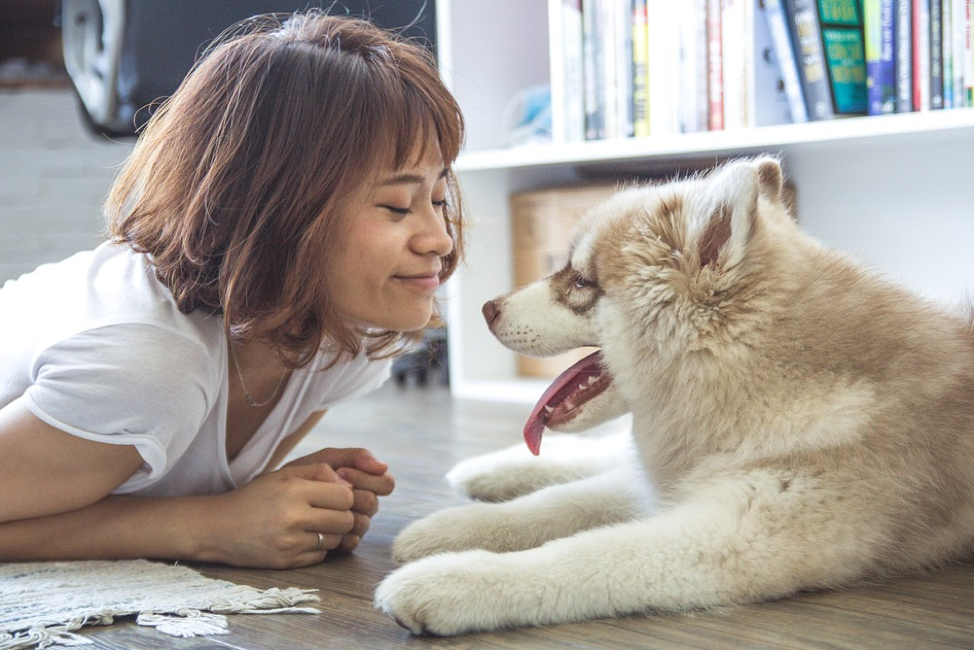 Every now and again all of us have a terrible, horrible, no good, very bad day.
When we do, nothing helps reset and uplift our spirits like the solemn support of a dog.
We're not sure how their little bodies can possibly hold all that unconditional love, but we do know they are powerful mood boosters that want nothing more than to see us smile.
Need a good reason to appreciate your pup or adopt one into your family? We'll give you ten.
They get you moving. No matter how much you try to run from it, failing to exercise can tank your mood. Why not put a little pup in your step? They can be downright demanding in their need for a workout. Studies show you can walk into a better mood in only about 12 minutes.
They boost your immune system. The science behind how dogs improve your immune system is slightly complicated. Essentially it comes down to saliva, among other things. See, humans can be a little "too clean." Dogs help us develop healthy bacteria colonies needed to fight off common communicable diseases.
They reduce stress. Excessive cortisol is no one's friend. Petting and cuddling with a dog will release oxytocin hormones that counteract stress hormones. Though we may not realize it, humans have a high need for touch. Pet ownership fulfills this need, taking our anxieties down with it.
They improve your self-esteem. One study out of Saint Louis University compared pet owners with non-pet owners and found those with fur friends reported much higher levels of self-esteem. Maybe it's that their pets reflected back to them their own goodness. Perhaps it's because they bring out our own best sides and make us feel worthy of love. Either way, we're here for it.
They help with productivity. There's a reason so many companies are pro pets in the workplace. It's because they seem to have a marked impact on productivity. Other studies show that simply looking at pet pictures can improve your performance at work. Who knew?
They decrease depression. Same goes for loneliness – a common cause and symptom of depression. Having a living, breathing, warm-bodied buddy around is one of the best ways to combat the isolation so often associated with depression. When you pet a dog, your body also releases dopamine and serotonin – two chemicals directly linked with mood and mental health.
They make your heart healthier. We know that hugs can decrease our blood pressure, but that doesn't mean they have to come from a fellow human. Stroking a dog not only makes your heart happier, it also makes it healthier, too. Research out of Ohio State University showed that owning a dog can reduce your risk of heart disease by up to 4%.
They are good for a laugh. The more you laugh, the better you feel. Not just in the moment, but overall. There's a reason why it really is the best medicine. Even the Mayo clinic agrees. From increased oxygen levels to pain relief, laughter is no joke.
They double as therapists. Sure you can share your deepest thoughts, fears, and insecurities with your dog. They'll listen intently and beam love back your way. But we mean this more literally. With enough repetition, animals can be trained to perform just about anything. Whether you're suffering from a physical injury, health crisis like diabetes or mental challenge like ADHD, your dog can be trained to provide physical and emotional support before you even know you need it.
They widen your social circle. Take your dog outside the house for any reason and you're all but guaranteed to run into other canine lovers who will want to say hello. Parade them around the dog park or just down the block and see how easily they help you break the ice.
And thus concludes a non-exhaustive list of the mood-boosting benefits of man's best friend. How does your dog improve your mood?
Author Bio:
Meet Mitch Felderhoff. Mitch joined his family business in May of 2007 after graduating from the University of North Texas. After several years working in sales, Mitch took on the responsibility of marketing, new product development, and was named Vice President of Muenster Milling in 2009. With the company now firmly in the 4th generation of Felderhoff's, Mitch's commitment to excellence is stronger than ever. When Mitch isn't working on extruding dry pet foods, he is a husband and loving father of three boys.