Everyone is familiar with ugly Christmas sweaters.
But how about ones that match your dog's attire?
Whether you're using it for a Christmas card photoshoot, holiday Instagram picture, to be the stars of your family Christmas party or just because they're so damn cute– we've got options for you.
In this post, we're sharing 14 Matching Christmas sweaters for dogs and owners.
Matching Christmas Sweaters for Dog and Owner
Before choosing the right outfit for you and your furpal, we have a few tips.
Size. As you probably know, companies have different sizing standards. Some sweaters run small while others run gigantic. That's why you need to be sure to check the sizing guide before buying and compare that to you and your pup's measurements. Don't have a sewing tape measure? Simply use a piece of string or ribbon and measure that against a regular tape measure or ruler. Whatever you do, don't assume the size.
Buy both. Since the size pairings vary by person, each dog and owner sweater is sold separately. After adding one to your cart, be sure to add the next one after. Some are sold by the same seller, others are ones we've found by different sellers. Either way, they don't come together.
Design. What are you using the sweater for and what type of design would you like? For example, are you looking for a beautiful holiday sweater? Or are you attending an ugly sweater party and need something everyone will laugh at? There's other options, too, such as light-up sweaters!
#1 Red Heart Owner + Dog Ugly Christmas Sweater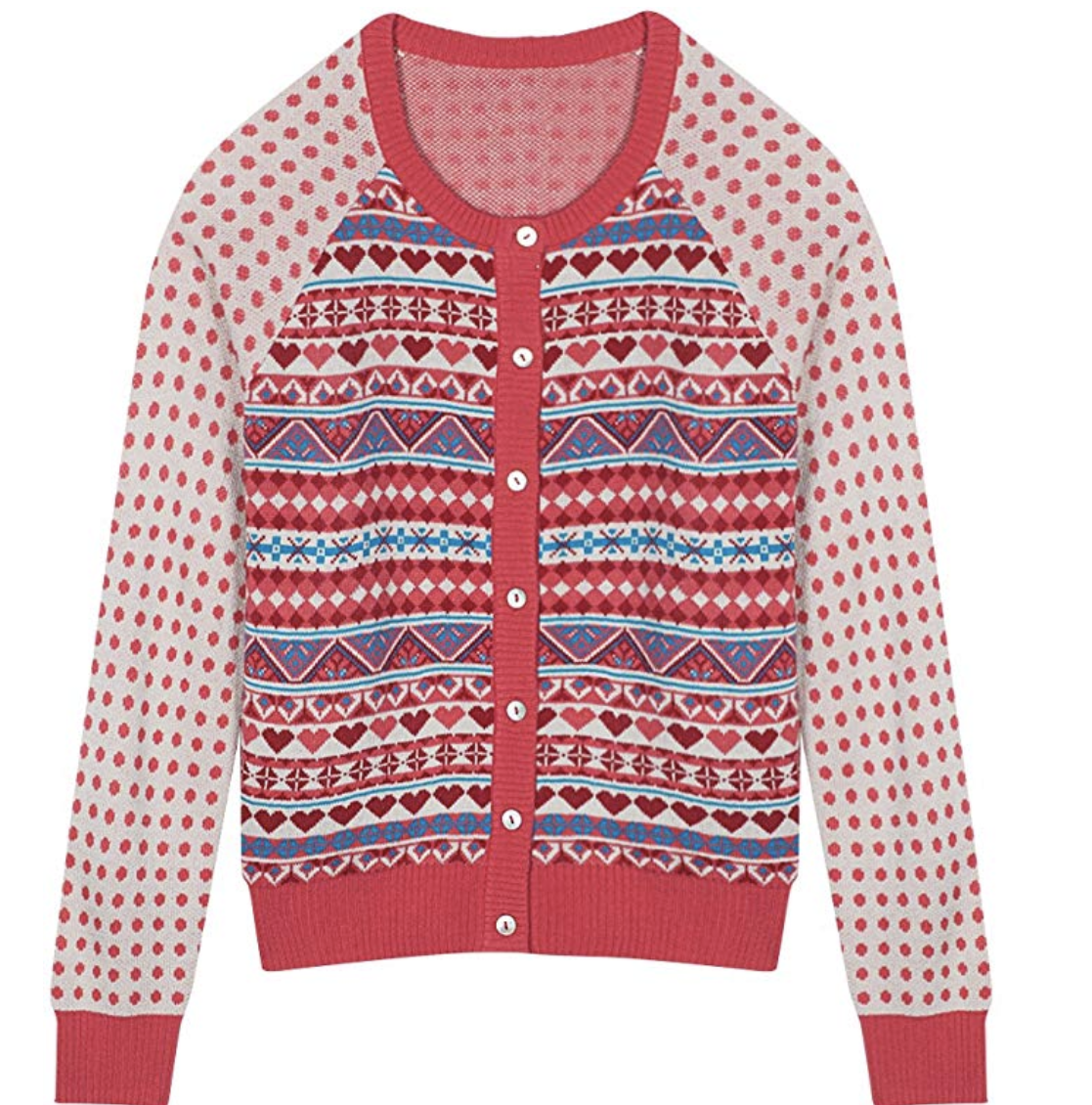 This pattern is perfect for both the holidays and Valentine's day! Featuring the exact same design on both sweaters, people are sure to ask you where you got the matching set!
Pawsative Ruffview: "I have two dogs who do everything together despite there being about a 100 pound weight difference between them. Their size difference makes it nearly impossible to find matching coats or sweaters. But, now Blueberry has changed that! They have matching sweaters for the very first time and the fit is perfect for both. The sweaters are well made and the legs holes have ample room for movement. I am so pleased with this purchase and plan to order more in the future."
Get the Matching Christmas Sweaters for $15.99
Get the Human/Owner Matching Sweater for $32.99
#2 Red Plaid Dog Matching Dog Sweater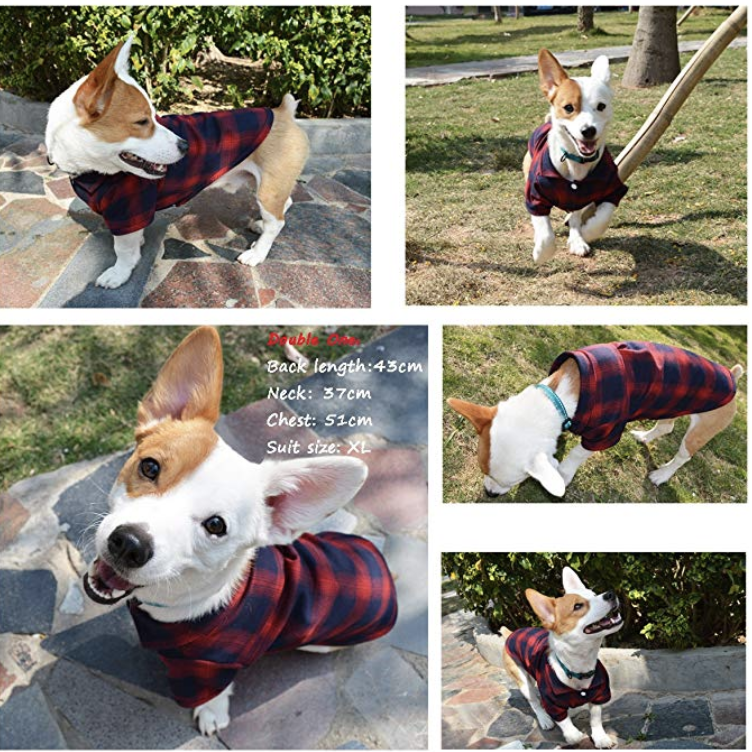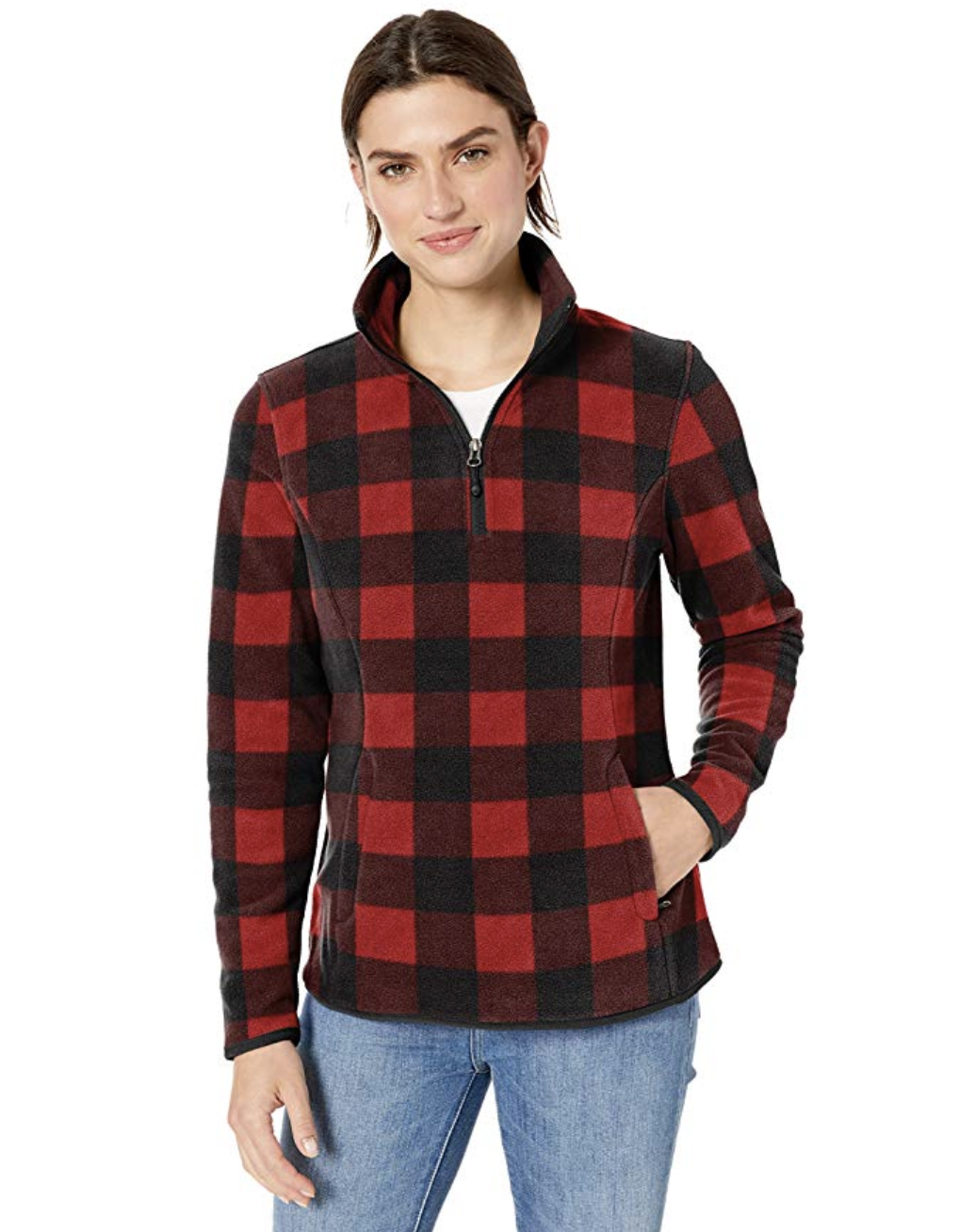 This is a sweater that's great for the holidays and all year round! It will go with any plaid attire you may already have! If you don't have anything in your closet, here's a few suggestions:
Pawsative Ruffview: "THIS SHIRT IS SO CUTE. I have a plaid shirt that looks exactly the same except it's long sleeve so the fact that I could twin with my dog already had me excited. The shirt fits PERFECTLY. My dog is a mixed chihuahua & weighs 12.5 pounds. His chest is about 17 inches, his neck is about 11 inches, and his back length is about 13 inches. I got him a Large. The back length of the shirt is a tad bit long but just by about 1 & a half inches so it's not a problem at all."
Get the Red Plaid Dog Sweater for $20.99
Get the Human Red Plaid Sweater for $20
#3 Light Up Tree Matching Dog Ugly Christmas Sweater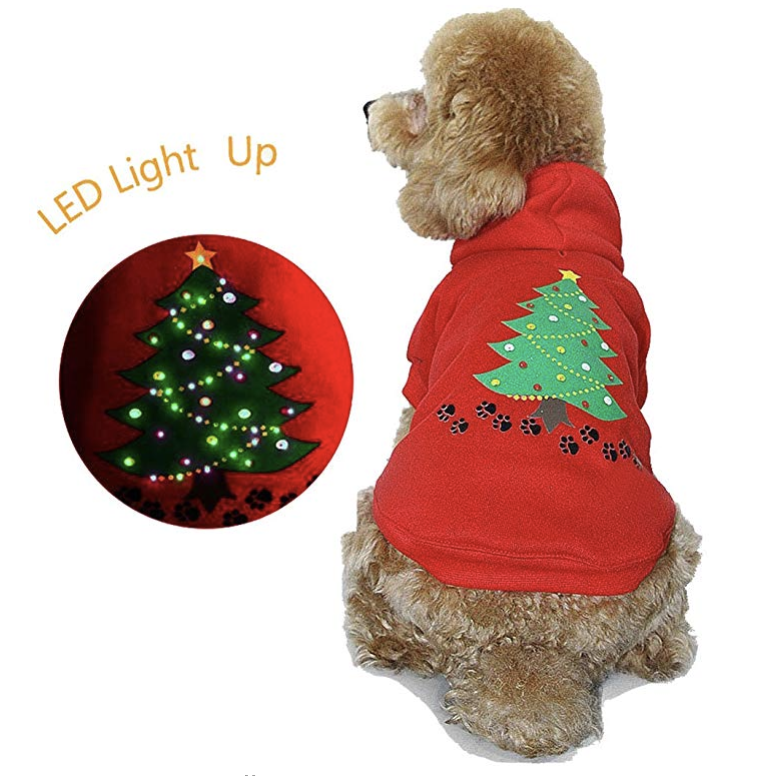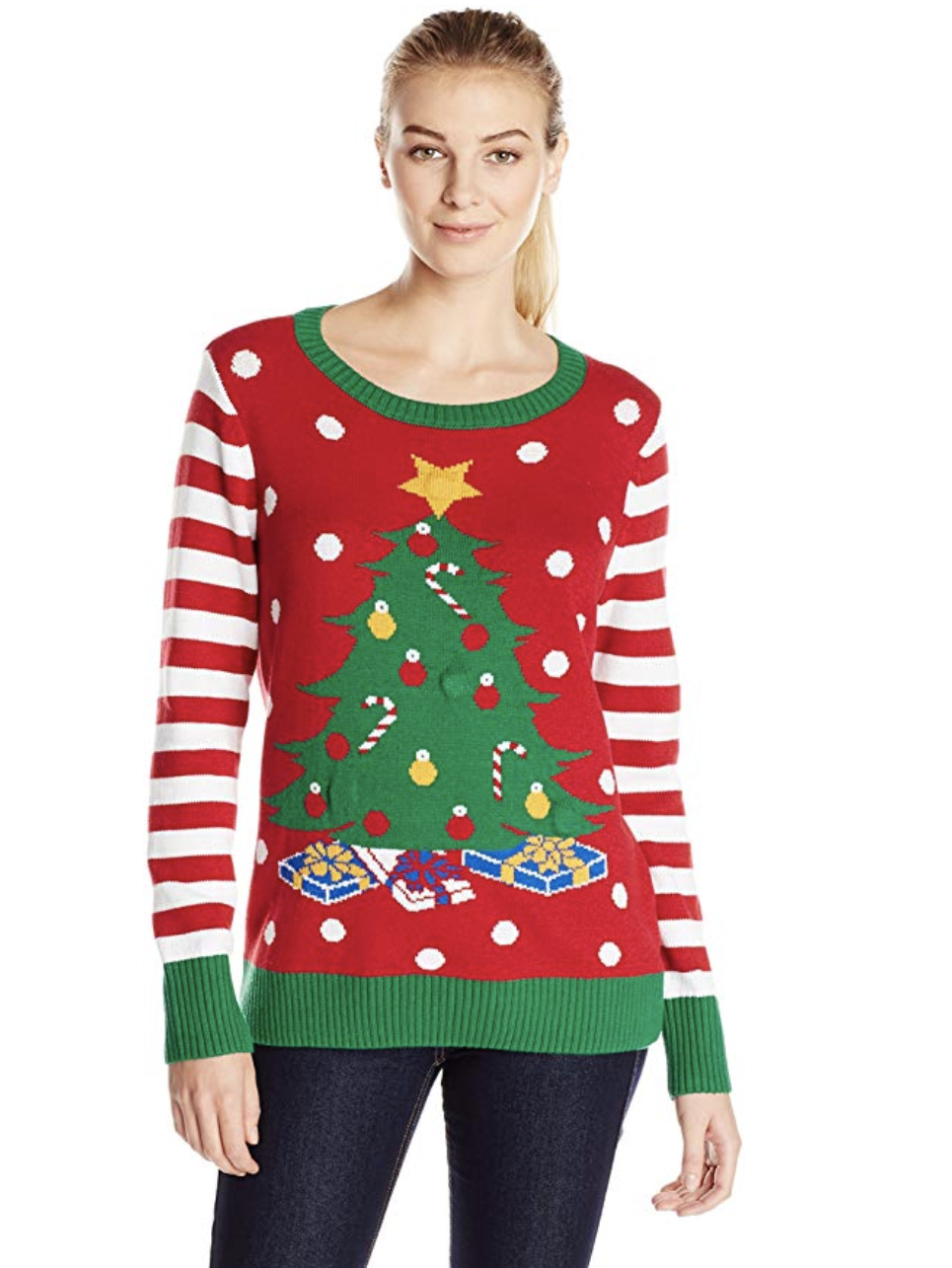 Both sweaters feature multicolor LED bulbs and are soft and stretchable. You're sure to be the best well-dressed at any party you attend in these matching outfits!
Pawsative Ruffview (dog sweater): "I incorporate our dogs into our family Christmas photos, so I like to dress them up for the shoot. This year is going to be an ugly Christmas sweater theme, but this piece is FAR from being ugly- it's so adorable! The Christmas tree printed on the back has an interactive LED light show that is motion activated. As your pet struts through the holiday festivities, the lights will twinkle along. When there is inactivity, the lights will turn off."
Pawsative Ruffview (owner sweater): "This is absolutely perfect for my work Christmas party. I am a veterinary nurse/crazy cat lady/obnoxious and festive holiday decorator. One thing I did not see in the description, not that I really read it, but this thing LIGHTS UP BY MOVING!!!! It's even better than I had hoped!!!"
Get the LED Ugly Dog Ugly Christmas Sweater for $32.99
Get the Matching Ugly Light-Up Sweater for $34.99
#4 Blue Snowflake Matching Christmas Sweater for Dog and Owner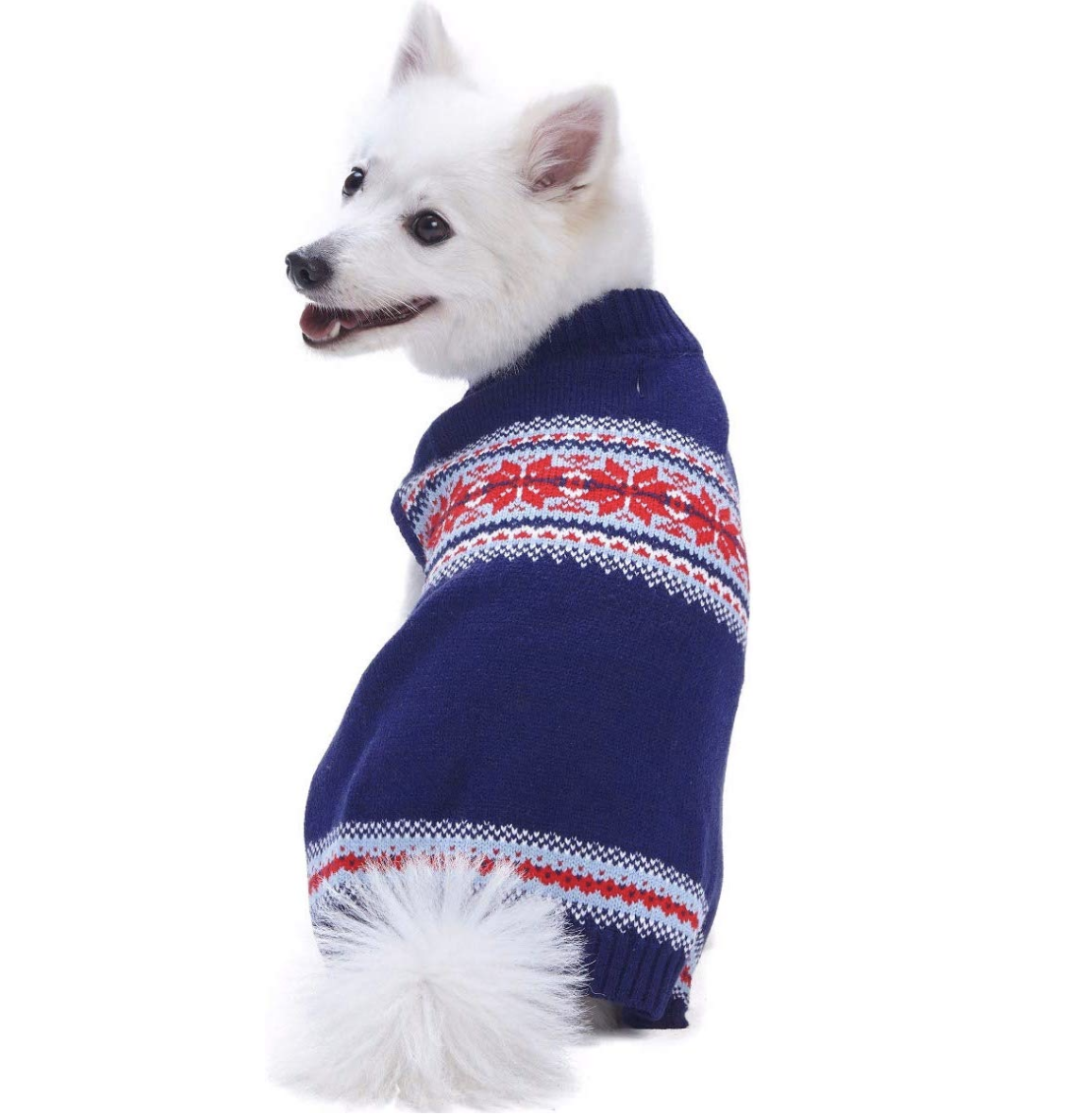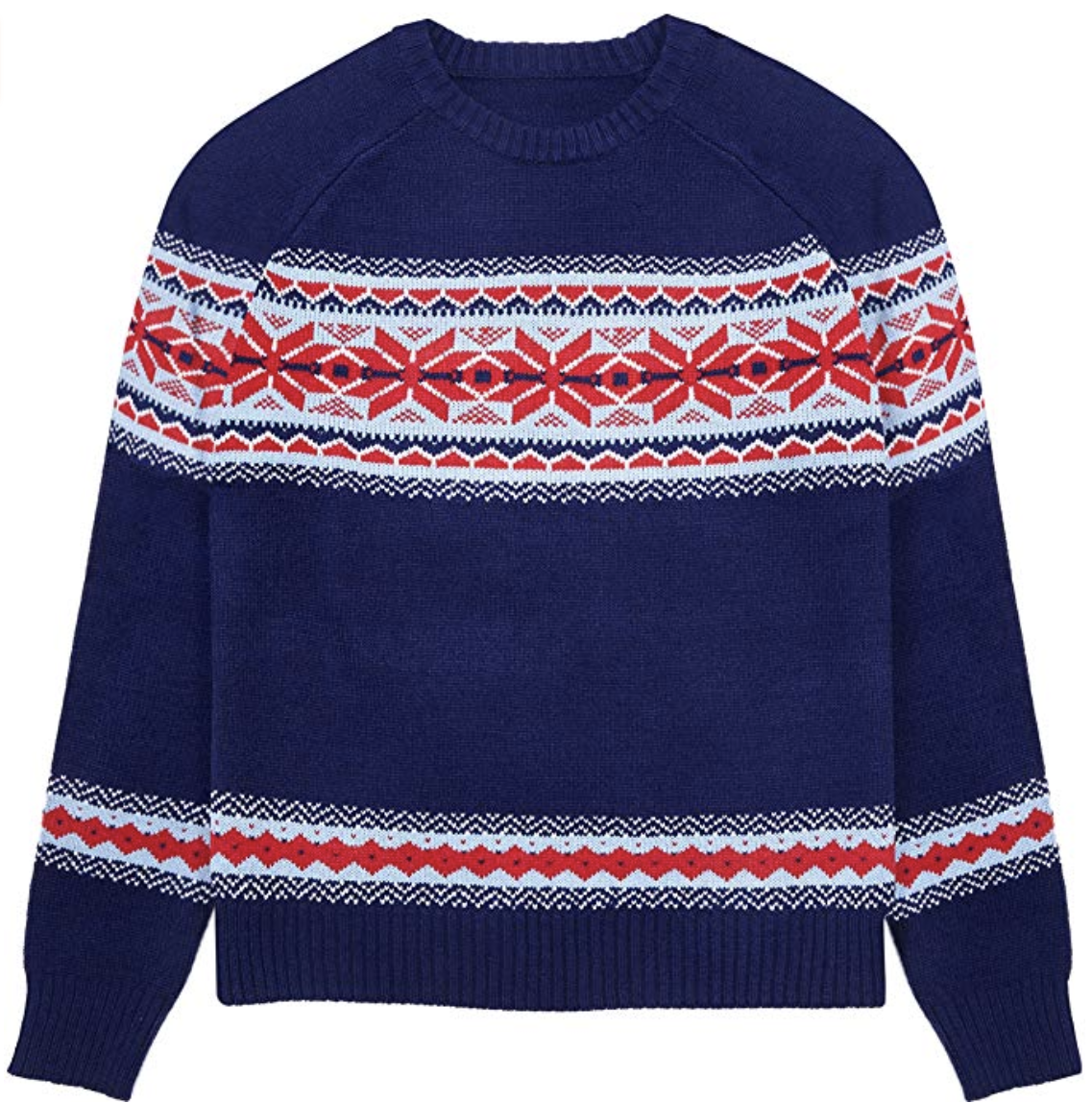 This exact design comes in both dog and human version, sold by the same seller. Made with 100% acrylic material, these sweaters are durable and will easily last years.
Pawsative Ruffview: "Had this for over a year now and still fits my chihuahua very nicely, it's been washed and dried and hasn't shrunk or lost its color at all. He loves it. He's the kind of dog that likes to lay under a pile of blankets and snuggle up real close to stay warm and I think this is perfect for him cause it keeps him warm and feeling secure. It also doesn't cover his privates when he goes to the bathroom which I've ordered some other sweaters that have done that before which is pointless cause I got these so he would stay warmer outside, but this one works great!"
Get the Doggo Snowflake Sweater for $18.99
Get the Human Matching Sweater for $27.99
#5 Merry Christmas Filthy Animal Sweater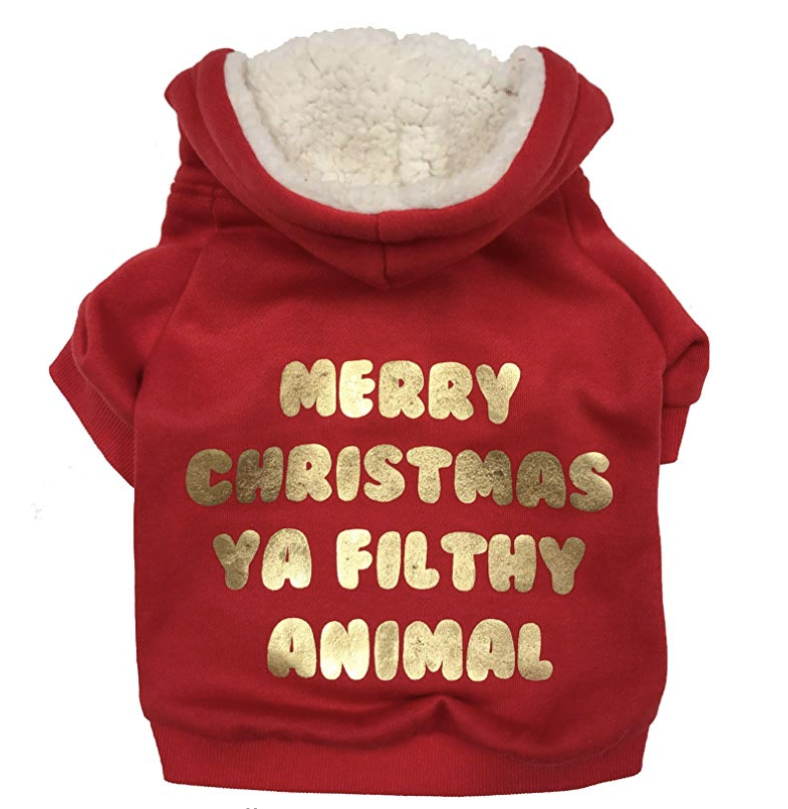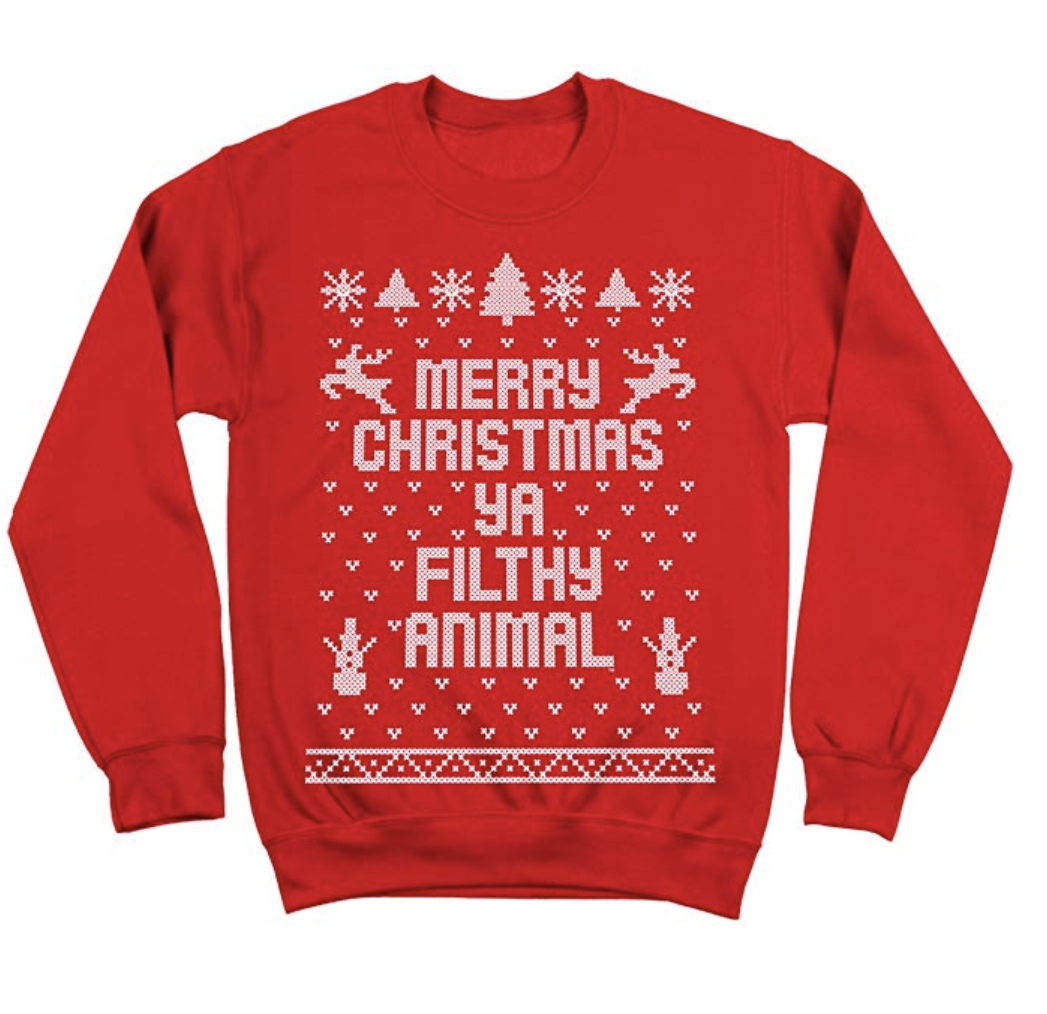 If you and your pup are filthy animals, this is the sweater for you! Both sweaters feature the words on a soft red fabric, but the doggo version is thermal lined for extra warmth.
Pawsative Ruffview: "The quality of this shirt is much better than I expected. It will be a great surprise for my husband who is always saying that line to our sweet pups around Christmas time."
Get the Filthy Dog Sweater for $32.99
Get the Matching Owner Christmas Sweater for $45.99
#6 Red Deer Dog + Human Sweater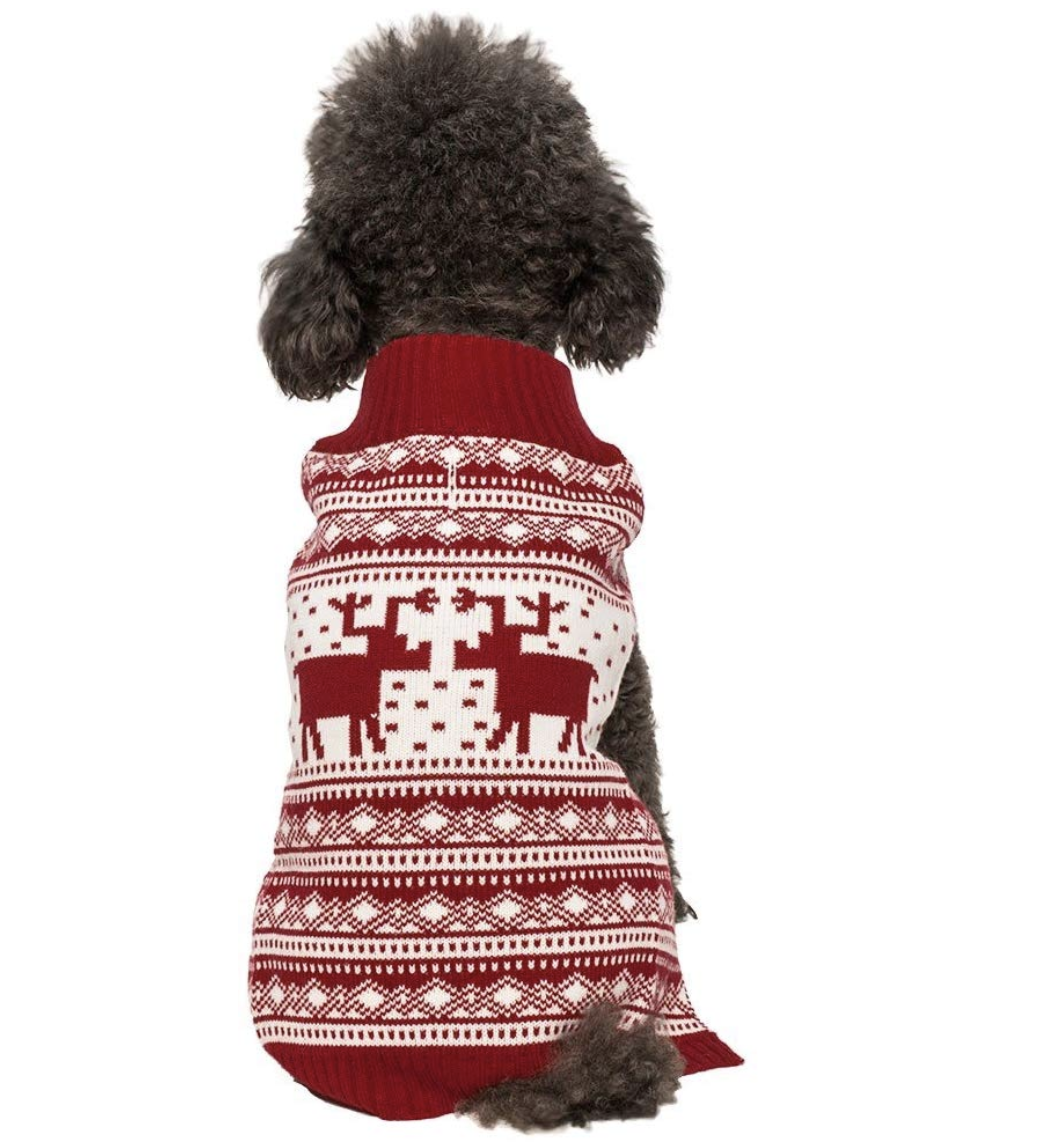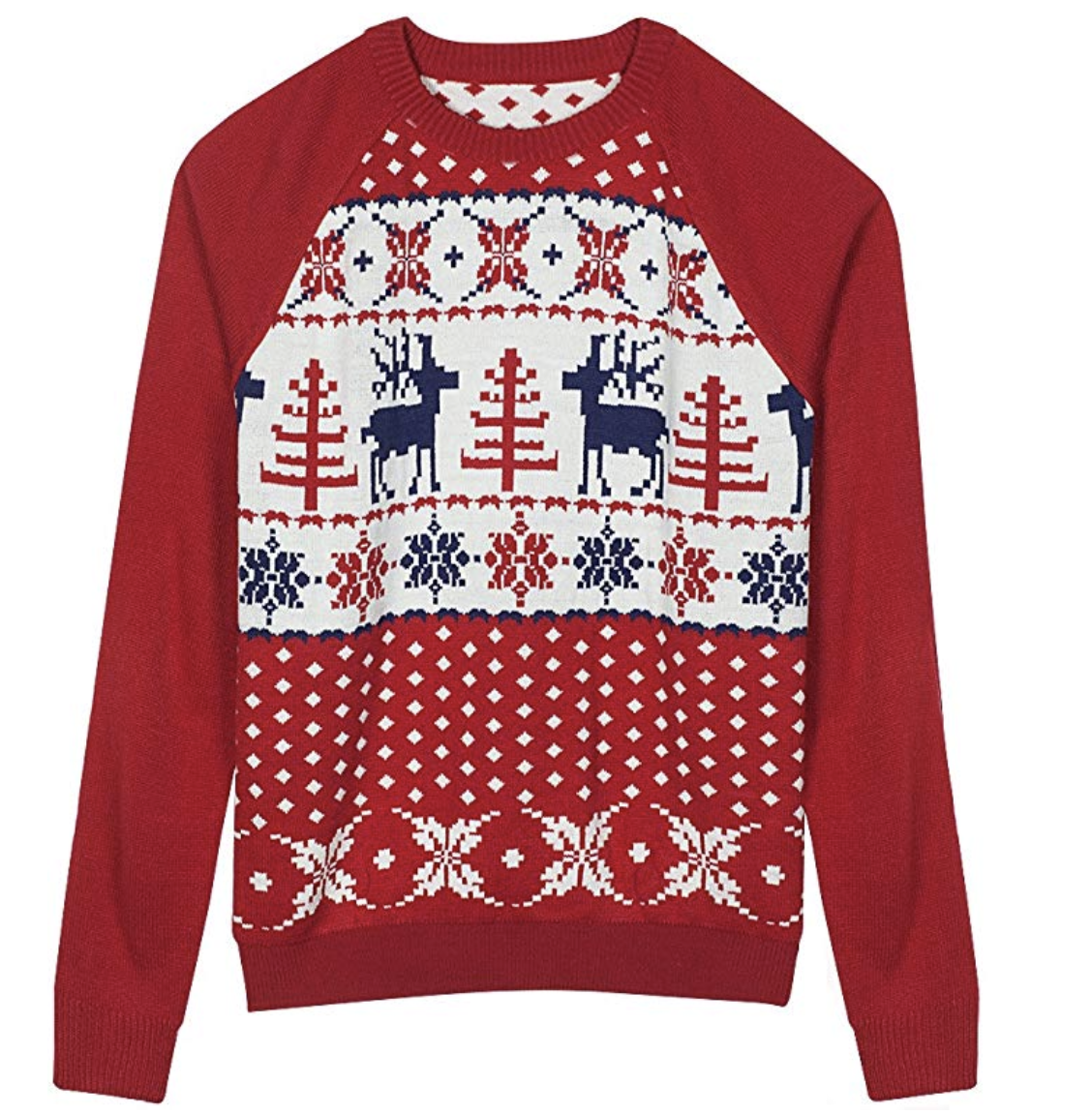 This design features a red deer diamond-patten on the dog version and a blue/red deer and snowflake pattern on the human version.
Pawsative Ruffview: "These looks so cute on my two kittens and dog. The 10-inch were a little snug and short on my 8-month old kitties… I'd do the 12inch next time. The 16-inch was perfect for my 32Lb broad-chested dog. I made a Christmas card with a photo of my babies in their sweaters :)"
Get the Dog Sweater for $10.99
Get the Human Sweater for $32.99
#7 Red Wool Cable Knit Matching Dog Sweaters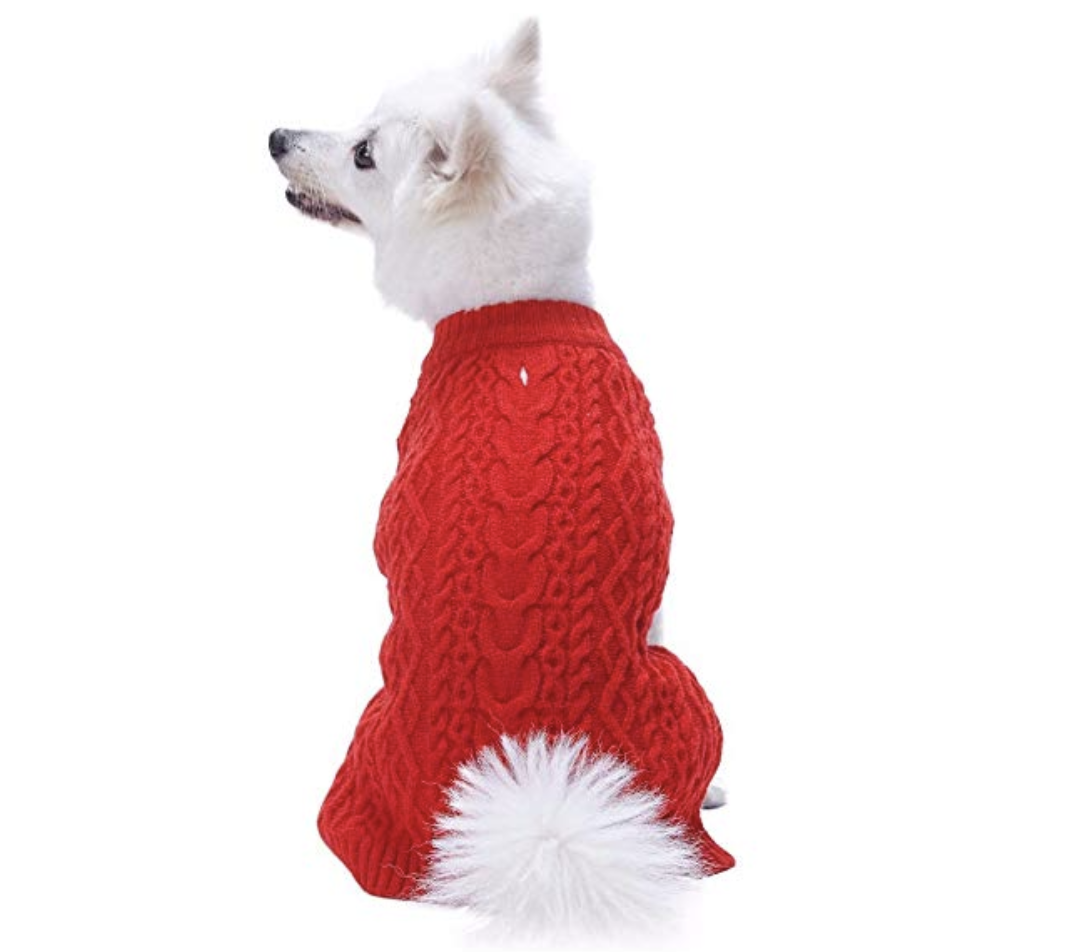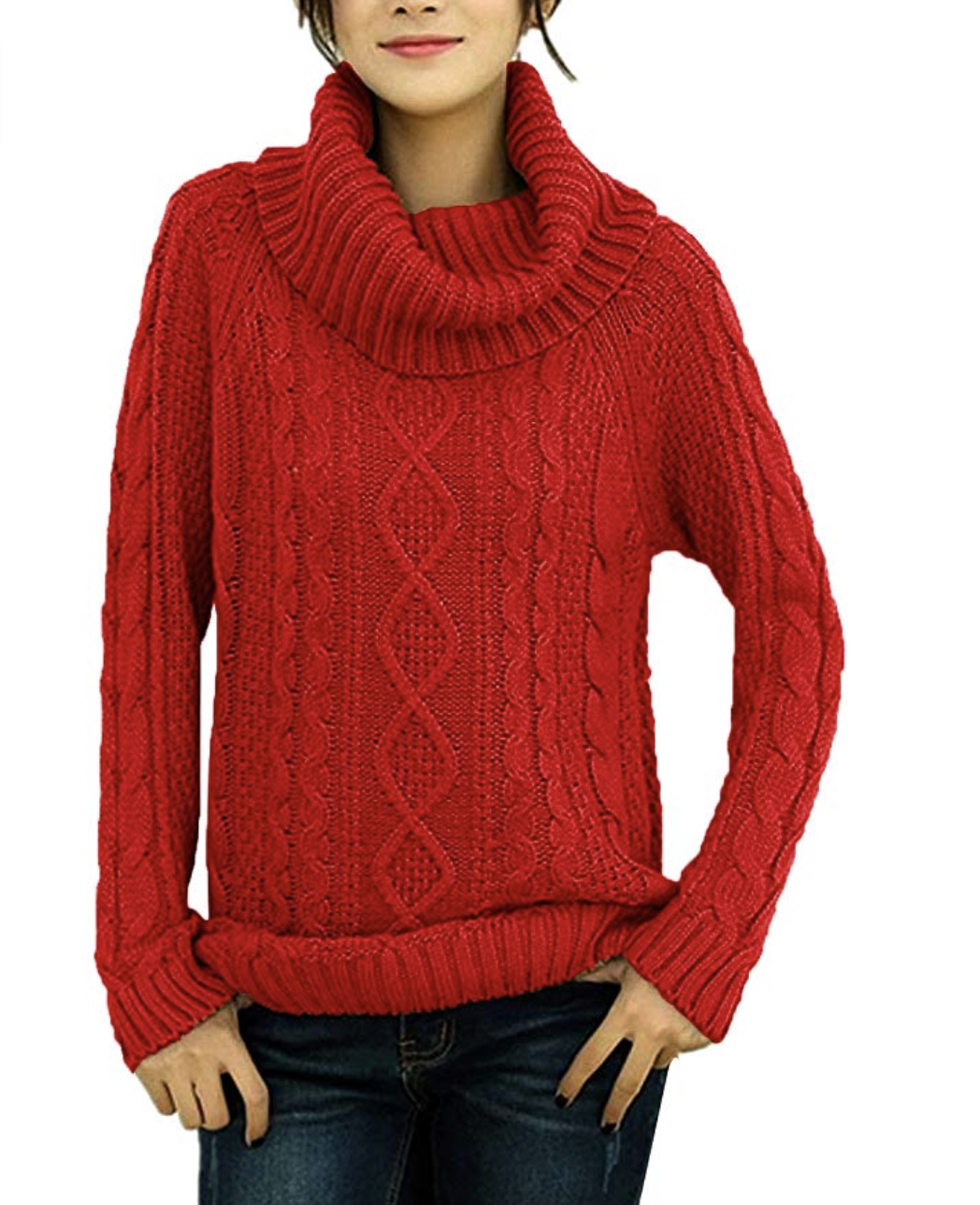 The dog sweater is made from 20% wool and 80% acrylic for a timeless crewneck. The human version has a turtleneck design to keep you warm all winter.
Pawsative Ruffview (dog sweater): "Bought these for my Cavaliers, Nigel and Jasper. They fit perfectly and are simply adorable! Also, they seem very comfortable and of high quality. My little babies seem to love them too! I couldn't be happier with this purchase."
Pawsative Ruffview (human sweater): "The sweater truly has a designer appearance. It fits perfect for me. I am 5'9" 160 pounds. I wear medium tops due to muscular arms and a size 8 clothes on average.
I have a long torso and short arms (think of T-Rex haha). So usually tops fit poorly."
Get the Red Dog Sweater for $19.99
Get the Red Matching Human Sweater for $31.99
#8 Ho Ho Ho Matching Christmas Sweater for Dog and Owner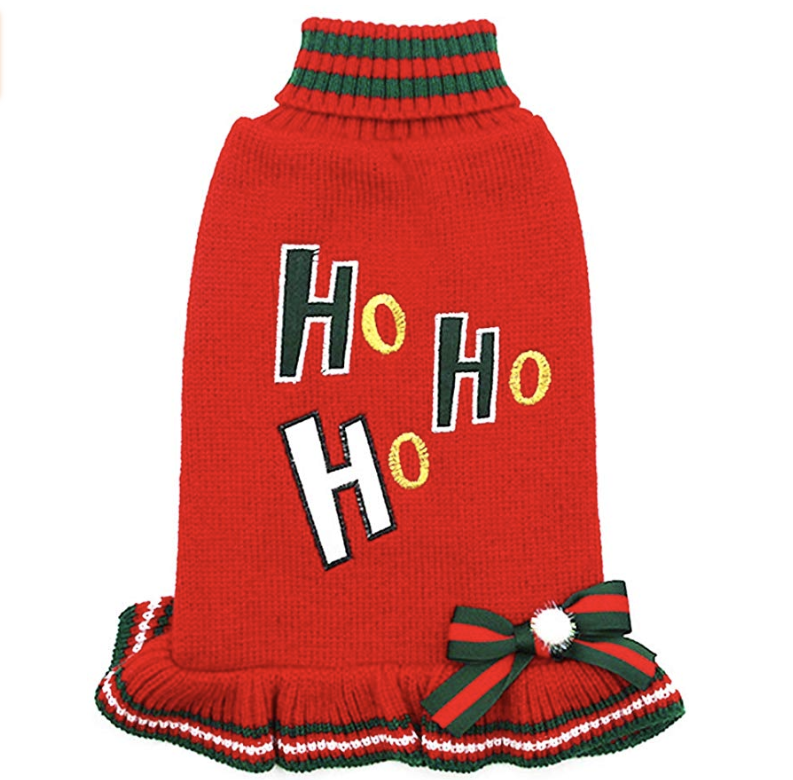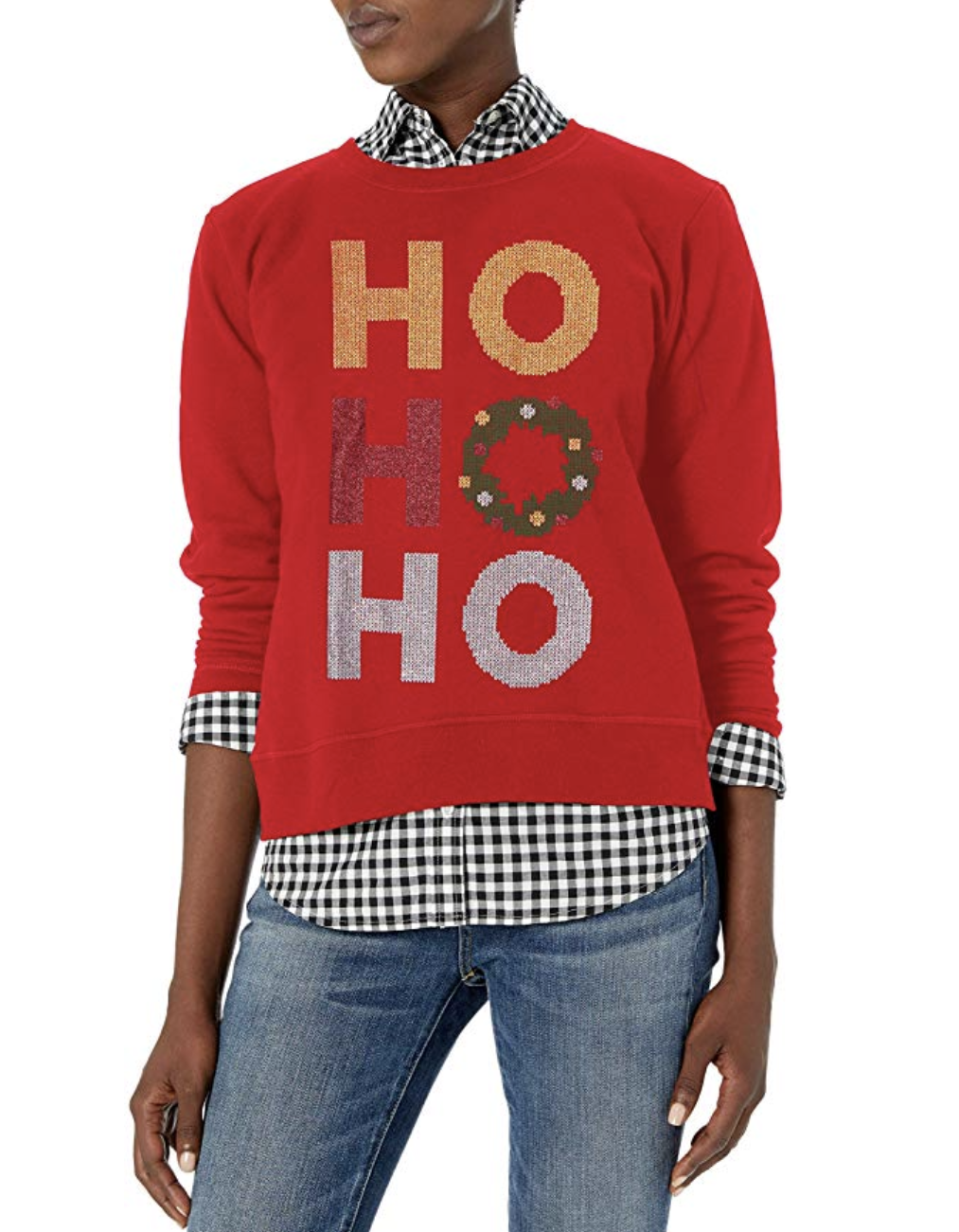 This cute doggo sweater features a hole at the top to conveniently attach your dog's leash to her collar. The human version is more glittery and features a wreath-like O.
Pawsative Ruffivew (dog sweater): "Same as description, love this sweater, bright color and nice design."
Pawsative Ruffview (human sweater): "I absolutely love this sweater. It has the comfort of a sweatshirt while looking a little bit nicer like a regular sweater. I bought a size medium and it fits perfectly. If I wanted a more formfitting look I could have also gotten the small. I definitely would recommend this sweater. I plan on wearing it for my fifth-grade students' winter choir concert."
Get the Dog Holiday Sweater for $9.99
Get the Owner Sweater for $24.99
#9 Knit Green Dog Ugly Christmas Sweater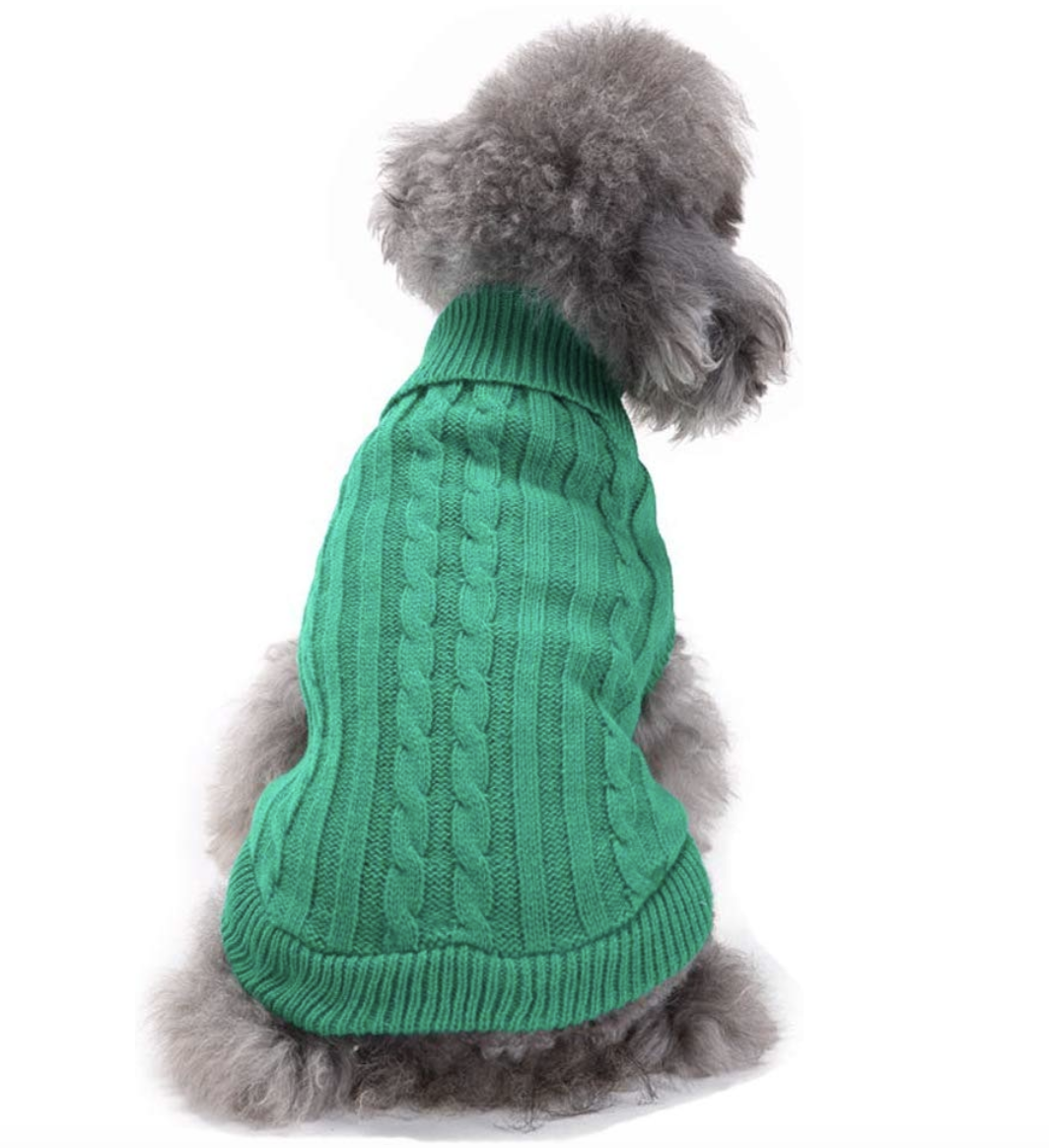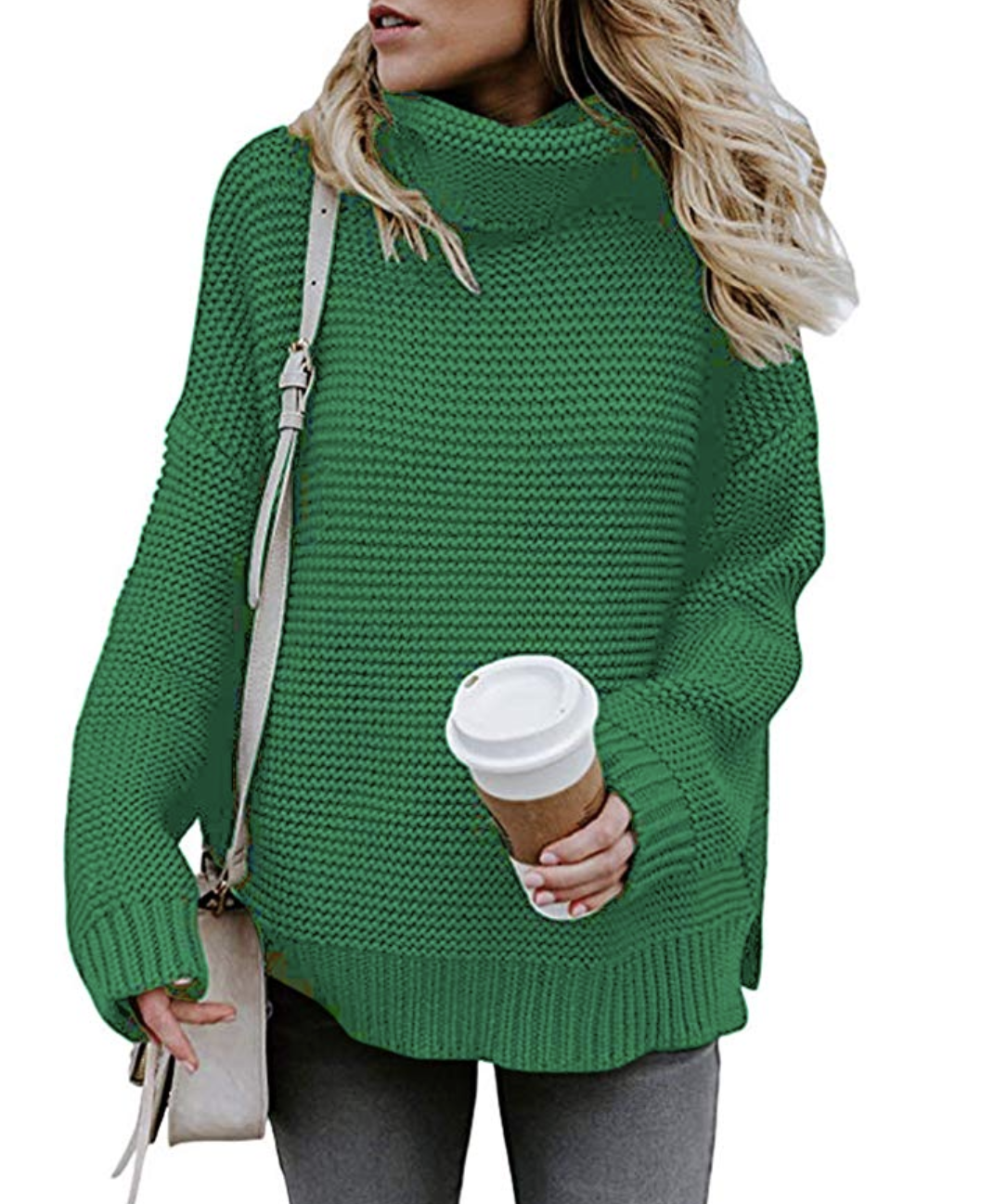 If you just want a traditional green sweater, it's pretty easy to find matching ones. This dog version is made with 100% acrylic fabric for warmth. The human version has a turtle kneck and casual loose knit design.
Pawsative Ruffview (dog sweater): "Love this sweater. My Chion is 5.5 pounds and he is wearing a size small. It's very well made, soft and easy for him to move around in. It's a nice and thick material."
Pawsative Ruffview (human sweater): "This was surprisingly great in quality, material, feel, and warmth. This is perfect for my trip to NY this winter. I recommend washing before you wear it."
Get the Green Dog Sweater on Amazon for $8.99
Get the Matching Green Sweater for $29.99
#10 Blue Reindeer Matching Sweater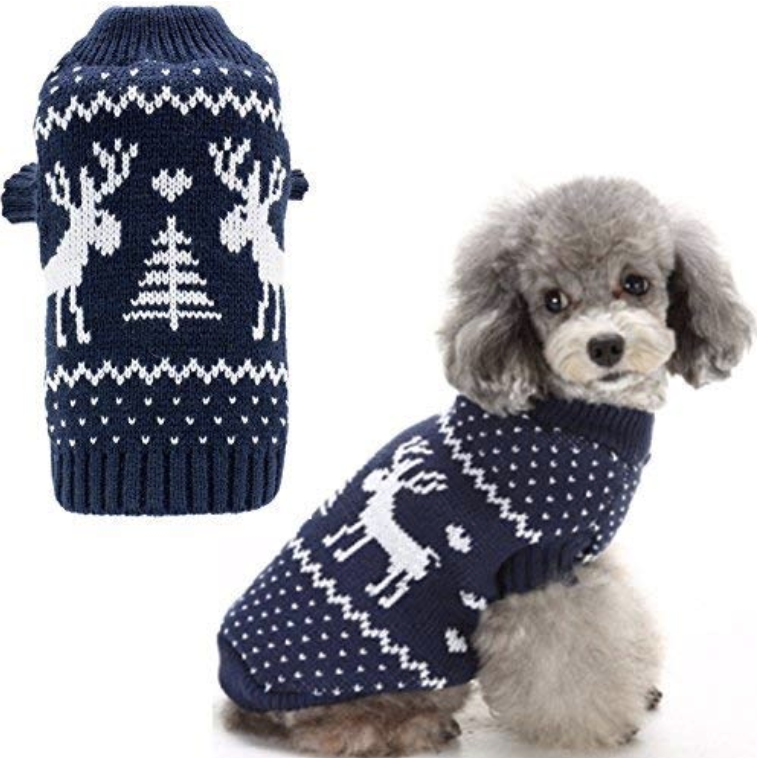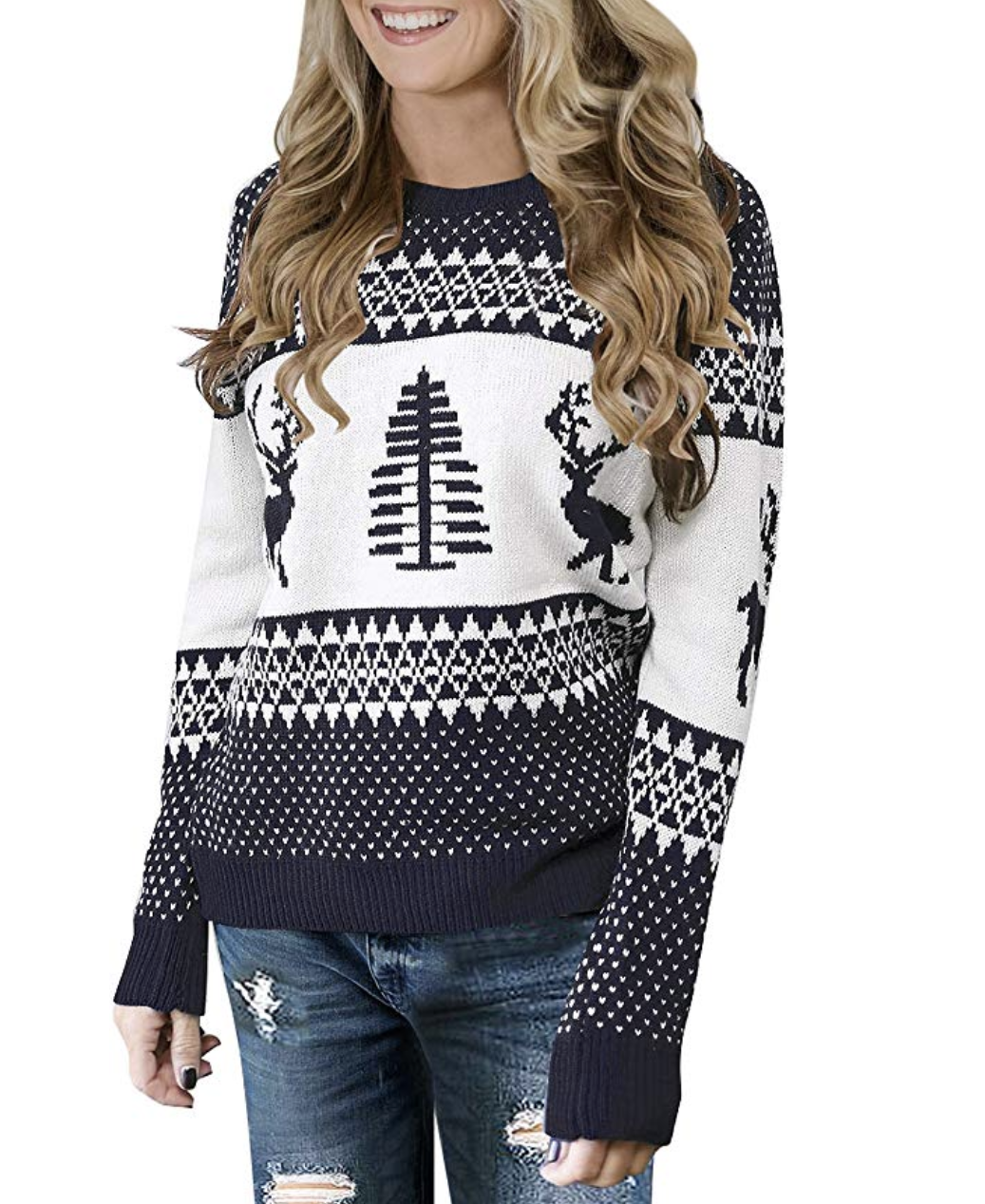 This soft and warm doggo sweater pairs beautifully with this human sweater featuring blue reindeer and trees.
Pawsative Ruffview (dog sweater): "It fits my small (11 pound) min pin mix dog. It is very cute and looks to be a good material. It keeps him warm and he looks very comfy in it! As you can see from the photo, his tail is blurry, he is wagging it so much :-p I think he loves it too."
Pawsative Ruffview (dog sweater): "I am a bit cautious about ordering clothes online because I am curvey and it typically doesn't fit, however, this sweater is perfect! I am so excited to wear it for the holidays, I ordered the darker colored one and it looks exactly like the pictured and actually fits true to size. Very soft and comfortable!"
Get the Dog Reindeer Sweater for $9.99
Get the Matching Human Sweater for $27.99
#11 Reindeer with Pom Pom Nose Matching Dog Ugly Christmas Sweater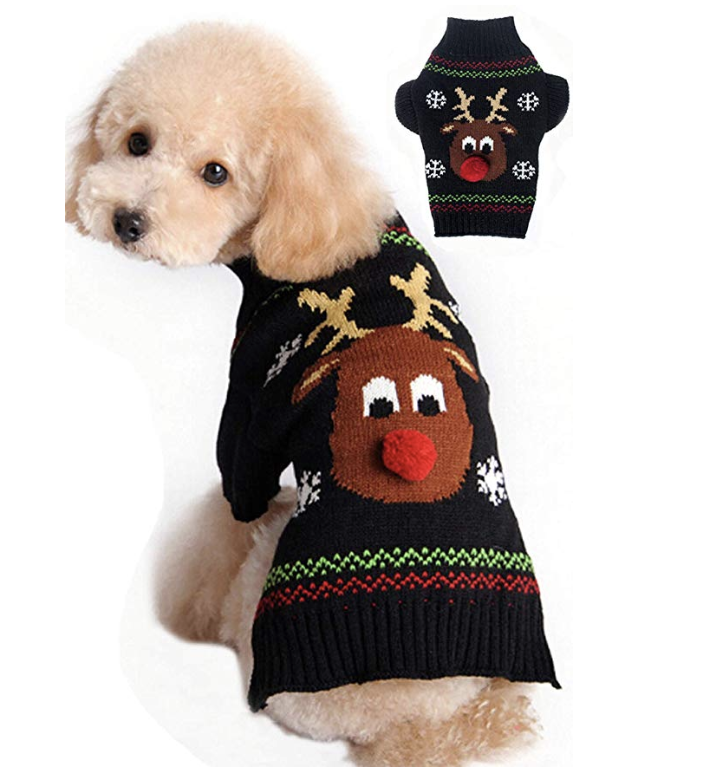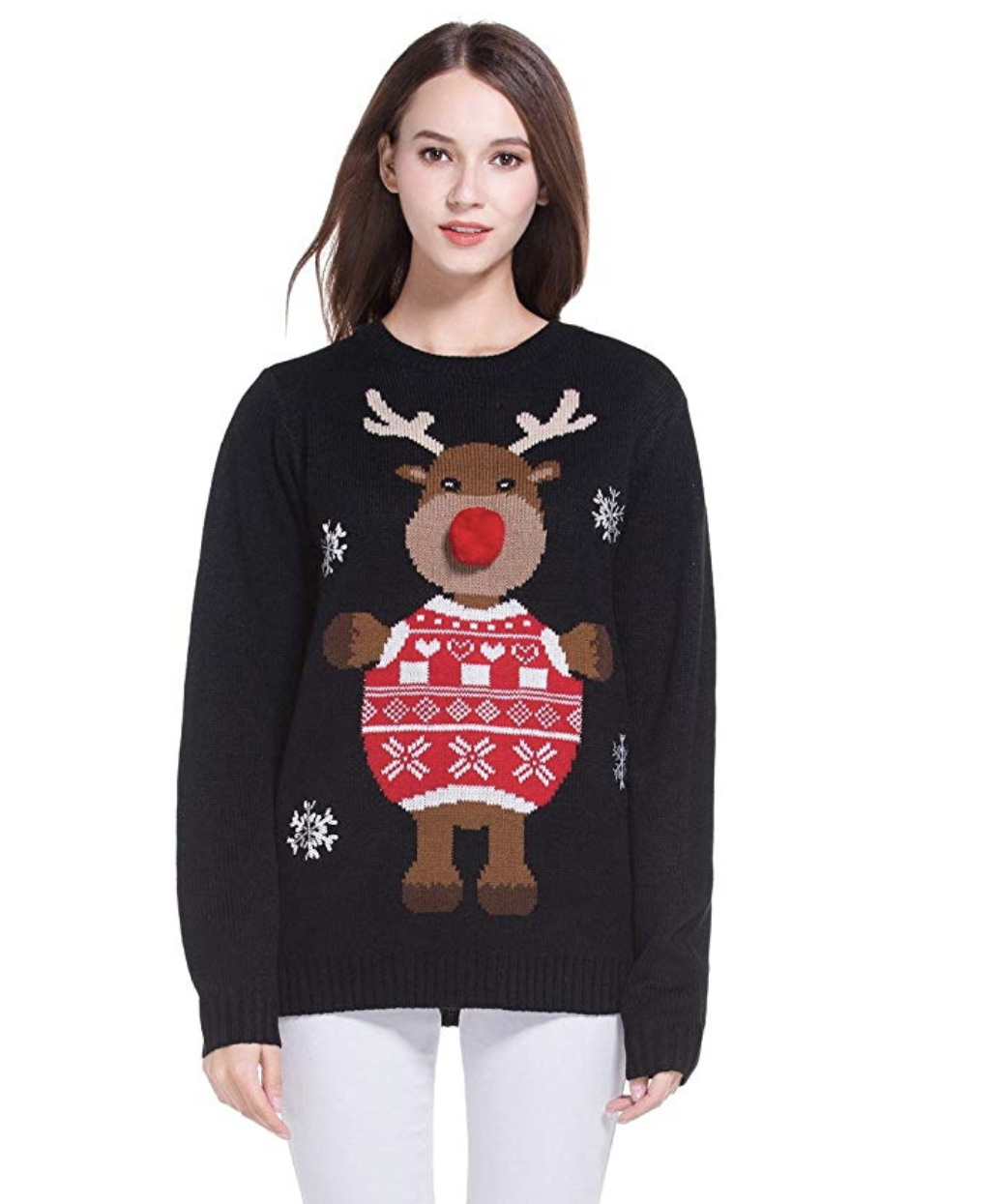 This black dog sweater features a red pom pom nose, true to Rudolph the Red Nose Reindeer. The adorable human version features the same, only with the create wearing an ugly Chrismas sweater himself.
Pawsative Ruffview (dog sweater): "My doggie looked so adorable for Christmas. Size was accurate and well made!"
Pawsative Ruffview (human sweater): "I love it!!! Prettiest ugly sweater ever. It fits a bit baggy, but I loved the fit. It wasn't itchy and was comfy. I'm scared to stain It!"
Get the Dog Holiday Sweater for $9.90
Get the Owner Matching Ugly Christmas Sweater for $19.99
#12 Red Llama Ugly Dog and Owner Christmas Sweater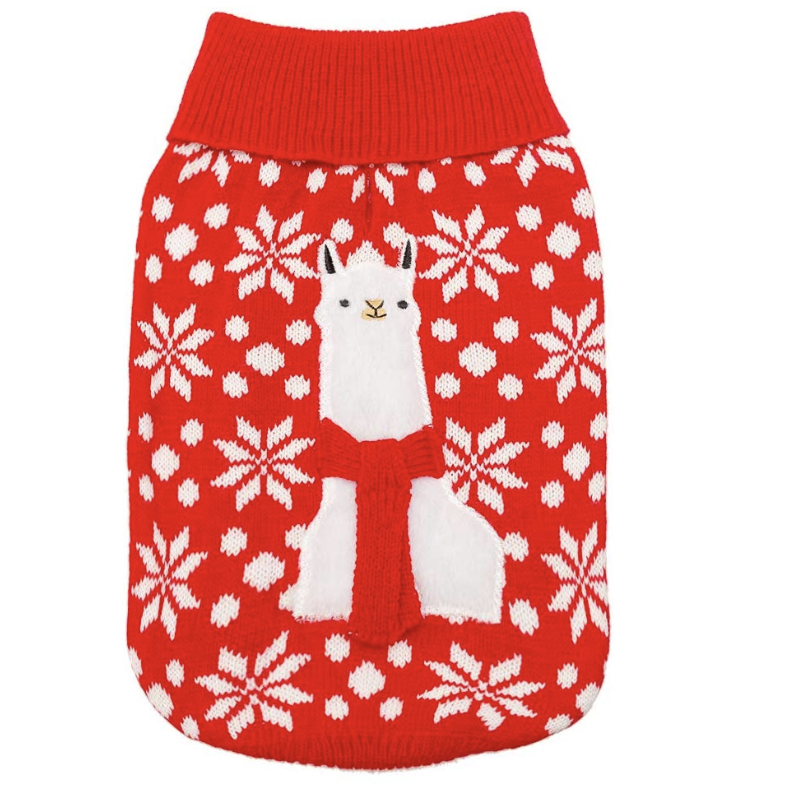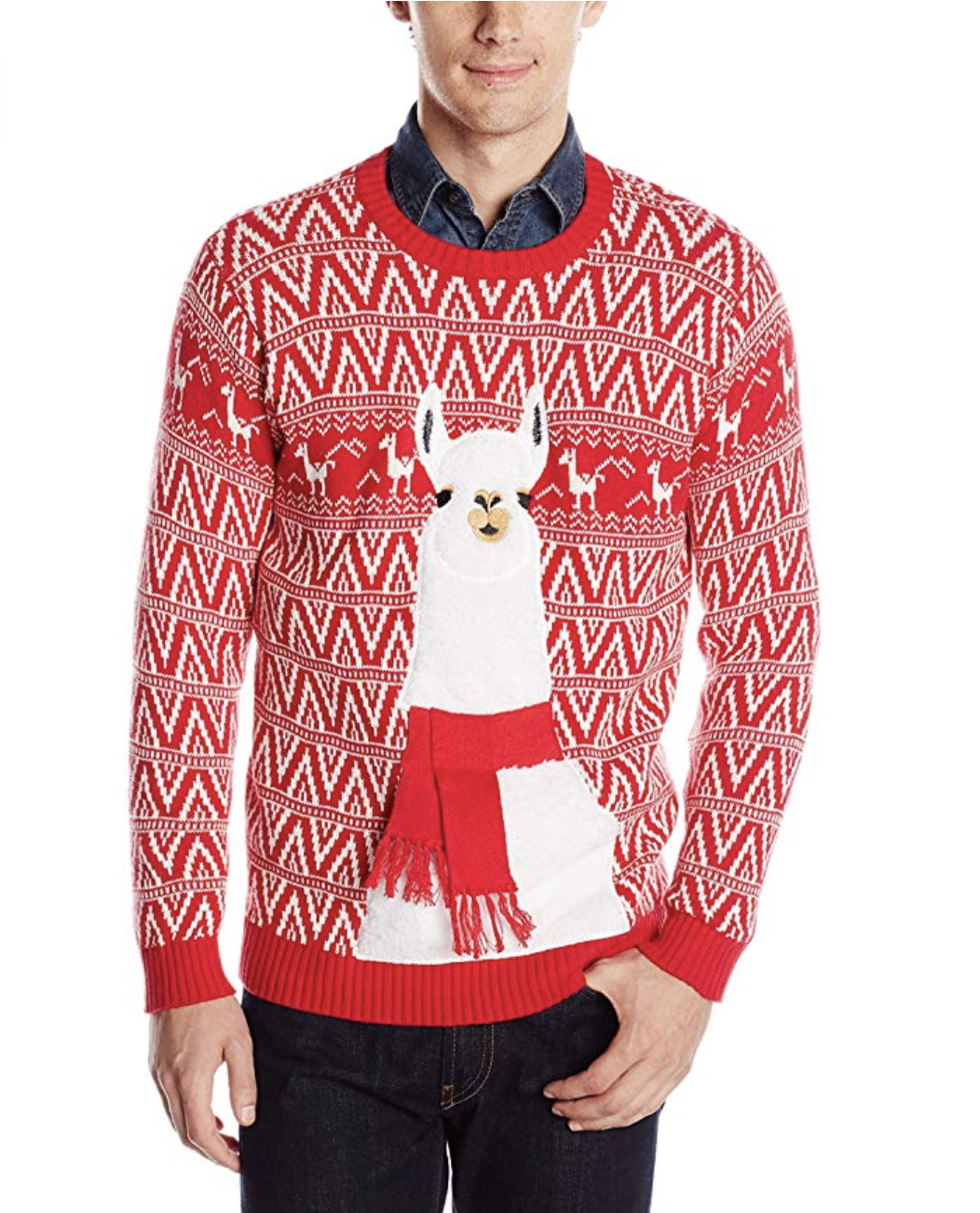 I'm really not sure why llamas have become a holiday symbol, but I kinda like it. If you're a bit quirky and also think it's a good idea, this is the choice for you!
Pawsative Ruffview (dog sweater): "Festive Ugly Sweater??? I don't think so! This sweater is just too cute! We will simply call the alpaca a fun white reindeer if anyone questions why! LOL! Nice quality, with a generous fold over collar aka turtle neck. The sweater is on the thicker side, not thin or wimpy. The small fits my 9 lb. Pom perfectly! I recommend and would buy again!"
Pawsative Ruffview (owner version): "Quality is beyond perfect ! It's so soft , and the llama is adorable ! This is the best ugly sweater in the world ! Product is pretty big , so I got a medium instead of a large and still have room to breathe 🙂 thank you so much!"
Get the Dog Llama Sweater for $11.99
Get the Owner Llama Sweater for $29.99
#13 LED Light Santa Ugly Dog Christmas Sweater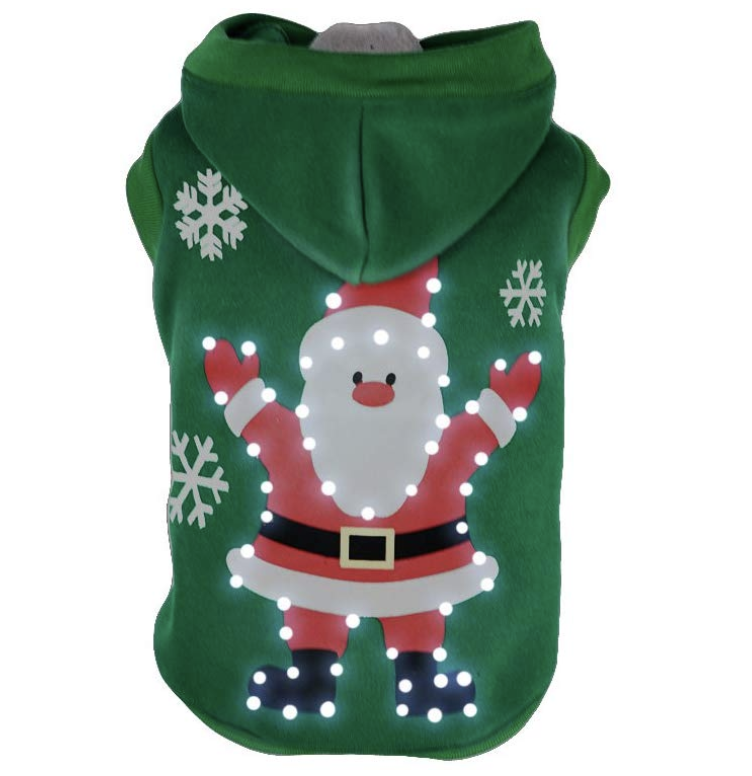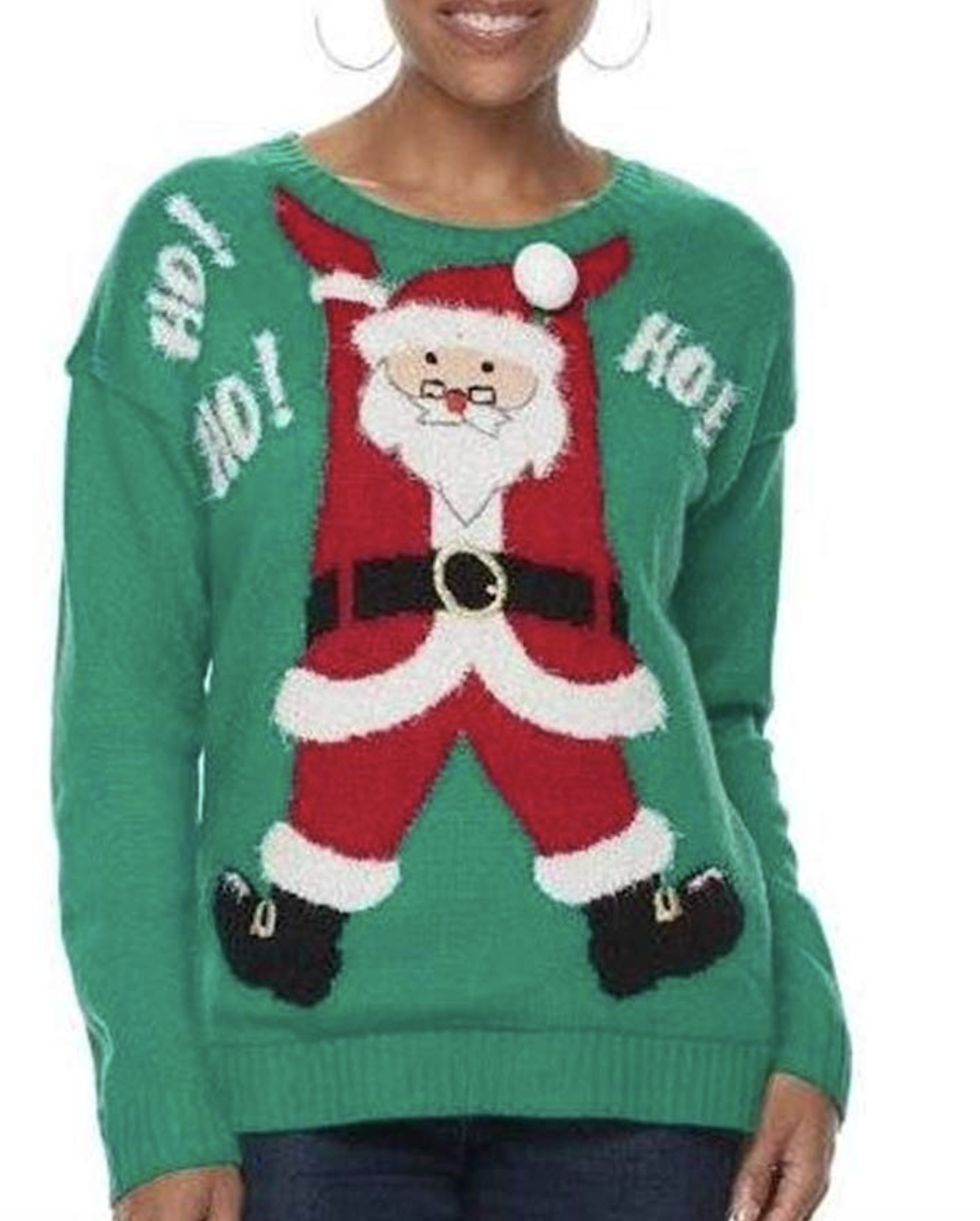 These light are great whether you want to stand out at a party or to keep your dog safe during winter late-night walking. The human version is equally as cute!
Pawsative Ruffview: "This was the hit of the season for our poodle. This is sooo cute and fun and festive. The price is perfect, but this sweater runs small. I will have to order the next size up this year. But, I highly recommend this to any and all dog lovers who celebrate the joy and fun and happiness of Christmas. Thank you, Amazon!"
Get the Doggo Light Up Sweater for $19.07
Get the Owner Light Up Santa Sweater for $39
#14 Mrs. Claus Matching Dresses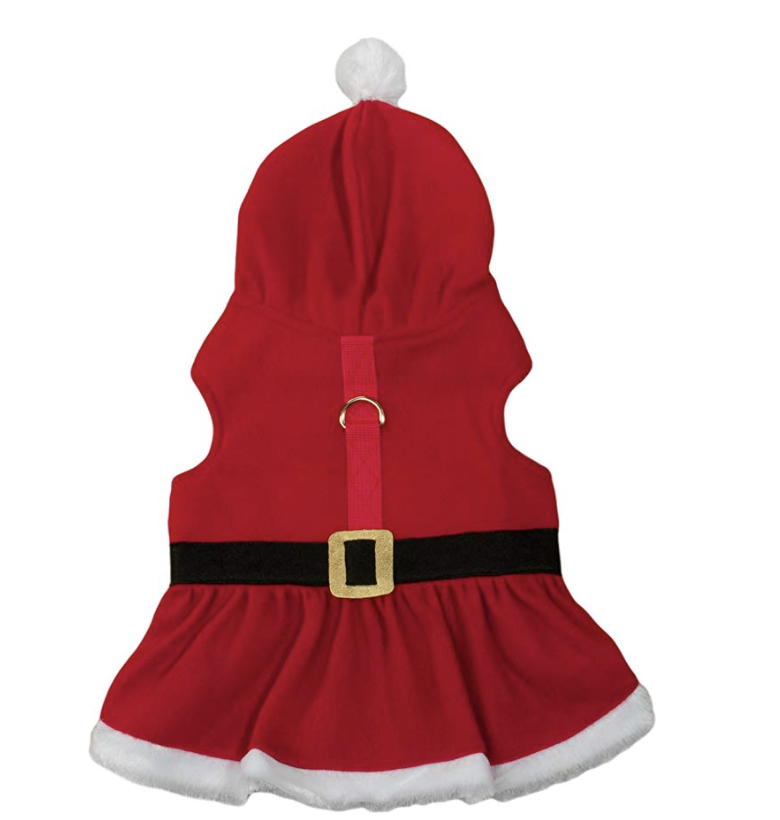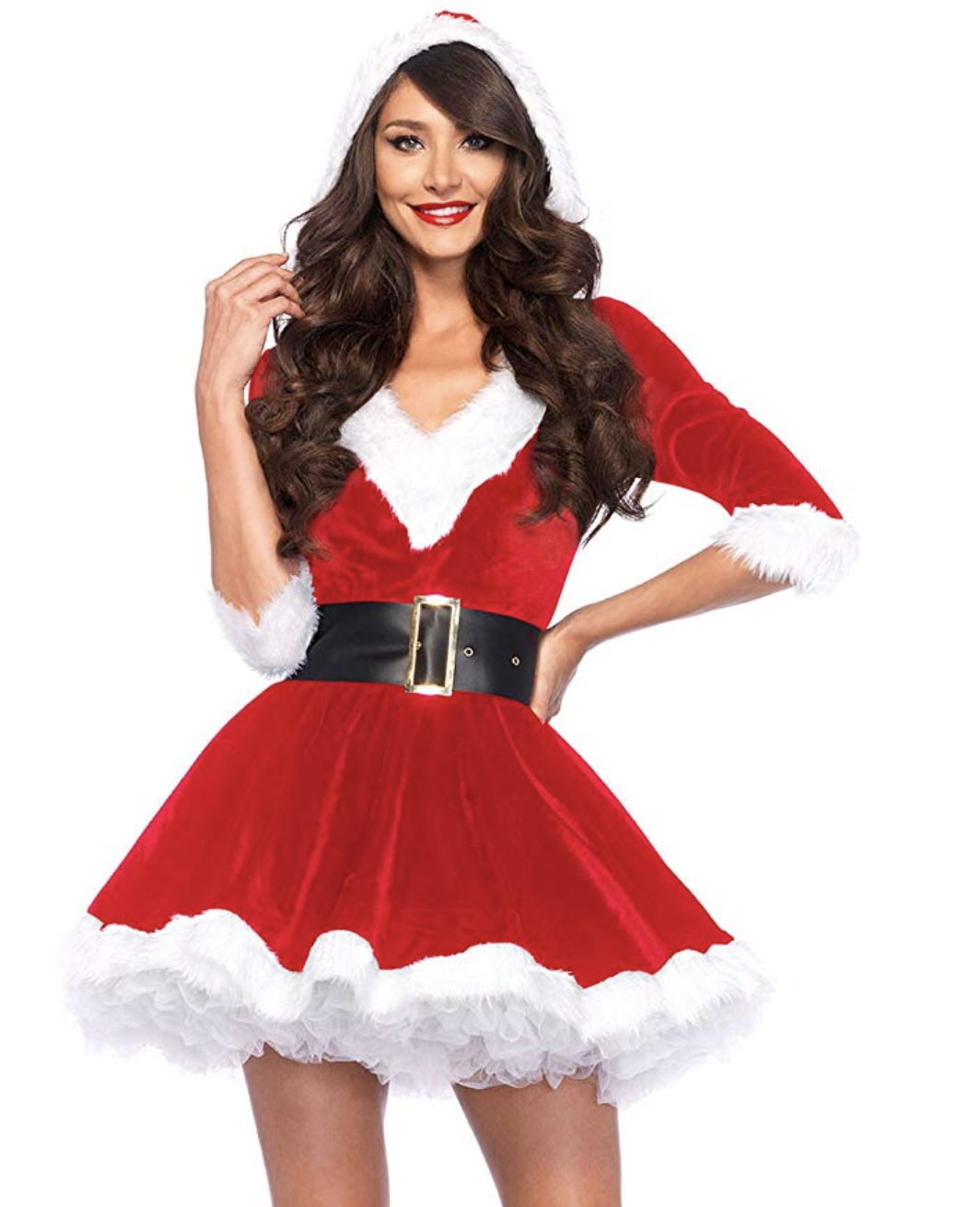 Okay, not exactly a sweater, but an equally adorable choice for fashionista furparents and furbabes! The dog version even has a ring at the top to attach a leash.
Pawsative Ruffview (dog Christmas dress): "Perfect for our 2 month old Bernese mountain dog puppy! We surprised our daughter with our new puppy wearing this, to go with her new Christmas costume. Everything about this costume is perfect. It was very easy to put on. The material is light weight and super warm. Couldn't have asked for much more. It makes a bit of a rustling sound when the puppy walks. It doesn't bother our pup but might bother some extra sensitive dogs. I'd definitely recommend it otherwise. Our puppy fit in a size Large and she's around 20lbs."
Pawsative Ruffview (owner version): "My search for a costume is over. It was tough. Lots of dresses looked vampy, sexy, cheap or grandmotherly. I'm glad I ordered this dress. It is much cuter than expected and comfy. I like that the material is thin but not see through (don't want to be too hot). I'm a size 4, 5″3 with curves and this fit perfectly. It's velvet with a little stretch, dark red and has a small, unobtrusive back zipper."
Get the Dog Santa Dress for $11.99
Get the Matching Santa Dress for $34.93