While you're enjoying your large turkey dinner and stuffing your face with cakes, pies—and whatever else you can get your hands on—Fido is in the corner just wishing he could have a bite.
But usually he can't. Sweets made for humans are way too sugary for dogs and can make them throw up.
You don't need that kinda mess this holiday.
That's why we've compiled a huge list of holiday-themed dog treats that your dog can enjoy alongside his human counterparts.
Since they're all found on Amazon, almost anyone can order them to enjoy all season long.
20 Christmas Dog Treats to Give as Dog Gifts
Take into account any dietary restrictions and flavor preferences when selecting holiday treats. For big bags, you may wish to separate them into smaller bags or boxes and distribute them to other canine friends throughout the season
#1 Pumpkin Dog Ice Cream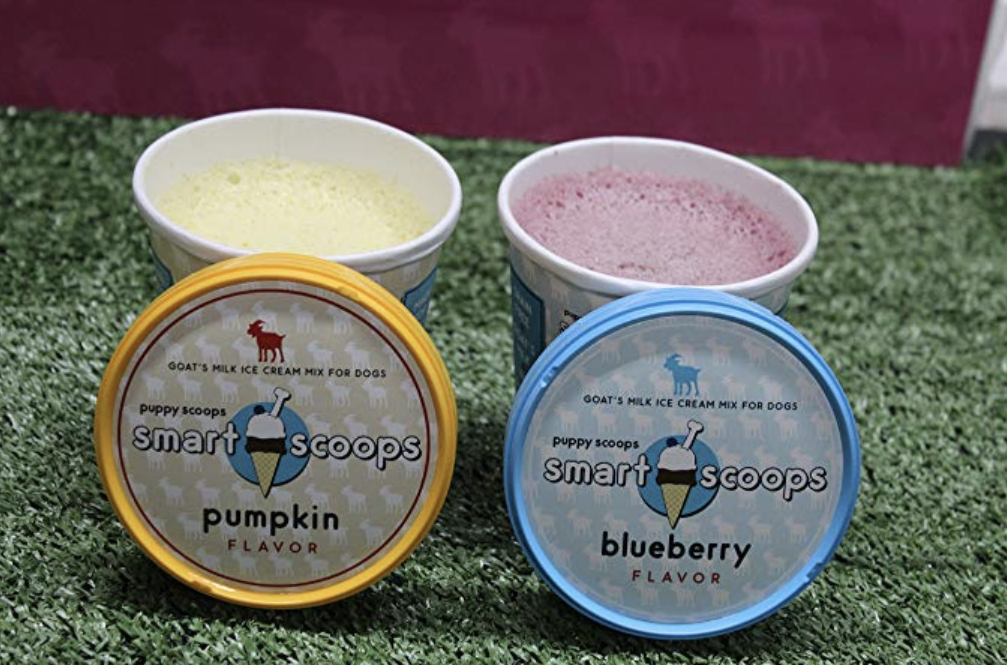 While you enjoy your pumpkin pie and whipped cream, allow your dog to have a pumpkin-flavored treat too. Even in the dead cold of winter, we know he won't object. Simply add water to the mix and freeze for whenever you're ready.
Pawsative Ruffview: "The ice cream was a hit. I bought this for my dog for her birthday. She loved it. Even my cats got to taste it and they liked it. And …. don't tell anyone, but because of the ingredients, I licked the spoon to see what it tasted like. I'm impressed. I'm not going to sit down and eat a bowl of this stuff, but it didn't make me gag. It just tasted like salty, bacon flavored milk. I'll buy this again for MY DOG for other special occasions."
Get Dog Ice Cream Pumpkin Flavor for $8.99
#2 Pumpkin or Gingerbread Dog Biscuits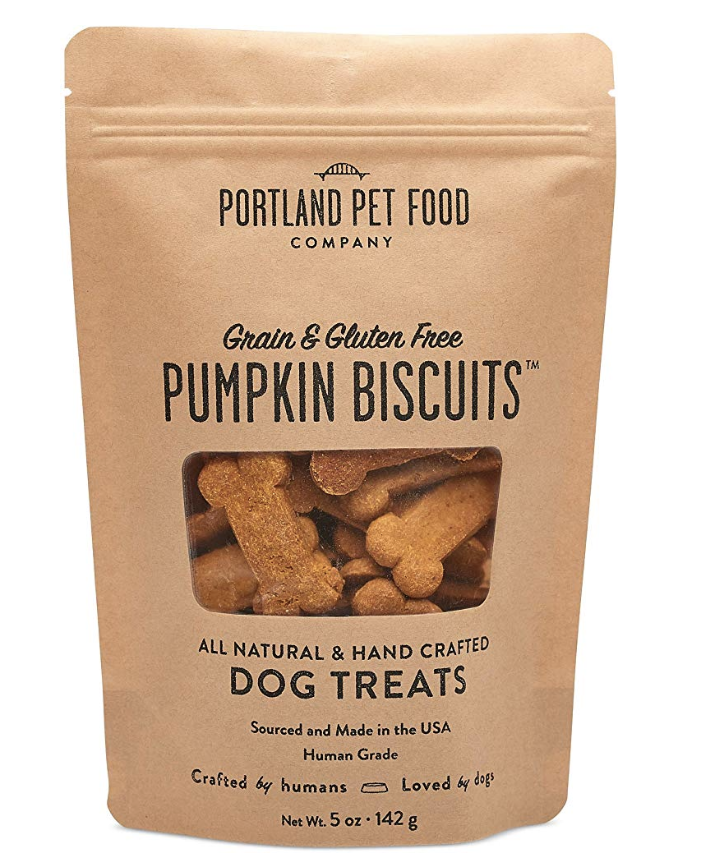 Another pumpkin option, these are easy to digest with nothing artificial. The company also donates 5% of net profits to animal shelters and programs, so get into that holiday giving spirit!
Pawsative Ruffview: "I have searched all over for healthy yummy treats that are low in phosphorus. My dog love these treats. I like that they have very few ingredients and feel like they were not mass produced. The Gingerbread and Pumpkin you can even taste them for yourself. They truly seem like they were baked in your oven. Thank you. Please keep making low phosphorus treats."
Get the Pumpkin or Gingerbread Treats for $10.99
#3 Gourmet Box of Christmas Dog Treats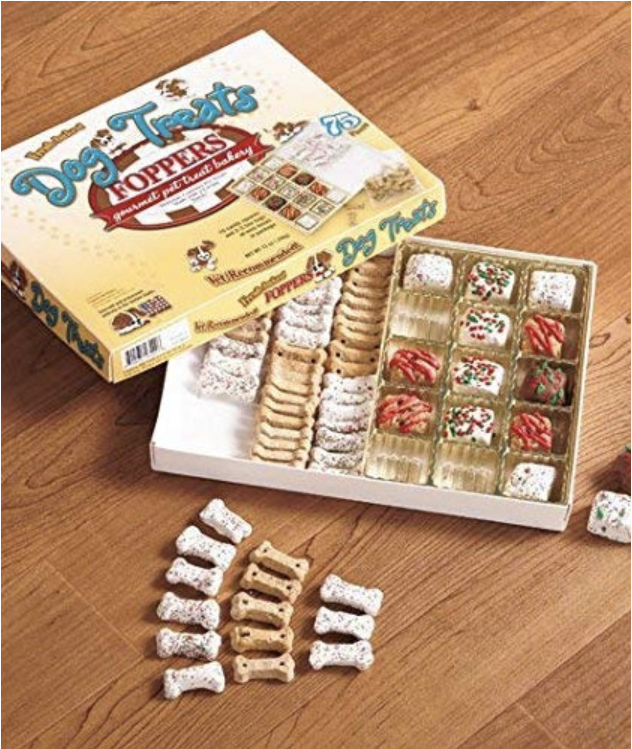 Who doesn't love a box of chocolates? Of course, your dog can't have cocoa, but this is the next best thing! The package comes in with 75 assorted all-natural treats.
Pawsative Ruffview: "My mom (RIP) ordered these cookies every single Christmas for about five years for our dogs. She ordered them from some mail order catalog. Our dogs love opening the box on Christmas and enjoy the cookies even more! Some are a nice, quarter size, others are a tiny (like the bones). Always crunchy, have never been stale. The presentation on the box is beautiful and this was the first year I thought the dogs would have to go without them, but they magically appeared as a suggested in my Amazon feed!! I just HAD to get them:) ~ we love how this came to be for us this year, and the dogs just love the product! I hope I can buy them again next Christmas :)"
Get these Gourmet Holiday Treats for $25
#4 Christmas Dog Treat Cookies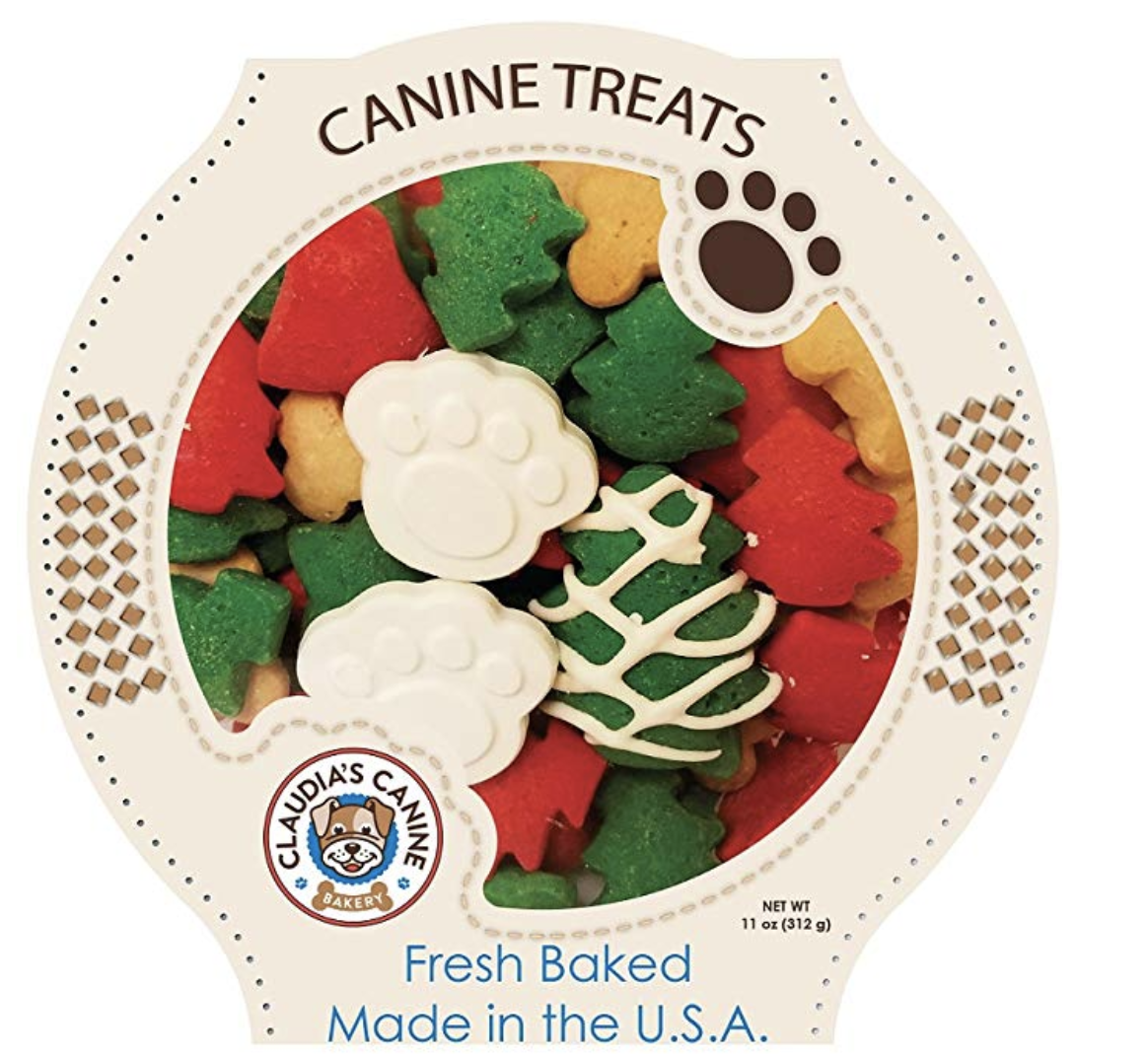 This package contains 50 homemade Christmas dog treats—all human-grade. You can expect the cutest holiday designs, including bells and trees.
Pawsative Ruffview: "These are the only dog "bakery treats" my doggies will eat! They don't like all of them but they do enjoy the red and green trees, which was enough for my to repurchase them for! When it's the holidays and we all have Christmas cookies, I love to be able to give my doggies a Christmas treat too!"
Get the Holiday-Shaped Dog Treats for $13.99
#5 Snowflake Dog Treats Vanilla Flavor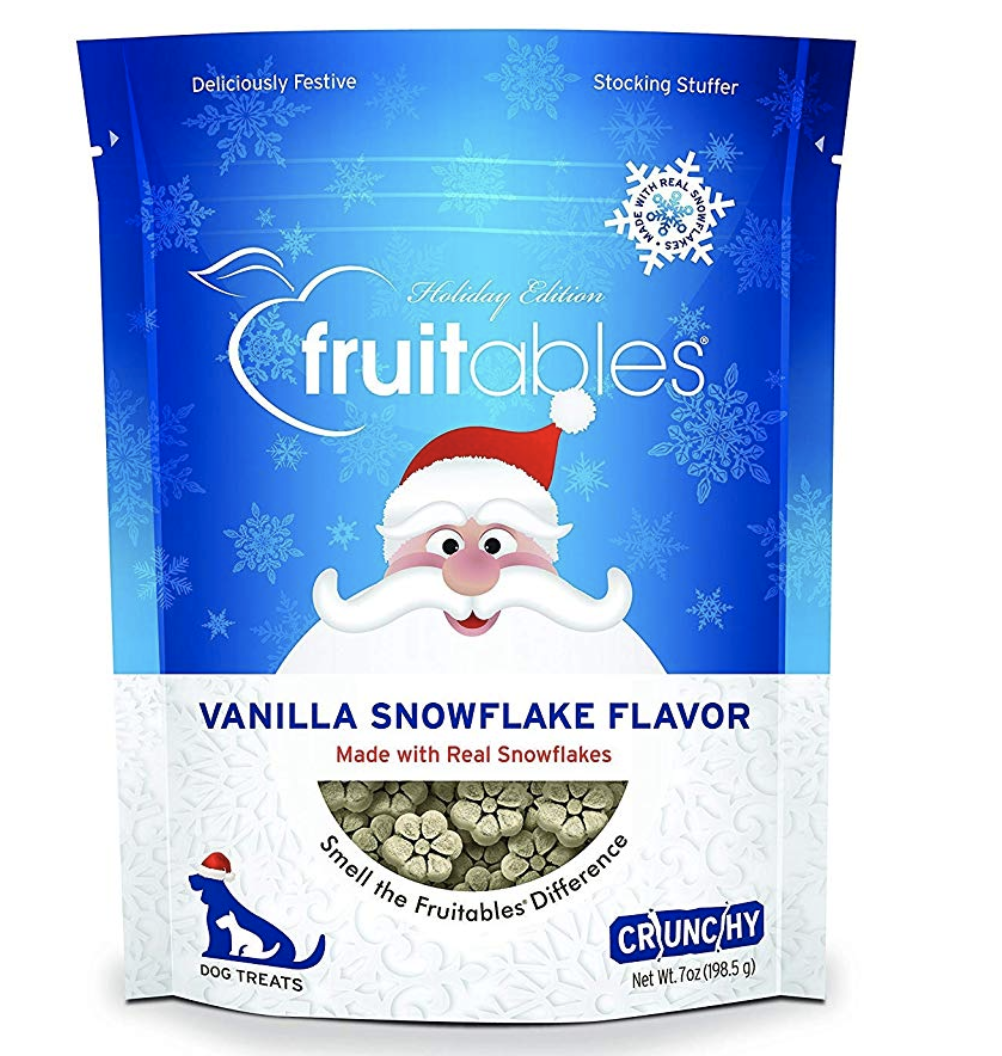 I wrapped these up last year for my dog and he loved them! They're small enough to use as training treats and tasty enough to have your dog licking his lips all day long in anticipation. Also, unlike other dog treats, these don't smell disgusting or leave a weird scent on your hands.
Pawsative Ruffview: "I have a finicky eater, my British Lab…but when I put a few of these Snowflake Vanilla treats on top, he eats his entire serving of food! They also make great training treats and they are easy to break apart to make them last longer."
Get these Snowflake Treats for $4.49
#6 Gingerbread Dog Christmas Cookies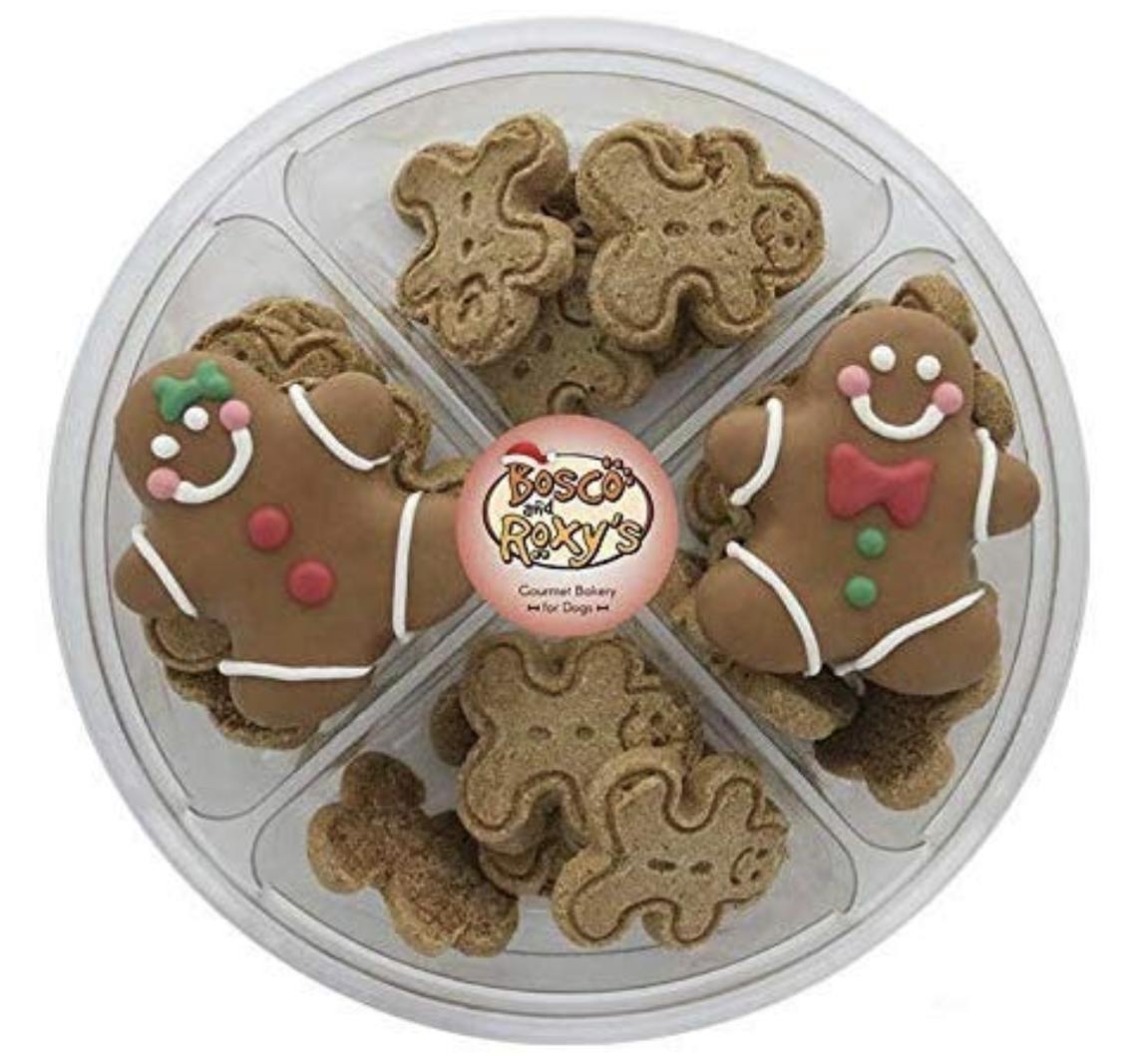 This tub of treats features little gingerbread and some even with icing. Now, your dog can enjoy gingerbread men alongside you.
Pawsative Ruffview: "Occasionally you find a Black Lab that is 'fussy' about what she eats! I know that sounds impossible, but it's TRUE! We have had Labs in our household for over 40 years. Our latest Lab is the FIRST one to be 'fussy' about food. We bought her these for Xmas and she LOVED them! Gobbled them up! DOG APPROVED!"
Get the Gingerbread Dog Treats for $18.99
#7 Crème Dog Treat Cookies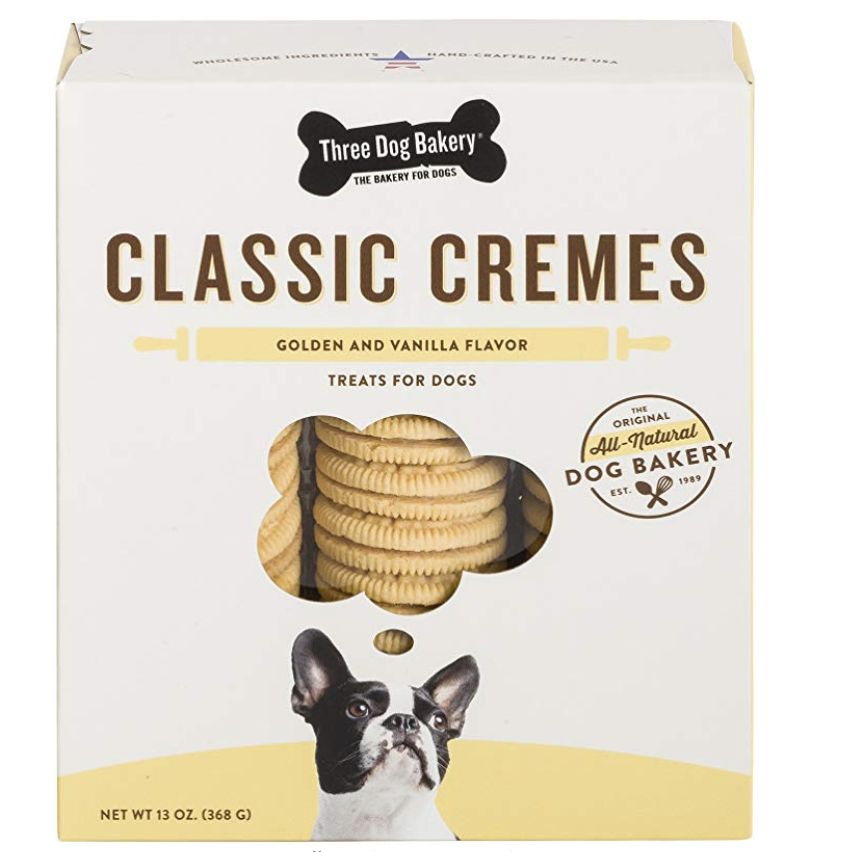 You know those Christmas cookies filled with jelly or cream? Aren't they delicious? Well, this is the dog version and it comes in 3 classic flavors:
Golden and Vanilla
Carob and Peanut Butter
Golden and Peanut Butter
Pawsative Ruffview: "My dogs loved these so much I was tempted to try one. Ok, I did. One little bite. Much to my dogs' dismay. It was good. I let them have the rest. They forgave me. I did it reluctantly."
Get the Doggy Cookies for $6.64
#8 Holiday Cheer Pupcorn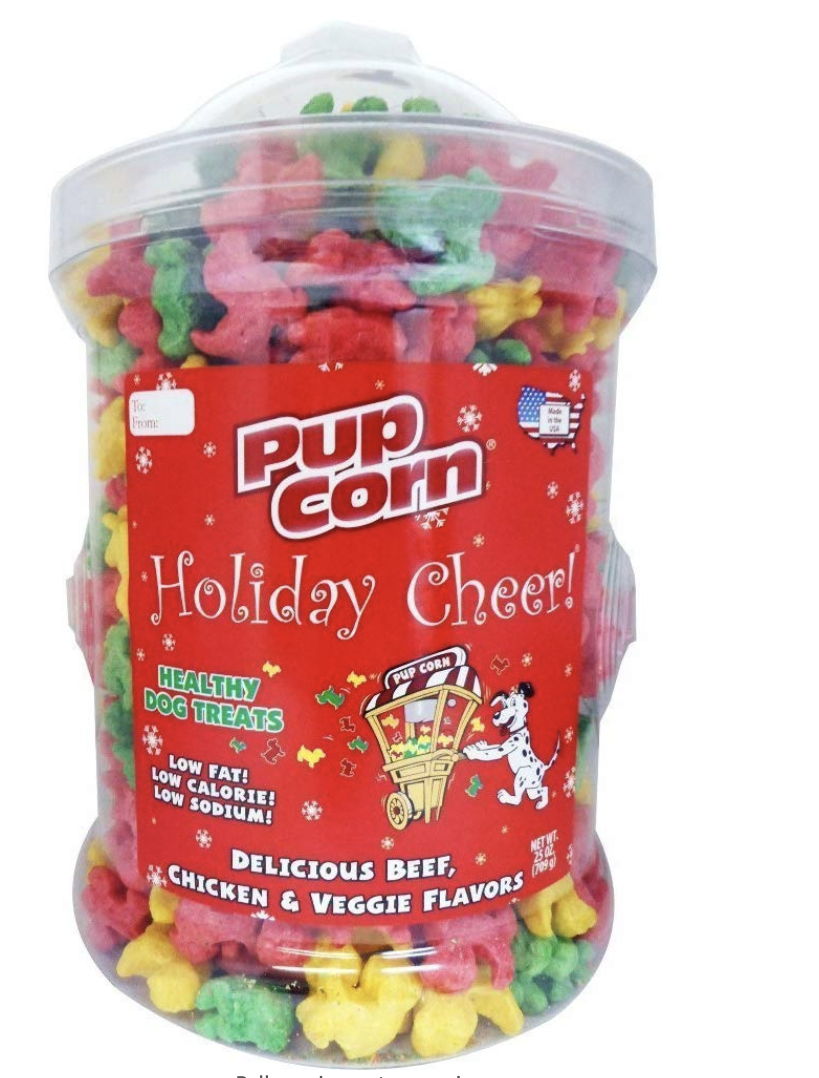 While you string popcorn to make Christmas decorations, pop a few of these colorful treats into Fido's mouth. These USA-made treats are even packaged in a cute fire hydrant shape! Pawsative Ruffview: "I live in a building with about 140 other people and many doggies. Also my siblings have lots of doggies too. So for Christmas I bought this and separated them into zip lock baggies and handed them out for doggie Christmas presents. Although to a human they appear to be like rice cake or styrophome consistency, they are cute, colorful doggie shapes and dogs love them. This container had the flavours of chicken, beef, and vegetable and the doggies liked each flavour."
Get the Pupcorn for $29.99
#9 Grain-Free Holiday Dog Treats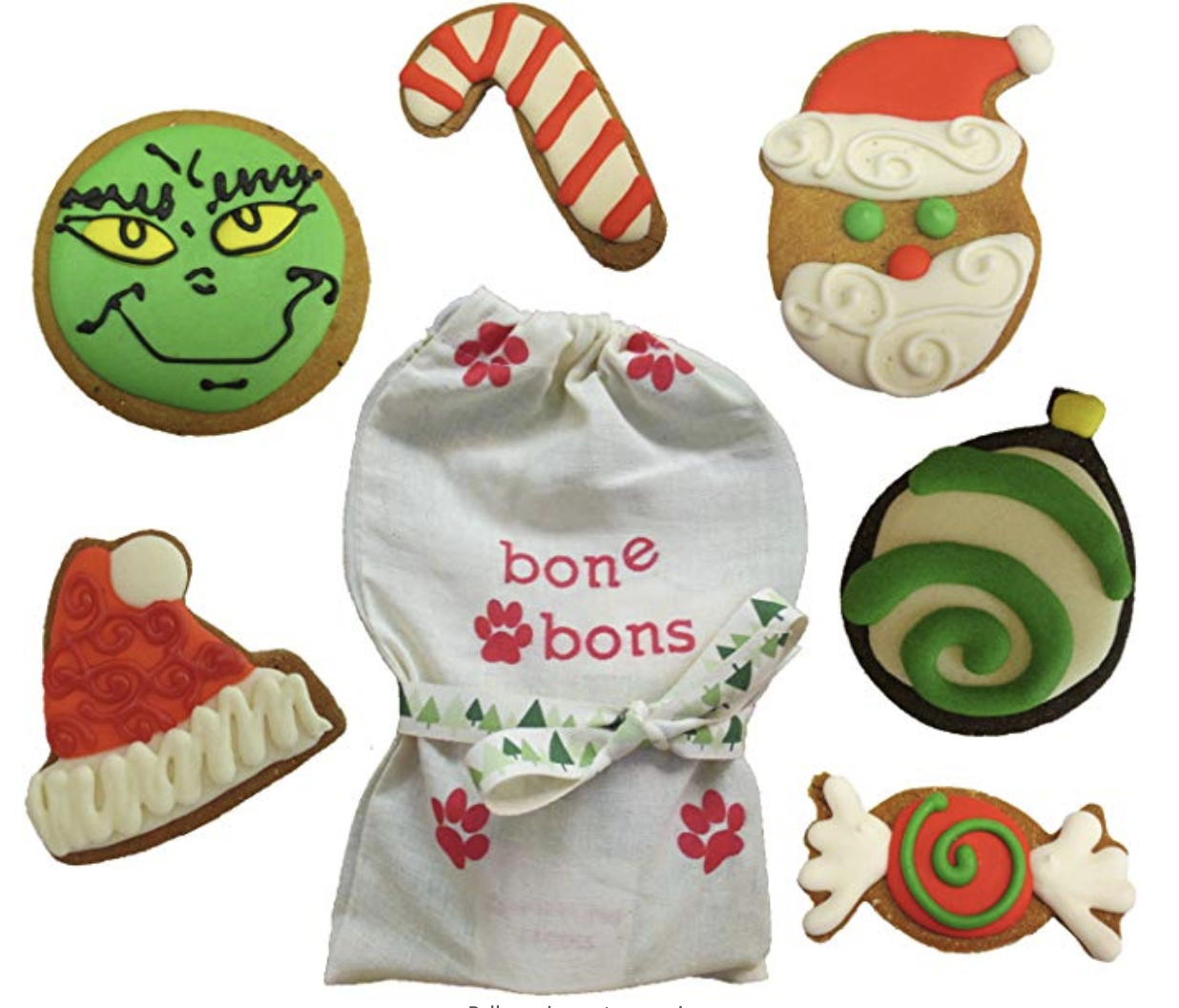 Just because your pup has a sensitive stomach doesn't mean he needs to forgo Christmas cookies! These grain-free treats even include colorful icing in shapes such as the Grinch.
Pawsative Ruffview: "Just gave a cookie to the dog on Christmas, and he loved it! He's a an 18-lb terrier, not very big, so now I give him 1/3 or 1/2 of one. They are about the size of a standard Christmas cookie, so they're big to give him a whole one. He has grain allergies, so I've not been able to get him real "cookies" before. This is a great treat."
Get the Dog Christmas Treats for $19.99
#10 Reindeer Rawhide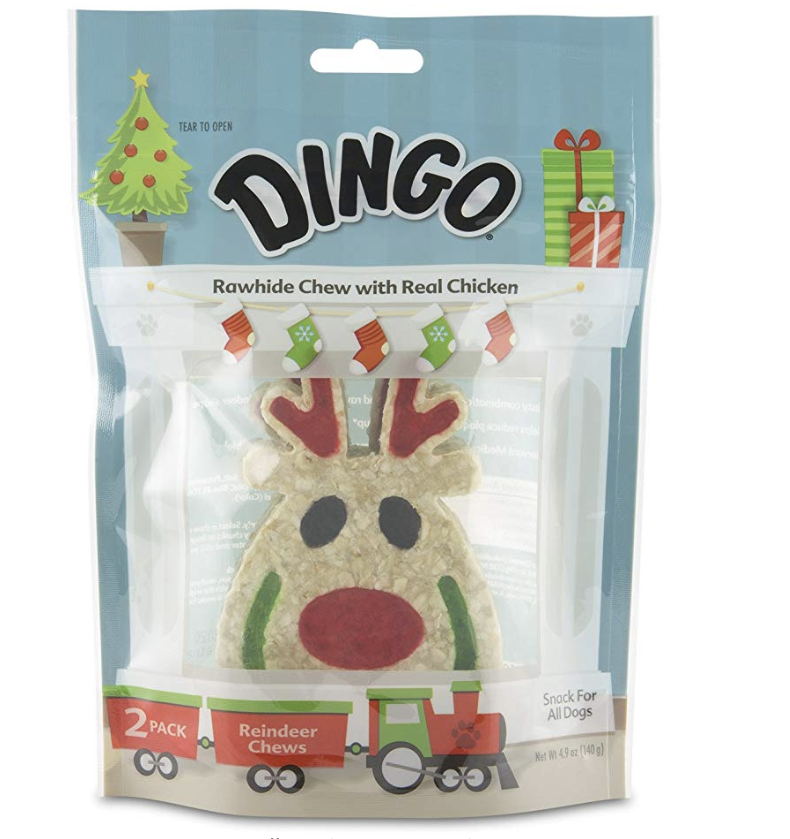 It took 5 reindeers to make this dog chew. Just kidding, it's only chicken—but the reindeer shape is adorable! It comes in other holiday designs tool:
Christmas Wreath
Holiday Cane
Holiday Mini Bones
Gingerbread Men
Pawsative Ruffview: "Our little puppy got these in his stocking for Christmas and he absolutely loved them! Super cute and we could tell they tasted great because they kept him occupied. We're always looking to feed our pup delicious treats made from real ingredients and these fit the bill. Definitely recommend for a cute, wholesome treat around the holidays."
Get the Christmas Dog Treat Rawhides for $4.37
#11 Gift Box of Dog Christmas Cookies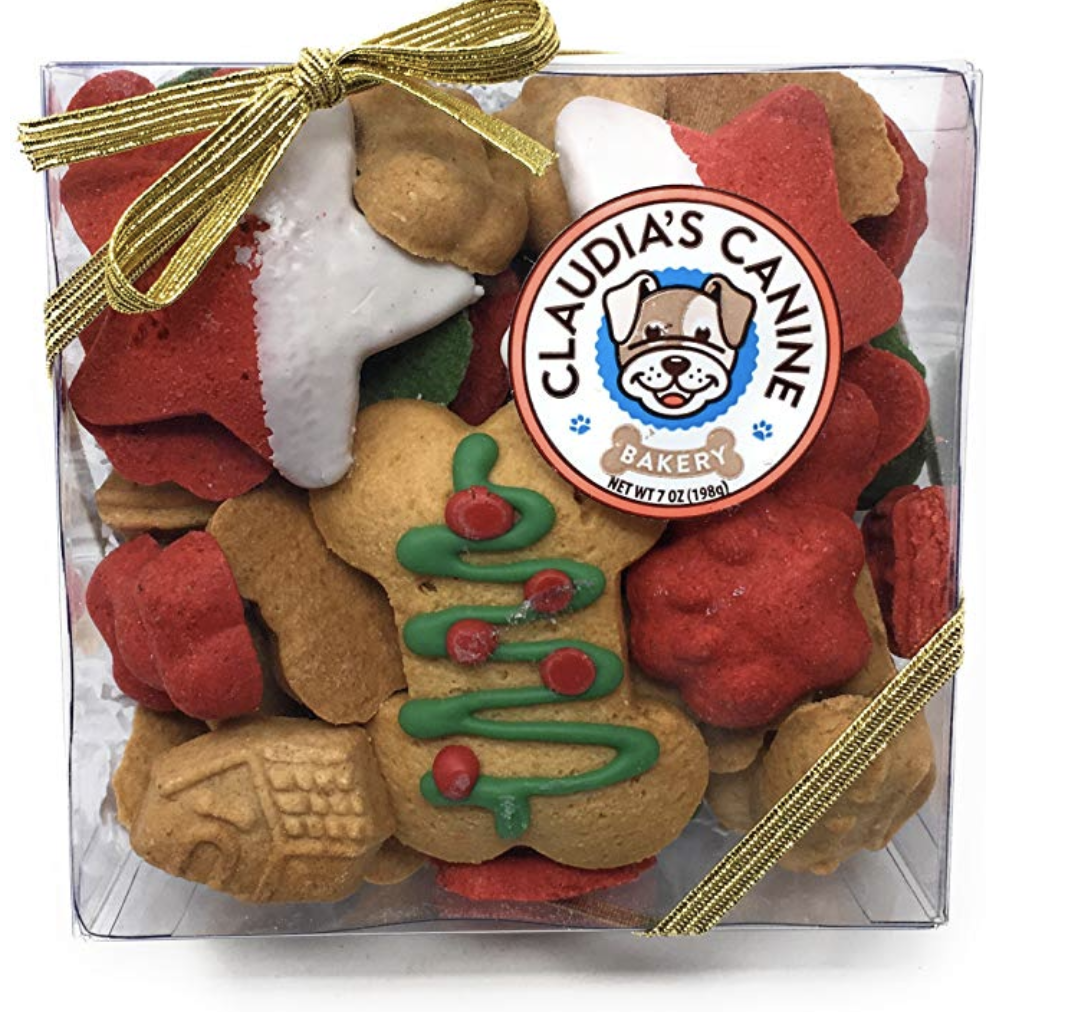 You'll get about 45 treats in holiday shapes. They're made in the USA in a professional bakery. Be sure he shares some with his friends!
Get these Dog Cookies $15
#12 Kingles Cookies in Cinnamon and Oatmeal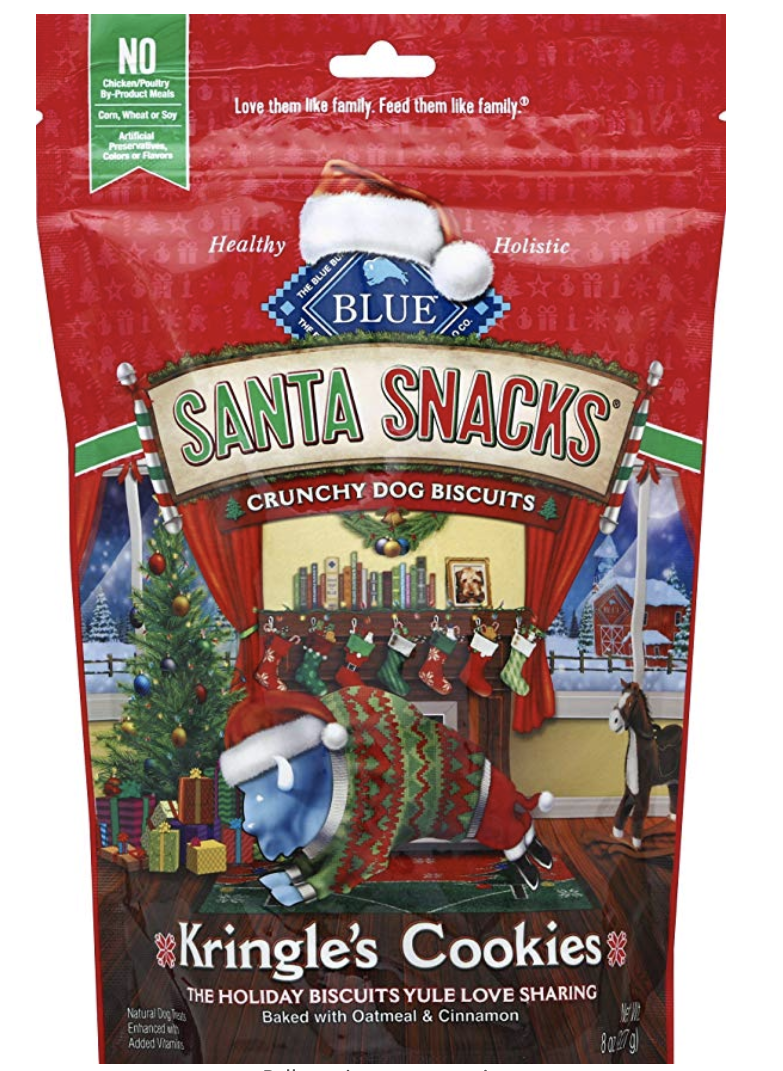 Another classic holiday flavor, these are made with natural ingredients and no by-product meal, corn, wheat or soy.
Pawsative Ruffview: "My dogs freakin' LOVE them! Like, they escaped the house one day and I took the bag outside and rustled it around and they gave up their free play to run back to me and get a Santa snack. So glad I was able to get more on Amazon!"
Get these Cinnamon Treats for $11.11
#13 BarkBrew Dog Beer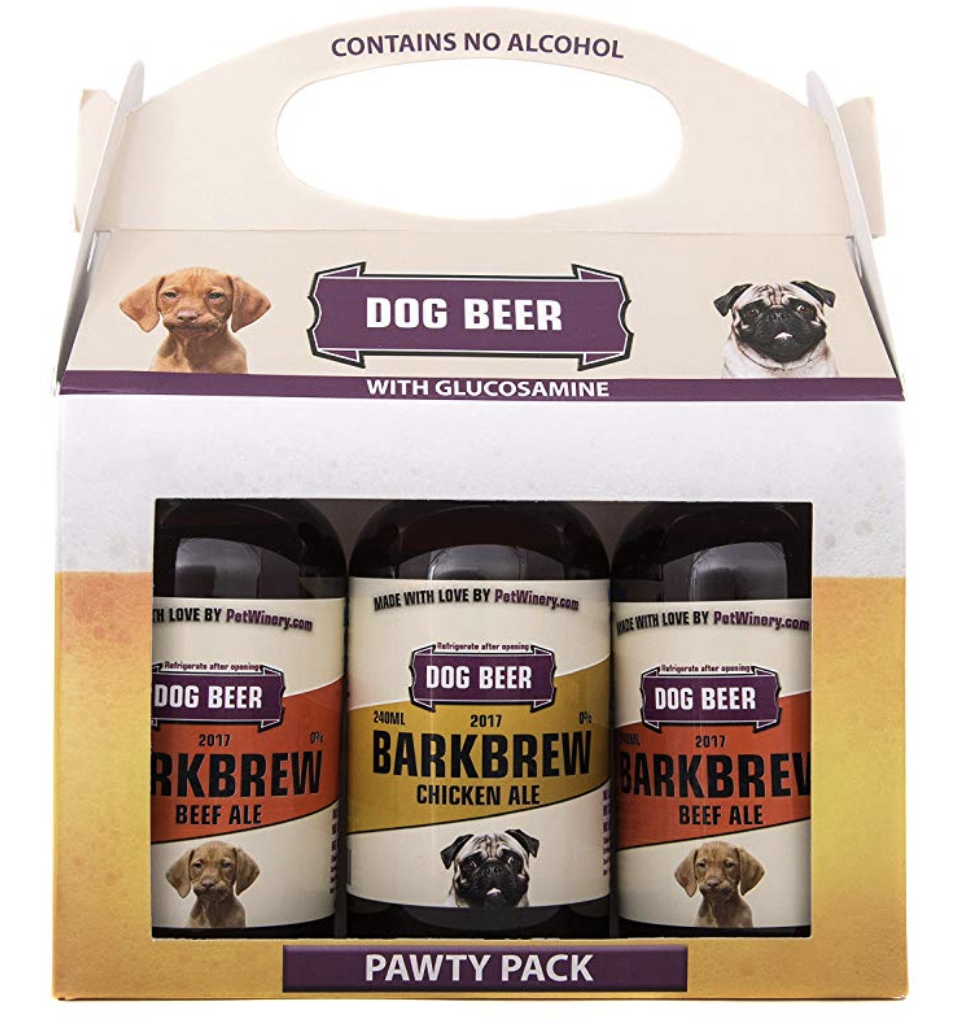 Don't leave the doggo out of this year's cocktails! Give him his own with this all-natural dog beer. This pack comes in beef and chicken flavor and don't worry, it doesn't actually contain alcohol. It can also be frozen for a cold treat.
Pawsative Ruffview: "It was my dogs 3rd birthday(21st) and we had some of his friends over and that really liked it."
Get All-Natural Dog Beer 3-Pack for $20.99
#14 Doggo Champagne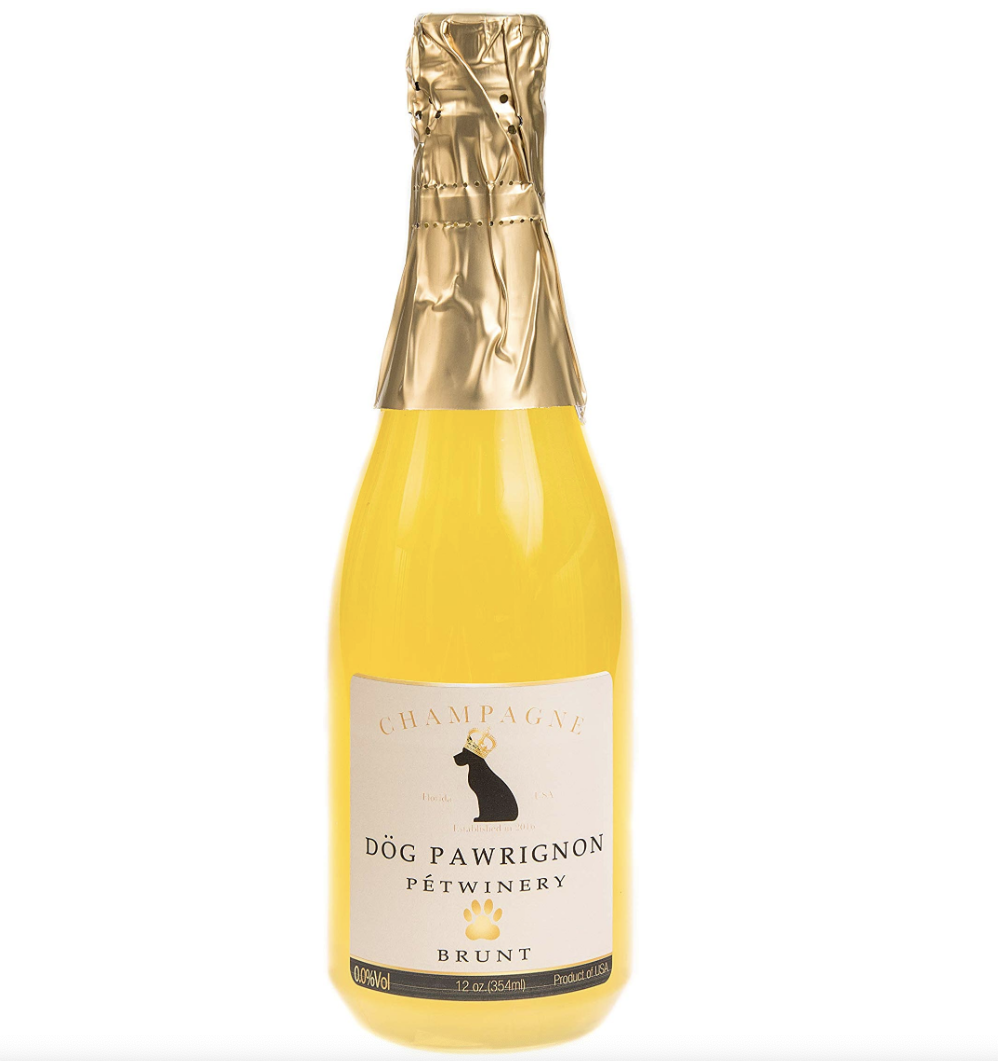 Toasting to a holiday filled with family and friends? Puppy can too! Simply pour him a glass of this non-alcoholic champagne. It even contains Alaskan salmon oil to improve his coat.
Get Dog Champagne for $17.49
#15 Dental Christmas Dog Treats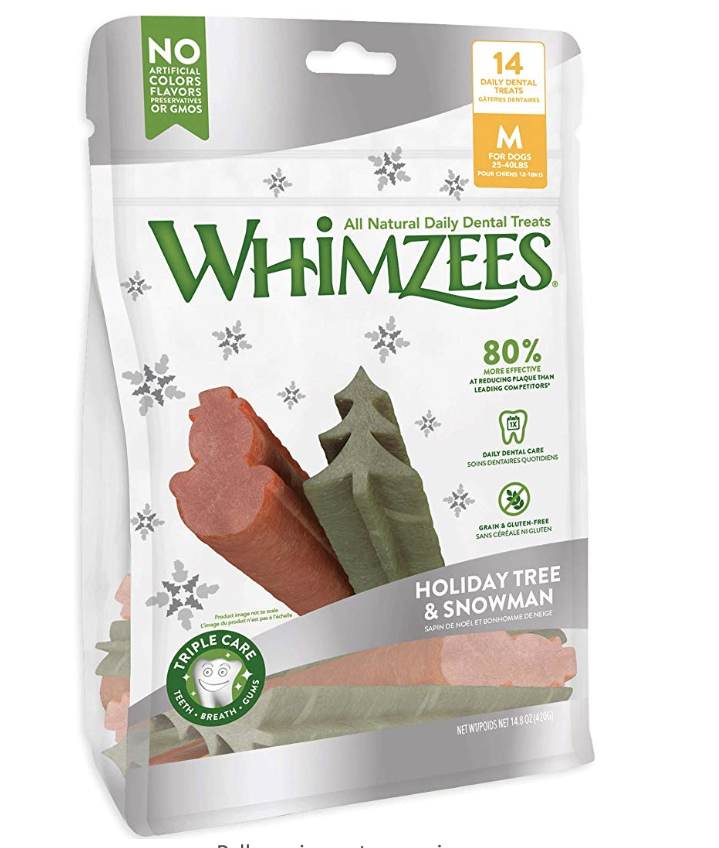 While everyone else's teeth are rotting from the plethora of holiday sweets, your dogs will be squeaky clean thanks to these treats. Made like traditional dental chews, these feature adorable snowman and Christmas tree designs on the ends.
Pawsative Ruffview: "My Dog loves these."
Get the Dental Holiday Chews for $14.99
#16 Turkey Strips for Dogs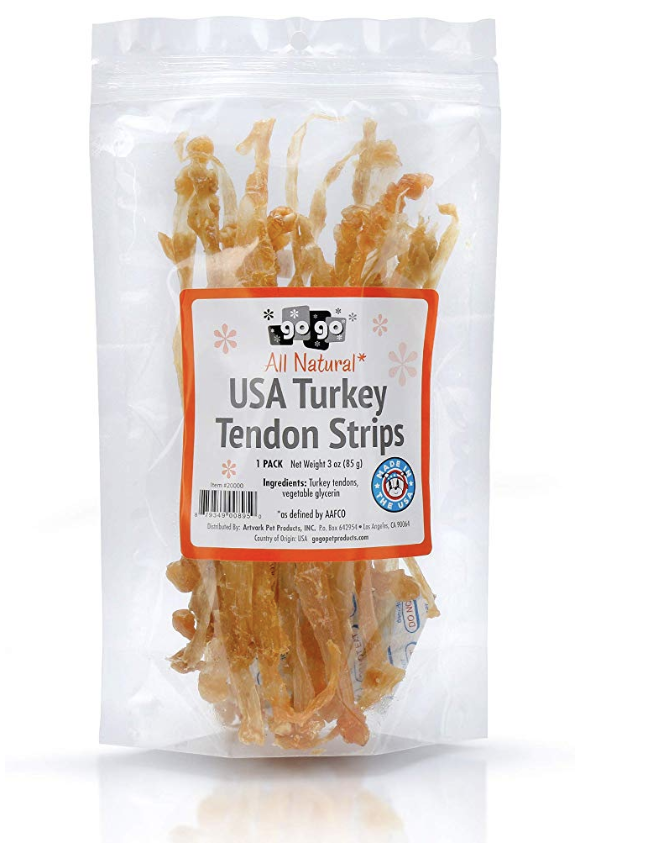 While you eat turkey dinner, doggo can munch on these delectable turkey strips. They're made with free-range turkeys and that's the only ingredient!
Pawsative Ruffview: "My dog literally cannot get enough!! I usually put down 2 or 3 other treats at a time just to get an idea of what she really likes and these are almost always her top choice next to beef jerky. It takes her no less then 3 minutes to eat one and the length of each is about 2/3rds of a ruler. These treats are a moderate chew, not soft but not very hard either. Overall a great product."
Get the TurkeyTreats for $14.99
#17 Freeze-Dried Turkey Christmas Dog Treats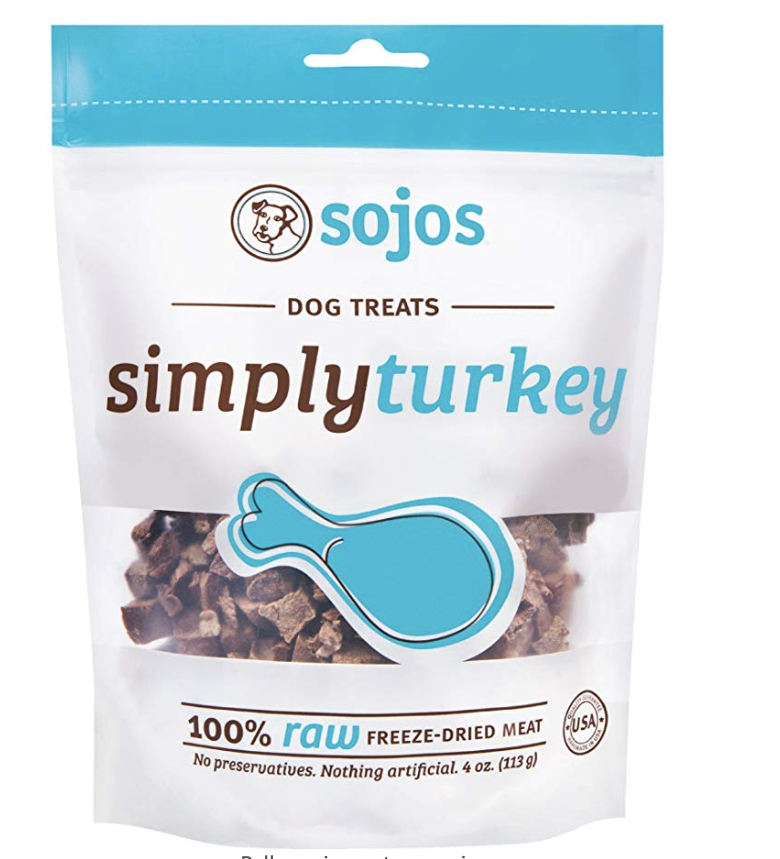 These made-in-the-USA, all-natural treats are another great option to entertain your canine during Christmas dinner. He'll love unwrapping his gift to discover this meat scent.
Pawsative Ruffview: "This brand is awesome, and I wish my local pet store carried them. I have tried (or my dog has tried) both the turkey and the lamb flavors; I love that these are all meat, no processing, no flavors, nothing else added to them – my dog has several food allergies and these are a great training/reward treat that are easy on his skin and stomach."
Get the Turkey Dog Treats for $9.99
#18 Sprinkles + Frosting Dog Bones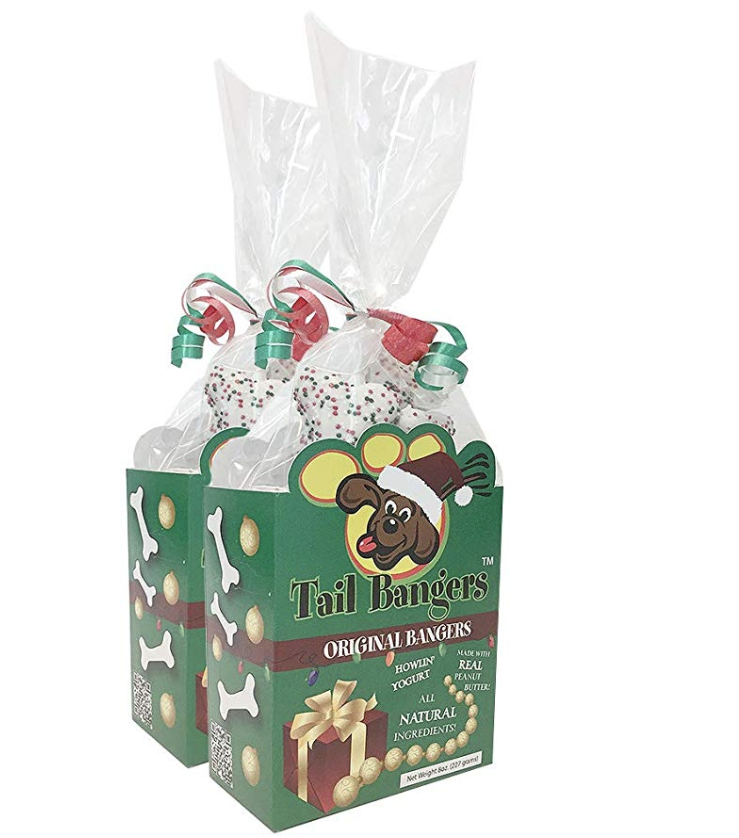 These look so delicious you'll almost want to take a bite yourself. These bones are covered in white dog frosting and rolled in colorful sprinkles.
Pawsative Ruffview: "My German Shepherds love these! They smell so good, you'll want to eat them! The products are exceptional quality and I will always buy Tail Bangers for my girls!"
Get these Frosted Christmas Bones for $19.99
#19 Iced Dog Cookie Assortment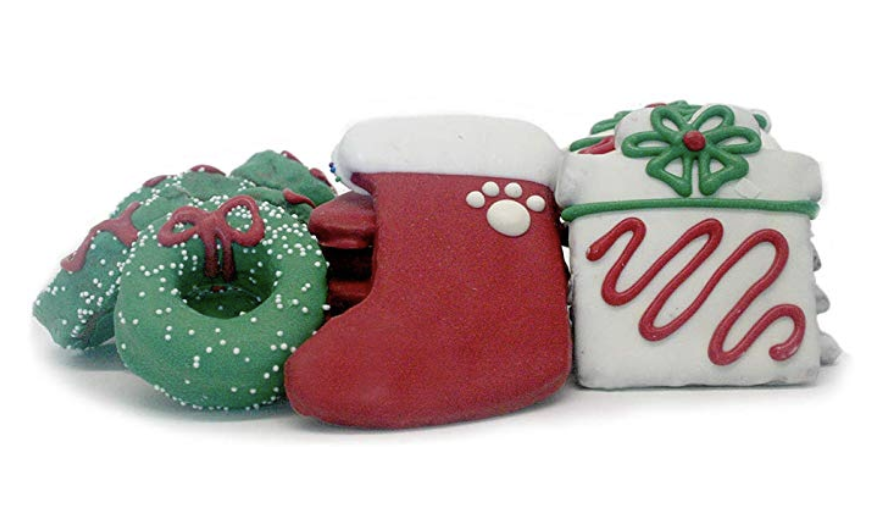 Here's another iced dog cookie option. Beautifully made in wreath, stocking and gift designs, these are all-natural and made in the USA. No corn or soy makes them a great idea for sensitive tummies.
Pawsative Ruffview: "I was a little nervous buying a large quantity of fresh, decorated dog cookies so close to the holidays – but no worries! The product was delivered promptly. The cookies were well packaged to prevent breakage and to keep fresh. I split them up into small baggies to give to dog friends in the neighborhood. They were a huge hit! Even the 'fussy' dogs liked them. They are so beautiful that you could put them on a plate at a Christmas party and no one would think they were for dogs. One of my neighbors even tried one (on purpose) and said it was pretty good! Thanks for such a tail wagging treat!"
Get these Dog Christmas Treat Pack for $34.99
#20 Christmas Dog Treat Recipes Mix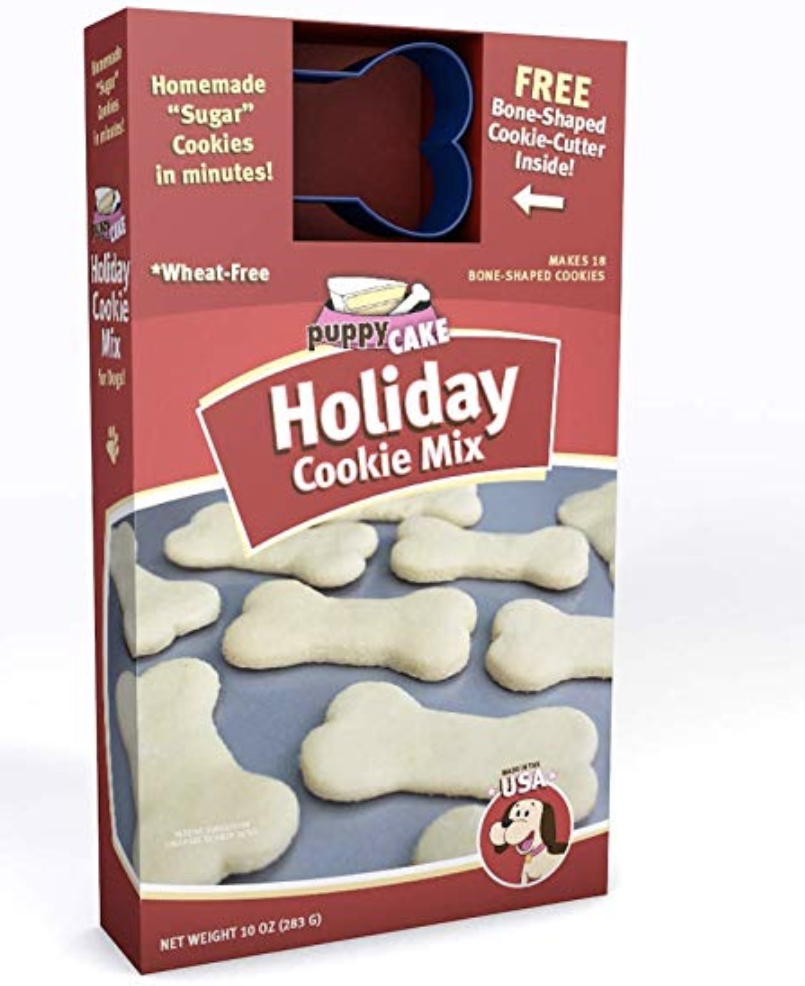 Perhaps you'd rather make homemade dog Christmas treats. This kit comes with doggy "sugar cookie" mix and a bone-shaped cutter, so you'll have everything you need to whip up a wheat, soy and corn-free treat.
Pawsative Ruffview: "I baked these for the 8 dogs belonging to our family members (in different houses). Also added names with food safe writing tubes sold in the baking isle of grocery store. They turned out soft and stayed that way. Added others goodies to small tins."
Get the Dog Treat Recipe Kit for $9.99