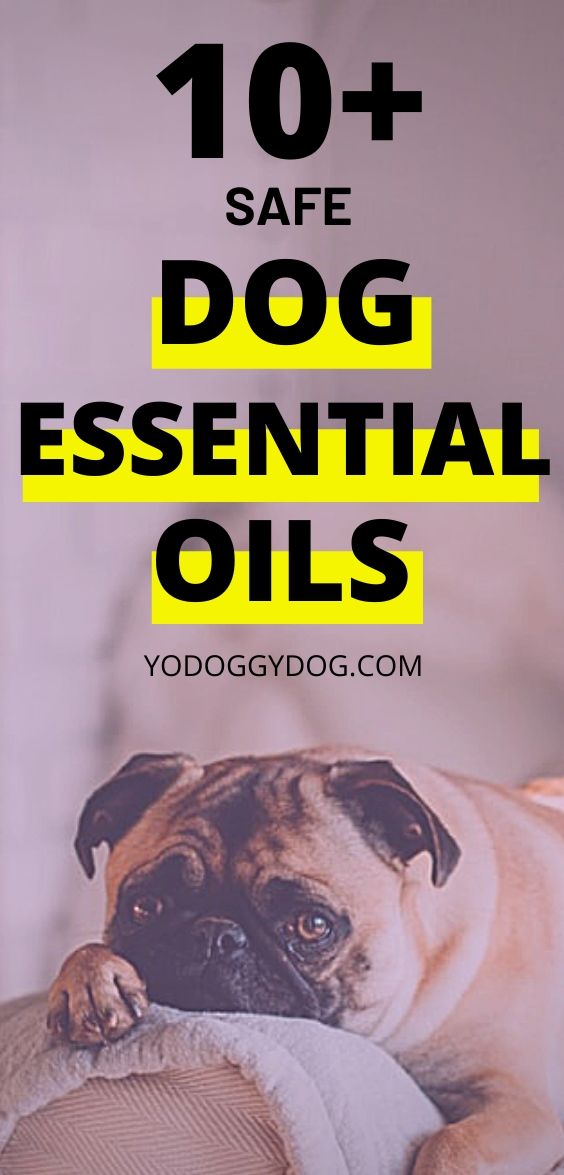 Using essential oils can be a natural way to help your dog with a variety of ailments.
Essential oils are very potent concentrates taken from a plant. They are not to be confused with fragrance oils, which may have the same name but contain unnatural chemicals. Many people may think essential oils are on the list of "woo-woo" remedies, but they have been used for centuries dating back to Egyptian times.
From calming oils to ones that help allergies, arthritis and hot spots, this post contains a few options you can consider.
Keep in mind that oils usually cannot completely cure a dog and it's still advisable to see your vet about serious issues. In fact, you should talk to your vet before using any essential oil to be on the safe side. In addition, even though essential oils are natural, some are toxic and unsafe for dogs. You need to be cautious about which oils you're using and how much. Never leave oils in a place where your dog can get them.
How to Safely Use Essential Oils for Dogs
To start off, we recommend using high-quality essential oils from a reputable company. This means they contain no added chemicals and are all-natural.
Although companies such as Young Living and dōTERRA have gained popularity due to their multi-level marketing (MLM), you do not have to shell out a ridiculous amount of money for an oil. With that being said, reputable oils aren't cheap either. If you find an oil $10, it's like a fragrance oil and you should double check.
You should also be wary of blends. For example, it may be tempting to buy a "calming" essential oil blend to treat your dog's anxiety. However, you need to check if it also contains any essential oils that are toxic to dogs. If something is labeled "lavender blend" as opposed to just "lavender," that means it contains other essential oils or chemicals.
Once you've chosen an essential oil, here are a few ways you should (and shouldn't) use them:
Check for possible drug interactions. If your dog is on any medications, check with your vet to be sure the essential oil does not interact with the drug. Just because they're natural doesn't mean they're safe in all cases. Even if your dog isn't on any medication, checking with your vet first is recommended.
Dilute. Essential oils are strong. One to a few drops of the right oil will be enough when diluted in a carrier oil or water. Essential oils in strong doses may be harmful.
Do not ingest. Although some MLM essential oil companies recommend that people ingest essential oils, we do not recommend adding any essential oil to your dog's food, water or anything else.
Diffuse when applied topically. Before you massage your dog with an essential oil, you will need to diffuse it with a carrier oil, such as olive or coconut oil. Add a few drops to the base oil and massage into your dog's skin.
Spray. You can mix a few drops of essential oil with water and spray it onto your dog's fur. This is usually seen with DIY dog bug repellants.
Diffuser. The safest way to heal your dog with essential oils is to use a diffuser. This can be a plug-in or candle diffuser. Simply add a few drops of the oil with water and let it evaporate into the room.
Check symptoms. If your dog's symptoms are getting worse after using essential oils, stop using them immediately.
Essential Oils for Dog Allergies
Depending on what your dog is allergic to, you may talk to your vet about using essential oil to help treat his allergies. If his allergies become worse, stop using all essential oils immediately. Here are some options you may consider:
Lavender- Said to be a great anti-fungal, antihistamine and anti-inflammatory.
Roman Chamomile- Said to be an anti-inflammatory with anti-infectious and anti-parasitic properties.
Peppermint– Said to be an Antiseptic as well as anti-inflammatory.
Niaouli– Tea tree oil can be toxic to dogs. A good alternative is niaouli, which has the same antihistamine and antibacterial properties.
Read our full guide on essential oils for dog allergies.
Essential Oils for Dog Hot Spots
If your dog suffers from hot spots, you may talk to your vet about using some essential oils that other owners have found helped their dog. Many owners have reported success after applying diluted oils topically or with a DIY spray mist.
Oregano oil- Has antiseptic properties and helps kill bacterial infections
Coconut oil- Although coconut isn't considered an essential oil, it can help treat atopic dermatitis and can kill yeast.
Lavender– May act as a natural astringent
Chamomile– May help heal the wound
Read our full guide on essential oils for dog hot spots.
Calming Essential Oils for Dogs
If your dog suffers from situational anxiety or general stress, he may benefit from some essential oils being diffused in the air.
Lavender– Proven to have calming properties. If your dog has anxiety traveling, listen up: A 2006 study showed that using lavender essential oil reduced their movement and barking during their journey.
Frankincense– May have calming effects
Marjoram– May bring a sense of calm and promote peace, sleep or focus.
Read our full guide on calming essential oil for dogs.
Essential Oils for Dog Arthritis
In addition to using the pain management recommendations from your vet, you may also want to ask him or her about using essential oils.
Yarrow- May be used as an anti-inflammatory for arthritis or muscle sprains
Cedarwood– May help alleviate stiffness caused by arthritis
Peppermint– May help treat arthritis and is an Antispasmodic
Thyme- May help with pain relief and with treating rheumatism