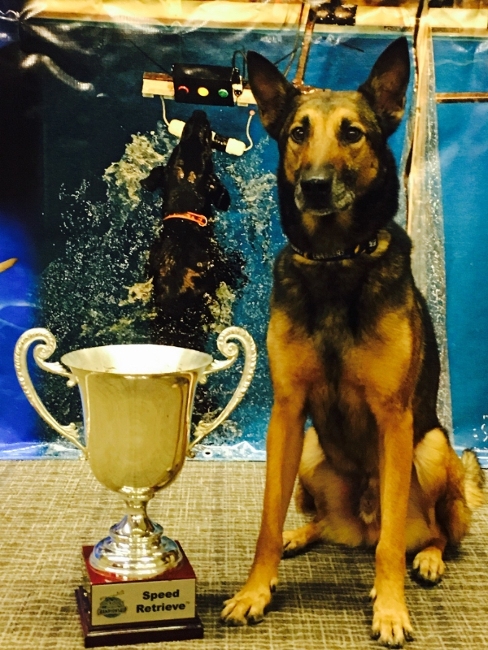 A 9 and a half year old rescue dog won the 2016 DockDogs World Championship in Iwoa this month.
The dog, Rex, and his owner Lianne now hold the International title for "Sonic Speed Retrieve" and the two were inducted into the Hall of Fame during a ceremony at the World Championship event.
The win is not only poignant because of Rex's senior age, but also due to his status as a both a rescue dog, and cancer survivor.
Brianne Durham, a fellow DockDogs competitor and friend of the winning team said, "They have shown the world that the underdog story is real. Rex came to Lianne as an unwanted orphan… And today he is a two-time World Champion! This journey for Lianne and Rex wasn't easy. The Championship didn't just happen.  They've been there, every year for the last decade wanting this. So, when it finally happened, it was surreal.  An incredible milestone in their lives together."
"It's a big deal for us," said Shinton. "We have trained and trained for this day, and it finally happened. I couldn't be more proud of Rex. He's always been a winner to me, but now he's a World Champion."
A study published in the Journal of the American Veterinary Medicine Association found that about one-third of dog owners who give up their pets to an animal shelter do so because of the dogs' perceived behavior problems. The study also found that married people were more likely than single people to give up their pets. That may be because many married people may have children or other responsibilities that make it more difficult for them to train their pets.
"Whatever people do, they have to have patience and dedication when it comes to understanding their dog's behavior" says Shinton. "Every dog has something that makes them special. Dog/human team sports like DockDogs are a great way to find what that something special is, and it's a great way for us to interact with our pets in a positive way."