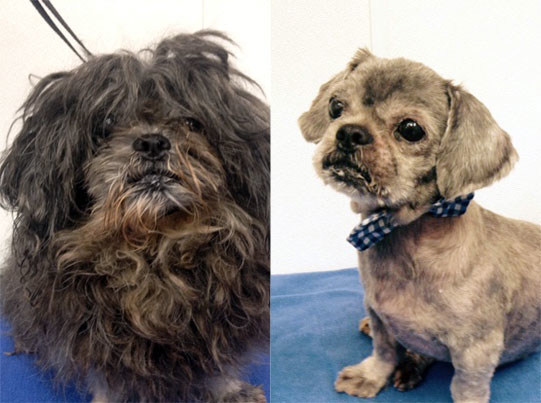 Mouse was found as a stray in Des Moines, Iowa, dirty, matted and painfully uncomfortable. Thankfully, he was rescued by his local shelter and with a good grooming this once-unrecognizable dog was transformed into a lovable pooch and quickly adopted. Mouse's dramatic alteration not only got him a second chance on life, but the title of America's top shelter dog makeover in the 2016 Dirty Dogs Contest (view all the finalists). The annual effort from pet industry leaders
The annual effort from pet industry leaders Wahl and GreaterGood.org demonstrates the transformative power of grooming, and awards the top three doggie makeovers with grant money for their local shelters.
"Imagine going to a job interview filthy and stinky, or on a first date covered in mud. That's what it's like for shelter dogs looking to get adopted," says Shay Moeller, pet product manager for Wahl.
"Unfortunately, the majority of dogs entering shelters are not getting the grooming they so desperately need. That's why we're so proud to support shelters – we want more dogs to have a happy story like Mouse."
Millions of dogs enter shelters each year, and a vast majority of them are dirty and matted. Unfortunately, less than half of these dogs are getting the grooming they need. For the past five years it has been Wahl's mission to draw attention to this problem with their annual Dirty Dogs Contest.
This year Wahl donated 1,200 bottles of their all-natural pet shampoo to shelters in need, helping to wash and ready more than 20,000 dogs for adoption. In turn, the shelters posted hundreds of amazing transformations into the Dirty Dogs Before & After Gallery. Ten of the most dramatic makeovers from the gallery were selected to participate in the contest, and public votes determined the top three winners.
Animal Rescue League of Iowa in Des Moines, the shelter that saved Mouse, will receive a $5,000 grant to further support their efforts. In addition, second place winner Olaf from Rainbow Bridge Can Wait in Carnegie, Okla., will receive a $2,000 grant, and third place dog Knotts from Pets & People Humane Society in Yukon, Okla., will receive $1,000.
"Grooming has a great impact on if a dog gets adopted," said Lora Rogers, grants & legacy gifts coordinator for Animal Rescue League of Iowa. "They look and smell better, but most importantly they feel better. Grooming impacts their quality of life and their health, and this grant will help us give more dogs the best chance at both."
View the contest winners' and finalists' before and after photos on the Wahl Pets Facebook Page. To see even more adoptable dogs visit the Dirty Dogs Before & After Gallery. For information about Wahl's pet grooming products, visit WahlPets.com or follow Wahl Pets on Facebook and Twitter.