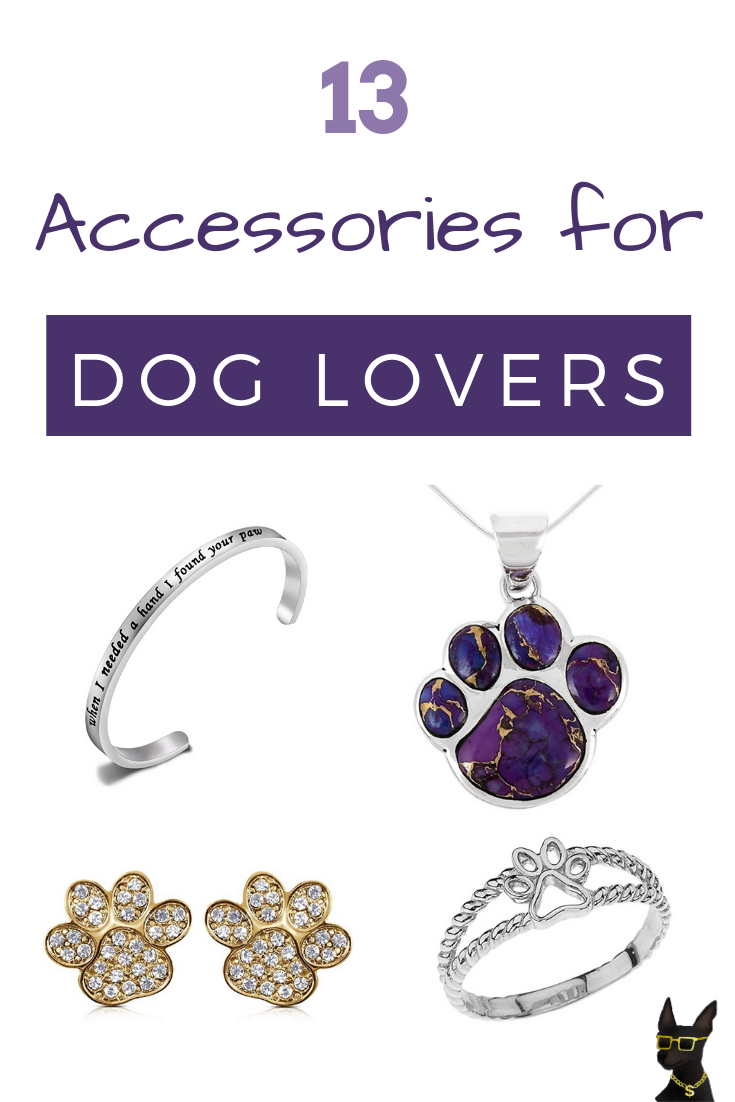 Whether you want to pay homage to a pal long gone or your doggo BFF, sometimes jewelry can help make a statement.
In this post, we're sharing 13 necklaces, rings and earrings in every dog loving style.
#1 Sterling Silver Paw Print Pendant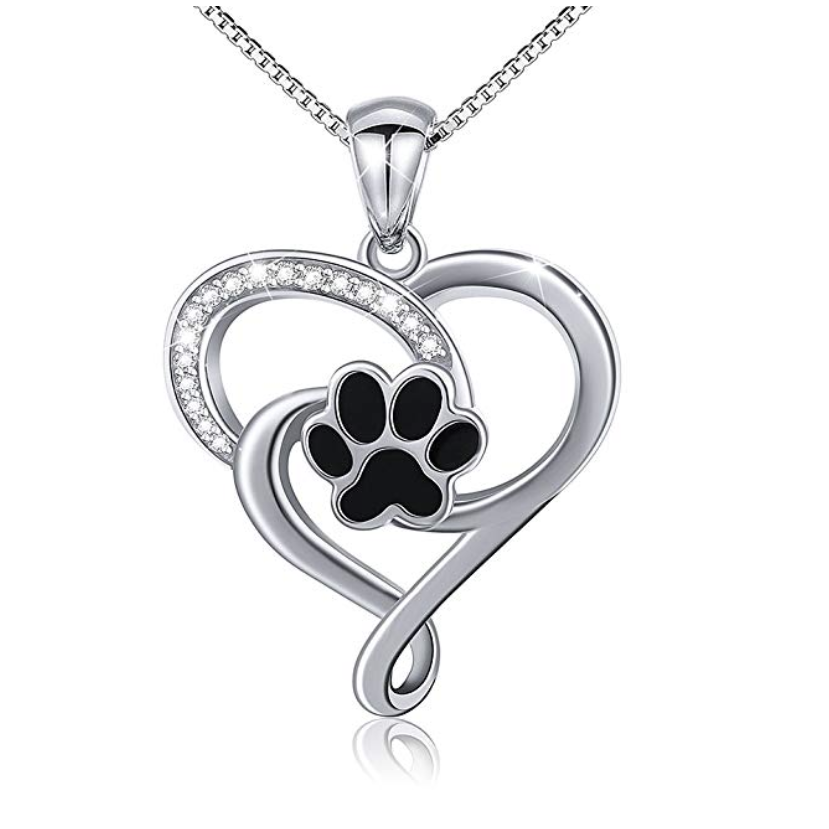 With the paw centered in a sterling silver heart, this makes the perfect gift for the girlfriend or wife in your life.
Price: $25
Pawesome Ruffview: "If you love dogs like my wife, this is a perfect jewelry gift to buy them. They will not be disappointed, I promise. My wife is even picky when it comes to jewelry and she is honest. Yet, I did good on this purchase because she loves this necklace and wears the PAW very often."
#2 You Had Me at Woof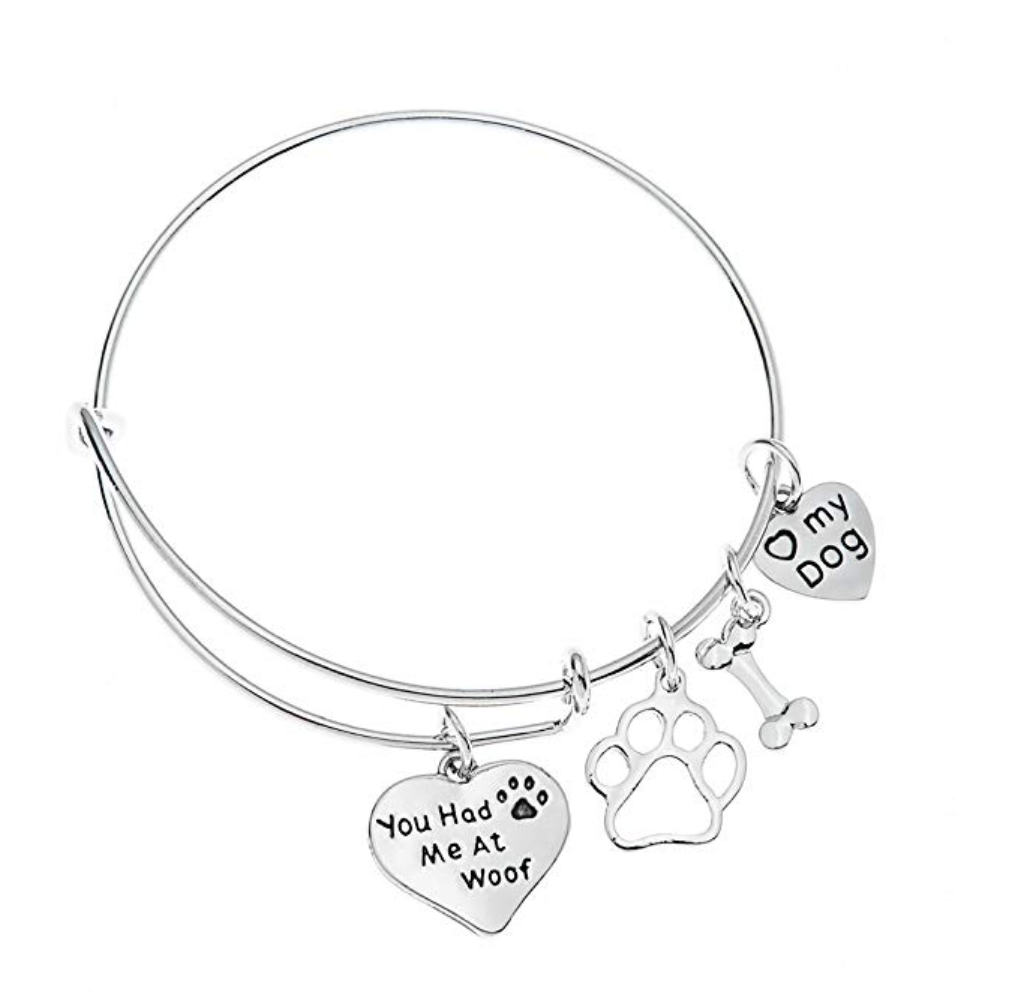 This bracelet comes with a bone and paw print charm and two additional charms with messages about how much you love your pup.
Price: $16.50
Pawesome Ruffview: "Absolutely love your products! Ordered my first Infinity bracelet and I'm impressed with the quality of the workmanship and I didn't have to pay an outrageous price to get it!"
#3 You Gave Me Your Paw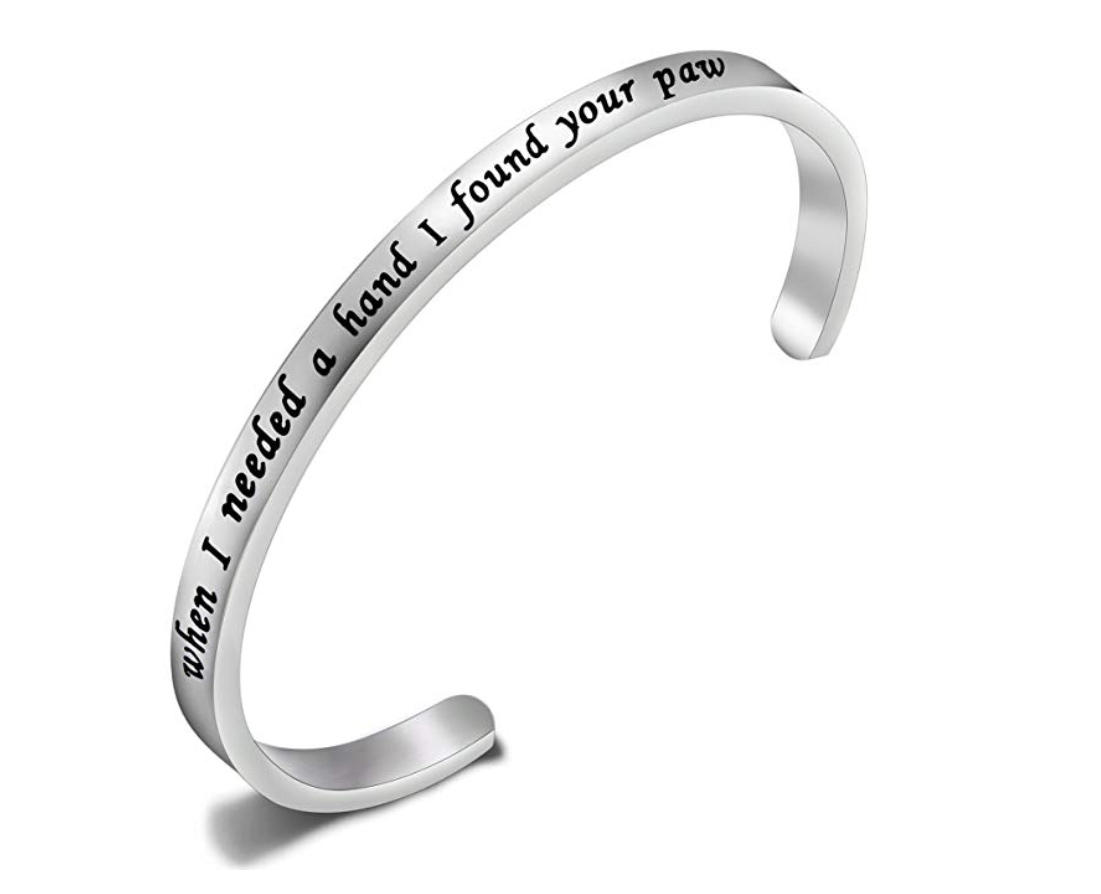 If your pup is the one who supports you through all of life's struggles and joys, you'll be able to relate to this dainty bangle.
Price: $17.89
Pawesome Ruffview: "I have had this bracelet a few weeks now and has become an everyday wear! No tarnish has worn off which was my biggest concern! If you love your fur baby- this is a very sweet way of showing it off to your other dog loving friends."
#4 Studded Paws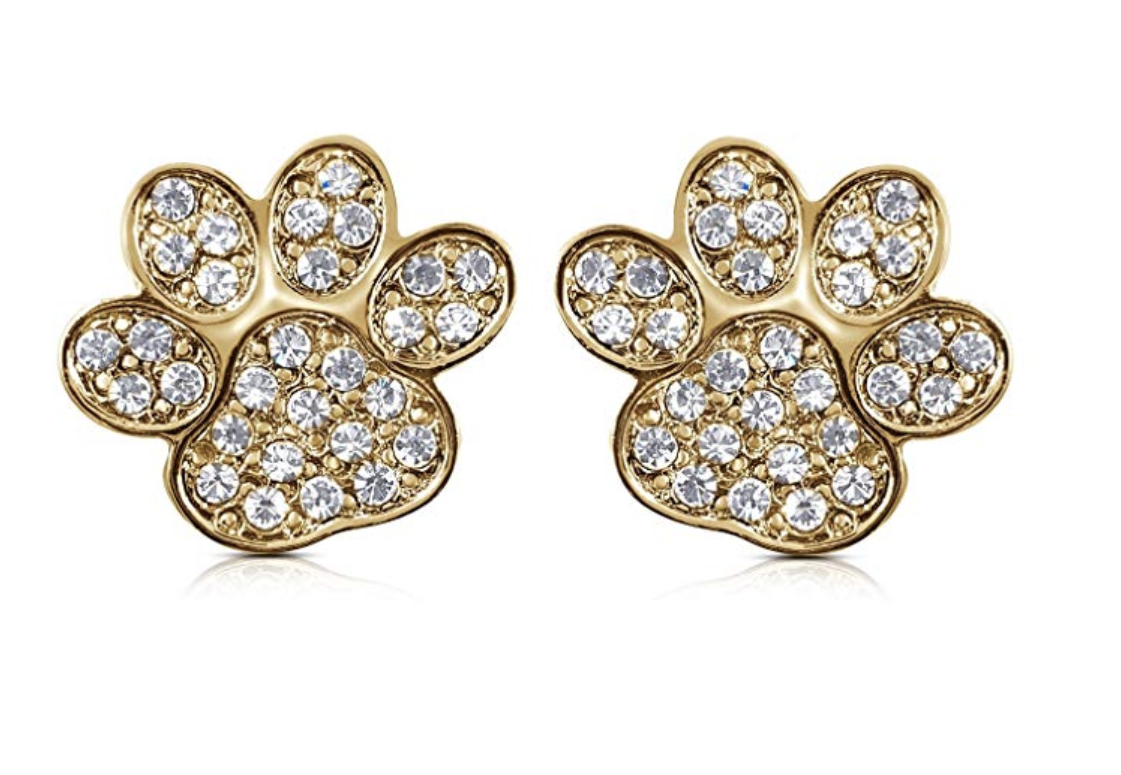 These sparkly earrings pack a punch in both gold and pink colors.
Price: $16.99
Pawesome Ruffview: "These earrings are very beautiful. Every time I wear them at work I always get compliments."
#5 Custom Dog Face and Name Necklace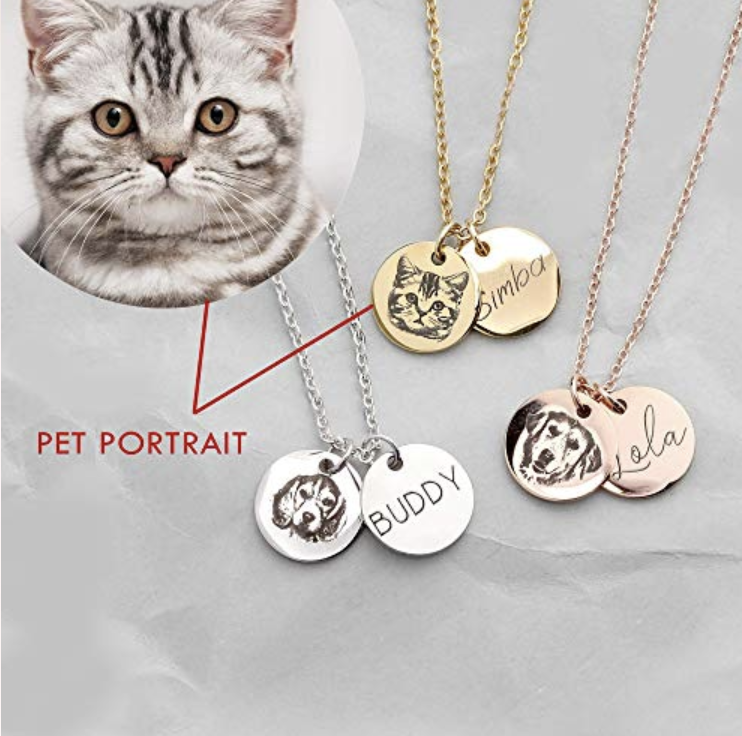 This necklace is perfect for remembering a four-legged friend that's passed on. After you purchase, send a photo of your dog and his or her name and wait for your customized memory piece.
Price: $22.50
Pawesome Ruffview: "This was absolutely beautiful! My sister just lost her fur-baby that she had when she was a little girl. We surprised her with this sweet charm. The photo on the pendant was perfect!!! The first thing that she said, is that it looked like Clementine". I told her that it was Clementine! She absolutely loved this gift. We purchased a longer chain for the additional so the charm would align with her heart."
#6 Double Rope Paw Print Ring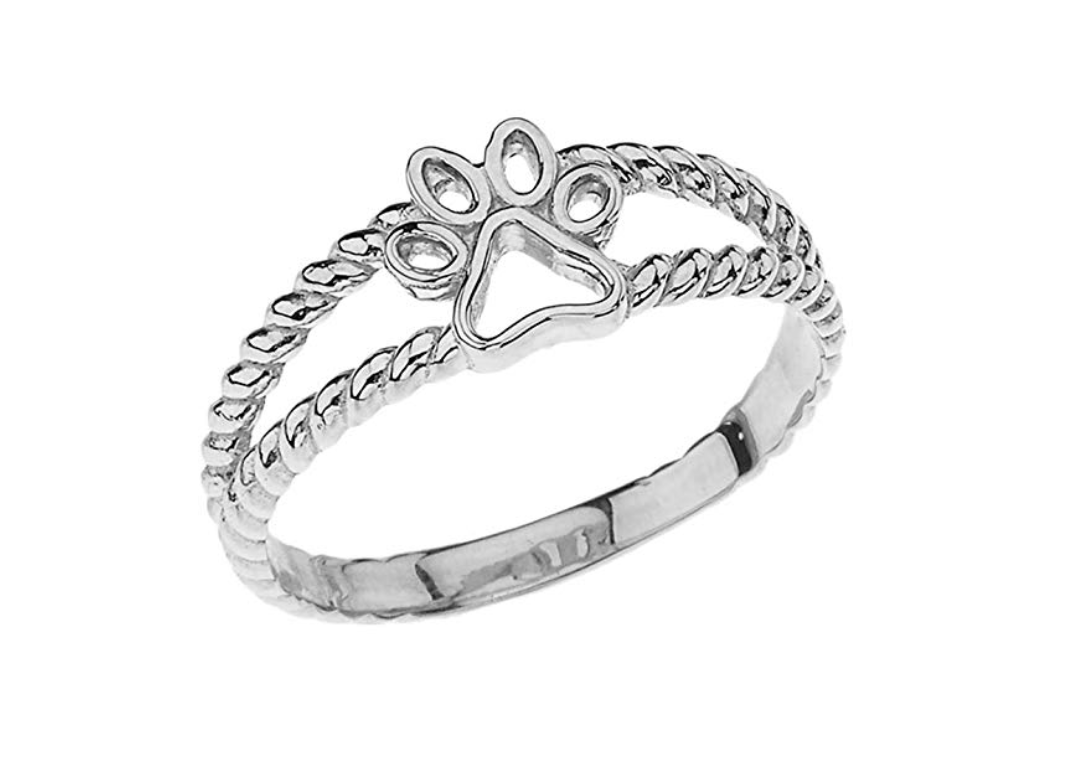 This handmade sterling silver ring features a rope wrap framing a little paw print. Perfect for a gift or an everyday piece.
Price: $16.99
Pawesome Ruffview: "Love this! Very delicate and feminine. Great piece of jewelry for gift for yourself or someone else."
#7 Essential Oil Paw Print Necklace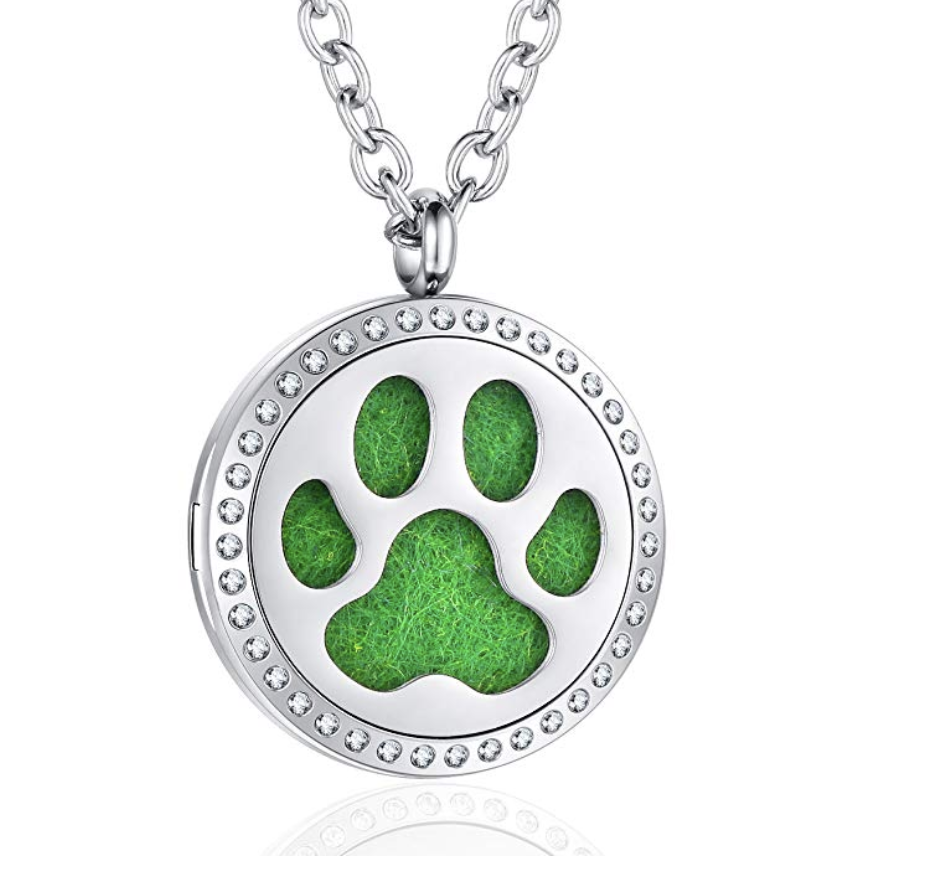 With this pendant, you can show off your dog love while also getting a good dose of your favorite essential oils. Simply put a few drops in the middle and let the scents go on. (P.S. you can also use these essential oils to help your dog).
Price: $10.99
Pawesome Ruffview: "Very cute. My daughter loves it. Holds the essential oil smells well. Quality seems good overall for the price. The pad has not fallen out which I was concerned about because the necklace seems to stay closed well. Recommend. It has held up well over the summer."
#8 Genuine Turquoise and Sterling Silver Paw Print Necklace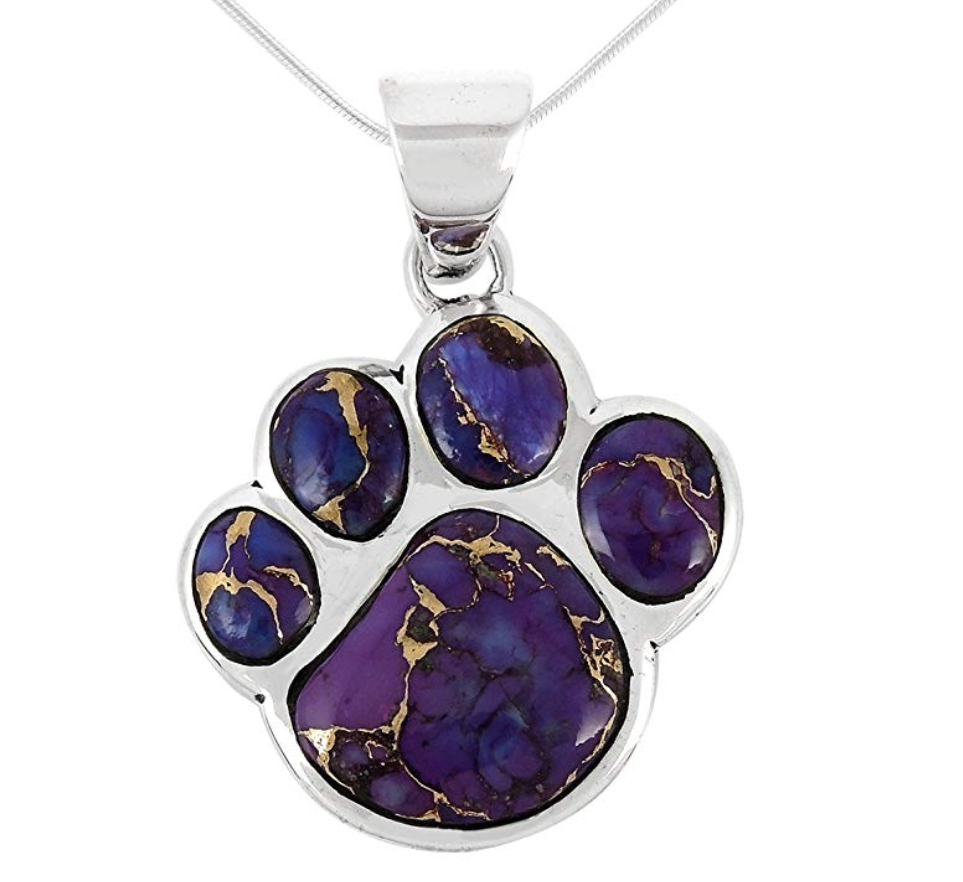 Gemstones, style and dogs come together in this unique piece. It also comes with a sterling silver snake chain.
Price: $35
Pawesome Ruffview: "Beautiful pendant necklace! I wanted a dog paw necklace to honor my service dog for his contribution to the quality of my life. I took a long time to select one that was perfect and beautiful. Good quality and attractiveness were necessary. I'm very pleased with my choice."
#9 I Love You Forever Necklace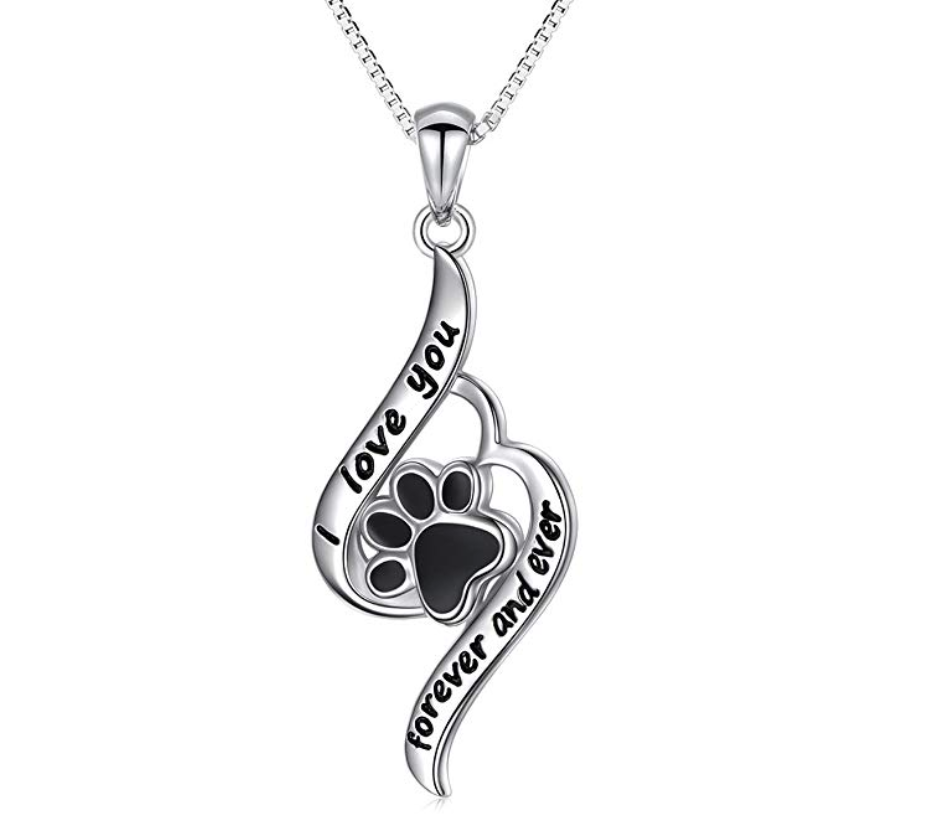 If you've had a dog that's recently passed away, this could be a beautiful way to carry the memory with you
Price: $21.99
Pawesome Ruffview: "Utterly beautiful and charming. I lost my kitty in June and my puppy in Dec. The paw can represent either loved one. Very simple design."
#10 Dog Ashes Urn Necklace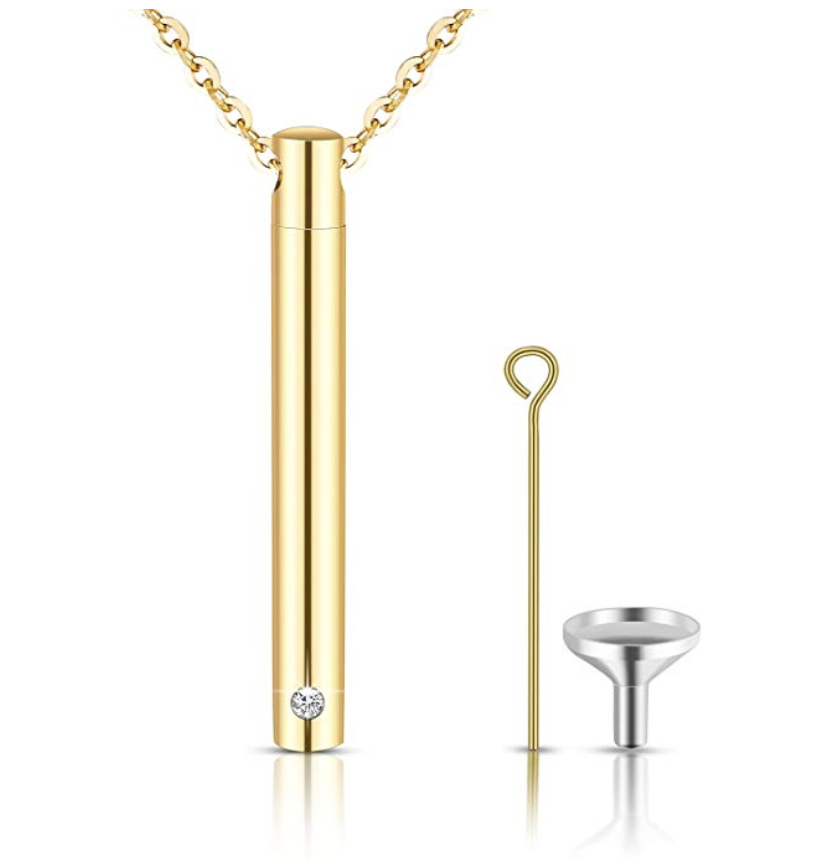 If you've cremated your dog and want to keep a piece of him with you, consider this stainless steel keepsake necklace. Comes in gold, black, silver and rose gold.
Price: $24.99
Pawesome Ruffview: "I received this item as a gift from my BFF when my 9 yr old dog passed away from cancer. I appreciated the funnel to easily place ashes into the necklace. The style of the necklace is also very slim and discrete. Looks minimal and easy to wear for many occasions."
#11 Best Dog Mom Ever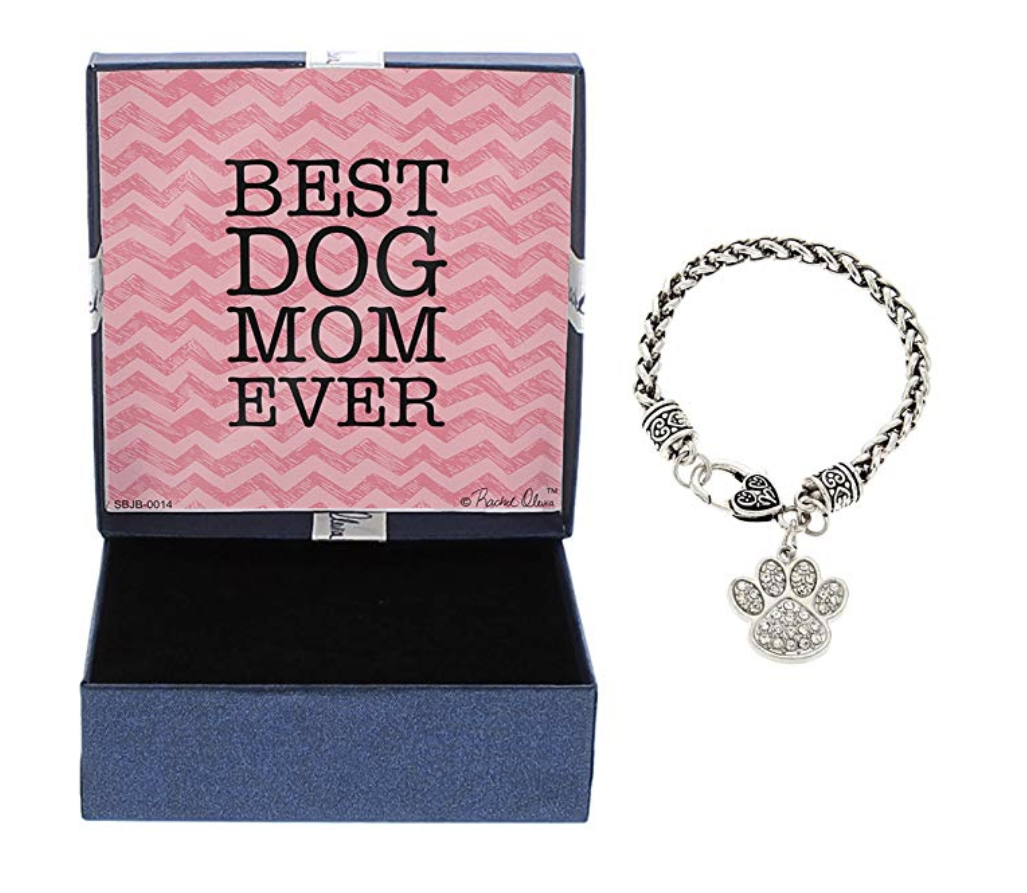 This would make a wonderful gift for the dog mom in your life—but I'm going to go ahead and say you can by this for yourself because it's so adorable
Price: $19.99
Pawesome Ruffview: "This is a beautiful bracelet! Looks more expensive than it really was. The box was so cute, just as pictured! Perfect gift for my sister whose dogs are her life. Very, very pleased!!"
#12 Dog Mom Layered Bracelet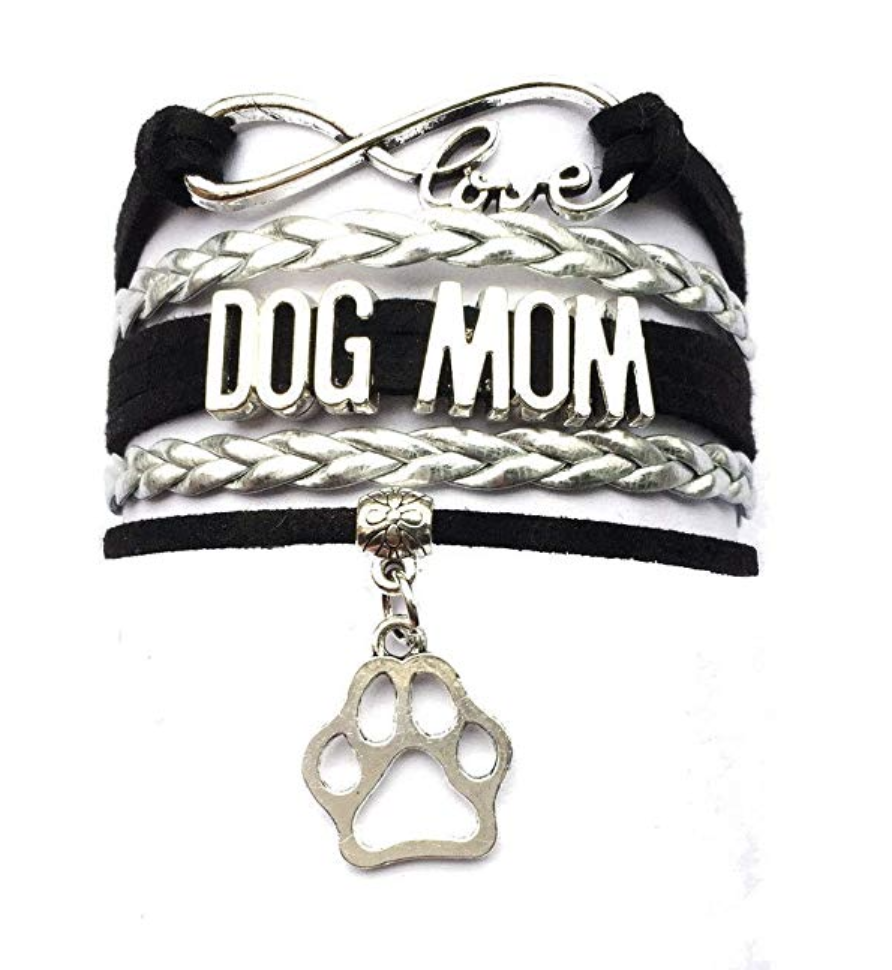 Get multiple bracelets in one while shouting to the world you're a dog mama! Hate putting bracelet clasps on? The toggle clasp makes it a breeze.
Price: $10.99
Pawesome Ruffview: "My wife loves it. It's perfect for the dog owner and especially if she's a pet sitter. Great product."
#13 Dainty Sterling Silver Paw Bracelet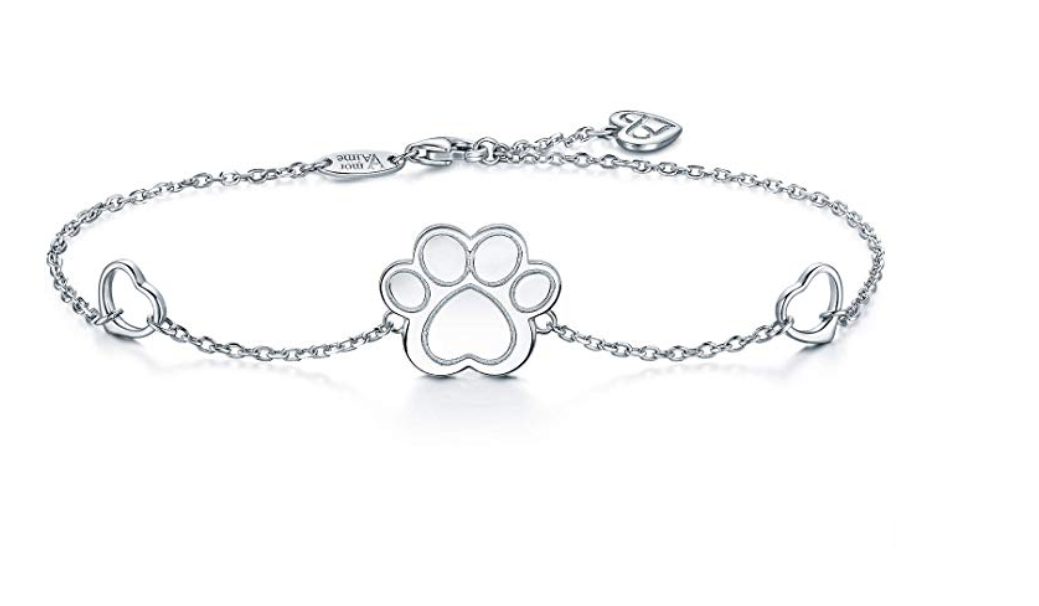 If you like understated jewelry with a high-quality look, check out this paw print bracelet framed with small hearts on each end.
Price: $24.92
Pawesome Ruffview: "Great piece for any animal lover. I have a service dog and do not know what I would do without her so having something like this helps me remember how special she is. The bracelet is very well made."