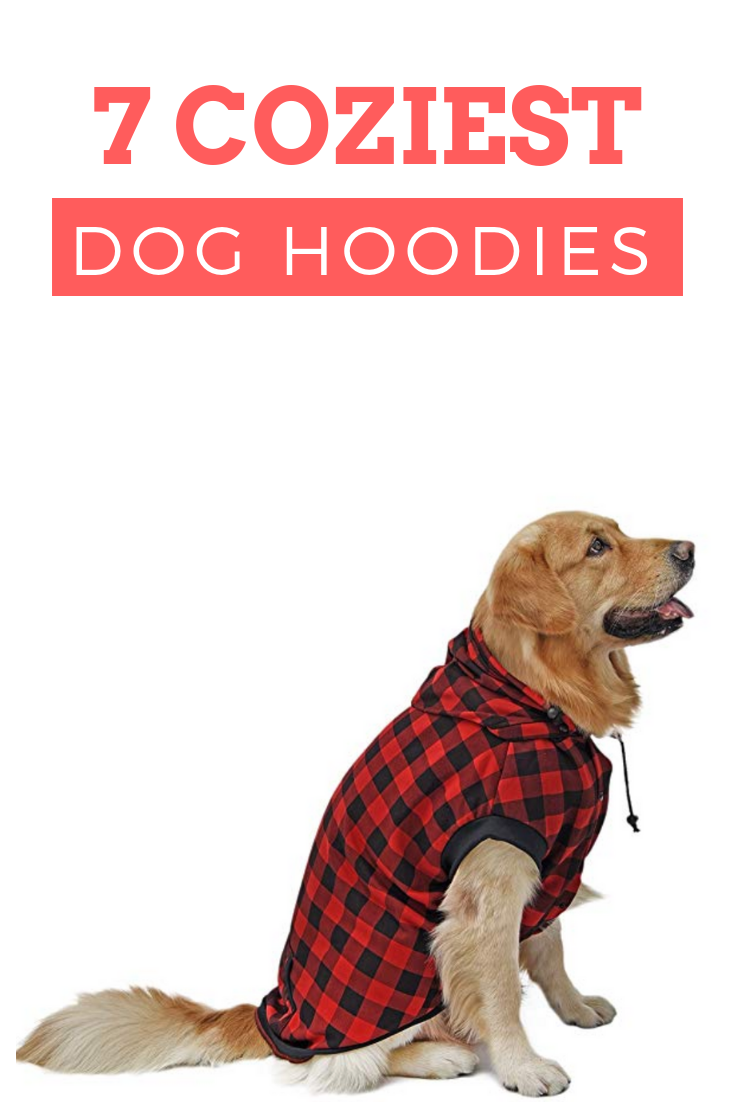 If you live somewhere that gets a little cool during these coming months, you may consider getting your dog a sweater.
Many dogs are fussy with clothing, so picking a comfortable and cozy hoodie is the only way he'll wear it.
In this post, we're going over how to measure your dog with a sizing chart and how to pick the perfect fall dog hoodie.
Dog Sweater Size Chart and Dog Hoodie Size Chart
When you're purchasing a dog sweater, it can be difficult to choose which size. To be the perfect sweater, it shouldn't be tight-fitting and having it too loose doesn't have the same cuddly effect.
Although your dog may be considered a small, medium or large breed, that doesn't necessarily indicate which hoodie you should buy. Sizes can vary by manufacturer so it's best to check the size chart of the company you're buying from. Use a tape measure to find your dog's size an compare it against their chart. If you don't have a fabric tape measure, you can use a string and cut it where the ends meet. Then, measure that string against a ruler or regular tape measure.
If they don't have a size chart, read the reviews to see which sizes fit which breeds. If you're not sure if you're buying the correct size, make sure the site you're buying from has a return policy.
If you order from Amazon Prime, exchanging items is actually really easy. Simply ask customer service to email you a return shipping label. Package your dog hoodie for fall up and ship it off. Then, wait for your pup's true size to come in.
7 Cozy and Comfy Dog Sweaters and Hoodies
An Old Man Sweater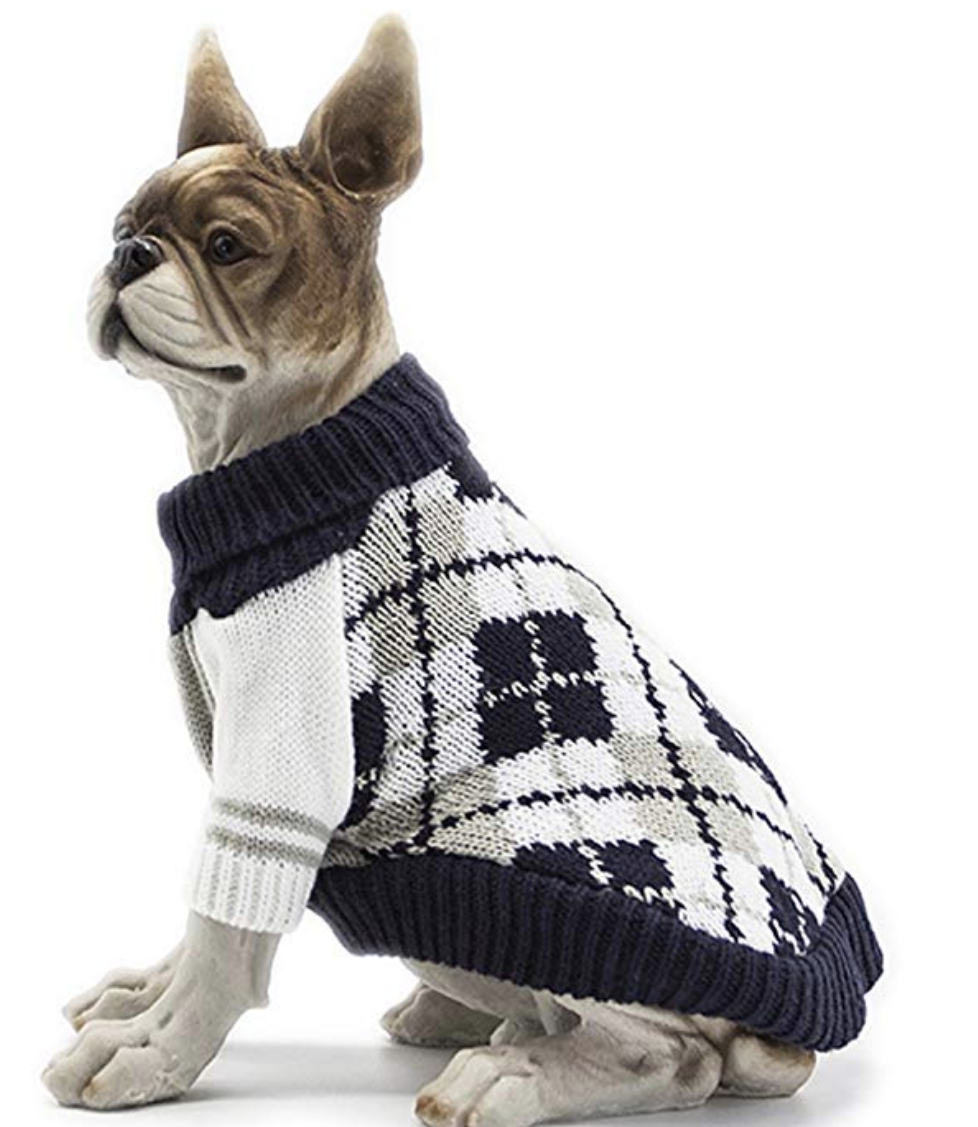 Doesn't this cute sweater remind you of an old man? Unlike some other sweaters in this post, this one covers the front legs (but not the back ones). It can provide some extra warmth during the cool months, but if your dog is fussy with sweaters, one that covers his legs may not be the best option. It comes in 3 colors.
Get the Old Man Dog Sweater for $13.
Navy Dog Sweatshirt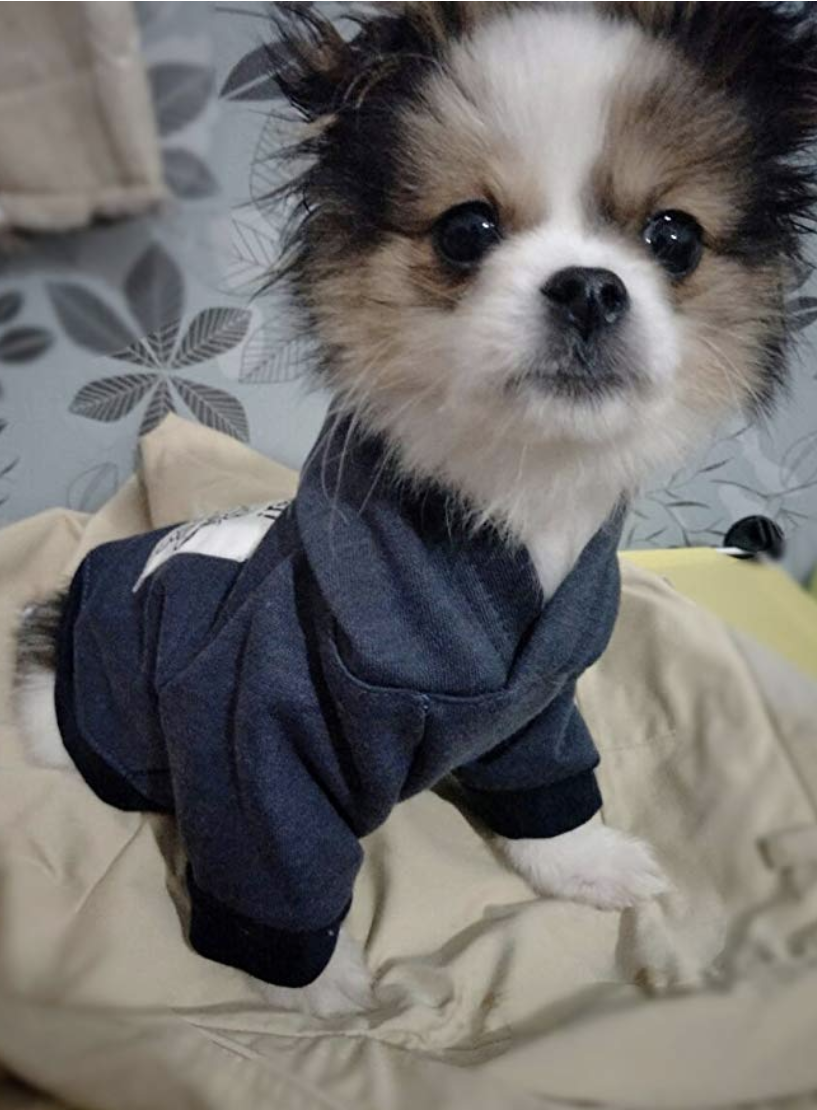 This cute little dog sweatshirt comes with a hood to cover your dog when it's raining or snowing. Luckily, the company provides a detailed dog sweater size chart, so you can be sure to choose the right one.
Get the Navy Dog Sweatshirt for $11.
Fall Red Plaid Dog Sweater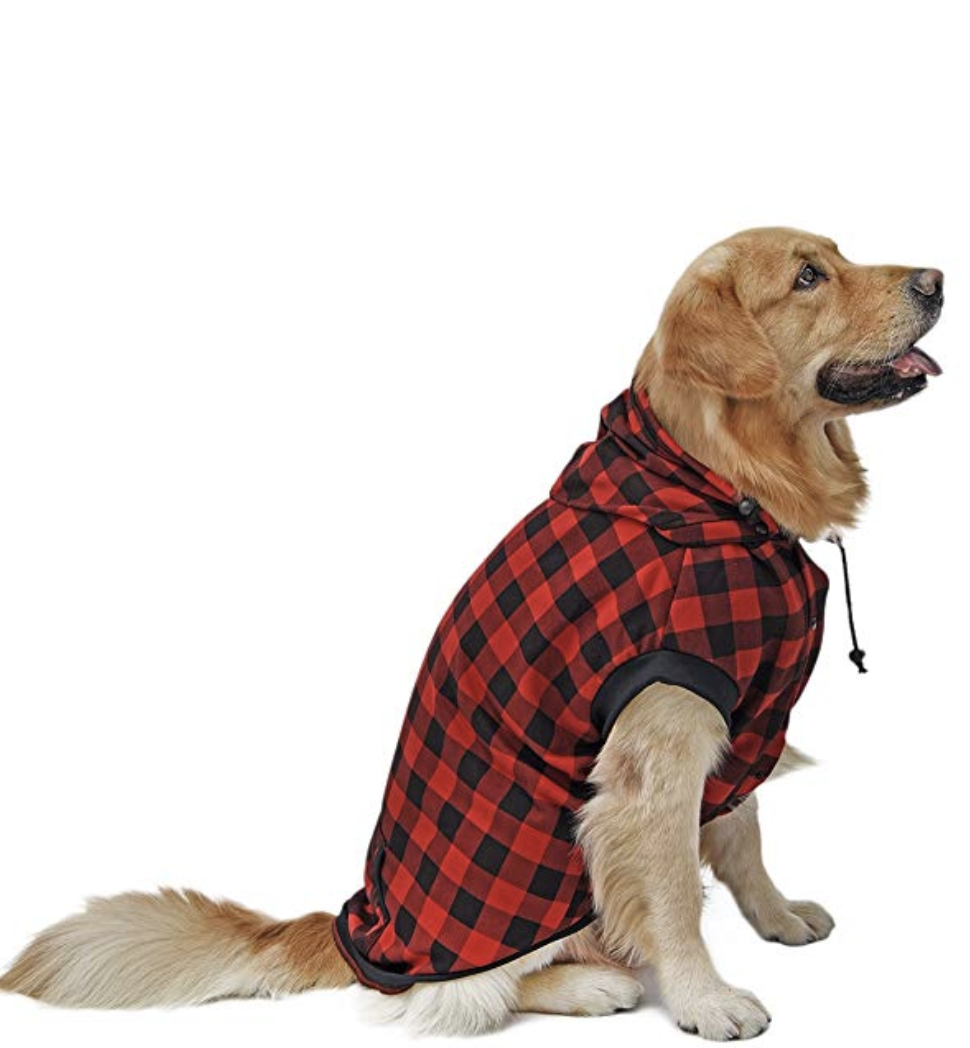 Isn't this the perfect fall-ready sweater? It comes in sizes fit for a small pup or a large retriever. The company notes that they aren't US sizes, so make sure to measure your canine before buying! What I love about this one is that you probably already have some red plaid in your closet. That means you can wear it on your next walk and be matching besties!
Get the Red Plaid dog sweater for $17.
Adidog Sweats
Although this sweater is just adorable, it would be even cuter if you have a matching Adidas tracksuit. It comes in every size to fit every dog and with a variety of colors. Since there's a ton of reviews for this one, we recommend reading and looking at the pics them to find out which size would fit your pup.
I have this suit for my dog and it's a little trickier when it comes to sizing because it's a onesie piece. So, if you have a dog with a long body like mine (think sausage-shaped breeds), you may need to exchange it once to find the right fit. But as we said above, exchanging on Amazon is a breeze so it shouldn't be an issue.
Get your dog an Adidog Tracksuit for $10.
Waterproof Jacket Sweater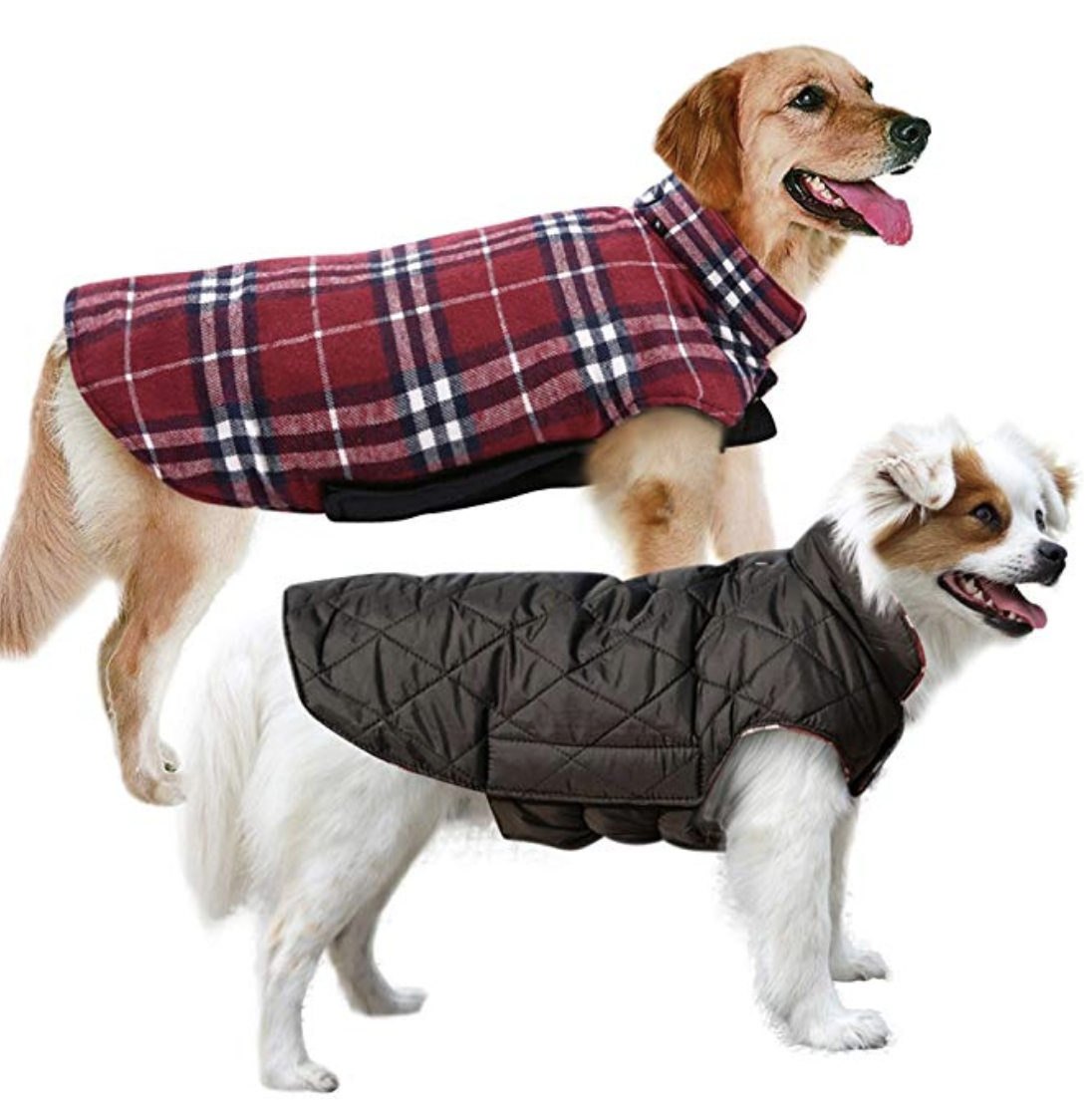 If you live in a city where it snows or rains a lot, this sweater is perfect for the wet weather to glide off. The jacket is reversible so one side is waterproof and the other side is more like a sweater and perfect for fall months.
Get the Reversible Dog Sweater Jacket for $21.
Knit Dog Sweater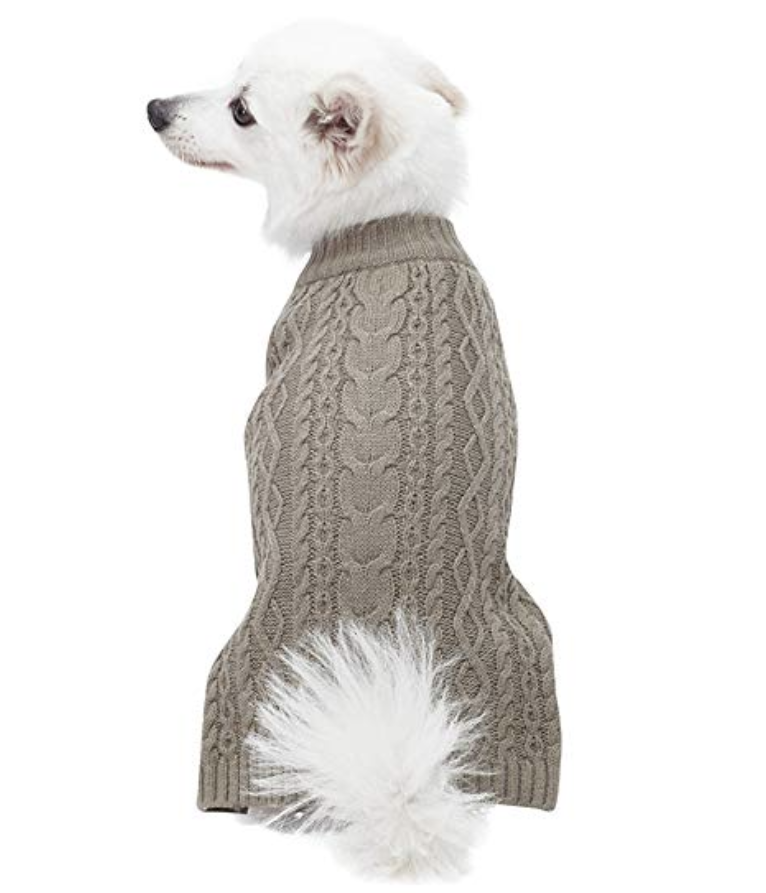 My dog loves knit sweaters the most—the material feels nice on him and adds a little warmth for when you're going outside. This one comes in so many shades to suit your dog's personality or perhaps to match the season. The shade of yellow is in style this fall whereas the bright red would be festive for the holiday season.
Get a Knit dog sweater for $17.
BOO Pup Sweater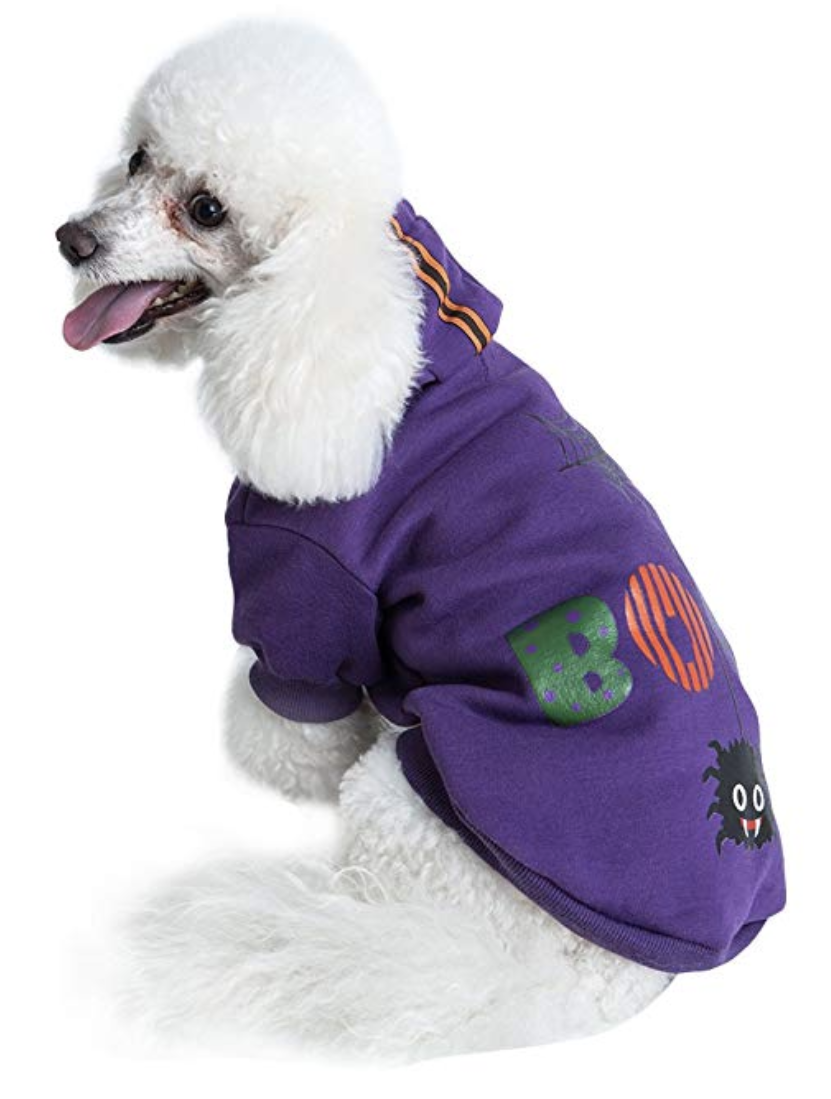 If you're a Halloween-lover, you're going to want this one for your dog. It comes in both purple and black and features the word "BOO" with a spider. The sweater is comfy enough for him to wear around the house, yet stylish enough for him to show off on Halloween.
Get this BOO Pup Sweater for $10.
Summary of Dog Hoodies for Fall
When fall rolls around, I feel like almost everyone is excited to pull out their fall clothes. The coziness of it all brings a warm feeling, but don't let your pup freeze as the months get colder! In this post, we've outlined the best finds for dog hoodies for fall. Just remember: measuring and sizing your dog is key!