If your dog likes clothing, you're going to love what we have for you in this post.
We've collected the cutest dog onesies, including some Christmas and winter-themed ones.
Whether you're using them as pajamas or just a cute outfit for a night out, your pup will feel cozy in these.
They can all be found on Amazon, so you can get them just about anywhere!
What to Consider When Buying a Dog Onesie
Size— You may think your dog is size small, but is he actually? The only way to know is to measure your dog with a tape and compare it to the seller's chart. If you don't have a fabric measuring tape, here's a trick: Use a string or ribbon to measure the area and then measure the string against a metal tape measure or ruler. Since sizes vary, it's the only way to prevent returns. This is even truer if your dog is like my and doesn't have a traditional "proportional" body (aka his body is long but his legs are short).
Does your dog like onesies?— Even if your dog likes sweaters, he may not like onesies. Since jumpers also cover your dog's legs, he may be annoyed or uncomfortable with them.
The design— If you want your dog to be able to wear it throughout the season and not just Christmas, you may want to consider a design such as a snowman instead of a Santa. If you want your pup to wear it year around, consider even a less symbolic design.
Alternative to Cones—Onesies are adorable and some pups love to wear them just because it keeps them warm. However, they're also useful if your dog has surgery or a skin condition. For example, if your pup gets spayed, she will need a cone to stop her from biting her incision open. Instead, a onesie can help protect the area or be used in addition to a cone. Also, some dogs bite at their skin or lick their hot spots, making them worse. Wearing a onesie prevents them from getting at the area and reduces healing time.
Dog Onesie Pajamas on Amazon
If your pup loves clothes, check out these finds and see if there's one that suits your dog's personality.
#1 Striped Doggo Onesie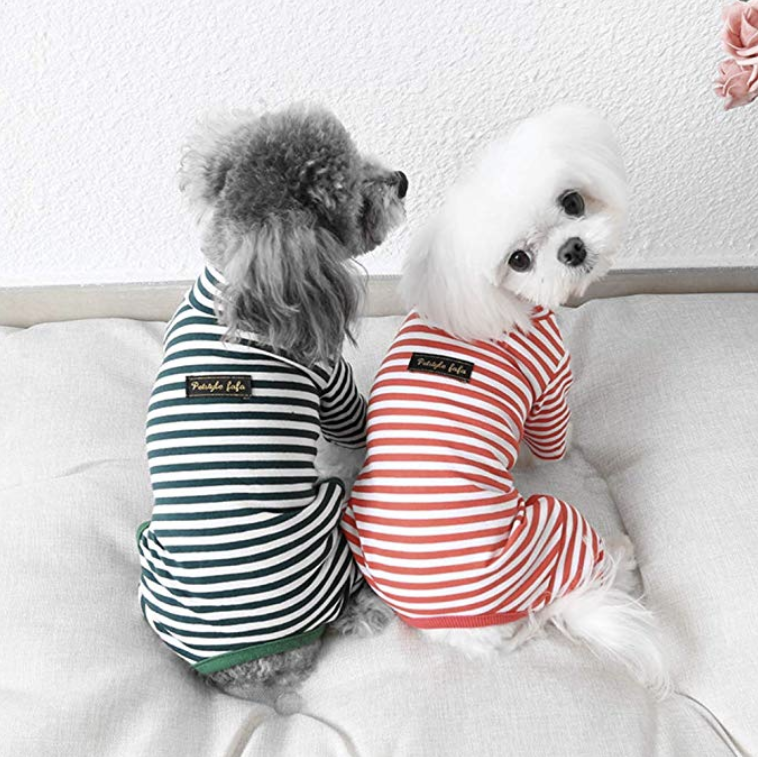 This well-made onesie comes in a variety of colors, so you can pick the perfect one for every occasion: Pink
Dark blue
Dark brown
Dark green
Light blue
Light green
Purple
Red
Pawsative Ruffview: "I wanted to let everyone know I raise Chinese crested hairless dogs and this is one of our favorite suits for our sweet baby Willow. I live in Louisiana and have wanted to find a pair of PJ for our 2lbs baby well this has been a perfect buy fit great love the pop of the purple and have to say even Willow seams to like this set best of all her new clothes."
Get the Striped Dog Onesie for $10.99
#2 Donut Dog Onesie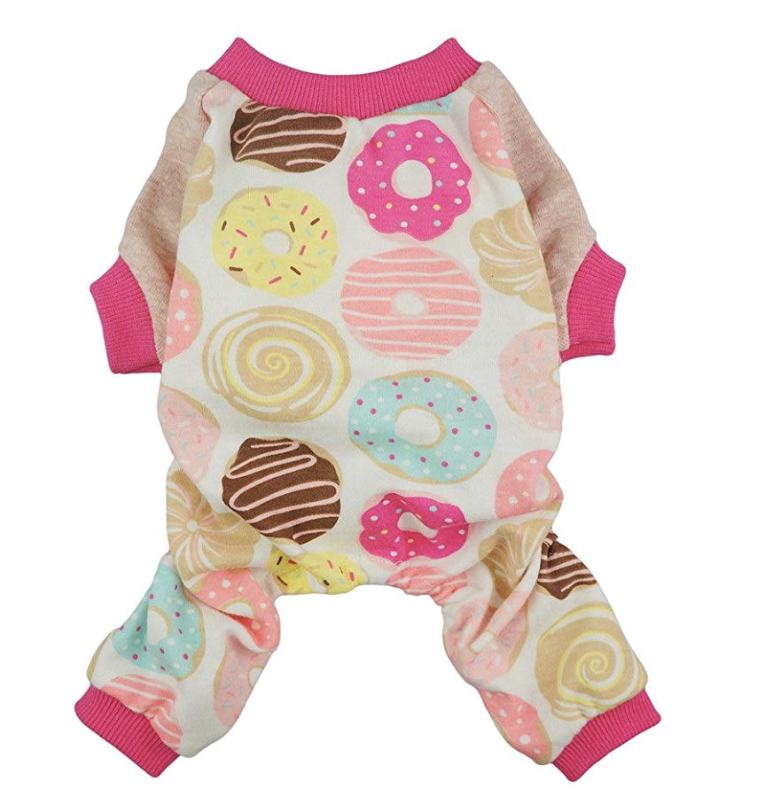 Omg! These are one of the most arable onesies I've ever seen! Will your dog prefer a sprinkle donut, chocolate dip or a cinnamon flavored one?
Pawsative Ruffview: "These are absolutely adorable and my dog loves them! She's a ham and loves to be dressed up. They fit her well. I bought a large and she is a pembroke welsh corgi. She is a healthy weight but has so much fur that she needed a large. She seemed comfortable and they look adorable on her. Perfect for showing off on colder nights! Would purchase again."
Get the Donut Onesie for $12.99
#3 Red Plaid Dog Onesie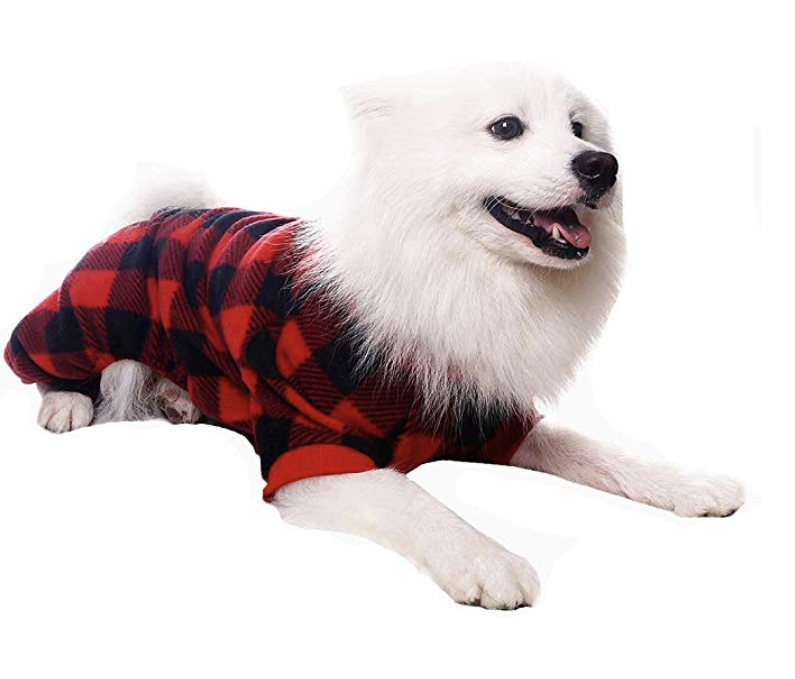 This lightweight but thick onesie will keep your doggo warm and can be worn during the holidays or all year around. The most beautiful part to this is you can buy any red plaid outfit and it will match! Here's some suggestions:
Pawsative Ruffview: "I love these! They are high quality material, thick and soft. My dog is long but thin so he's kind of always at an "in between" size where nothing fits him perfect but this has stretch to it and it fits great! He's a 14 lb shih tzu mix and Medium was perfect."
Get the Doggo Onesie for $16.99
#4 Adidog (Adidas) Dog Tracksuit Onesie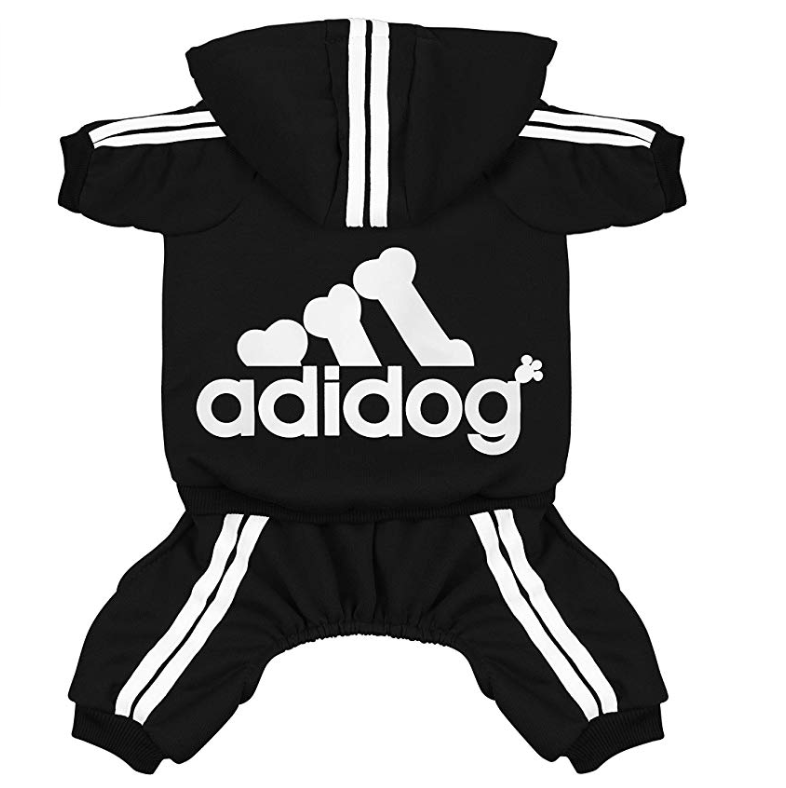 Have your own Adidas tracksuit? Now your dog can match you! I got the red version for my dog and it makes him look straight-up adorably bada$$. From XSmall to 9XL, it fits almost any breed, but be sure to measure your dog first, especially for this one! Comes in:
Red
Blue
Black
Green
Grey
Orange
Pink
Light
Blue
White
Yellow
Pawsative Ruffview: "Absolutely love this! The quality of this onesie is amazing. Super soft and thick material with easy snap buttons. Make sure to measure your pup before ordering. I have a 12 lbs. BichonPoo who usually wears a medium but after measuring, it said that she would need an XL. This fit her perfectly. I would definitely recommend this to other dog owners and will probably buy more for my baby."
Get the Adidas Dog Outfit for $9.68
#5 Comfy Knit Grey Dog Onesie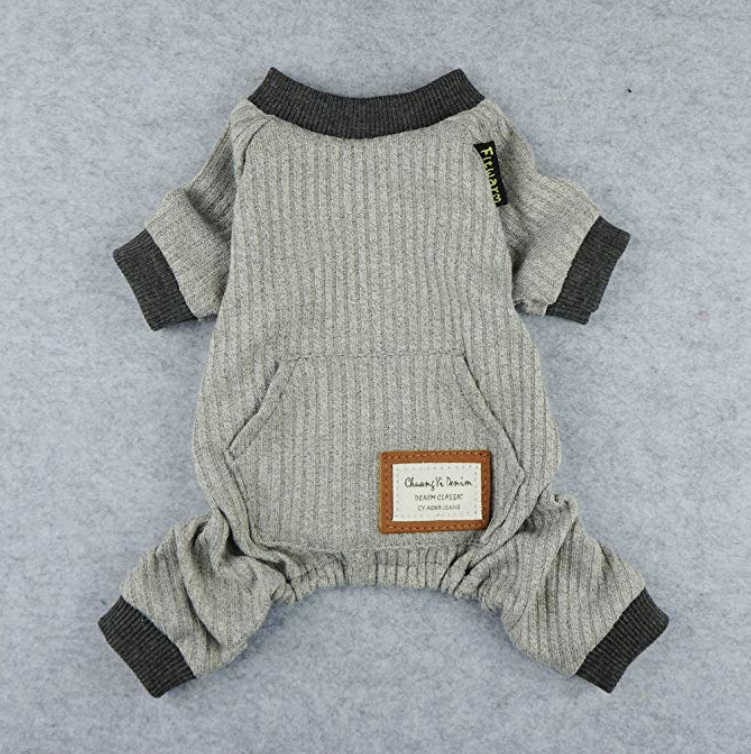 These pajamas are soft and lightweight while still being warm enough for sleepy time or everyday wear.
Pawsative Ruffview: "So far so good. Seems to be made well and covers his hot spots until we can get him to the vet to see why he's pulling his hair out so bad. I would recommend the product. If you follow the simple to follow instructions on how to measure your fur baby you will have no issues there as far as how it fits on your pooch."
Get the Grey Onesie for $12.99
#6 I Love My Mommy + Daddy Dog Onesie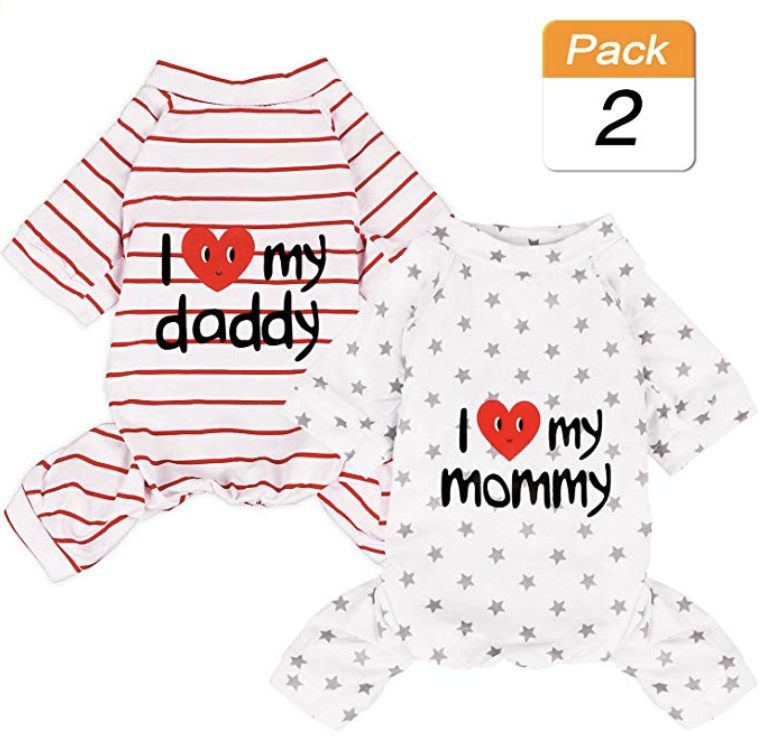 This would be a perfect gift for dog lovers or for a good pup who loves his parents! Comes with both onesies, so neither parent will feel left out!
Pawsative Ruffviews: "My puppy looked so cute in her PJ's. She likes putting it on when its time to go to bed, my husband especially loved it because it said " I love my Daddy" on it. It fit my pup perfectly. Thank You so much."
Get the 2-Pack Dog Onesie for $17.39
#7 Unicorn Pitbull Onesie or for Other Breeds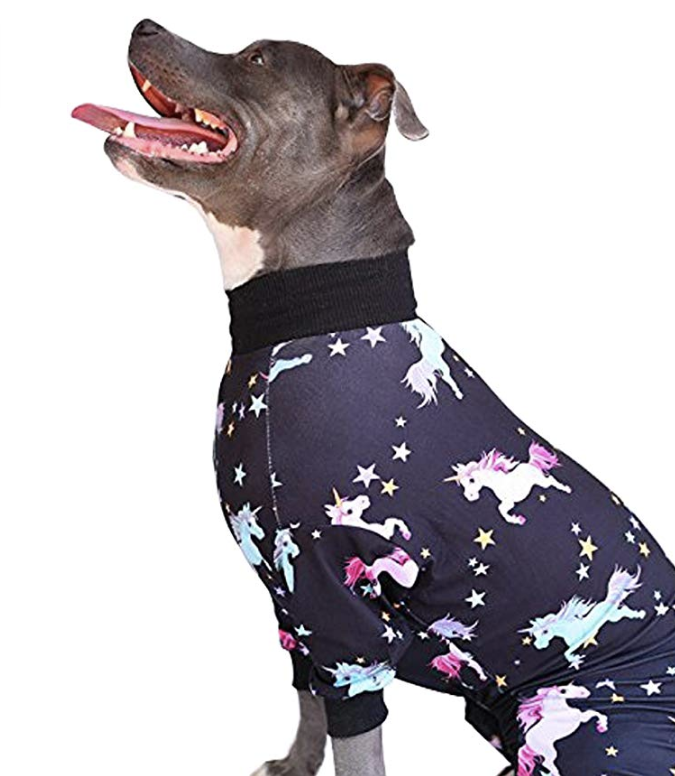 If you have a hard time getting onesies to fit your pitbull, this one is perfect for you, but it will also fit other medium to large breeds.
Pawsative Ruffview: "After putting this on my dog, I had to physically cover my mouth to stop me from screaming because I've never seen something so adorable in my life. My dog has a wide and flat chest and normal dog clothes do not fit him perfectly (he is 55 pounds). This is the first doggie pajama that gives him enough space around his chest and neck. I don't have to roll up the back sleeves either like I usually do with other dog pajamas. I'll be buying more for sure. Thanks Tooth and Honey!"
Get the Unicorn Dog Onesie for $45
#8 Best Buds Weed Dog Onesie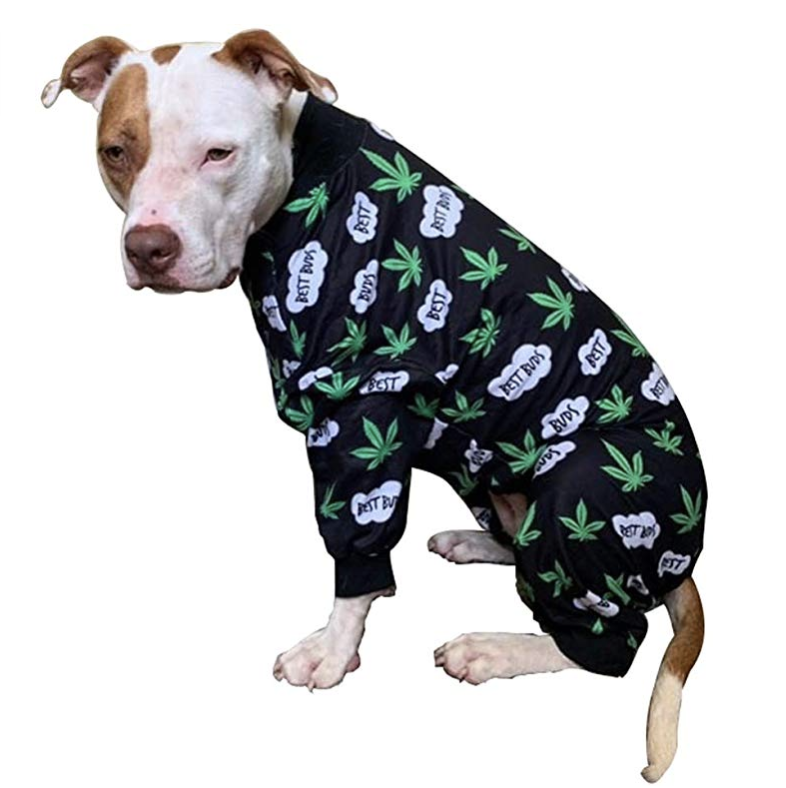 If you're a big fan of cannabis, this onesie featuring weed leaves and the phrase "best buds" is the best option for you! It's made specifically for Pitbulls, but can be used for other large breeds who fit within the measurements.
Pawsative Ruffview: "This is just so adorable!! My pup loves it. I thought the Med would be too small but as I was putting it on it is super stretchy and fits perfect. It's nice and light weight and fits snugly. This will help keep him warm on colder nights. Definitely going to buy more."
Get the Weed Dog Onesie for $45
#9 Dog Pajama Onesie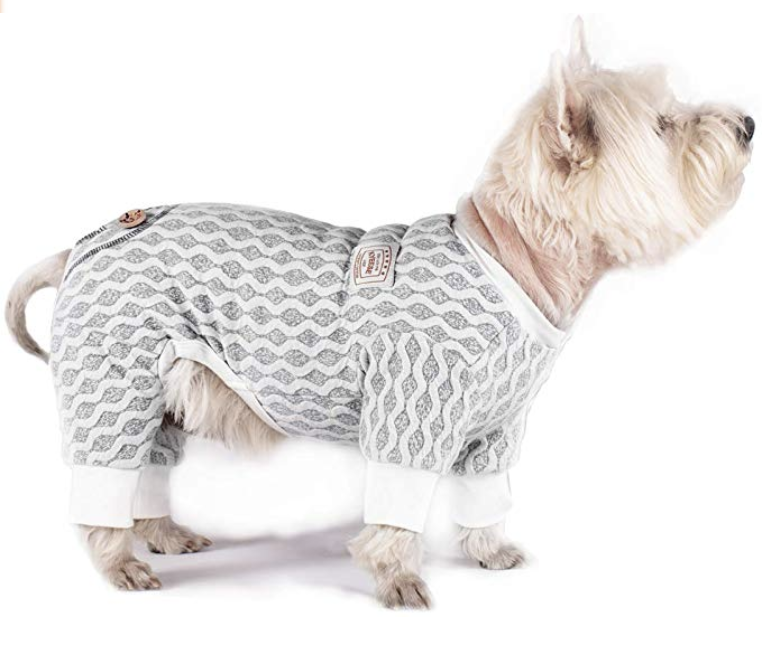 This soft and stretchy cotton onesie is even looks comfy! Easy to put on and off, it comes in a variety of sizes for almost every breed.
Pawsative Ruffview: "These pjs look so cute and fit my Chi so well. . think I've found my new favorite.
High quality and thick. First time buyer of this brand and I am very pleased. Will definitely purchase more."
Get the Cotton Dog Onesie for $13.99
#10 Multi-Color Paw Print Onesie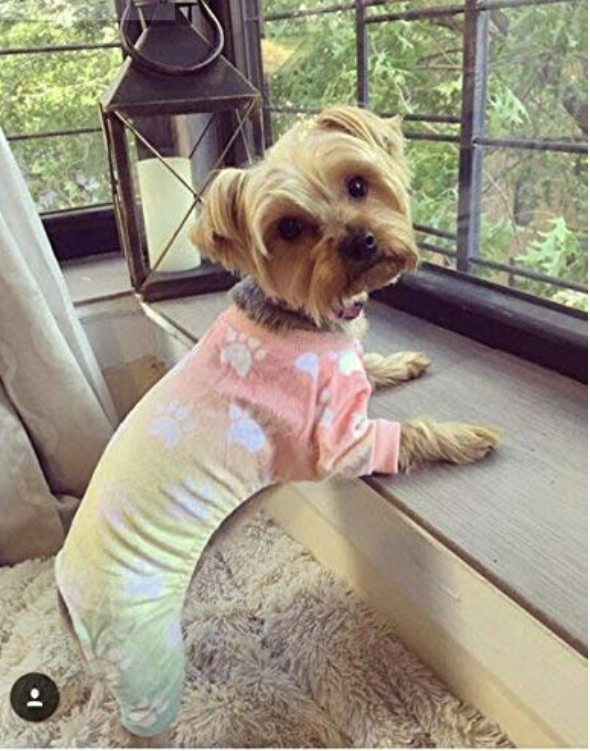 This adorable onesie has a gradient-style color that fades from pink to green, featuring paw prints throughout. Also comes in a dark blue ocean theme!
Pawsative Ruffview: "I ended up ordering a small and medium because my girls are at an awkward size right now where they sometimes need a small and sometimes need a medium. They are also miniature dachshunds so they have unique measurements as it is. I thought the small fit both of them the best. First picture (black and tan doxie) is 8.5 lbs with a chest girth of 14.5 inches, a neck of 9 inches, and a length of 13.5 inches. Second picture (black brindle doxie) is 10 lbs with a chest girth of 15.5 inches, neck of 9 inches, and a length of 13.5 inches. It seems to fit both of them well, length will never be perfect for dachshunds and the legs may be a tad too big on them with how short their legs are but overall, I am happy with this product."
Get the Paw Print Onesie for $12.99
#11 Dog Onesie to Reduce Shedding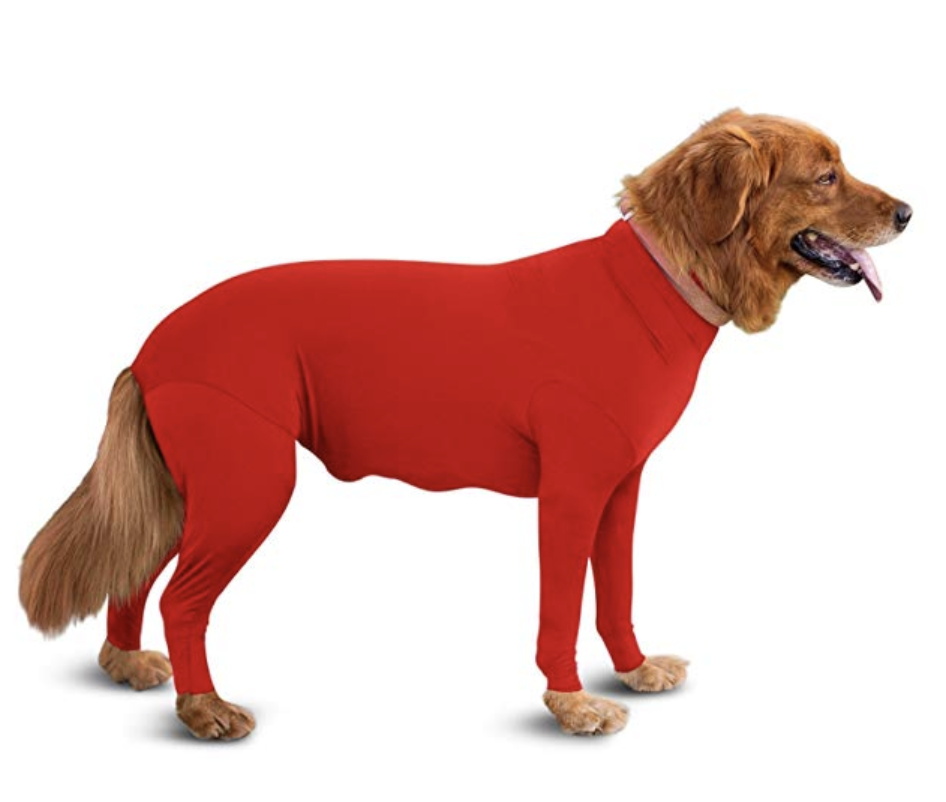 Unlike any of these other onesies, this one claims to reduce the amount your dog sheds and to reduce his anxiety. Although it doesn't have a Christmas design, the bright red option is sure festive, so it can be worn Christmas and all year round! However, it also comes in:
Pawsative Ruffview: "My rule for our new car was NO DOG! Phoebe has short wiry, tawny-colored hair that embeds itself in fabric so well that I have to use tweezers to get it all out…and she sheds A LOT! I swore she would not ride in our new car with it's pristine black interior. When it was obvious there was no choice I thought of making her pjs to keep her shedding to a minimum. Luckily I came across the Shed Defender Onesie. Everyone thought I was nuts, including Phoebe, but I love them! It was quite comical when we first put them on her until she realized that the fabric was not restricting at all. Soon she was running and jumping like she always does. Now she equates the red pjs with a ride in the car and stands patiently while we slip them on. And I'm a happy camper because my new car isn't full of dog hair. I am so pleased with this product that I had to write a review, which I rarely do. Thank you for saving the day!!"
Get the No-Shed Dog Onesie for $57.99
#13 Duck Dog Onesie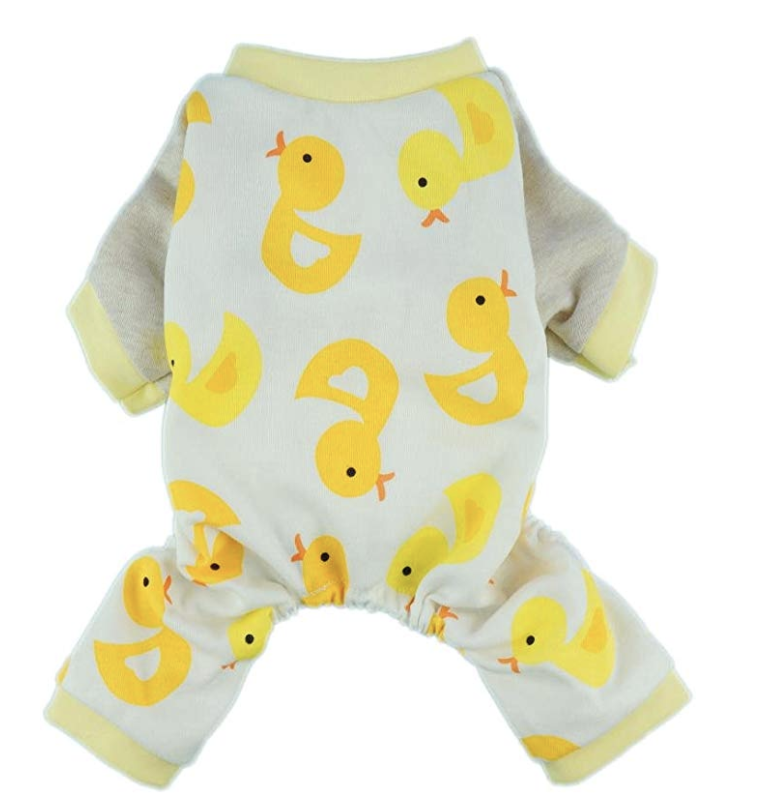 These onesies will make your pup look like an actual baby! Would be adorable for when your dog dries from a bath too! "Rub a dub dub, doggo out of the tub!"
Pawsative Ruffview: "I purchased these for my pup for Christmas Eve. I have a 20 pound West Highland White Terrier – I ordered a large. They fit perfectly! He is not the type of pup that enjoys wearing clothes, but at no time did he tug at them and try to get them off. This is my first purchase from FitWarm but it's definitely not my last."
Get the Duck Canine Onesie for $11.99
#14 Fuzzy Cow Canine Onesie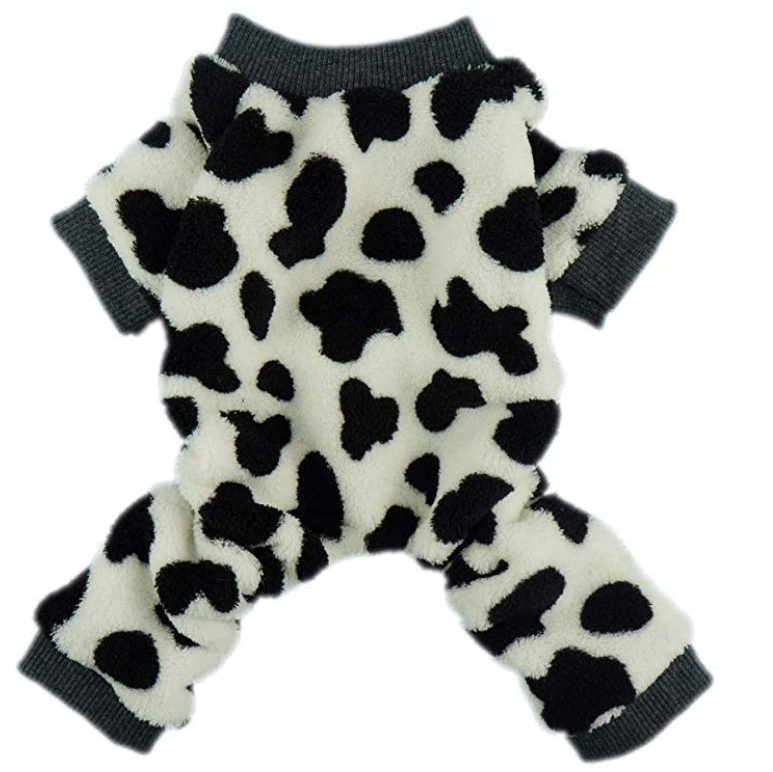 Does your dog sometimes wish he was a cow so he could have all the land and eat all the hay? These cute warm cow pajamas are made from soft velvet and perfect for everyday wear.
Pawsative Ruffview: "Love it on my hairless Chinese Crested. She is 5 lbs and I got her a Small. She goes potty wearing it without soiling her clothes and it keeps her warm in the winter."
Get the Cow Dog Pajamas for $12.99
#15 Fuzzy Pink Bow Onesie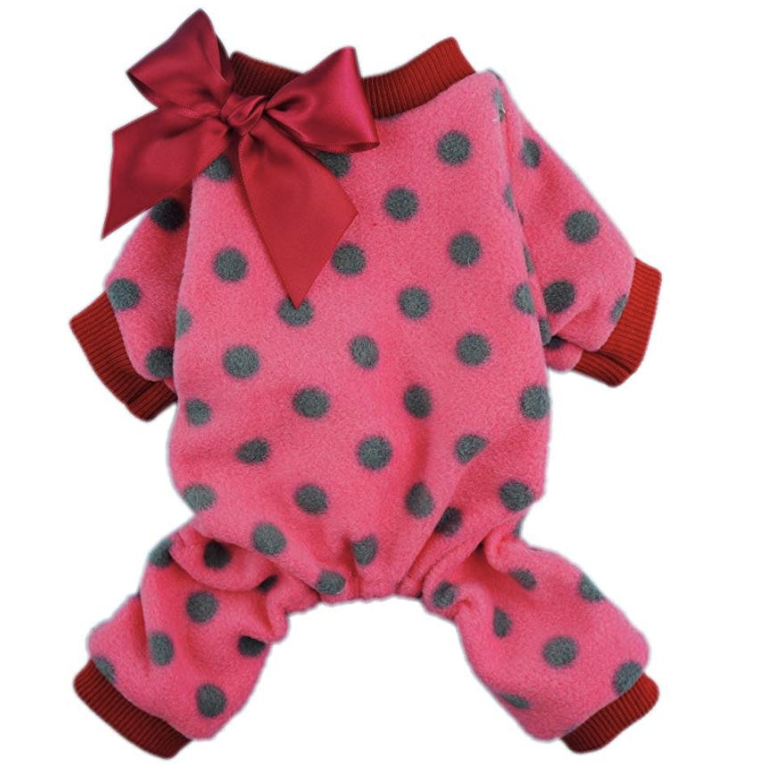 Here's another warm fuzzy onesie for pups who can't get enough warmth. It's made from fleece and would look adorable for photos or just watching your dog at sleepy time.
Pawsative Ruffview: "My Pomeranian has hair loss issues so she gets cold in the winter time. I decided to try these and I am so glad I did. They are very nicely made of good fabric. The measurement guide was spot on so please follow that. My dog is only 9lbs but measured closer to a medium. I wanted her to have a little room so I went ahead and ordered the medium. It fit perfect. They are easy to put on and she seems very comfortable in them. She is not a fan of the bow so I will probably take it off but as you can see from the pictures its really cute with the bow."
Get the Pink Dog Onesie for $13.99
#16 Beautiful Flamingo Dog Onesie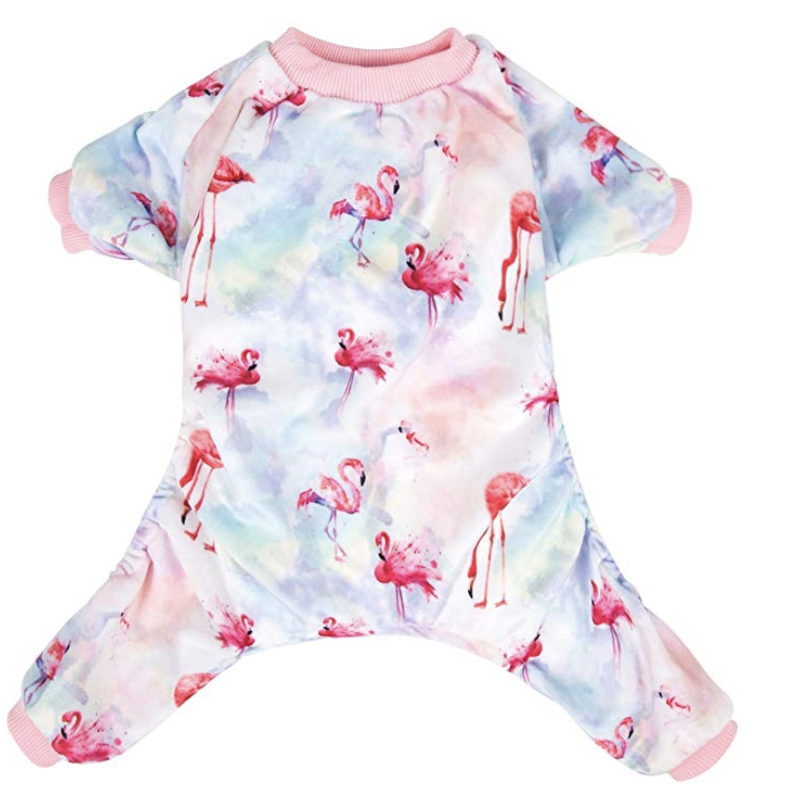 In my opinion, this is one of the most beautiful onesies on this list! With a pastel fading color design and flamingos spread throughout, it's perfect for any feminine doggo!
Pawsative Ruffview: "These are adorable. Our new rescue's fur was overgrown and matted when we adopted her. Our groomer had to shave her fur almost to her skin to remove the knots. She needs jammies like these to keep her warm. I like having all four of her legs covered. Our new little girl is a Terripoo, & weighs 12 pounds with a long back. The large fits her perfectly with some room for her fur when it grows back. The jammies are so soft & easy to put on her. She gives these jammies 5 barks!"
Get the Flamingo Dog Pajamas for $11.99
#17 Fuzzy Fleece Thermal Dog Onesie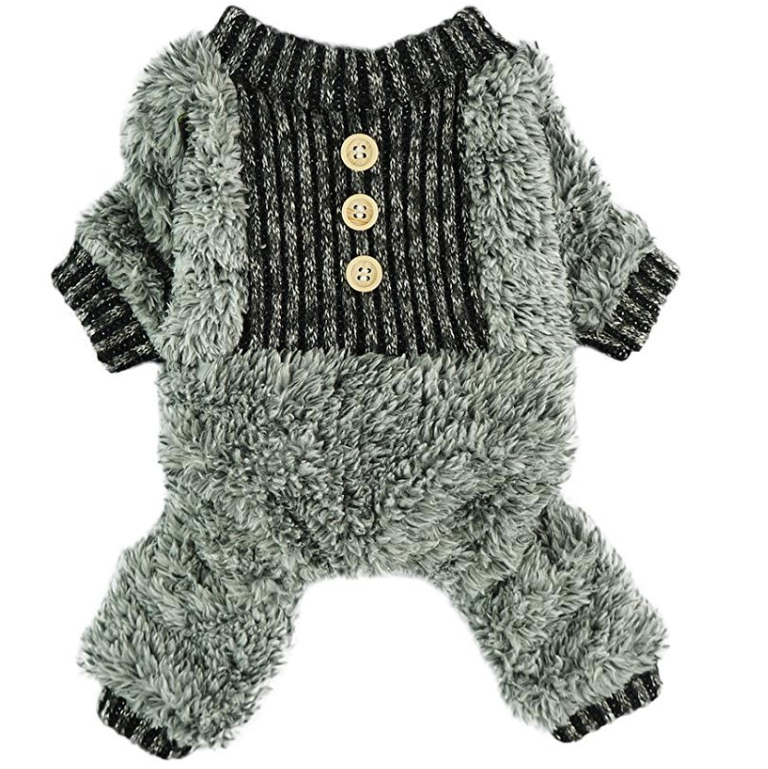 If you live in a cold area and your dog frequently shivers, this one is for you! Made with soft and thick fleece, it will give your dog a snuggly feeling day and cold nights.
Pawsative Ruffview: "OMG! This outfit is beyond my expectations. I purchased the XS for a 3.5 lbs. Yorkie (8in long back) and a medium for a 7.5 lbs. Yorkie (12 in long back). These pjs are soft, stretchy, beautifully finished. They hug my critters nicely, without constraining their moves. They did everything yesterday when I first got these: lounging, sleeping, chasing the rabbits, walking on the computer keyboard, watching TV, chewing on the Greenies, and doing their stuff in the backyard…
They fit perfectly and yes, my babies fell asleep immediately in these fluffy soft, warm, PERFECT pjs!!!. I'm ecstatic! Just look at these pictures 🙂 The little one I'm holding on my forearm, is falling asleep as you are reading this, ha ha!"
Get the Warm Dog Onesie for $14.99
#18 Soft Velvet Purple Dog Pajamas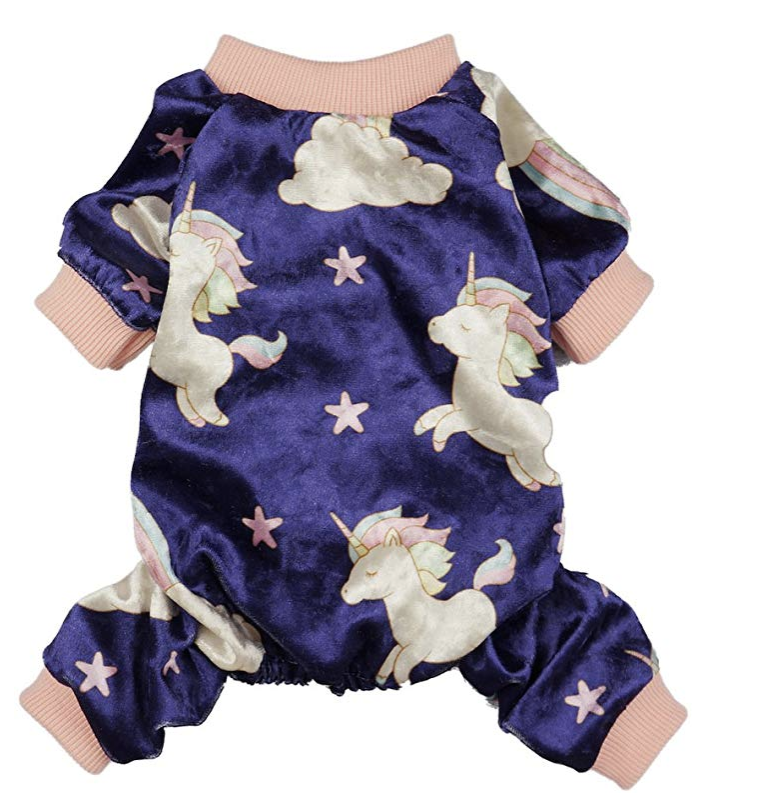 Another beautiful onesie, this design features a super soft velvet fabric with unicorns jumping. Comes in sizes from XSmall to XXL to fit almost every dog.
Pawsative Ruffview: "Finally jammies that fit my little furbaby!! I measured her before ordering & followed the size guide and these fit perfectly! They are very well made & I love that the cover her entire back. She does pull her little legs out of them, but that is no fault of the jammies. I had stopped buying her clothes because they never fit, but these were so cute I thought I'd give them a try. I'm so glad I did! I am very impressed with this brand & already ordered some more. Highly recommend."
Get the Purple Doggo Onesie for $13.99
#19 Lumberjack Dog Onesie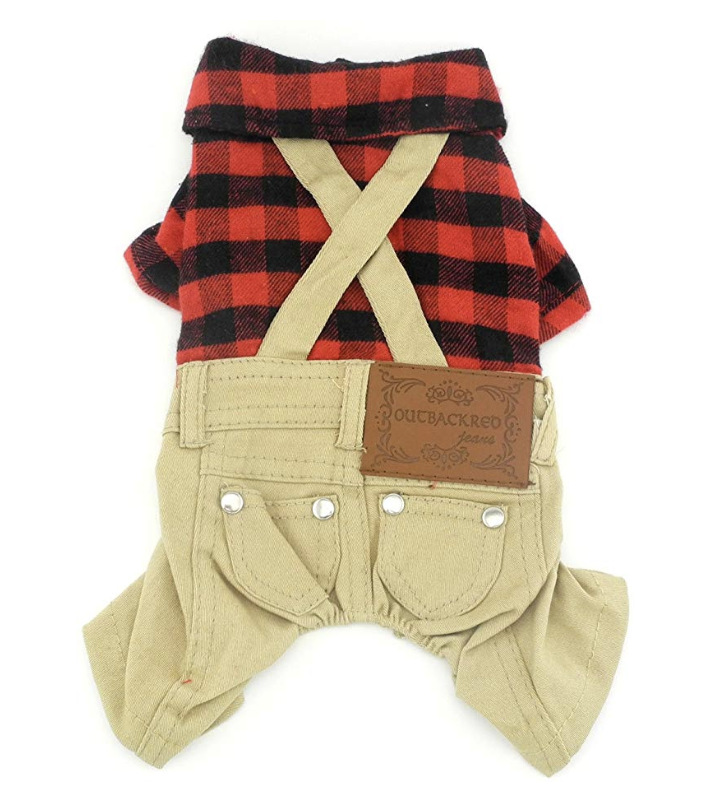 Ugh, so adorable! This onesie features a red plaid shirt with khaki overalls. This can be used as a costume or just as a jumpsuit to keep your doggo warm!
Pawsative Ruffview: "Oh my, this might be my new favorite outfit for Huxley. He can wear it when he does manly things like chop wood and eat steak. The khakis are just like the ones Jake from State Farm wears."
Get the Lumberjack Dog Onesie for $14.09
Dog Christmas Onesie
If you want something specific for the holidays, choose a Christmas or winter-themed onesie! If you want to match with your furpal, check out 14 Christmas Matching Dog and Owner Pajamas to Snug Up with This Holiday.
#20 Large Dog Onesie Snowman Design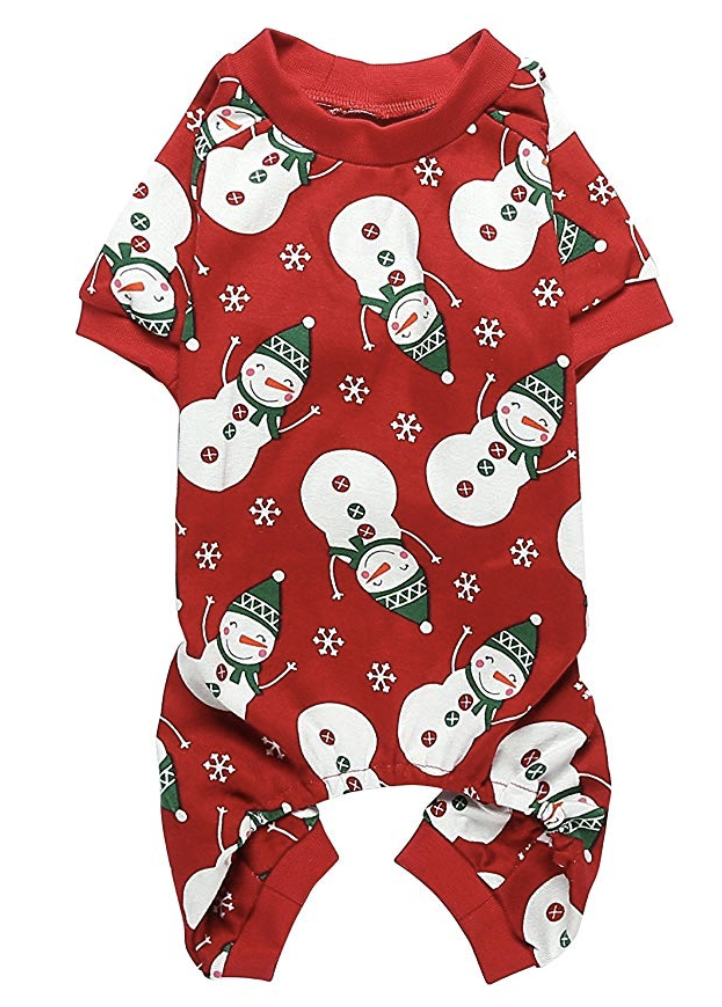 From size small to extra large, any breed can wear these as cozy pajamas. This jumper makes any dog look like a baby!
Pawsative Ruffview: "I absolutely love them but better yet Riley does! She doesn't want to take them off and they are intended as a Christmas gift LOL. I purchased the medium… Riley is 15 pounds."
Get the Snowman Dog Onesie for $13.98

#21 Santa Dog Christmas Onesie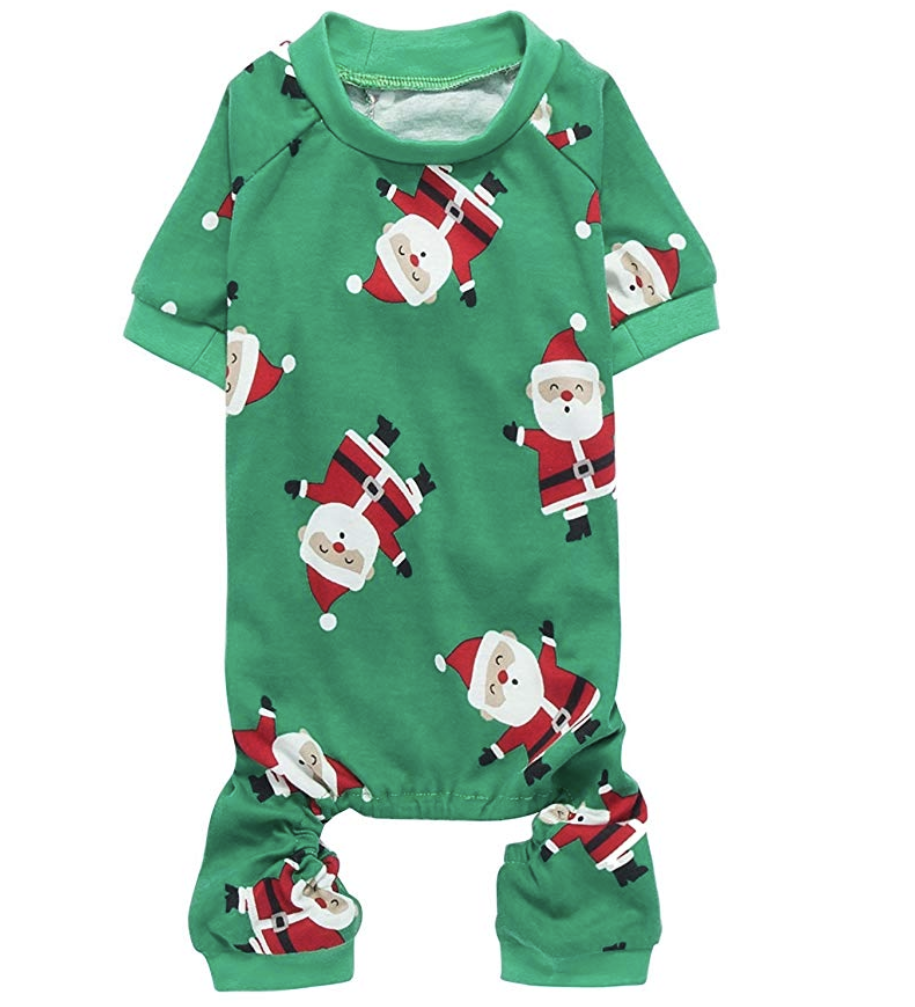 The most popular Christmas symbol, Santa, is featured on this bright onesie. Not much could make your dog look more Christmas-like.
Pawsative Ruffview: "So easy to put on! I ordered a medium for my pup and it fits perfect. A little stretchy which is good since he will be growing before Christmas. Can't wait to show up with him in pjs!"
Get the Santa Dog Onesie for $11.98
#22 Penguin Dog Christmas Onesie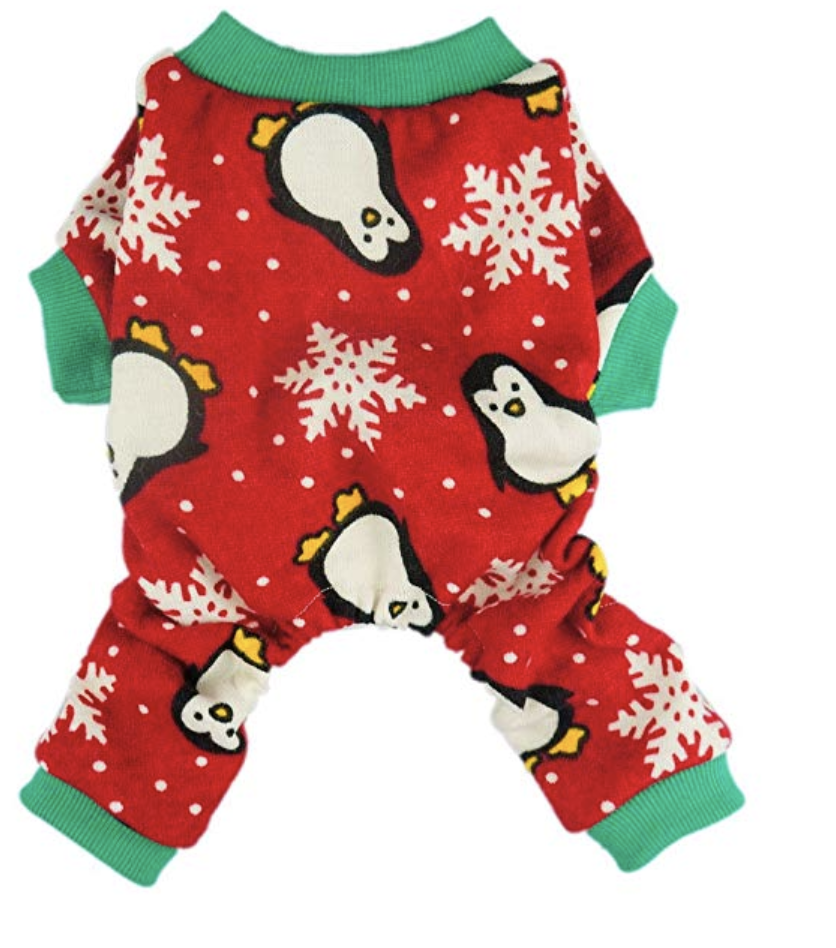 If you're a fan of penguins, you need to get this onesie! It will make any dog look ready for bedtime.
Pawsative Ruffview: "My little Christmas helper looks fantastic in his festive new duds. An xs fits him (a 2lb chihuahua pup) with room to grow. He's jazzed about helping us eat the Christmas ornaments and decorate the floors with dingleberries."
Get the Penguin Onesie for $11.99
#23 Moose Matching Christmas Jumpers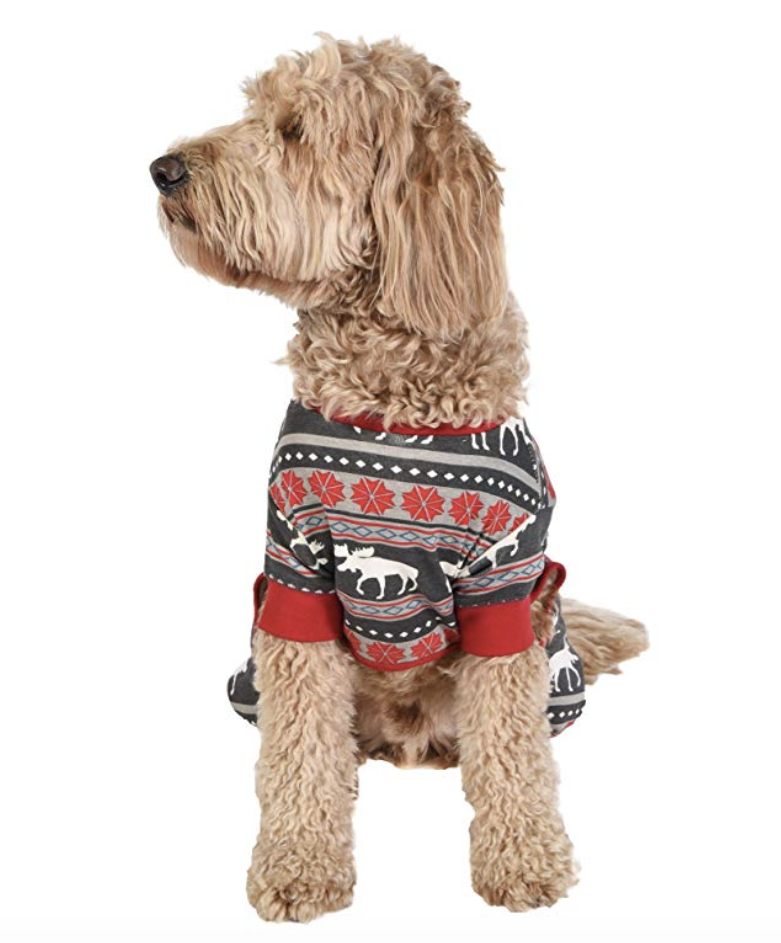 Since this moose onesie is made from high-quality cotton, it's sure to keep your doggy warm on cool days. The company also sells this exact print in track pants, robes and more. So if you're looking to match your dog, this is a good mix and match option!
Pawsative Ruffview: "Very comfy and well made."
Get this Christmas Dog Onesie from $14.99
#24 Reindeer Hoodie Onesie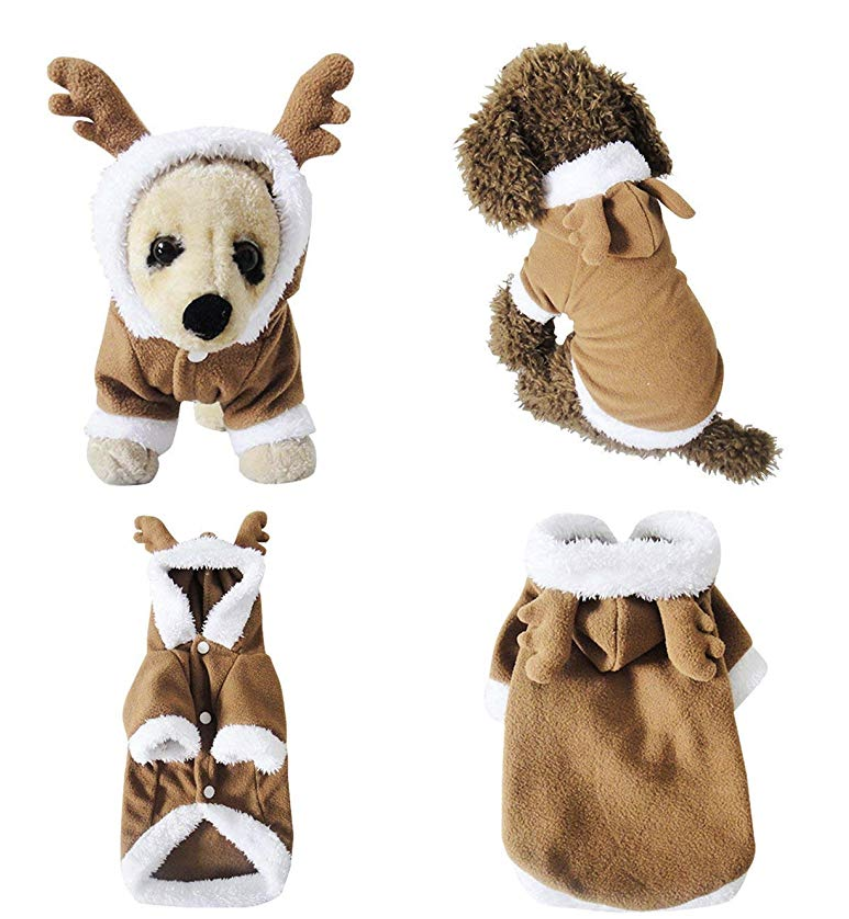 This fuzzy and comfy doggo onesie is perfect for cold walks or a cool home. And when you want extra cuteness, pull the hood up to make your pup a reindeer!
Pawsative Ruffview: "This is a very cute outfit for a dog. Atley is skinny and long and it fit just fine. As you can tell in the picture she is thrilled!! We loved it."
Get the Reindeer Dog Onesie for $13.99
#25 Red and White Matching Christmas Pajamas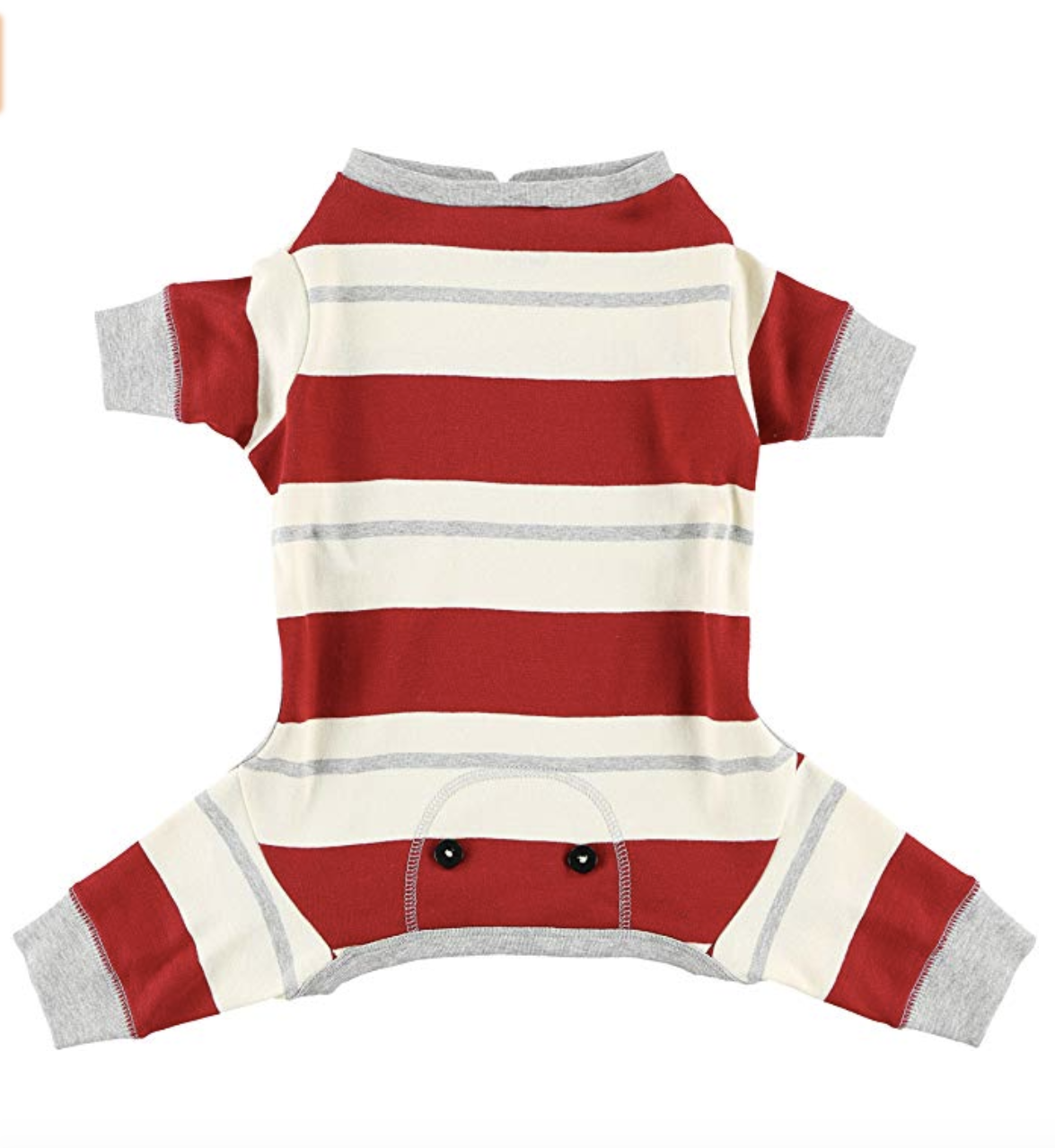 Here's an option that allows you to match your pup! Once you choose his onesie size, go back in and select whether you'd like matching PJ pants or the full set.
Pawsative Ruffview: "I bought these right before Christmas. (The family set). 6month, 4T, women's medium and men's 2X. I absolutely LOVE them. The quality is beyond what I expected. To be honest, I was hesitant but where else was I to find matching PJs for a family of 4 days before Xmas? Anyway, they are super comfy and stretchy and they fit so well. It was a great purchase."
Get the Dog Onesies for $17.99
#26 Blue Santa and Candycane Christmas Dog Onesie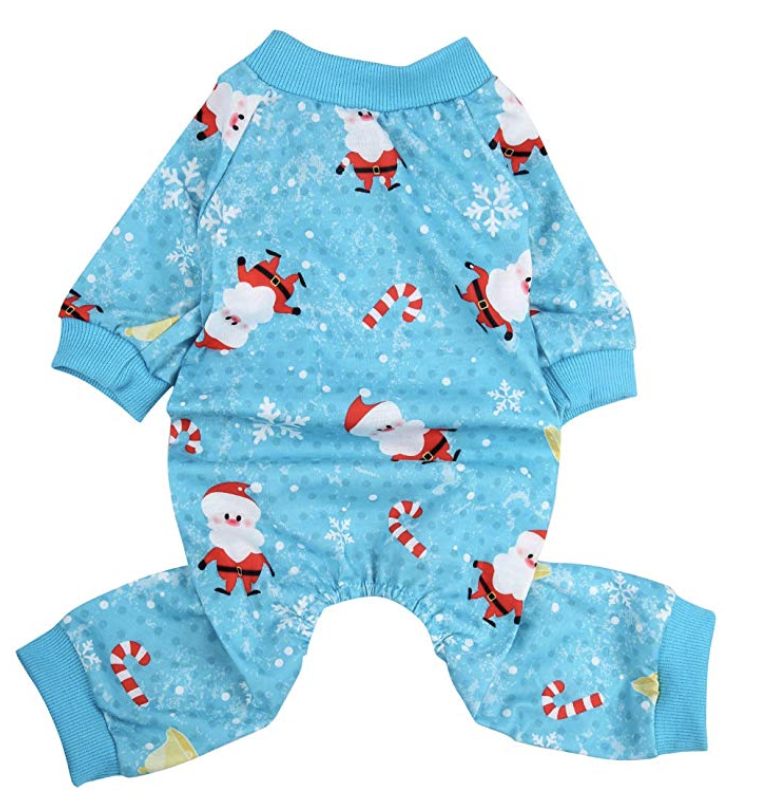 These light blue onesies feature little Santas, snowflakes and candy canes. Also comes in red and a variety of sizes, so it's a great choice for large breeds!
Pawsative Ruffview: "I love this!! My pup is a whopping 76 lbs. I bought the XL it fits great (It is slightly big, but I wanted it that way since he is still growing and it makes it easier to put on him as there are not zippers or buttons)! The material is light and stretchy, but also super soft!"
Get the Blue Dog Onesie for $13.86
#27 Black Snowman Dog Onesie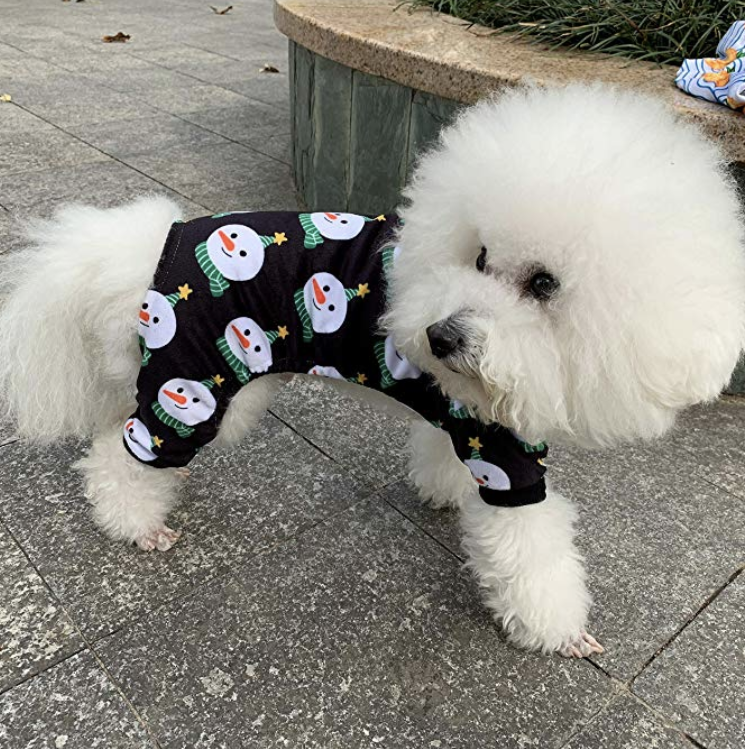 These onesies come in a variety of styles, so be sure to check out the other options! This black snowman onesie is perfect to sleep in or even just for adorable photos!
Pawsative Ruffview: "OMG so cute. They fit perfect and my dog can still walk just fine in them. I like that it doesn't block them from being able to use the restroom. This is great for any small dog because they tend to get cold really easy. They are so soft and cuddly I just loved them. Brutus seemed to like them too!!"
Get the Snowman Onesie for $11.99
#28 Lights Out Dog Onesie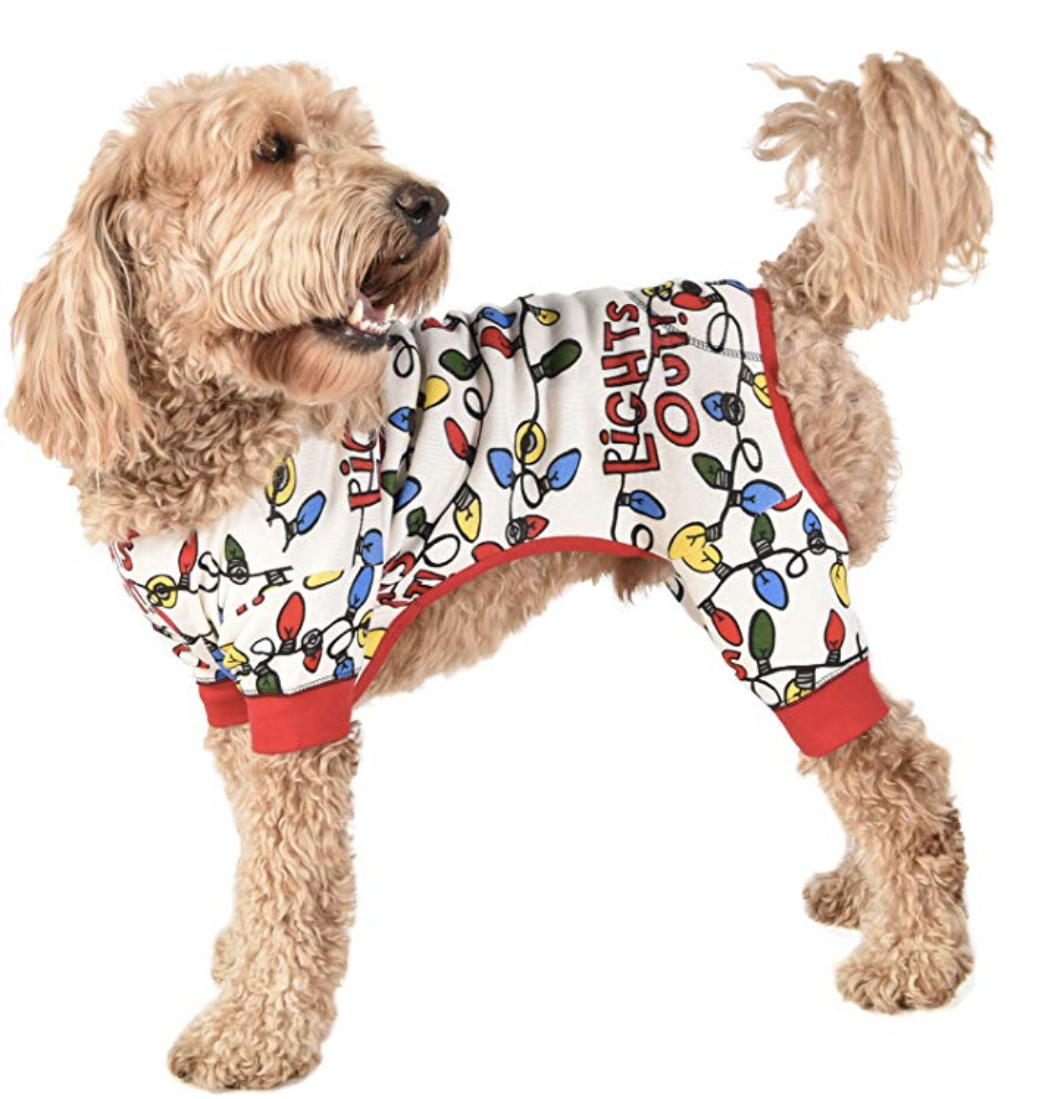 This adorable onesie had green, yellow, red and blue holiday lights throughout the entire design. It even features the phrase "lights out," perfect for doggo bedtime.
Pawsative Ruffview: "Went to buy these on the LazyOne website and they were sold out. Love that I found them on Amazon. Perfect snug fit. So soft and comfortable. Love the holiday theme."
Get the Holiday Light Onesie for $15.99
#29 Bear + Tree Matching Onesies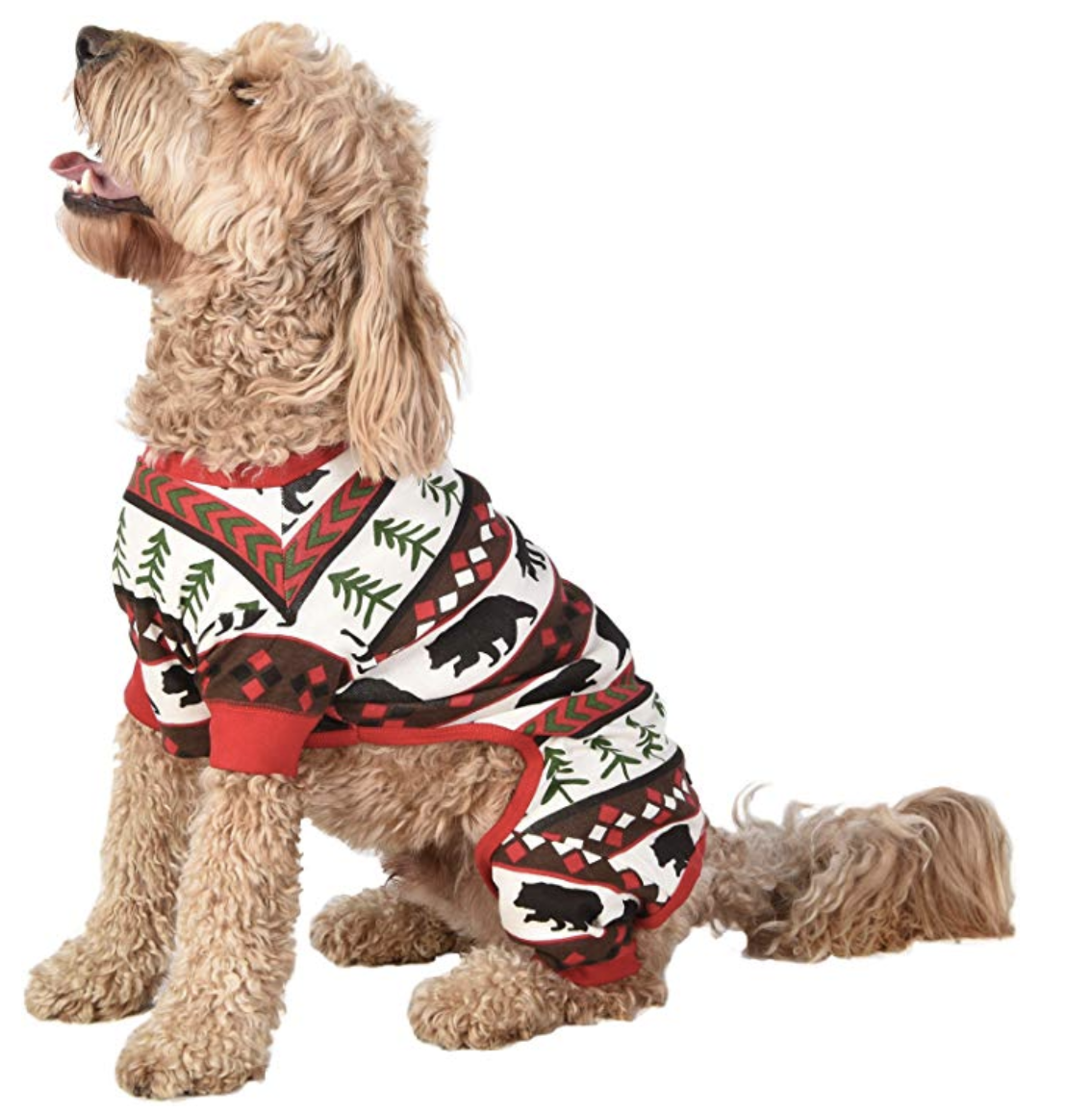 This high-quality design has a woodsy and holiday feel. You can also get it in a variety of human onesie sizes too!
Pawsative Ruffview: "Adorable & well made pair of pajamas ! I ordered a size small and they fit perfectly on my 7.5 lb chihuahua (pictured), but were big on my 6.5 lb chihuahua, which was expected. Would recommend this product if you think your dog is in need of some festive pajamas :)"
Get the Holiday Doggo Onesie for $18.99
#30 Red, Green and White Christmas Canine Onesie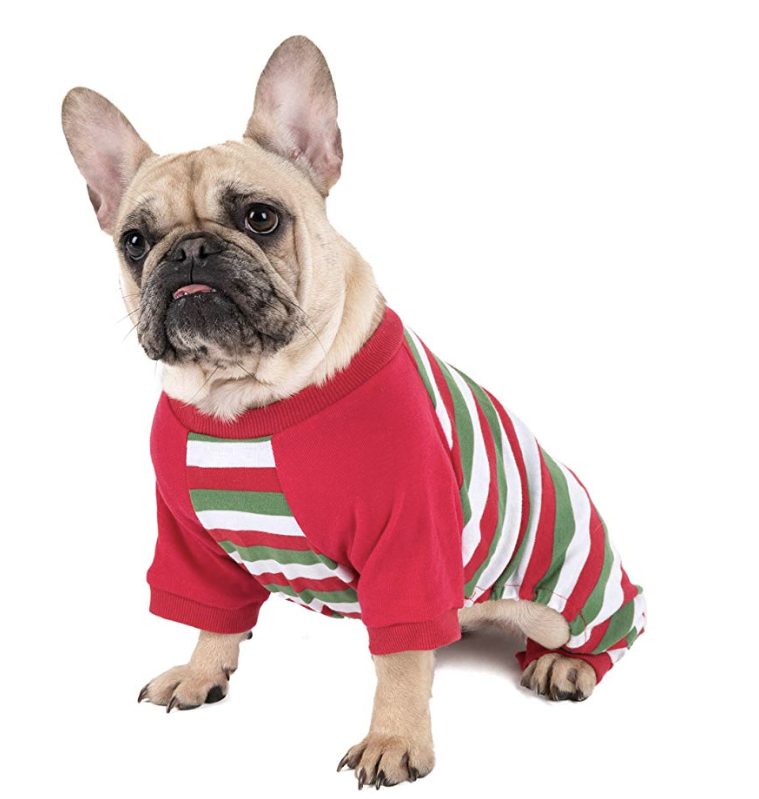 This 100% cotton pajama is comfy enough for your pup to wear all along. Sizes also range from XSmall to XXXLarge.
Pawsative Ruffview: "My 7 mo, 5lb yorkie papillon mix fit perfect into a small. It has good stretch and was easy to put on. He's currently still wearing them and waiting for me to turn Netflix on so he can chill."
Get the Pet Pajamas for $14.99