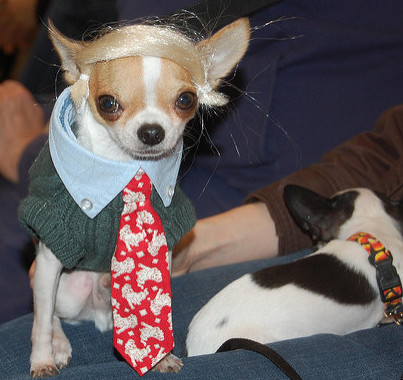 A man working at a dog shelter posed an interesting question today:
"With Donald Trump having major victory in several states, I thought, if Donald Trump were a dog, what kind of dog would he be?
For those thinking the camera will point to an aggressive mutt, you're wrong.
Trump is actually more of a Jack Russell terrier, according to the worker.
The man leans down in front of a kennel with a yapping dog inside named Cookie.
He starts comparing characters.
"Cookie wants out and Cookie wants attention. Now if Cookie doesn't get what she wants, Cookie barks, and she barks very annoyingly and very loud."
"Donald Trump is a lot like this dog. This dog is somewhat manipulative, can be messy, doesn't really care about other people…"
"And well, judge for yourself the hairstyle."
He explains in his description that Cookie is actually an awesome dog and that the traits can be trained out of her. The cute pooch is up for adoption.
We're not picking sides, but we sure love picturing presidential candidates as pooches.
https://www.youtube.com/watch?v=8P30jPDa98A
What kind of dog do YOU think Trump would be? How about Hillary Clinton?