As the cold months roll in, you'll probably find yourself snuggling up with your pup.
But you know what's even cuter?
Cuddling up with matching pajamas!
They'd also look just adorable if your family/friends all got matching ones and took holiday photos! If you have a big family, even toddlers and teenagers can fit into these options. And even if it's just you and your dog, you're going to look adorable in these finds!
We've rounded up some of the cutest options–take a look at Christmas pajamas for family and dogs.
Matching Dog and Owner Pajamas on Amazon
Before choosing a pajama set for you, your family and your doggo, there's a few things to think about:
Christmas-themed. If you want something specifically Christmas-themed, we've got a ton of options in this post. But we also have some ideas for those who want their PJs to be wearable all year around. For example, red plaid works great for the holidays but also in the months before and after!
Christmas photos. If you're not already buying them for Christmas card photos, it's something to think about! Having a whole family match with even the dog (or if you're like me, just you and your dog) it makes a great photo!
Sizing. Some brands run small, large or true to fit. Since you don't know, make sure you use their sizing chart and measure yourself/kids/dogs before buying. This ensures you won't have to go through the return and rebuying process.
Separate buys. Remember that each piece is sold separately, so be sure to select the design and size for each family member!
#1 Reindeer Christmas Pajamas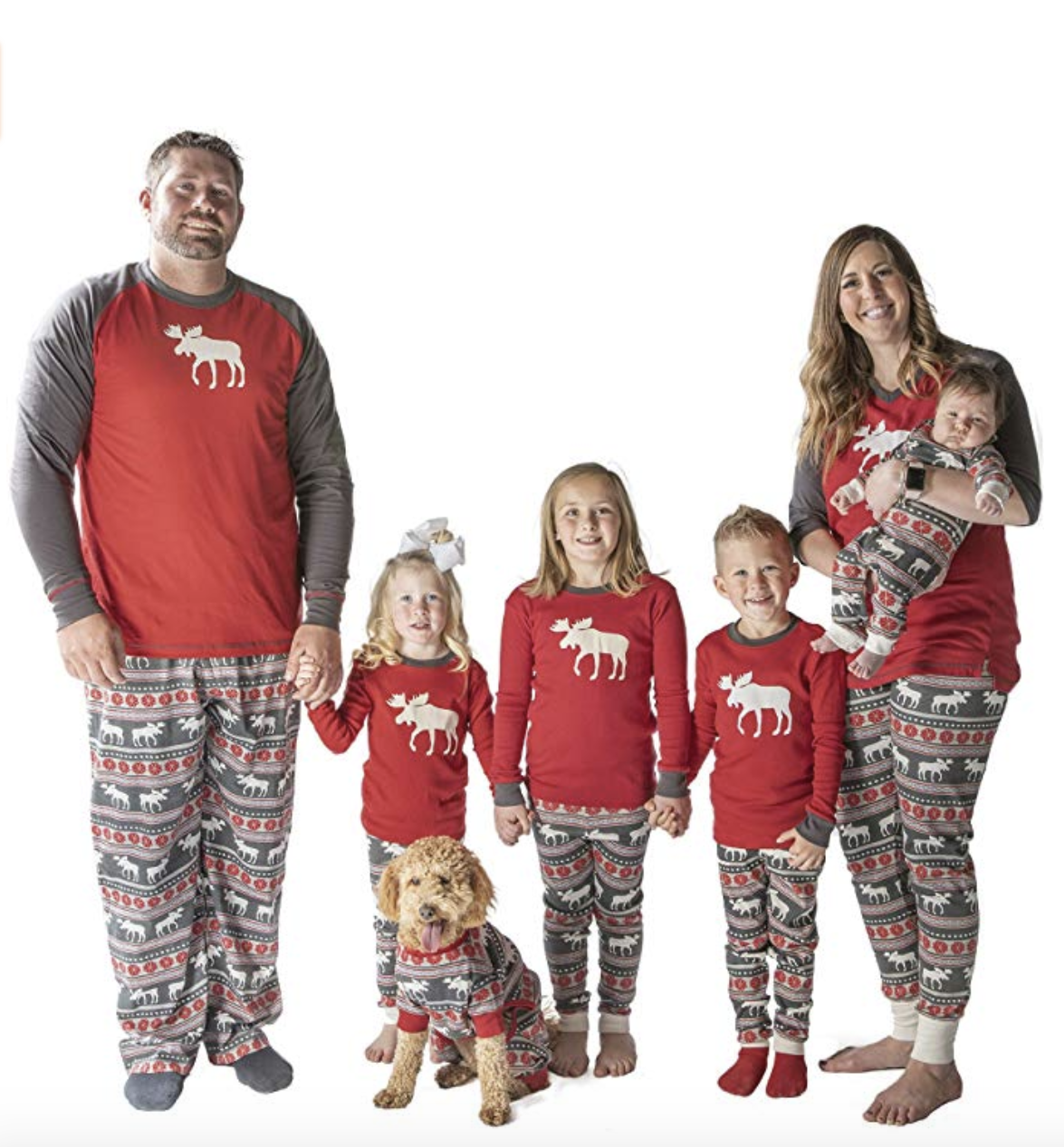 This 100% pre-shrunk cotton makes them fit great and feel great for every member of the family! Even if you're not into pajamas, this pattern comes in a robe, socks and blanket– So everyone can match!
Pawsative Ruffview: "I absolutely love this! I like my robe a little oversized so I got a large and I'm a size 8 for reference."
Get these Matching Moose PJS from $14.99
#2 Dr. Seuss Pajamas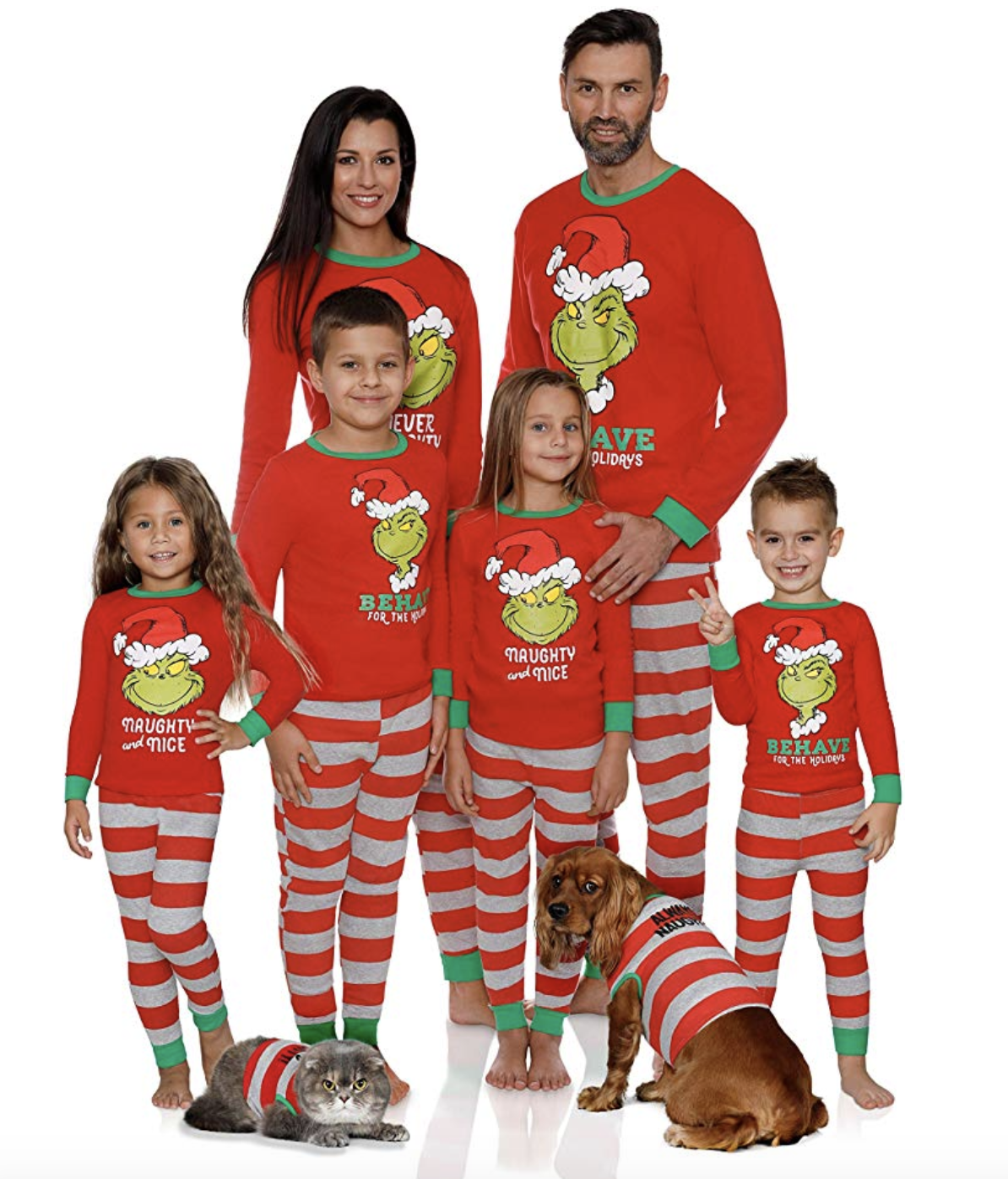 If someone in your family is a big fan of Dr. Seuss, this is the perfect set for them. With striped bottoms and a funny Grinch top, these are suitable for humans, dogs and even cat family members!
Pawsative Ruffviews: "The pajamas are form fitting, which make them so darn cute! The recipients loved them!"
Get the Grinch Pajamas from $4.99
#3 Striped Red and White Matching Christmas Pajamas with Dog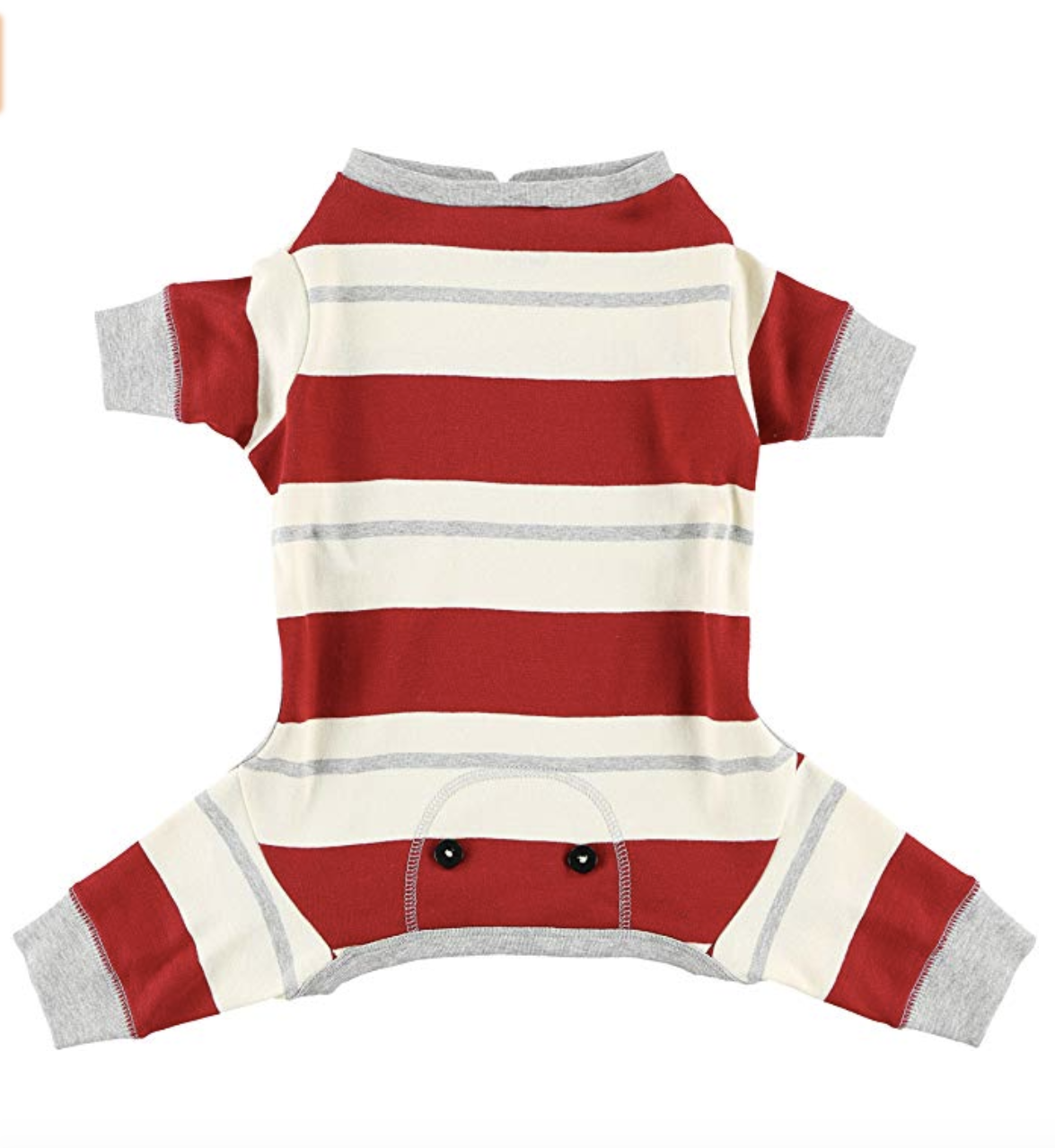 This set has a few options. Other than the adorable dog onesie, you can get the human top and pants set, human onesie or just the pants.
Pawsative Ruffview: "I bought these right before Christmas. (The family set). 6month, 4T, women's medium and men's 2X. I absolutely LOVE them. The quality is beyond what I expected. To be honest, I was hesitant but where else was I to find matching PJs for a family of 4 days before Xmas? Anyway, they are super comfy and stretchy and they fit so well. It was a great purchase."
Get the Matching Dog Onesies from $17.99
#4 Peace, Love and Joy Matching Christmas Pajamas with Dog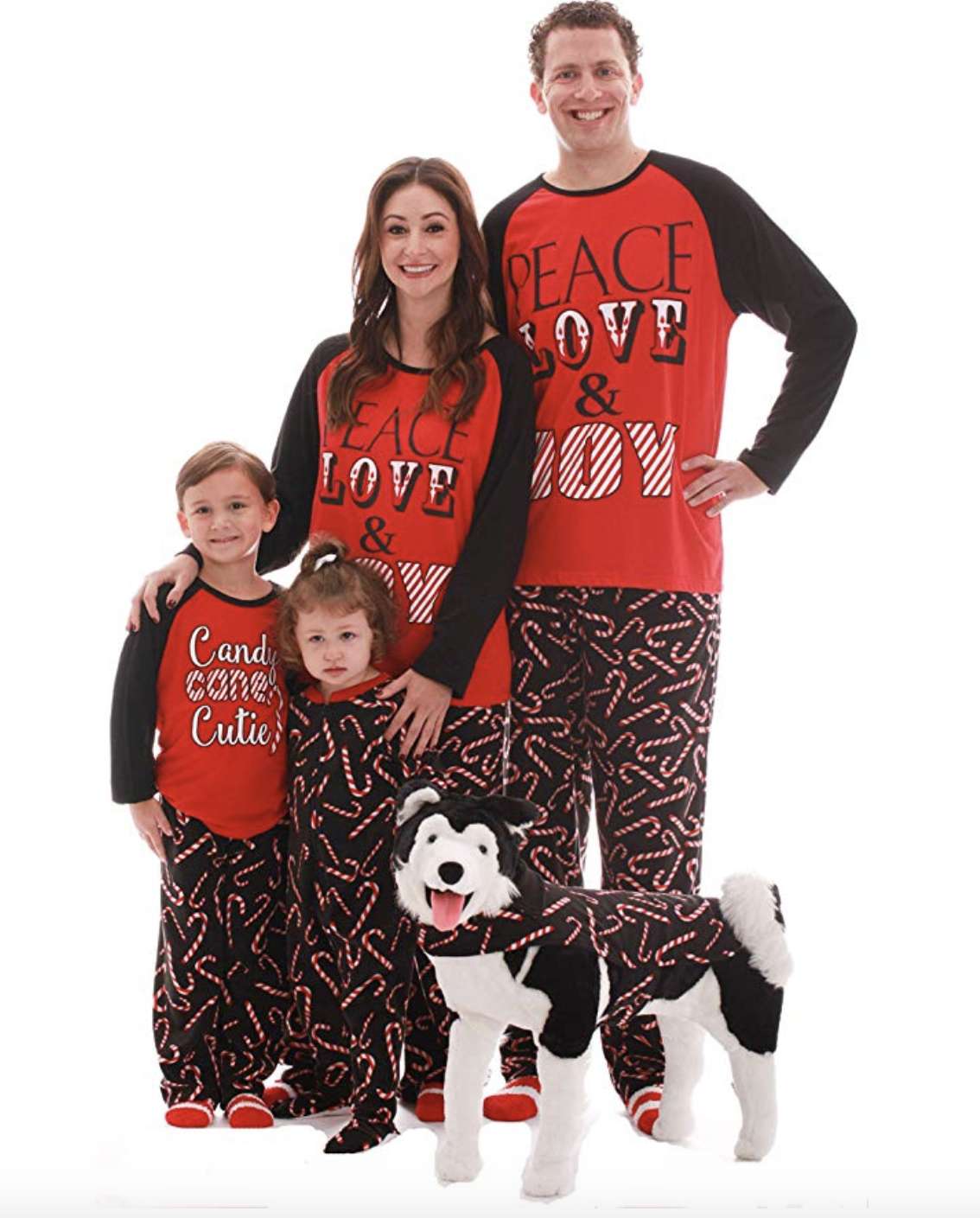 These are a great option for the family who spreads love and peace everywhere they go. Your dog's matching outfit includes a black candy cane design that matches your pants!
Pawsative Ruffview: "I bought 7 pairs of these PJs for my family. Was worried about the sizes, and if they would all fit properly but they all fit great! They are so soft and snuggly, the quality is excellent! Every year I buy matching Christmas pjs, they are usually so expensive and it's difficult to find the right fit for everyone. These are much more affordable without skimping on quality. I would definitely recommend."
Get the Matching Holiday Set from $19.99
#5 Red Plaid Family Onesies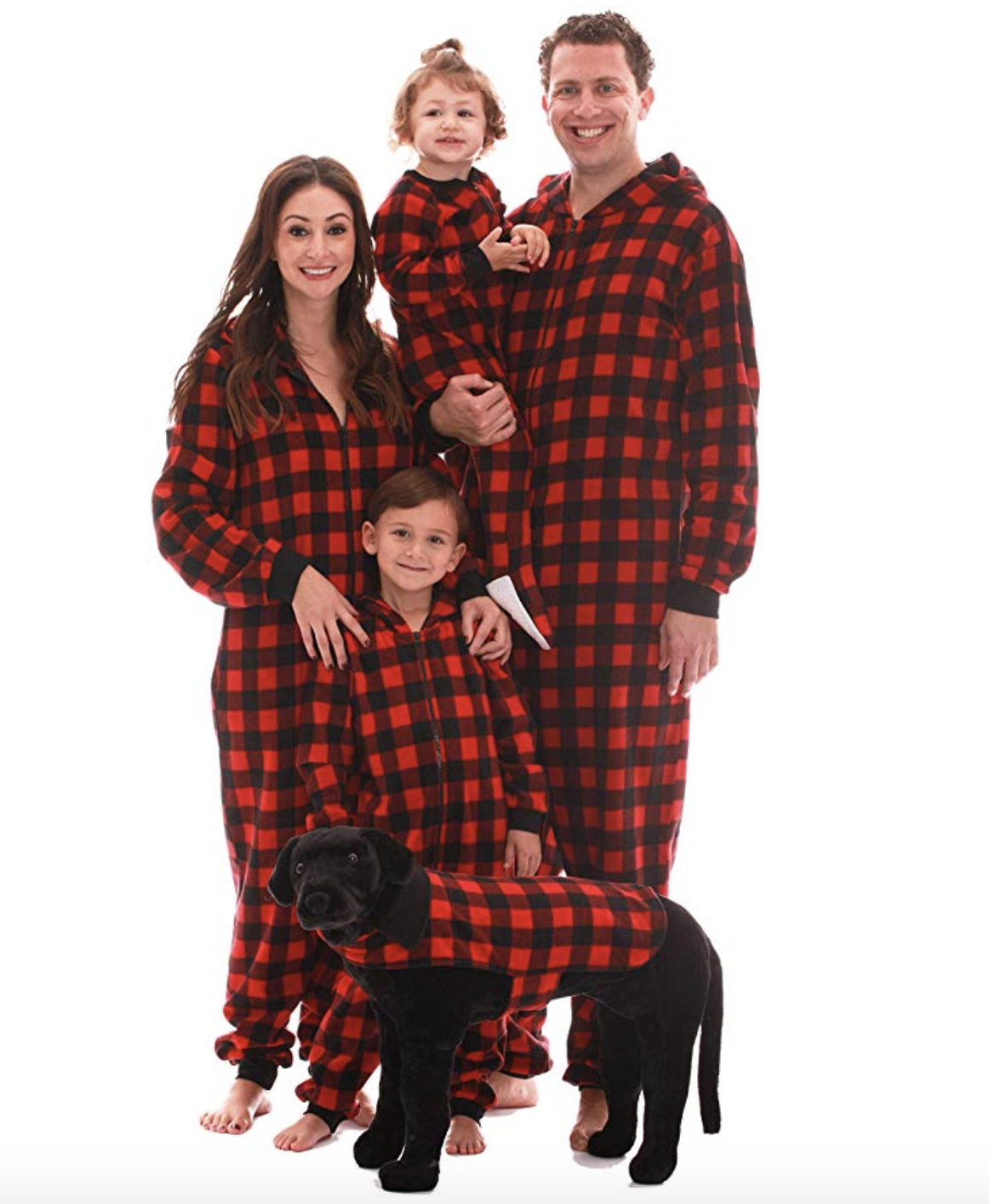 Since plaid can be worn all year long, this is a good option if your family loves onesies. From toddlers to adults and dogs, they have any size you'd need.
Pawsative Ruffview: "These onesies are SO soft and comfortable. Little tidbit of advice, order one size smaller than you would generally wear. I ordered a medium after reading the reviews and I would have typically ordered a large. It fits perfectly! My husband is 6'2", 220 lbs and would generally wear an XL. I bought him a large and it fits him perfectly as well!"
Get the Red Plaid Dog Matching Onesie from $39.99
#6 Assorted Matching Family PJs with Dog Bandana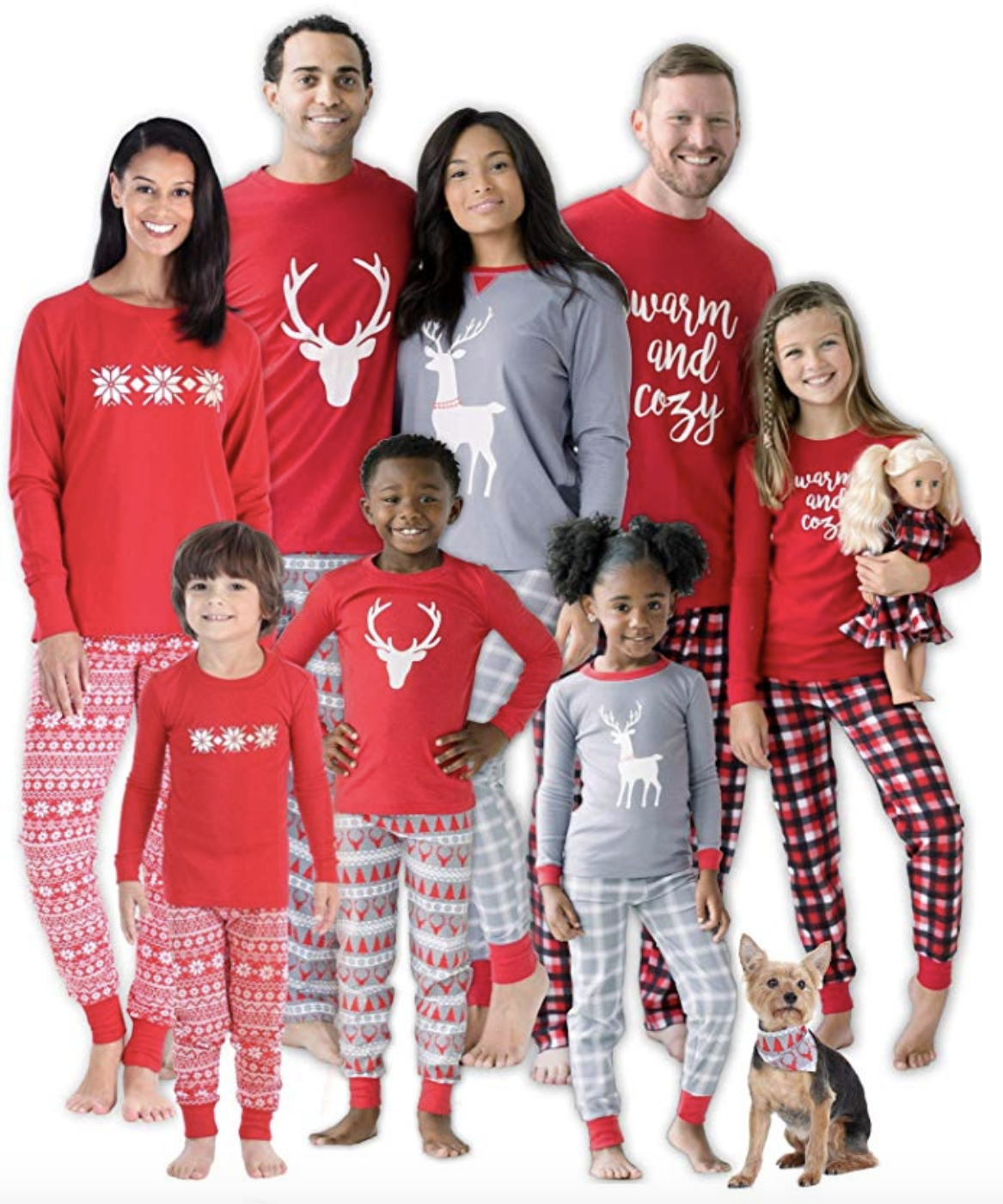 This is a good choice if your dog doesn't like clothes or onesies. Each set has an option to buy a dog bandana in a matching pattern. Comes in plaid black or white, red snowflake or red deer design. It even includes a matching outfit for a child's doll so they don't feel left out, either.
Pawsative Ruffview: "Ordered these for my family overseas. Was super happy they fit everyone perfectly. Sizes from toddler to big kids and adults all great. Happy dance over there and here!"
Get the Matching Dog Bandana and PJs from $6.99
#7 Red Plaid Reindeer Matching Dog and Owner Pajamas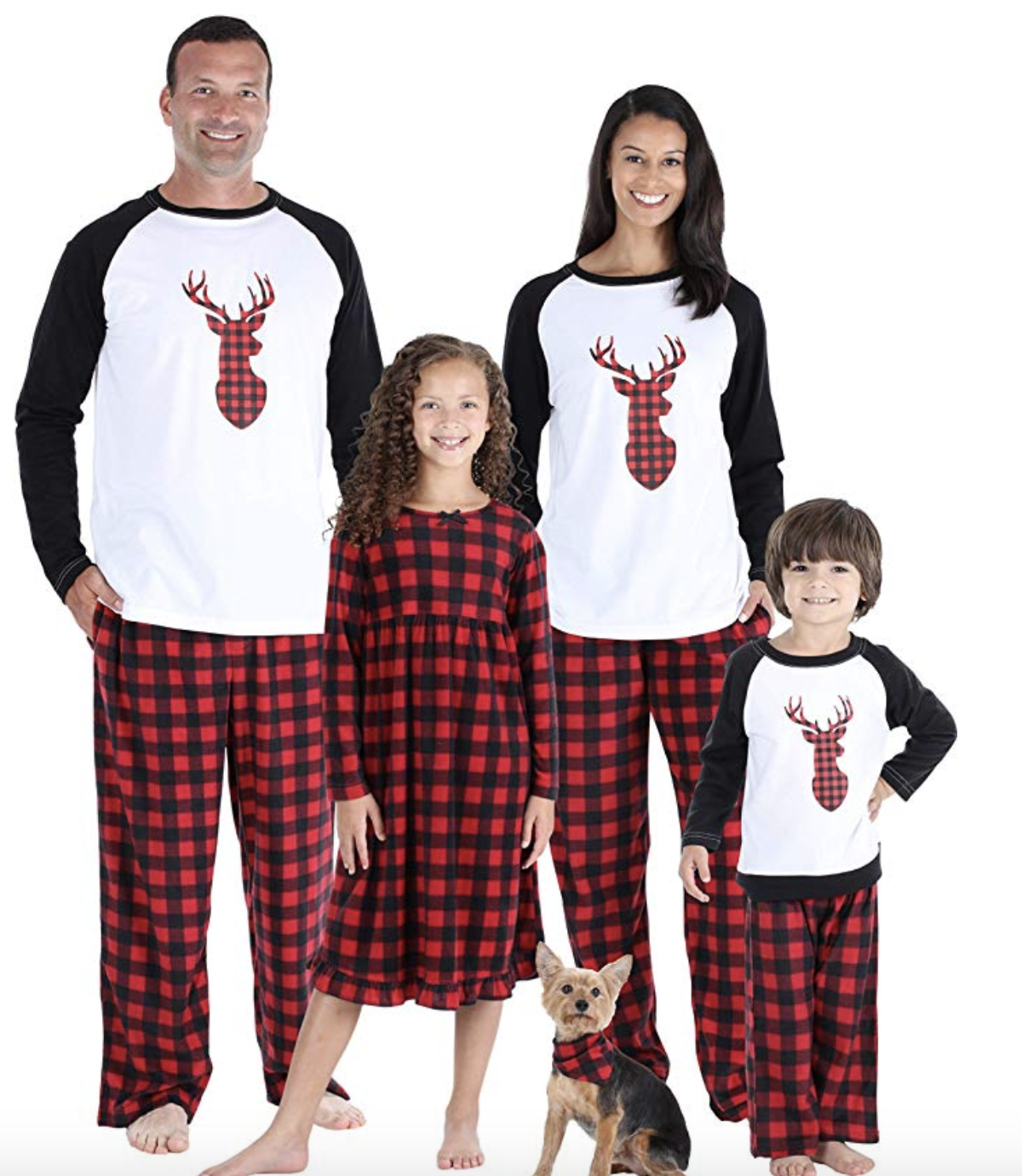 There's options in this one for a set of red plaid pants and a black and white top featuring a moose, a red plaid gown and a doggy bandana. The lightweight cotton blend will keep you warm on those cold winter nights!
Pawsative Ruffview: "They were absolutely perfect! The 6mo size baby jammies were a little snug but my child is a tad larger so I should've done 9-12 months maybe- especially so he could've worn them longer but other than that they're so perfect! The nightgown is adorable and can be worn for years to come. My husband's exact words were "wow these are nice, I'll actually wear these ones!" So that's saying something ?"
Get the Matching Doggo PJs for $6.99
#8 Black Candy Cane Matching Dog Pajamas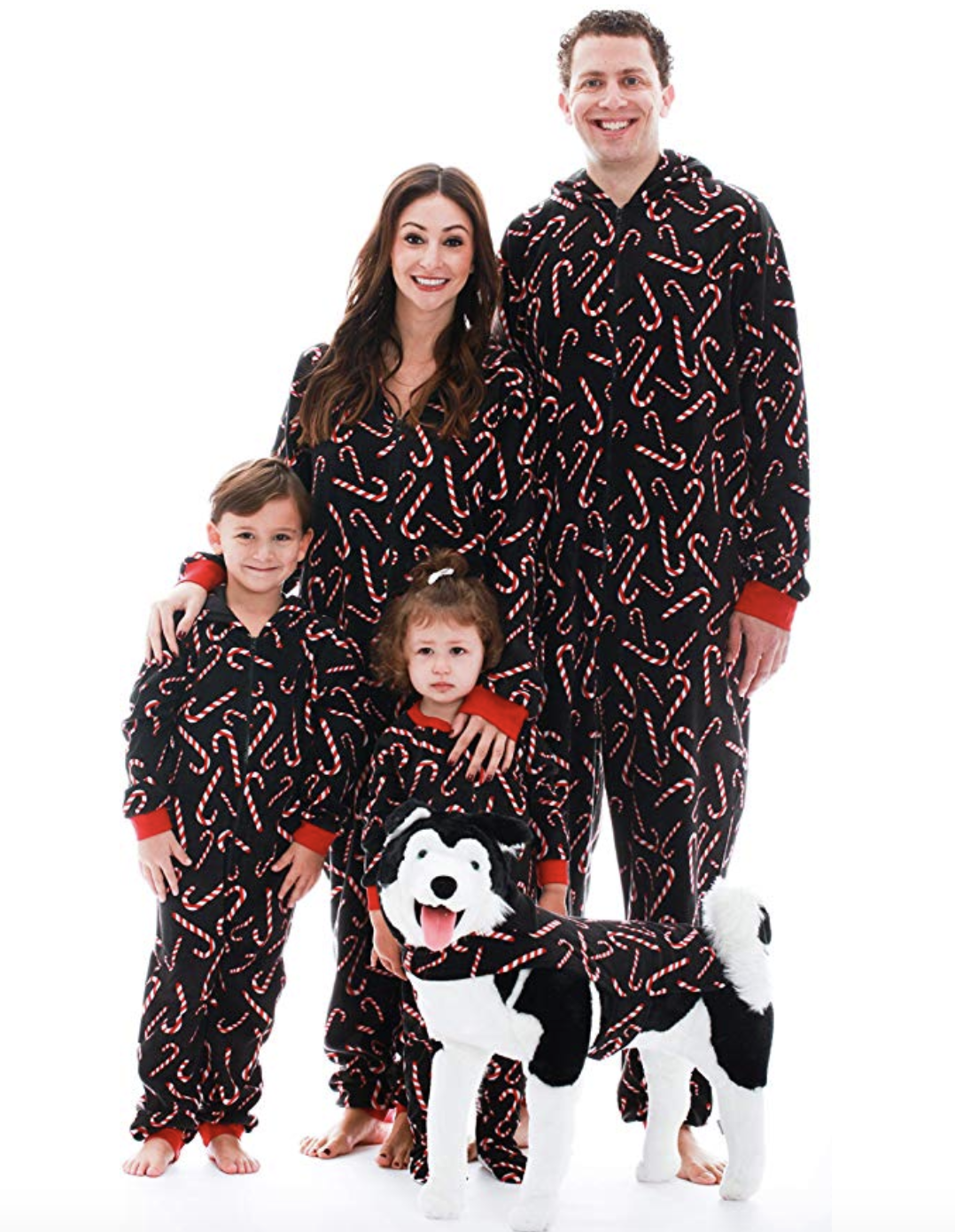 These onesies come in sizes for the entire family–including your furpal. Whether it's for a Christmas photo or an outfit to celebrate New Year's in, it's a perfect option!
Pawsative Ruffview: "We purchase 5 for the complete family for a PJs Christmas Party!!! They were very nice and we received lots of compliments!!! Everybody was with PJs but ours won!! Lol."
Get the Matching Christmas Dog Onesies from $39.99
#9 Grey Sweatshirt Onesie for Whole Family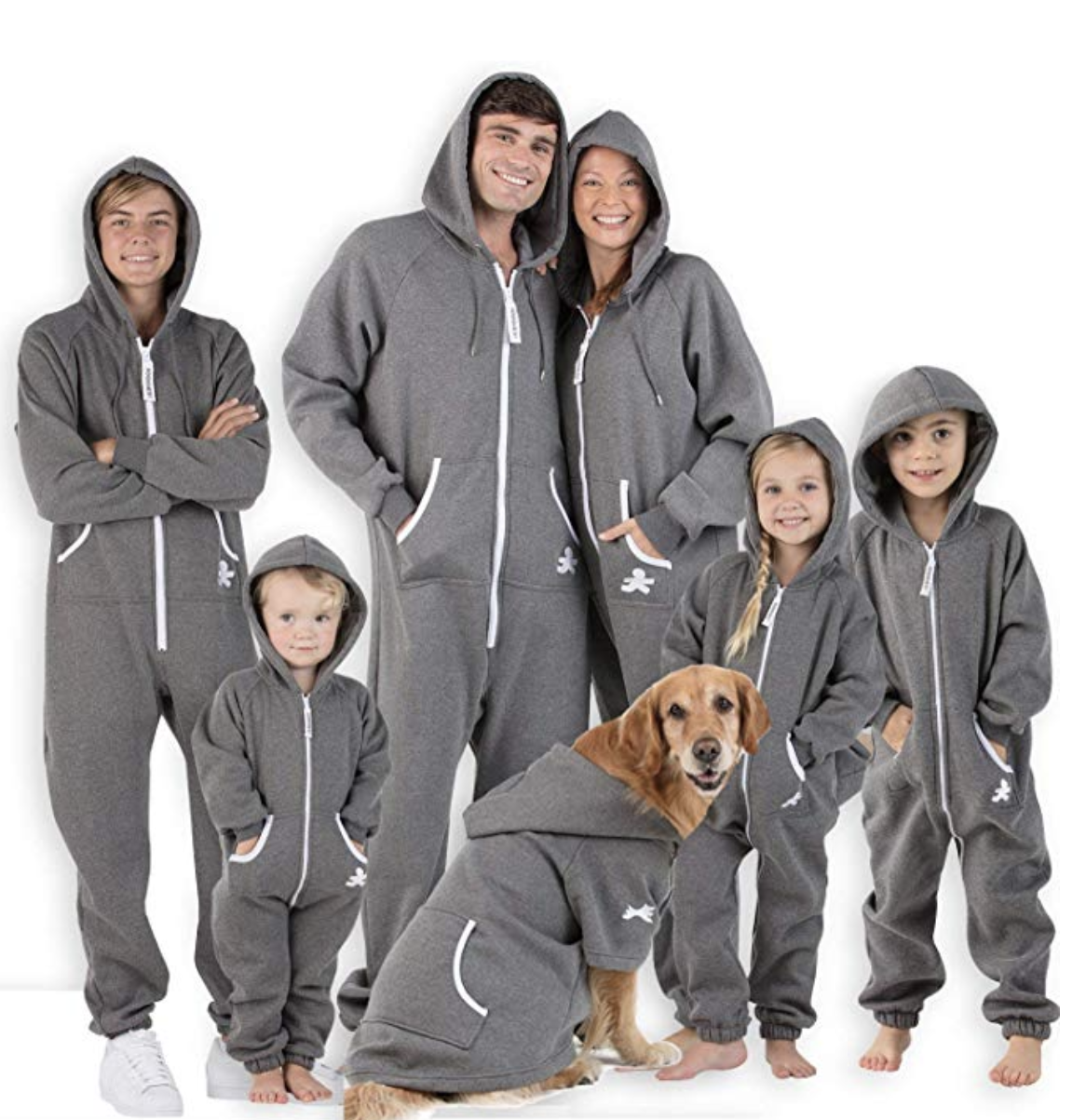 Looking to buy a Christmas gift that can be worn by everyone all year round! Check out this comfy sweatshirt-like onesie! Even the doggo gets pockets and a hoodie!
Pawsative Ruffview: "I'm 5'8, 145. I got the medium. It's oversized and quite roomy but I'm not wearing it to be fashionable. The length is great. So comfortable! Quality is very good. I got the XL infant for my 5 month old who is 20.5 pounds and it's also roomy and long but will fit him for a nice long time. I'm very satisfied with my purchase. It's exactly as it appears. Sweatshirt material."
Get the Grey Onesie from $17.95
#10 Christmas Light Onesie
Looking for something bright to make your pajamas pop? These outfits come with green or red onesies or gowns and a doggo onesie too!
Pawsative Ruffview: "This is a fun, pretty, and well-made Christmas nightgown. It's extremely colorful and the material is soft and comfortable. I believe it's made for taller women–I'm 5'3″ and it comes down just past my knees, but I'm fine with that. It's form-fitting, so if you're looking for something loose and flowy, this is not it–but it's extremely comfortable. I weigh around 145 and the medium is a great fit. It is perfect and festive for Christmas and I love wearing it around the holidays! I highly recommend it. The only downside is that it's pricey."
Get the Christmas Dog Onesie for $21
#11 Footsie Matching Dog and Owner Pajamas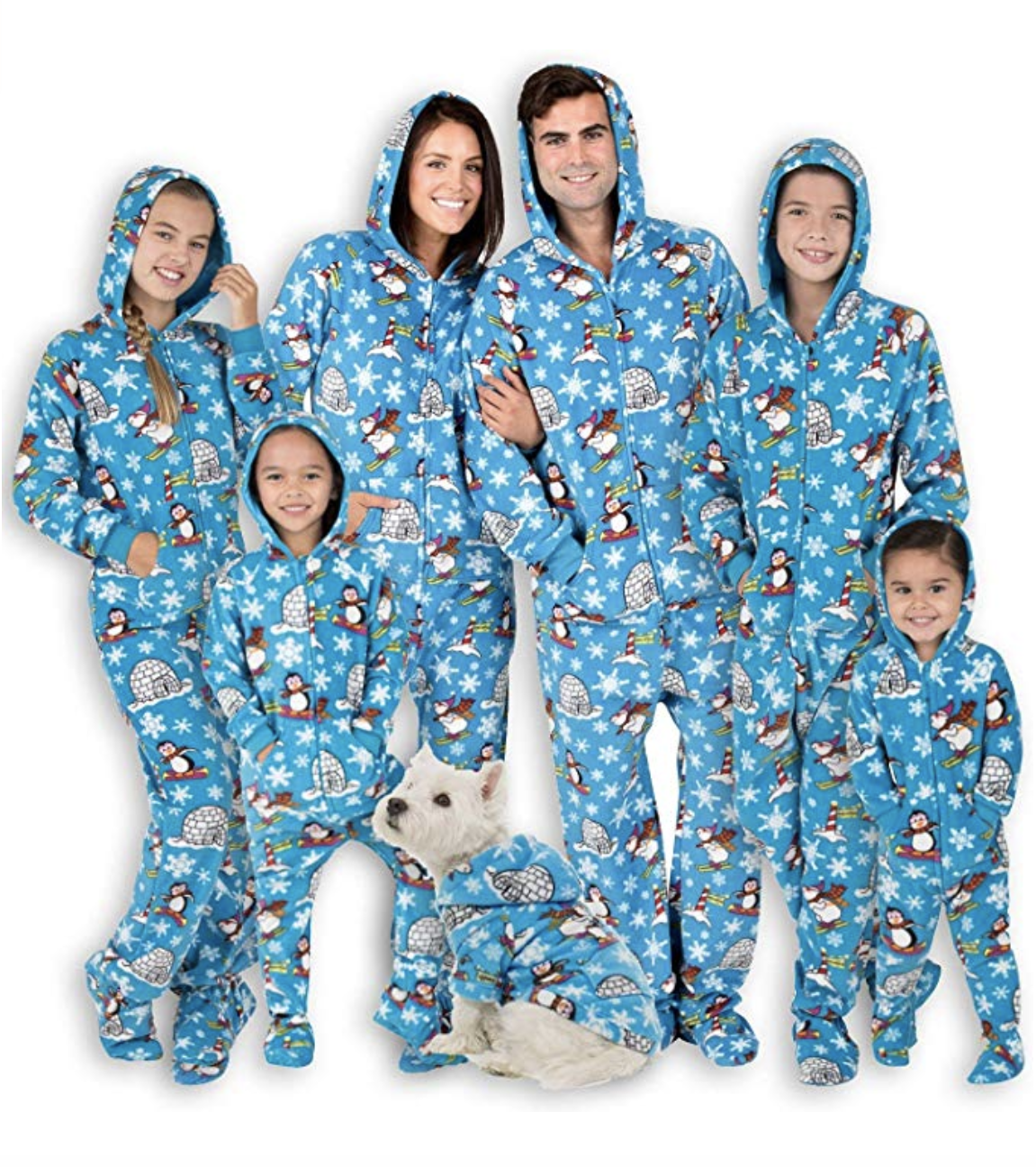 These adorable blue onesies feature skiing bears and penguins and igloos. Since they keep your keep warm, you won't even need slippers!
Pawsative Ruffview: "We ordered 5 Footed Pajamas…The kids since they didn't have a 6T we ordered a XS small for my 5 year old son and it fits great..It has extra room for him to grow into..I was a little worried it would be to small but there was plenty of extra room. We only had to return one that fit a little to snug out of the five. The measurements are exact. I also did not have any problems with the return process. You have to order another one and send the one back then they refund you. I was worried I wouldn't have it in time but it worked out perfect. I recommend that when you receive your Pajamas, try them on to make sure they fit so if there are any problems you and send them back asap. Thank You Footed Pajamas!! Would definitely order more in the future!!.. =)"
Get these Igloo Family Onesies from $17.95
#12 Grey or Red Snowflake Matching Dog Pajamas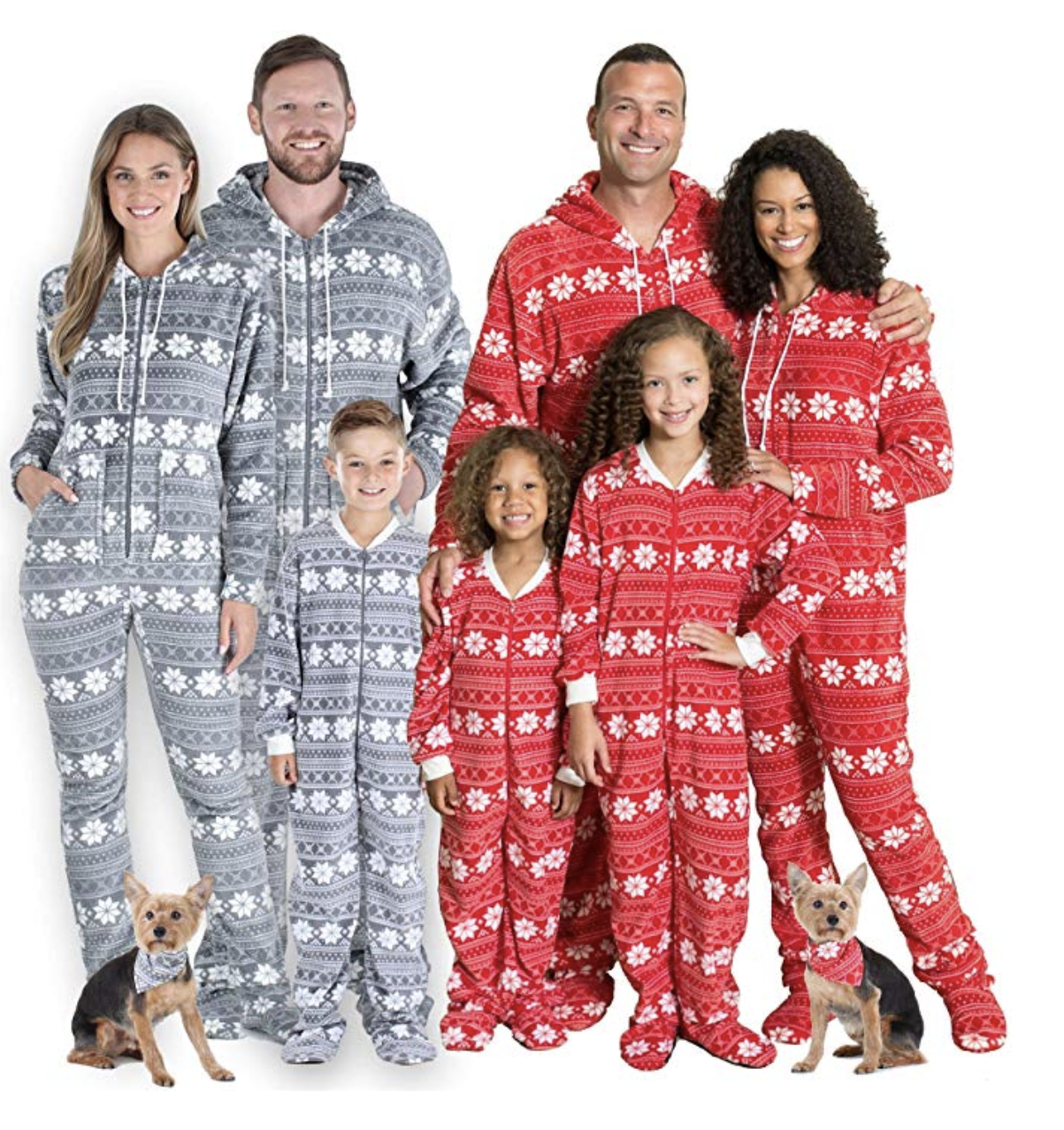 Here's another one that's a good fit for dogs like minimal material. You and your family can wear a full onesie while your pup will have a comfy bandana of the same design.
Pawsative Ruffview: "Very warm and soft. I'm happy with the purchase! I like the zip-off feet feature on the adult PJs. The fleece sheds a ton but it stayed soft even after a wash. I got it just for family pictures – but I like it so much I'm going to wear it around the house!"
Get the Snowflake Onesie from $6.99
#13 Black and White Onesies with Matching Bandana By Burt's Bees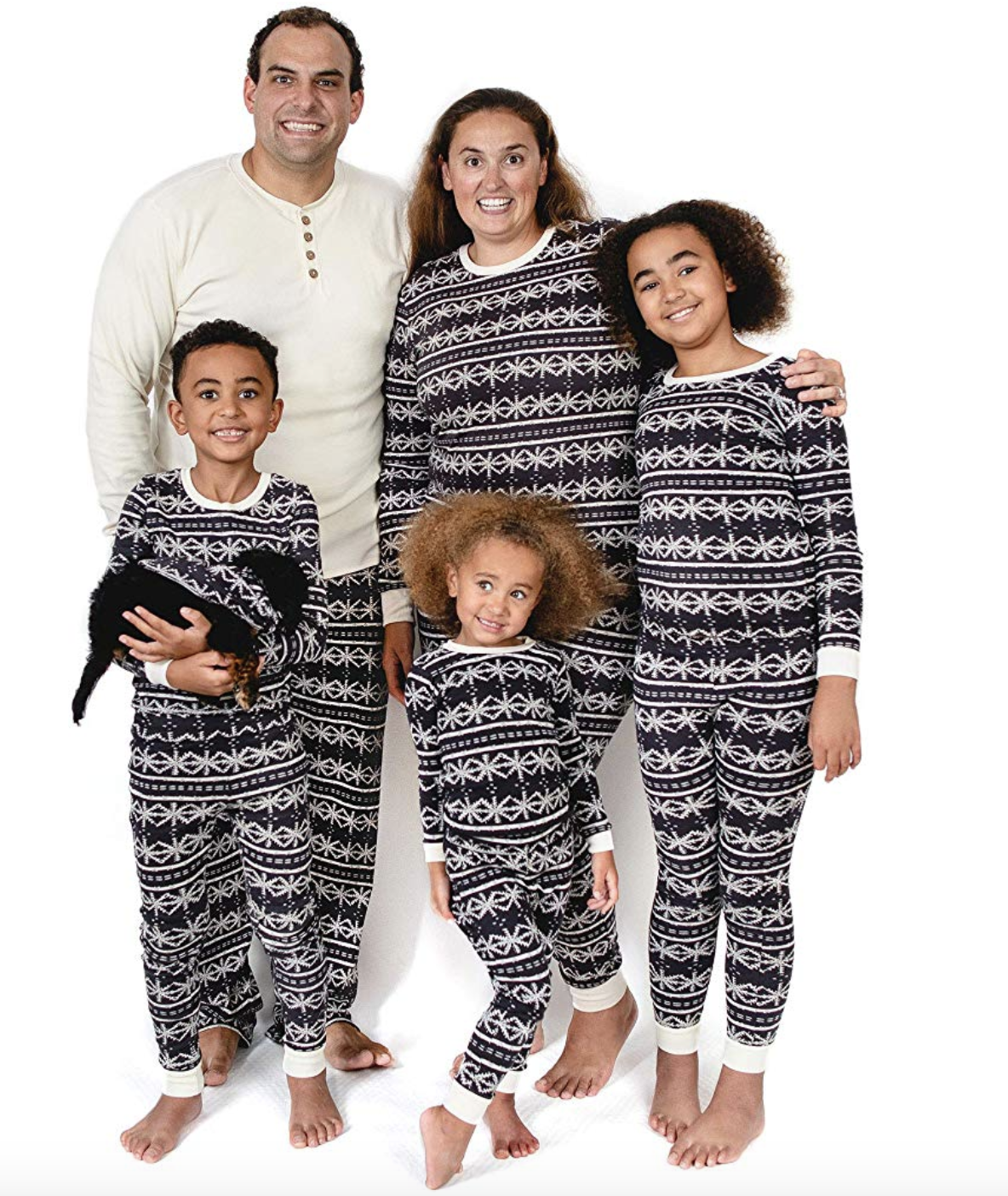 If you want a onesie that will work all year round, check out this set, complete with a matching dog or cat bandana. Keeping with the natural elements of the Burt's Bees brand, it also made from 100% organic cotton.
Pawsative Ruffview: "I'm a big fan of Burt's Bees products, however, this is our first family pajama purchase. They are so well made and soft. The fit is absolutely perfect as well. I highly recommend."
Get the Matching PJs from $10.39
#14 Red Plaid Pants and Black PJ Top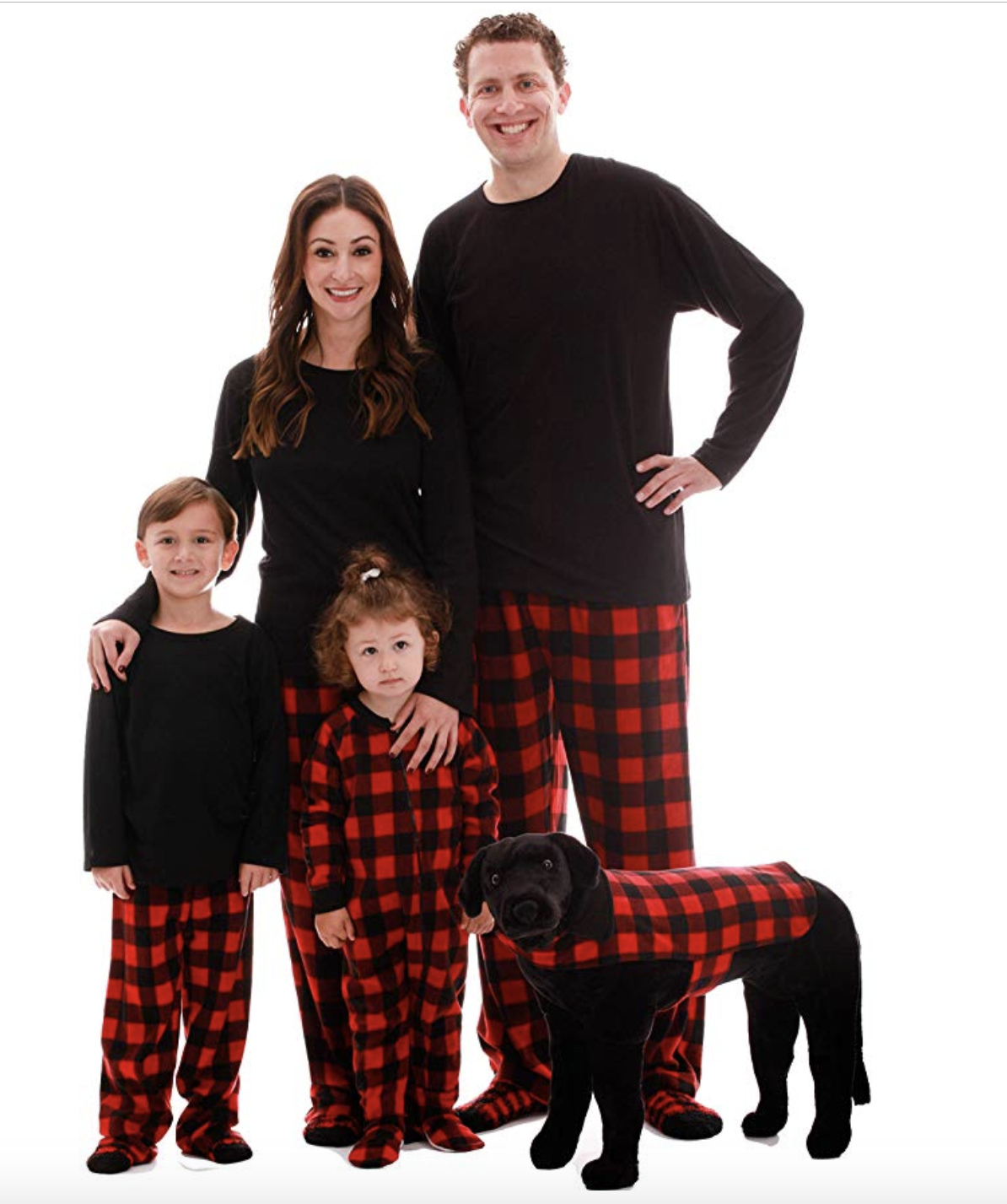 If you like plaid, but don't want to make it your entire outfit, this pajama set provides some balance with a solid black top. The set can be worn at Christmas or all year round and comes with a full red plaid dog wrap too!
Pawsative Ruffview: "Fun Family matching Jammies. Fit was as expected. The guys loved them. Also great for hotel & hospital. Husband is being treated with Chemotherapy & they are very comfortable for a 7 hr sit. He likes them well enough to treatment."
Get the Matching Dog Pajamas for $29.99